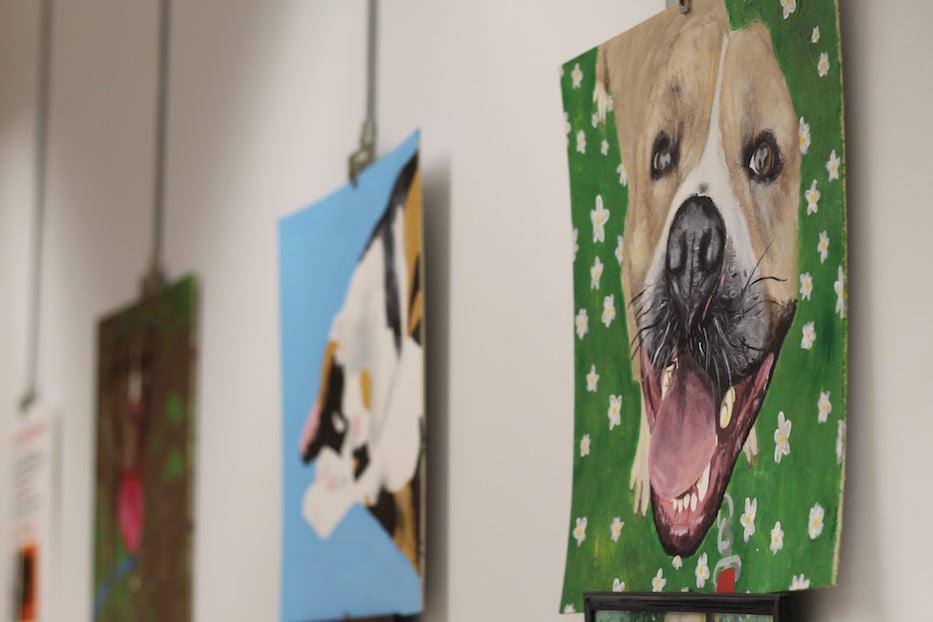 Co-Op High School | Culture & Community | Education & Youth | Painting | Arts & Culture | New Haven Free Public Library | Visual Arts | New Haven Animal Shelter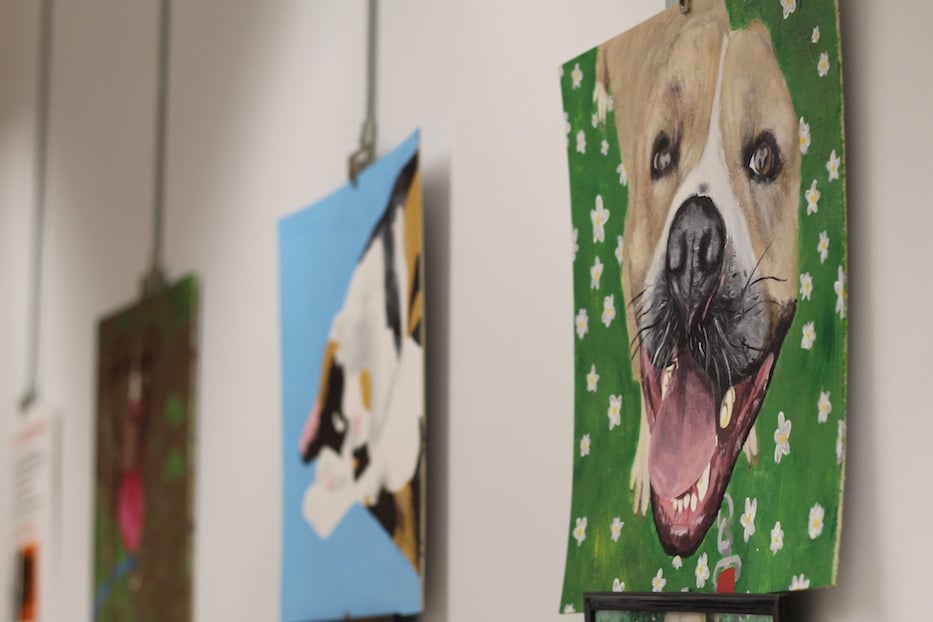 Frannie, by senior Dariana Pallasco, installed at the Mitchell Branch Library. Lucy Gellman Photos.
Frannie looks right up at the viewer, her eyes twinkling and milky at the centers. Her ears flop back, more friendly than on guard. Her mouth falls open, exposing a row of teeth and big, flat pink tongue that lolls to one side. A spray of white flowers explodes in the grass underneath her paws.
If a viewer leans in, she looks like she is smiling. For Co-Op senior and young artist Dariana Pallasco, that big, drool-free grin took weeks to get right.
Frannie—and 11 of her furry companions—are part of Adopt: Don't Shop!, a new exhibition from visual arts teacher Kristin Wetmore and her students at Cooperative Arts & Humanities High School. Last year, students collaborated with the Robin I. Kroogman New Haven Animal Shelter to paint portraits of dogs and cats who were up for adoption. The 12 paintings are now hanging in the program room at the Mitchell Branch Library through the end of February.
Since the project began last fall, the shelter confirmed that some of the animals have been adopted.
"I feel like dogs don't get that much attention," said Jayla Madera, whose senior capstone is dedicated to rescue animals, in a Google Meet session with the class on Thursday. "It's a way to get the word out. I feel proud of myself because this is what I wanted, for the animals to get attention."

The inspiration behind Adopt: Don't Shop! began last year, when Wetmore heard about a teacher "somewhere in the Midwest" who had done the same thing. In the past several years, similar collaborations have popped up across the country, from Tucson, Arizona to upstate New York to Asheville, North Carolina. For Wetmore, who comes home each night to a smart and devoted rescue cat named Nala, the idea clicked. Madera had already suggested that she wanted to focus her capstone on rescue animals. This gave her a way to involve the whole class, and push them as young artists in the process.
When Wetmore reached out, the Fournier Street animal shelter granted her permission to use photos of some of its animals, a mix of furry cats and Pit Bull mixes that all seemed to be hamming it up for the camera. She has worked most closely with Friends of the New Haven Animal Shelter, and praised volunteer Deb Wan for her help getting the project off the ground. In a phone call Friday morning, Wan said that the shelter was grateful to be part of the project.
"Any exposure to the public of any of our animals is wonderful," Wan said. "Not a lot of people come to the shelter. A lot of people don't know where the shelter is. I want to thank them [the students and Wetmore] for taking the time to center these animals and promote adoption."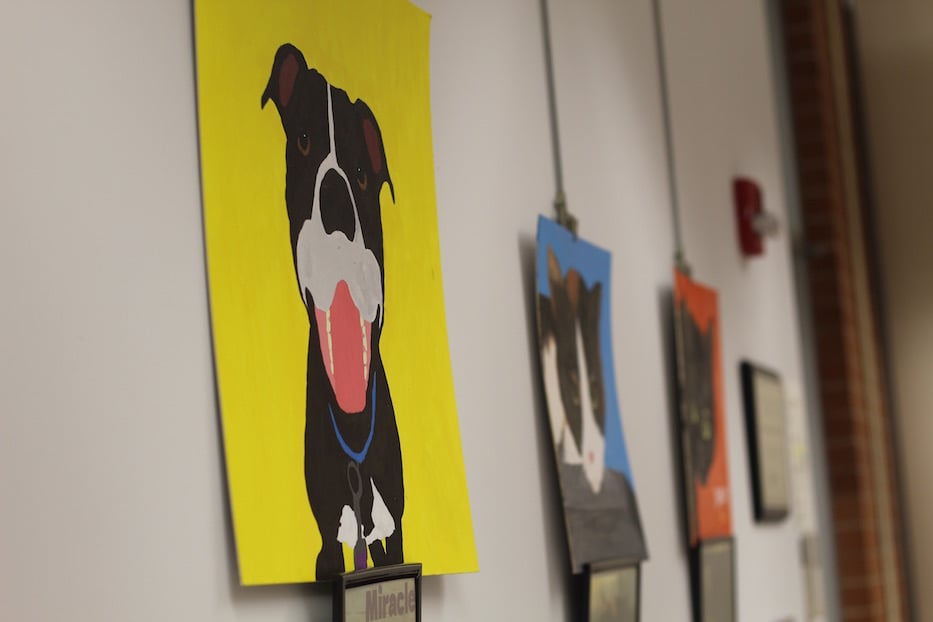 Miracle, by senior Jayla Madera. Senior Oliver Colacino's calico cat Rosie is on the left.
When students received the photos last year, they got to work. Madera began mapping out her design for a dog named Miracle, an 8-year-old Pit Bull Terrier who came to the shelter in early 2021. In the photo she received, Miracle opens his mouth and looks right into the camera, his jaw open to reveal a long, muscled ribbon of red tongue.
Madera replaced a brick wall in the background with a solid block of yellow, breathing some sunshine into the piece. She concentrated on Miracles's soft ears, deep black and bent forward with oxblood red flaps. She worked carefully as she outlined a band of white that began at the dog's forehead, and pooled around his nose like spilled milk.
The project is personal for her, as it is for many of her peers who have loved, lost, and learned responsibility through their pets. Growing up in New Haven, Madera owned a Chihuahua named Buttercup, who entered her life when she was just a toddler. For over a decade, Buttercup was the most constant and faithful friend she could have asked for. When Madera was sad, the dog would cock its head and stare at her with big, wet eyes that communicated her full understanding. "She would lay her head on me," she remembered.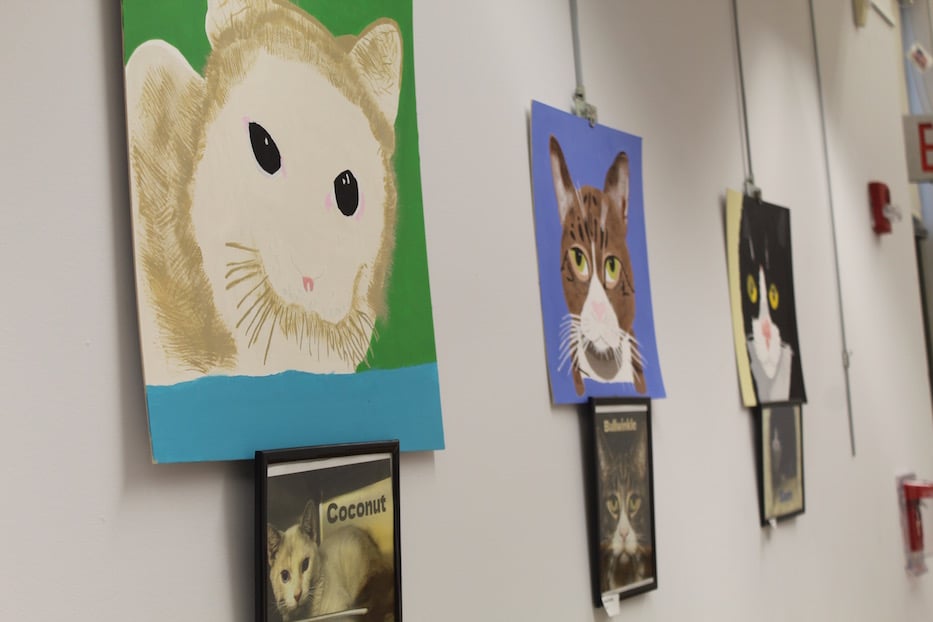 Coconut, by junior Eliel Velazquez, and Bullwinkle, from junior Amairani Portillo.Ryan Tuxpan Tepatzi's Sam is all the way to the right.
When Buttercup died, the family welcomed a Shih Tzu named Princess into its home. But the fit wasn't right; Madera's mother ultimately brought the pet to the shelter when it became clear that the family couldn't keep it. The whole ordeal "really hurt," Madera said. It also pushed her to do research on the abuse that some animals face before finding their forever homes. The senior capstone is meant to create more of a dialogue around ending that abuse, particularly as shelters face overcrowding in the third calendar year of the pandemic.
In the library's program room, springy whiskers, narrow faces, slack jowls and tabby, calico and toffee-colored fur peek out at each other, inviting viewers to come inside and take a look. Close to the door, senior Oliver (Ollie) Colacino has taken artistic liberties with Rosie, a 5-year-old calico cat who is curled tightly into a ball as her eyes swivel forward and fixate on the viewer. In the painting, Colacino has shown Rosie up close, her face clear and detailed against a solid azure blue background. She looks just slightly cross, as if she has been disturbed—or is tired of waiting for the right adoptive family.
Like Madera, Colacino said the project resonated with him because of his love for animals. At home, he has a dog named Manny and two cats named Sable and Rosemary. During quarantine and remote learning, Rosemary especially "raised my mood," keeping him company during months of social isolation. During Thursday's conversation on Google Meet, she kept him company after the school bus missed his stop on the route and he logged into classes from home. He said that he's certain that pets can improve mental health.
"I just want to say that I'm proud of our whole class for creating these awesome portraits, and I hope they get the attention they deserve," he said. "The whole class is giving pets a second chance, giving them more attention through our art."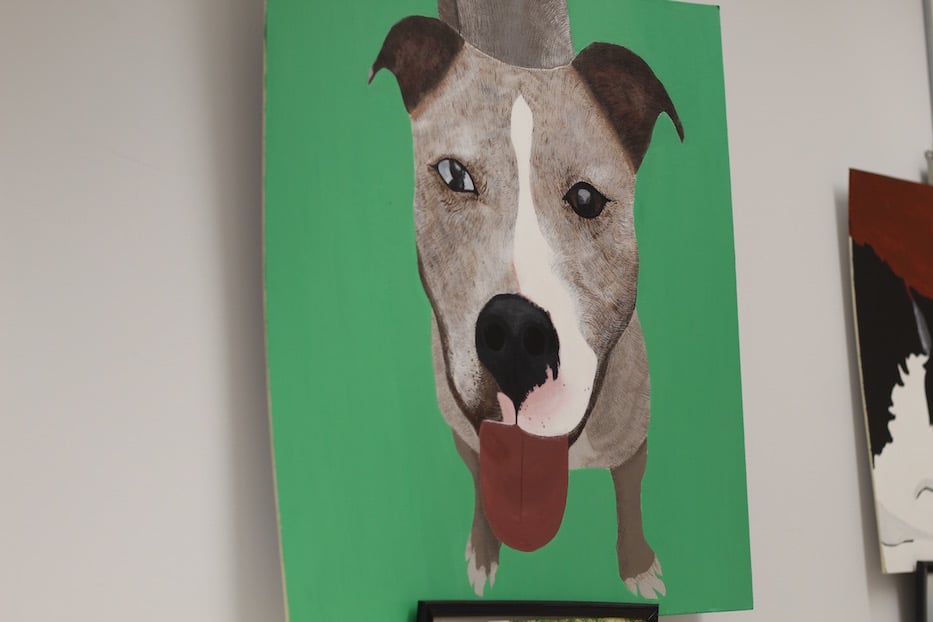 Junior Isabela Bedoya depicted Pebbles, a 5-year-old Pit Bull Terrier.
Down the same row of paintings, a 5-year-old Pit Bull Terrier mix named Pebbles looks eagerly up at viewers, her head so animated that it seems it may come right off the paper and into the room. Artist Isabela Bedoya has gone clean and modernist in her approach, putting her own spin on a long-held and venerated tradition of animal portraiture. She has studied Pebbles' eyes intently, mirroring how the right splits into two pools of brown, as the other remains an uninterrupted circle of blue.
The painting is extremely neat in its execution, from the attention she's paid to Pebbles' fine hair to her wet, velvety black nose and thinly scalloped tongue. Instead of painting the grass that fills the background, Bedoya has filled it in with a solid block of seafoam green. It's reminiscent of the work of Jasper Oostland, who has gained a small following an ocean away for his poppy portraits of animal friends.
As she was working, Bedoya channeled her love for her former dog Muñeca—the name means baby doll in Spanish—a Poodle who died when she was seven. The family was so heartbroken that it never adopted a pet again.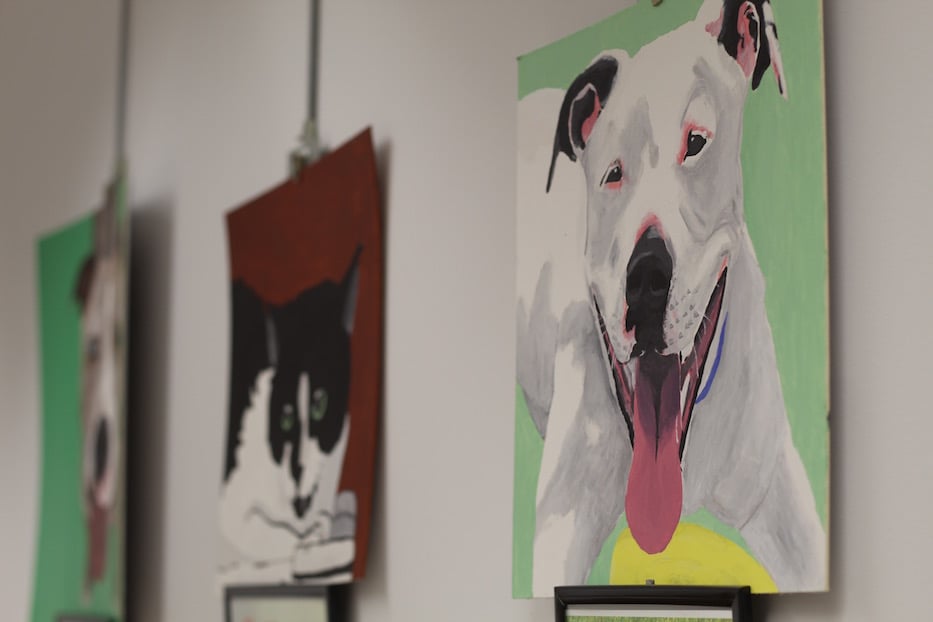 Snoopy, by senior Jose Roque.
In this way, the paintings tell a second story too: that of pets keeping their owners steady and afloat as the world turned upside down with Covid-19, and vice versa. When senior Jose Roque began working on his rendering of a 2-year-old Pit Bull Terrier named Snoopy, he was thinking about his own dog Cooper, a Shih Tzu-Poodle mix that his family found in a New Haven basement almost 10 years ago.
Roque, now a senior at Co-Op, was just a kid in the fourth grade. He saw how traumatized Cooper was—and what a difference a caring home could make. Now, Cooper is a cuddly ball of fur. When schools shuttered in March 2020, "he kept me company during lessons," making lockdown feel a little less scary. The relationship was a reciprocal one: Roque realized how much separation anxiety his dog still experienced years after being rescued. "It was better for me to be there for him," he said.
Junior Ryan Tuxpan Tepatzi, who painted a black-and-white domestic shorthair cat named Sam, thought of his huskies, Shadow and Sunny. Over a year ago, his family found Shadow abandoned on the street close to Exit 8, wandering around without any identification. "He was pretty mean," Tuxpan Tepatzi recalled. After they took him home and cleaned him up, he became part of the family. His son, Sunny, is now just a puppy. After Tuxpan Tepatzi finished painting Sam for the show, he did paintings of his own dogs that he could keep.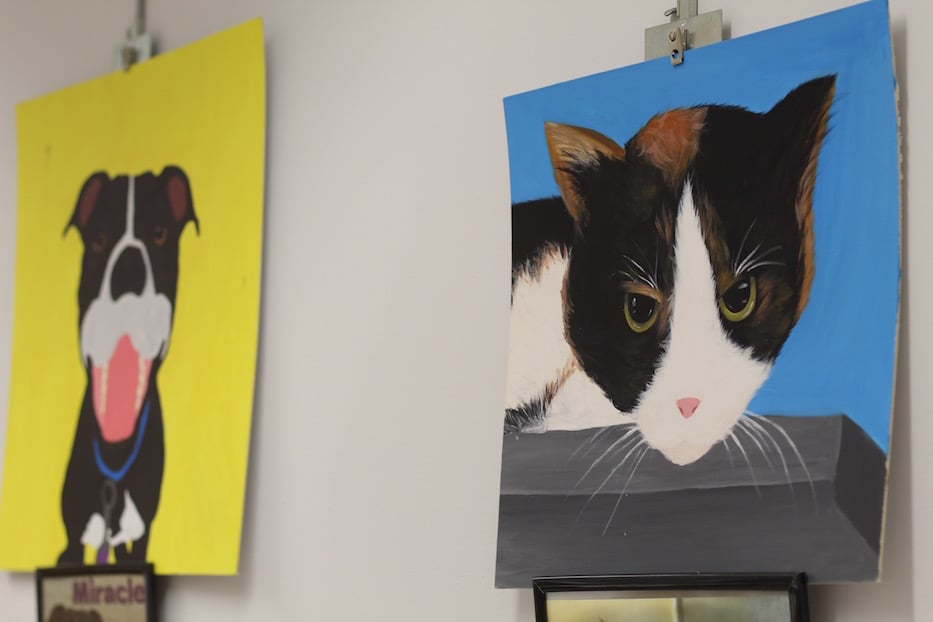 Rosie, from senior Oliver Colacino.
It's one of the reasons the project spoke to Wetmore: almost everyone she knows has a pet story. For over a year, she watched pets hop onto desks, slip into offices and bedrooms, and help students stay engaged in school during remote learning.
Over the grid of faces on Google Meet, Pallasco remembered how she and her friends found an abandoned bearded dragon that was wandering around New Haven last summer, and took her home. Seven months later, she's glad to have the chance to give Frannie, a 4-year-old Pit Bull Terrier, an artistic leg up in getting adopted.
When she's painting, "I try to imagine how the dogs would feel getting adopted if we were them," she said. "It inspired me to do more with my art."
Buzzing around Mitchell on Thursday afternoon, Branch Manager Marian Huggins said she loves the project. While Huggins didn't grow up with pets and doesn't consider herself a dog or cat person, she was thrilled when Wetmore came to her with the idea. Although the library Mitchell has close relationships with seven elementary schools in the neighborhood, this marks the first with one of the city's public high schools.
"I think the work is incredible and the project is incredible too," she said. "It gives them [students] a way to express themselves."
After the show closes at Mitchell in late February, Wetmore said that she'd like to see the portraits ultimately go to the shelter, where adoptive families can take them home with their new pets. She'd also like to make it an annual project, because there are always animals in need of adoption. Every day, she reminds her own cat Nala that she's her best friend. She means it every time.
"If one animal gets adopted just because of the interest generated from this show, my life will be made," she said. "That's my hope."
Paintings are up at the Mitchell Branch Library, 37 Harrison St., through the end of February. The Robin I. Kroogman New Haven Animal Shelter is located at 81 Fournier St. in New Haven. Learn more about pet adoption here.