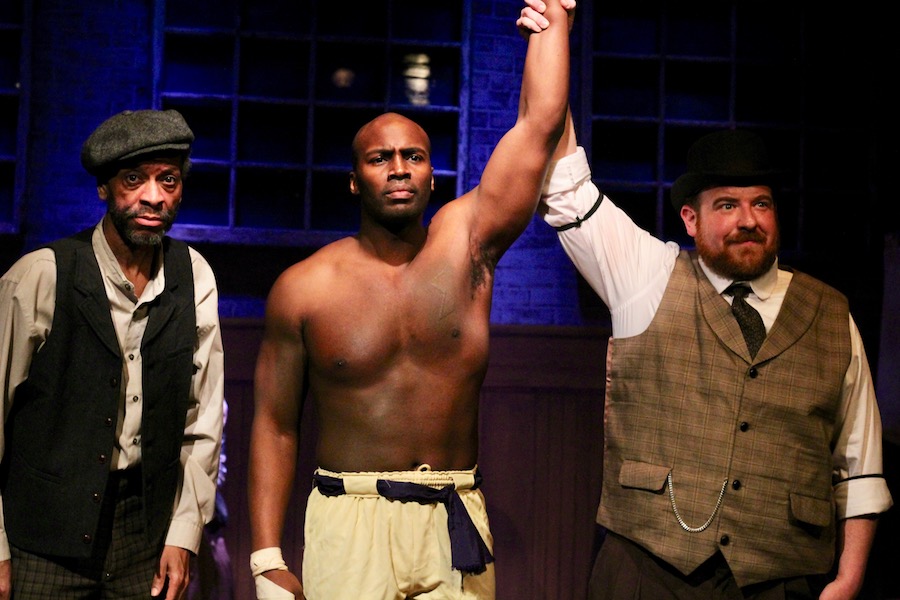 Collective Consciousness Theatre | Fair Haven | Arts & Culture | Theater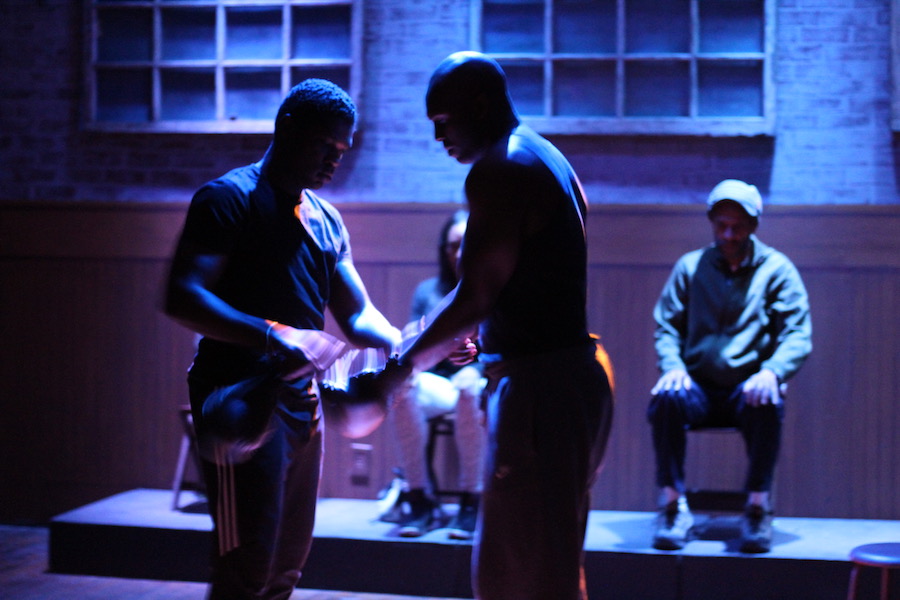 Gregoire Mouning as Wynton and Christopher Bethune as Jay "The Sport" Jackson in The Royale. The play runs at Collective Consciousness Theatre from March 28 through April 14. Lucy Gellman Photos.
Two bodies circle each other, the work of their fists nearly propelling them to their toes. One, convinced he is the better boxer, prepares a punch that will take his entire body to pull off. He whispers to himself, clipped but loud enough to hear. The other tastes blood and sweat, keeps going even as he sees a right hook coming.
Heads push back and bounce forward. Heels absorb hundreds of pounds, and somehow keep the bodies on them standing. And the question hangs in the air: will the final punch be worth it? Will it even get thrown in the ring?
That question sits at the wildly beating—and gloved—heart of The Royale, a sports drama set in the ugly and violent thick of Jim Crow. Written by Marco Ramirez and directed by Jenny Nelson, the show runs Thursdays through Saturdays from March 28 to April 14. Tickets and additional information are available here.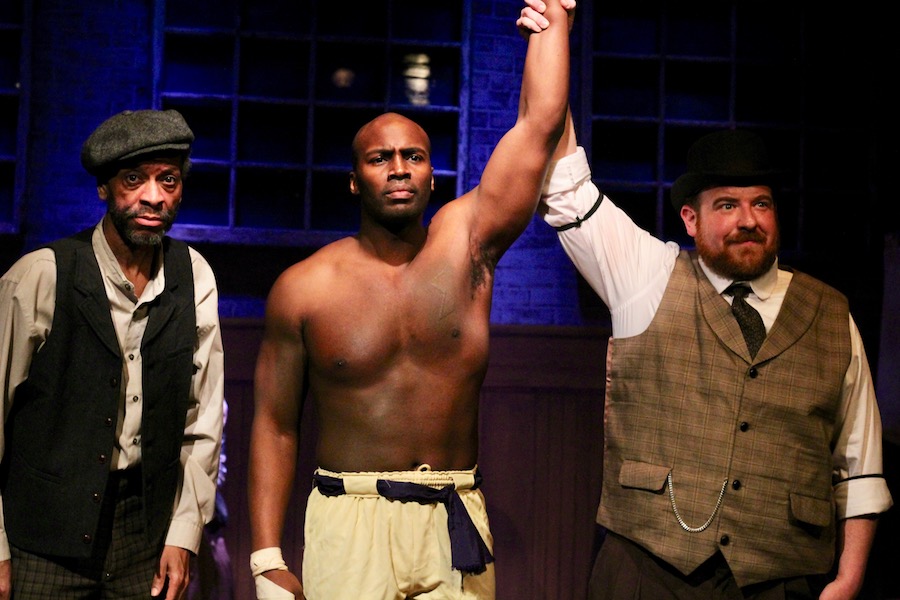 Oliver Sai Lester as "Fish" Hawkins, Christopher Bethune as
Jay "The Sport" Jackson and Ian Alderman as Max.
Set in 1905, The Royale opens on Jay "The Sport" Jackson (Christopher Bethune), the heavyweight champion of the Black boxing world. Jackson is a shape-shifter: charismatic before news cameras but a fierce fighter in the ring, whose ability to dance circles around any opponent is only outmatched by his own bout with double consciousness. From the moment he appears before the audience, he's anchored to the sport because it's what he's got to navigate a world that wants him to fail if he's not fighting by its rules.
So it's no wonder he's also tired. Exhausted, even, in a way that is not physical at all. Seventy-six fights in, Jackson has found himself completely alone in his league. He's outperformed every other Black boxer around him, and folks in the white sports world won't fight him out of principle. He begs his promoter Max (Ian Alderman) and coach "Fish" Hawkins (Oliver Sai Lester) to let him take on retired world champion Bixby, without whose defeat he cannot claim the world heavyweight title.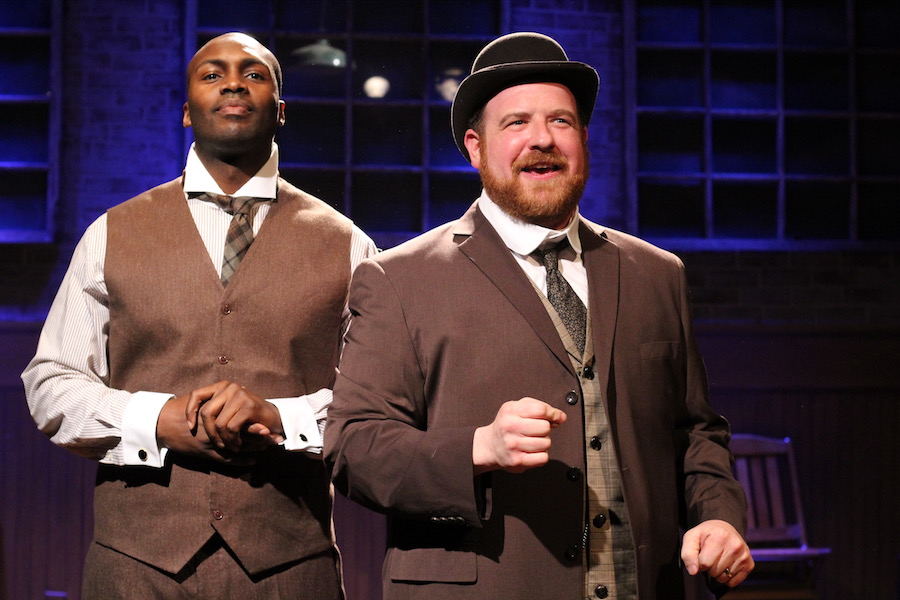 Christopher Bethune as Jay "The Sport" Jackson and Ian Alderman as Max.
But when Bixby's crew finally agrees, the fight of Jackson's life takes on dimensions that have nothing to do with boxing. There's the ring, sure, but there are also the threats on his life in the real world: news reports of boxing attendees found with pistols, brawls between white and Black sports fans that usher lynching into the twentieth century. Maybe it's Bixby he's fighting, or maybe it's the 207-pound shadow of social stagnation.
Even the language is violent. When Max sweet-talks Jackson, it's with the promise he's "exhibiting you, the specimen of sport!" When Jackson protests the dearth of worthy opponents, Max notes that he's scouting the African continent for men who look like gorillas. Even as he introduces Jackson in the ring, it's as the "Black bringer of retribution," playing right into a trope that sounds like David Duke's wildest fantasy.
It is a world that feels at once steeped in history and very much present. Jackson has a historic analogue in Jack Johnson, a Black boxer who defeated white boxer James F. Jeffries for the world heavyweight title in 1910, only to serve a prison sentence for driving with a white girlfriend over state lines.
Over 100 years later, the audience looks out onto a sports world that still hasn't figured out race and racism. Maybe Jackson can't see the future when he suggests "A pair of Black boys ain't never gonna see that front page"—but what good is that photo when the very act of protest has put Colin Kapernick on the sidelines in his work, then jeopardized the way he is collectively remembered? Or when that body does make the front page, and it's still fetishized as a specimen instead of living, breathing person?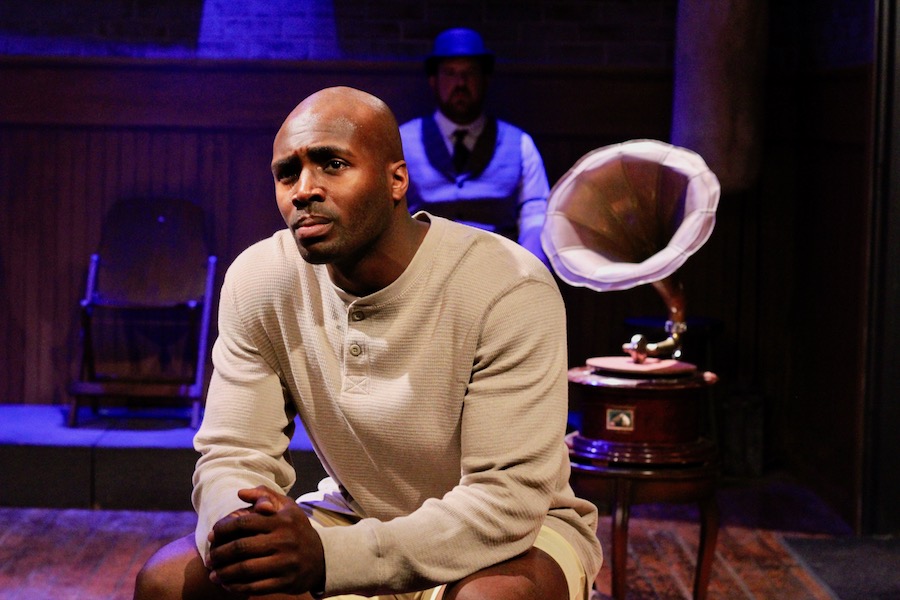 Bethune, who gives a stunning and deeply psychological performance, deftly bridges this gap between the twentieth century and the twenty-first. In his fists—"fists like John Henry," Max calls them—pulse the weight of history, and the honor and burden he carries through them. For a role that is so physical, it is Bethune's face that strikes hardest, conveying centuries of physical, mental and spiritual silencing in the glistening whites of his eyes, or a mouth right on the edge of crumpling.
But if Jackson is lonely, he's never alone. His boxing partner Wynton (Gregoire Mouning) brings incredible heart to the show, soft-edged and warm where Jackson burns hard and hot. Mouning soars through his lines but also seems to feel them deeply, weighed down not by his matches but the Jim Crow era. The two of them have particular chemistry on stage: Wynton challenges Jackson in the ring but also out of it, with a kind of wise and open love that can be overpowering.
Alderman nails a bombastic and cunning Max, who is so taken by his role as an interracial promoter—and a desire to protect his champ that is both genuine and driven by capitalism—that he's a little blind to his own racism. And Lester, too, doesn't pull punches as Hawkins, whose sense of humanity and conflict deepens the show.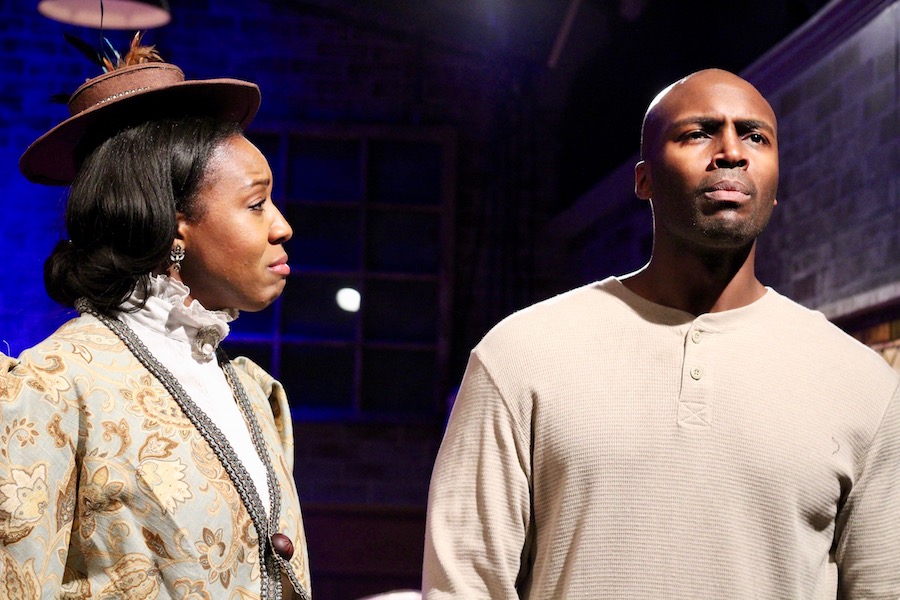 Tamika Pettway as Nina and Christopher Bethune as Jay "The Sport" Jackson.
But it is with the entrance of Jackson sister Nina (Tamika Pettway) that the play lands its sucker punch. As she sweeps in after sitting in the background—thanks to an intimate set from David Sepulveda, no actor is ever completely offstage—she marks herself as Jackson's equal and the absent half of his inner dialogue.
As Jackson prepares for the ultimate heavyweight fight, Nina has other news from home: that his win could spell disaster for others in the Black community, including her two young sons. That Jackson may be thinking of himself, but he is not thinking of the family that raised him, or the national community he represents, and thus has an obligation to protect. That even if he triumphs in the ring, there is some Black boy who will fall outside it.
It marks a dive into double consciousness, revisionist history and collective memory that Pettway carries beautifully, verbally undressing her brother as she stands, back arched and words flying, in her Sunday best. Both she and Mouning mark some of the play's most intricate wordplay, worlds colliding and unmeshing like bodies that orbit each other before a final, decisive knockout.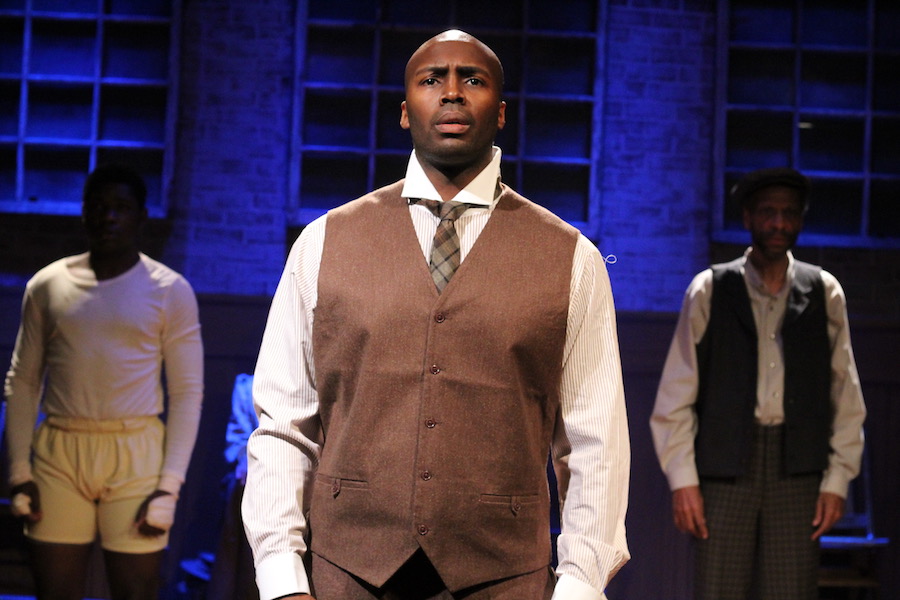 Gregoire Mouning as Wynton, Christopher Bethune as Jay "The Sport" Jackson and
Oliver Sai Lester as "Fish" Hawkins.
As she takes the air right out of the room, The Royale feels like it was made for Collective Consciousness' small stage. With choreography from Michelle Burns, fights are highly abstracted, balletic and violent as punches rock characters off their centers of gravity. Lighting cues from Jamie Burnett bring the audience right into the belly of the beast, particularly stunning as they fall from red and orange to blue on black.
These are stakes that make it painful to look—how long before we see ourselves in those glass-eyed spectators?—but harder not to. In a theater that only seats a few dozen people, every step, word, and inhale feels personal. It's supposed to. At the end of the show, Jackson has to reckon with his decision. The lights go down, almost crepuscular on his skin. And we have to ask ourselves: which side are we on?
Marco Ramirez' The Royale runs at Collective Consciousness Theatre (CCT) Thursdays through Saturdays from March 28 to April 14. The theater is located in Erector Square, 319 Peck St., New Haven. For tickets and more information, check out CCT's website.