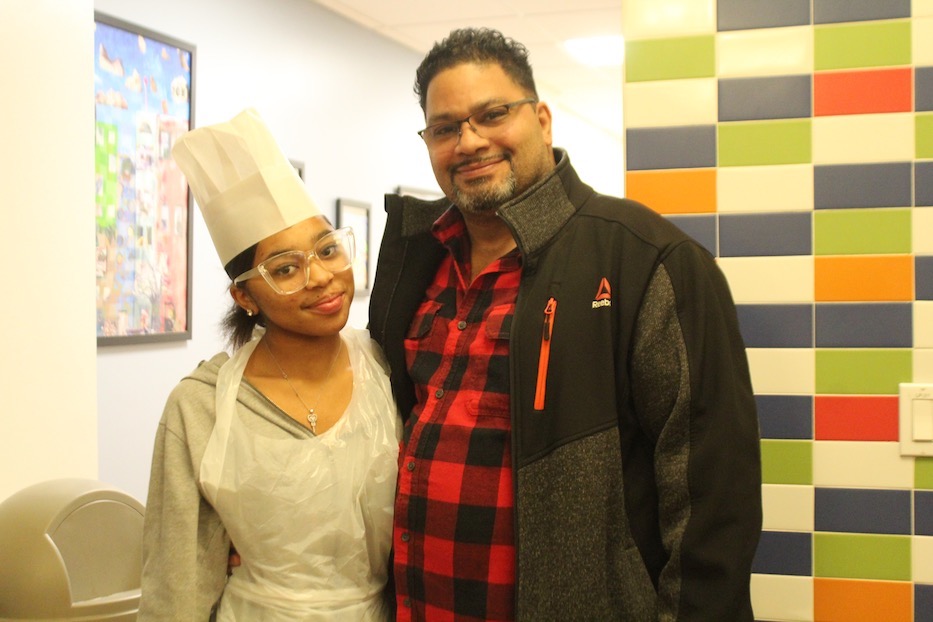 ConnCAT | Culture & Community | Science Park | Arts & Culture | Culinary Arts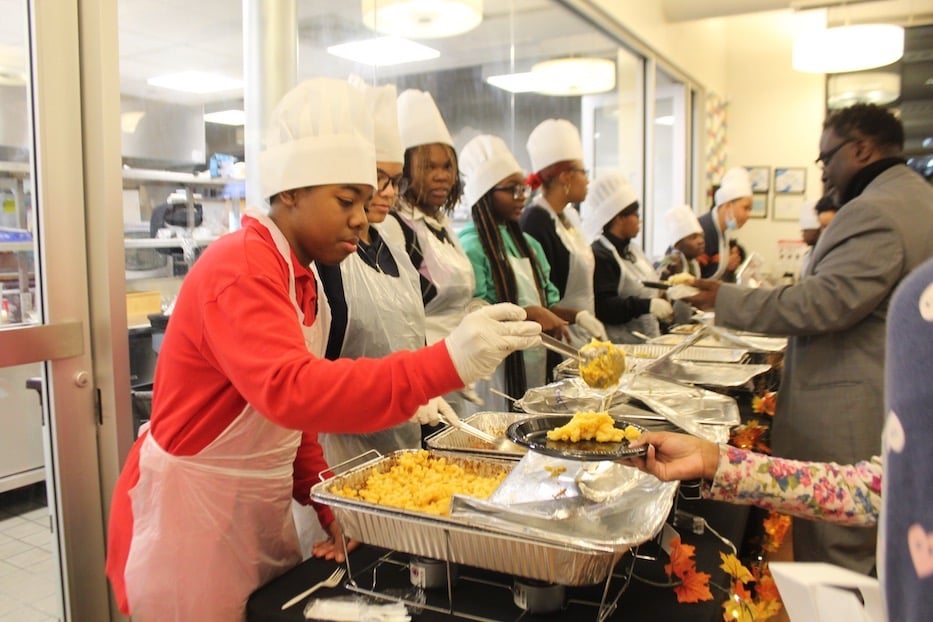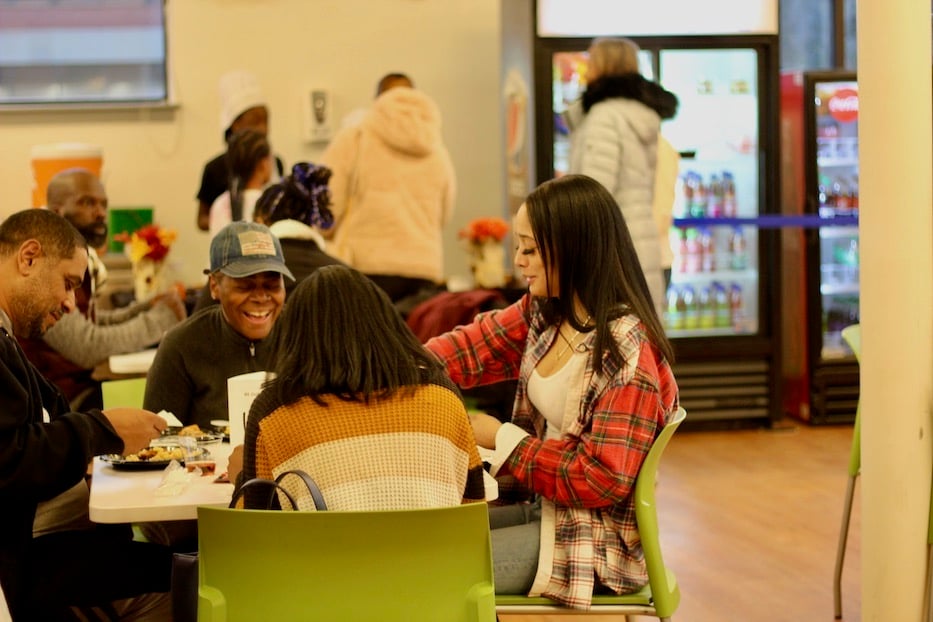 Top: Jaivon Skinner. Bottom: Lisa Reddick (in cap) and Maribel Santana. Lucy Gellman Photos.
Beneath the light of ConnCAT's Orchid Cafe, Maribel Santana and Lisa Reddick settled in at their dinner table, their plates arranged with collard greens, baked mac and cheese, green beans, turkey and potatoes two different ways. Slices of pumpkin pie, each with a cloud of whipped cream, sat in the center of the table. Laughter rose from between them.
Across the room, 12-year-old Ja'ana Yvette Butler found them in the crowd and beamed, happy to see her mother and grandmother sitting. Then she snapped back into the moment, and began handing out slices of apple and peach pie.
Ja'ana is a student at the Connecticut Center for Arts and Technology (ConnCAT), where 42 youth in the after-school program flipped the Thanksgiving script for their parents and grandparents last Thursday night. With Cookology Instructor Nicole "Chef Nikki" Melendez and Lead Chef and Culinary Instructor Jenna Martin, they cooked a full Thanksgiving meal, from scratch stuffing to apple, peach, and pumpkin pie.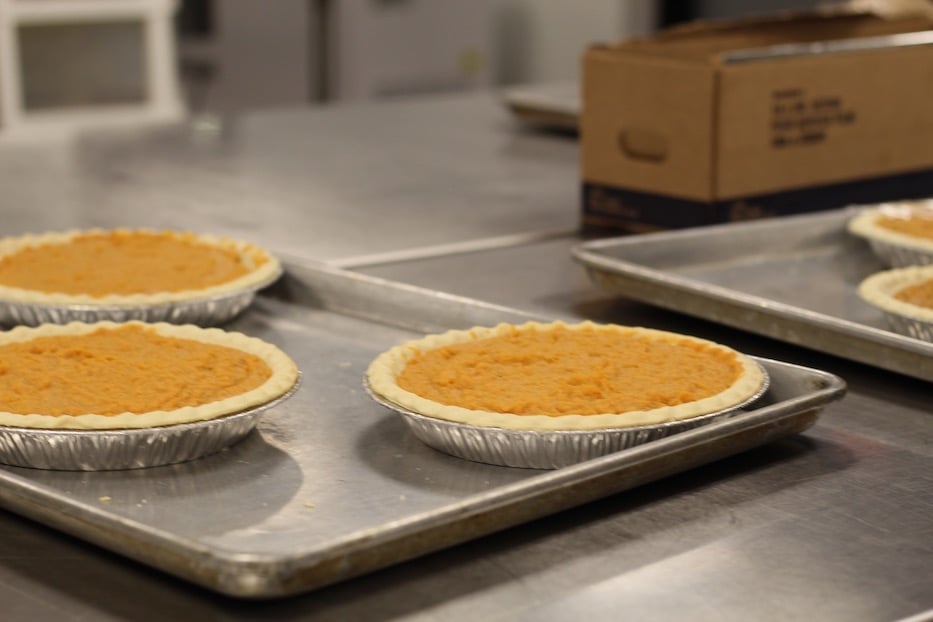 Pies on the Monday before the dinner.
ConnCAT, which is celebrating its tenth anniversary this year, dubbed it the inaugural "gratitude dinner," named in recognition of the upcoming holiday and gratitude they have for the village that has supported them. After days of culinary work from both students and their teachers, the event brought in over 100 people, and sent many home with still-warm, foil-wrapped helpings of leftovers.
"This is amazing," said Steve Driffin, director of youth programs and co-director of operations. "You can feel the magic, the energy … we will all be riding this high for months."
Chef Nikki Leads The Way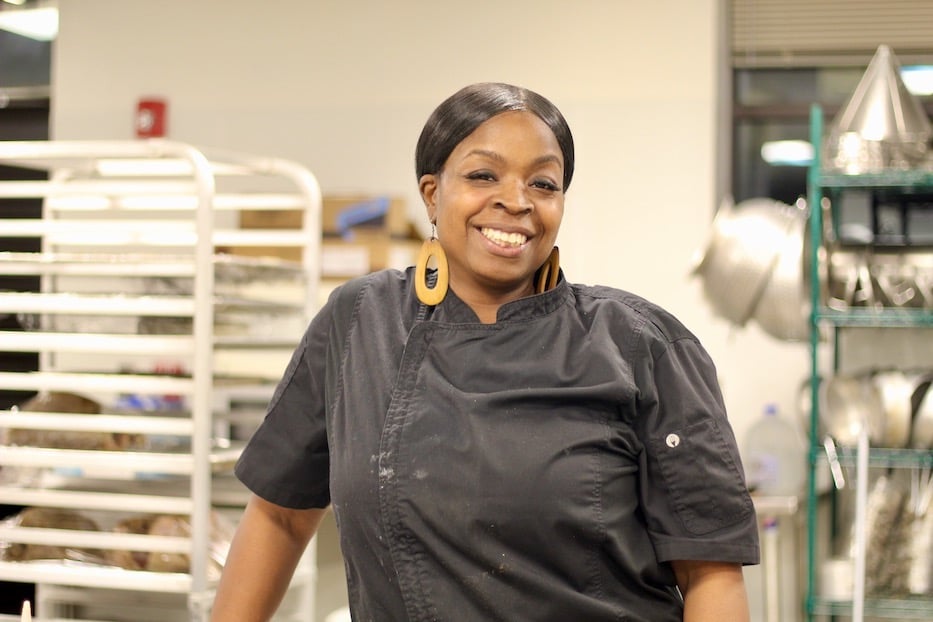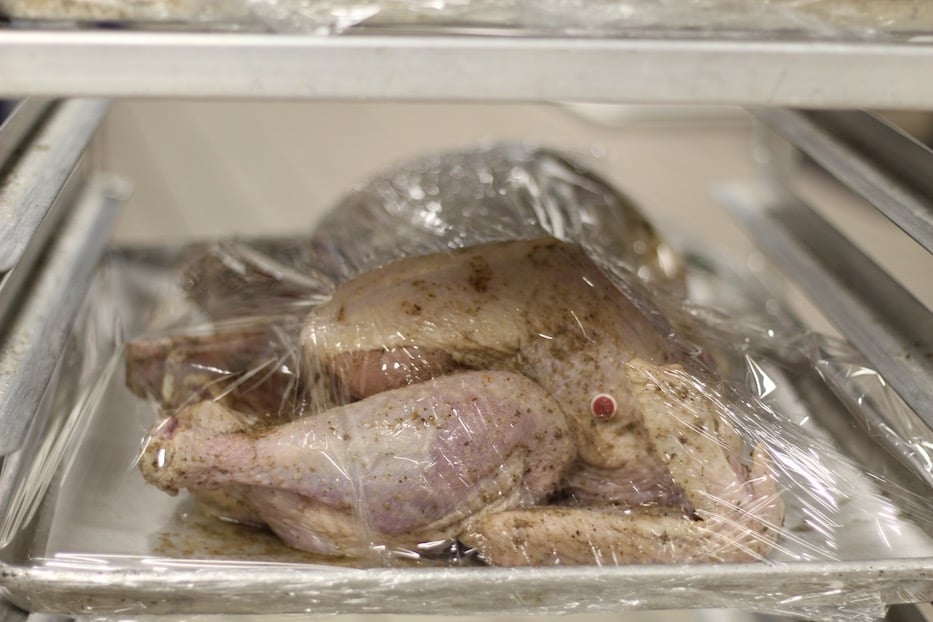 Top: Chef Nicole Melendez. Bottom: A turkey that was not pardoned.
To get to Thursday night, students spent four afternoons in the building's industrial kitchen, de-ribbing bunches of greens, dressing turkeys, peeling almost 40 pounds of sweet potatoes and splitting into teams for pie, stuffing, and both vegan and dairy-based baked macaroni and cheese.
No chop, peel, or sprinkle of spice escaped the watchful eye of Melendez, who seemed to sometimes float through the kitchen, rather than walk. One moment, she was handing out child-safe knives from a large chrome bowl. The next, she was helping dress a turkey before fitting a sheet of plastic wrap tightly over its seasoned breast. Every so often, a student called out for help, and she was by their side in an instant.
For her, it's a way of paying it forward. For 20 years, Melendez worked at a residential facility in Connecticut, helping people with developmental disabilities learn to cook. After losing her job during the first year of the pandemic, she searched for her next professional chapter, and found ConnCAT's culinary arts program. After enrolling last June, she stayed on to teach Cookology and assist in the kitchen.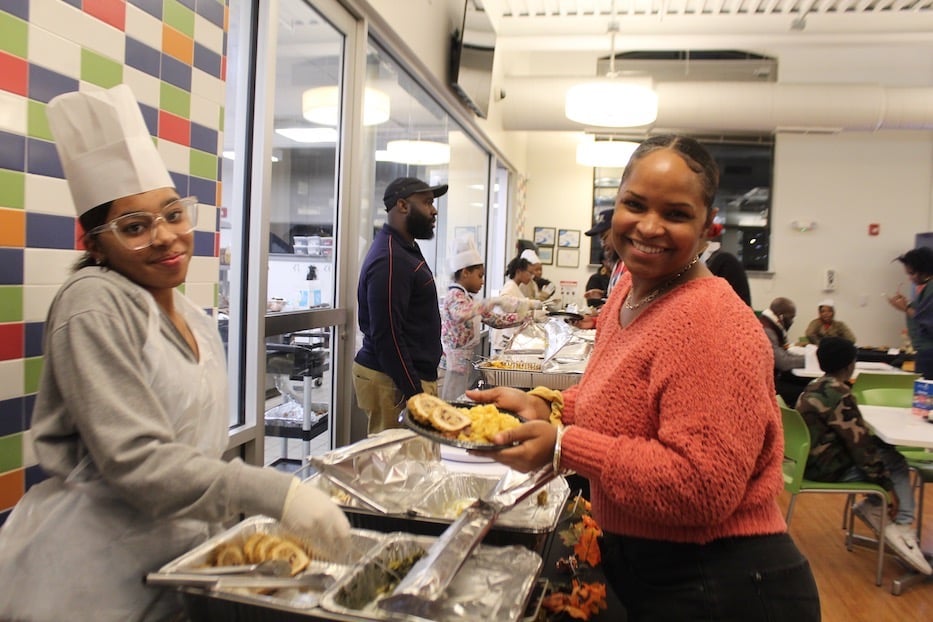 J'Nel Negron and Avnah Erskine.
"It was meant for me to be here," she added, a smile spreading across her face as she described working with the students, who range from elementary to high school. "I might as well do something that I love to do."
As she supervised prep last week, she reflected on her own Thanksgiving traditions. Growing up in New Haven's Goffe Terrace apartments, Melendez watched her mother and grandmother prepare food for the family, filling the house with their laughter and conversation as they cooked. As she got older, Melendez joined in—taking over several responsibilities as she became a mother herself.
Now, she, her son and her sisters have worked out a whole Thanksgiving system, where one makes the banana pudding, another peels pounds of sweet potatoes, and she and her mother take on most of savory dishes. While she once hesitated when Martin offered Cookology classes to her, she now sees them as a chance to give students life skills that will help them succeed.
"The whole point for them [students] is to realize what their parents do," she said of the dinner.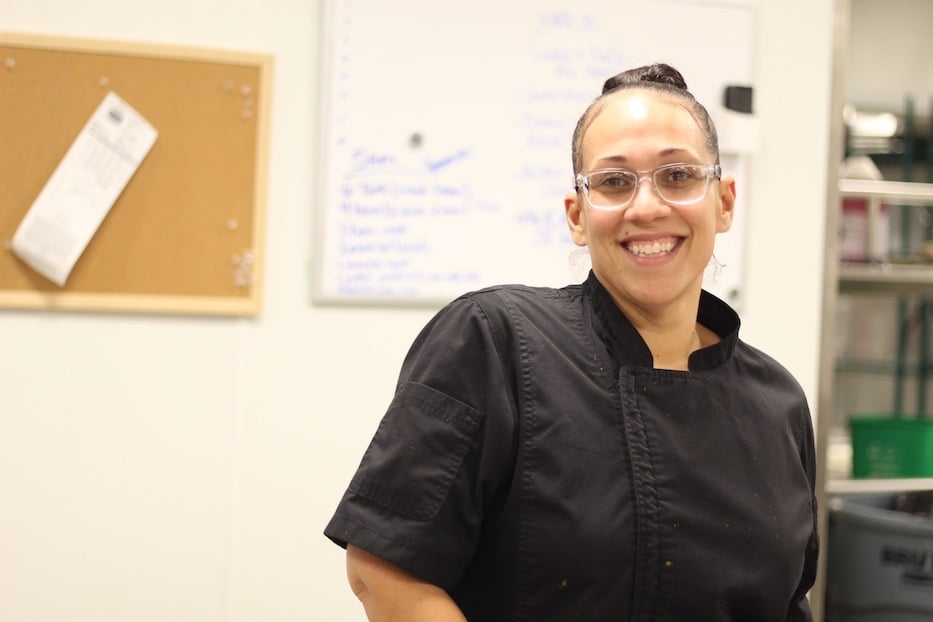 Chef Jenna Martin.
Monday, she and Martin directed a careful culinary ballet, splitting students into groups as they peeled, chopped, and mixed for hours. By the end of two hours, the turkeys were prepped, and ready to chill in the fridge for the night. A quartet of sweet potato pies, the filling glowing, sat on a long steel counter. A few feet from it, sweet potato slices the size of medallions peeked out from a trough.
As students filed out of the kitchen, their chatter filled the hallways and wound up the staircase as they prepared to head home for the evening, and then return for another day of cooking. Before leaving, friends Amayah Smith, Amayah Erskine, and Nevaé Brightly all said they were excited to be helping out.
"I feel grateful for this opportunity, because not every kid gets to cook in a real kitchen and make a meal for the community," said Nevaé, a fifth grader at SĀHGE Academy.
"I'm grateful for being here," chimed in Samara Mayes, a fifth grader at St. Thomas Day School. Monday, dedicated mostly to prep, had marked her first time learning to marinate and dress a turkey before putting it into the oven. If people can learn to cook, she said, they can do anything.
Amayah Smith didn't miss a beat. "I'm really grateful to be alive," she said.
Gratitude By The Mile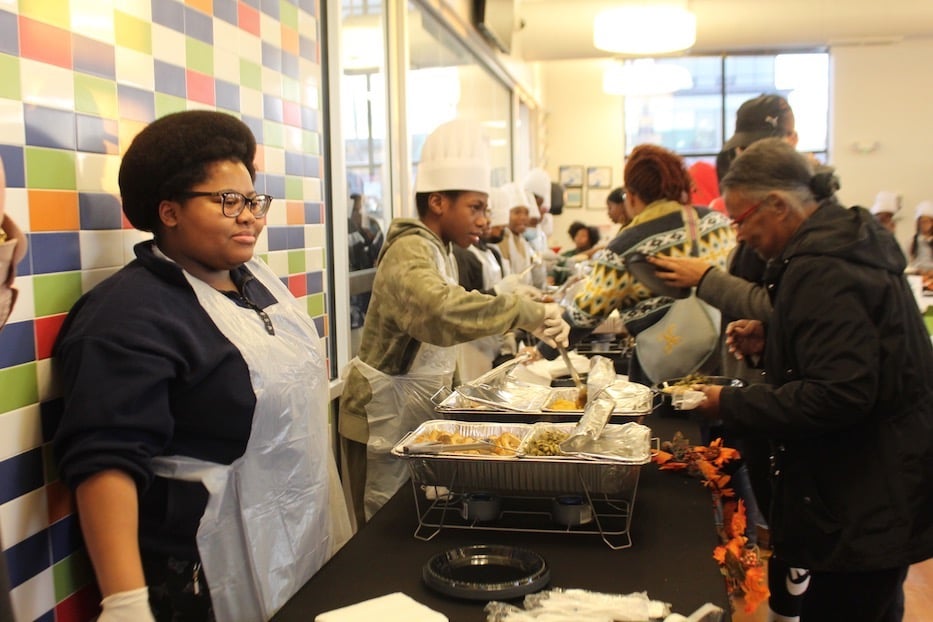 Saria Reid at the vegan station.
Thursday, that spirit sprang to life across the cafe, as students tied on white plastic aprons, donned tall paper chef's hats and took their places behind steaming trays of baked mac and cheese, candied sweet potatoes, tender turkey, green beans, warm dinner rolls and collard greens studded with bits of red pepper and savory broth.
At a table on the far end of the room, slices of pie glittered beneath the light, waiting eagerly for hands to lovingly whisk them up. Tying her apron, Ja'ana and her classmates sprang into action. After three days of cooking, they were ready to share the dishes with friends and family members as they walked through the door.
By the entrance to the cafe, Santana Brightly sat with samples of her hot cocoa, smiling as she chatted with attendees about how the recipe was born. Four or five years ago, Santana and her family were living in Philadelphia. One day, she said, she had a particular taste for hot cocoa—but it wasn't convenient to go out and get any. She started experimenting with the pantry staples she had at home, including mint, cocoa, strawberries and cantaloupe. After hours of beta testing, she found a recipe she was happy with.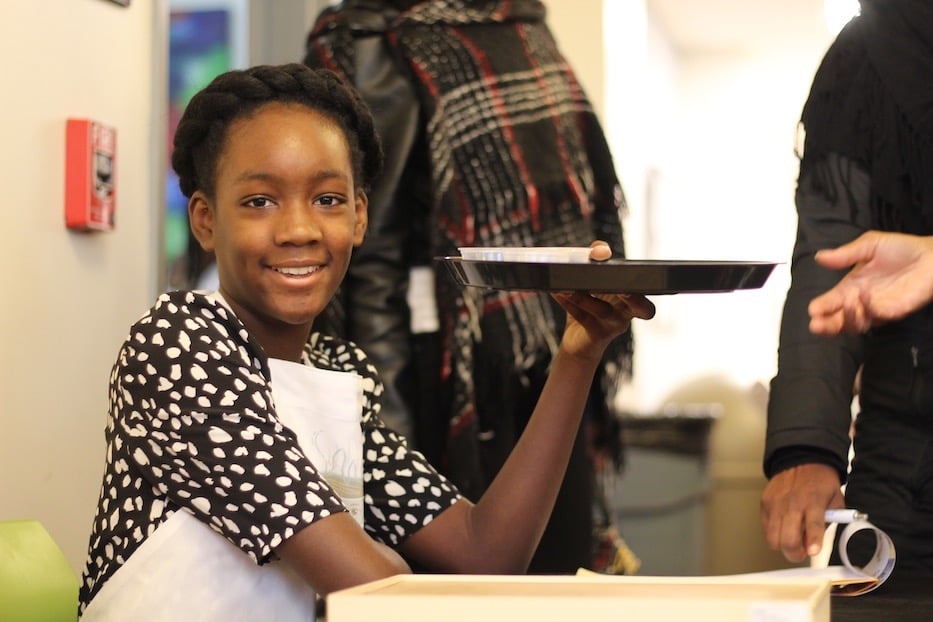 Santana Brightly.
"I had to try it a million times!" she said with a smile Thursday, making trips to and from the kitchen to serve up hot cups of melon, strawberry, mint and plain hot chocolate. As the evening went on, cups of cocoa multiplied across the room. From where she sat, the air became a warm, sweet-scented cloud of chocolate, cinnamon, and peppermint. Every so often, her mother and aunt orbited the table, to see if she'd eaten dinner yet.
As a young entrepreneur of color, Santana said she ultimately has goals of becoming a googolplexianaire—but will settle with enough to save gradually for now. As she builds the business, she would like to both save money and use some of her earnings to buy gifts for her family and a home for herself.
On the other side of the entrance, 14-year-old Jaivon Skinner neatly tied his apron and started serving up mac and cheese with a deep spoon, the top yielding just so as he broke through to warm, gooey cheese and noodles below. An eighth grader at Highville Charter School in Science Park, Jaivon said he is particularly grateful for ConnCAT, a "nice community" that he joined for the first time this year.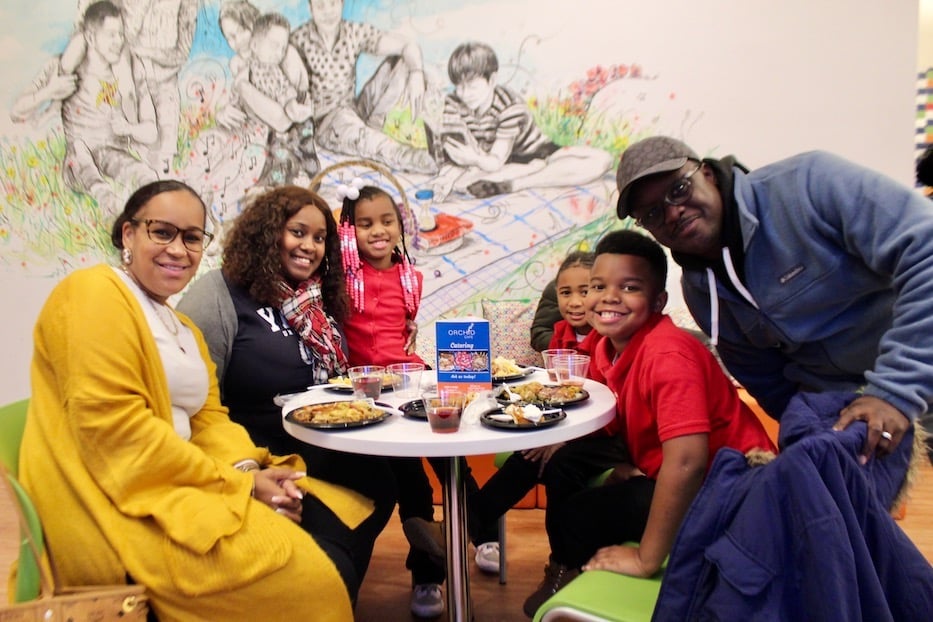 From left to right: Whitney Haywood, Genesse Skinner, Ava Jones, Jace Jones, Jeremiah Brabham, and Steven Haywood.
At a table by the cafe's windows, his mom Genesse Skinner and her friend Whitney Haywood dug into their meals, glad to have the chance to break bread together before prepping for their own Thanksgiving rituals themselves. Both grew up in New Haven, and both have kids in ConnCAT's after-school program for the first time this year. They praised the program's breadth of activities—students do visual and digital arts, theater, and music in addition to cookology.
For Haywood, the dinner was a chance to reflect on the changing Thanksgiving traditions in her own life. As a kid, Thanksgiving was always about bringing the family together—and her parents always knew exactly how to do it. After cooking and eating dinner together, the family would gather to put up the Christmas tree, and then go shopping for Black Friday deals.
Since her family's last Thanksgiving meal in 2019, both of her parents have passed away—so she's building something new with her husband and sister. This year, she plans to have mac and cheese, candied sweet potatoes, turkey, and lasagna roll ups at her table. With a laugh, she said she still plans to go shopping into the early hours of Friday morning—even if she has to do it alone.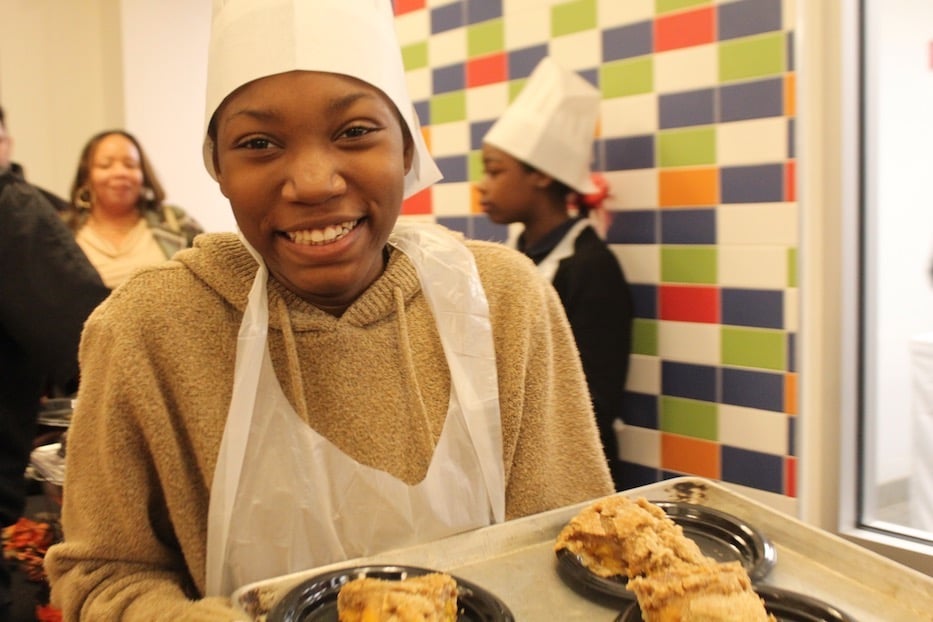 Savannah Nash with peach pie.
Beside her, Skinner said that she plans to cook a small feast this year, including mac and cheese, lasagne, her "infamous" brownies and apple pie. For her, Thanksgiving means "coming together," particularly with her two brothers and two sisters. "Laughing and joking and eating and eating," she said.
Halfway across the room, Reddick said the dinner marked the first time in decades she can remember being served, instead of doing the serving. At home, she said, she still does the bulk of Thanksgiving cooking, even as Ja'ana learns gradually to cook.
"I do the holiday dinners to bring the family together," she said. "I do it every year … I hope I survive it this year. If I don't do it, I don't know who is gonna."
She added that she could feel the energy buzzing around the room, rising and falling with the evening's chatter. Taking a short break from the pie station, Ja'ana had high praise for her grandmother's yellow rice, cakes, steak, turkey, and baked mac and cheese—and the help she provides at home. "I'm so thankful," she said.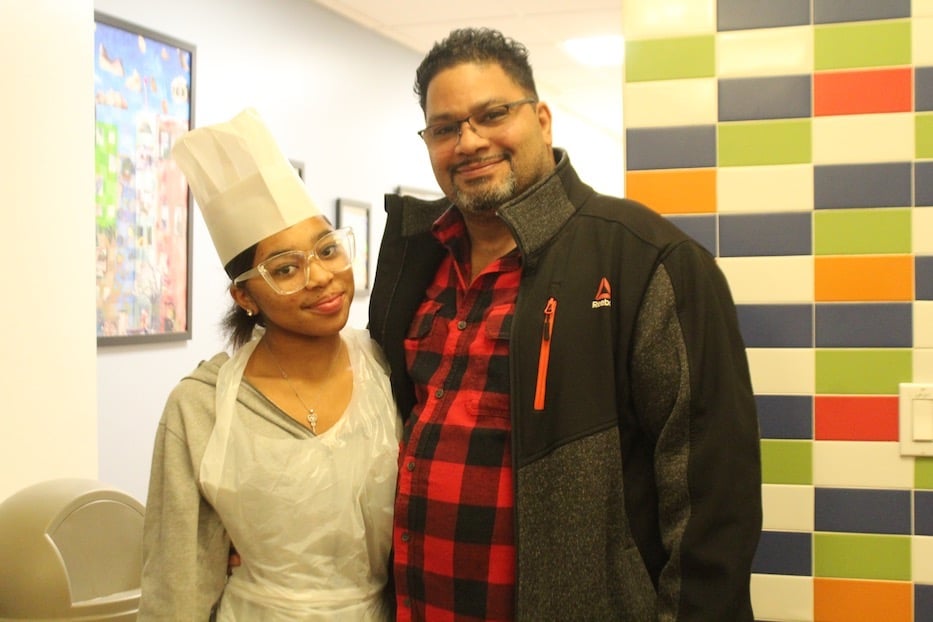 J'Nel and Jeffrey Negron.
Back at the entrance, father-daughter duo Jeffrey and J'Nel Negron were trading Thanksgiving memories over a tray of vegan turkey that was nearly gone. At home, the family has a full Thanksgiving table, complete with fried turkey wings, oxtail, collards and green beans, baked mac and cheese, sweet potato pie and tres leches cake.
For three years, J'Nel has made the sweet potato casserole. Two of those have been quiet Thanksgivings, with only her nuclear family. This year, she said, she's "grateful for Covid dying down" so she can celebrate with more people she loves.
"I'm grateful for health, family, friends and the positive influence of community," Jeffrey said as he gave her shoulder a little pat. "They say it takes a village to raise a child and that's true."
ConnCAT, he added, was now part of that village.
Learn more about the Connecticut Center for Arts & Technology (ConnCAT) here.