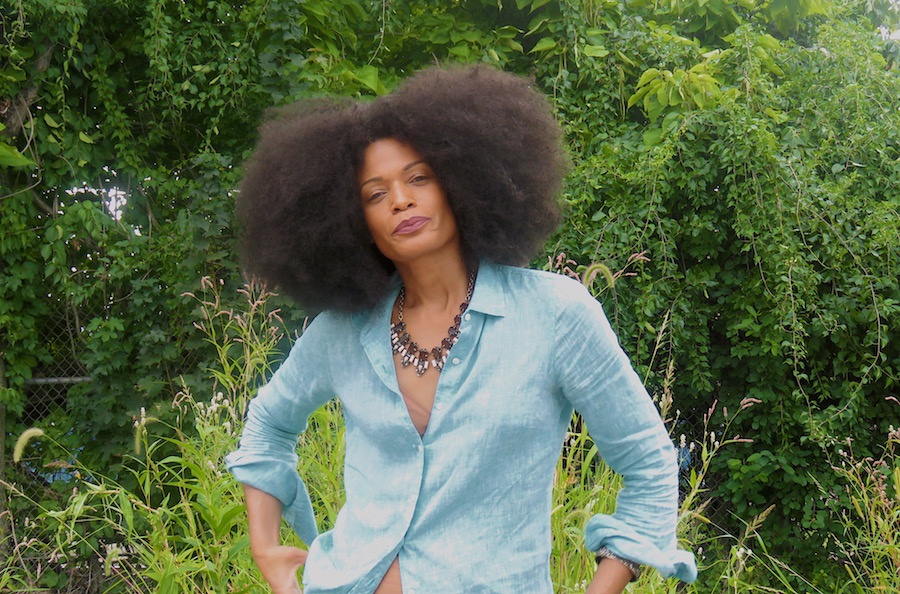 Fashion | Music | Arts & Culture | New Haven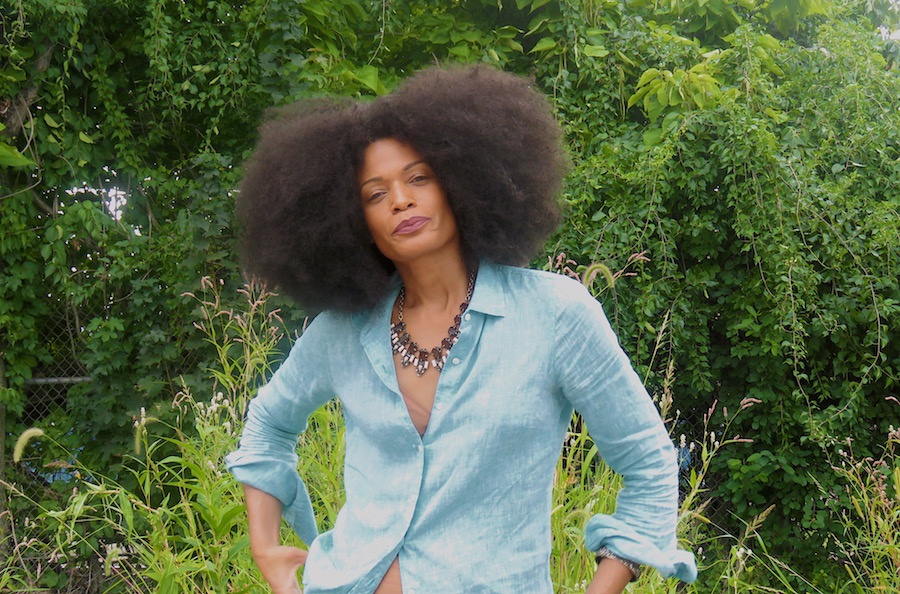 Dana Cobbs: From New Haven to France to New York and back. Julie Francois Photo.
As a kid, Dana Cobbs grew up dancing to disco and hip-hop. She never once thought she'd be the one playing that music for others to groove to, too.
Cobbs is a disc jockey and model living in New Haven, whose recent DJ work has brought her more visibly onto the scene. At a strong six feet tall—that's without hair and heels—she has also modeled for designers including local fashionista Neville Wisdom, Detroit-born Tracy Reese and Wakanda's own Ruth E. Carter. But it wasn't until this year, she said in a recent interview, that she's started to feel recognized for her work in New Haven and unique flair as an artist.
Now the director of media at an ad agency in Farmington, Cobbs grew up in Bridgeport in the 1970s, at a tine when disco and Soul Train were always playing in her house. Late in the decade, her father brought home her first taste of hip-hop—"Rapper's Delight" by The Sugarhill Gang. Just one play, and she was completely lost in lyrics.
Bang bang, the boogie to the boogie/Say up jump the boogie to the bang bang boogie
Let's rock, you don't stop/Rock the rhythm that'll make your body rock
"That kind of turned everything around for me," she recalled. "I wanted to know every word that was on the record, [I] studied every lyric. And after that first record came many more."
She became infatuated with the whole hip-hop scene. She doodled graffiti in notebooks, tried to dress like the artists, and mastered the lyrics to every song. She loved music and fashion, yet struggled with the label of "artist" or "creative" that peers in the art world tried to foist on her.
"I think, 'what do I do?'" she laughed.
Her resistance to a career in the arts led her to college at Clark Atlanta University, where she declared a major in sociology. Bit the fashion of the 1980s called out to her, and she left college her sophomore year to pursue modeling. She had grown up tall and skinny; it was as good a time as any for her to "dive into that world."
And so, at just 19 years old, Cobbs moved to Europe. With her mother rooting her on, she met with casting agencies, travelled on "go sees," attended photoshoots, and passed her information on wherever she could.
"I really just wanted to see if I could pull it off," she said.
It turned out that she could: she was young and bright-eyed, and got gigs in France. But it was more exhausting than she imagined it would be. After a year and a half of working abroad, she returned to the U.S. and finished her studies in sociology, earning a Bachelor's Degree from Clark. She continued modeling on a freelance basis, which she still does today.
Her sociology degree led her to a career in analytics and statistics. In the late 1990s, she decided to move to New York working to work in advertising. She missed her family, no analogue for them in the south. And New York beckoned with professional development opportunities: the city just had more to offer. She was sold on it.
Living in New York, Cobbs was exposed to a whole new world of culture, music, fashion, and beauty. Her job was booming. And then the 2002 recession hit. Cobb decided to take her unemployment checks and buy turntables, a mixer, and records that had moved her years ago She taught herself to deejay while let off from one job, and looking for another.
"I just wanted to see if I could do it," she said. "I always loved music and thought it would be cool to provide music to others."
She started by booking small gigs at New York bars, sometimes as favors to friends and colleagues, sometimes by or word of mouth. As her profile rose in the city, her music took her to California, Florida, and along the Northeast Corridor. There were years, she said, that she couldn't go anywhere without people recognizing her.
Then seven years ago, she decided to move back to Connecticut and settle in New Haven. It was time to be close to the place where her music bug began. She went into advertising during the day, putting her DJ skills to use at night, on the weekends, at at special events. She became close with other local DJs including Dooley-O and Kode Red, with whom she has deejayed late night dance sessions at Rudy's bar downtown.
She said that making mixes and putting together music comes easy to her because of her expansive exposure to all types of music throughout her life. She has role models to guide her: Jazzy Jeff and Benjie B are among her favorites, and she will often listen to BBC Radio to get new songs to listen to or play. On a daily basis, she researches new music and re-listens to her own mixes to remind herself of old sounds and rediscover old music.
"I know when I've done a good job when I feel confident after a show," she said. "Especially after moving around the music around all night and still keeping the floor full."
She said she feels lucky to have been giving opportunities to prove herself musically across the country. But, she added, it hasn't always been easy. The music world is still dominated by men, and she feels it when she gets booked for and shows up at a gig.
"All I ever want to be known for is having the same skill set as a man would," she said. "I don't want to be booked for how I look … I hear a lot of men say, 'Well, you have the look so just go for it.' and I hate that. It's a little demeaning because I just want to be treated like everyone else."
Still, Cobbs said she is glad to have always been able to put her best foot forward in whatever she does.
"You never know when your phone is going to ring with opportunity, or you'll run into someone while running errands," she said. "I hope I'm able to surprise people when they first meet me, and they think I'm talented and better than what they expected. I hope I'm formidable."
To see more of Cobbs' work, visit her on Instagram at @thatdanagame or online at her website.