Culture & Community | Southern Connecticut State University | Arts & Culture | New Haven Symphony Orchestra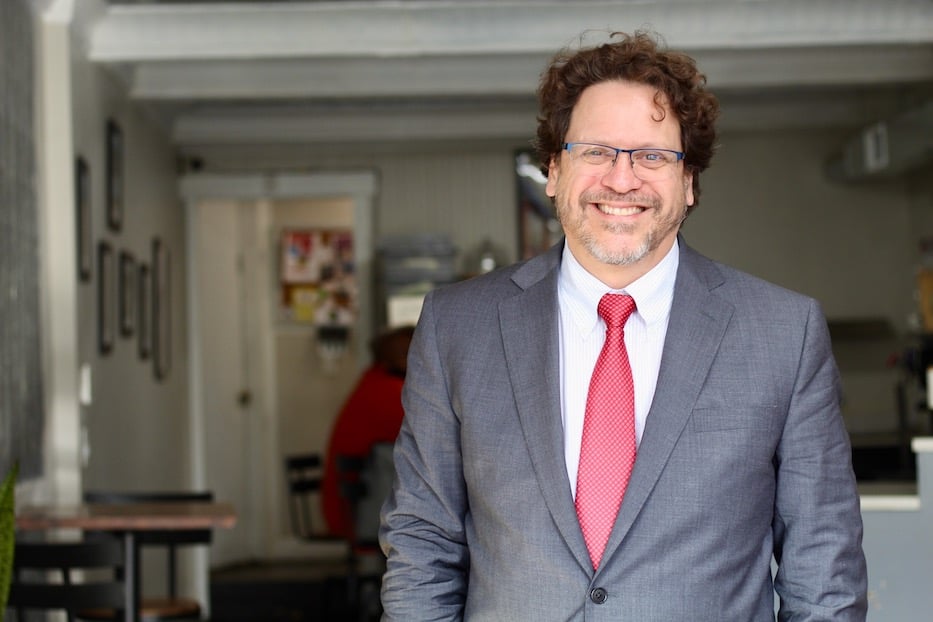 Donato Cabrera Tuesday morning at Kaiyden's. He is the first of four finalists to audition for music director at the New Haven Symphony Orchestra. Lucy Gellman Photos.
Donato Cabrera's love for music education began in his grandmother's home, surrounded by family as Mexican waltzes wafted through the air. It followed him to an L.A. band classroom, then the conductor's podium in a college theater. It grew on stages in New Jersey and New York, then wound back to the West Coast with stops across the country.
Now he is hoping to bring it to New Haven—and teach audiences in the process.
Cabrera, who grew up in East Los Angeles and currently works as the music director of the California Symphony and Las Vegas Philharmonic, is the first of four finalists for the New Haven Symphony Orchestra's (NHSO) next music director. This Friday, he will conduct a lineup that includes Emmanuel Séjourné, Anna Clyne, Richard Strauss and Antonín Dvořák at the John Lyman Center for the Performing Arts at Southern Connecticut State University (SCSU).
Current Music Director Alasdair Neale, who began his tenure in 2019, plans to step away after the 2023-2024 season. Three other finalists include Tania Miller on March 10; Perry So on March 26; and James Blachly on April 16. Tickets and more information are available here.
"The program is a reflection of my bent for providing an educational experience for everyone," he said in an interview Tuesday morning at Kaiyden's Coffee in Wooster Square. "Often when you see materials about an orchestra and they talk about education, it's specifically for young people. And I feel that in all of the things an orchestra does, there is an opportunity and a need to provide an educational experience [for all ages]."
Cabrera fell in love with music when he was just a kid, listening to his paternal grandmother play Mexican folkloric music on the piano as cousins and family members gathered around her. Long before his birth, Cabrera's great-grandfather was an itinerant musician in Mexico, and passed down his talent to his daughter. Cabrera's grandmother was the first of eight children born in Los Angeles; his paternal grandfather hailed from León, nestled in the state of Guanajuato.
"I think I was seven when I looked at her and I said, 'I want to do that,'" he recalled. His interest didn't come from the great pantheon of dead white men. "It was a living, breathing thing."
Inspired by his grandmother, he began to take piano lessons, for which he also credits the support of his maternal grandparents. Piano led him to the French horn, and band classes in middle and high school. They became his gateway to classical music—and sparked an interest in music education. His band teacher, Felton Hickman, became his second musical role model. The two remained close until last year, when Hickman passed away at the age of 85.
His love for music education led him to Reno, where he started his undergraduate work at the University of Nevada. Outside of the classroom, he geeked out to music while working in a record store. Inside it, his understanding of music, music education and conducting was constantly evolving. "This is when the Leonard Bernsteins and the other famous conductors start coming into my life," he said. "But again, even with Leonard Bernstein, it wasn't so much about his conducting per se, it was his intense desire to educate."
By his sophomore year of college, Cabrera was student-conducting one piece at each university concert. The first time he conducted, he recalled standing in front of his peers, looking out over a small auditorium and feeling like he was exactly where he was supposed to be. He was 19, and didn't know the decades of conducting experience that would follow.
"I will never forget that first rehearsal," he said. "I felt, like, as comfortable as I was playing French horn, to be standing in front of an ensemble, helping others be the best they can be in a group … I immediately felt like, 'This is it! This is what I need to do.'"
His professors encouraged him to pursue conducting professionally, which sent him to the Midwest and East Coast for several years. After his graduate studies at Indiana University, he landed at the Manhattan School of Music, where he studied under conductor Zdeněk Mácal. At the time, Mácal was the music director at the New Jersey Symphony Orchestra, which ultimately led Cabrera to a cover conducting position with the organization.
As a working artist, he remembered feeling like "I've made it!" for the first time because he could make his rent in New York, he said with a laugh. He smiled at the memory, as if he was back in Manhattan's Inwood neighborhood for just a moment.
The East Coast couldn't keep him: Cabrera headed back to California in the early 2000s, where he held various positions with the San Francisco Symphony, San Francisco Symphony Youth Orchestra, San Francisco Opera, California Symphony, Las Vegas Philharmonic and others (read his bio for more). As a composer with those organizations, he said, his interest has long been using music to build a narrative that can both teach and open attendees' eyes to something they may not have known before.
When he saw Neale's announcement that he would be stepping away from the New Haven Symphony Orchestra—the two have long been colleagues, and Neale was his predecessor at the San Francisco Symphony—he thought "this must be a wonderful organization to be a part of," he said. While Cabrera has guest conducted with the Hartford Symphony Orchestra, this marks his first time in New Haven. "I have greatly missed being a part of this East Coast community and I have always really wanted to spend time here again."
As he takes the stage this Friday, Cabrera hopes to teach directly and through the program. During his years with the California Symphony Orchestra, he was part of an organizational pivot to make the symphony more accessible, from a bilingual English-Spanish website and program notes to programming to work by living composers and composers of color in every program.
Friday, he has built a program around Emmanuel Séjourné's "Concerto for Marimba and Strings" with the work of Anna Clyne, Richard Strauss and Antonín Dvořák. He said that Clyne, along with Jessie Montgomery, is one of the living and contemporary composers he's currently most excited about.
The starting point was Séjourné's work, which was for two years a casualty of the Covid-19 pandemic that the symphony hoped to re-program. Just as New Haven is a conducting first for him, so too does the piece, which marries marimba and strings. Monday marked his first rehearsal working with percussionist Aya Kaminaguchi, for whom he had high praise.
"My first thought was, 'Where do I go with this?'" he said of the program. "And you know, there is a unique quality to this concerto in that, like me, probably everyone in the audience will be seeing, probably, a percussion concerto for the first time. And I thought, 'Well, what if the other pieces can showcase the other sections in the orchestra first, and then they can all come together in a symphony?"
In the lineup he has designed, four pieces of music are meant to do just that. Clyne's "Stride," an homage to Beethoven's "Sonata Pathétique" that Cabrera conducted in April of last year with the Las Vegas Philharmonic, allows strings to quite literally take center stage for a heart-pumping 14 minutes. Strauss' "Serenade in E-flat Major" is meant to showcase both woodwinds and brass. In Dvořák' Symphony No. 8, "all of the sections come together, and he does showcase individual solos and members of the orchestra throughout," he said.
"So you get to hear how they all interact," he continued of the Dvořák. "Not to say that all of my concerts come from an educational bent, but certainly this one certainly does."
When he thinks about stepping up as music director at the NHSO, he said, he's excited by the idea of educating, cultivating, and keeping new audiences of all ages. Taking a sip of his latte, he pointed to the unspoken symphonic code of conduct—"what one should do, how one should act, what one should wear"—as a relatively recent and equally inane intervention. Prior to the twentieth century, he said, symphonies had a much more porous relationship with their audiences.
At the beginning of each season, Cabrera tells musicians about the premiere of Beethoven's Seventh Symphony, he said—when the second movement received such heavy applause the symphony played it twice. When he welcomes an audience, he doesn't mind applause between sections, or direct responses to the music. He's not surprised when single ticket buyers—sometimes as high as 90 percent—don't return. But he wants to change it through his leadership on the podium, with the audience, and behind the scenes.
"Especially in today's world, where we now are facing the fact that really, our community, our society, has had no music education for generations," he said. "We constantly bemoan the fact that we have no new audiences coming in. Well, one of the main reasons is they have no relationship to this art form whatsoever."
"It's not because of the repertoire," he added. "I am convinced that it's because we write program notes, we create websites, we create an experience designed for the aficionado," he said. "Everything is assuming that people have seen and understand the word Allegro."
Friday, he is hopeful that attendees will stick around to chat with him before or after the program (there is a pre-concert talk at 6:30 p.m.), or pop by to say hello in the lobby during intermission. It's one of the things that makes him love his work, he said.
If hired, he's also excited to plug into and grow the NHSO's already-robust programming for young people. At the San Francisco Symphony and later at the Las Vegas Philharmonic, he designed programming specifically for young people. He stressed the importance of such programming as music education programs shrink and disappear across the country.
"When a child goes to a symphony, this is often the largest building they've ever been in, and a space devoted to something that—of just listening and hearing sounds," he said. "And that is something that can be profound for a young person."
Donato Cabrera will conduct the New Haven Symphony Orchestra on Friday, Jan. 20 at the John Lyman Center for the Performing Arts at Southern Connecticut State University and Saturday, Jan. 21 at Valley Regional High School in Deep River. Tickets and more information are available here. On Friday, a pre-concert talk will begin at 6:30 p.m.