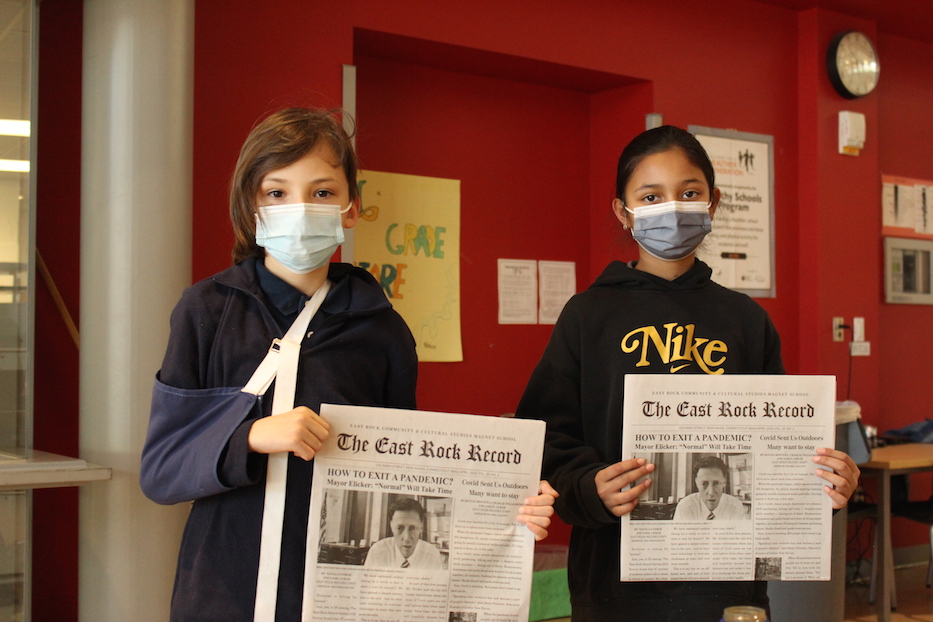 Culture & Community | Education & Youth | Arts & Culture | New Haven Public Schools | Journalism | East Rock Magnet School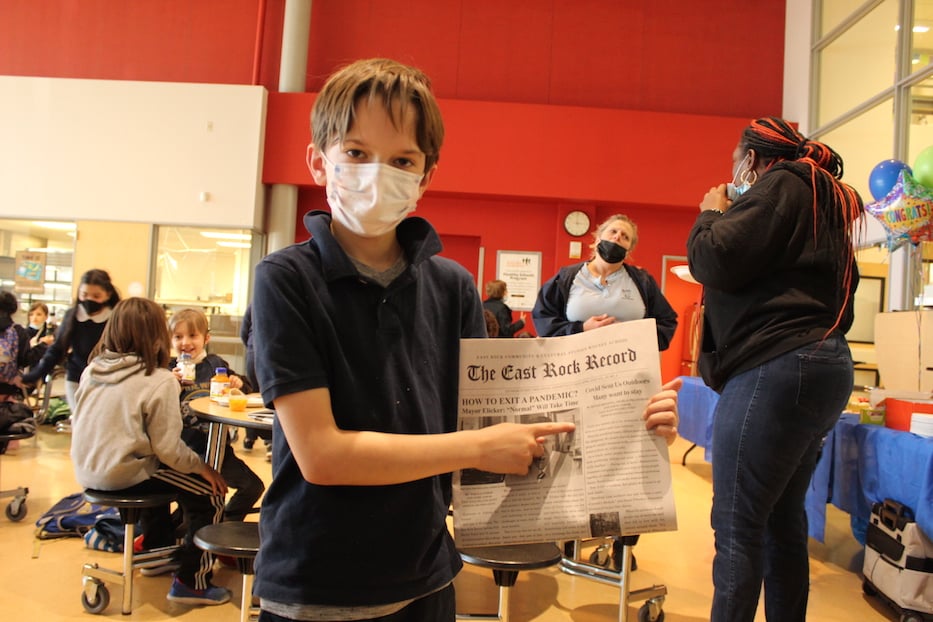 Charlie Pellegrino points to his byline. Al Larriva-Latt Photo.
Fourth grader Charlie Pellegrino remembers the first time he noticed dozens of New Haveners waiting outside of a food pantry. He was on the way to the Whitney Donut shop with his mom. A Harry Potter audiobook played in the car. He looked out the window, and saw people standing on the sidewalk, receiving apples and boxes of macaroni and cheese.
It wasn't a subject he necessarily felt comfortable talking about. So he wrote about it in the school paper instead.
"I kind of like that you can express your feelings, but you don't have to talk to people," Pellegrino, a fourth grader at East Rock Community and Cultural Studies Magnet School, said about the writing process. "I'm less shy about writing my things down than speaking them."
Last Wednesday, the 15-20 student journalists who make up the East Rock Record gathered with their parents, friends, and advisors in the school's bright and airy cafeteria to celebrate the release of the second issue of the school paper this year. The paper is a student publication that covers everything from outdoor learning and food security to public art in the third year of the pandemic. Because the club is held remotely, it is their first time meeting in-person this year.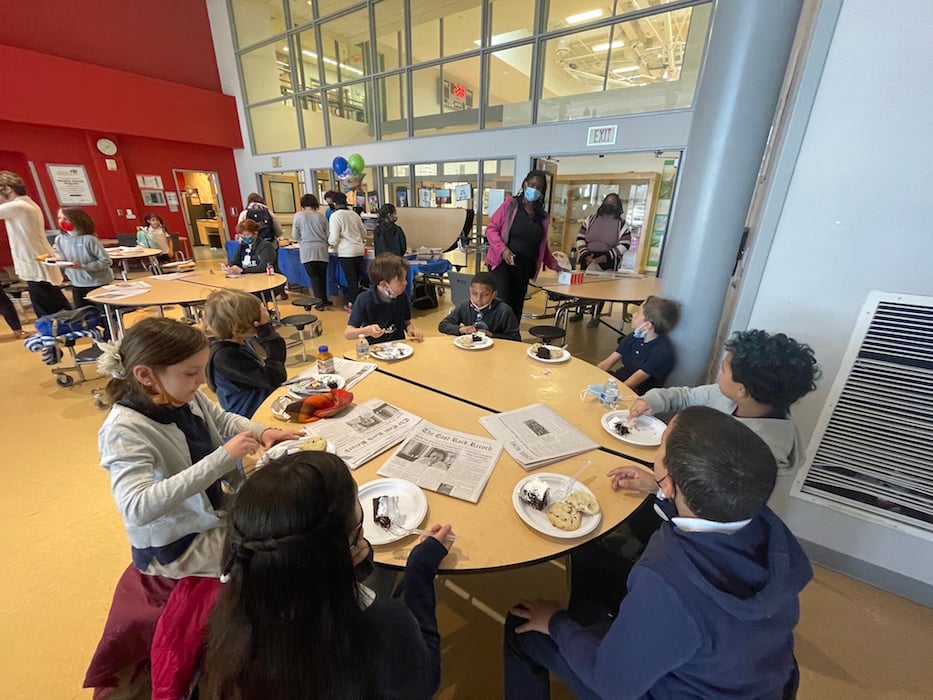 Maria Parente Photo. Parente is a program manager for Yale Pathways to Science.
The Record is a collaboration between Yale's Office of New Haven Affairs (ONHA), a group of Yale undergraduate mentors, and student writers at East Rock Community and Cultural Studies Magnet School. Student journalists range from third to eighth grade.
"Young children are way smarter and thoughtful than people give them credit for," said Laura Pappano, founder of and advisor to the Record. "A newspaper is a wonderful vehicle for them to share what they see, share what they know, and actually to learn a lot of skills—to learn social skills, like how to interview somebody, how to ask questions, how to think on your feet, and then how to put it all together into a story."
Over just half an hour, it was a celebration of young journalists' adaptability and perseverance during the long and ongoing Covid-19 pandemic. At a time when childhood wellbeing is a popular conversation in national newspapers, children themselves are rarely facilitators or participants in that conversation. The East Rock Record provides them with the opportunity to weigh in on issues that are affecting their own lives, wellness, and ability to thrive.
At 2:30, a half-hour after school let out, the celebration was in full swing. Dozens of kids in the East Rock uniform—white or navy tops and blue or khaki bottoms—sat on child-sized tables and stools. Rick Crouse of the Yale Office of New Haven Affairs stood behind a tables draped in a blue tablecloth, doling out a cornucopia of sugary and salty sweets: bottled juices, chocolate chip cookies, Belgian waffles, and slices of cake that read "Great Job East Rock Reporters" in green icing. The kids sat around the circular cafeteria tables, eating, laughing, and joking with one another. Their voices rang across the room.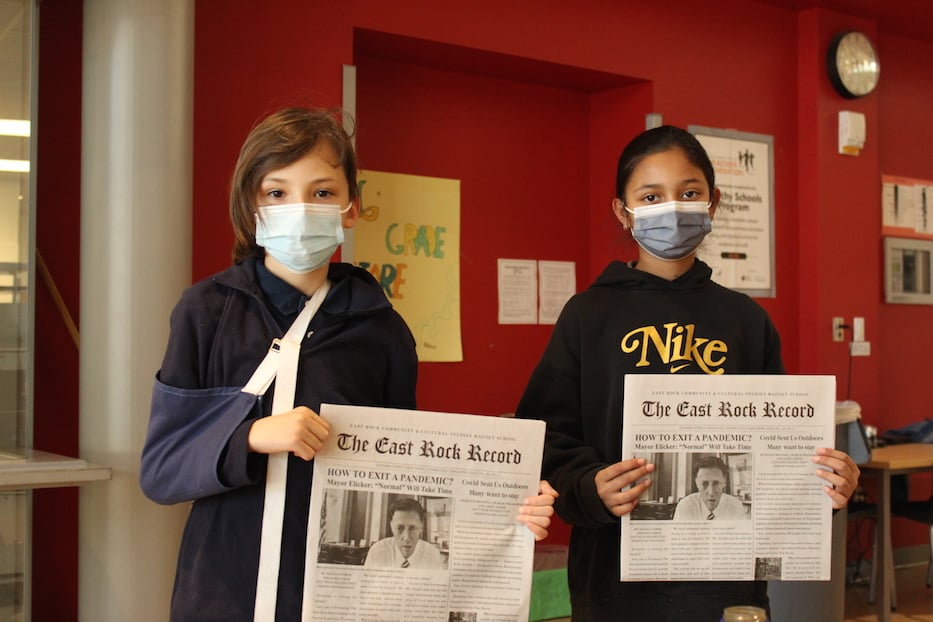 Tusker Pickett and Haelly Patel. Al Larriva-Latt Photo.
The latest issue was stacked on the cafeteria tables. It features four different sections, a letter from Principal Sabrina Breland, black-and-white photographs, and advertisements from local institutions and businesses. In its pages, the student journalists tackle a wide range of issues. The latest issue covers recurring fights in East Rock School bathrooms; the way New Haven Public Schools (NHPS) Covid policy has turned school lunchtime into an ordeal; and East Rock students' enthusiasm for the enrollment of Afghan refugees in New Haven schools.
Especially noteworthy are the short opinion pieces, which occupy the issue's second-to-last page. Topics range from classic debates—are dogs better than cats?—to heavy-hitting human rights issues such as Immigrations and Customs Enforcement (ICE) detention centers.
Pellegrino's opinion piece, titled "Give People Food," grapples with the reality that some New Haveners face food insecurity and houselessness while others, like he and his parents, do not. It offers simple solutions. Go to Walmart and buy packs of basic snack foods. Keep sandwiches and energy bars in the glove compartment of your car. Bring food to the donation boxes outside of churches.
"Passing out food to people is a great way to enjoy yourself and the people around you," Pellegrino writes in the piece.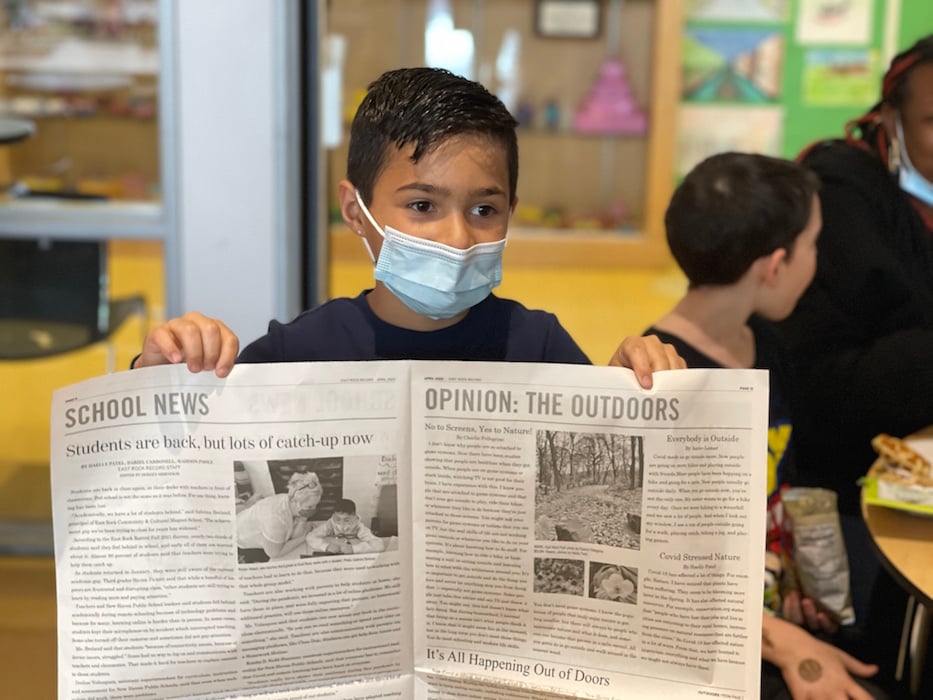 Maria Parente Photo. Parente is a program manager for Yale Pathways to Science.
Pappano, a Yale alum and reporter who has been covering education for the past 30 years, founded the Record ten years ago. Since then, the student paper has published approximately 20 issues—two issues a year—and taught journalism to hundreds of East Rock students.
The Record also weathered the pandemic. When the New Haven Public Schools (NHPS) moved schooling online for the 2020-2021 school year, Pappano and the mentors shifted the after-school program to Zoom. Due to continued restrictions this school year, mentors—Yale undergraduates, all of whom are young journalists themselves—continued to meet with the students over Zoom. The mentors were unable to attend Thursday's celebration due to Yale's Covid policy.
At a table near the entrance to the food servery, fifth grader Tusker Pickett dug into a piece of cake. A copy of the Record lay next to his plate. Pickett said he likes to write fiction and has started writing a couple novels, which he's working on finishing. "I only have like three pages of each," he said with a laugh.
He has been writing for the Record for the past three years. His younger brother, Haven Pickett, is also in the program. In this most recent issue, Tusker's name was on three different bylines: a group article about the effect of Covid on summer camps and other activities, East Rock's adaptation to district-wide Covid policies, which have resulted in the complicated, less social, and higher-stress "Covid lunch," and a short reflection on a Zoom call with the Yale sophomores.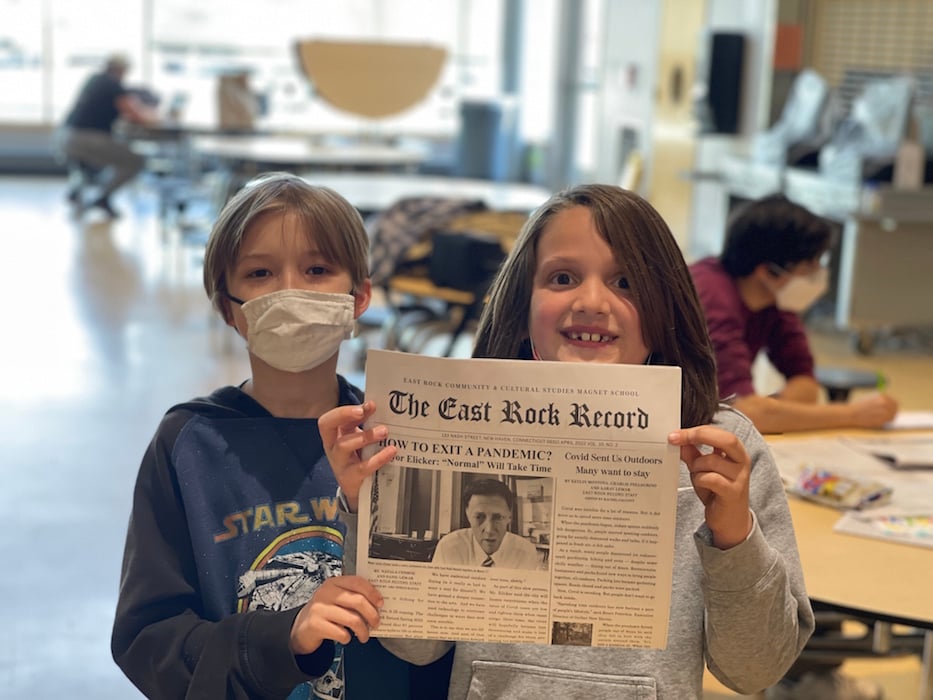 Maria Parente Photo. Parente is a program manager for Yale Pathways to Science.
His favorite part about the program is getting to interview people, he said. During his three years in the East Rock Record, he remembers interviewing Mayor Justin Elicker twice.
"I think asking questions and like finding your answer is really fun," he said. "Meeting the cool people we interview is also really fun."
His friend and fellow Record reporter Haelly Patel chimed in. "It's a really good opportunity because you can get ideas on what to write about," she said.
For his collaborative article on summer plans, Tusker and his co-reporter Charlotte Martinez were able to interview William Dixon, deputy director of the city's Youth and Recreation Department. The two reporters also interviewed Jessica Hoffmann, a research scientist at the Yale Child Study Center.
One of Patel's bylines was a short article about the impact of Covid-19 on plant life in New Haven. In the article, titled "Covid Stressed Nature," Patel exhibits a curiosity about and sensitivity to her surrounding environment.
"I have noticed that plants have been suffering," Patel writes. "They seem to be blooming more later in the Spring."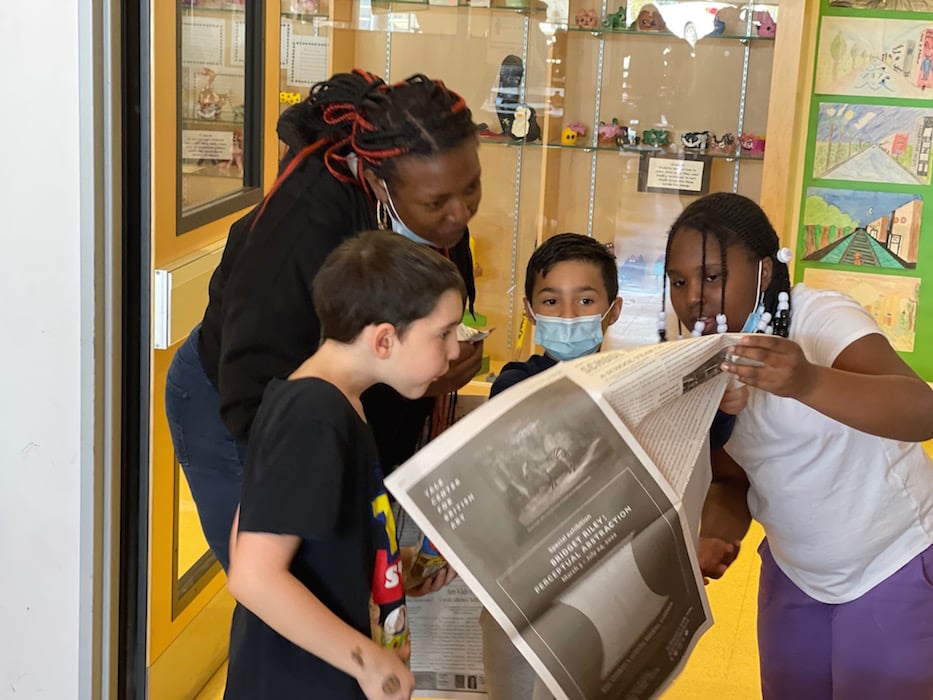 Maria Parente Photo. Parente is a program manager for Yale Pathways to Science.
The article also includes thoughtful pictures, which she shot with a smartphone camera. Before the pandemic, the program brought award-winning photographers to East Rock to teach an in-person "photojournalism bootcamp." Covid prevented that bootcamp from happening this school year, but, even without the extra instruction, the kids intuitively knew how to take compelling photos of their own.
Patel proudly hovered her finger over her two photos, printed next to the text of her article.
Patel, Tusker Pickett, and Pellegrino all plan to continue on with the program, which is open to them through the eighth grade.
Tusker Pickett already has an idea about what he wants to write about next, and it has to do with the dinosaurs and animals living in New Haven six million years ago.
"I think it's kind of interesting that right over that way there might have been like a watering hole like where all the dinosaurs gathered and stuff," he said, excitedly pointing out the pack window of the cafeteria into toward the grass fields.
Read the East Rock Record here. Follow the Record on Instagram here.