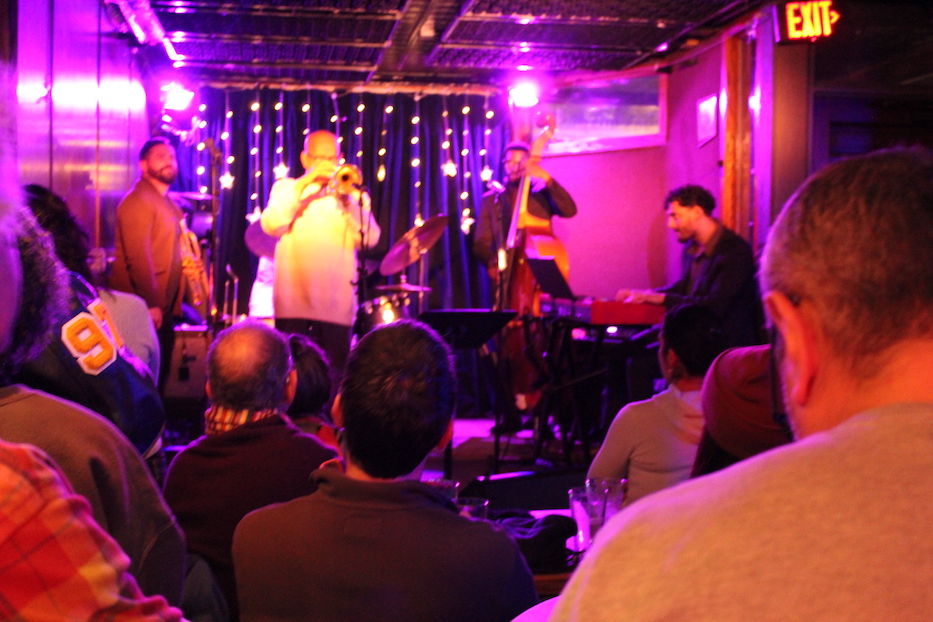 Cafe Nine | Jazz | Music | New Haven Jazz Underground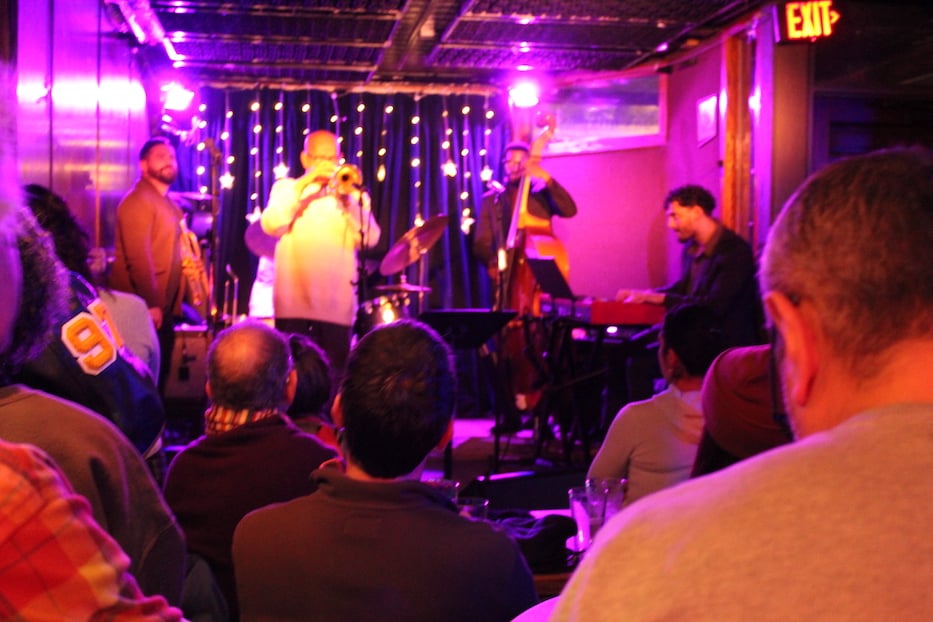 Marie Sanford Photos.
The horn let out a long and passionate sigh, and its blue tones mourned something just out of the mind's eye. A dreamy melody caressed and held the audience. At the end of long phrases, the horn fluttered like the desperate calls of a songbird. Soft purple lighting and string-lights enhanced the romantic and moody atmosphere.
As the horn crooned out of the final notes, audience members self-consciously exited their reverie. Their wonderstruck eyes silently questioned, "Did you just hear what I did?" The ballad in question was composer Duke Pearson's "You Know I Care."
That sound came to Crown Street Tuesday night, during the biweekly jazz night hosted by the New Haven Jazz Underground (NHJU) at Cafe Nine. The event typically features a headlining act followed by an open jam session; patrons and musicians casually share the music over beers and cocktails.This night, the mood felt reverent, upbeat: Eddie Henderson was in town.
At 82, Henderson has had a tremendous career. As a kid, he was personally mentored by Miles Davis, who was friends with his parents. Later, he associated with his peers and soon-to-be greats like Lee Morgan and Freddie Hubbard before a gig with Herbie Hancock gave him his first break. Since then, Henderson has gone on to play bicoastal venues and more recently has been on the faculty of The Julliard School and Oberlin Conservatory.
So, it was no surprise that on Tuesday night, Cafe Nine was particularly packed. As people piled in, the musician chatted easily with Nick Di Maria, the organizer of NHJU and his mentee. He was unassuming almost to a fault, his smiling eyes covered by simple tortoise shell frames. To think of him as a sprightly dad or grandpa wasn't far off: he has mentored dozens, if not hundreds, of now-professional musicians during his career.
Two decades ago, Di Maria met Henderson at a trumpet clinic when he was a student at Western Connecticut State University. After the session, he shyly asked the master if he could take lessons from him. Henderson said yes, and the two have maintained a close relationship ever since.
Di Maria called Henderson his "second father" and on stage before the set started, explained how Henderson was the one person in his corner who always encouraged him to keep playing.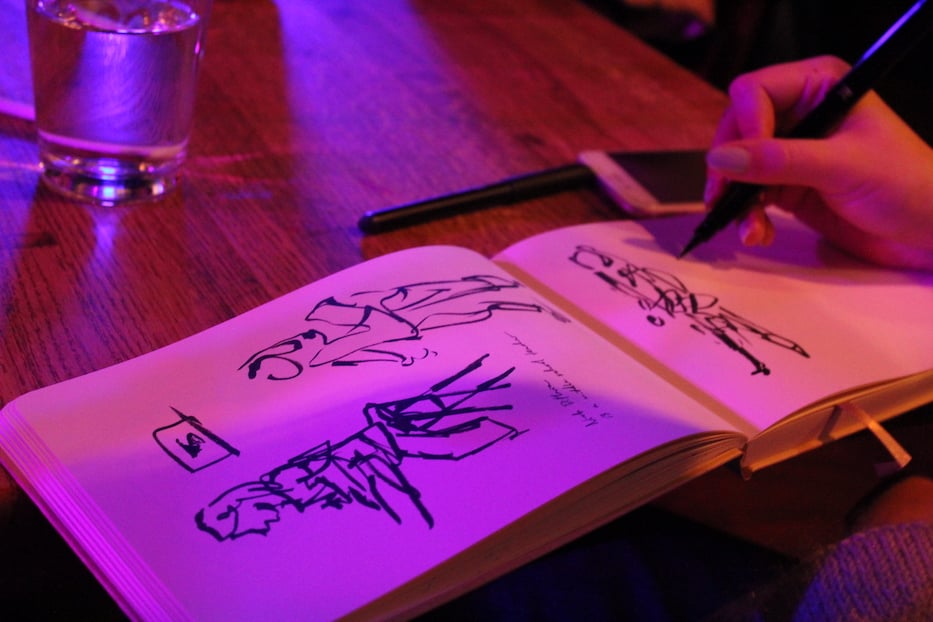 Artist Jisu Sheen drew the musicians as they played.
For Henderson, this self-belief is part and parcel of being a musician. "I always ask my students, 'Why are you into music? For fame and fortune or for the love of the art form?'" Henderson said after his set.
"If they say fame and fortune, they might get it, but if they don't, they're in for acute depression," he laughed. "But if you're in it for the love of the art form, you'll never get tired."
Henderson's humor and warmth emanated from the stage. From the moment he blew his first note, he held the wall-to-wall room entranced. He was calm and confident yet clearly playful and creative. He would smile to himself after certain trills, and he laughed after he ended one song by blowing a raspberry against the lips of the trumpet.
"I feel like this is my home now!" Henderson called out into the crowd after a few numbers. After the cheers died down, he humbly entreated, "I hope something touches you…musically."
The crowd chuckled—because something already had—as Henderson counted off the next song to his band.
"A Vibrant Jazz History"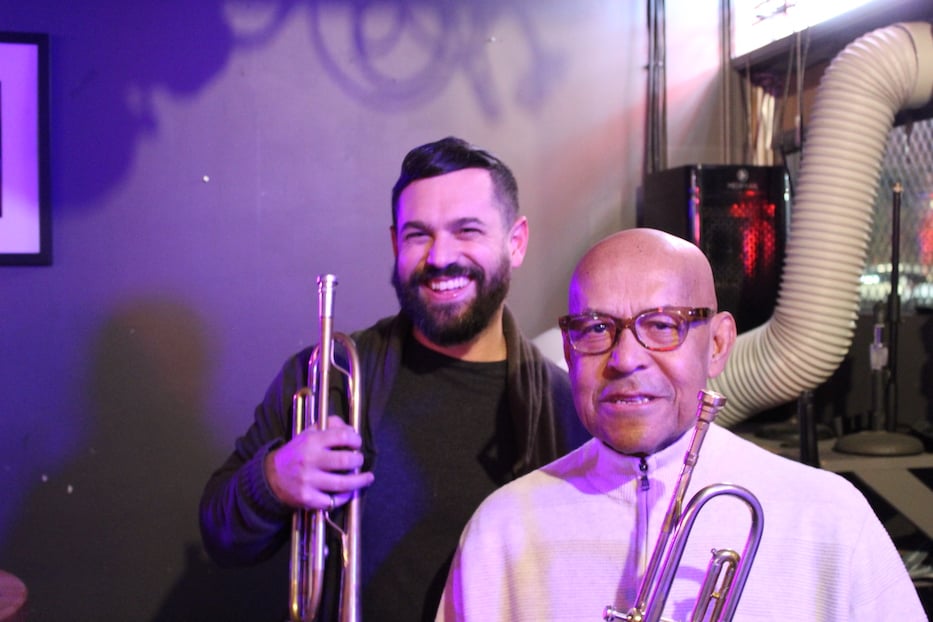 Nick Di Maria and mentor Eddie Henderson.
Di Maria formed the New Haven Jazz Underground in 2019 for both music goers and musicians in New Haven. After graduating from West Conn, he moved to New Haven and felt that the jazz community was less welcoming than expected, given New Haven's rich music history and its positioning between Boston and New York City.
"New Haven has a vibrant jazz history and I wanted to continue that and bridge some generational gaps that I thought existed, get clubs to work collaboratively, in order to promote local business and artists and musicians and writers," Di Maria said.
After working on the board of Jazz Haven and co-producing several New Haven Jazz Festivals, Di Maria decided to start the Underground as a "grassroots community-based organization" aimed at elevating the jazz scene in New Haven.
When he first started, the Underground was housed at The Outer Space in Hamden, but currently alternates between Cafe Nine on State and Crown Streets and Three Sheets New Haven on Elm Street. What makes the group unique is that it "doesn't rely on the vibrancy of the venue itself," Di Maria said. Instead, when conceptualizing the collective, Di Maria asked himself, "What if the community is the foundation for the scene?"
Di Maria does this by encouraging inclusive cross collaboration. "I'm trying to bridge musicians to musicians and, and across age groups, and I always encourage younger musicians to collaborate with older [musicians]...basically I give everybody a chance," he said.
Di Maria is also mindful to discourage competition between different venues in New Haven, —hence the offset nights at Cafe Nine and Three Sheets. Additionally, NHJU never conflicts with the Owl Shop, a College Street haunt that has traditionally hosted jazz nights on Wednesday nights.
By doing so, Di Maria said, the Underground becomes "the essence of the scene rather than one individual club."
"A Whole Community"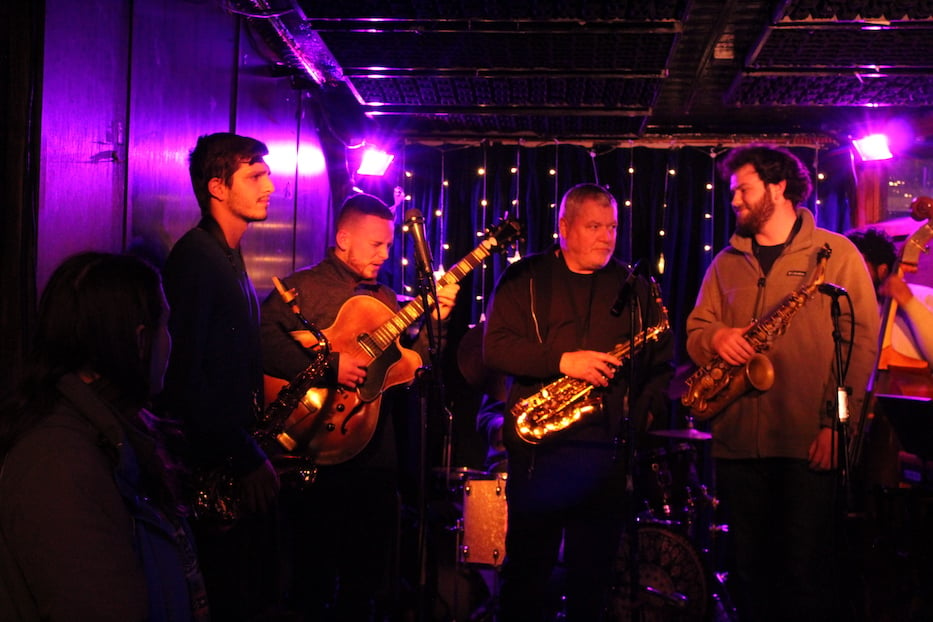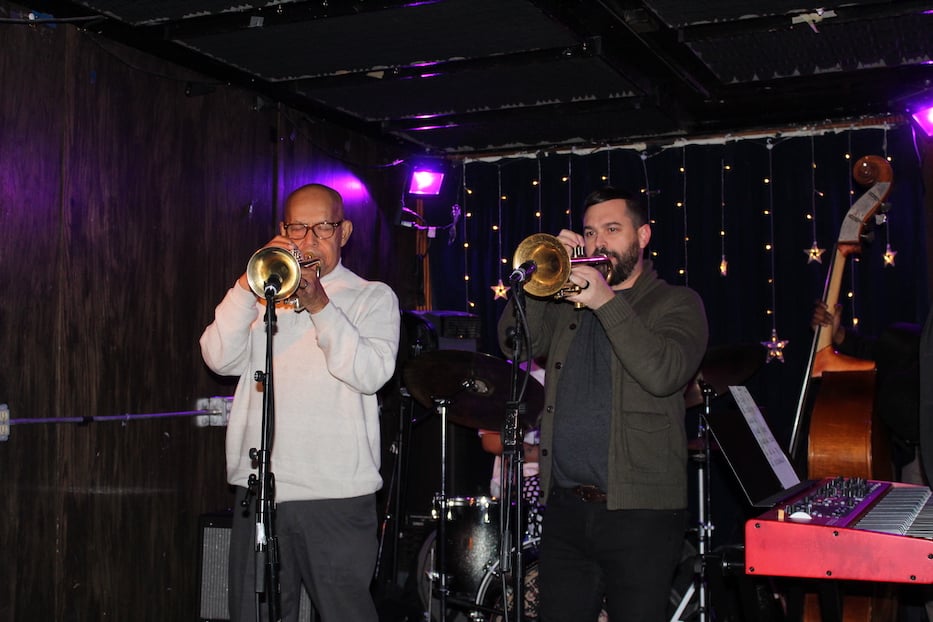 That sense of community was clear Tuesday night. At the tables across from the bar were a group of friends from the University of Hartford who regularly come to play in jams. Another student from West Conn had made friends with the U of H students through attending a weekly jam that occurs in Hartford.
Henderson's pianist, Michael Carabello, also spoke to the community building aspect of the Underground jams. "What brought me here tonight was me meeting other people because I love the music, they love the music. So because of that, we're all in the same area at the same time most of the time and… then before you know it, it's like a whole community."
Mike Slobbe, who lives in Stratford, said he'd intended to come to the jam sessions for "months and months and months," and Dr. Henderson is what finally pulled him out.
Another regular said he usually comes to the Saturday evening jam sessions but came on Tuesday to see Henderson. He happily recalled playing with Henderson years before in New York City and was pleasantly surprised that Henderson remembered him. Wayne Escoffery, an esteemed saxophone player who began his career in New Haven, was also in attendance.
Drummer Avery Collins said that he was initially intimidated by playing with such a great player, but Henderson inspired him to rise to his level. "In the beginning I was like, let me lean back and let him take all the space but him being who he is, he isn't that type of player. He wants to hear what everyone else can bring to the table."
This reciprocity was evident in the other band members' affects too. While soloing, bassist Conway Campbell would zone out and play with an open mouthed smile on his face. At one point, Carabello and Collins seemed to send each other into a frenzy as Henderson looked appreciatively on.
When Di Maria joined the group, his and Henderson's horns effortlessly harmonized both melodies and background toots and trills. And after each band member's solo, the room would respond with roars rather than polite claps.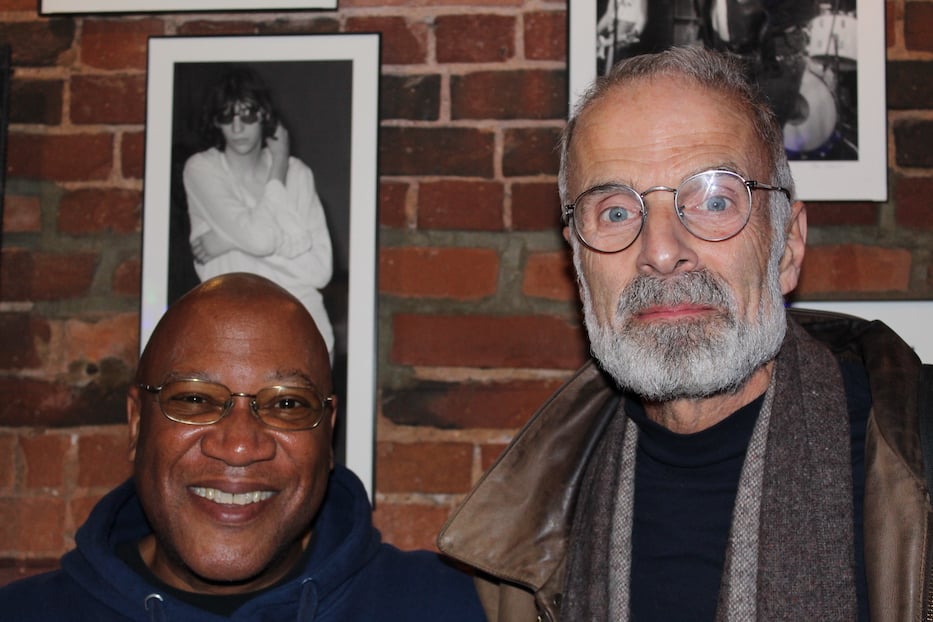 Haywood Lawrence and Mark Macksoud.
Haywood Lawrence, an audience member on Tuesday and frequent attendee at various music events around the city, historicized the significance of Henderson's visit to New Haven. Lawrence spoke about how he missed seeing James Moody play at Morse Hall at Yale in 1991 and how Moody died a few months later.
Thus, prioritizing Henderson's performance was imperative for Lawrence. He said the honor was even greater given the history of great musicians dying before their time due to drug use. In opposition to such trends, Henderson represents a repository of knowledge, a keeper of stories, the things "you don't get in the textbooks" to quote Carabello, a cultural icon.
After Henderson's set was the open mic portion of the evening. The reverent energy in the room broke as players started strapping on their instruments and folks not playing allowed themselves to get rowdier.
"Now let's see about the youngins," Lawrence playfully taunted from his bar corner seat.
From the sign up sheet, Di Maria would call out names and the instrument each person played and a random assortment of players would don the stage and play standards. In a final grouping, Mark Macksoud, a regular at happenings in the city and teacher at the Neighborhood Music School, was on the drums.
During his solo, he artfully transitioned back and forth between a traditional post-bop jazz rhythm to a contemporary rock sound. As the saxophones and keys came back in for the final chorus, rhythm tap dancer Alexis Robbins started freestyling. The crowd, drawn to Cafe Nine by the inimitable Eddie Henderson and perhaps now connected forever, went wild.
If you are a player or simply an enjoyer of jazz music, the New Haven Jazz Underground hosts sessions at Cafe9 every second and fourth Tuesday of the month; and every first and third Friday at Three Sheets. To give your continual support of these free jazz concerts, you can subscribe to the Underground's patreon at patreon.com/nhju.