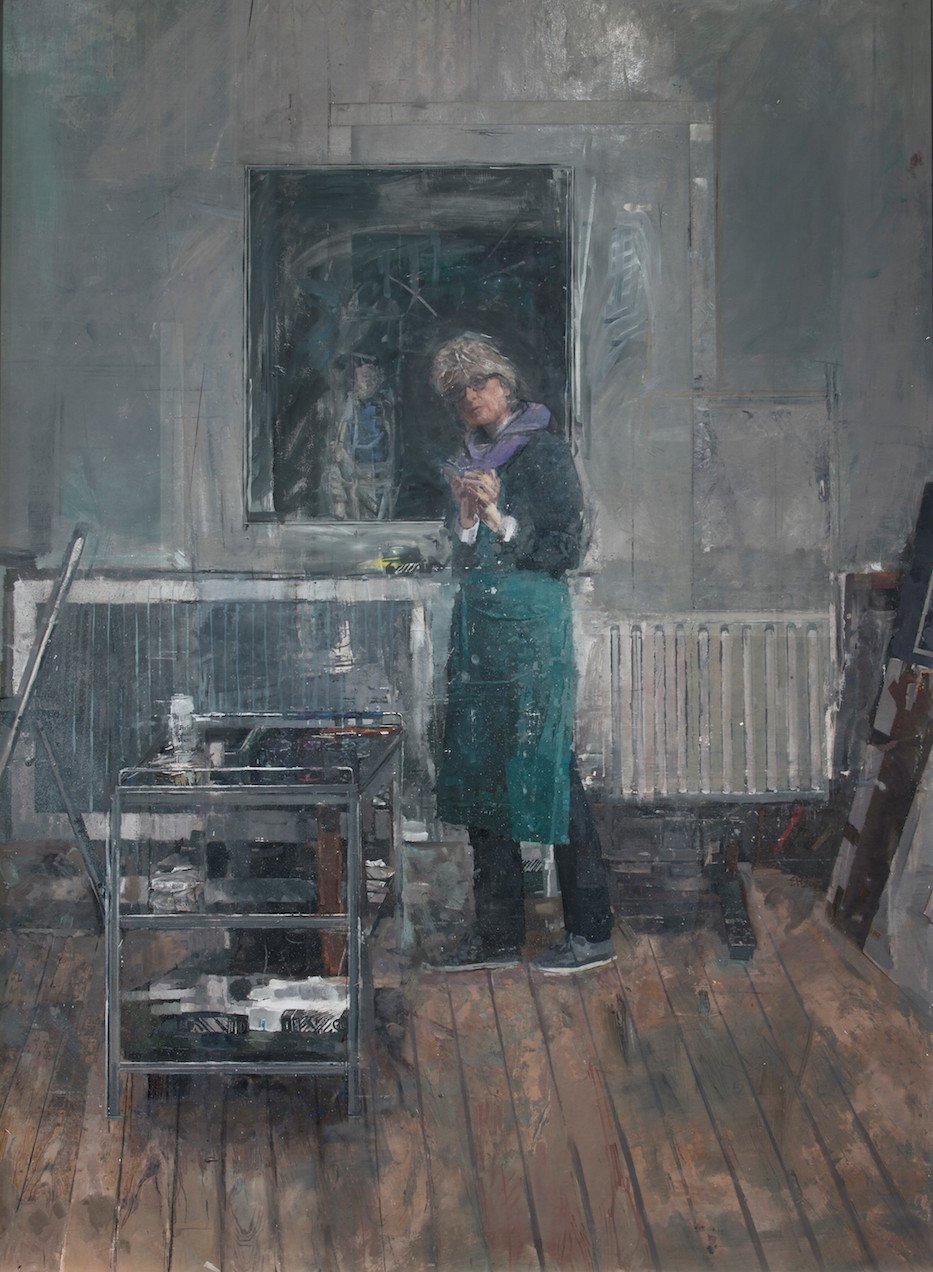 Arts & Culture | Visual Arts | Yale Center For British Art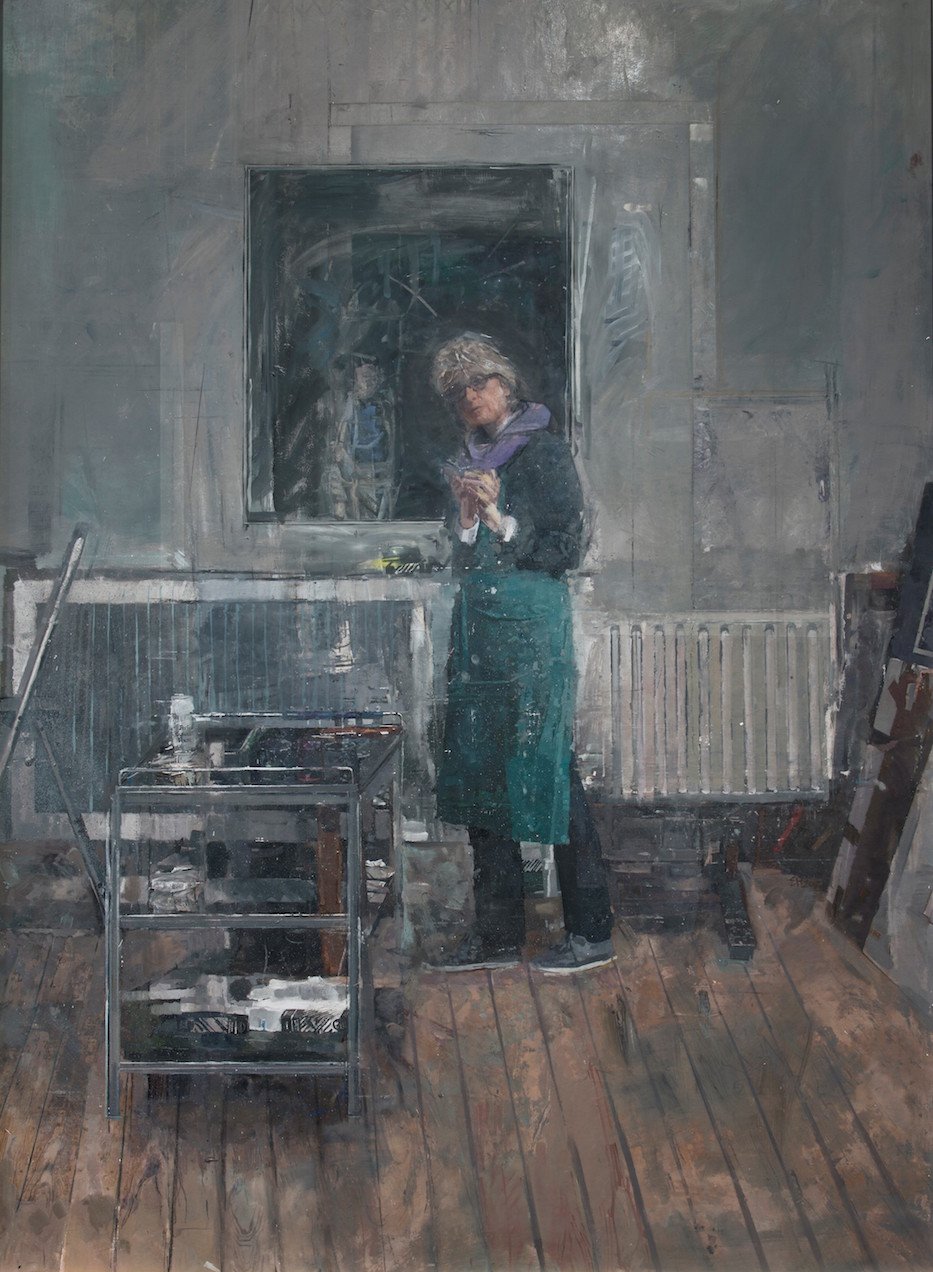 Eileen Hogan: Personal Geographies runs at the Yale Center for British Art through Aug. 11 2019. Images Courtesy Yale Center For British Art.
Oil, wax, and charcoal fuse on paper, all mounted on a wall. They are fogged and blended, as if the viewer is looking through a dirty glass window. On the other side stands an older woman caught in mid-pace, hands intertwined over her chest. The woman looks as though she is in deep thought.
What is she thinking about?, the viewer may wonder. Where is she? What is she doing here?
Why did she use these colors and why is it so dull?
This woman happens to be Eileen Hogan, an English artist whose work takes center stage at the Yale Center for British Art (YCBA), in its newest exhibition, Eileen Hogan: Persona Geographies. After opening May 9, the show runs through Aug. 11.
"Self Portrait in Pembroke Studios" (pictured at top) is installed to the side of the exhibition's entrance, the first piece on which one's eyes fall when they come into the show. The artists cart filled with paint, glass cups of paint water, and various other tools.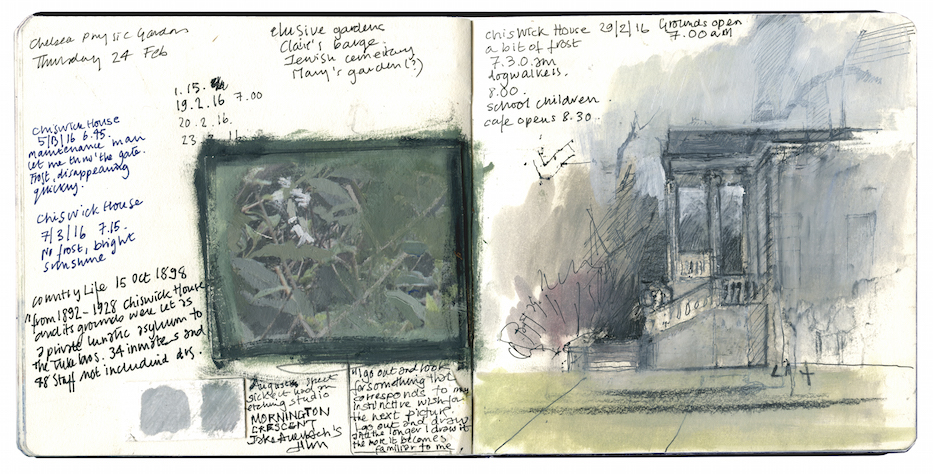 Eileen Hogan, Sketchbook, Chiswick House, 2016. Yale Center For British Art Photos.
The light is dim. Unidentified objects line the periphery of the piece, and an abstract sketch of a man sits behind her. It all feels purposeful, as if viewers are looking in and spying through windows, or getting glimpses of washed out memories set to dry.
The paintings shift as viewers get closer, or back up to look from a few feet away. At a distance, paintings are abstracted and feel momentary, as if they were stolen and given a chance to exist beyond a single moment. It makes viewers feel as though the pieces are memories that both the artist and the viewer share. As if they have both gone to the same place or spent the evening together in a London garden. As if they know the same particular person intimately.
Pieces like "Ian Hamilton Finlay Walking Toward the Roman Garden" show just how Hogan is able to capture small and often overlooked moments in life. In the painting, the poet Ian Hamilton Finlay walks from a wooded area to a garden, out of focus as he moves through the horizontal plane.
At a glance, the painting seems true to how Hogan may have found him in life, emerging from the shadows cast by surrounding trees. His head is bent low, lost in thought. The colors bring the piece to life: there are various shades of green, bright sun patches that lay across the garden floor, and Finlay with his navy blue attire. Small purplish hints of flowers also peek out from the ground.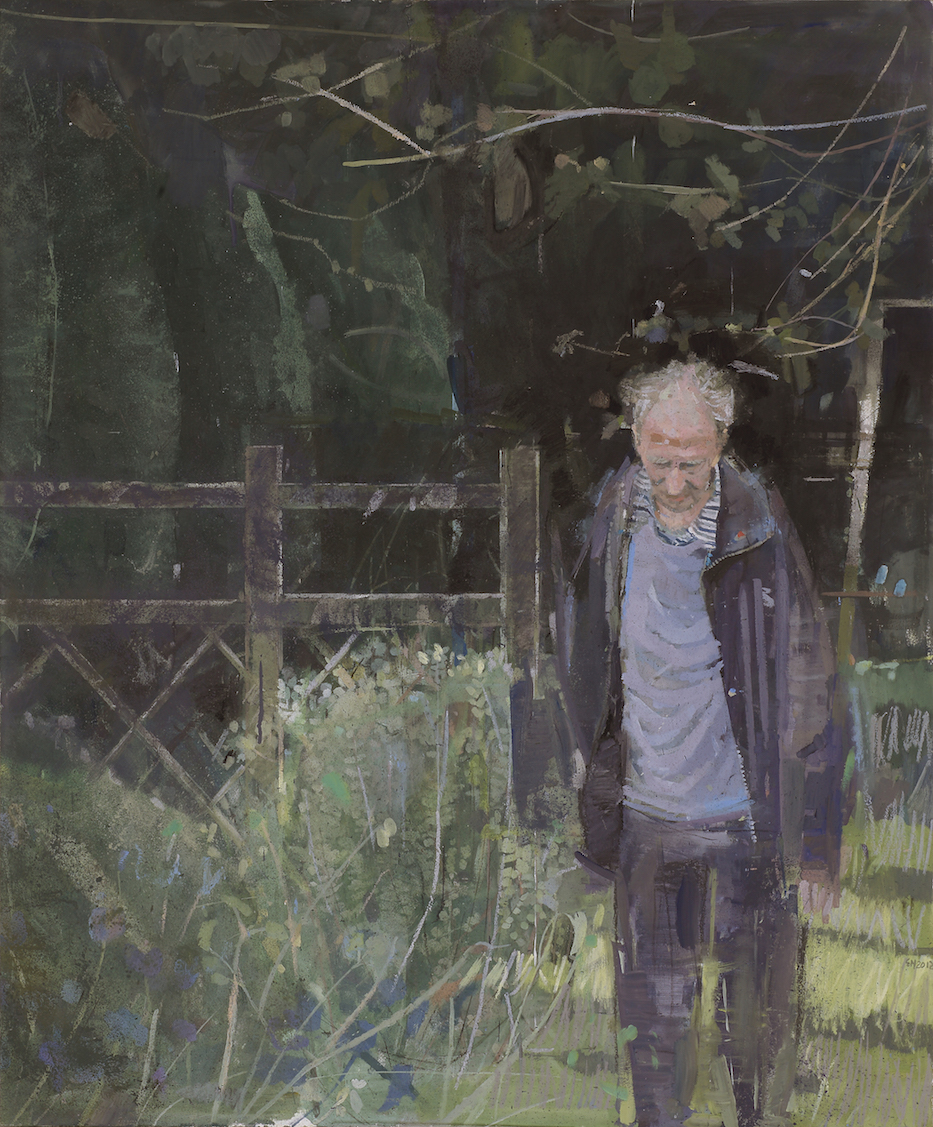 Eileen Hogan, Ian Hamilton Finlay, 2012. Yale Center for British Art Photos.
Other pieces show a different side of Hogan's artistic capabilities. "The Poetry Box," is the artist's contemporary version of the nineteenth-century Japanese card game Hyakunin Isshu Uta-garuta, which she responded to after an invitation from the Victoria and Albert Museum in London.
Uta-garuta is a kind of card game that is played on Japanese New Year. Each set has 100 cards by 100 different poets. The game is played by listening to the beginning of a poem as it is read aloud, then to identify the matching ending from the laid out text cards.
Hogan decided that she would marry the game's random qualities to its structure, so as to invite people to propose a poem. In her process, she allowed half the cards to have the first line of the poem on one side, and a visual reference to the poet on the other. The rest of the cards had the last line of the poem on one side and showed images that related to the poem's content on the the other.
In the center, the project has yielded aesthetically pleasing game cards with paintings of things like butterflies, rain boots, and a bumblebee, as well as portraits of poets Hogan initially chose. Each piece is filled, too, with a certain emotion and nostalgia. It's hard to imagine a viewer walking out of the exhibition without feeling anything at all .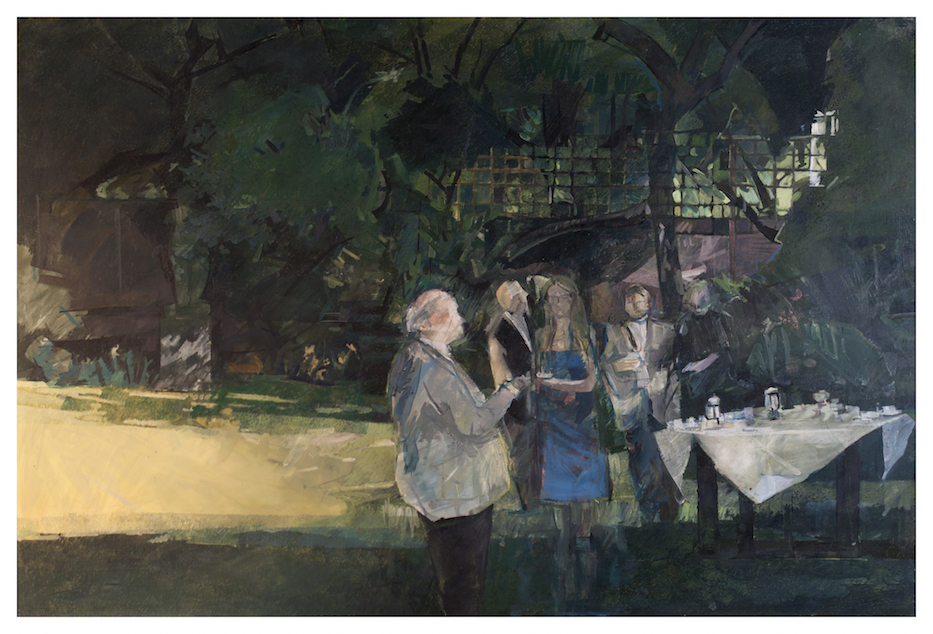 Eileen Hogan, Lunch at Chelsea Arts Club. Yale Center for British Art Photos.
In an artist's talk earlier this month, Hogan asked the audience: what is an artist, after all?
If one were to look at her exhibition and examine each of her pieces, the answer seems clear. An artist is someone who is able to steal a moment from time and capture it. It's someone who cares that there is a chance to recreate it, that it may last forever. Or, at the very least, that it may last much longer than it would otherwise.
Hogan asserts, through her work, that an artist can be anyone, as long as they are able to take their ideas and make them a reality. They just have to find their style, and stick to it.
McKenzie Belisle is a junior at New Haven Academy, interning with the Arts Paper for three weeks this May.