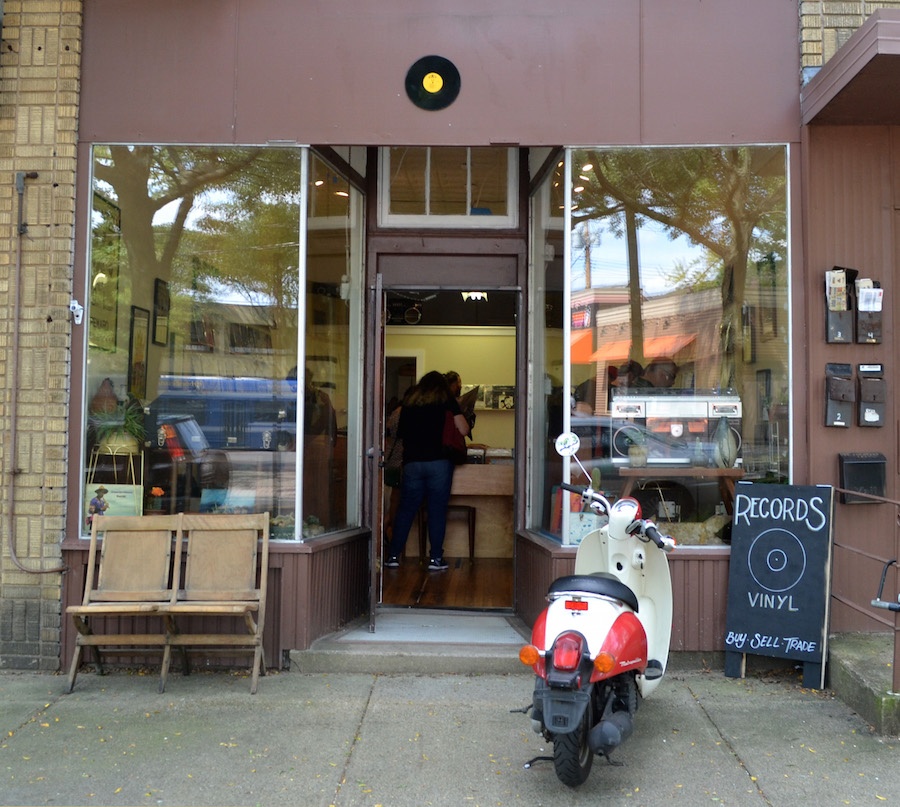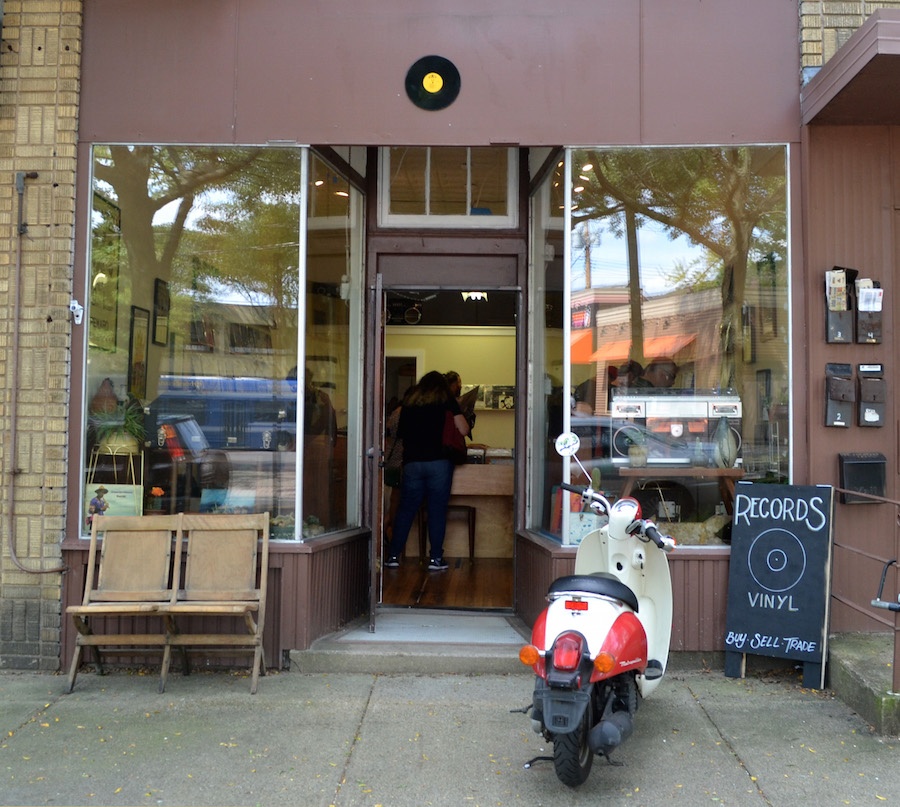 Elm City Sounds doesn't have a sign yet. On a recent Saturday, its only building marker was an old Stax record nailed above display windows at 24 Fountain St. If you hadn't looked closely, you could have mistaken it for a music lover's midcentury living room.
The space, nestled in New Haven's Westville neighborhood, is the city's newest record store and indy establishment. At the end of August, record enthusiasts and community members found their way to the store's grand opening, trickling into its 670 square feet over 10 hours. As English Jazz quartet IllConsidered played in the background, half a dozen browsers set the tone for the morning, flipping through rows of colorful vinyl ranging from soul to punk, reggae to rock n' roll.
It's the newest move for 37-year-old shop owner Chris Della Ragione. A Connecticut native and longtime New Havener, he's been collecting, buying, and selling records for 15 years, but has only ever sold online. He said he "wouldn't have guessed we'd be opening a physical shop right now."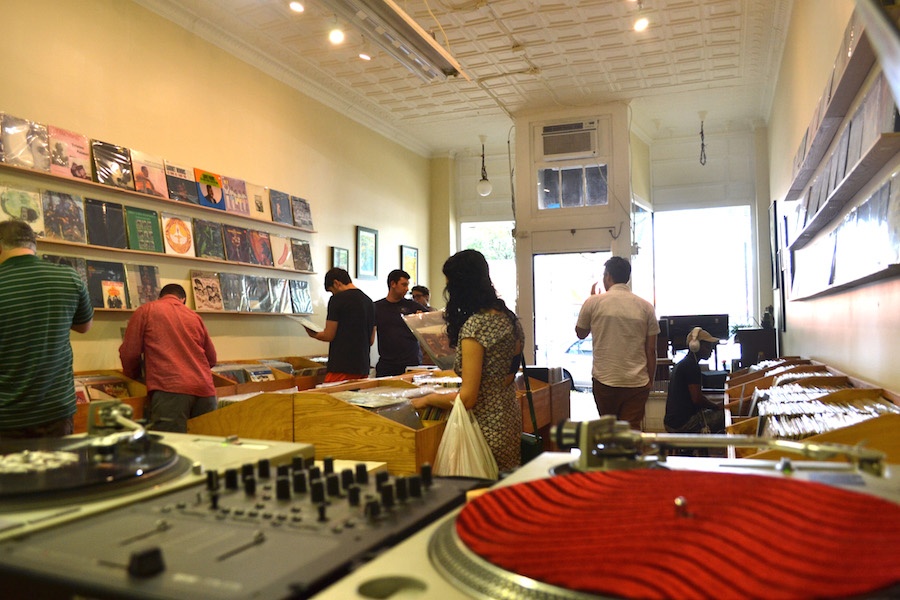 And yet, the timing seemed right. Della Ragione noted a recent resurgence in vinyl sales (a trend that has actually been on the rise for the last nine years, and particularly the last three to five) as the main factor for his shop's opening. While he also acknowledged the convenience of digital streaming services, he suggested that "you're not just ready to throw everything else in the trash and move to just iTunes."
Della Ragione discovered his love for vinyl as a kid, learning about music from collectors he met in record shops. After working as a deejay and starting his own record label in New Haven in the late 1980s and early 1990s, he moved to New York City, working in stores like Manhattan's now-defunct Big City Records. Over several years, he's curated a collection that spans 5,000 titles. Many of those are now available at Elm City Sounds and priced between $5 and $500.
"I would like it [the store] to be a community space where people go to talk about music," he said at the grand opening. "You look up to other people there, and they tell you things, and you learn about recommendations, instead of Pandora being the only source that tells you anything about music."
"I'd be doing something else if I really just wanted to be making as much money as possible," he added. "But it's not a bad living, and it's something I feel good about."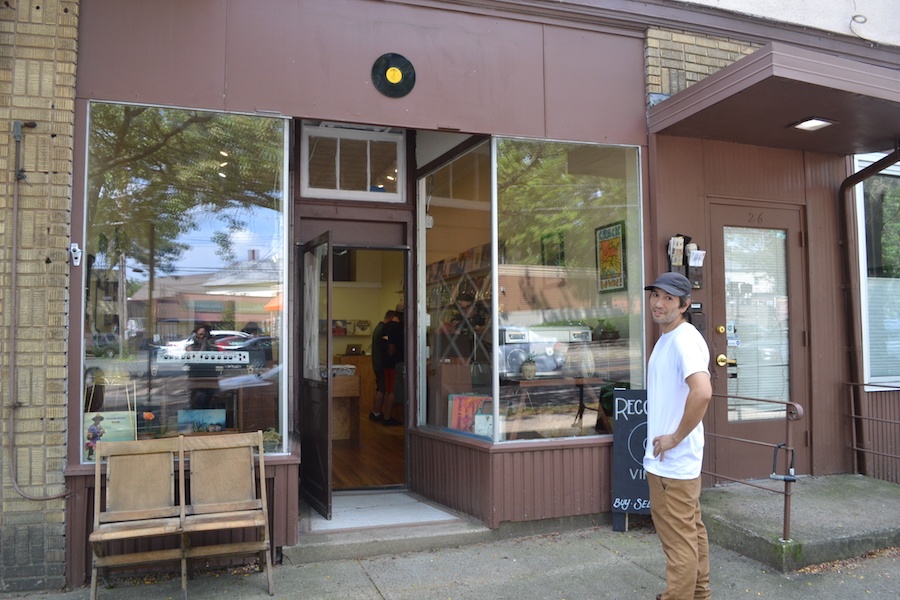 Della Ragione said that he's tried to walk away from collecting more than once, but his love for vinyl has pulled him back in. He's acquired an extensive record collection over the years—large enough to stock the store, with added contributions from collector friends like Jeff Chamiec, 27, who will be helping staff the shop.
In the middle of our conversation, Chamiec popped outside to ask about the price of an album.
"Tell him fifty," Della Ragione quipped after mere moments of deliberation.
In addition to selling records curated by Della Ragione and his friends, the shop will offer customers a chance to sell and trade their own vinyl. Della Ragione said he's willing to purchase clean records in good condition. But unlike places that take records based chiefly on condition alone, Della Ragione said he'll be a bit more discerning. Not snobby, he insisted—he's willing to carry whatever people want to buy, including new records.
"I want to see what people want and I'm willing to go there," he said.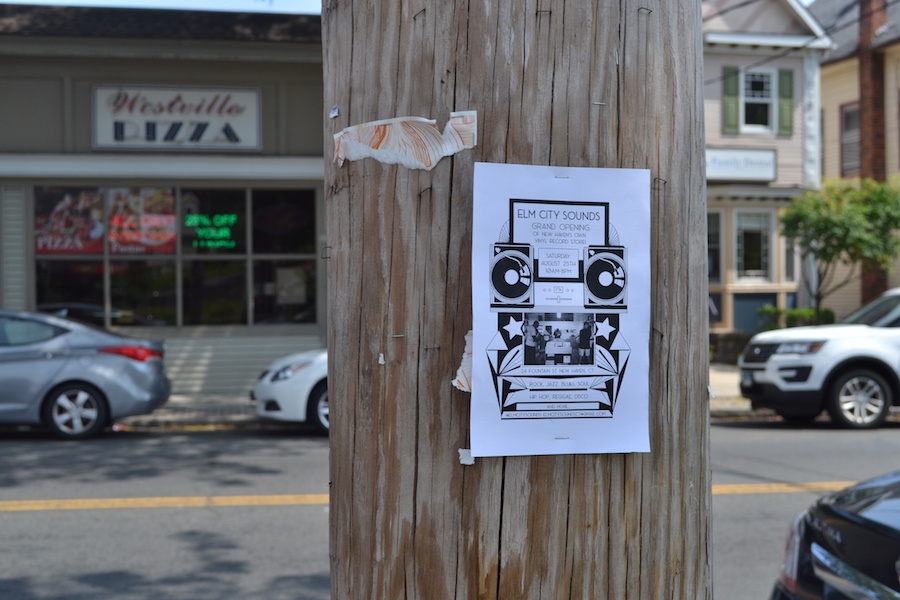 He's carved out a niche for the store. He has his "conversion album"—the record you put on immediately after playing a digital recording of the same album, for your skeptical friend who needs convincing of vinyl's superior sound.
"Any early jazz records," he said. "Miles Davis, John Coltrane's A Love Supreme … certain jazz records, you really feel like you're in the room. You feel the depth of the room."
Digital music, he added, is getting more and more compressed.
"Instead of having all these different dynamic sound waves that are all over the spectrum, everything's compressed into this little field, and that's why it sounds like you're listening through this little tunnel."
He said he hopes that Elm City Sounds will bring new depth to the Westville community, similar to the way vinyl can bring a depth of sound back to music culture. Currently, Replay Records in Hamden and Redscroll Records in Wallingford are the closest other shops that specialize in record sales.
"New Haven has been without a record shop now since 2012, which is six long years," said Chamiec. He referenced Cutler's Records, which closed after 64 years in business on Broadway Avenue in 2012.
"We're trying to get together with New Haven as a whole," he added, explaining that he thinks people will be happy to travel to the shop from different parts of the city—and further— because it's a destination.
"People who are into finding records and listening to records will usually go wherever they have to go to find them, and this just makes it so much easier and closer to be able to go on a treasure hunt," Chamiec said.
Ben Berkowitz, a Westville resident who is the founder and chief executive officer of SeeClickFix, sat outside the shop with his dogs Del and Pepper. He recalled when the storefront used to be a comic book shop. As part of a semi-formal committee involved in the rebuilding and expansion of the Edgewood Skate Park, Berkowitz said he's excited to see Elm City Sounds offering another creative draw for the Westville community.
"I think that the market is already here for this type of shop," Berkowitz said. With Strange Ways, Lotta Studio, Alisa's House of Salsa, the revitalized skate park and several galleries, "it'll hopefully add one more attraction for people to come to Westville."