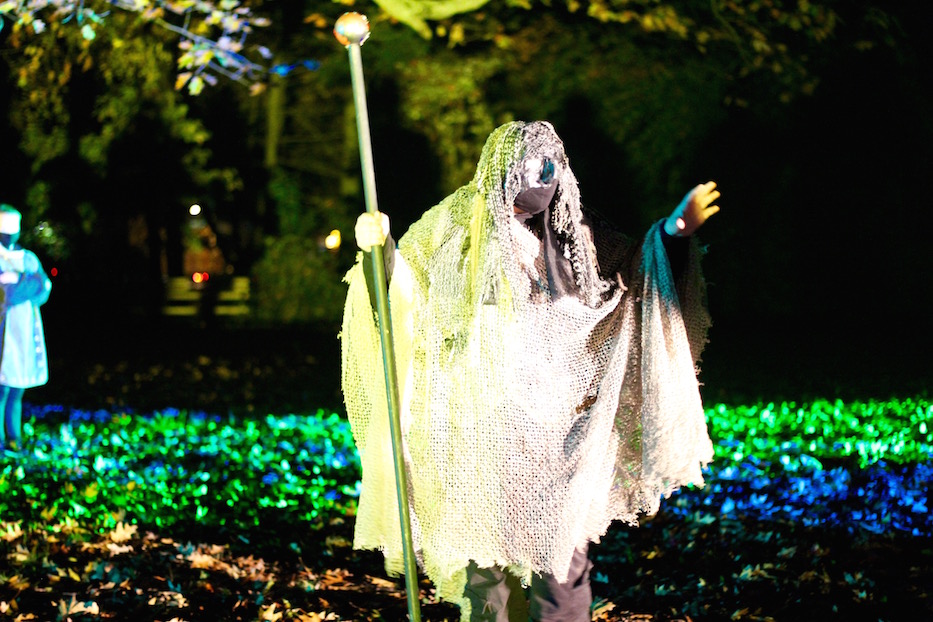 Edgerton Park | Elm Shakespeare Company | Halloween | Arts & Culture | COVID-19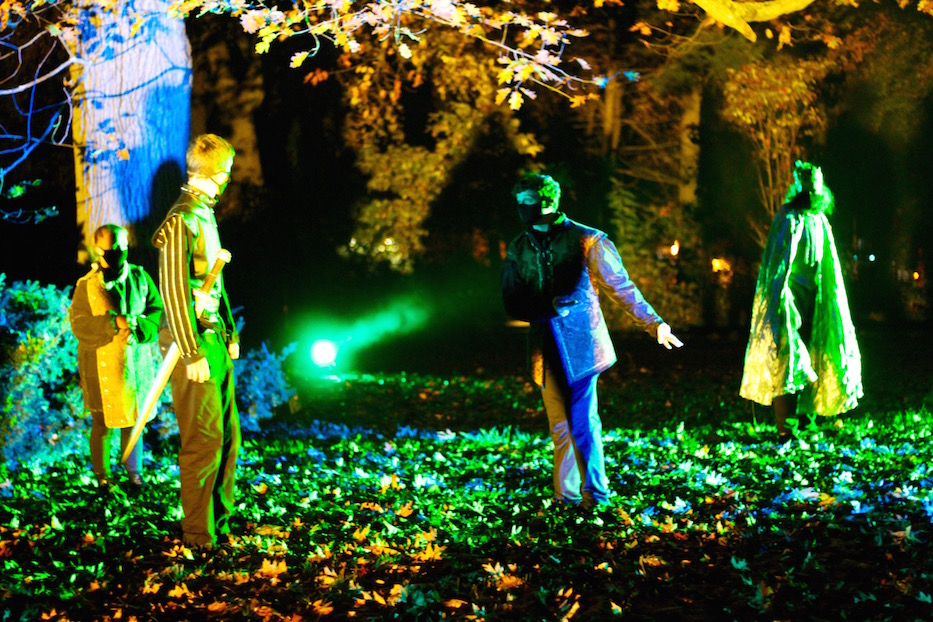 Lucy Gellman Photos.
On Halloween night in Edgerton Park, Hamlet was watching his father's ghost prepare to take his leave. Leaves rustled in the wind. Drums sounded, a low rumble in the distance. A full moon glowed bright white overhead. His father made a plea from beyond the veil: remember and avenge him.
"O all you host of heaven! O earth! What else?" Hamlet exclaimed. "And shall I couple hell? Oh, fie! Hold, hold, my heart. And you, my sinews, grow not instant old, but bear me stiffly up."
This Hamlet is in fact Xander Banks, a member of Elm Shakespeare's Teen Troupe. As temperatures plummeted Saturday, troupe members gathered in Edgerton Park for Taste Of Fear, celebrating some of William Shakespeare's most ghastly presences and ghoulish verse. Over 100 attended over three masked, socially distanced outdoor performances that were capped at 50 people each. The title comes from act five of Macbeth.
"I am feeling really blessed, and really lucky. as a company," said Artistic Director Rebecca Goodheart in a phone call after the performance. "There's an energy amongst company members that is so good and so creative right now. I feel like we're doing good work, and we're serving our community."
Taste Of Fear was born earlier this year, after a longtime fan of Elm Shakespeare suggested a "Stations of the Cross" type performance setup for August, when the state was moving through its phased reopening and people had started gathering outdoors. Goodheart explained that a performance wasn't tenable then—the organization had already cancelled its annual show due to COVID-19—but the idea "stuck in the back of my mind."
For months, she had heard from parents that their kids were tired of being on Zoom. She'd run Elm Shakespeare's summer camps online, with activities like quarantine scavenger hunts that got kids off their screens. Then this August, she and Education Program Manager Sarah Bowles were talking about the teen troupe's fall semester. One of them—Goodheart joked that she can't remember who—suggested shortening the program and ending with a Halloween performance. Something clicked.
She reached out to the Edgerton Park Conservancy, longtime lighting designer Jamie Burnett, and the Department of Parks, Recreation and Trees. With actor, director and educator Benjamin Curns, she workshopped scenes with the troupe's 12 members, all high school students in the greater New Haven area. Students rehearsed four times on Zoom before gathering just twice to rehearse in the park.
"We knew we didn't want to do a full play, because that's really hard rehearsing online," she said. "So we had these scenes. We figured out that with the 12 kids, what was the best educational experience."
Saturday—a crisp, clear night with a full moon—students brought the Bard to life, making the park their own. While Shakespeare is never not timely, his work may be uniquely well-suited to Halloween.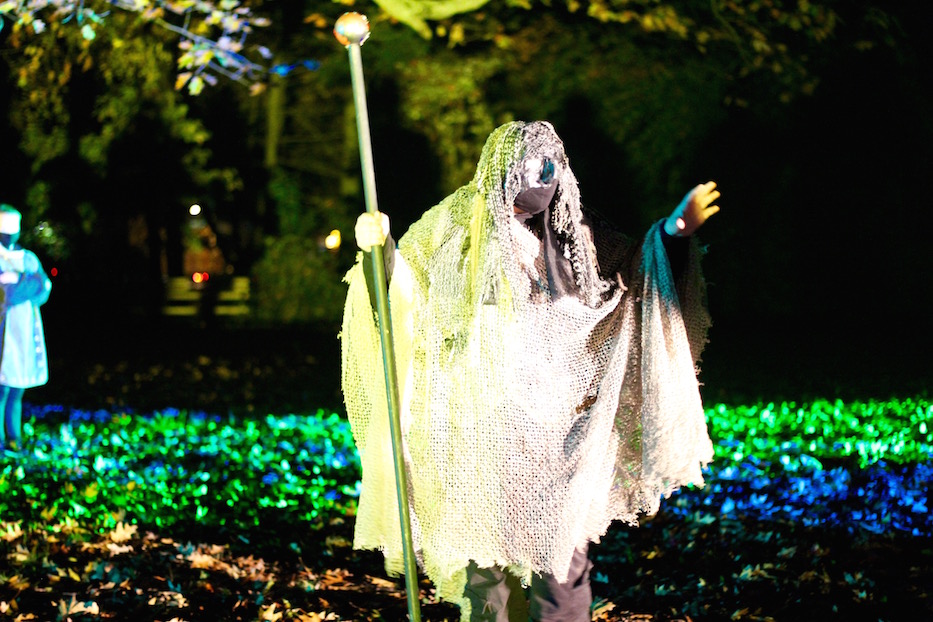 There is no need for a vampire's introspection, quiet romance, and thirst when you have a Lady Macbeth; no brain-gobbling zombie who can outdo the carnage of Titus Andronicus. The words are as gory and uncouth as they were in the sixteenth century, and the presences just as spectral and spooky. Add a penetrating, bone-cracking cold, and the atmosphere does the rest.
From the beginning of the night, actors held fast to that truth. Just past 8 p.m., a handful of ghoulish weird sisters (Emily Finch, Anne Taylor, and Charlotte James) appeared out of the dark, mounting the Brewster Fountain as they cackled and chanted their centuries-old song of Double, double toil and trouble; Fire burn and caldron bubble. Some voices sailed into the socially distanced crowd; others were swallowed up by the darkness.
In Burnett's lighting, one could imagine a cauldron filled with the most unsavory animal parts, like some unholy bouillabaisse. If a viewer suspended their disbelief, the mixture bubbled and spat beneath the sisters' gaze. A yellow and red glow became the embers beneath it. The audience stood, suspended somewhere between a twenty-first century pandemic hellscape and the magic of an early modern genius.
"Come/come come away/come/come come away," actors chanted as a narrator stepped forward and began to sing, everything filtered through multiple masks. Around the troupe, tour guides waited with orange, glowing necklaces, still as the music rippled through the audience.
Curns, dressed in a black mask and sweatshirt with a huge, dripping white skull, beat on a drum, the sound tinny as it rang across the space.
"When a scene ends, feel free to whoop and make noise and clap and scream and do whatever you'd like to do," he said before the performance. As the first scene ended and the narrator prepared to send attendees to the next scene, cheers filled the air.
Throughout the evening—just under an hour for each performance—actors gave a new-old model for COVID-19 era performance. In a scene from the fifth act of Richard III, the titular monarch (Silas Webb) slept fitfully on a park bench, visited by ghosts who came one by one, then stayed in a line behind him.
As voices swelled around the words "Despair and Die!" a chill wove through the audience. Against a thick curtain of foliage, it seemed that Shakespeare was speaking from beyond the grave: against the tyranny and authoritarianism of the monarchy, but also to the possibility of making theater in a plague.
Around actors, the park became a 13th member of the ensemble. To Ariel's (Maddie Valentino) metallic, winged glory from The Tempest, two tall trees stood guard, framing her as her voice swelled and deepened and her wingspan extended. As Macbeth (Cedric Westcott) stumbled backwards at the ghost of Banquo (Xander Banks), a naked sapling lifted its arms in perfect, alarmed symmetry with the scene.
In a sort of natural exegesis of Titus Andronicus—Shakespeare's most stumpy play, perhaps, and one of his most violence—the loss of Titus' (Emma Kennedy) hand and sight of his sons' severed heads all played out on a damp tree stump.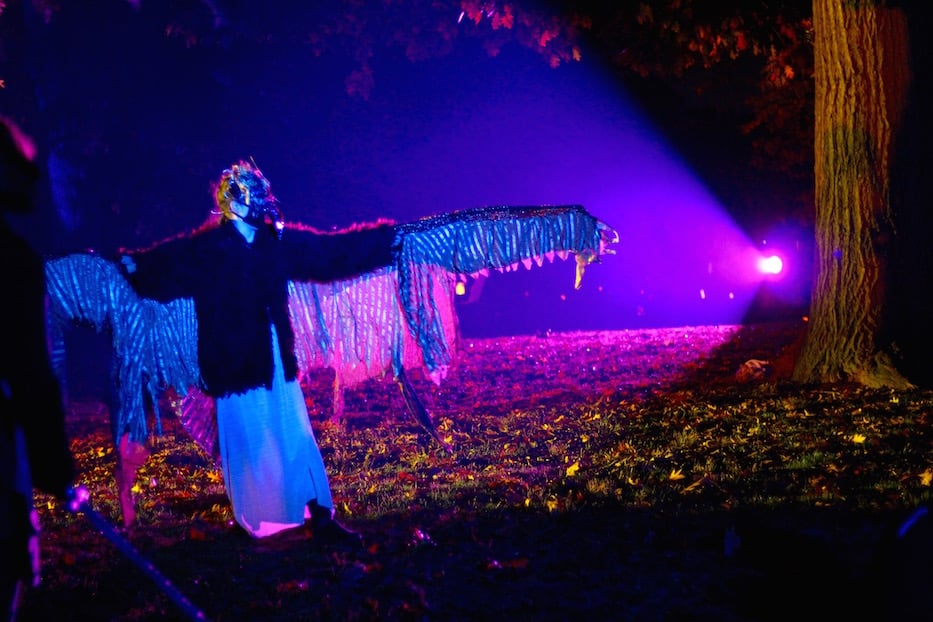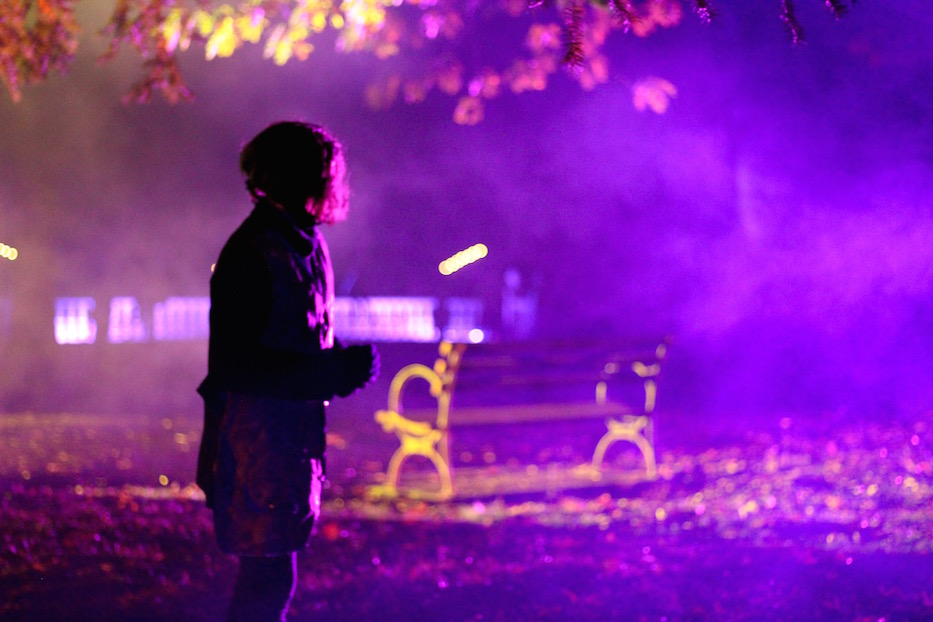 Despite constant reminders of COVID-19—attendees and actors alike sported masks and stood several feet from each other—Burnett turned the built landscape into a living character, with flickering candelabras, belching fog machines and green, purple and ice-blue stage lighting to scale. The set was both familiar and new: the huge oak and elm trees, wet stumps, empty benches and green-brown grass are a constant presence during Elm Shakespeare's summer shows. But they rarely take—or function as—center stage.
After a decision from the Department of Parks, Recreation and Trees that attendees had to enter and exit the park at different points, Burnett and costume designer Karen Root also worked to create an experience that led people into and out of the park. At the entrance, attendees walked down a pathway strung with twinkling orange lights, transporting them from the world of the mundane to one populated by the ghastly and fantastical. At the end of the evening, they headed down a walkway decorated with tableaus, each from a tragic or ghostly moment in the Shakespearian canon.
Goodheart praised Elm Shakespeare's staff, teaching artists, and a new teen advisory board that helped direct foot traffic Saturday night. In all, she said that 15 people helped the young actors make the show into a reality.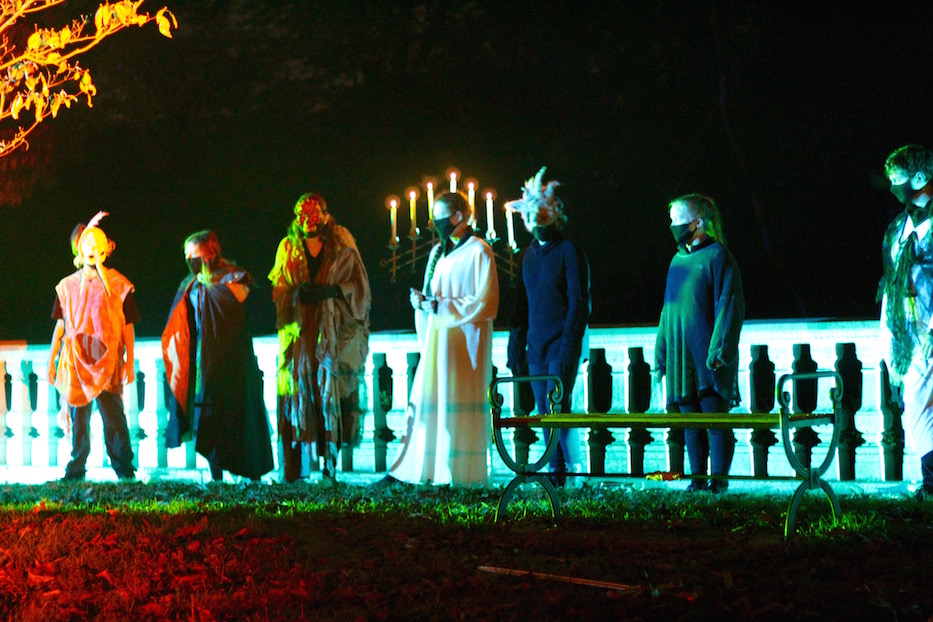 The performance came just two days after Elm Shakespeare launched "Building A Brave New Theatre," a six-part discussion series addressing race and racism in Shakespeare and the American theater more broadly. In a year that has remained uncertain, Goodheart said she feels optimistic about the organization's future and ability to adapt.
"I haven't felt this way in a long time," she said. "I am sort of shaking my head thinking, 'We did it! We pulled it off! There were so many reasons why it wasn't going to work, and none of them hot in the way. Audiences and theater makers alike, there's nothing that can stop us. The generosity and creative problem solving is remarkable."
"This year, we're gonna be okay," she added. "We're going to keep facing this the way we've faced it since March, which is one step at a time. We'll keep pivoting. What we know now is that our community will follow us. What we don't know is what everybody doesn't know. We don't know what the economy is going to do, and we don't know what the pandemic will do."
Members of Elm Shakespeare's Teen Troupe include Xander Banks, Oliver Barber, Emily Finch, Charlotte James, Emma Kennedy, Hannah Leamon, Ezra Nierenberg, Karter Poole, Anne Taylor, Maddie Valentino, Silas Webb, and Cedric Westcott.