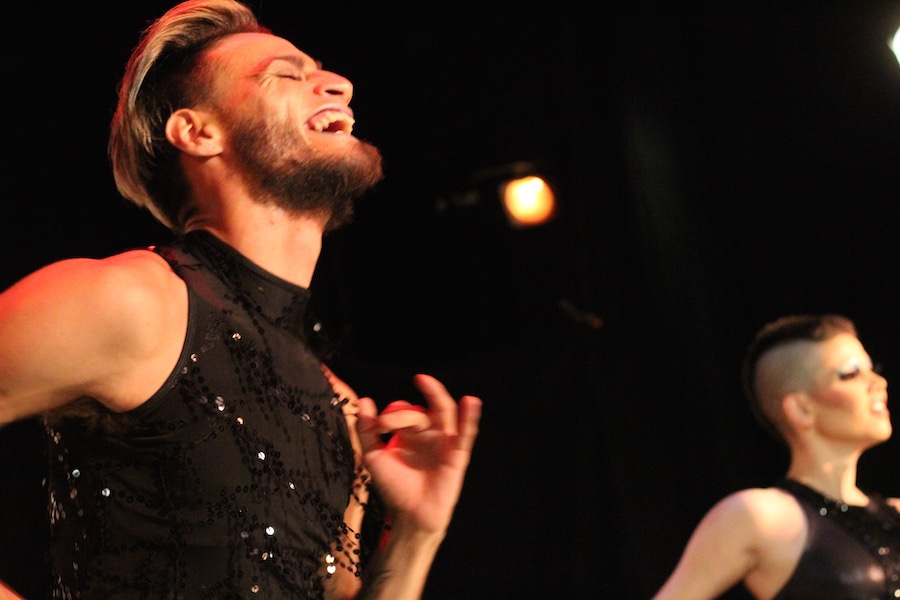 LGBTQ | Arts & Culture | New Haven | Theater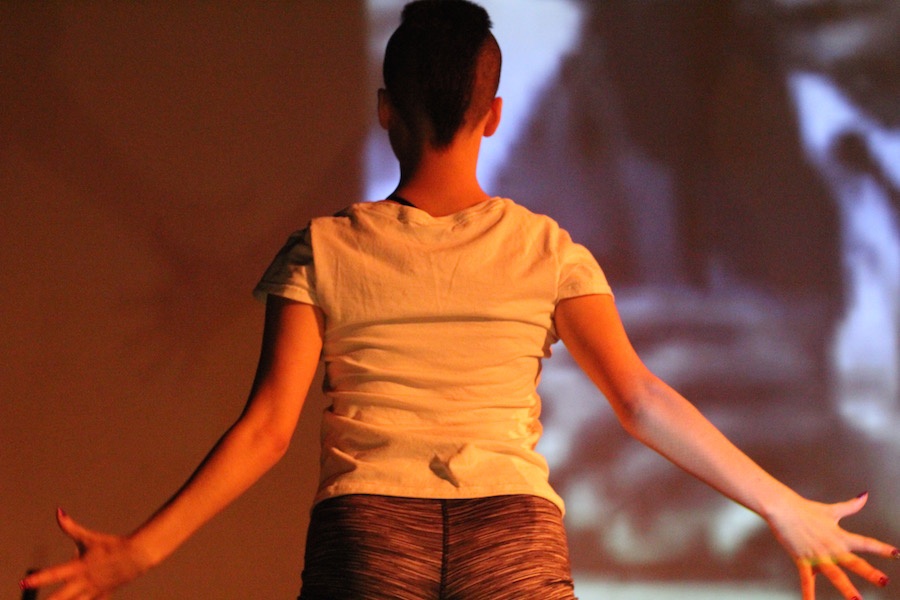 Rory Roux Heart stepped out onto the stage, her white shirt a shock in the dark. Her eyes gleamed wet, huge beneath brown lash extensions and thick, gleaming blue makeup. On a screen behind her, a billowing Pride flag faded into a parade with marchers. Another image, and there was Harvey Milk, still young and invincible. Another, and signs with fists for Black power emblazoned on their fronts. Ciara Renée's voice swelled around the audience.
Someday life will be fairer/Need will be rarer/Greed will not payyyyyy
Back by popular demand, her performance set the tone for "Escapade: An Unusual Experience," at Lyric Hall this Thursday for the fourth year in a row. Now officially a part of PRIDE New Haven, the show will run Thursday night only at 7 and 9 p.m., before a packed weekend of PRIDE mixers, pageants, brunches, a block party and concluding tea dance. Tickets and more information here.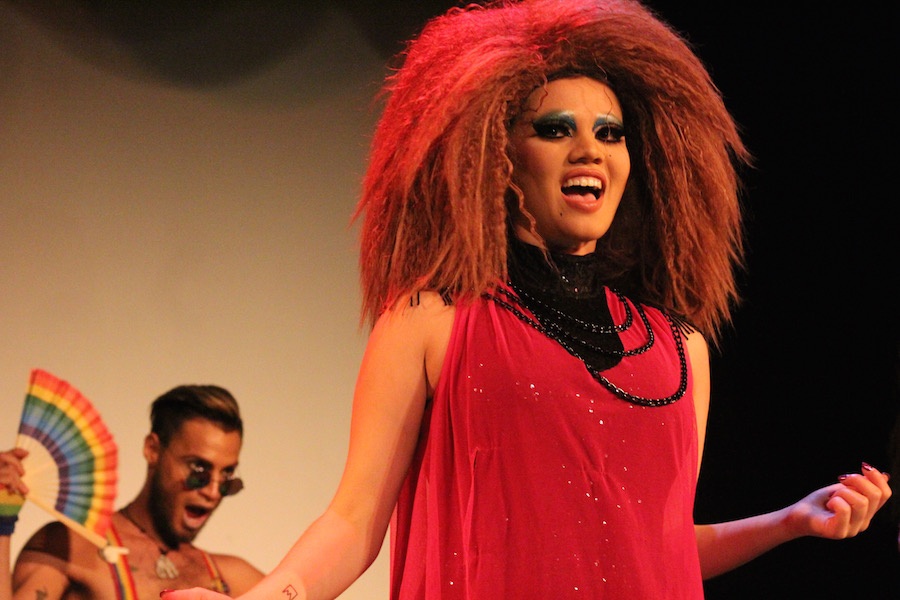 Escapade began over three years ago as a tribute to Sassie Saltimboca, the tenacious Connecticut queen who succumbed to cancer in August 2015. In its first year, creative director Luis Antonio spun the performance into a two-hour extravaganza with rainbow-striped suspenders, big red clown noses, aerial performances and moving drag numbers. When the audience least expected it, Sassie's face would fill the screen, with video footage from her all-ages "Frolics" at Bridgeport's Bijou Theater.
From there, it morphed into something that belonged to both Antonio, and to New Haven's queer community. When it returned to Lyric Hall last October, a mix of old and new performers filled the stage, ready for the audience with thrilling numbers and handfuls of LGBTQ+ history, lest the fight be forgotten.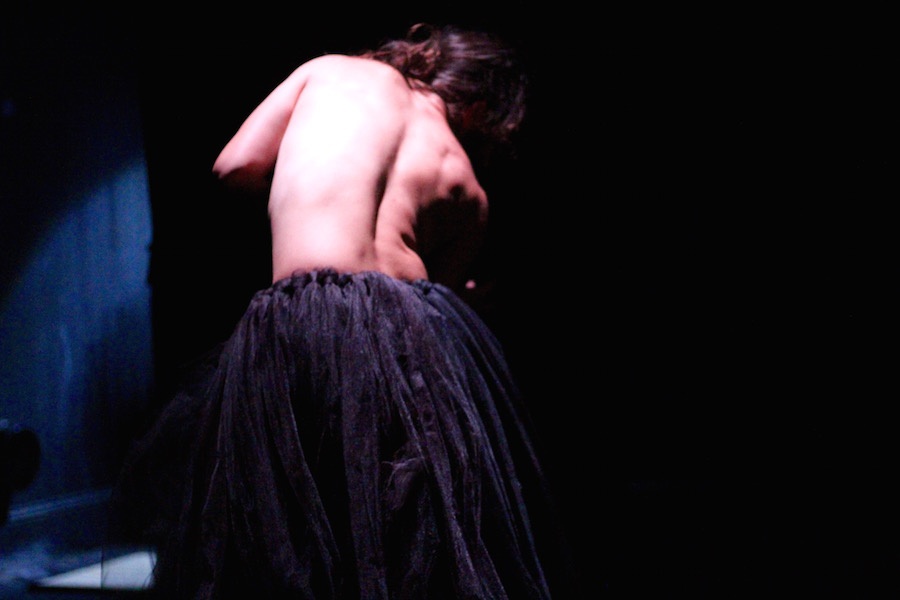 This year, it's a mix of those old favorites and breakout performances, with routines from Sorcia Warhol, Vivienne LaFlamme, Karelys Bleau, Kellie Ann Lynch and Kiki Lucia, and duets from Antonio and Rory Roux Heart, one of the state's two bio divas. From the top of the show, it is effective and affecting—Heart takes the stage to Alan Menken's 1996 "Someday," turning the Disneyfied refrain into a moving statement on LGBTQ+ history and rights in the United States.
From there, Escapade moves at 100 miles an hour, propulsive and unapologetic. As Heart does an onstage change from civvies into fishnets, cropped hair to her voluminous signature wig, ensemble members flood the stage to Madonna's "Like It Or Not," eyes bouncing from each other to the audience. Madonna's voice blasts over the room, with the lyrics This is who I am/You can like it or not/You can love me/Or leave me/'Cause I'm never gonna stop.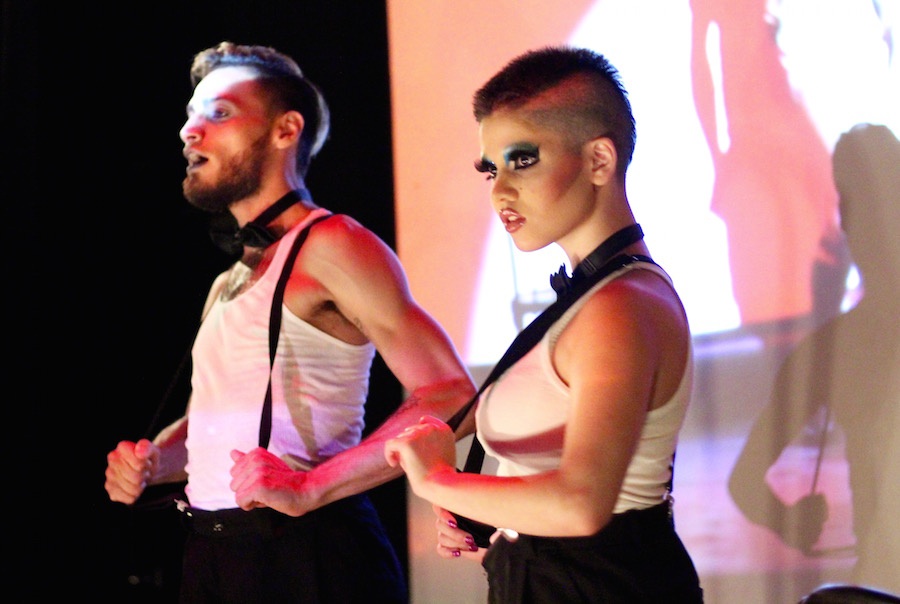 And good on her word, they don't stop. In several numbers, Antonio and Rory Roux Heart (in her other life she is the dancer Mimi Zschack) celebrate Sassie's life and legacy, bringing back a duet to Liza Minelli's "What Makes A Man A Man" that Antonio performed with Sassie before her death three years ago. As Sassie dances in a top hat and black leotard on screen, Antonio and Heart mirror the dancers' every movement, vaudeville made over by loss and love. The two, who have worked together for years at the New England Ballet, also celebrate each other, voguing with a raucous, intricate routine to house music.
Performing Escapade in drag for the first time (last year they performed as Daniel Eugene), the understated and classic Sorcia Warhol dusts off Mariah Carey's little known "Looking In" before belting out the Queen of Soul's 1967 "(You Make Me Feel Like) A Natural Woman." It's an act of paying homage that works: in the lyrics Before the day I met you, life was so unkind/But your love was the key to my peace of mind, Warhol conjures up images of a much younger version of herself, singing it into a plastic microphone with her mother's slip pulled over head, hoping nobody comes home before she finishes the song.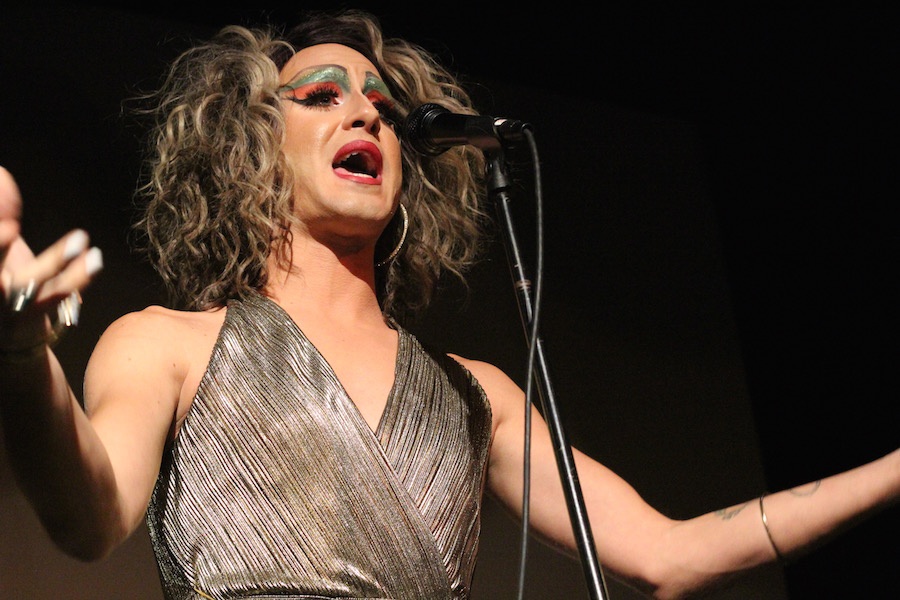 So too for Karelys Bleau, who brings Latina culture to the stage twice. In a delicious ensemble number to Gloria Estefan's "Wepa," Bleau whizzes across the stage, a blue of bright color as Rory Roux Heart and Louis Antonio bounce and whirr around her. And for Kiki Lucia, back with Kesha and Zedd's "True Colors" set to a new lighting design by Robert Diaz. As Kesha sings out I won't apologize for the fire in my eyes, Lucia locks eyes with the audience, the weight of the statements sinking in.
Like last year, Antonio said the performance carries political undertones—not as a talking point about the current administration ("we're not going to mention his name," he said) but a statement on the radical, stunning act of having queer joy in a year that has seen anti-gay legislation, fear mongering, and pain across the national community.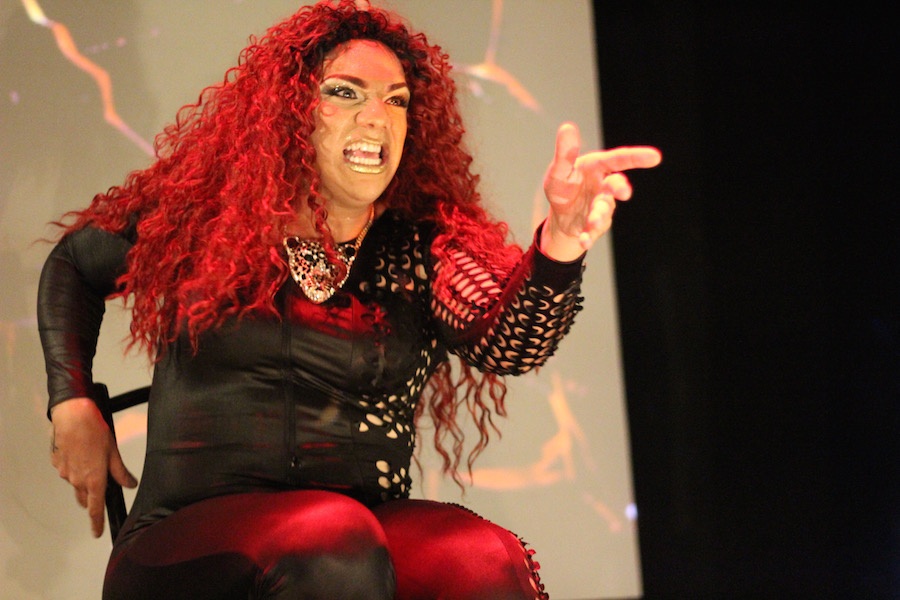 "In the world that we're in right now, I feel like it is that," he said. "It's us not hiding. It's us having taken the stage, and not being afraid to wear fishnets … to be flamboyant. To be gender-bending. To have fun with who you are."
"We tell quintessentially queer stories to the masses in a way that nobody else in Connecticut does," Kiki Lucia added, dressed in a long white gown and matching long white nails. "We're taking elements of queer things like drag, that is hidden away in a nightclub, in a subculture, in a bar, fueled with drugs and alcohol, and we're putting it in the context of mainstream art and saying: 'Fuck you for ignoring us. Fuck you for ignoring our community, our culture, who we are.'"
"We're going to put it on the same stage that you put your straight art, that you put your band, that you put your theater, and we're gonna tell our stories because you're ignoring us," she added.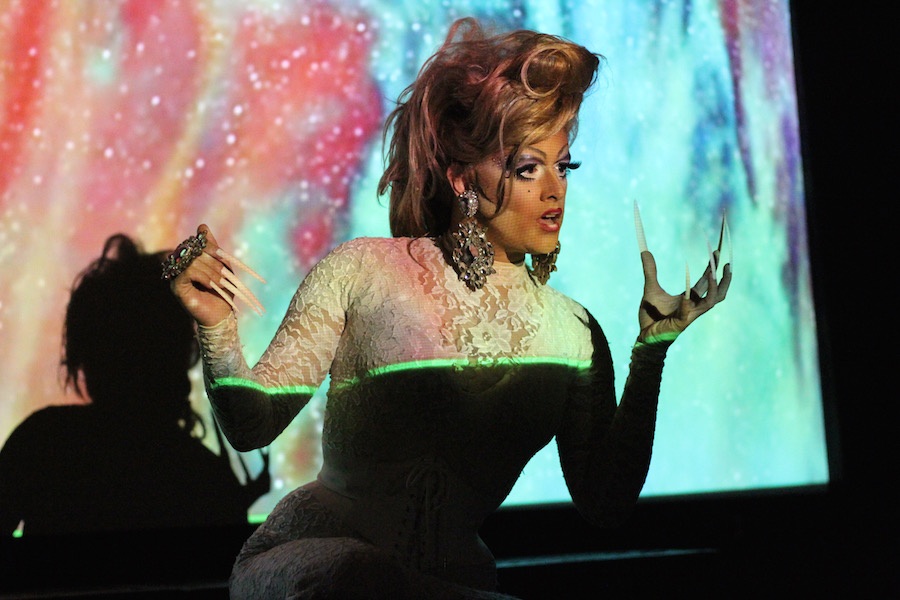 But the performance is also bittersweet—it marks Antonio's last Escapade in New Haven as he heads west for San Diego. There are currently no plans to continue the performance in his absence.
"This is goodbye for now," Antonio said at a final tech run of the performance Wednesday night. "It's 'see you later.' I am going away to go heal and go separate myself for a while. Get some inspiration and get my battery back on high."
"If I could do this every day of my life, I would be the happiest man alive," he added. "It brings smile, it brings life, it brings joy to me to put on this show. And I want this to happen more. Not only in New Haven, but all over."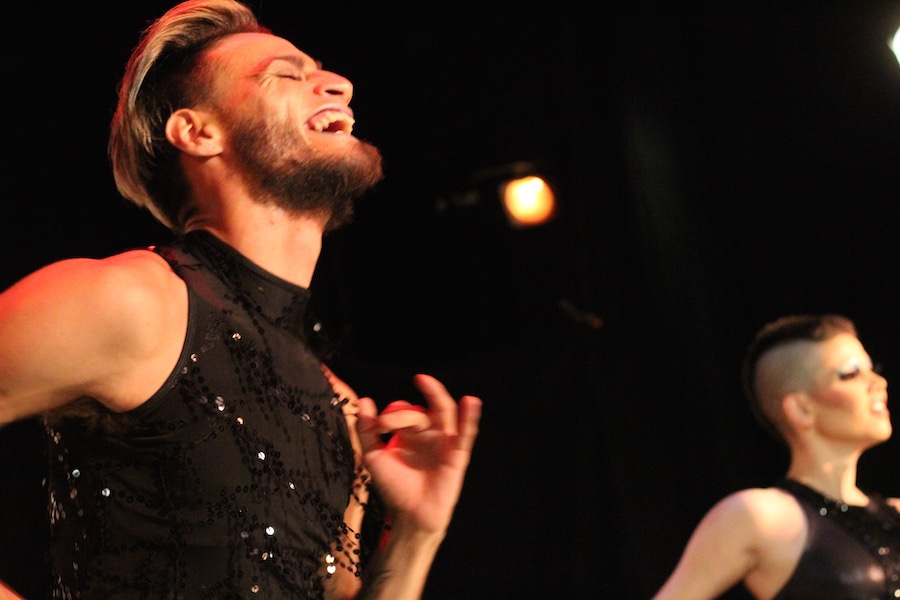 As he departs next month, Antonio said it's his goal to bring Escapade with him, and grow performances in California and perhaps elsewhere in the country. In three years, he has brought Escapade to not only Lyric Hall but the International Festival of Arts & Ideas and Norwalk Pride, recruiting new performers and devising new routines. He's learned to curate and stage a show, a first even after years in the world of classical ballet.
And it's not forever, he said: he already has visits planned in New Haven in November and December, to perform with the Elm City Dance Collective (ECDC) and New England Ballet, and coordinate another "Frolics" in Bridgeport to commemorate Sassie.
"I'm going to perform the shit out of those, and then leave again," he said.
ESCAPADE: An Unusual Experience runs Thursday night at 7 and 9 p.m. at Lyric Hall.