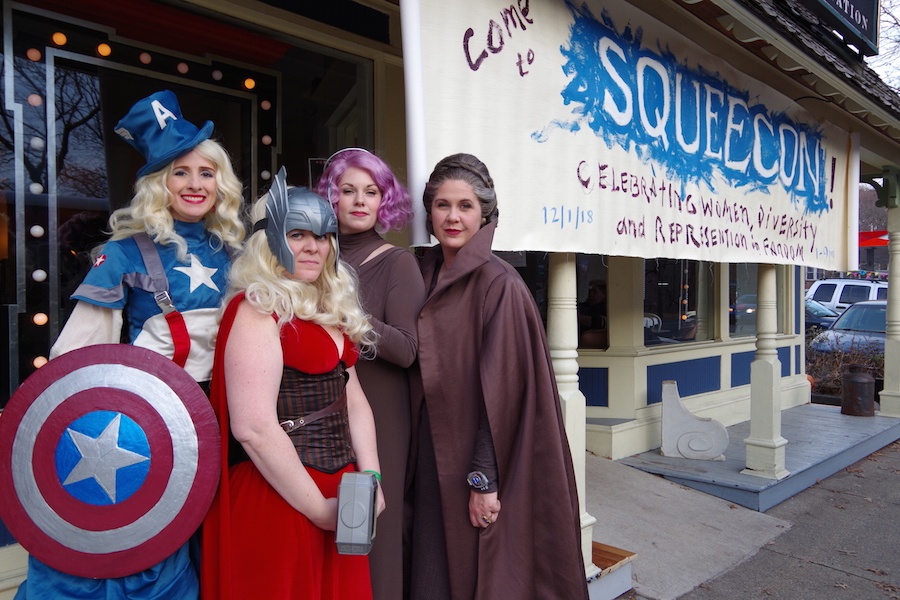 Culture & Community | Lyric Hall | Westville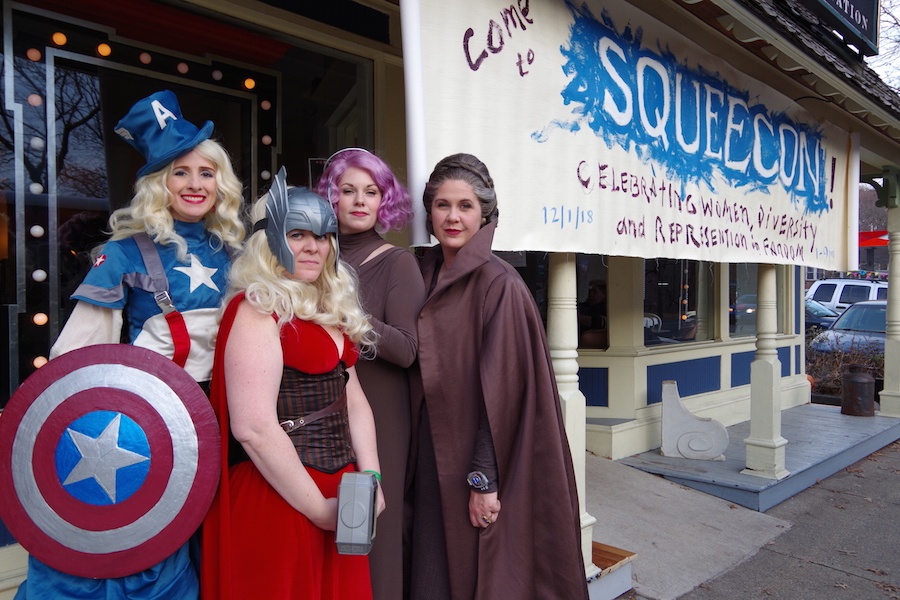 Jenn Wotchertonks dressed as Captain America, attendee Cheryl Nelson dressed as Thor, Cate Broomhead dressed as Amilyn Holdo from Star Wars, Christine Evans dressed as Princess Leia. Leah Andelsmith Photos.
Find a character you can find yourself in. Make friends with the person dressed just like you. Ignore the side eye. Rock your geek.
That was just some of the advice dispensed from the cosplay panel at the inaugural SqueeCon last Saturday at Lyric Hall, just on the heels of its announcement that the theater up for sale. A celebration of fan grrl culture for female-identifying and non-binary fan grrls, SqueeCon is named for the exclamation many fans use to express their excitement and delight.
Conceived by Hansi Oppenheimer, creator of YouTube channel Squee! Pop Culture & The Fangrrl Gaze, with the help of creative partner and event manager Chinisha Scott, SqueeCon drew several dozen enthusiastic attendees over the course of the day. The program included two panel discussions, a festival of short films from women film-makers, and performances from singer-songwriter Cat Smith and fan grrl theater troupe Tea Time for Mad Girls.
Cosplay panelist Jenn Wotchertonks came to SqueeCon decked out as Captain America made over in steampunk fashion, with sweeping, blue bustled skirts and top hat to match. Cosplay is a term derived from the words "costume play" and refers to the hobby—and art—of dressing up as a favorite character from a film, book, movie, or comic.
"My favorite part of cons is the costumes," Wotchertonks said with a smile, using the popular abbreviation for "conventions." "I'm just in a costume and loving life."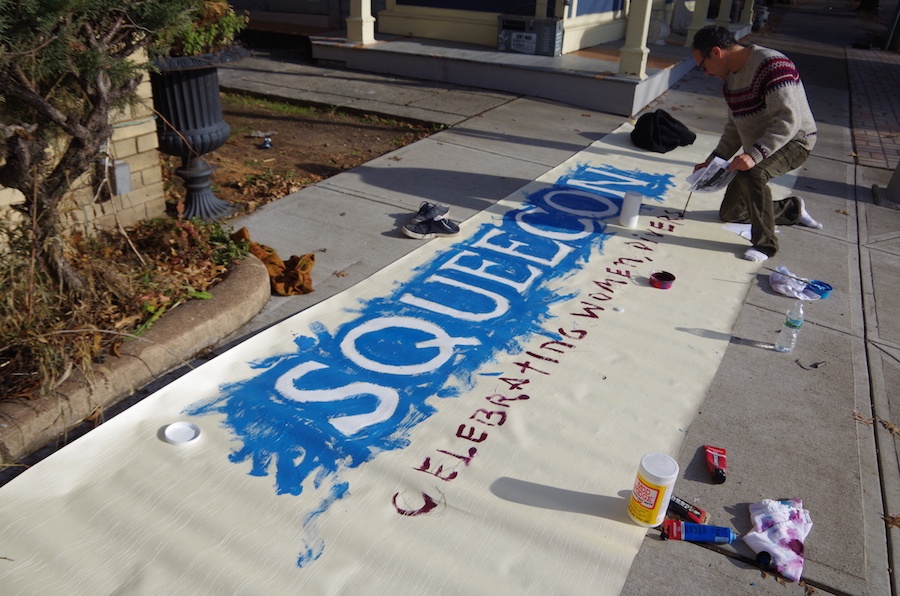 John Cavaliere paints the SqueeCon banner.

But on the cosplay panel and during an interview in a quiet corner of Lyric Hall's bar, Wotchertonks revealed that her true motivations for cosplay run much deeper. As a child, she connected deeply with Captain America because he was sleight of frame and artistic—like she was—and though he was bullied, he showed incredible strength. When she was a child, she "lived for Halloween," she said, "because you got to put on a costume and be someone else."

"When I put on a costume I feel more confident and attuned to the character," she added. "I feel taller, stronger, bolder, and more able to talk to people."

While Wotchertonks has cosplayed scads of characters from Harry Potter to Frigga, fellow panelist Lee Clever's cosplay is entirely devoted to Dr. Who character Mr. Clever. They recalled initially hating cosplay, because the character didn't fit. Clever said they "felt stupid" dressed as other characters. And then they found the right one.

"This is my only cosplay," they said. "I don't know why I connected with this character. I think sometimes you just know."

Clever has developed multiple variations of Mr. Clever, including a Hello Kitty version and "Professor Clever," a mash up of Mr. Clever and Professor Snape from Harry Potter.

For Cat Smith—musician, cosplayer, and self-described "general nuisance"—cosplay has been a catalyst in her life. After leaving an unhealthy relationship in which she hid away her love for cosplay, Smith found solace in the world of Dr. Who, connecting specifically to Dr. Who's wife River Song.

When Smith's daughter pointed out how the two women look alike, Smith decided to cosplay the character, and she compared the re-awakening that resulted to the movie How Stella Got Her Groove Back.

"River was my Taye Diggs," she said, getting into more emotional territory. "Good lord, how it changed my life for the better. I re-found myself."

Cate Broomhead said she uses cosplay as a way to build community in fandoms that can sometimes be "toxic."

"You find your people by finding one person dressed exactly like you," Broomhead said, describing her time-tested method for making fast friends at cons. "That's how you meet your family."

But Broomhead said exclusive and judgmental attitudes can come from "the two percent of people who are just loud and will try to intimidate" others.

"We're trying to get rid of that by being who we are," she said. "We are female forward and female positive."

Smith agreed. "If I see someone dressed up as the same character as me, she's my sister, not my rival," she said.

Later in the conversation, Christine Evans spoke about how her cosplay has led to altruism.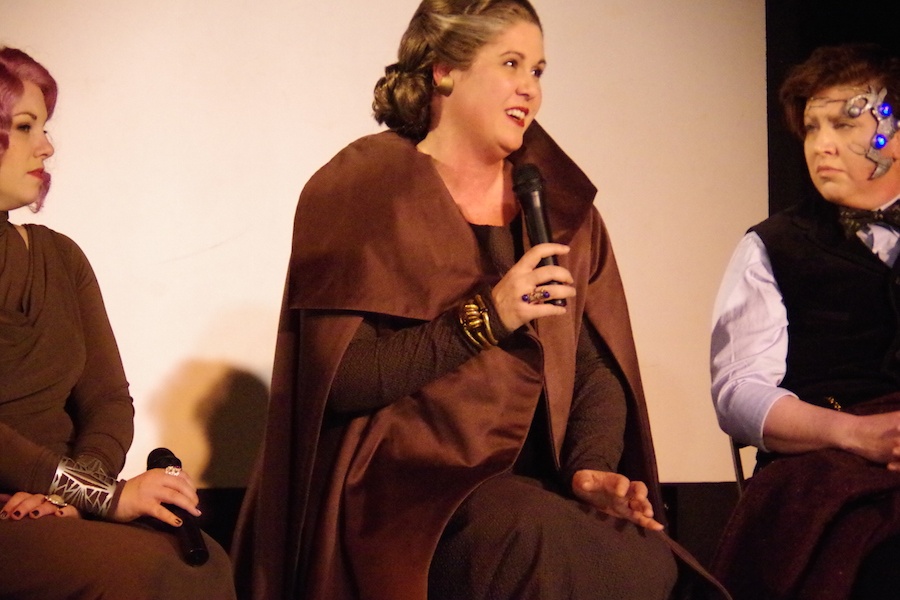 "Cosplay seems like it's 'all about me' at first. But the connections you make are real," she said. She described how she developed an online friendship with a social media follower looking for support. "Because of a costume, a person on the other side of the world started to talk to me, and all I can do is listen."
Evans also said she spends almost every weekend playing Princess Leia for events with Rebel Legion, an international, charity-based costuming group that often puts on events at children's hospitals, public libraries, and charity walks.
"Make sure you're doing good," Evans said. "You have a voice and you have fingers on the keyboard. It's a great power, use it wisely."
SqueeCon continued the conversation around inclusion in another panel discussion entitled "Changing the Narrative." In addition to producing live events, Chinisha Scott is a film and television producer who has written and directed several speculative short films, and she was joined on the panel by speculative fiction writer Leigh Hellman.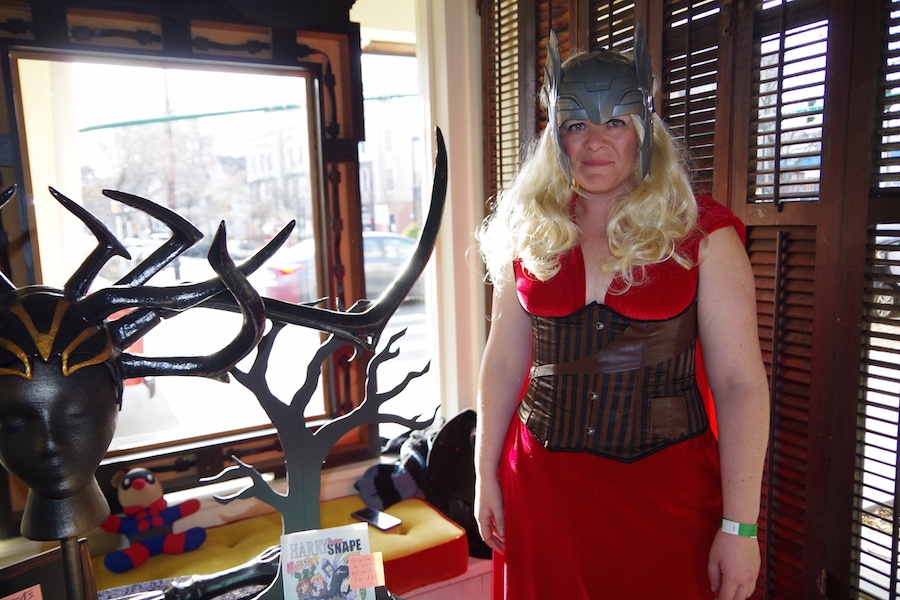 They discussed the ways that not just fan communities, but science fiction and fantasy media itself is becoming more inclusive, partly through the work of artists such as themselves.
"Classic tropes and narratives are classic for a reason. Now I can take a trope or narratives that I love and tweak it, subvert it, and look at it through a different lens," Hellman said. "I want to write the queerness I want to see."
"The world I see in my head is led by a brown woman," added Scott. "These are the women who have shared my lived experiences."
Both agreed that creating inclusive work is not about checking boxes. And both said they plan to continue making art that reflects their communities.
"People tell me 'You're so woke,'" Hellman said. "That's taking the whole conversation about inclusion and cutting the legs off it."
As they milled around Lyric Hall, taking selfies with cosplayers and squeeing over vendors' wares, attendees were all about the empowering, inclusive attitude of the presenters.
"I've always been interested in fandoms, but specifically those with a feminist angle," said Jackie Coffey, who drove in from New York to attend the convention. "The fact it was for women, by women really appealed to me."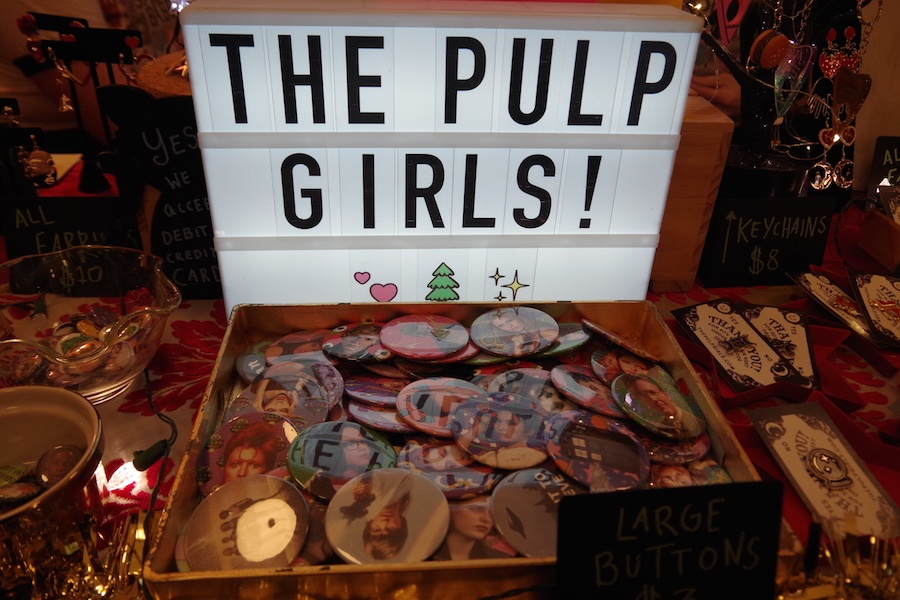 For Deb Noble and Chrissy Kane it was a family outing. The two said that coming from Windsor Locks and western Massachusetts for the convention was "absolutely worth it."
"It's my very first one and I wanted to come and bring Chrissy because it's all about female empowerment," Noble said.
"I see cosplay as filling a void left by the rigidity of the politics in the 80s and 90s," she added. "The political spectrum swung right and squashed creativity. But people needed an outlet. You can't stop creativity."
That very spirit imbued Smith's convention-opening performance. She strapped on her ukelele to perform an energetic rendition of Amanda Palmer's "Ukelele Anthem." Full of clever rhymes and epithets for the ukelele—like "brave and peaceful" and "Wand of Thunder"—the song warns against "what happens when you muzzle people's creativity," and calls on the ukelele to "banish evil" and "save the people."
Smith said she loves playing Palmer's tune because it captures her ethos as a performer—but her original music is all about fangrrl culture. She takes on sexism in the sci-fi she clearly loves and sings tributes to her favorite character, River Song.
"Doctor 'cause I earned it, not just a girl who's just your fool," she sang in "I Walk the Earth."
"You're the ultimate damsel in distress as far as I'm concerned," she sang in "A River
Song," referencing the way Dr. Who constantly needs to be saved by his super-capable, mostly-female companions.
But it was moderator Neisha Mulchan who truly summed up the spirit of SqueeCon when she described for the first time publicly how her immersion in fangrrl culture changed her life.
"I went from being a person who didn't know myself to a person who knew myself," she said, tearing up as the audience applauded in encouragement. Then, she bounced right back from the tears, and bubbled over with enthusiasm.
"Let's get a show of hands," she called out to the audience with a big smile. "How many of you are ready to rock your geek?"