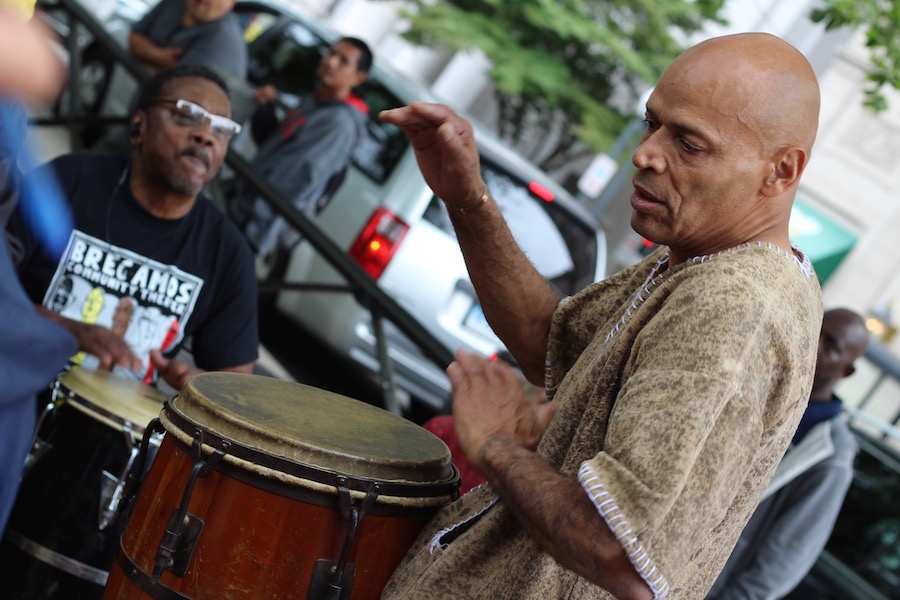 Music | Arts & Culture | New Haven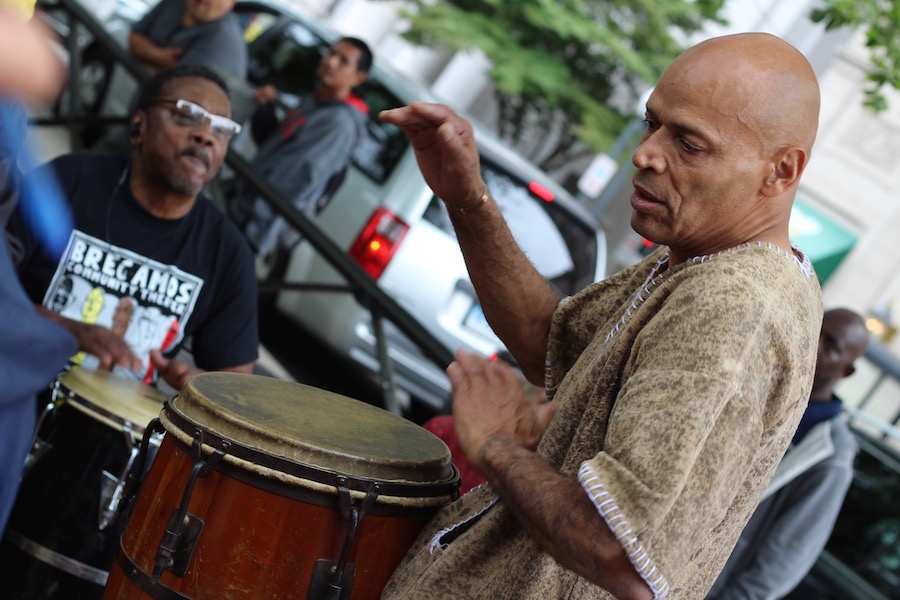 Matthew Byrd was on his way to the 238 bus when he first heard drums rising from somewhere down Chapel Street. A soprano sax wailed away somewhere in the mix. He spotted his friend, the drummer Michael Mills, surrounded by a growing circle of musicians at the edge of the Green. And so he headed into it, and decided to stay for a while.
That's exactly the idea behind a new cultural pop-up series on the New Haven Green, dedicated to curbing drug use, revitalizing public space and spurring social gathering through semi-weekly music, dance, exercise, and art for community members. The series, which kicked off Friday with the Bregamos Healing Drums, is a joint initiative between Proprietor Kica Matos and Parks, Recreation and Trees Director Rebecca Bobmero. Future installments include music, but also dance, and possibly yoga and theater.
Matos, a legal advocate and human rights activist who has been vocal about drug use in New Haven, said the idea for the series began last month, after over 100 synthetic marijuana or K2 overdoses on the New Haven Green. As one of the more public Proprietors of the New Haven Green, she said she felt the need to do something that would bring people onto the Green for a positive gathering, where creative output could spur dialogue, create new connections, and help curb drug use in a civic and historic space. The program currently has no budget, and the bulk of artists who have stepped forward have done so on a voluntary basis. In other words, Matos said, "a labor of love."
"The Green belongs to the people," she said Friday, moving back and forth to a heartbeat-like rhythm as she spoke. Working with Bombero earlier this month, she recruited Bregamos Healing Drums founder Rafael Ramos for the first installment of the series, which he ran during his lunch hour Friday. A second installment is set to follow Saturday Sept. 22, with local Bomba group Movimiento Cultural Afro Continental.
"This is my community," she said as over 70 passers-by stopped to watch, dance, and drum for an hour, some staying for only minutes and others sticking around for the entire hour. "I've lived in New Haven for 16 years, and I have a responsibility as a proprietor, as a resident of Fair Haven, as a New Havener. I've seen the New Haven community affected in the most devastating way … this is to ensure that our community remains vibrant and safe."
"This 'culture on the Green,' if that's what we're calling it, is an immediate and appropriate antidote to all the terrible negativity," said Judge Janet Bond Arterton, who officiated a naturalization ceremony on the Green two years ago in June, and is a fellow proprietor with Matos. "The fact that it can be taken so quickly, and the artists and you all have responded to this call is a very positive note for everybody."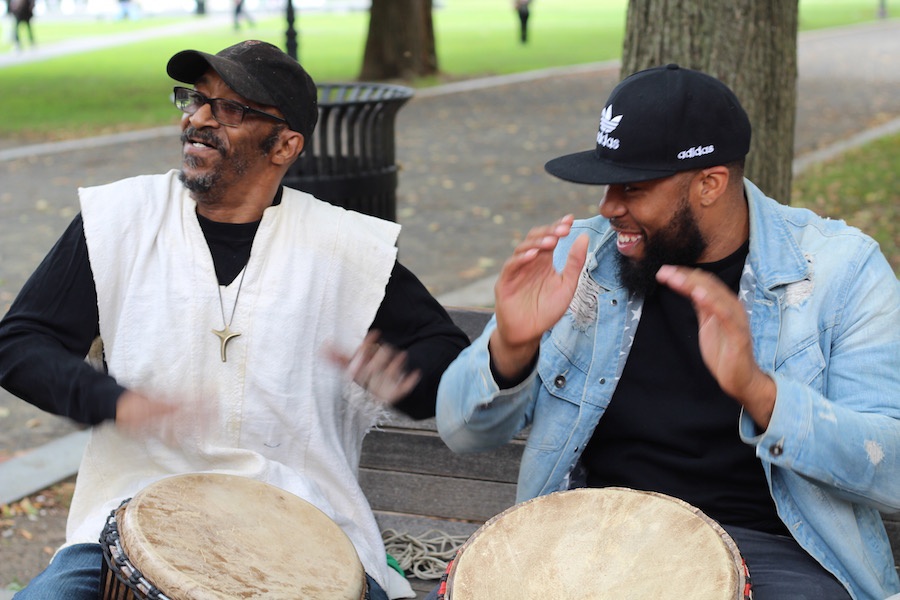 "If you look around on the Green, with the churches and the expanse, you are prompted to recall how it got started," she added. "And then you're also prompted to remember that it has been a conscious and affirmative effort to keep it open. And if you keep it open, you then can have these kinds of events. You can have the constellation of citizens coming here to enjoy it, which you couldn't do if it was all built up."
As drummers arrived and began to play at the lower corner of the Green, they unleashed whole musical histories on the space, loosing diasporic, Afro-Caribbean rhythms from their fingertips and palms. There, in plain sight and sound, were musical phrases that began in the Mali Empire, and withstood centuries of diaspora, human bondage, and drumming as storytelling and social protest.
Around Ramos, a circle grew instantly: veteran drummers Michael Mills, Michael Smith, and Brian Jarawa Gray, trailed by New Haveners who had learned from them over the years. Saxophone player Paul McGuire, and folk and contra dance legend Billy Fischer eased their instruments into the mix. They extended extra drumsticks, shakers, and bells and and watched as the circle grew. Around them, New Haveners had stopped to dance, videotape, and chat with each other.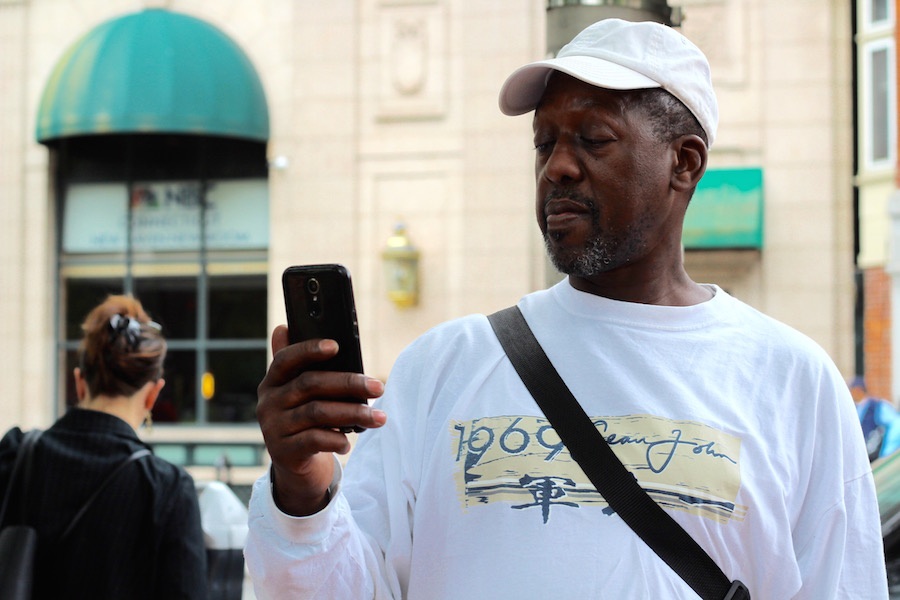 Byrd said that's what piqued his interest when he came on the group, en route to the Dixwell Avenue 238 bus after visiting his cousin's store, Beauty Plus, on Chapel Street. For over two decades, he's been making the trip down Chapel Street and onto the Green, catching a bus back to another part of the city. He said he hadn't heard anything quite like the drums for some time. And definitely not on the Green.
"It takes you back to your culture, back to your roots," he said. "For a lot of people, this is just music. But it's not just music. I's a culture. Some people get it, some people don't. This is more of a unity thing … this is beautiful."
"It should," he added when asked if he thought the music would help cut down drug activity in the space. ""I'll say it like this—I call it a sickness. This way, we're reaching and helping people in different forms."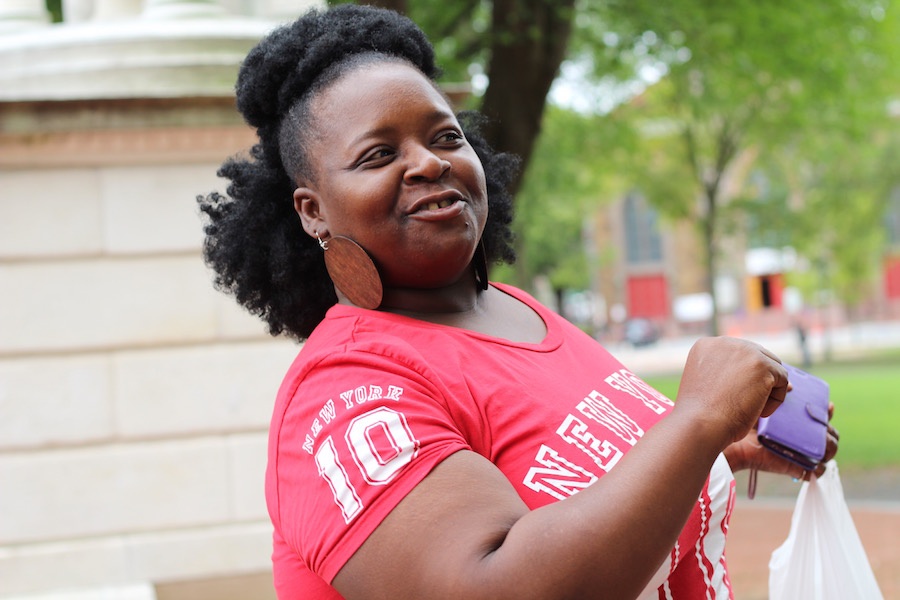 New Havener Lauretta Crouch gets into the music.
Just feet away from him, an impromptu cypher had broken out, a wiry dancer gyrating and lifting his arms at the center. "Puerto Rico!" he cried as he spun, drawing cheers from the group.
On the other side of the circle, New Havener Joe Comfort said he crosses the Green several times a day, on his way to odd jobs around the city. When he saw Mills, who taught him how to play drums decades ago, he wanted to see what the circle was all about. Just moment later, he'd joined in.
"You know, it's a family gathering," he said. "If you play drums, it's a family. And it's a lot different from what else you see on the Green."
So too for David Foreman, a truck driver who had Friday off, and decided to visit his sister and infant niece in New Haven. The three had headed to the Green "for a few laps around" outside before their next afternoon activity. When they heard the drummers, they decided to stick around for a while.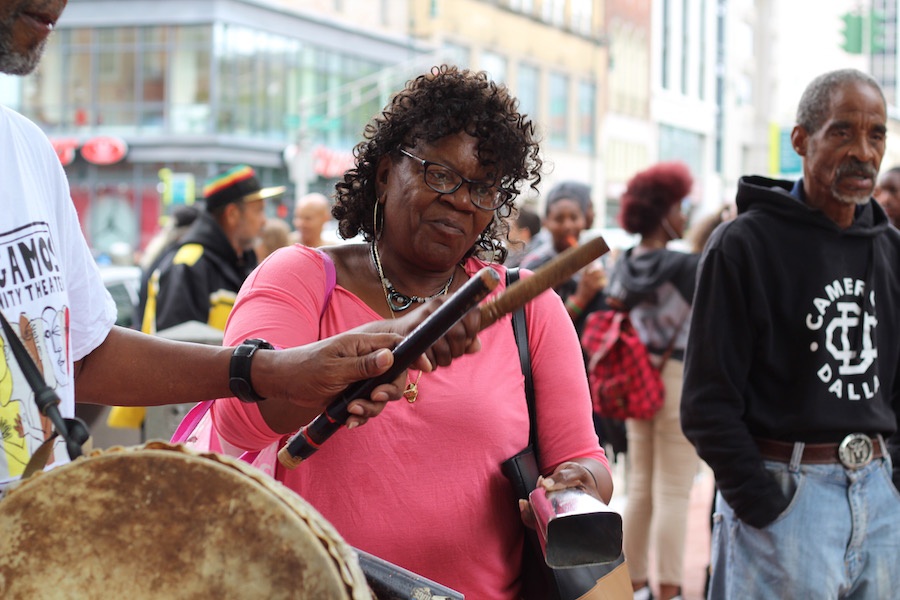 As the group launched into its second piece, members handing out shakers as they played, Foreman bounced his niece on his shoulders, bobbing to the beat. "He's killing that soprano sax," he said, gesturing to McGuire.
"I hear joy!" he said. "It's inspiration! I look at these and I understand that these are some of the African drums that are part of history. You how some things feel like innate nature? That's the perfect explanation for this."
Bregamos Healing Drums, run out of the eponymous theater space in Erector Square, is an Afro-Caribbean drumming group that meets on the second Tuesday or every month from 7 to 10 p.m. It is run by Bregamos Founder and Owner Rafael Ramos. Members of the public are welcome and encouraged to attend. If you are an artist interested in bringing your craft to the New Haven Green, contact Rebecca Bombero at rbombero@newhavenct.gov.