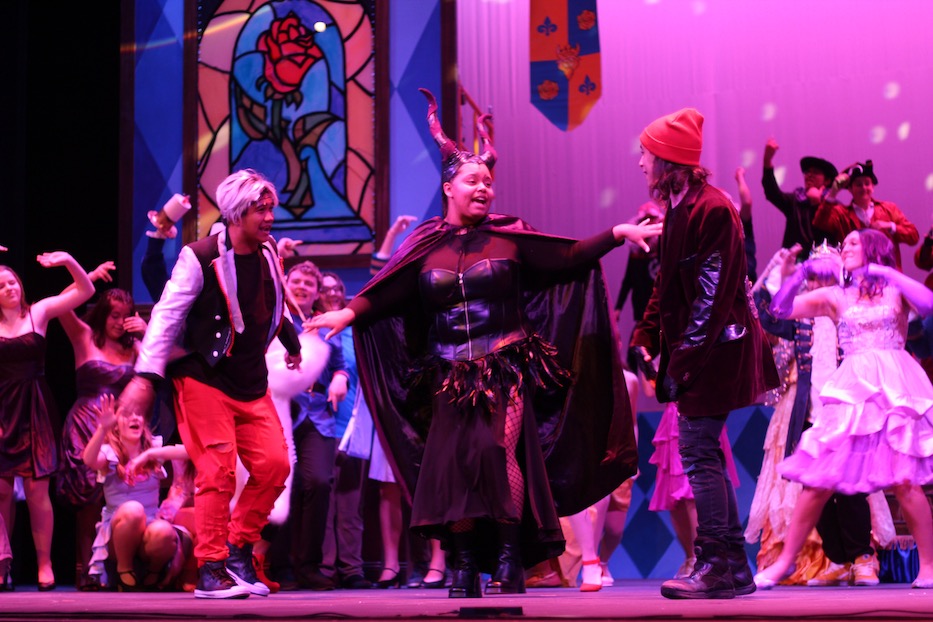 Education & Youth | Hamden | Arts & Culture | Musical Theater | Shubert Theatre | Sacred Heart Academy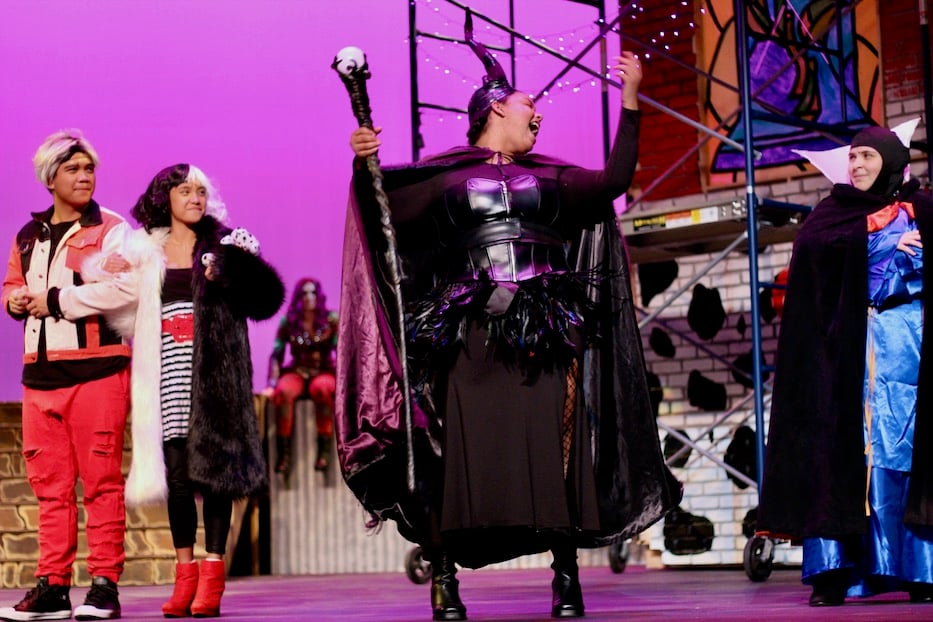 From left to right: Matthew Cabahug as Carlos, Emily Hortillo as Cruella De Vil, Imani Okech as Maleficent, and Natalia Frangipane as Grimhilde. Lucy Gellman Photos.
Imani Okech crossed the stage, raised a scepter high in the air, and let loose a maniacal laugh she'd been waiting 10 years to unleash. Backstage, Lily Anderson leaned forward in her chair and whispered into her headset: it was go time. Next to her, Nia Hubert kept her eyes on the backing track, making sure the music hit on cue. Behind the curtain, setpieces began to move.
The villains had arrived. And they were so evil they were good.
Over 100 students at Sacred Heart Academy (SHA) are transforming into heroes, villains, crew members and sweatband-sporting grips and stagehands this week, as Descendants: The Musical rolls into the Shubert Theatre for two days of performances. Directed by SHA theater veteran MaryLee Delaney, the play brings enchantment into the heart of New Haven—and reminds the adults in the room that sometimes, their kids have the most reasonable answers.
Performances run Nov. 18 at 7 p.m. and Nov. 19 at 2 p.m. and 7 p.m. at the Shubert Theatre at 247 College St. This year, Delaney has worked closely with the Cameron Boyce Foundation, named after the Descendants film actor who died three years ago at 20, after suffering an epileptic seizure. Because SHA is an all-girls' school, male cast and crew members come from 12 different high schools around the region. Tickets and more information are available here.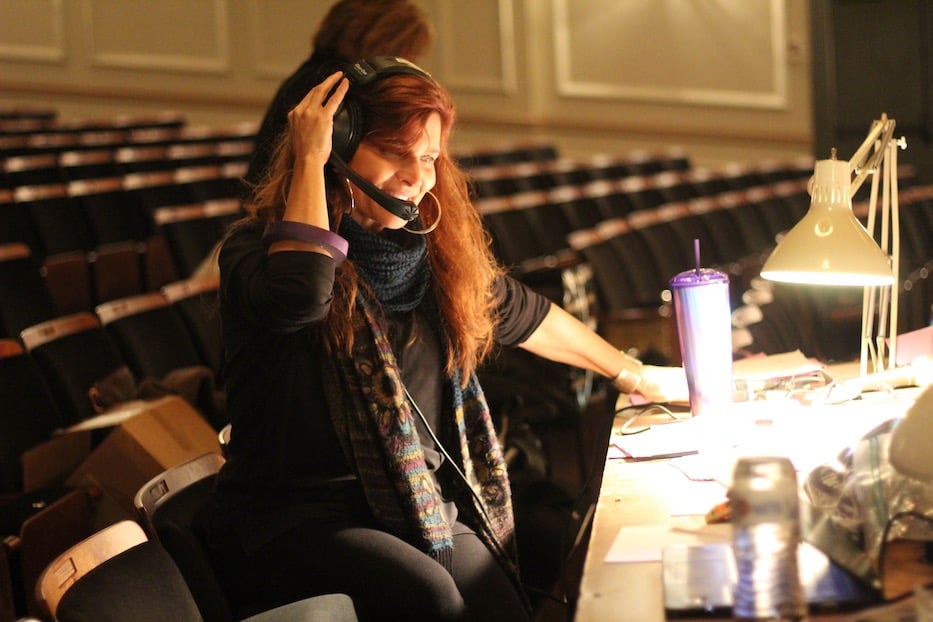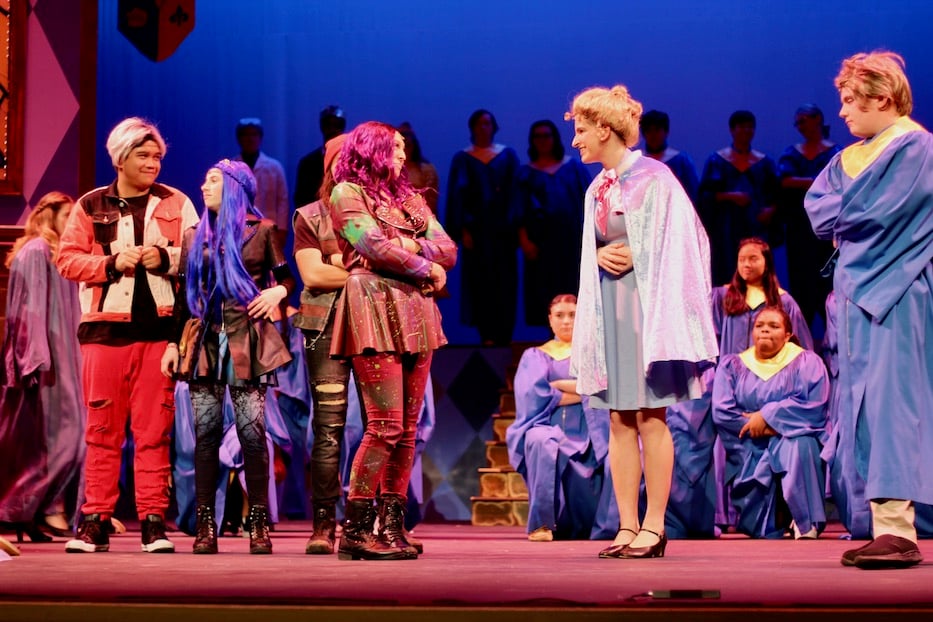 Top: Director MaryLee Delaney, who has directed the SHA show for 15 years. Bottom: Sophia Mastriano as Mal and Megan Doyle as Fairy Godmother with ensemble members.
"It's really its own SHA musical family," Delaney said during a tech rehearsal Wednesday afternoon, as actors took a 15-minute break between acts one and two. "I think that every student is an artist, and they really see the value of collaboration during tech week. 'Better Together,' which they sing at the end of the show, has just been our mantra."
Based on the Disney series of the same name, the musical follows four of Disney's greatest villains—Maleficent (Okech), Jafar (Patrick Guthrie), Grimhilde (Natalia Frangipane) and Cruella De Vil (Emily Hortillo)—years after their well-known storylines have ended. Over a decade after someone else's happily ever after, all of them have been banished to the Isle of the Lost, a sort of purgatory on which their magic no longer works.
If they are salty, they have reason to be: the Isle of Lost is filled with pirates, sea witches, sinister old ladies and pint-sized villain kids who don't have basic resources. The living conditions went downhill a long time ago, and now they are trying to raise their children in a place that is bad to the bone.
Meet their villainous offspring Mal (Sophia Mastriano), Jay (Frank DeCrescenzo), Evie (Lorelai Natale) and Carlos (Matthew Cabahug), who seem as invested in making evil look positively hip (we see that knit cap, Jay) as they do in carrying on their parents' wayward legacy. When they hear that they've been accepted to a prep school back on the mainland, it turns out that there's a big catch: their parents instruct them to steal the Fairy Godmother's (Megan Doyle) wand, which could restore their evil magic.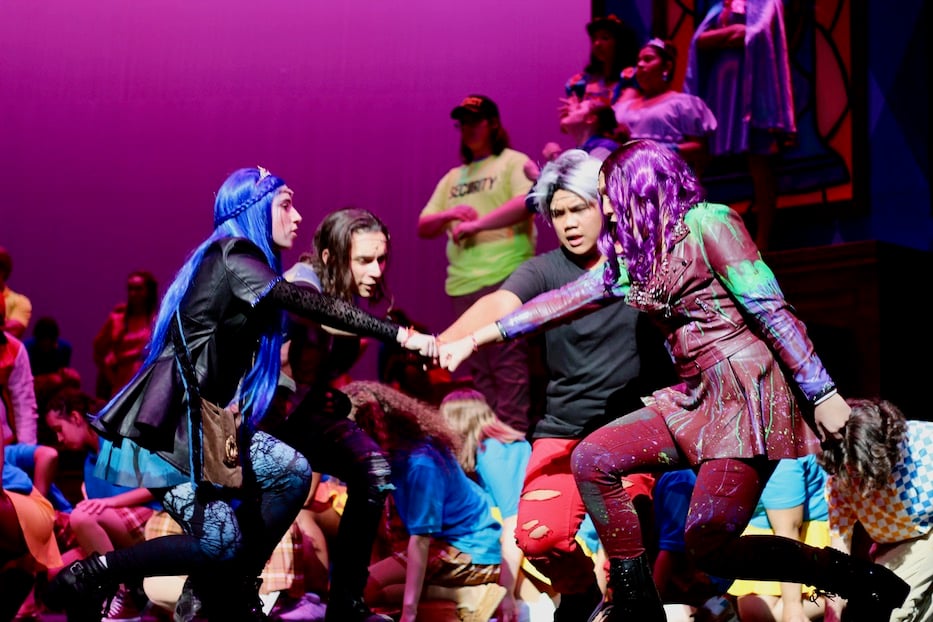 The evil (?) four: Lorelai Natale as Evie, Frank DeCrescenzo as Jay, Matthew Cabahug as Carlos and Sophia Mastriano as Mal.
No big, right? Except that the Kingdom of Auradon, where they are going, includes several of their parents' fairytale counterparts and progeny, including Belle (Emma Curis), Beast (Joshua Joby) and their son Ben (Maxwell Blumenstock), Snow White (Sienna Otto) and Cinderella (Maggie Vargas), Dopey's adorkable son Doug (Anthony D'Antonio) and at least three dozen of their closest friends. And Ben, as they arrive, has a pollyanna vision of uniting their worlds. Cue the clash of belief systems, but with jazz hands.
In one sense, the audience knows where this story is going: it will fall to the four descendants to decide whether they want to cling to the evil they've always known, or to forge a new relationship with those who once left them behind. And because it's musical theater, it will do so with swelling, bombastic vocals, choreography that flows from head to toe, and a storyline that snags, sputters, and sprints forward.
But in another, it's a show full of magic and mischief that is right on time, and still manages to surprise and delight in every way. After all, the Descendants have been raised by parents who never got their happily ever after, and they're waiting to strike back. It's a story made for high school, where a disagreement, a new clique, or a realization that one may not always share their parents' values can feel new and intractable, but rarely is.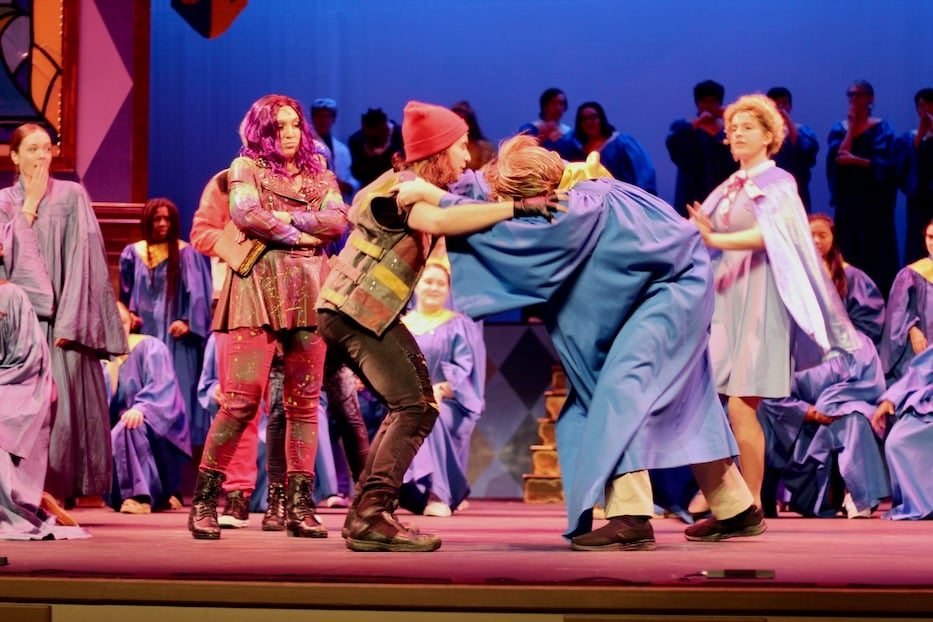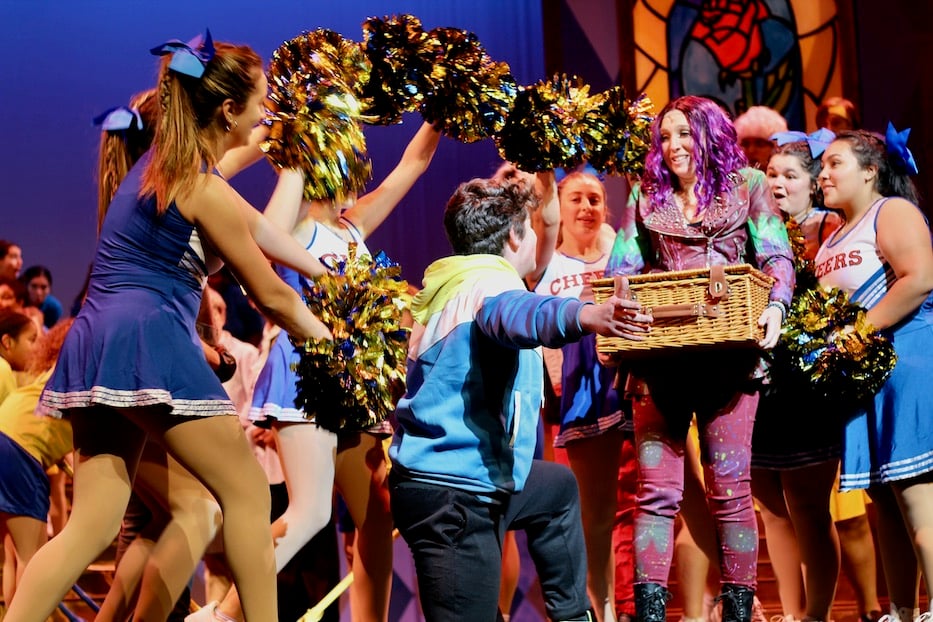 Top: Fight! Frank DeCrescenzo as Jay and Colin Lamboley as Chad. Bottom: Maxwell Blumenstock as Ben declares his love for Mal, surrounded by ensemble members.
From the moment the lights go up on the stage, cast and crew members alike transport viewers to another world, where Auradon is a little like Hogwarts, a little like Sacred Heart Academy, and a little like High School Musical, except with cooler costumes. With the help of adult set designers Jeff Cochran and David Roth, the curtain rises to reveal a soaring set, where light-strung scaffolding, raised steps, stained glass windows and a dorm room on wheels all turn the Shubert stage into another world.
On it, actors learn to step into this foreign universe, and make it their own. Here, most statements come with a four-octave range and intricate ensemble footwork, so much so that students' bodies become part of a propulsive soundtrack (a nod to choreographer Janet Gambardella Bracale, a SHA grad who is the founder and director of Dance Unlimited in Hamden). The thrill comes from watching the fun they are having while doing it.
Okech, for instance, described herself Wednesday as a typically quiet and introverted student—but the moment she slips on a corset and pair of long, sharp horns, she's able to unleash something that she didn't know she was capable of (with a smile, she stressed that she does not endorse evil behavior outside of the show). Wednesday, she dazzled onstage, cackling as she lifted her face to the ceiling, and it caught in a chartreuse-colored light.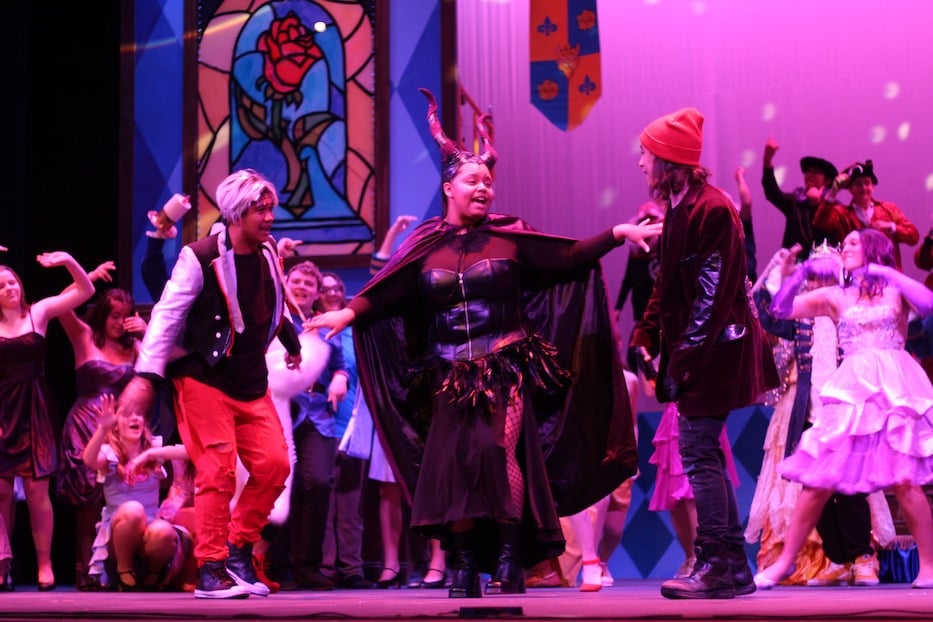 Around her, fellow "Evils"—characters who have been at turns maligned, celebrated, and forgotten—are all people with backstories, villains that weren't always so villainous after all. Cradling a stuffed Dalmatian in one hand, Hortillo jumps into De Vil's story, savoring the bitterness and swagger that her character commands with a single pair of hydrant-red boots and a fur coat. So too Frangipane as Grimhilde, whose legacy of magic mirrors becomes a musical hook and narrative thread in the show.
Here—as in the real world—humor is both a barb and a balm, and young actors get it. As mother and daughter, Okech and Mastriano have a rhythm and chemistry that burns until it bubbles over, and threatens to take out everything in its path (if that doesn't sound like high school, what does?). So too do Cabahug and Hortillo, who nail the very real laugh lines baked into some hyper-dependent mother-son relationships.
In between, the audience gets a story of four friends who have to figure out who they are and what they want, all while stumbling through the hormone-induced haze of adolescence. While very sweet romantic relationships bloom between characters (Blumenstock and Mastriano are especially dynamic; D'Antonio and Natale warrant a whole other musical dedicated to nerding out), it's much more interesting to watch the friendships that grow and contract onstage.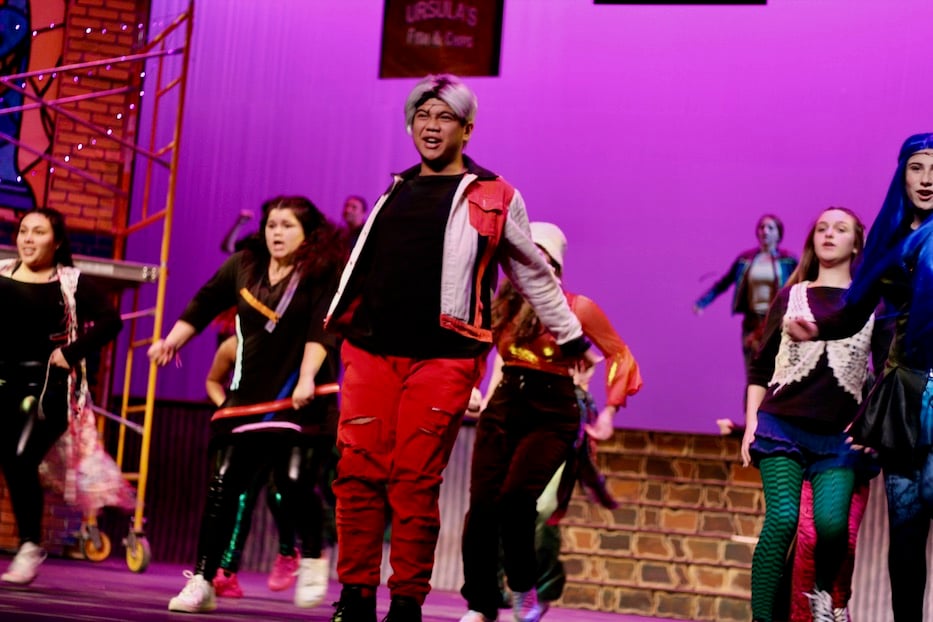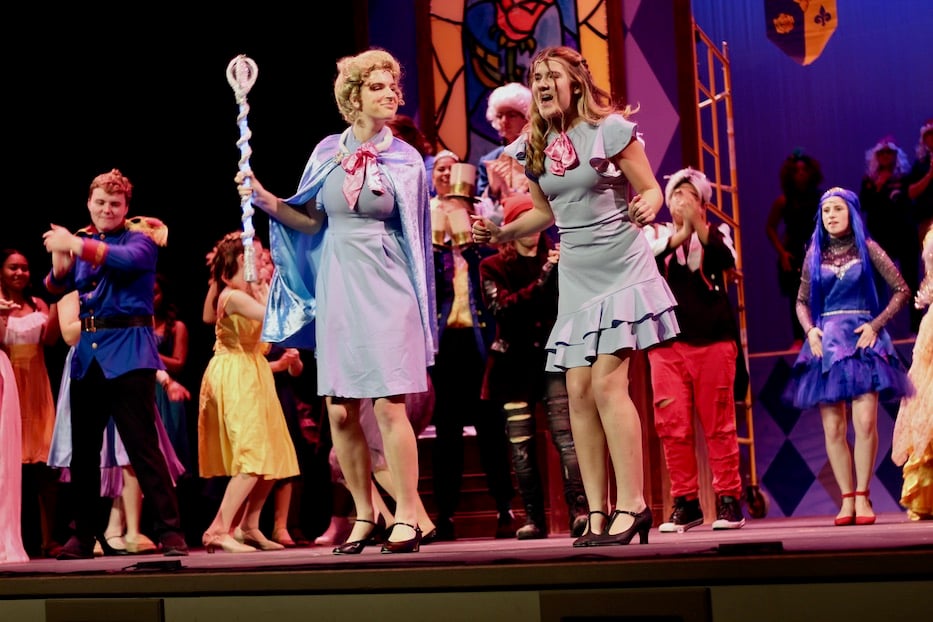 Megan Doyle as Fairy Godmother and Jamie Lamb as her daughter, Jane.
When Mastriano and Natale duet on "Space Between," perched on their dorm room beds, it's the young adult version of "text me when you get home," instantly recognizable and just as affecting in the catch in Natale's voice and certainty with which her friend responds. In Carlos and Jay, Cabahug and DeCrescenzo find the comical, hard, weird parts of budding homosocial friendships and spin them literally into song, discovering themselves in the process.
Around them, the lines they've always understood between good and evil become porous, and they're able to jump in and explore.
"Everyone Has Their Part"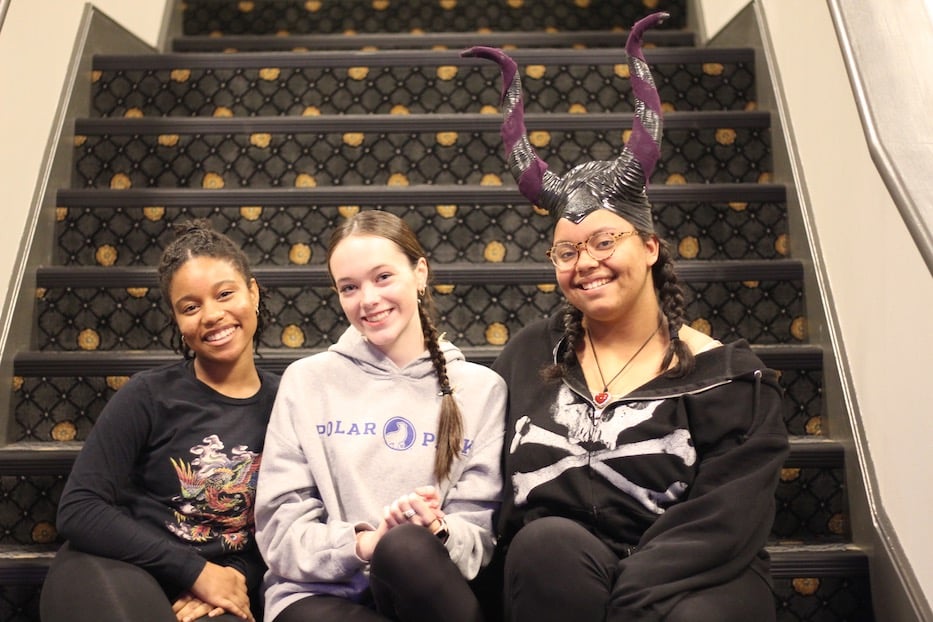 Chara Blagrove, Kelly Blute and Imani Okech.
While the four Descendants may be the heart of the show, every aspect of production has become very much a team effort, from a hospitality crew to vocal coaching to a set that towers over the cast, and has dozens of moving pieces. During a tech rehearsal Wednesday, both actors and crew members said they feel a kind of magic being in the Shubert, some for the first time.
Part of that is SHA tradition. At SHA, if a student auditions, they're part of the show, whether onstage or off. Delaney, who grew up in New Haven's Hill neighborhood and now lives in Wallingford, said that's part of the sense of family the school works toward with each musical. She added that Descendants is a particularly good fit for SHA's multigenerational audience, some members of which may have been kids or parents themselves when Disney's Snow White, Aladdin, and 101 Dalmatians first came out in the 1990s.
Sitting in the lobby before a full run through, Okech said the musical has made her feel more confident in her own skin. Over a decade ago, she caught the musical theater bug watching Sacred Heart Academy's The Wiz when she was just six or seven years old. For years, she sang in church and in school, including in SHA's production of Irving Berlin's Holiday Inn last December. Now a senior at the school, she's seizing her moment.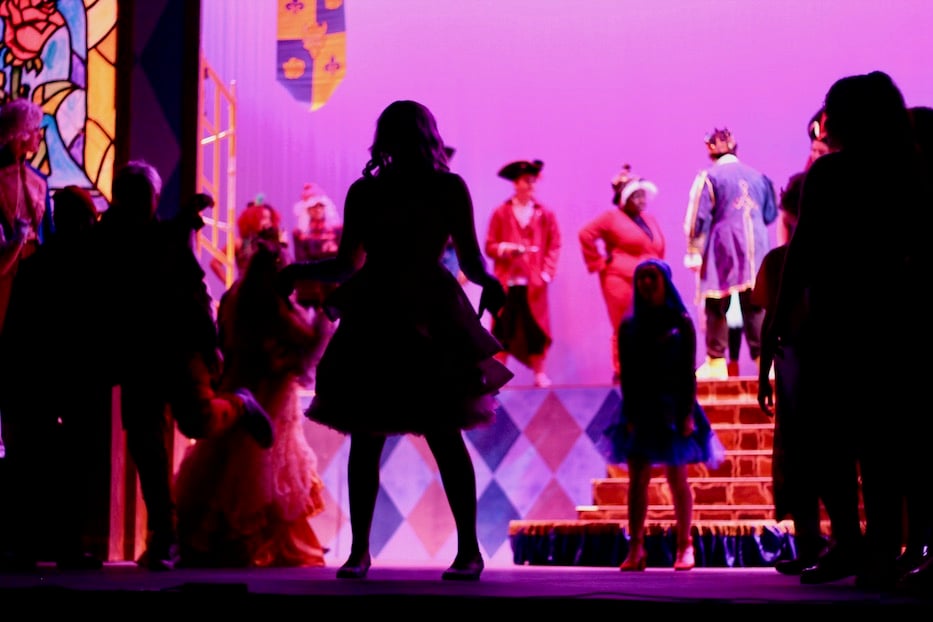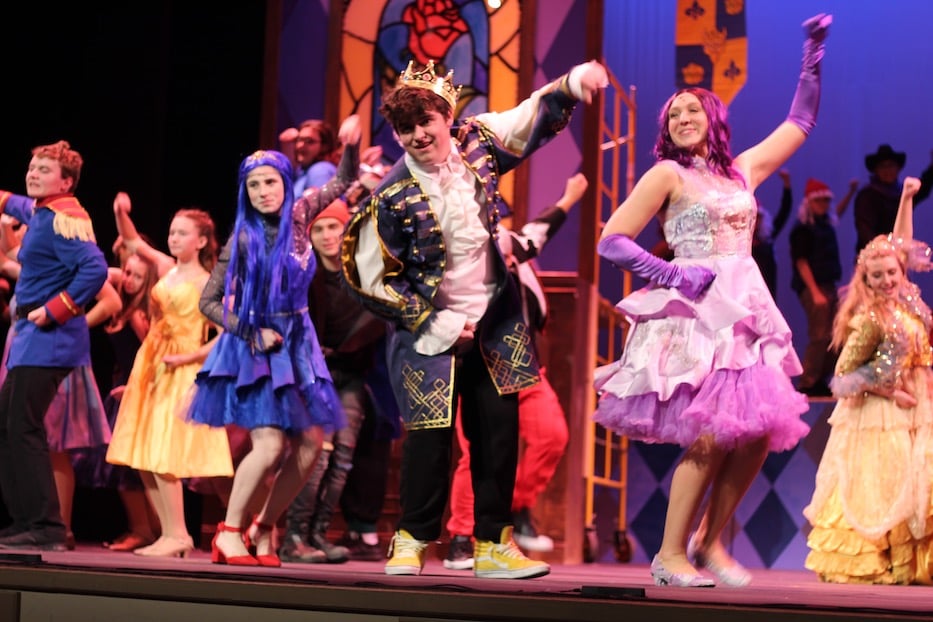 Better Together? You'll have to see the show to find out.
"I kind of see musical theater as a chance to be someone different," she said. "I'm naturally pretty shy, since I was little, but music has always been the thing that has made me jump out of my comfort zone, which I'm really grateful for. I feel like, I can unapologetically be like, 'I'm really cool.' I can be okay saying that without feeling vain."
On the Shubert's staircase beside her, students Chara Blagrove and Kelly Blute nodded, chiming in when Okech said something that resonated with them. A junior at the school, Blagrove remembered coming to musical theater at SHA, and finally feeling like she had found her niche. In the show, she plays Uma, the daughter of irksome glam queen turned sea witch Ursula.
"I think in theater, the ability to create a new world—and like, perfect worlds—is something so amazing and magical about it," she said. "For me, I am very shy as well. I remember dancing on stages when I was little, and not dancing because I was constantly thinking about my moves. I wasn't allowed to be free myself. When I'm in the theater and I'm doing the music ... It's freeing. It's liberating, and it just feels good. I feel home."
"We acknowledge that everyone does have a talent, everyone uses that talent," she added. "Whether they're in crew or on that stage, everyone has their part."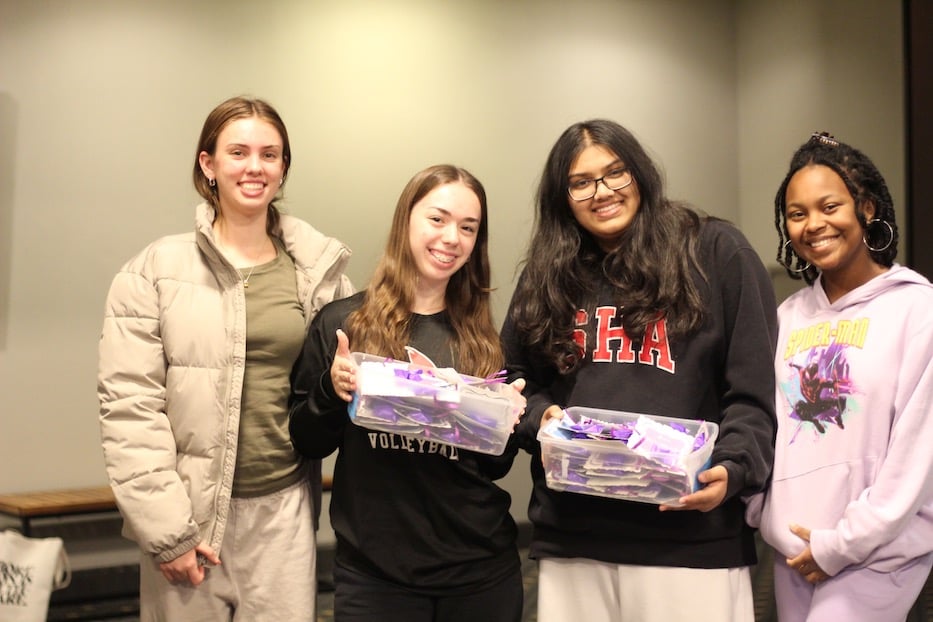 The hospitality crew: Sierra Miller, Madison Dion, Anya Patel, and Sasha Vaughn. All of them are sophomores at SHA.
Further into the lobby, a four-person hospitality crew was preparing candy grams for opening night, attaching individually wrapped chocolates to the scalloped edges of still-blank notes. Per SHA tradition, families and friends have the chance to fill out the grams for their student actors, and hospitality crew members run them backstage during the show.
Madison Dion, a sophomore who is part of the group, said it's exactly where she wants to be. As a student, Dion wanted to be part of the show—but in a capacity that was even more discreet than stagehand or tech crew member. Or in her words "Behind behind the scenes."
"It's a small group, and it's fun to see the families come," she said.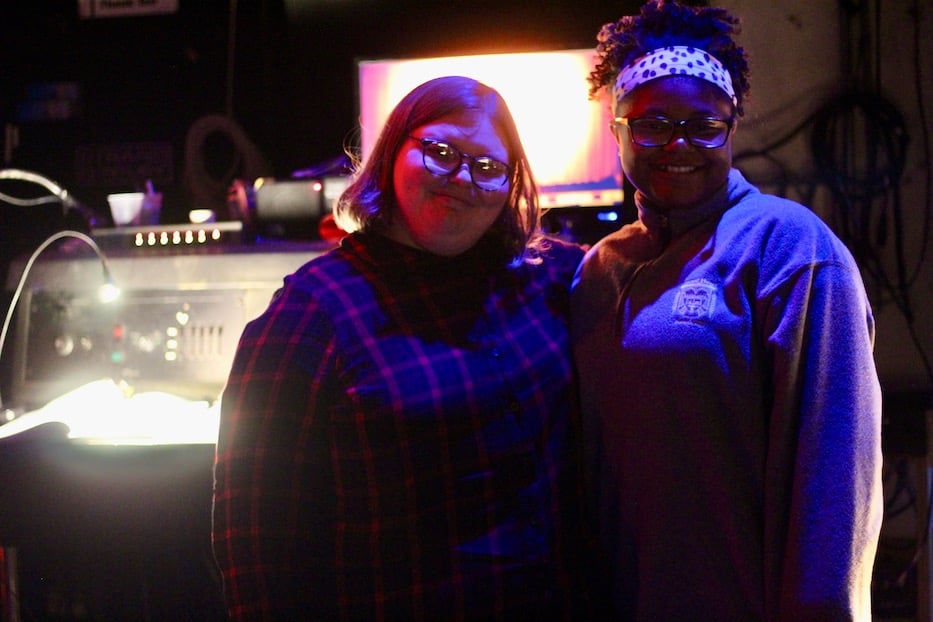 Lily Anderson and Nia Hubert.
For other students, tech theater is exactly where they're supposed to be. Backstage during a 15-minute intermission, sophomore Lily Anderson and junior Nia Hubert slid on their headsets, and became production and assistant stage managers. Seated beside each other, both navigate the show by lamplight, calling its cues and tracks as the play unfolds onstage.
To Anderson's left, the so-dubbed "God mic" sat untouched for the moment. With a half smile, she pointed out her favorite cue in the script, which folds a disco ball into the mix near the end of the play. As it scatters light across the stage, she revels in the small role she's played in getting helping it appear.
Anderson, who met Delaney as a student in her English class freshman year, said she loves being backstage. "You're really doing the whole world of the play," she said. "There are so many different parts for everyone."
Sacred Heart Academy's Descendants runs Nov. 18 and 19 at the Shubert Theatre, 247 College St. in downtown New Haven. Tickets and more information are available here.