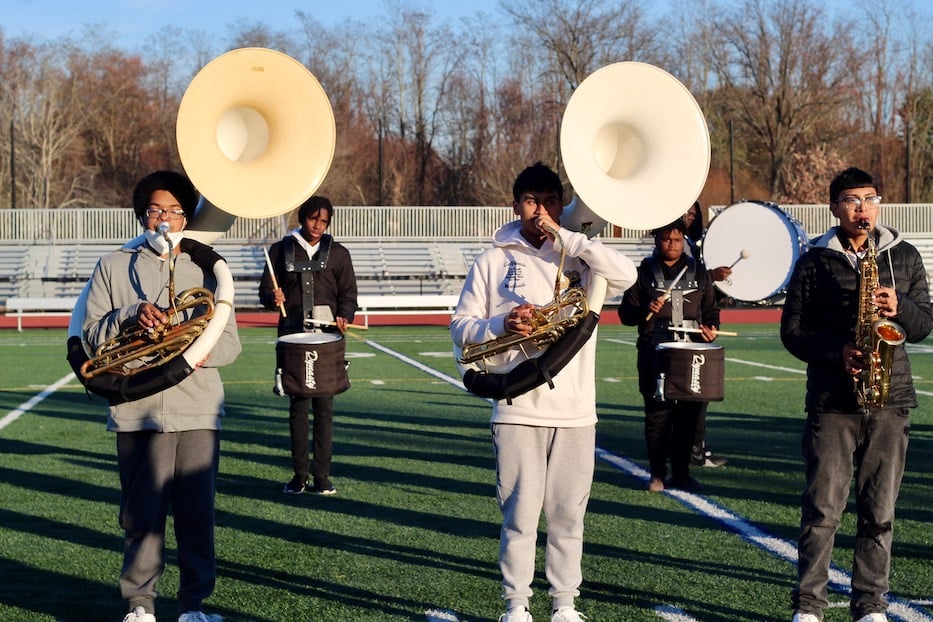 Beaver Hills | Culture & Community | Education & Youth | Music | Arts & Culture | James Hillhouse High School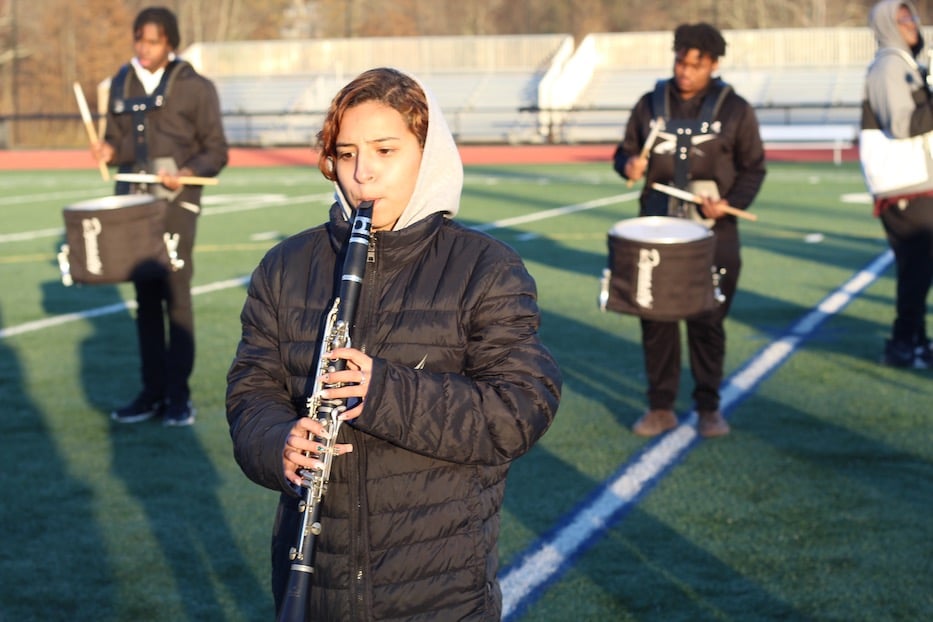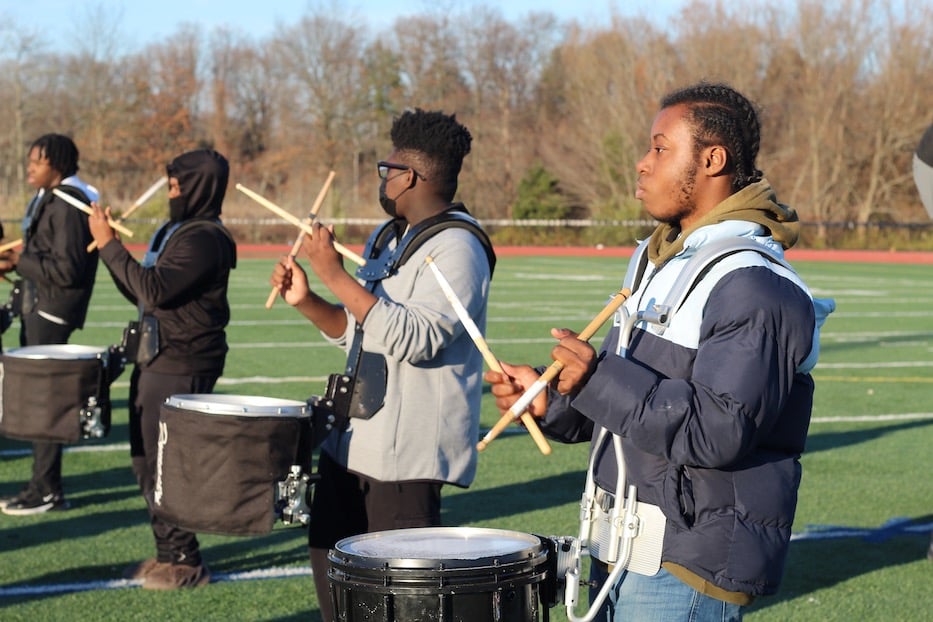 Top: Bernadette Karpel. Bottom, in foreground: Drummer Erik London. Lucy Gellman Photos.
The drums sounded first, a heartbeat that rang all the way to the goalposts, then split in two as the marching quads came in. Horns jumped on the beat, wailing as they hit the cool afternoon air. At the 50-yard line, Bernadette Karpel lifted her clarinet to her mouth and came in strong. Joshua Smith pulled his hand through the air and held up a forefinger. A smile teased at the edges of his mouth.
"Put some flavor into it," he said. A flick of Smith's wrist, and the group exploded into "Get Ready" for a second time. Somewhere, The Temptations were dancing above the clouds.
That sound is coming to Bowen Field Thursday as the James Hillhouse High School marching band takes the field during the annual Cross-Hillhouse football game. One year after in-person classes returned to the district, Hillhouse is working to rebuild its band note by note. At the effort's helm is 34-year-old Smith, a 2006 Hillhouse grad and marching band veteran who has returned as a music educator.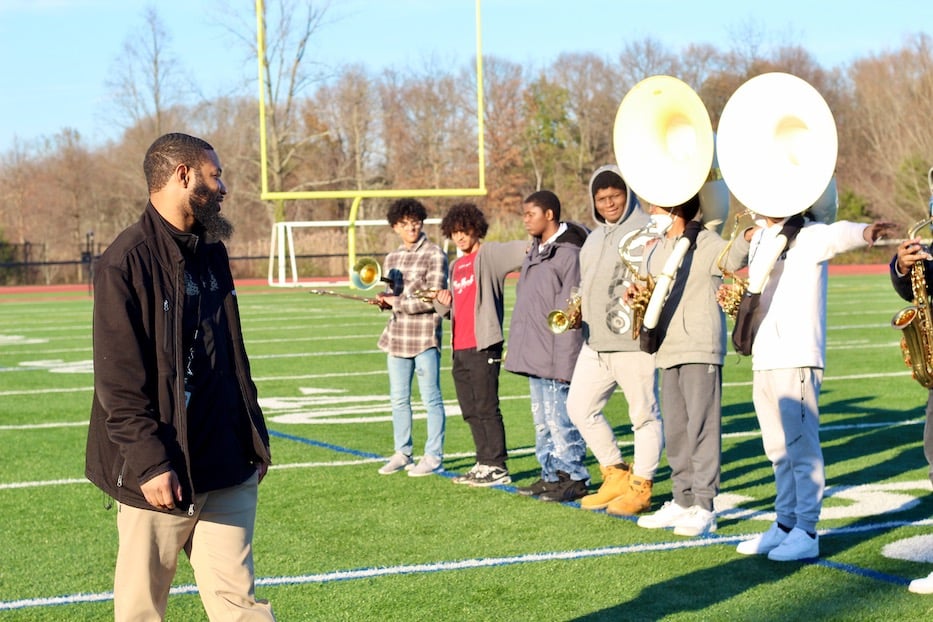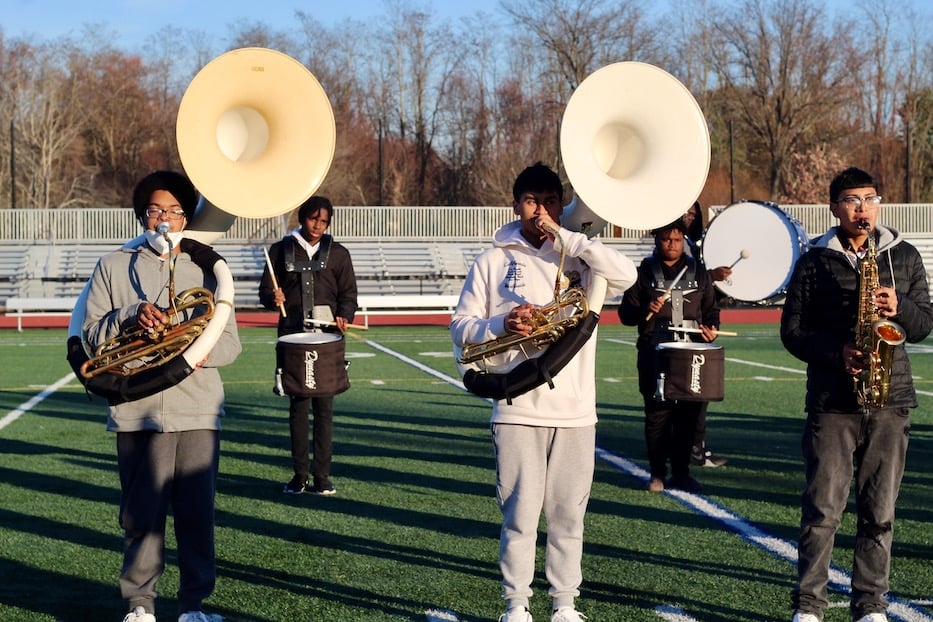 Top: Joshua Smith leads the band Tuesday. Bottom: Jaquan Reyes, Abel Hernandez, and Andy Herrera.
"I'm excited about all of this, just to see all of this coming back together," he said Tuesday, as the afternoon sun warmed a sea of sousaphones, trumpets, flutes and drums. "I'm just excited about the hope, the progress of students, in a short matter of time."
The performance has been over a year in the making. When Smith arrived at Hillhouse last fall, the band had been in flux for over two years, decimated by the Covid-19 pandemic and a rotating door of music educators. Students who had started their high school careers playing in the classroom ended them online, rehearsing in their rooms. Many of them struggled with motivation as they trudged through a second year of remote schooling.
He enrolled students in band classes, and begged them to stay on for marching band. He recruited students who he'd heard could play. Several did: the marching band includes students from all four grades, including some who played in middle and early high school, then lost their juju during the pandemic.
Tuesday, those hours of work were on display as students fanned out across the field, some still masked as they prepared to play. Before snapping into their game day set, students watched as Smith directed them onto the field, in that careful ballet of musicians on the 30, 40, and 50 yard lines. Behind a line of brass and woodwind instruments, the drums fell into formation. Isaac Perry squinted over his marching bass drum, hanging on to each word.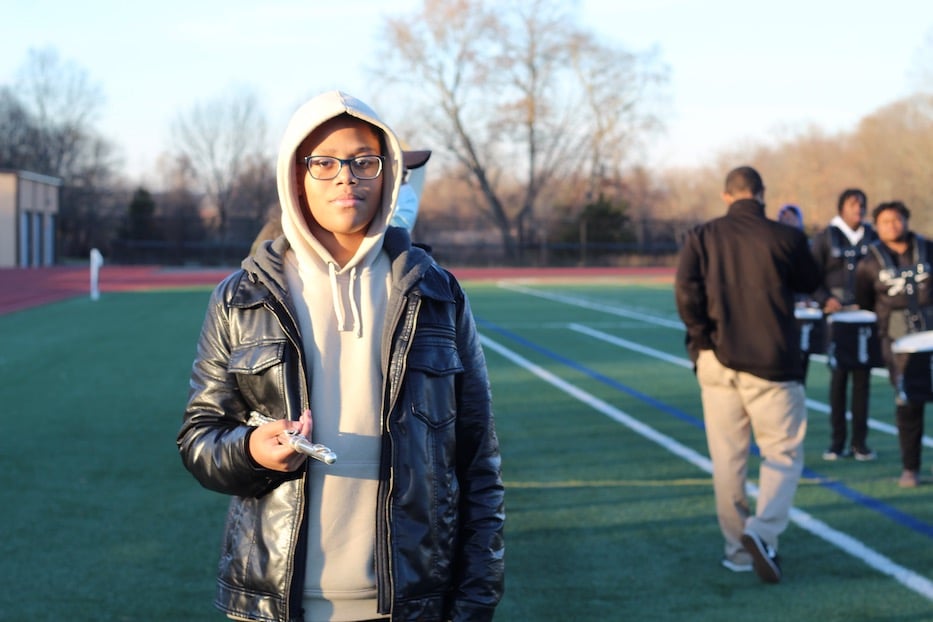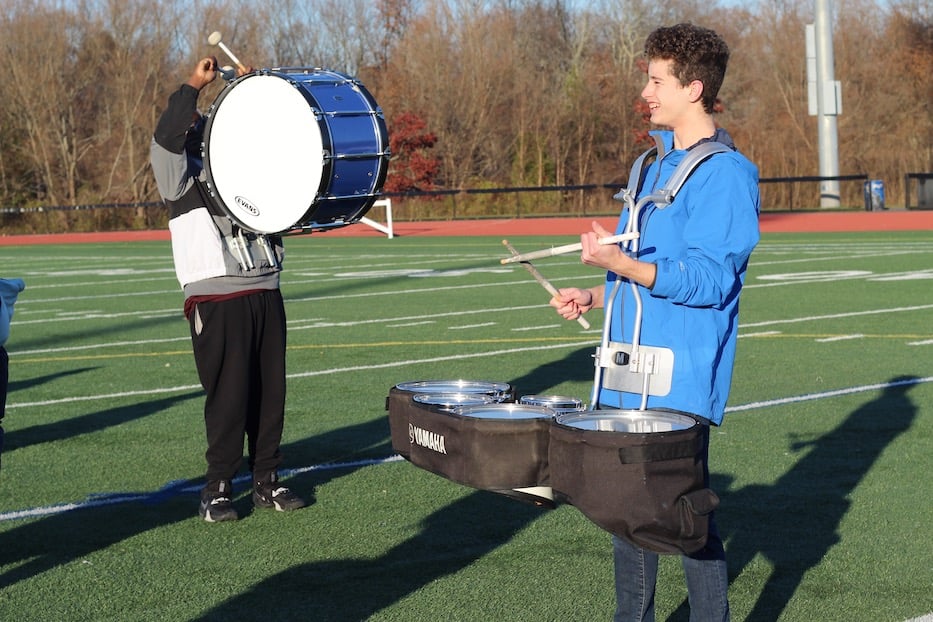 Top: Freshman Brandon Fullerton on flute. Bottom: Isaac Perry and Jack Marchand.
"If you can't see me, just follow my voice," Smith instructed. He counted members off, and they were soon in the midst of The Temptations' "Get Ready." As drums played them in, trumpets laid down a soft, brassy carpet of sound, shrill as they headed into the hook. At the 30-yard line, the flutes joined in, the instruments singing. Sousaphone came in low, and suddenly there was a whole conversation taking place, some voices at the edge of a brassy growl.
In the distance, sirens sounded off Sherman Parkway, cutting through the afternoon. None of the players paid them any mind. Smith listened to an undulating finish, and burst into a grin. He stepped back and then forward, about to go into Bruno Mars' "Treasure." When the band started early, he raised his hand and pulled it through the air, as if to say stop.
"That's a sign you guys are not watching," he said. "You gotta be watching."
As he waited for the next direction, sophomore Andy Herrera took it all in. After picking up the saxophone as a student at Roberto Clemente School, Herrera "started practicing and practicing," and found that the instrument helped him gain confidence and de-stress. When he picks it up, he said, he can step away from the stress of both school and home life. Knowing that he has band practice at the end of the day helps him get through class.
"When I'm not in band, I don't get to be me," Herrera said. "You get to be yourself."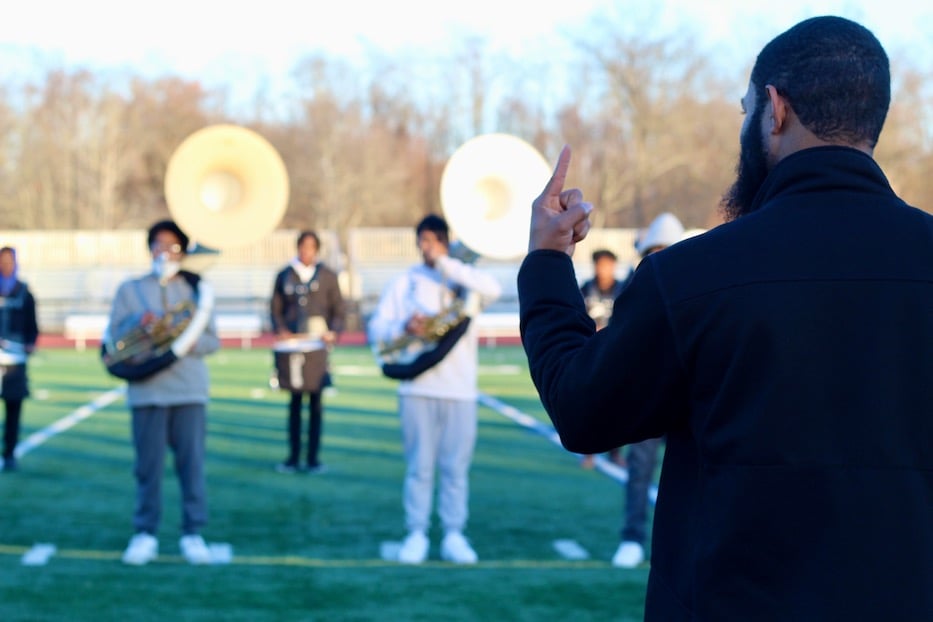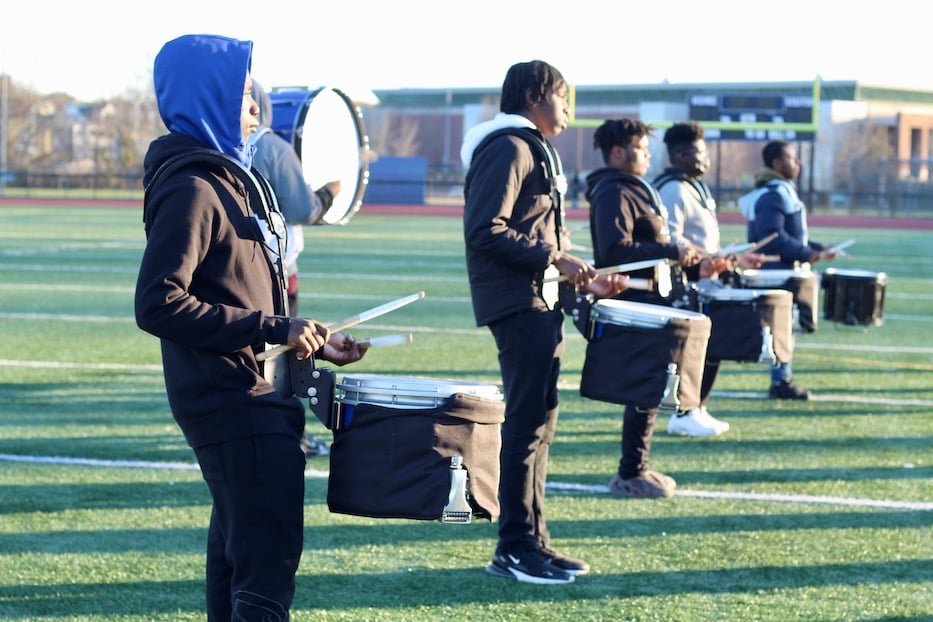 Top: Smith conducts. Bottom, left to right: Christian Akerson, John Massaquoi, Owaine Dennis, Nehemiah Johnson-Nolifleet and Erik London.
To his right, Abel Hernandez agreed, letting a foamy drip escape from his sousaphone. In the chilly afternoon, a mist of condensation had formed on the outside of his instrument. He didn't seem to mind. A freshman at the school, he declared the band a sort of unexpected family that he's excited to be a part of.
Back on the 50-yard line, Karpel was still getting reacquainted with her clarinet after four years away from it. Eight years ago, Karpel started playing the clarinet as a student at East Rock Community Magnet School, and excelled as a student in New Haven's Morse Summer Music Academy. When she got to Hillhouse, she opted to do track, and felt like it would be too much to balance with an instrument. The clarinet sat in a corner at home.
But "I missed playing music," she said. When Smith arrived at the school last year, she regretted not joining the band. She figured senior year marked her last chance to get back into it. Next year, she plans to study medical lab science or radiology in college.
"It's a good feeling to be back," she said. "It's like I just started again."
On the field, the temperature was dropping as the sun peeked behind the clouds. Smith raised his hands and lifted his second finger, counting musicians in. He cocked his head as the drums rolled through the intro, welcoming trumpet and clarinet. At the end of the line, freshman Joseph Santos moved in on the lone trombone. Working the slide, he leaned back, put his face toward the sky. Around him, the music showed no sign of stopping.
Coming Full-Circle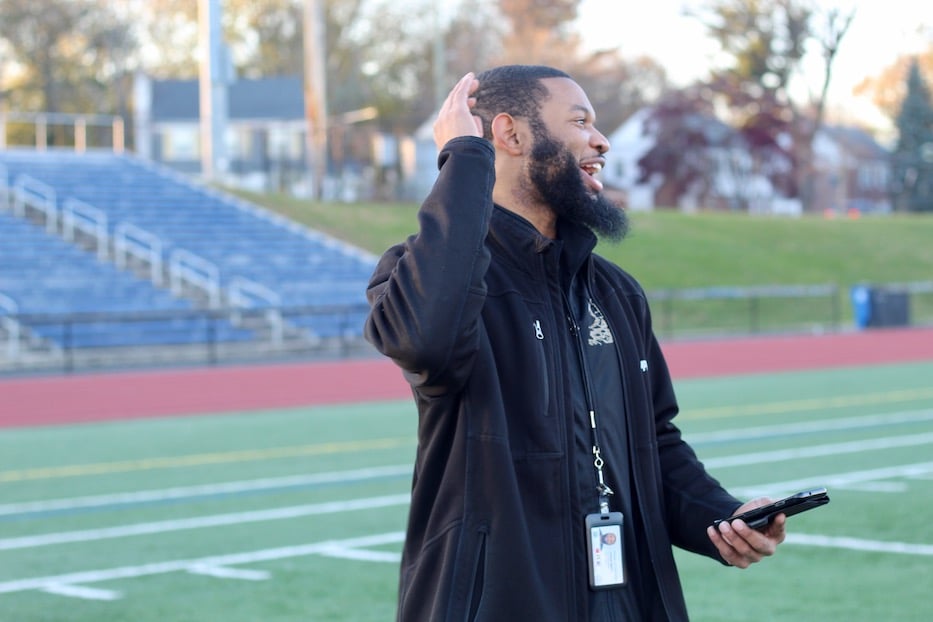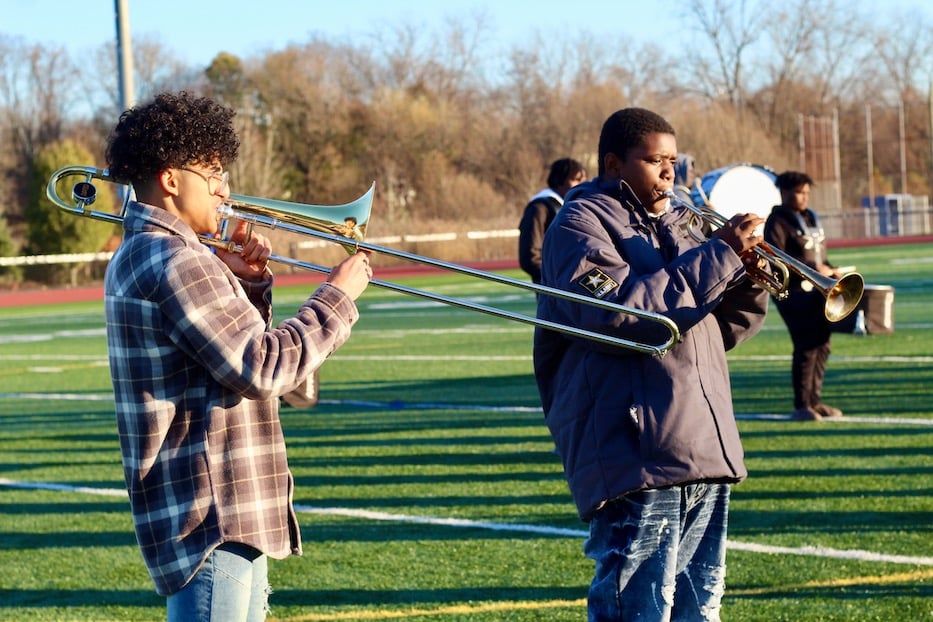 Bottom: Freshman Joseph Santos and junior Xavier Wilson.
For Smith, Thursday's performance marks a sort of full-circle moment. Born and raised in New Haven, Smith started playing the drums in church when he was just three or four years old, and stayed with them until he was part of Hillhouse's then-legendary drumline in the early 2000s. Along the way, he also picked up keys, which he still plays in his freelance work as a church musician.
During his childhood, music was everywhere. Both of Smith's parents sang in their church choir, which meant their home was often filled with song. His grandmother and great-aunt play the piano and organ. His soundtrack was whatever radio station or cassette tape his parents had on in the car—usually 94.3 WYCB for his dad, and gospel for his mom.
As Smith got older, he balanced a love for hip-hop, R&B and gospel with an interest in sports, from Pop Warner football to little league baseball to track. The unwavering support of his own parents—who he still refers to as two of his heroes—became a model for the kind of educator he wanted to someday be.
As a student at Hillhouse, Smith became part of a drumline that competed "up all over the East Coast," he remembered Tuesday. It laid the groundwork for him to study music at Southern Connecticut State University, then pursue a graduate degree in music education at the University of Bridgeport. After years of teaching kindergarten in Bridgeport and then at Truman School, he came to Hillhouse in the fall of 2021. He currently teaches band and two sections of non-band music classes.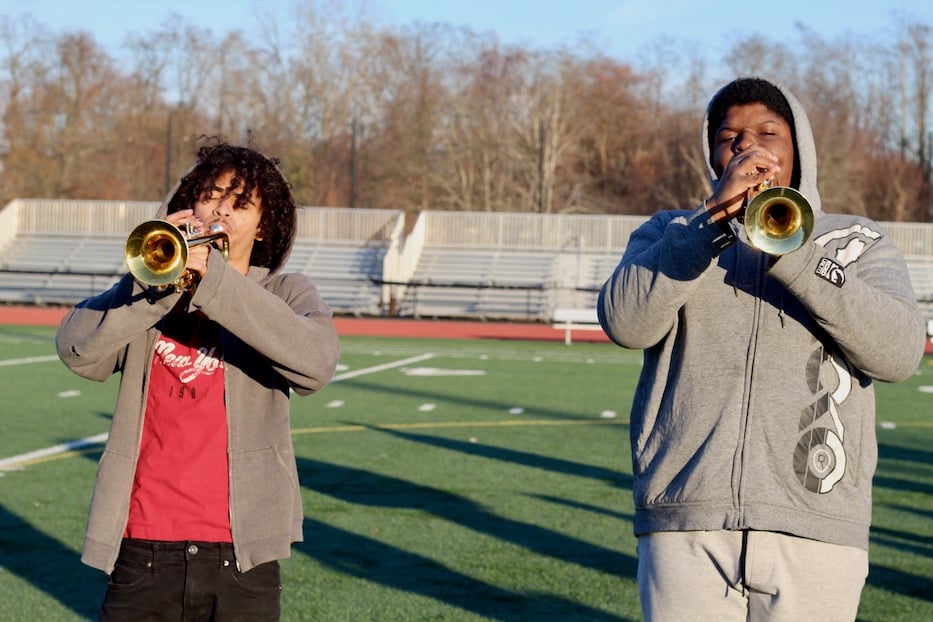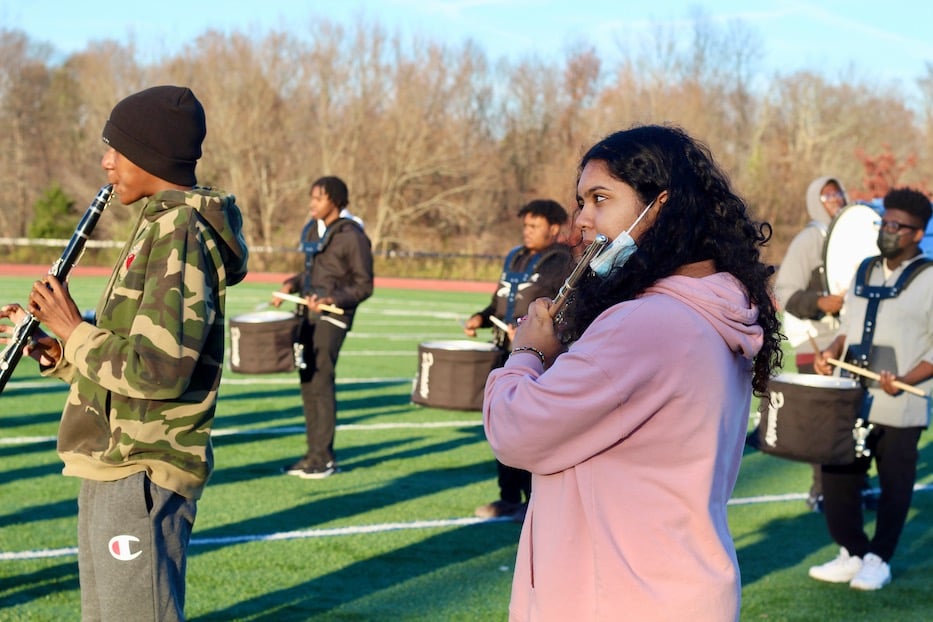 Top: Jose Santos and Raymond Lewis. Bottom: Flutist Abby Heredia.
In addition to bringing back the marching band, he sees his charge as teaching students about history and genre through music. When he heard that students didn't know the music of Prince, James Brown, Michael Jackson, and Aretha Franklin last year, he added their names to a set list that he keeps on the whiteboard, outlined in thick black dry erase marker. Currently, songs include everything from Snoop Dogg's "Gin and Juice" and Salt-N-Pepa's "Push It" to the Star-Spangled Banner and Bruno Mars.
"Every generation I believe comes up with someone they all know," he said Tuesday. "We have an important role to keep our music alive."
His dedication to the students is palpable both on and off the field. Tuesday afternoon, he instructed them every few moments, carefully mapping out everything from placement on the field to the gusto with which musicians hit their drum sticks together. Tuesday evening, he stayed in his room well after the marching band had packed up and filed out, comparing breakfast options for game day.
As game day came into focus, he said he's incredibly proud of all of them, and excited to see what they do next.
"Between last year and this year, there are a lot of beginners, so I'm proud to see where they are already within the first three months of school," he said. "This year, we're still rebuilding."
"I try not to make it all about me," he continued. "I tell students they have to make their own memories. I tell them, this is the new generation of the band, and it's starting with you."
Click above to watch a video from Tuesday's practice.