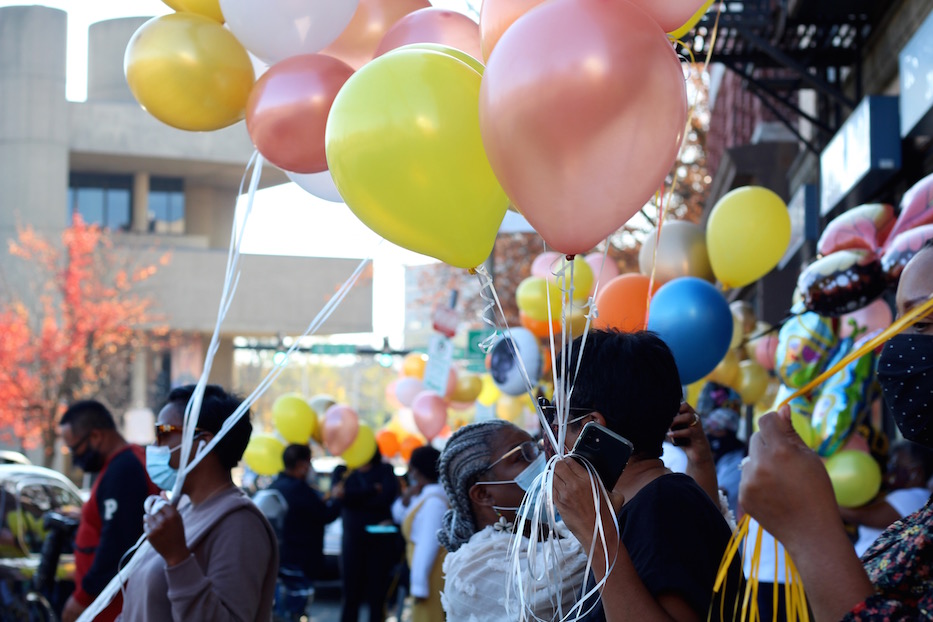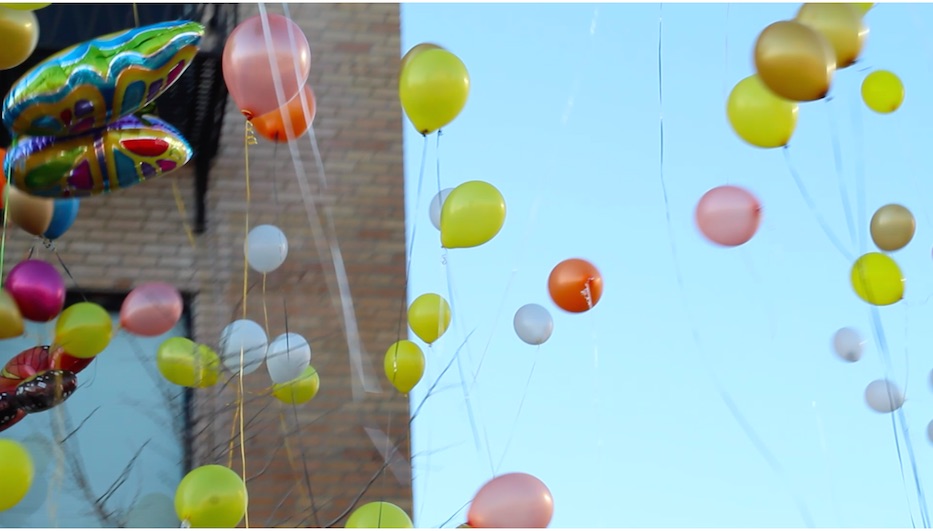 Lucy Gellman Photos.
Sharon Clemons was a small business owner and a friend to hundreds. She was a mom, who loved shouting out her daughters' birthdays and pushing them to follow their academic dreams. She was a devoted wife, sister, and woman of fierce faith, who lifted her loved ones in prayer without a moment's hesitation.
She was a butterfly, with large and mesmerizing wings that carried her to great heights, and never left anyone behind.
Sunday, that's how over 100 of Clemons' family members, friends, and colleagues remembered her at a balloon release outside of Sharon Joy Salon on State Street. Clemons, whose grace and magnetism often preceded her, ran the salon with her sister Joy Brown. She passed away unexpectedly of COVID-19 on Tuesday at the age of 51. A memorial is planned for Tuesday.
"As I look around at all the colorful balloons, my sister already wrote her eulogy," said Brown, addressing a huge crowd that had gathered with pink, yellow, orange and butterfly-shaped pearlescent balloons. "Every life she's touched in her 51 years—this is showing it. And we thank you all. We are truly blessed to have each and every one of you. Everyone is family to her. Everyone's a butterfly to her."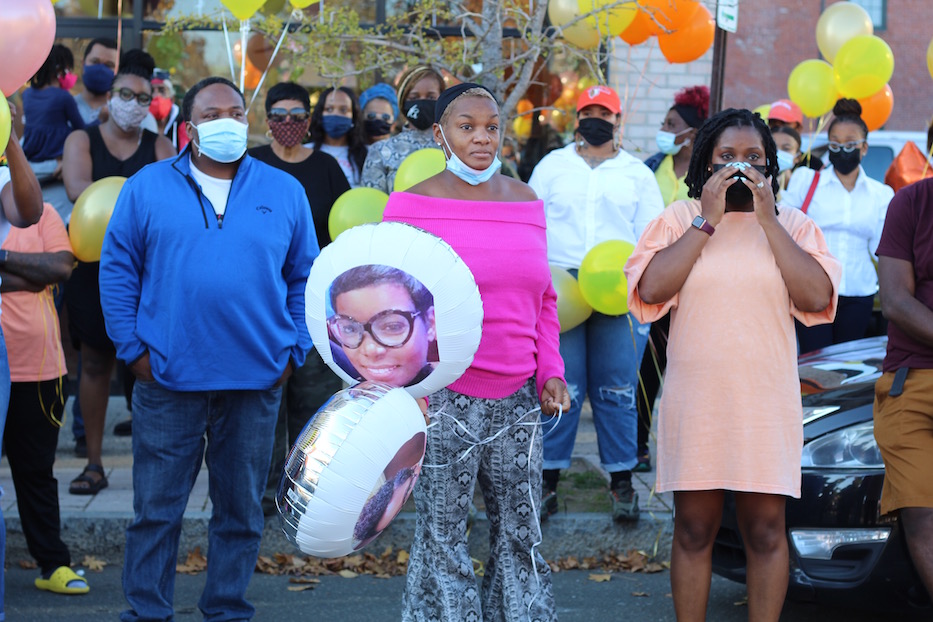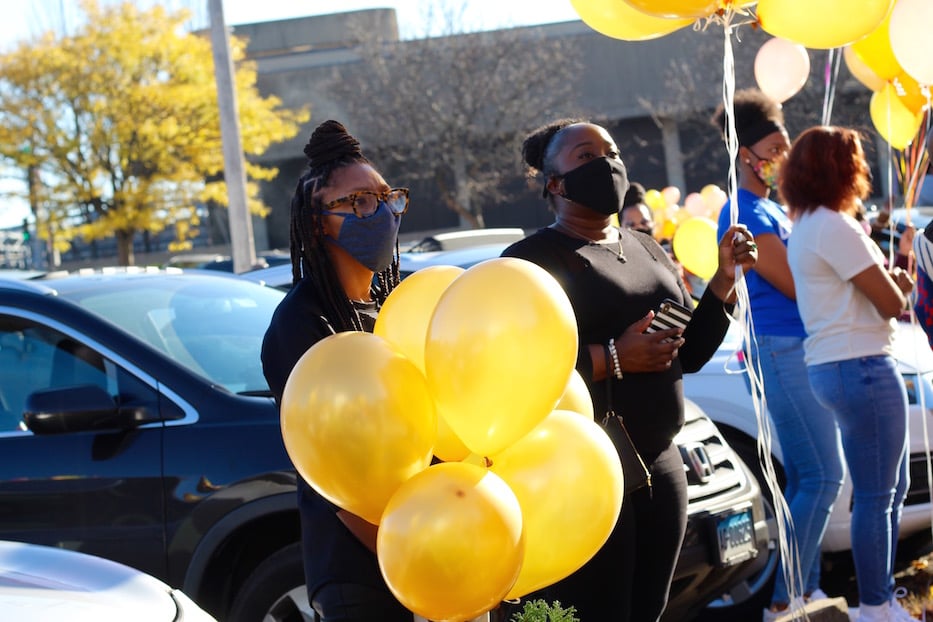 Clemons was born in Stamford, the third child of five girls and one boy, in April 1969. As a kid, she learned about hair by watching her mother Mable do every coiffure in the house, sometimes holding a hot pressing comb in one hand as her children sat still between her knees. It didn't matter if it was church, or the holidays, or the first day of school—the hair was always immaculate by the time Mable Johnson was done with it.
By her adolescent years, Clemons had started braiding her sisters' hair, a skill she later passed down to her daughter Nia. In the 1990s, her older sister LaTrenda Wilson opened her own salons in Stamford and Bridgeport. Clemons began to help her out while she was still a student at Wilfred Beauty Academy, from which Brown also graduated. She had her own flair, her sister remembered—but she was also bubbly and warm with the customers who came in, endearing herself to them as a new friend by the end of the visit.
"Sharon was amazing," Wilson said Sunday, motioning to the number of people standing on both sides of the street. "Her personality was magnetic. Her beauty, her craft, and her art were all unsurpassable. She stood alone in that regard. She knew how proud I was of her as a big sister. Proud of the woman that she was as a wife, a mother, a sister, and a friend. She just gave. She was so giving of herself."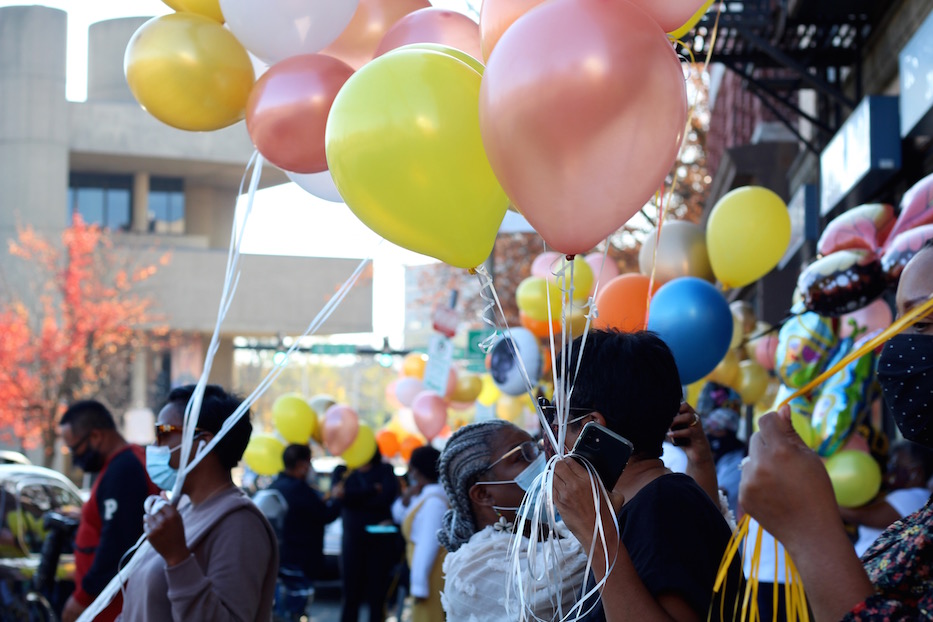 In 2005, Clemons and Brown opened Sharon Joy Salon on State Street. By then, she had met and married Erik Clemons, director of the Connecticut Center for Arts & Technology (ConnCAT), and started a family that grew to four daughters who she affectionately called her butterflies. The bright, winged insect became something of her symbol, reflected Sunday as dozens of silver-edged butterfly balloons shone in the afternoon sunlight.
Outside of work, she spread her wingspan across the state. She led mentorship groups for young women in New Haven, Bridgeport, Norwalk, Stamford and New York. At home, she and her husband nurtured their daughters Kiara, Nyle, Nia, and Kai, watching them break from their chrysalises as they became college students and adults focused on their own careers. She expanded her church family, many members of which came out Sunday to pay tribute. She received accolades for her work, including from the city's Board of Alders and the hair-positive group Free Your Scalp.
Sunday, it seemed that everyone within a two block radius had a story. Down the street, tattoo artist Ashley Velasquez paused to steady herself when she heard the news. For the two years that her shop has been open, she's received clients who come from Sharon Joy salon. Clemons herself visited twice, and instantly endeared herself to the staff. She found herself repeating the words in half-disbelief.
"It's shocking," she said. "You never know when something will strike. It's pretty scary."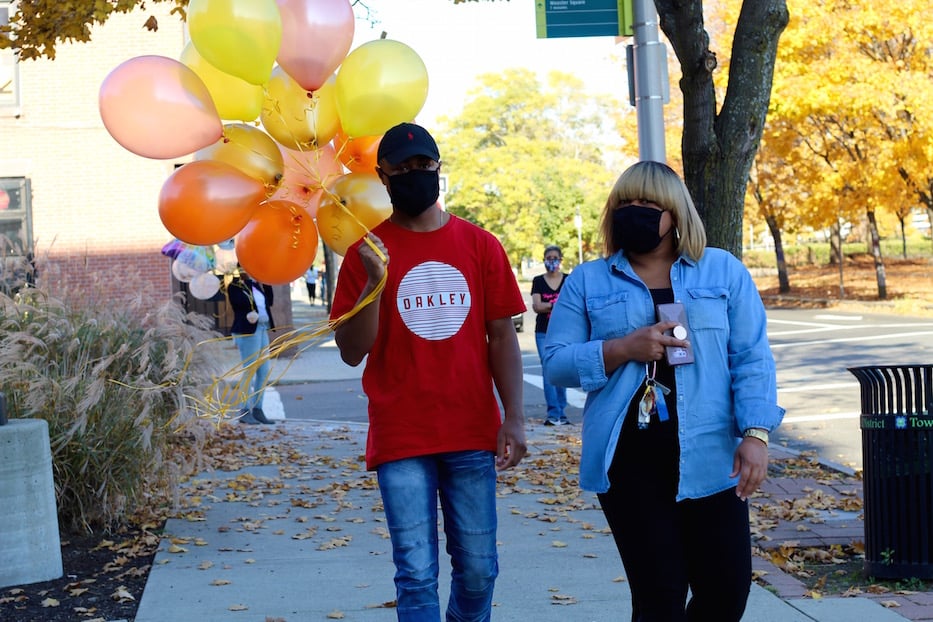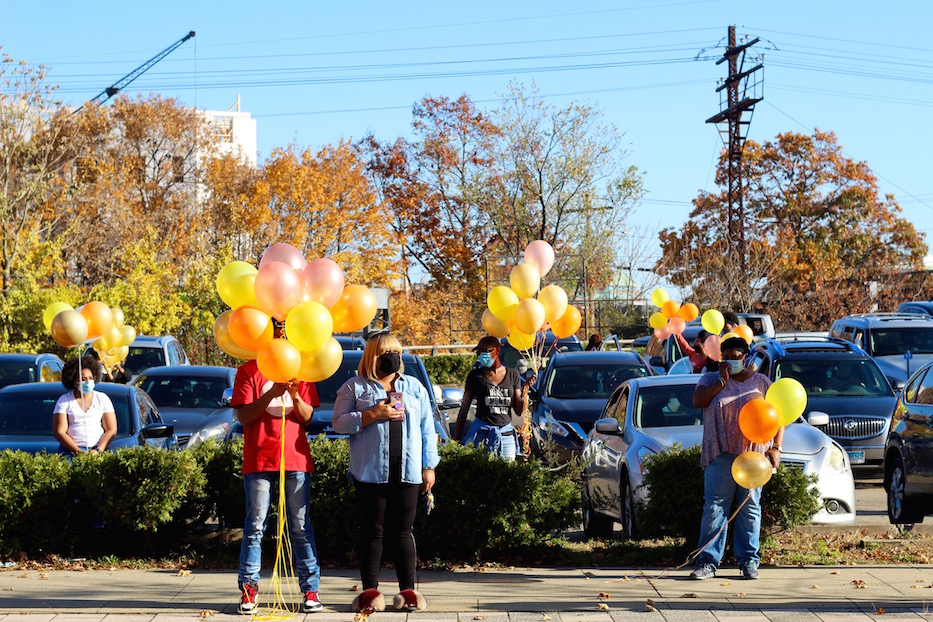 Across from the salon, Kim Jackson and her son Dior Hobson (pictured above) held tight to a bunch of orange, yellow and pink balloons. Jackson met Clemons when she was just a teenager, singing in an a cappella group at the University of Connecticut. When the group had a competition, Clemons saw that "we were broke," and offered to do their hair and makeup for free.
The two fell in and out of contact, always picking up right where they had left off. Years later, when Dior became a student in ConnCAT's after school program, Clemons fussed and delighted over the fact that Jackson had become a mom to such a sweet teenager.
"It came full circle," Jackson said. "Every time I saw her, we always said we loved each other. I'm comforted by who she was. She was a beautiful spirit. She was so strong and resilient—she left her mark on everyone. This is hard. This year has been hard. But I don't think she would have wanted us to be sad."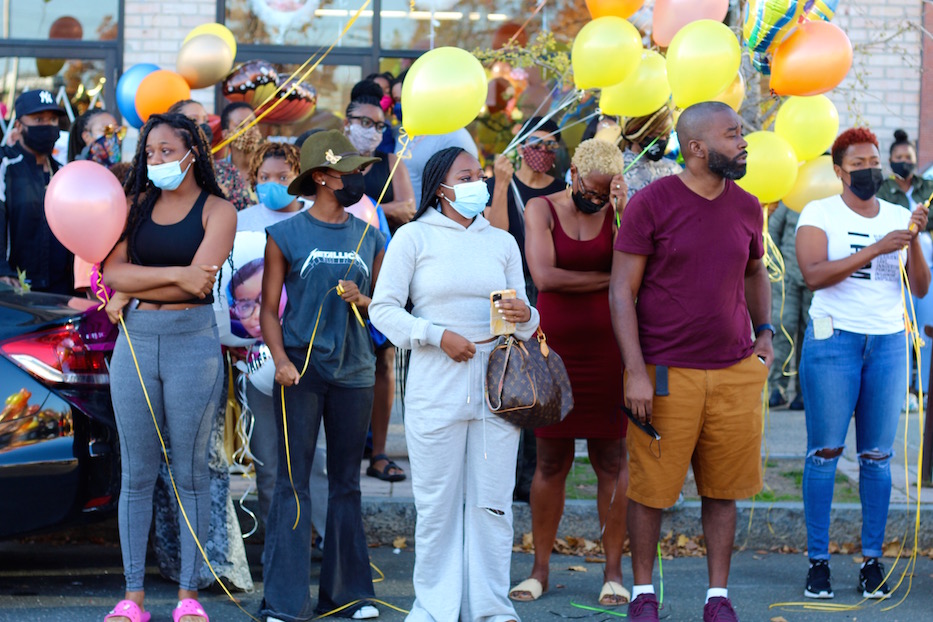 Sunday, friends and family remembered her through tears, some tying handwritten notes to their balloon strings before letting them go. Kassandra "Sonie" Johnson, a close friend and fellow hairdresser who helped organize the event, remembered Clemons for her fierce mentorship and kindness. The two met in Bridgeport when Johnson was a 15-year-old client at LA Hair Trends, and Clemons was a budding stylist. They clicked instantly.
As Johnson grew older, Clemons "was my mentor," guiding her as she became a wife, a foster parent to three girls, and then a mother a second time over to a son 13 years ago. Clemons was her son's godmother. Most recently, Clemons pushed Johnson to pursue a graduate degree in social work, which she's now doing as a student at the University of New Haven.
In October, Johnson lost her own sister unexpectedly. Without ever being asked, Clemons helped her do the hair for the funeral, then posted a call for prayer to the salon's social media. When Johnson heard that Clemons had passed away on Tuesday, she remembered falling to her knees and letting out a scream that came from somewhere deep inside of her.
"It devastated me," she said, the words catching in her throat. "I'm still in shock. I feel like I'm in this dream, and more and more people are joining as they find out. This is really hard. But I know that she is another angel to look up to."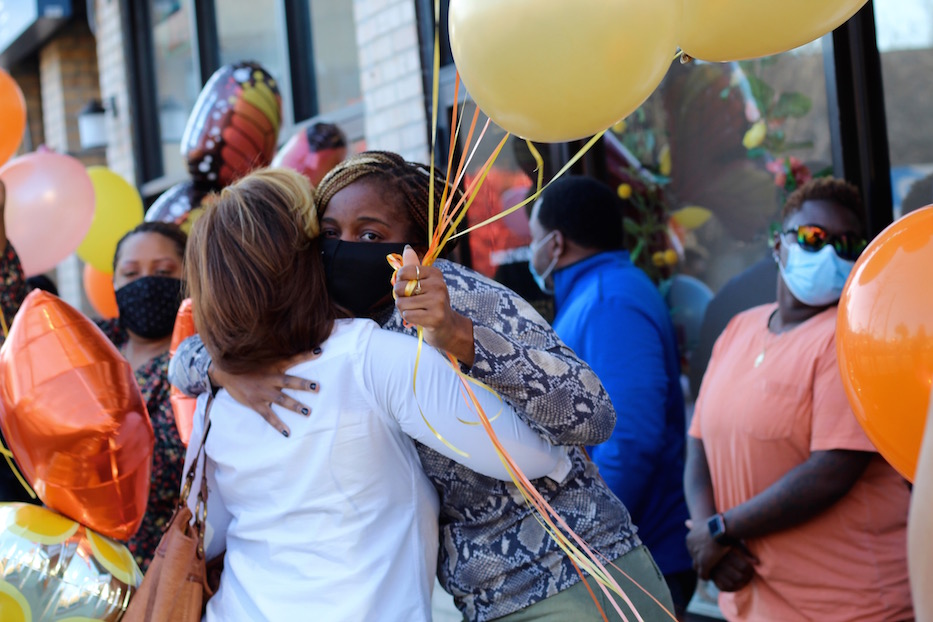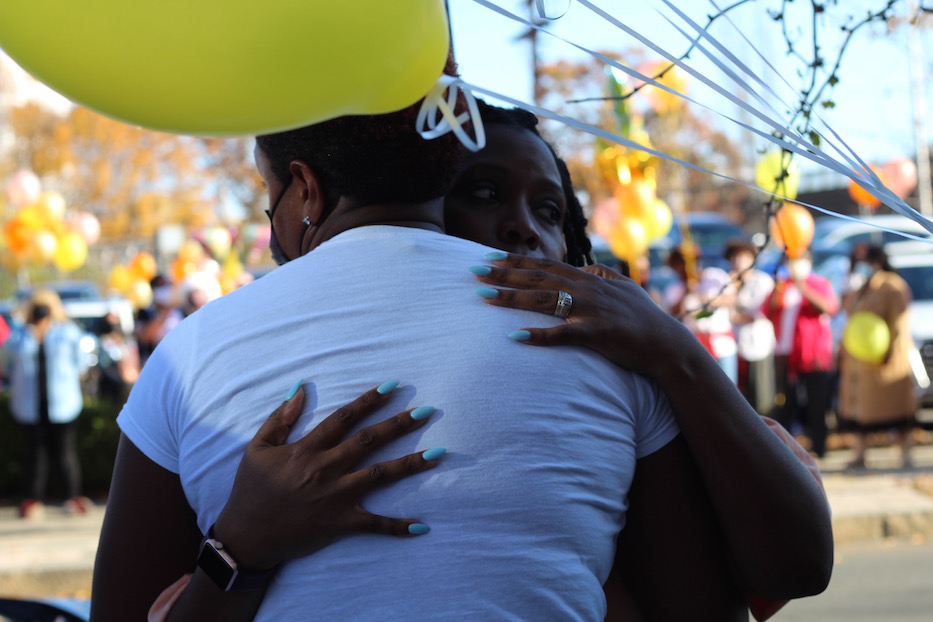 Sunday, her husband Laterrius Terry Johnson led attendees in prayer as they bowed their heads, some weeping and others offering soft "amens." While he said that he believes that Clemons is now in a heavenly kingdom, his heart also aches; tears pooled at the sides of his eyes and his voice cracked with the words. He asked that attendees pray for Clemons' family, including her husband Erik, daughters, and siblings.
"God, your word says that you would never put more on us than we can bear, but God right now we're at the edge," he said. "We're at the tipping point—God I don't know how much more any of us can take, oh God. How much more loss we can take. God, we know that Sharon is looking on us, smiling, talking to us, giving us good advice … but we miss her. We miss her so much."
Opal Harmon, an organizer of Sunday's event, knew Clemons for 32 years. She said she's still very much in shock. For over three decades, she's been close with the whole family, watching Clemons become a mom and most recently a grandmother for the first time. She is also a member of the ConnCAT family, where she works as the director of human resources.
"This is going to be tough," she said. "There's this lump in my throat that's been there since Tuesday. I've tried to swallow it and I can't."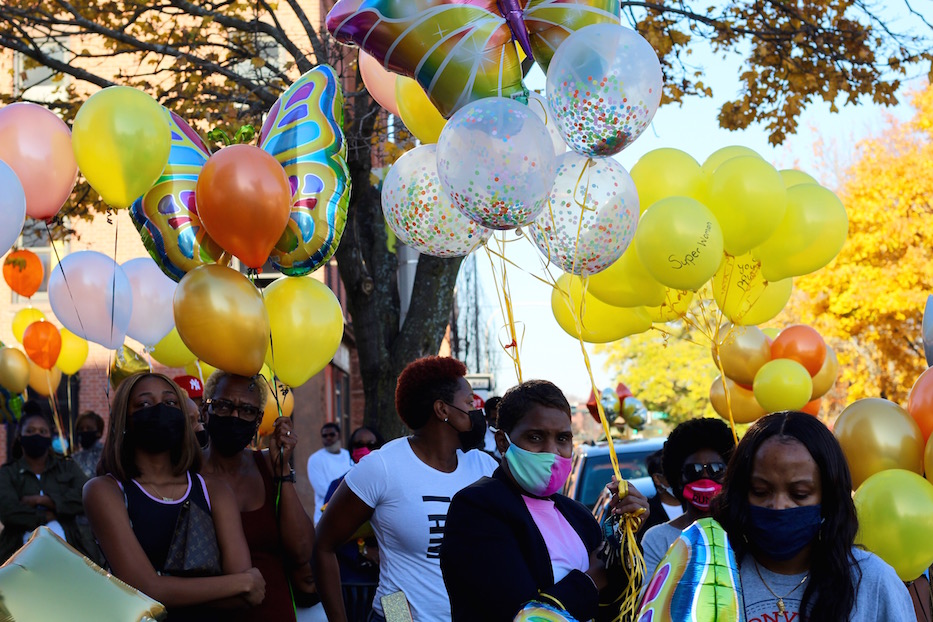 After the event, Clemons' daughter Nyle remembered her mom as a constant mentor whose heart always seemed to have room for one more person, and then another, and then another. All week, she said she feels like she's been getting signs from the universe that her mom is up there, in heaven, looking down on her. For instance, she said, Clemons loved warm weather. It's been 70 degrees almost all week.
She recalled sitting down with her mom a few years ago, after she had started to pursue nursing and realized her heart wasn't in it. Her mom listened. Then she encouraged her daughter to go with her gut, which had always said criminal justice. Nyle is now pursuing a graduate degree in the field at the University of New Haven, with dreams of working in the FBI.
"We feel her presence now," she said. "My parents instilled faith in us always. Especially during this trying time, I'm comforted knowing that our lord and savior—and our mom—will carry us."