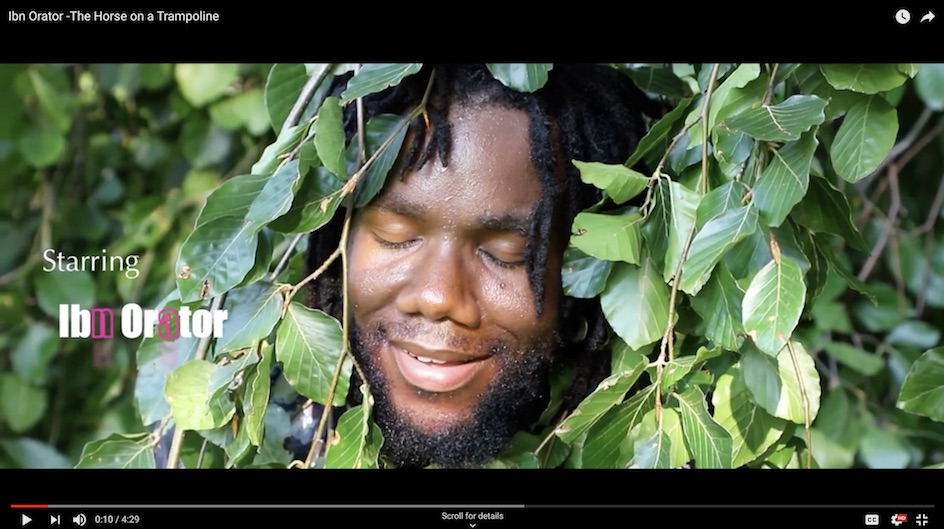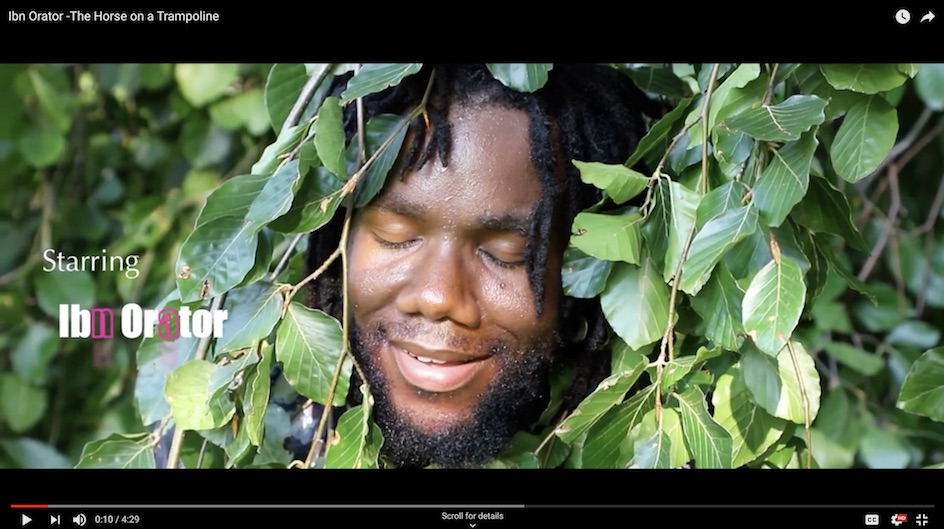 Ibn Orator's face floats among the leaves, eyes closed, mouth hanging open in a smile. Voices build and gurgle in the background, debating the meaning of art. A beat drops. Orator opens his eyes, licks his lips. He looks straight at the viewer.
"To you, I'm probably looking like a horse on a trampoline," he begins.
A year after releasing his EP The Fishbowl Syndrome, Orator (also known as 28-year-old Rasheed Stewart) has returned with a stunning gut punch of a music video for "Horse On A Trampoline," one of seven deeply personal tracks on the EP. The piece, in which Orator's own lyrical swerve is mixed in with homemade recordings, tight beats and television clips, uses a single track to explore the double narrative of addiction and art making.
The video dropped last week, just before Thanksgiving. He expects to add more material to his YouTube channel in the coming months.
"Come and join in on the visceral experience known as The Fishbowl Syndrome," he wrote on Facebook last week, after sharing the video.
When Orator first released the track last year, he explained in an interview with the New Haven Independent that it was inspired in part by an old friend, who he ran into after several years in which the two hadn't kept up with each other. Something had changed: the friend looked strung out. He wasn't making sense. Orator recorded some of their conversation, which he's woven into the track.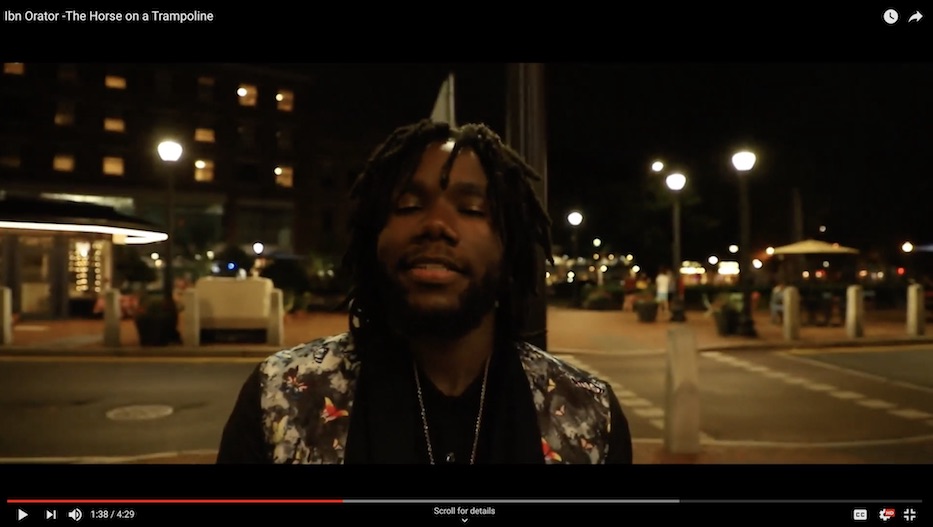 "Horse On A Trampoline," like the larger EP, does not pull any punches. As Orator wrote the piece, he pulled in a framework that made the work as much about his own process and life as an artist. Sound bites come in from an interview reporter Jeffrey Brown and artist David Salle did for PBS Newshour, urging viewers to look more closely at works: "What do we see when we look at art? Something that gives us pleasure. Or moves us not at all."
The work has momentum to it. From a rhythmic beat, the sound of a wood block joins in. Synth rises and tinkles at its upper registers. Something heaves in the background. When Orator jumps on the mic, he's declarative, with verses that are as witty as they are sometimes frustrated ("I still get muscle spasms every time you ask/If I'm still doing music" is a particularly memorable retort). He gets to the point every time, as vulnerable as he is candid with the listener:
Nobody asks if you still rapping a 9 to 5
Nobody asks if a lion catches his food alive
I'm just sayin'/My vision's avant-garde
So every time you ask … I wanna say please wait and enjoy the ride
In the video, directed and shot by videographer Josh Bibbey, Orator has been able to add layers of complexity, jumping between sun-soaked day and a clear, blue-black night, a sun-soaked park and downtown New Haven. The different settings aren't just a de facto tour around the city: they give the video a sense of movement and stillness, of the uncanny in a world where everything is supposed to be regimented. Orator seems like he's okay, and then he stumbles.
He and Bibbey have seized on it too, working on the number of ways he can throw the viewer—and the musician—off kilter (Orator stayed up for three nights in a row to finish the editing). The video glitches at one point, like a static-filled television connection. Orator's face goes bone white, as if someone has filled the frame with milk or glue. Audio fades and then gets very loud. Orator actively detaches from reality as audio muddles the music, coming in with ringtones, muffled recordings, and TV news clips from last year's K2 overdoses on the New Haven Green.
There's a discomfort there that feels fully intentional. Orator freezes and unfreezes as if he's perfecting the robot, and then seems to remember himself. He smiles from some remnant of a dream viewers aren't privy to. Slowly, he unravels, with a soundtrack that hits literally close to home. When the song comes to a close, viewers are alone with him on the branch of a tree, watching him drift.
He's still, and then he's not. The camera shifts, with a view that is suddenly vertiginous. Orator paws his chest anxiously; he reaches for his throat. It seems like the breath is caught there. The stakes are high, and getting higher. And it feels, even as the video ends with uncertainty, like it couldn't be any other way.