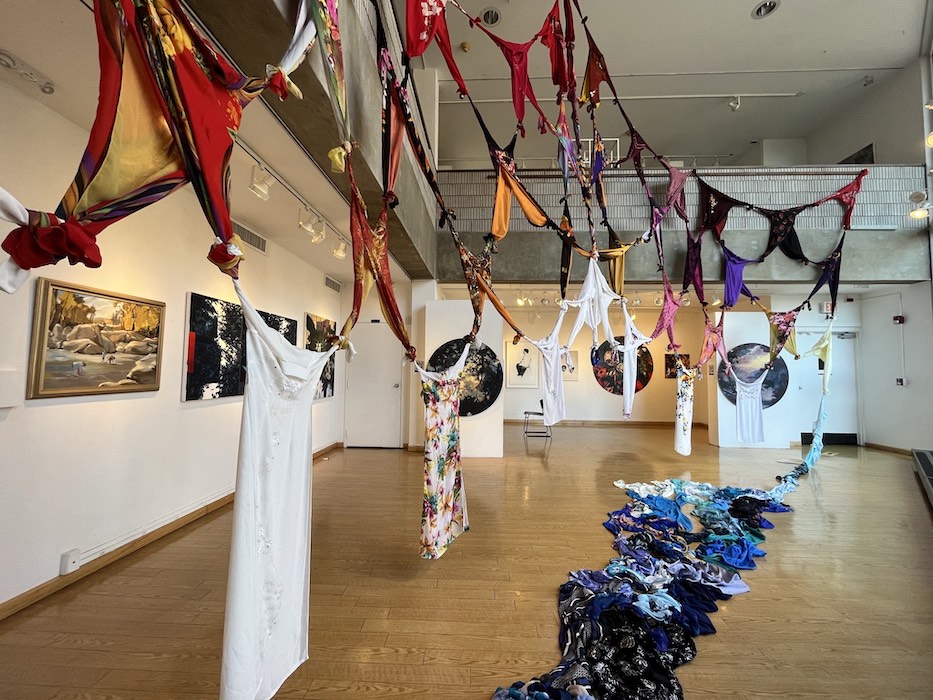 Audubon Arts | Creative Arts Workshop | Arts & Culture | Artspace New Haven | Visual Arts | Yale University | Arts & Anti-racism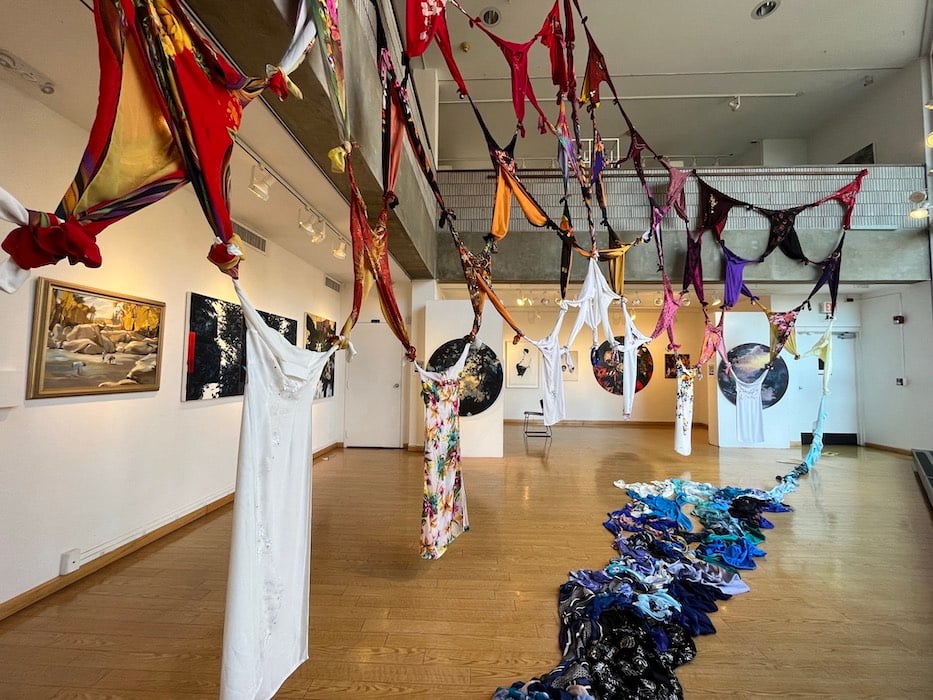 Antonius-Tín Bui's installation becomes the centerpiece of Băng Qua Nước: Across Land, Across Water, which runs at Creative Arts Workshop through Nov. 23. The show is curated by Yale University fourth year Ivy Vuong. Miranda Jeyaretnam Photos.
Through the floor-to-ceiling windows on the first floor of Creative Arts Workshop (CAW), a drapery of red, orange, purple, blue, and white cloth looms large, a tableau of Vietnamese stories filling the room.
The installation, made up of Vietnamese traditional clothing, or áo dài, reaches up towards the ceiling and spreads out across the floor. It is the work of Antonius-Tín Bui, a second-generation Vietnamese American multimedia artist living in New Haven.
Their work is the centerpiece of Băng Qua Nước: Across Land, Across Water, an exhibition of Connected-based Vietnamese artists curated by Yale fourth-year student Ivy Vuong. It comes to Audubon Street as part of both CAW's rotating exhibition schedule and Artspace New Haven's 2022 Open Source Festival.
The exhibition, which is open to the public from Oct. 21 through Nov. 23, explores the meaning of home for Vietnamese people living across a diaspora, which is often imbued with a sense of living in and crossing waters. The word "Nước" translates both to country and to water, underscoring the intersections of home and the ocean.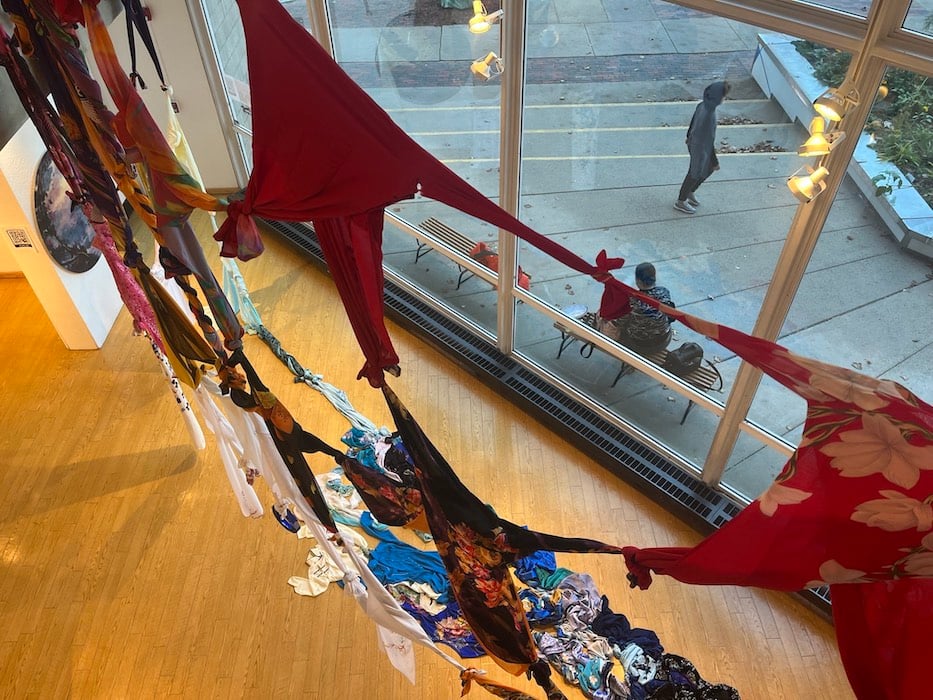 "It's this idea of not belonging into one place or the other, or perhaps feeling like you're somewhere in between, or perhaps you're nowhere at all," Vuong said. "And so, this really thinks about home as a place of land or of water."
"[People] know the story that Vietnamese people have passed but not really, because the people that have been centered in history are the U.S. soldiers as the primary victims of the war," Vuong said. "I thought that the lens of the Vietnamese experience could provide some insight for just the large immigrant and refugee communities in New Haven in general."
The áo dài tied together to construct the installation were donated by Vietnamese communities from all over the U.S., including Houston, Orange County, Denver, and the Bronx, where Bui was born. Towards the top the áo dài are hues of red, which Vuong said signifies the Vietnamese peoples' ancestors' "blood and their hardship that runs through our bodies."
As the installation moves downwards, the colors of the áo dài spread into purples and oranges that appear like a vibrant sunrise or sunset, channelling "the idea of renewal … how we crossed oceans to reach our wildest dreams," according to Vuong. White, which is often a color of death, is also meant to represent renewal here, as white áo dài hang towards the bottom of the installation. Their looping sleeves make them appear almost like figures holding hands, or when taken in as a whole, almost like a fishnet.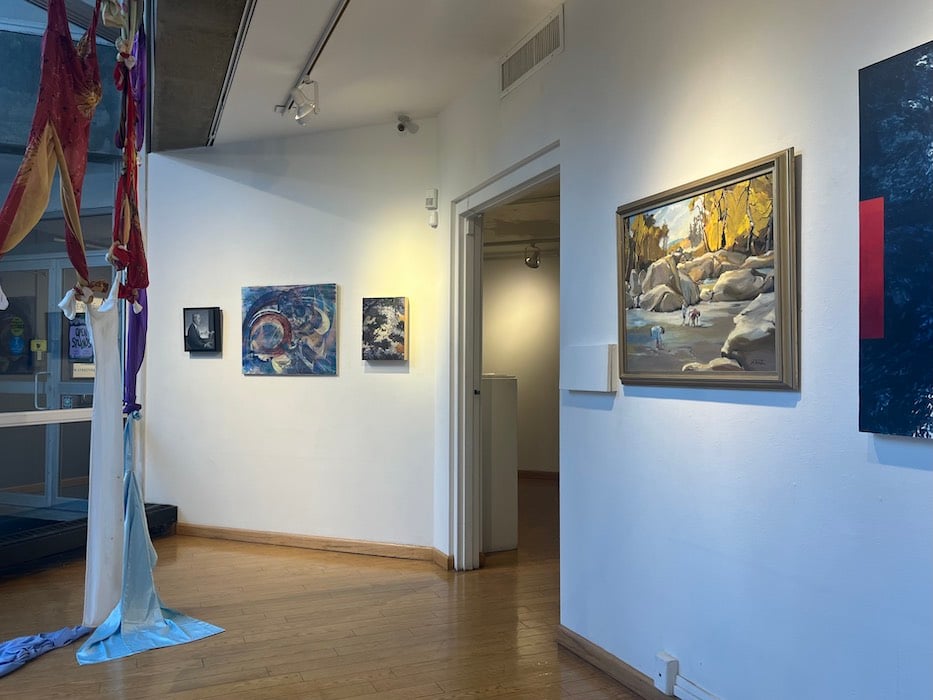 Antonius-Tín Bui's installation becomes the centerpiece of Băng Qua Nước: Across Land, Across Water, which runs at Creative Arts Workshop through Nov. 23. The show is curated by Yale University fourth year Ivy Vuong, and runs alongside a second show, Common. Miranda Jeyaretnam Photos.
At the center of the net hangs a child's circular traditional headpiece, which is meant as an homage to youth or to the artist's younger self. Beneath it, melting across the floor, are blue, green and purple áo dài, unfurled like the ocean itself in reach of the sunset spread across the room.
"The ocean is not just a place of grief for hundreds of thousands of Vietnamese boat people who were lost," Vuong said. "They're also these figures of joy, and they're reaching towards the present us, the colorful us, that are actually living those wildest dreams, that are actually experiencing that success that they could have hoped for."
Vuong recalled how, during the three days it took to build, many people passing by would come in and ask about the installation, and she would have the chance to teach them about Vietnamese culture.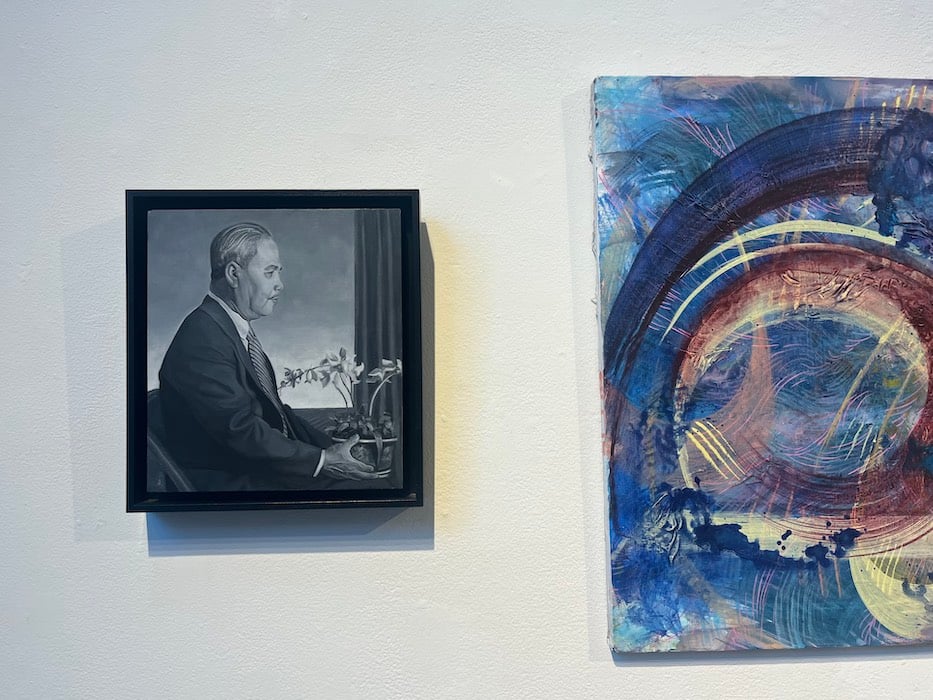 Detail, Thuan Vu's The Polite Guest. The painting hangs beside a work by Quyên Trương in the section "Nơi Đây, Nơi Đó: Here Nor/And There."
Moving through the exhibition brings a viewer to the section "Nơi Đây, Nơi Đó: Here Nor/And There." On the far left wall of the exhibition, facing the street, sits The Polite Guest, an old man with gelled-back hair, sagging cheeks and a creased suit. The man in the blue-toned oil painting is the father of the artist, Thuan Vu. He sits in profile, staring forward—his gaze directs viewers towards the rest of the artworks that span the walls to the right of him.
Vu Huu Chong, Vu's father, immigrated with his two-year-old son from Vietnam to the U.S. in 1975. In his hands is a pot of flowers, a gift he is waiting to present.
Several of Vu's other works in the exhibition, which are placed in the section "Cùng Nhau: Together," are also portraits of his family. Side-by-side seated profiles of his parents face each other. Like their title, "Transients," the medium of smudged charcoal on paper gives the figures an ephemeral quality. Beside them is a portrait of his three sisters, their faces in three-quarter view and blurred.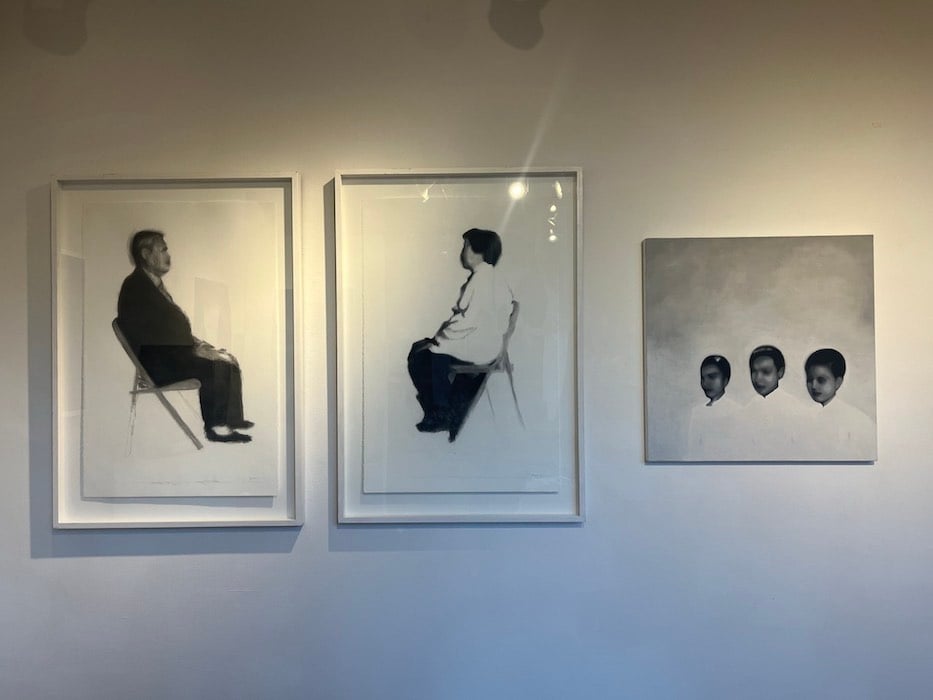 In "Cùng Nhau: Together," the artist Thuan Vu includes portraits of his family.
The series was inspired by the Vietnamese tradition of using charcoal powder to render a photographic likeness of a deceased family member. Vu subverts this tradition both by depicting living people at the time and by removing them in time and space by placing them against a white background, Vuong said. In doing so, Vu conveys the fleeting quality of memory, yet by encasing them in glass, he preserves them for "generations down the line."
"The power of art is that it shares the experiences, stories, and lives of its makers, displaying how these histories have affected them, formed them, and continue to inform their lives," Vu wrote in an email. "In this way, both the artist and the audience can learn about our common experiences, our unique traditions, and the things that make us all distinct yet part of a larger human experience."
A chair, purposefully placed parallel to the portrait of Vu's mother, allows you to mirror her. It faces a TV that plays a dance narrative film created by Bui and their sibling, Theresa-Xuan Bui. The pair perform an intuitive dance at three Vietnam War memorial sites in the East Coast, while the music is overlaid with poetry written and recorded by them.
The sites they perform at have "centered" U.S. soldiers, instead of the people who have been displaced and who have been "barely written into history," Vuong said.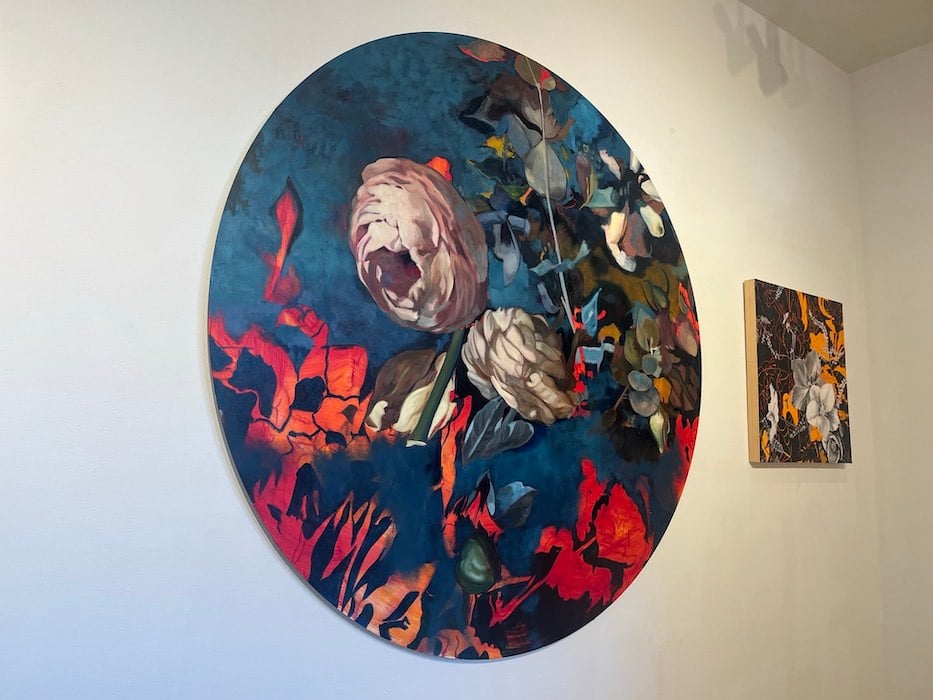 Work from the artist Thuan Vu's "Kintsugi" series.
Vuong explained that during the pandemic, the siblings' grandmother was ill, and family members from all over the world would be on a Zoom call around the clock. The Vietnamese chanting at the beginning of the film was recorded from the families' Catholic song over Zoom. The interplay of their dance and the chanting etch out a space for mourning and commemoration of their ancestors and the Vietnamese peoples at these sites.
Another of the artists, Quyên Trương, introduces the importance of names to viewers' sense of home. Her paintings, two of which are included in the exhibition, trace and celebrate the often mispronounced or mocked names of Vietnamese people coming to the U.S.
One of the paintings is a visualization of the romanized spelling of her late father's name, Dung, which in Vietnamese means courage. In English, the name is often mispronounced with a hard "d" sound, which gives the word a negative connotation. In Vietnamese, it is pronounced with a soft "d" sound that sounds like a "y."
Trương recalled how her father was always "proud of his homeland, and proud of having fought the war in Vietnam for democracy alongside Americans, and proud to claim the US as a new homeland." After immigrating to the U.S., he never changed his name, but would instead calmly correct people who mispronounced it.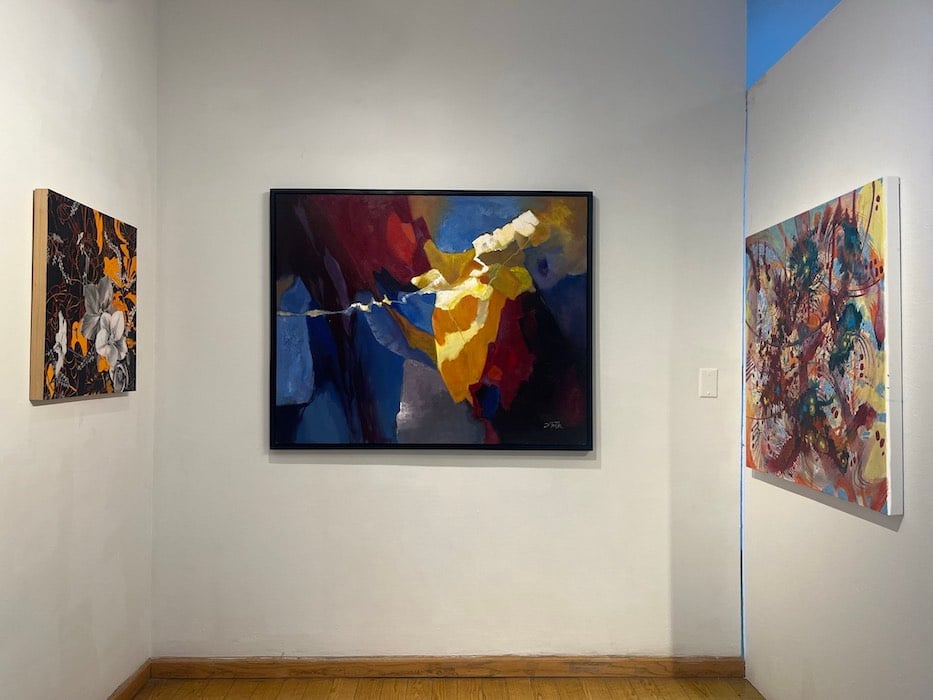 From left to right, work by Thu Tran, Thuan Vu and Quyên Trương.
"When you move to a new country, it's difficult to have a name that's foreign sounding and that also looks on paper like it's a negative word," Trương said. "In some ways, [this painting is] a tribute to my dad, and about how he valued who he is, where he came from, and kept his name just the way it was, with pride. My dad always introduced himself with his original Vietnamese name — he never wavered from that."
The final featured artist is Thu Tran, an "incredible 83 year old Vietnamese spry man," according to Vuong. Tran, whose art is prolific in Vietnam, recently migrated from Canada to the U.S. One of his works, a large acrylic canvas painting called "From Heart to Heart," enmeshes different shapes and vibrant colors, creating a sense of connectedness, at the center of which is an abstract heart.
Tran created the painting over the pandemic, when he "was thinking a lot about how much we needed to be kind to one another," Vuong said.
Over the course of the exhibition, which was opened only about three months after its inception, Vuong has grown close to many of the artists.
She recalled in particular visiting Tran's home for his 83rd birthday a couple of months ago, where she said he led a group of over 20 people in a Catholic prayer.
"I remember my first year here feeling so entirely homesick," Vuong said. "[Now] I feel like I've never left home, being at Thu's birthday party — and I grew up in a Vietnamese Catholic family — and hearing all that chanting, eating the same food, to know that there are pockets of us all over the country living such incredible lives, it just really instills the idea for me that these beautiful people [have] beautiful stories that are meant to be celebrated."
Băng Qua Nước: Across Land, Across Water runs at Creative Arts Workshop at 80 Audubon St. through Nov. 23. For hours and more information, visit CAW's website.