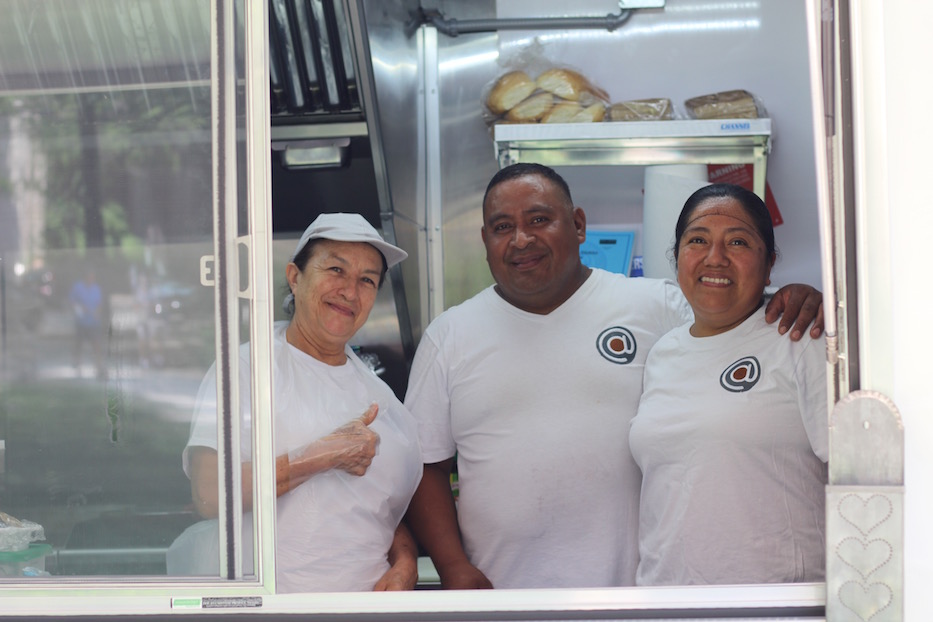 Downtown | Economic Development | Immigration | Arts & Culture | Food Business | Culinary Arts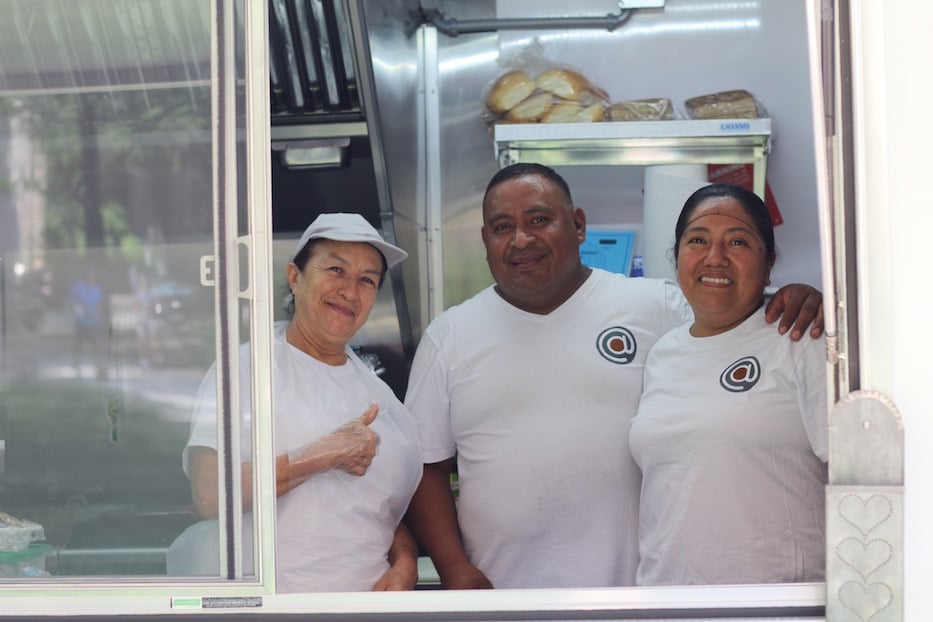 Emma Silva, Saul Flores, and Maria Torres of Alegría Café. Lucy Gellman Photos.
Maria Torres bustled around the chrome-plated back of a food truck, methodical as she pulled lettuce, tomatoes and squash from the fridge, then paused to take down orders. On the stove, a vegetable quesadilla sizzled, sending up the smell of fresh cheese and grilled eggplant. Beside it, chicken breast began to simmer in a pool of thick, chili-scented red sauce. Saul Flores headed to the stove with a spatula to work his magic.
Outside, a line had started to form on the sidewalk. It was lunchtime on Grove Street, and there was a new menu in town.
Partners in life and now in work, Torres and Flores are the founders of Alegría Café, a new Mexican-Italian fusion food truck at the corner of Grove Street and Hillhouse Avenue in downtown New Haven. After opening last week, the truck operates Tuesday through Saturday from 7 a.m. to 3 p.m. Torres has also enlisted the help of her cousin, Emma Silva.
Already, it has made the city's landscape of small, immigrant- and women-owned businesses all the more vibrant: Torres and her husband hail from Tlaxcala, Mexico, although Torres now associates home most closely with the city's Fair Haven neighborhood. They and their two daughters have dreamed about opening a food business in the city for over two decades.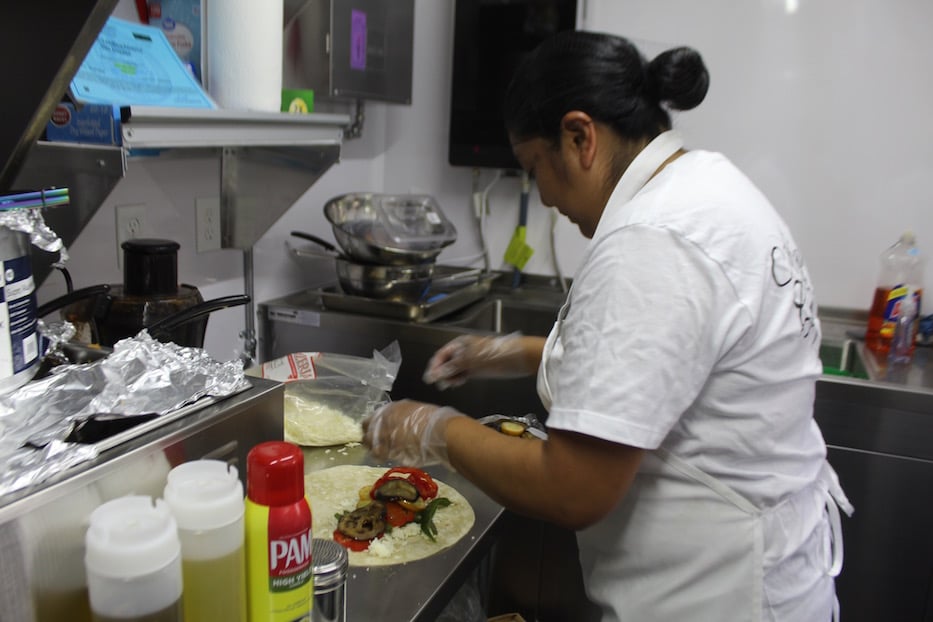 "I love to cook, and my husband always said, 'We can do it. We can do it,'" she said last Wednesday, as the temperature continued to rise outside. "Cooking makes me happy. I love to see the people eating my food. You don't have to say it's good, because I can see your face. I see your smile."
It has taken a village that includes friends and family, Collab, CitySeed, Havenly and the Semilla Collective, she said. Born and raised in Tlaxcala—one of New Haven's eight sister cities—Torres grew up cooking with her mother, both grandmothers, brother and sister. She said that her grandmother Paula was especially instrumental in her culinary journey, including sweet and savory tamales that her children later came to love.
Twenty four years ago, she and Flores moved to New Haven with dreams of building a better life for themselves and their growing family. Originally, she worked in housekeeping, and then at Ted's Dry Cleaners on Whitney Avenue. Her husband, meanwhile, found work as a cook at a pizza restaurant in Hamden. His flair for Italian-inspired dishes including chicken, caprese, and veggie paninis, comes from that work.
As they settled in Fair Haven and raised two daughters, one of whom is now a rising sophomore at Yale University, she grew her culinary repertoire. She credits her sister-in-law, a fellow Tlaxcalan who ultimately moved back to Mexico, with many of the recipes, including burritos, quesadillas, and omelets that got her kids off to a fresh, protein-packed start as they headed to school. She perfected blueberry, cheese, chicken, and pork tamales that now feature on the menu on weekends and in the fall and winter.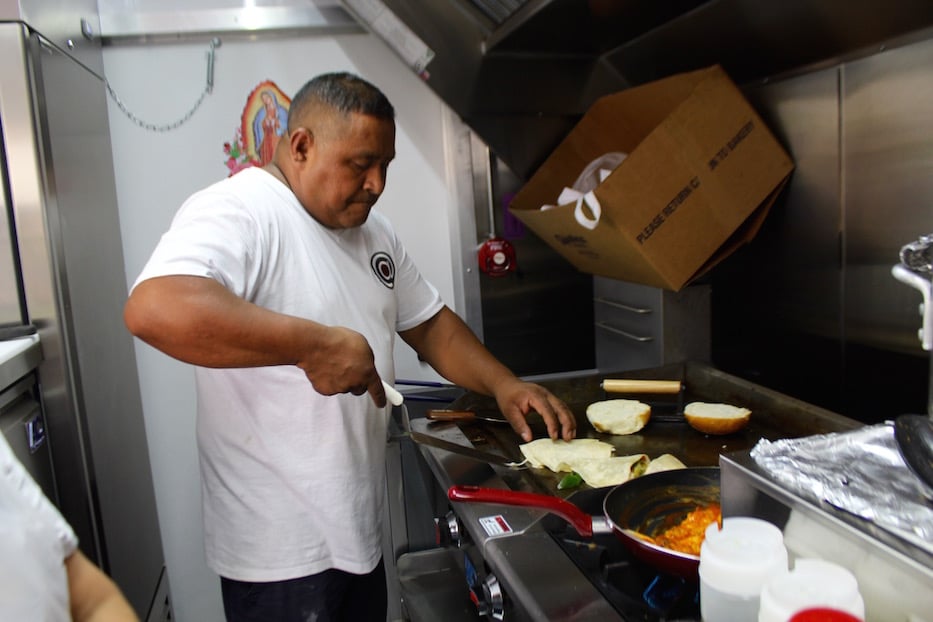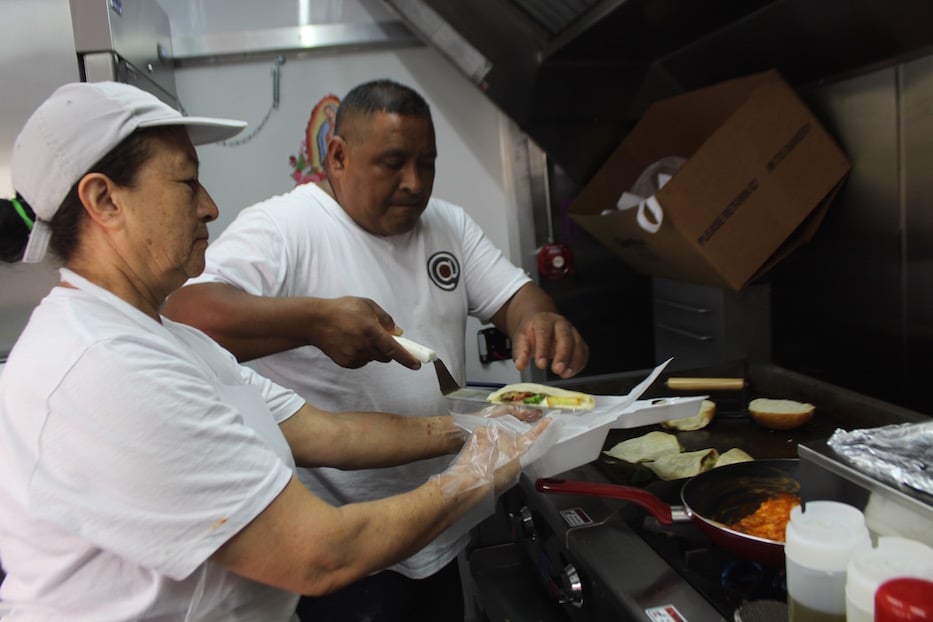 The making of a veggie quesadilla in two parts. Lucy Gellman Photos.
Two years ago, Torres' love for cooking led her to the fellowship program at Havenly, which seeks to give immigrant and refugee women a path to economic independence through business and language classes and kitchen experience. After graduating from the fellowship program, she stayed on as a kitchen manager. She said she is particularly grateful to Co-Executive Director Camila Güiza-Chavez, who is also a member of the Semilla Collective; she still organizes with her as a member of the Sisters In Diaspora Collective.
Then two years ago, Flores urged her to kick her food truck aspirations into high gear. In the early months of 2021, the two were part of CitySeed and Collab's Food Business Accelerator, where they identified a mix of dishes from both Italy and the South and North of Mexico that would build the core of the menu. They include meat and vegetable burritos, quesadillas, tamales, salads, and panini sandwiches.
Then on a family vacation to Florida last summer, Flores found a food truck for sale. "My husband is brave," Torres said—after finding the truck, Flores drove it from Florida to Connecticut by himself. Once it was in the state, the two worked together to update its equipment, finalize the menu and do the small mountain of paperwork required to start a food truck business in the city.
The truck's red and white panelling now greets hungry patrons from a block away. An overhead view of a cup of black coffee decorates its siding, surrounded by the truck's name in red lettering. Inside, a blue certificate from the city's Health Department hangs proudly over a shelf of fresh bread, as if to say Hello, we have arrived.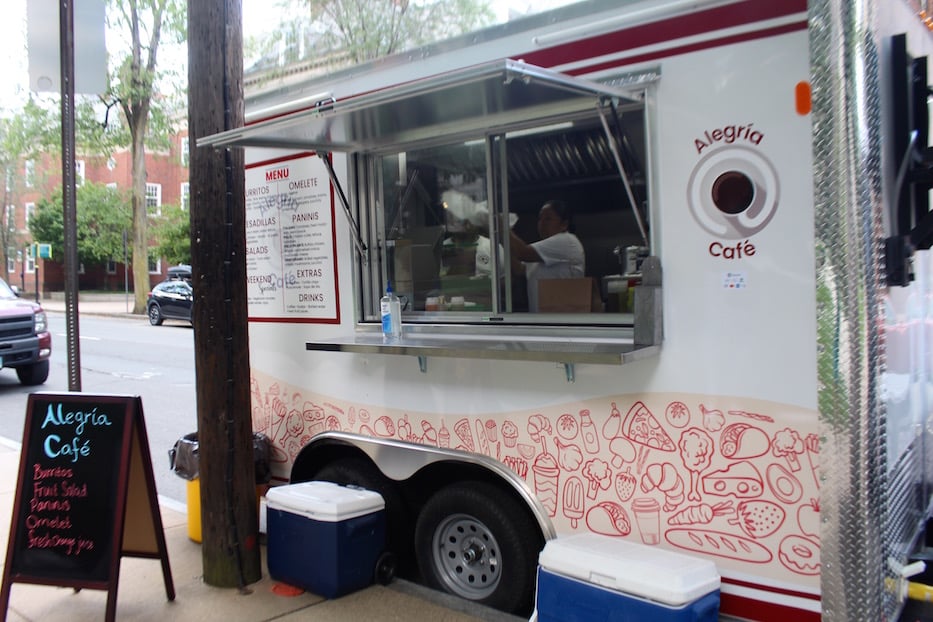 The cafe's name—Alegría, which translates to "joy" or "happiness" in Spanish—is an homage to Torres' late father, who passed away in 2013. When she and her siblings were growing up, he would wake them with cries of "Alegría! Alegría!" The thick smell of coffee would fill their family's home and help her get out of bed. Originally, she and Flores called the food truck "La Cocina de Elvis," but it didn't stick. They decided that honoring his memory felt right.
"If you come and visit us at Alegría Café, we're going to share our love and our passion for cooking," she said. "Everybody is welcome here."
Just two days after opening last week, the two welcomed a steady stream of customers to the truck's sliding front window, out of which cold bursts of air conditioning seeped intermittently. As Flores and Silva kept an eye on the stove, Torres fielded orders as they came in one after the other. Curious passers-by stopped to read the menu, and stuck around to try it out.
There was a vegetable quesadilla, toasted golden on the outside with an ooze of fresh cheese between tortillas. A hot chicken panini, drenched in smooth, homemade picante sauce the color of terracotta bricks and iron-rich red soil. Then a burrito with chorizo folded inside and cooked just so. In the steamy afternoon, the Alegría crew kept cooking. They had almost three hours until they were done for the day.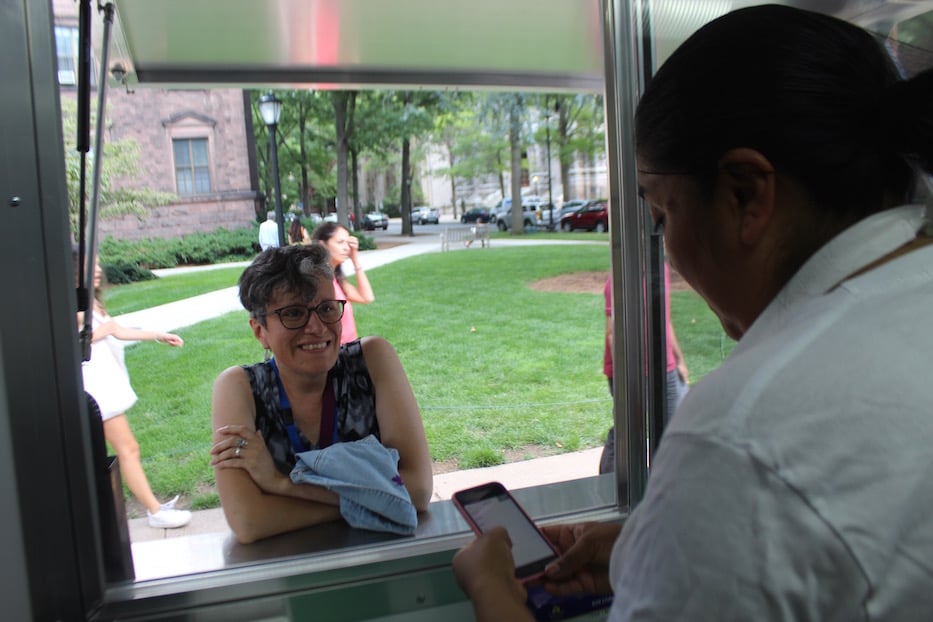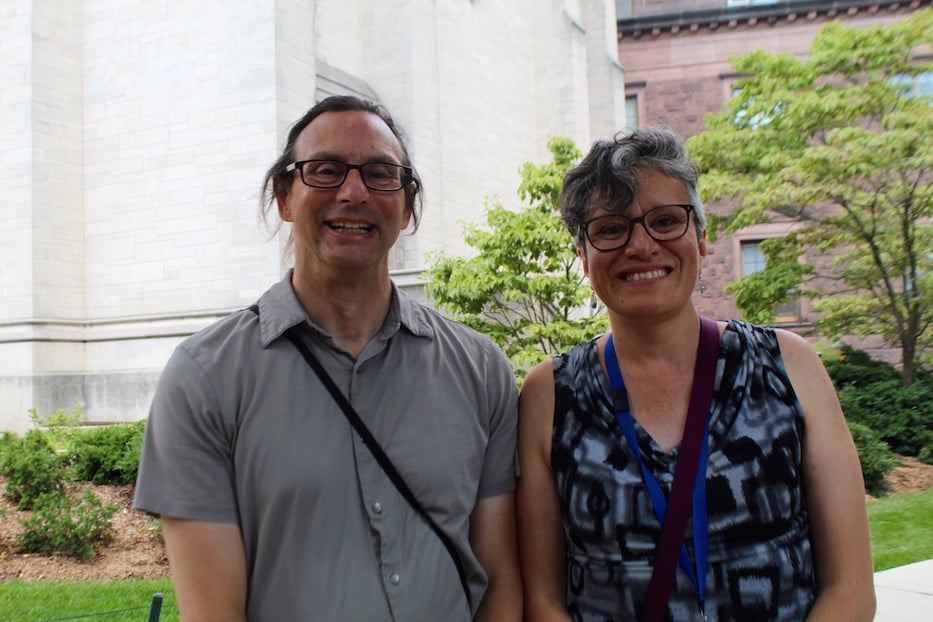 Top: Teresa Sandoval-Schaefer places an order for a panini de pollo picante and a chorizo burrito. Bottom: Andrew Schaefer and Teresa Sandoval-Schaefer. Lucy Gellman Photos.
Back on the sidewalk, Andrew Schaefer and Teresa Sandoval-Schaefer waited for their food. Both researchers at Yale—Schaefer works on nerve regeneration and Sandoval-Schaefer studies wound healing in molecular and cellular biology—they met Torres through a Semilla Collective event earlier this year. Both were excited to hear that the truck would be out on Grove Street and jumped at the chance to support it.
While Torres is excited about the menu, she said she's also eager to roll out specials and new dishes, particularly her signature tamales. In addition to the savory ones her children love, she has also perfected the art of the sweet tamale, with plans to expand from her well-loved blueberry into apple-cinnamon and pineapple and coconut tamales that she plans to add to the menu in the fall and winter.
Güiza-Chavez, who has known Torres through Havenly and the Semilla Collective for years, said she is excited for the business to get off the ground. In 2021, Torres told the Havenly team about her dream of owning a small food business in her very first interview for the fellowship program. As she worked through the fellowship, that same team could see that she and Flores were ready: they had the experience between them to get a business off the ground, and just needed more resources.
Now they've brought that vision to fruition. Güiza-Chavez said she is especially touched by the way that Torres has used her own life and work experience to teach other immigrant women about food entrepreneurship.
"She came to us with everything necessary," Güiza-Chavez said in a phone call Thursday. "She [and Flores] came already having decades of experience in kitchen management and cooking Italian and Mexican food. It's been so inspiring to watch her take full advantage of every opportunity that has come her way in the last year or two, and I feel like that is a testament to how powerful it is when people in our community have the opportunities to pursue their dreams."
Torres has also shown a commitment to practicing business in a way that is fair to herself, her family, and her employees, Güiza-Chavez said. Earlier this year, she joined members of the Semilla Collective in organizing against the Fair Haven business Cositas Deliciosas, against which a fair labor case is currently pending.
"She said, 'I always want to treat workers right,'" Güiza-Chavez recalled. "That is not normalized in business development … to bake into your business having the right relationship with your workers and the community that you're a part of. I just feel like watching her and her family be able to take off in this way, I see them projecting so much love and light in the community."
Visit Alegría Café at Grove Street and Hillhouse Avenue Tuesday through Saturday between 7 a.m. and 3 p.m.