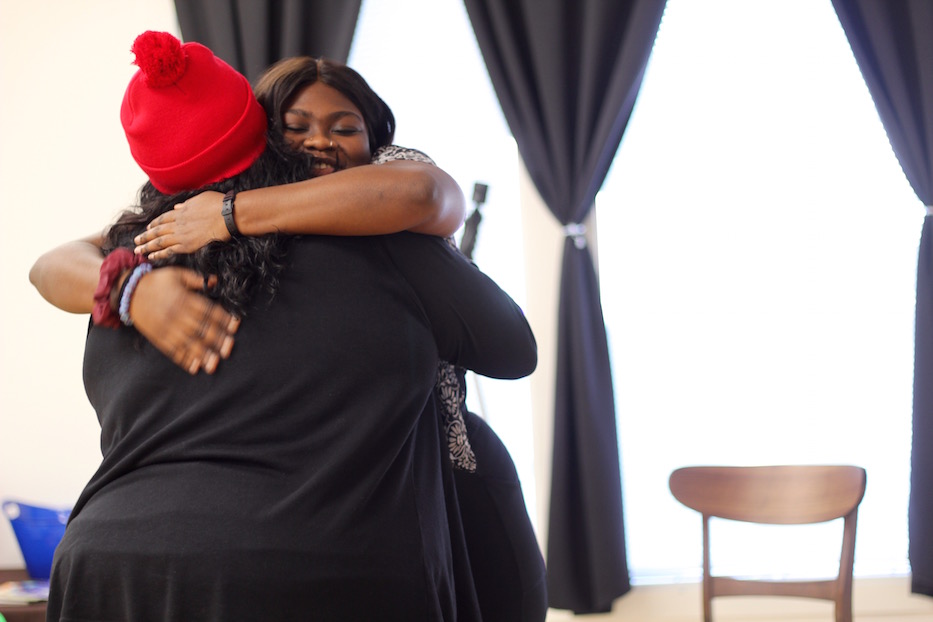 Black-owned businesses | Branford | Arts & Culture | Theater | Education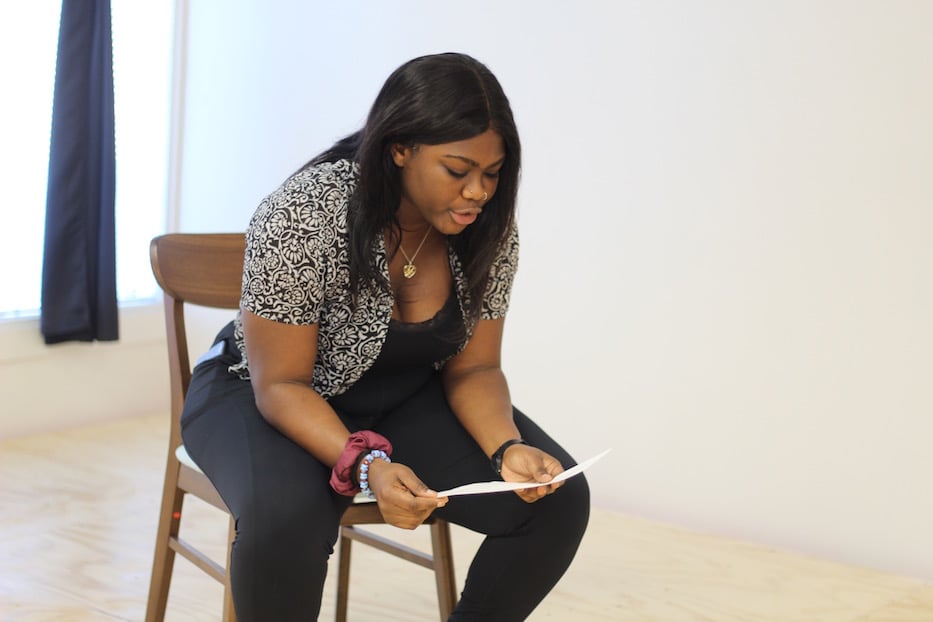 Chantal Yawson, who met Murray in New York and has acted in several of her works since. Lucy Gellman Photos.
Chantal Yawson stood at the lip of a makeshift stage, holding a page from The Nobleman in one hand. Looking out onto the room, she began to tell the story of twin brothers, "diametrically opposed" as they grew older. To maintain harmony, the two lived far away from each other on the same island. The system worked. Until—Yawson-as-narrator looked straight ahead—one brother's wife wandered too far into the other's territory.
In the audience, playwright S.C. Murray listened carefully until a silence fell over the room. "Say it in Twi," she said. Yawson began to translate on the spot.
That kind of coaching is common at Sweet 2 The Soul, Murray's new holistic arts center and acting studio in Branford. Decades after the New Haven-based actor, playwright, director and coach began her own career in the dramatic arts, she has opened the space as a way to give back to Connecticut's creative community. It is located at 249 West Main Street, in the former home of a dance studio just over the Branford town line.
Currently, it offers an acting bootcamp, teen programming, one-on-one studio sessions, rentals for events, and a free satellite program on "The Art of Play" that takes place in New Haven's Hill neighborhood. Learn more here.
"This is just a place for creatives to feel like they're home," Murray said in an interview Monday at the space, walking through hallways lined with bright polka dots to an open kitchen and wide, sunlit studio. "From rehearsing in parking lots, gas stations, hallways, to have a stage now of my own is surreal ... I'm giving her [the business] the time that she needs to organically grow."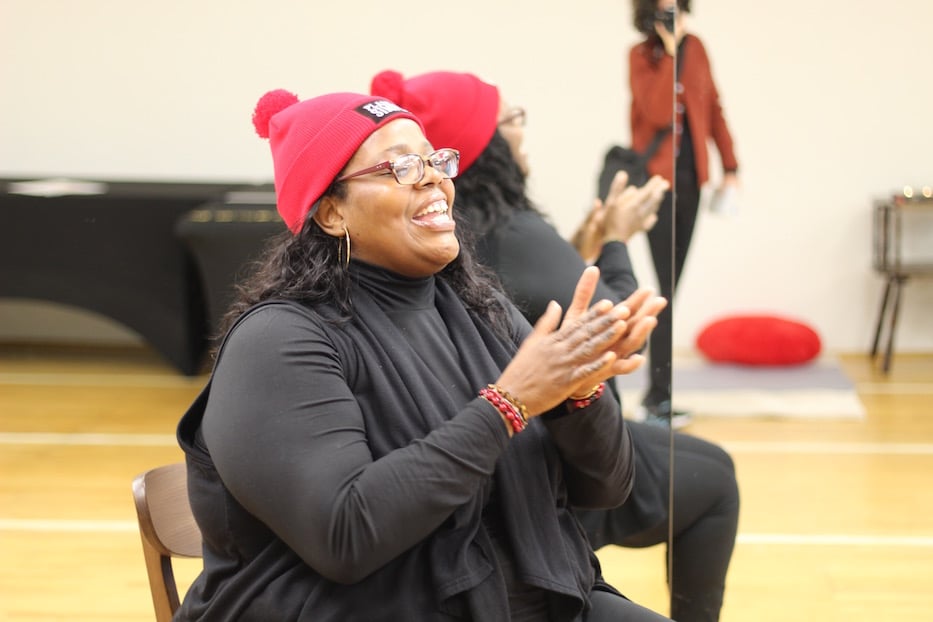 S.C. Murray: "This is just a place for creatives to feel like they're home."
The dream behind Sweet 2 The Soul is four decades, five children, and dozens of scripts in the making. Born and raised in the Bronx, Murray started acting when she was just three or four, and school plays and talent shows called her name ("I like to say that I've been acting since in utero," she joked in a conversation on WNHH Community Radio last month).
At home, she grew a love for narrative and character development alongside her grandmother, who was the head of her building's tenant patrol. On nights when her mother worked double shifts as a correctional officer, she spent evenings with the matriarch of the family, meeting the characters who populated the building. Each of them had a story waiting to be told.
She also credits her parents, who took her to performances on and off Broadway, for nurturing that spark. In the seventh grade, a role as a pastor at Frederick Douglass Academy led her into the world of character development, and she never left it. Murray was 14 years old, and started attending funerals to learn the part. She watched eulogy after eulogy, soaking in the weight and cadence of the words. She realized it was what she wanted to do forever.
"The theater arts saved my life," she said on an episode of WNHH Radio's "Arts Respond" last month. "The 80s was a very dark place for some of us. I lived in the hood. And it was a lot of great people in the hood, but crime was real. And the arts were my escape."
It took time to build a career, she added—only recently did she start telling people that she thinks of herself a writer. After graduating from Clark Atlanta University in the late 1990s, Murray wrote and produced in what little free time she had, cobbling together a string of odd jobs to pay the bills. When no one jumped at the chance to produce her plays, she began producing them on her own. She described herself as "the queen of one acts," with a particular soft spot for love stories.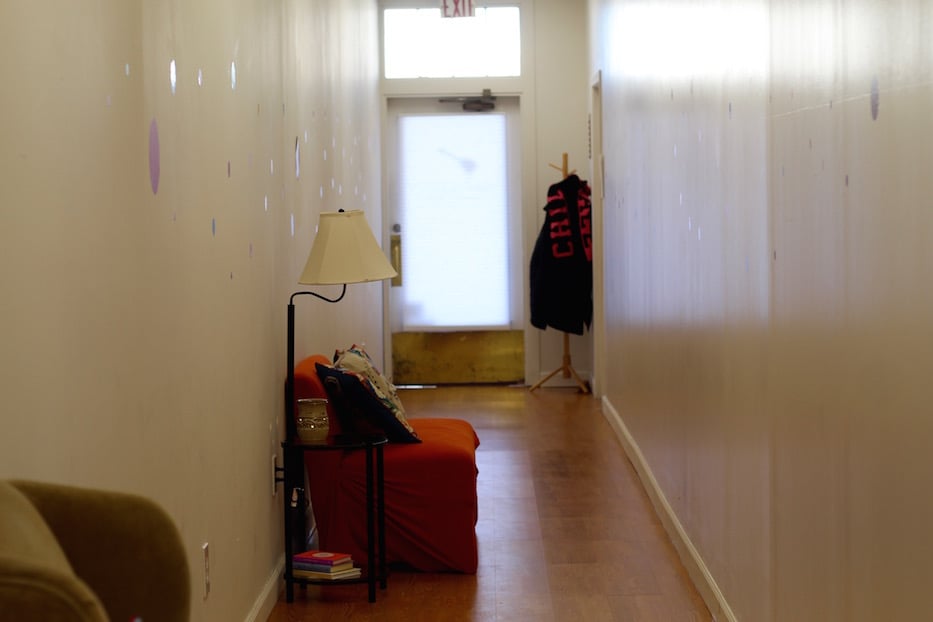 A cozy couch waits for actors outside the main studio.
Even when she found success—her 2014 The Kingdom of Kingston has played Off Broadway, Off-Off Broadway, and at a theater festival in Atlanta—she struggled with the lack of room for herself and her fellow actors. A 45-minute space rental was sometimes all she could afford, and was never enough time. It meant that her casts often rehearsed in nontraditional spaces, from alleyways and barely-lit corridors to parking lots. Along the way, she became a proud "mama bear" to five children, who she now homeschools. She needed room to create.
Months after the pandemic hit Connecticut in March 2020, she decided that "enough is enough," she said. She was working on turning Kingdom of Kingston into a novel, teaching her kids, and writing new work. After searching for studio or office space in New Haven and Hamden, she drove by Branford's Legacy Theatre. Something clicked.
"A theater next to the ocean?!" she remembered saying. "I've gotta think bigger. I've gotta think bigger. It doesn't cost to have faith. It doesn't cost to believe more. I said, 'Okay Lord, what are you showing me?'"
Off West Main Street, she found a 1600 square foot unit for rent, in the home of a dance studio that hadn't made it through the pandemic. It felt like divine guidance, she said. The name of the space, pulled directly from scripture, channels that moment: "Pleasant words are a honeycomb, Sweet to the soul and healing to the bones."
From the outside, Sweet 2 The Soul is unassuming, marked with the business' name and a photograph of a wooden dipper covered in golden honey. Inside, Murray has decorated the walls with polka dot decals and signs urging perseverance and faith. A couch sits out in the hallway, covered in plush cushions and a burnt orange slipcover. Plagued for years by bad rehearsal spaces, she has now created a cozy one for actors who are running their lines, or simply waiting to enter the studio.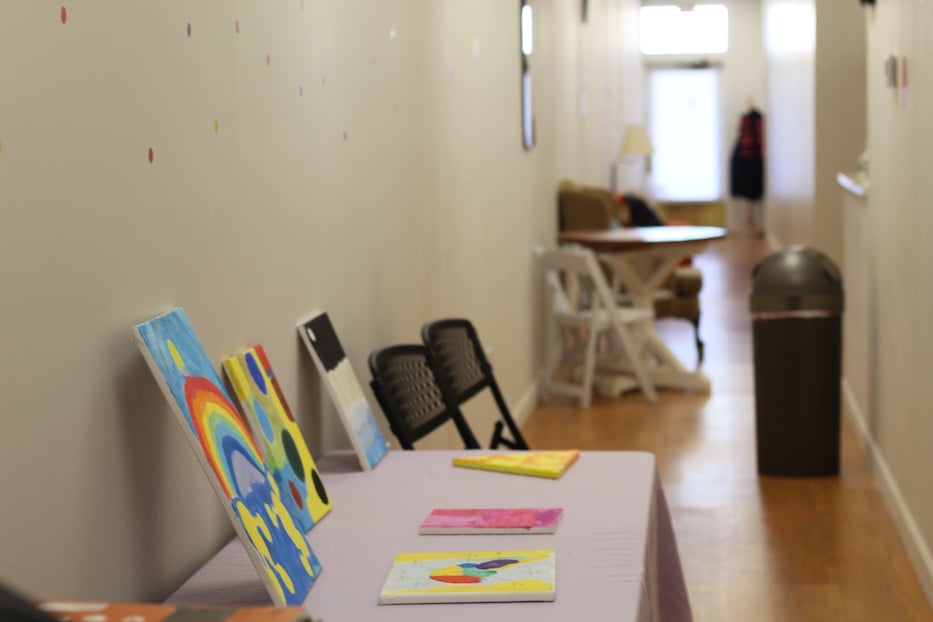 15-year-old Makeda Murray is the space's youth coordinator. She has recently started painting.
A huge clock ticks quietly from the kitchen. In the studio, Murray has set up a desk at one end of the room and a stage at the other; on a recent Monday, candles flickered on a meditation table between the two. Wall-to-wall mirrors run along the length of the room. Close to the stage, a corner of the studio is covered in dolls, coloring books, and a bassinet, in a nod to Murray's own belief that children will play if given the space and permission to.
It is very much a family affair: her husband loves to cook, and has brought food for "Sunday Funday" and playmaking events that Murray hosts. Families in town rent it for gatherings, including most recently Thanksgiving. Her 15-year-old daughter Makeda, whose interest in cybersecurity matches her love for drumming, has stepped up as the youth coordinator.
On Monday, she buzzed around the space, taking a midmorning break to jam on the djembe with her mom. Her paintings sat propped against a table in the hallway. When she stopped to pound out a rhythm with Murray, her hands flew on the drum skin as a rhythm soared over the room. Murray's voice rose triumphantly, her cries almost musical as they hit the air.
"We finally have a place of our own," Makeda said after playing. It's personal for her: in June 2019, she started drumming in an Off-Broadway performance at the Actors Temple Theatre. She hasn't stopped since. "We always had that energy, and we took it wherever we went, but now we have a home for it."
"You're Gonna Move Mountains"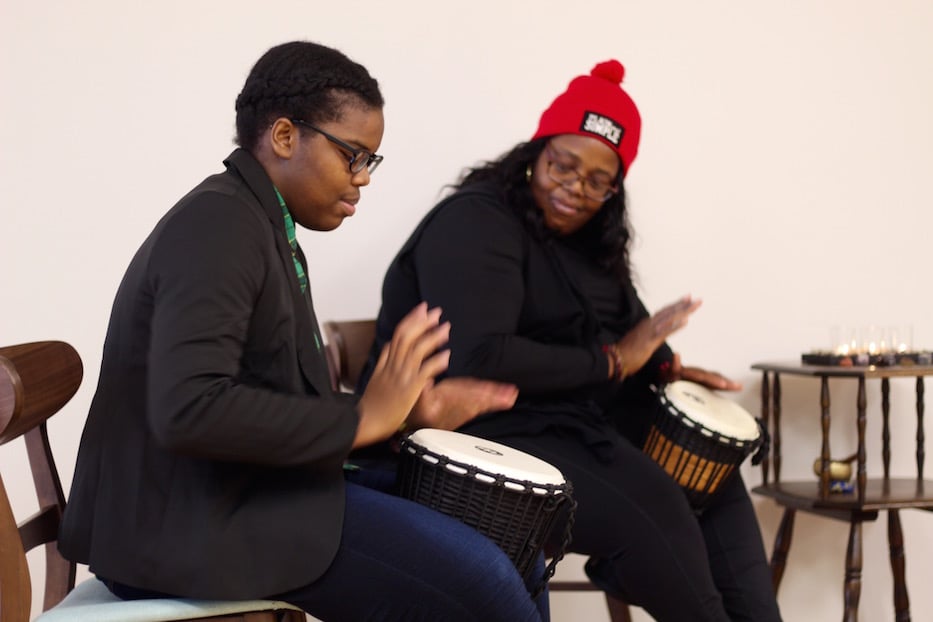 Makeda Murray and her mom take a djembe break.
Monday morning, Murray readied the space for one of her weekly sessions with Yawson, an actor and newly-minted flight attendant who she met three years ago in New York City. Earlier this year, Yawson and her mother braved the 45-hour drive from New York to San Francisco, where she now lives. She returns to Connecticut on her days off specifically for lessons with Murray. The two are close: Yawson planned a virtual birthday party for Murray earlier this year, complete with Zoom readings from five of her stage plays.
"S.C. serves, you know?" she said, tracing her own path from broadcast journalism to acting. "She's willing to be on your time as long as there's love and respect. And the love is mutual."
As Yawson got her bearings, Murray sat at her desk, editing video. She paused and unpaused a section of her play Home For The Holidays, a performance of which ran at the Williamsburg Music Center in November 2019. Yawson watched as a tiny, filmed version of herself crossed the stage and began to half-waltz with her onstage husband. With a laugh, she remembered how quickly cast members got off book, and then re-memorized their lines when Murray surprised them with a round of edits. After a first performance, they folded in audience feedback.
"The energy in there was so dynamic," Murray said, pausing the video. "When you are working with a team that trusts you, there are no limits. You're gonna move mountains. You're gonna fly. You're gonna land on the moon."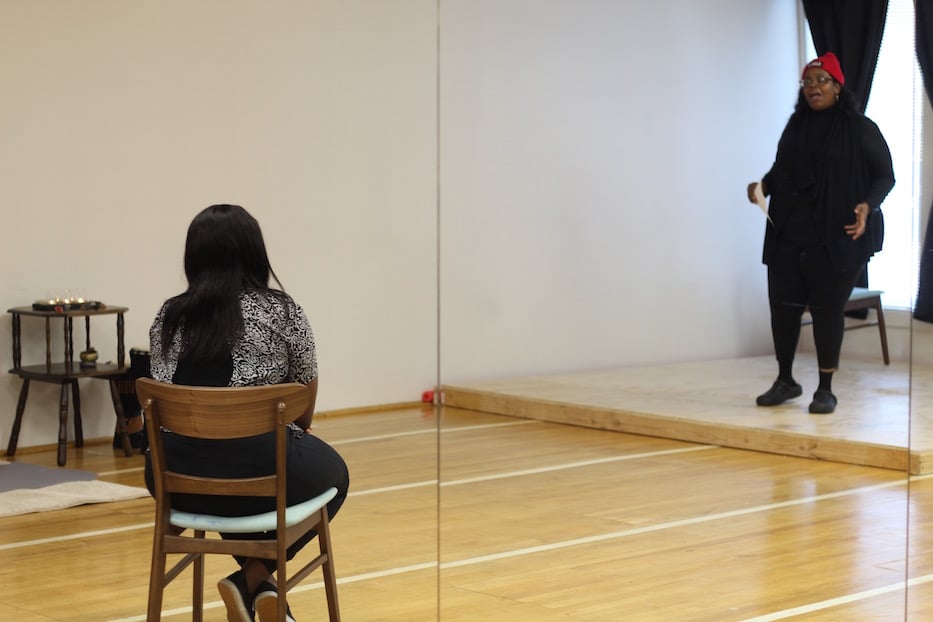 Yawson and Murray.
She brings the same approach to directing, whether she is working with a single actor or an entire ensemble. As Yawson looked over Murray's 2014 one-act Amina—she has actors work with her material—she headed toward the stage and set a chair up at its center. Murray pulled up a second chair and leaned in toward the stage. In the mirror, her reflection was momentarily still, not a hair out of place.
Yawson leaned back in her chair, let out an exaggerated yawn, and was suddenly not Yawson at all but a character that Murray had written into being. Gone was the hardworking actor who had flown across the country. In her place was a shop employee who could no longer be bothered to do their work correctly. She cackled, and the character stirred to life. Murray, reading for a second character in the scene, admonished her.
"I really want to see, for this scene, the intent," Murray said after the first pass. "How did it feel?"
"It felt good, it felt good," Yawson said. "It's one of those scenes where it starts in the middle so I gotta bring that energy to it."
"You did, you did," Murray said. "What was the intent of the first time? If you just finesse the intent, it will rearrange itself. Take a beat and start when you're ready."
The approach—a gentle needling, with deep breathing and hugs built in—defines Murray's approach. When actors come to her, she pushes them to shape-shift between characters. She has been known to bring on tears; she did on Monday. But she's also "unorthodox," she said—she encourages actors to dip into their own toolboxes, including foreign or first language skills. Yawson hails from Ghana, giving her language skills in Twi that Murray sees as an advantage.
She handed Yawson a crisp piece of paper with The Nobleman printed neatly at the top. The play made its virtual debut earlier this year, through a theater festival at the Yale Cabaret.
"Let me hear you do narrator," Murray said. "I just wanna know that whatever you're thrown in an audition, that you're ready for it."
Yawson brought the audience into the story of brothers Jaakobah and Jaakan, twins who kept peace by living far away from each other. As they matured, Jaakobah grew hungry for power and wealth. Jaakan lived a humble life as a shepherd. As she spoke, Yawson raised her voice to the rafters, holding the room with the story.
"And alllllll was well, until one day Jaakobah's wife crossed the line," she all but whispered.
"I want to hear a Ghanian accent," Murray said. "Take a beat and start when you're ready. Another word that came to mind—free. You are like water—you are flowing and confident. You [the narrator] don't speak often, so when you speak, the entire world listens."
Yawson tried the passage again. In the play's universe, the audience could see the wife crossing the line. "That last line, bigger!" Murray said. "Believe it!"
Yawson tried it again, raising her voice until it was nearly a growl, and some words sounded thick and hard at the edges. Murray was still missing something. "Say it in Twi," she responded.
"Okay, give me a second," Yawson answered. "I'm gonna do translations."
"Use the space," Murray said. "Take your time and believe every word. You are the medium between what we see and what we don't see."
Yawson studied the script, then looked up at the room. Her eyes blazed. She raised one arm, then let her hand cut through the air, repeating words quickly. She found whole sections of the wooden stage that her feet hadn't been aware of, criss-crossing the wood with a new kind of agency. She moved faster.
When she reached the final lines, she went quiet, watching Murray unblinkingly. Murray burst into applause.
"It's all about the heart and the soul connection," she said.
"You All Are The Light Beams"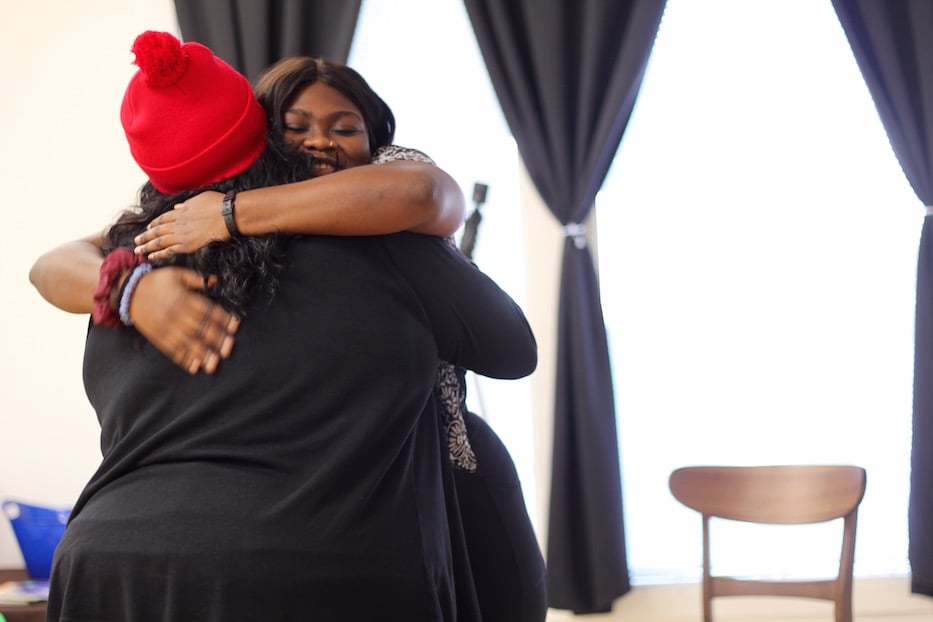 "When the part comes, the role comes, we're not getting ready. We're already ready."
Murray had one final assignment for Yawson: a monologue in which her character finds her way through a tearful separation, and announces plans to sell shared property to support her business in the process. Yawson began with a shuddering breath, the words garbled as she sobbed.
"I built my entire life around you," she read, moving from a heap at the center of the stage to a chair that they all but pulled under them. "It's time to get back to me."
Murray paused. "What is she trying to say?" she asked. "I lost myself and that makes me feel …"
Yawson chewed on the answer. She tried a few answers. Upset. Frustrated. Angry. It wasn't hitting for Murray. "I lost myself and that makes me feel …"
"Unworthy?"Yawson said after a beat. Tears gathered at the corners of her eyes. It was as if someone had dealt her a blow.
"Sit in that," Murray said. "Sit in that. It's all about a soul to soul connection. Sit in that. Be brutally honest of what that feels like. Of what that tastes like."
"People come here to look for the way out and you are the light beams showing people the way out," she added moments later, as she opened her arms wide and Yawson came in for a hug. "That's why, when the part comes, the role comes, we're not getting ready. We're already ready."
Sweet 2 The Soul is located at 249 West Main St., Suite 9 in Branford. Visit its website for more information.