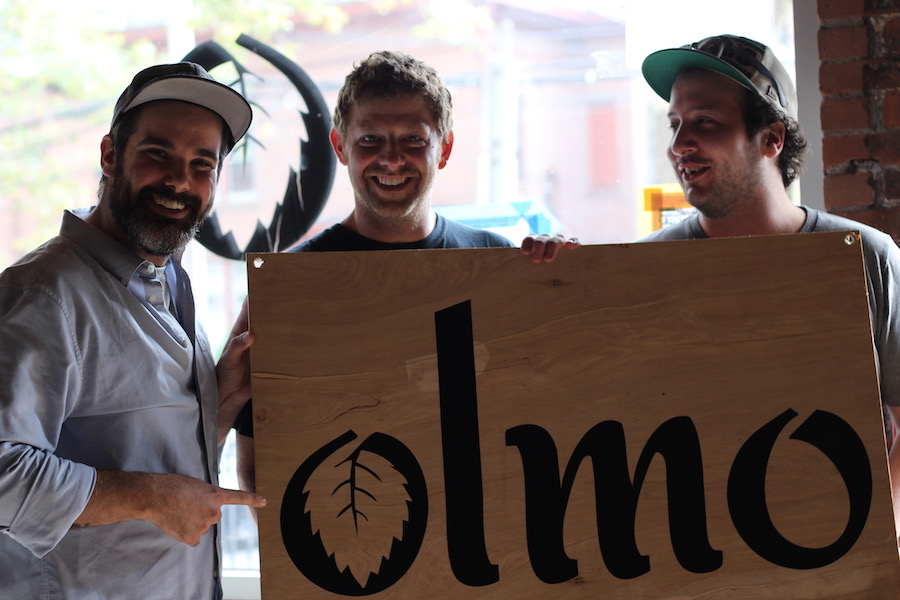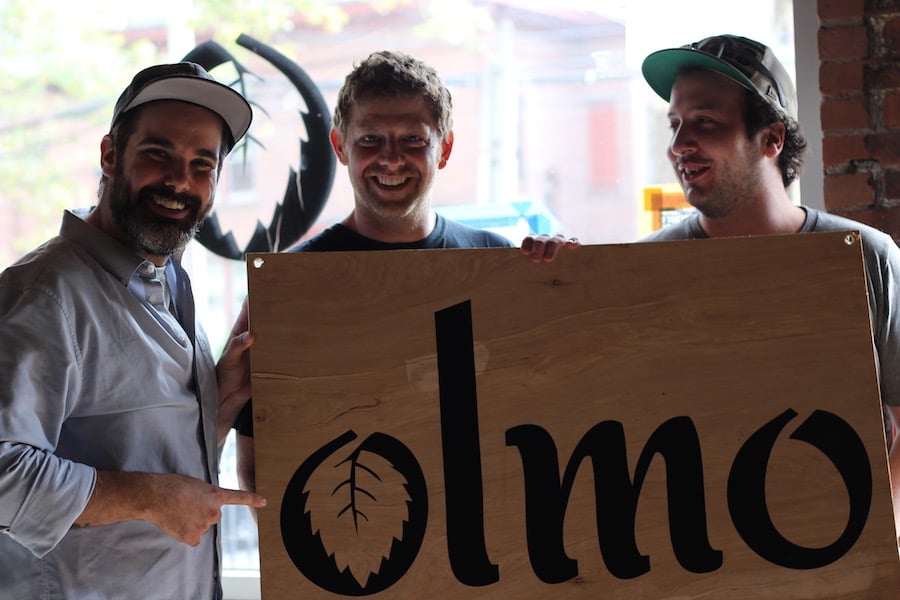 Salty cream cheese versus thick, buttery quark from Vermont. Pork shoulder cooked in citrus juice at low heat, until it is crispy and caramelized. Cinnamon bagels with bright dried cherries instead of raisins. Piping hot dollar coffee, to wash it down.
Those are just some of the menu items that co-owners Craig Hutchinson, Alex Lishchynsky and Jason Sobocinski are finalizing for Olmo, the much-anticipated successor to Caseus Fromagerie & Bistro at Trumbull Street and Whitney Avenue. Less than two months after Caseus' final dinner service in July, the team has mounted a website and menu for the restaurant, which is set to open Oct. 10. There, they've introduced additional members of "Team Olmo:" general manager Tessa Cooney, shop chef and manager Kevin McGuire, and sous chef Joseph Ray.
This is the first brick-and-mortar venture for Hutchinson and Lishchynsky, who both trained under Sobocinski at Caseus and led the now-defunct [oink] pop up series in New Haven two years ago. The restaurant will be open seven days a week, with brunch on the weekends and breakfast, lunch and dinner Monday through Saturday. A full schedule and working menu are available online.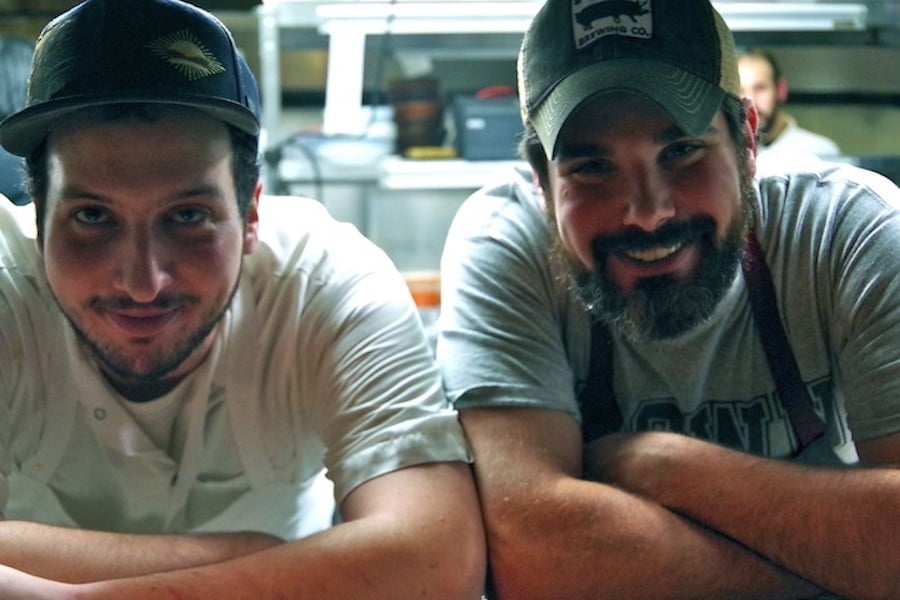 Hutchinson and
Lishchynsky at an [oink] pop-up at Caseus in 2016.

Lucy Gellman File Photo.
The name Olmo, for which there is now a leaf-shaped vinyl decal in the window, comes from the Italian word for "Elm." But the restaurant's food isn't solely Italian—it takes inspiration from regions of Italy, and mixes in Mexican, Portuguese, French and American influences among others. Or, as Lishchynsky and Hutchinson called it, a sort of "New American" cuisine.
"We take something that's super nostalgic and then we flip it on its head," said Lishchynsky, who goes by the nickname "Nuevo," in an interview Thursday. "It's like in America—there are different regions, and different cuisines."
Among dishes they're most excited about are "island style" pork shoulder caramelized in citrus juice and served on savory sandwich bread, fresh vegetables smoked in coals and paired with house ricotta, local honey, and herbs from Olmo's rooftop garden, and several types of fresh, homemade pasta that will dry on antique racks in the restaurant.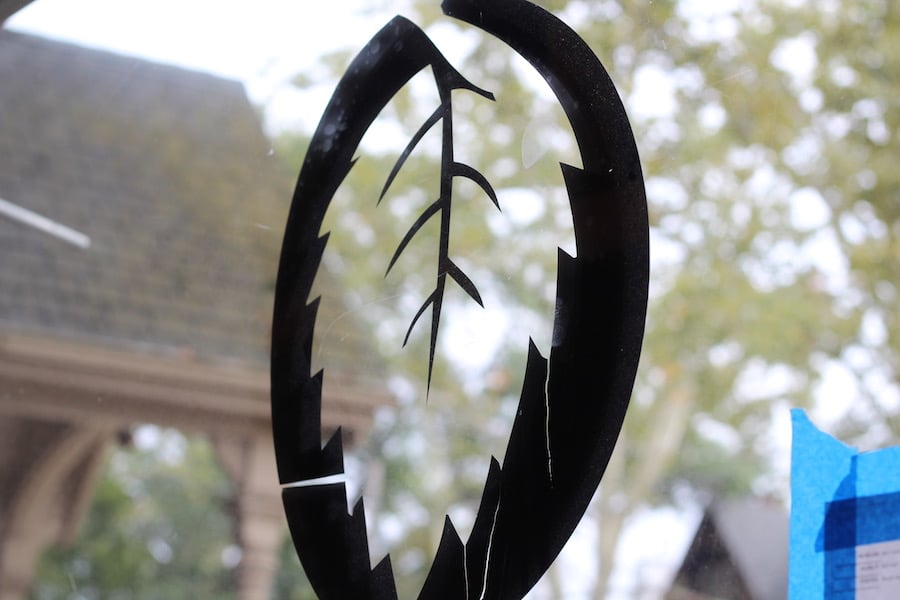 In other words, Hutchinson said, reimagined comfort food. Lots and lots of comfort food. He said inspiration for the menu has come from not just cooking and eating in restaurants, but also looking up ideas online, where he sometimes has "80 tabs open " at once, and finds himself Googling cooking tutorials. Lishchynsky added that for him, it's sometimes as simple as a smell. He praised patrons who have offered him constructive criticism, often the base of a better recipe idea of tweak that improves the menu.
"I think where it stems from is hunger," Sobocinski added. "I'm never full. Even after finishing a meal. I'm always thinking about, 'what can I put in my mouth right now?'"
That hunger has lead them to create, beta test, and nitpick until they've found the perfect balance of flavors. Lishchynsky recalled cooking pork in citrus juice until he had just the right level of crisp, a new undertaking that took several tries. He noted Olmo's revamped tamale that starts with cooked, milled wheat called farina—what Hutchinson described as a "childhood porridge that an Italian grandmother would make." To the farina, which becomes firm as it cools, chefs add fermented 'nduja sausage from southwest Italy, house-made sofrito, corn, chili peppers, and salty ricotta salata. The whole thing is wrapped in a traditional corn husk. In August, the team debuted the tamales in a dinner at Boulder Knoll Community Farm in Cheshire, an early version of catering that Olmo plans to do on top of weekly meal service.
Or a bolognese bianco, a white bolognese sauce inspired by an abundance of dairy in northern Italian cuisine. Instead of the traditional, tomato-flecked Bolognese sauce, Hutchinson said, Olmo will present a version in which pork and creamy cheese curds marry each other at a boil, bound together by the fat content in the sauce. It's a a process that culminates in "essentially cheesy pork around pasta," with kale lemon, parmesan and homemade fusili lunghi pasta in the mix.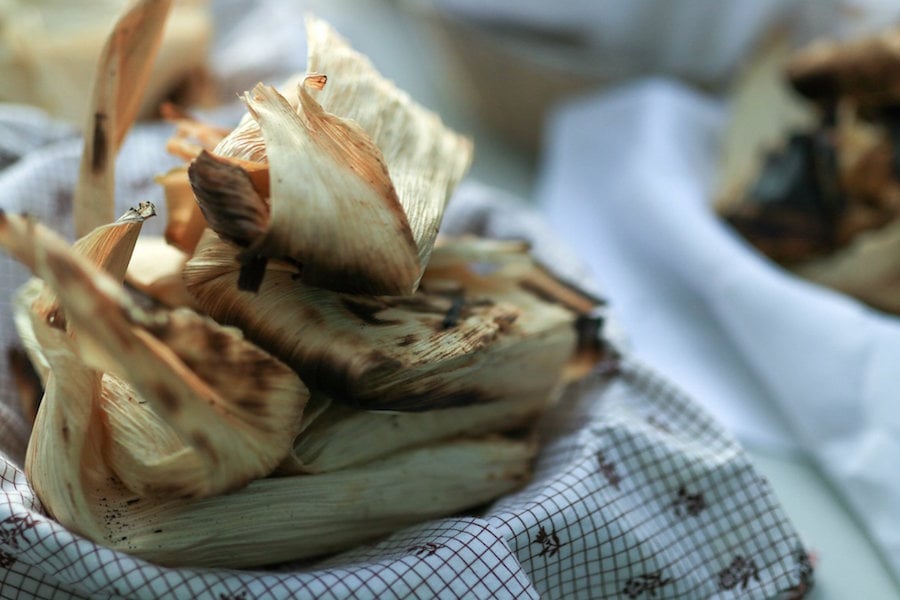 The reimagined tamale in action. Cara Minichiello Photos.
Minichiello is

@caraevephoto on Instagram or Cara Eve Photo on Facebook.
Hutchinson has also been experimenting with dough for a light, crispy cross between a New York and Montreal-style bagel ("not bread with a hole in the center," Sobocinski said), which he'll make each morning at 4 a.m. By Olmo's 7:30 a.m. opening, he plans to have fresh batches of 120 bagels, so crispy on the outside and hot in the inside that the team is considering a moratorium on toasting. Currently, Olmo plans to offer plain, sesame, poppy, cinnamon cherry, everything, and a "mostro" or "everything everything" that has spices and bits of dried meat and fish on it. Bagels go for a dollar each, or more with toppings and spreads.
As Olmo opens, both Hutchinson and Lishchynsky will be working hundred-hour weeks, with Hutchinson arriving at 3:30 a.m. for the 4 a.m. to 7 p.m. shift, and Lishchynsky working from 9 a.m. to midnight. But after 10 years hoping to open their own restaurant, they said they're avoiding burnout by spinning a personal dream into a reality. And taking tips from Sobocinski, who is starting something new to keep himself fresh.
For the three—and a staff from Caseus that has been waiting to get back to work—the October opening can't come soon enough. Originally, Olmo was set to open in September, giving the team a tight, eight-week turnaround to rehab Caseus' 1800 square foot building and install an upstairs prep kitchen, downstairs production kitchen, smaller dining area, and sandwich and bagel shop. Olmo has been working with Urbane NewHaven, the construction firm behind the District coworking space on James Street. For almost two months, none of the restaurant's team members have taken salaries, leaving more money for the venture.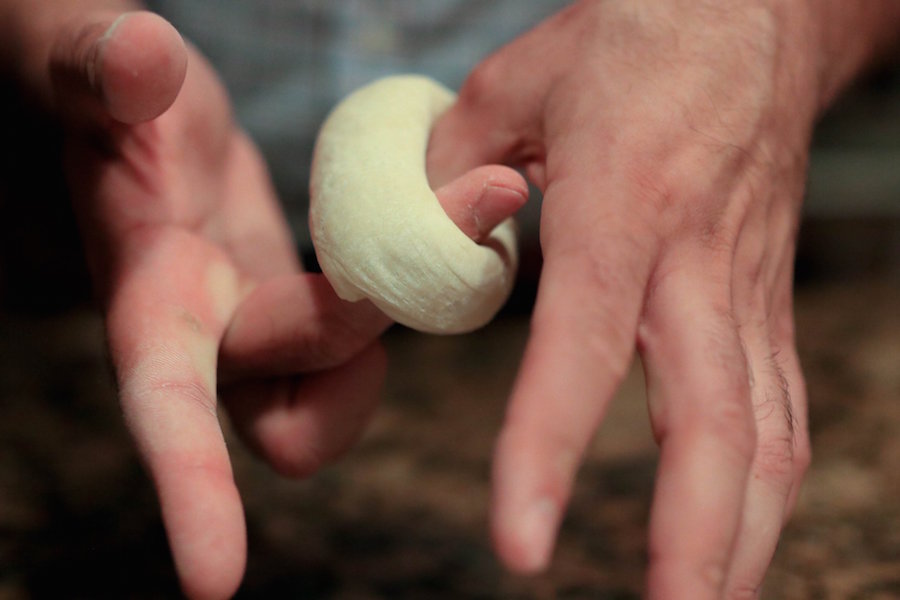 But construction, individual contractors, and equipment arrival have been taking extra time, a delay Sobocinski said can feel physically painful—"you walk in, and it's like a body that's been cut open"—each day that the restaurant isn't open. Last week, he recalled hearing from a vendor that the oven he'd request wouldn't be ready for shipping for another seven weeks. The next model available, with "bells and whistles" that the team didn't need, was $5,000 more expensive.
"It's like if I said 'Well, you wanted pork for your wedding, but I can do lamb,'" he said. "And you'll just have to have your wedding on a different day.'"
The vendor ultimately offered it to them for $2,500. By last Thursday morning, Hutchinson had talked him down to $1,250. The exchange, one of many in which Hutchinson said they've had to "beg, plead, and guilt trip," left Sobocinski frustrated outside the restaurant, scoping out its still-gutted innards.
In the meantime, the three have been working closely with local restaurants, who have lent out their kitchen and storage space, and offered extra shifts to Caseus employees who are waiting to get back to work. Lishchynsky said that local spots like the Wine Thief, Owl Shop, and Ordinary New Haven have been particularly helpful in giving them space to store food and equipment, and beta test new recipes. He praised chef Matt Wick of Osa in Middletown for doling out assistance, kitchen space and constructive criticism earlier this month, as the team prepared 150 sandwiches for a pop-up at District last Wednesday.
On the menu: that caramelized, mouth-melty island-style pork, a muffuletta with Corsican pork, grilled broccoli and cheddar sandwiches, and lentil and Caesar salads. Lishchynsky and others put in a full workday in Osa's kitchen. The pop-up was sold out in 80 minutes.
"There is a big burnout rate in the restaurant industry," Lishchynsky said. "But we've wanted this for almost 10 years now. The possibility of burning out … it's not possible right now. Because there's the fact that I get to keep doing this every day."