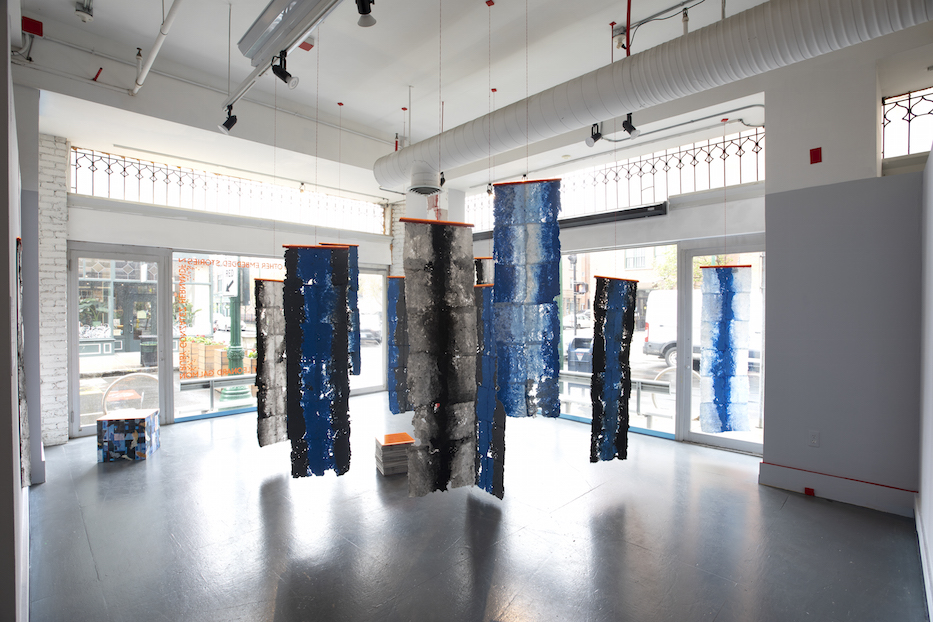 Downtown | Arts & Culture | Artspace New Haven | Ninth Square | Visual Arts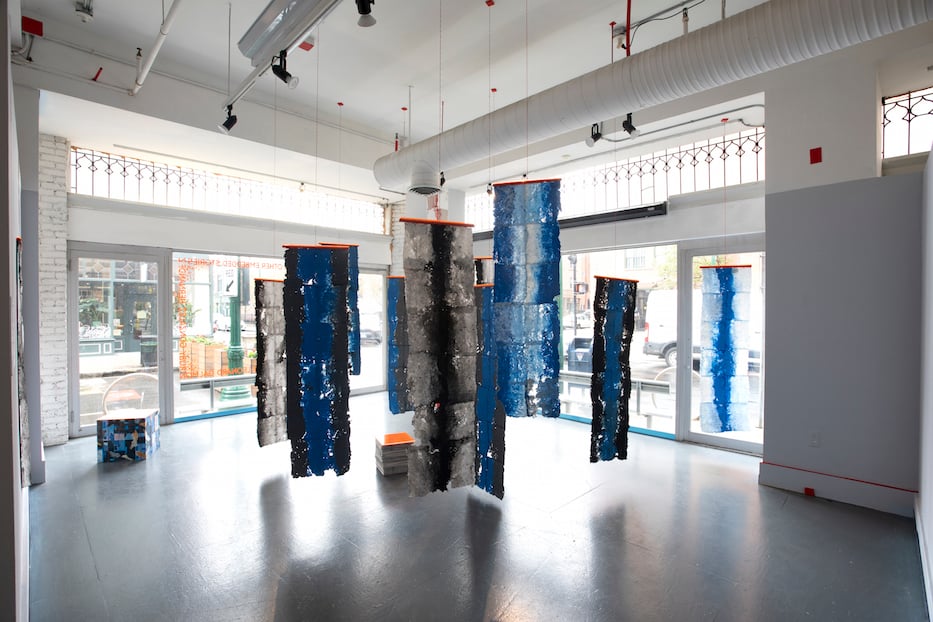 Installation view, Footnotes and other embedded stories, April 30–June 25, 2022, Artspace New Haven, CT. Photo: Jessica Smolinski.
In the front gallery of Artspace New Haven hang long paper scrolls, whose colors blend from blue to black and white to blue. The scrolls are patchy and irregular, opaque and translucent, and punctuated with holes. They are suspended by red cords and are constantly rotating. As they turn, light filters through them.
It is the analogue equivalent of scrolling through an ever-updating page on Twitter or Instagram—only a thousand times more pleasant. In this tactile, light-filled room, scrolling becomes an act of pleasure.
Julia Rooney's Scrollscape is one of 22 works on display in Footnotes and other embedded stories, an exhibition that showcases the work of 2021-2022 Happy and Bob Doran Connecticut Artists-in-Residence Leonard Galmon, Ruby Gonzalez Hernandez, Allison Minto, Rooney, and Joseph Smolinski. The exhibition, which is organized by Artspace Director of Curatorial Affairs Laurel V. McLaughlin, runs through June 25.
During the last year, artists-in-residents received guidance from Artspace Executive Director Lisa Dent and Yale University Art Gallery Seymour H. Knox, Jr., Associate Curator of Modern and Contemporary Art Keely Orgeman.
"Within research, a footnote acts as a hypertext—disclosing a source, highlighting a reference, tracing a line from thought to thought," reads an accompanying note on the exhibition. "Outside of academic contexts they arise in conversational tangents, offering readers, viewers, speakers, and thinkers the opportunity to delve deeper, to embed themselves within the root of the text."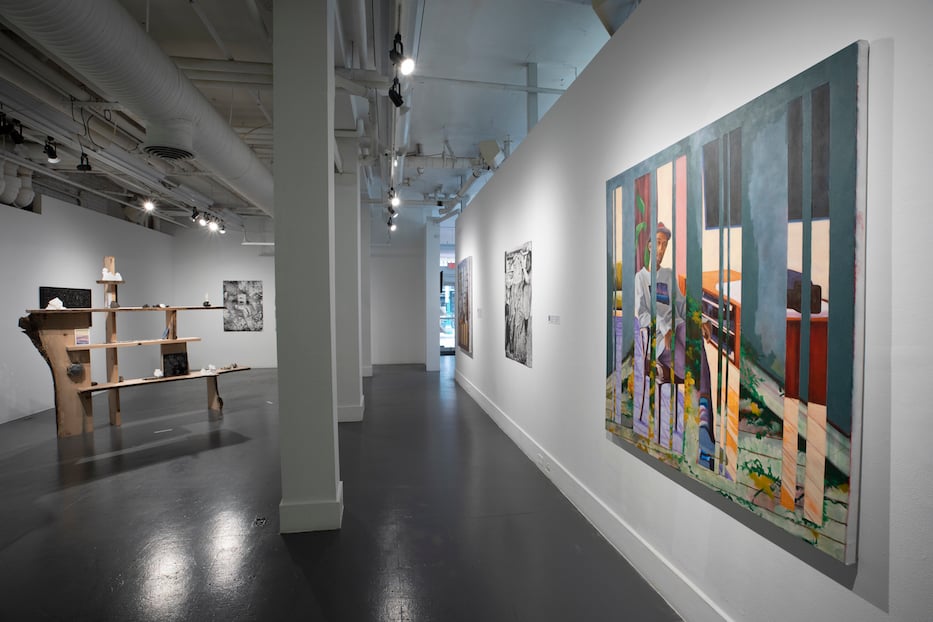 Installation view, Footnotes and other embedded stories, April 30–June 25, 2022, Artspace New Haven, CT. Photo: Jessica Smolinski.
The exhibition's name points to the many forms of research each artist has undertaken during the course of their residency. Three out of the five artists-in-residence hold art degrees from Yale. The other two have deep roots in New Haven. By the end of the exhibition, all of them have challenged viewers to think critically about how they perceive the city and the world around them.
In his two-layered painting Grandma Pat (Climbing #3), Galmon renders the face of an elderly woman with tenderness. The first layer features Grandma Pat gazing into middle-distance. The wrinkles that line her face are deep and shadowed. Yet there is a softness to them, a kind of ease. In the second layer, which Galmon overlays onto the first, nature erupts in wild tangles. Three branches of a climbing plant crisscross the canvas, swathing Grandma Pat in leafy canopy. But the liveliness of the plant life is abbreviated by the literal cuts in the second layer of canvas. The cuts are vertical, bar-like, literalizing the structural confinement of prison, schools, and racist American society writ large.
Like Galmon's work, Minto's Structures of Identity draws on her personal experiences. A New Haven high schooler approaches a freeway underpass. At first glance, he could be anywhere. There are overgrown weeds on one side, and a bank of brick on the other. Two freeways—monumental concrete creations—criss-cross far above him. He pulls out his trumpet from his case, screws on the mouthpiece, and starts to play. Then the revving engines rumble, roar, crescendo. A group of people on motorbikes rush past.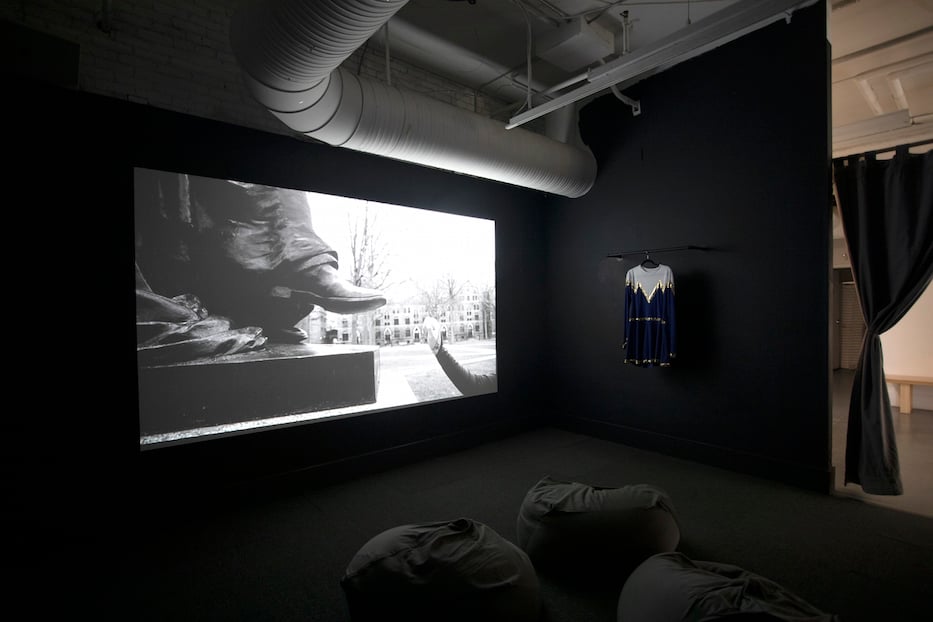 Installation view, Footnotes and other embedded stories, April 30–June 25, 2022, Artspace New Haven, CT. Photo: Jessica Smolinski.
He isn't anywhere; he is most definitely in New Haven, beneath the intersection of the I-95 and I-91—where approximately 200 years ago, the convention of the Free People of Color proposed the construction of a Black college in New Haven. It would have been the first Historically Black College (HBCU) in the United States. Due to the protests of white property owners, white lawyers, Mayor Dennis Kimberly, and the then-nascent Yale University, the City of New Haven stamped out the plan.
Structures of Identity is steeped in a personal and familial archive. Her footage is nonlinear, composed of memes, family photos, clips of sitcoms, and staged musical performances from members of the James Hillhouse High School Marching Band. The footage coheres like the droplets of water in a wave, all combining to form a sense, rather than a rigidly structured argument.
Drawing on this cross-section of culture, Minto seems to be saying: this culture is what makes us, it is ours, we will not let you take it away. Fittingly, she will be returning to Artspace with the Black New Haven Archive project as part of the exhibition on May 21.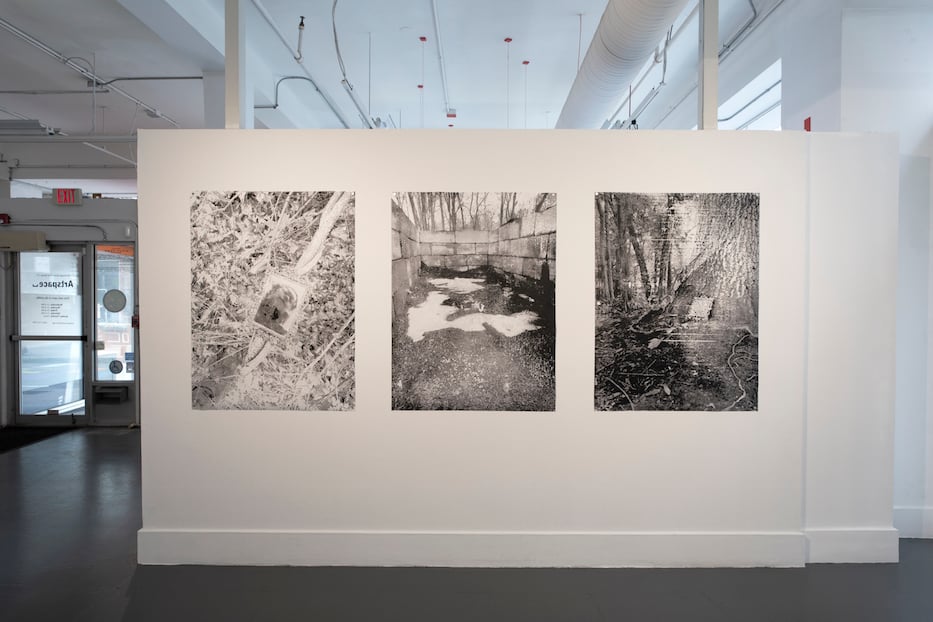 Installation view, Footnotes and other embedded stories, April 30–June 25, 2022, Artspace New Haven, CT. Photo: Jessica Smolinski.
After a childhood spent in the Pentecostal Church, Gonzalez Hernandez reckons with the various truths, lies, and ambiguities in her early life. She does so by using tricks of the eye.
In the large woodcut print Freedom Had A Bitter Taste, a gilded mirror rests at the base of a thick tree trunk in Connecticut. The mirror is striated, opaque, near-impossible to peer into. Taken as a whole, the print mirrors this effect. Starting with cellphone photographs, Gonzalez Hernandez mediates her images once, twice, three times in a process involving digital coding and a computer-controlled carving machine.
The end result is a print comprising sharp streaks of ink that warp, distort, and become exaggerated when viewed up close. Gonzalez Hernandez' prints produce an acute sense of claustrophobia and disembodiment in the viewer: What is truth? Amidst the many layers of reality, where does the self lie?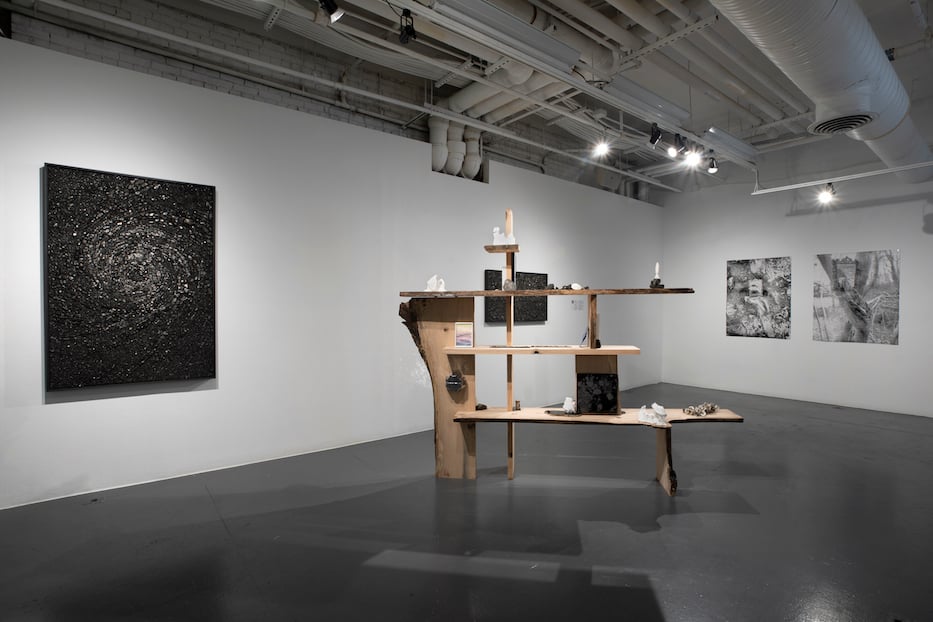 Installation view, Footnotes and other embedded stories, April 30–June 25, 2022, Artspace New Haven, CT. Photo: Jessica Smolinski.
New Haven—and Connecticut more broadly—are the source of Smolinski's contribution to the exhibition, which include a sculpture and one painting, and two mosaics. The focal point is a salvaged oak from the New Haven Green which has been hewn into wide planks, sanded, and piece together into multi-tiered shelf.
Upon the shelf are a minimal array of objects—some natural, some human-made—which mimic one another. An early-model iPhone lies on a bottom tier, its surface a web of cracks. On a nearby shelf are oceanic fossils entombed in rock, the surface of both the fossils and rock webbed and cracked. The collection objects sit quietly, conducting silent conversation with one another and the viewer. Hovering or crouching above the objects, one might pause a second and listen.
Based on one's own embodied archive, the objects that comprise this archeological display of objects of 21st century life will talk differently to each viewer.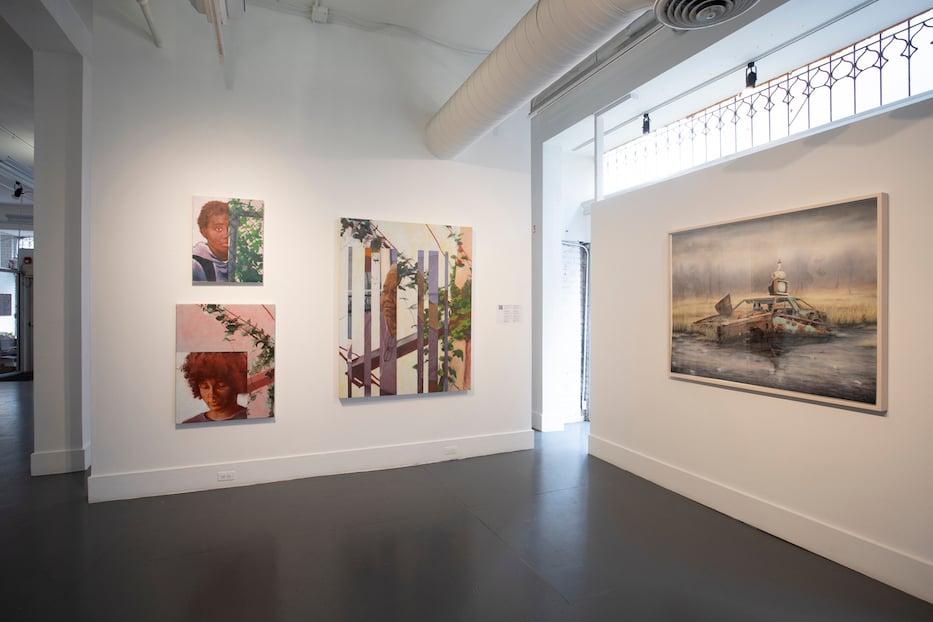 Installation view, Footnotes and other embedded stories, April 30–June 25, 2022, Artspace New Haven, CT. Photo: Jessica Smolinski.
Besides containing footnotes that intertwine and converse with one another from wall to wall, the works in Footnotes and other embedded stories each challenge their established mediums. Galmon adds layers to his canvases, quite literally asserting that a single layer of canvas is unable to convey the multi-dimensionality of the Black experience in the United States.
Smolinski roves across mediums, from woodwork to paintings to mosaics assembled from U.S.-mined coal, using each to a different effect. Rooney devises large-scale installations, some text-based, others, comprised of pulp, cotton, and cast-iron materials, to speak to the effect of technology on the environment. Gonzalez Hernandez uses an array of processes–cellphone photography, printmaking, computer-based coding and carving.
It is an exhibition that stands out not only for its deep research, but also for its risk-taking and imaginative play with form.
"Footnotes and Other Embedded Stories" runs at Artspace New Haven through June 25. For a schedule of related programming, click here.