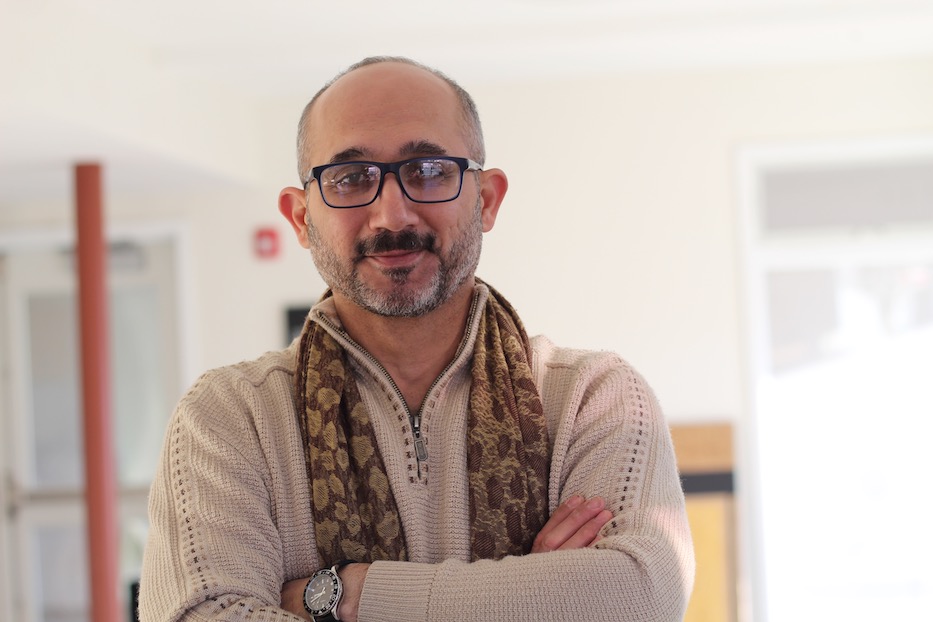 Hamden | Integrated Refugee & Immigrant Services (IRIS) | Refugees | Arts & Culture | Visual Arts | Sculpture | Arts & Anti-racism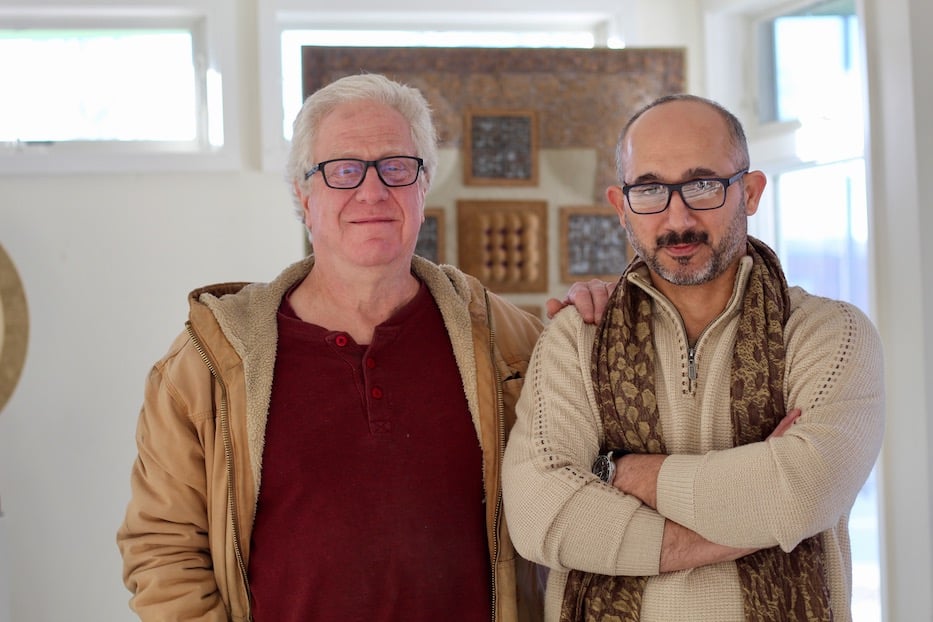 Sculptor Robert Taplin and artist Ridha Ali. Lucy Gellman Photos.
The hands, feet, and faces crisscross the square, begging a viewer to come closer. Long fingers reach out to touch the air, then find that they can only go so far on the severed wrist. Single eyes and cheeks look out into the room, the other half of their faces unaccounted for. Birds and fish turn upside down and right themselves again, looking for a place to land.
For Ridha Ali, it's an intimate portrait of home—and a starting place for history that is still unfolding.
Ali, who came to the U.S. in 2009 as an Iraqi refugee, is the multimedia artist behind My Journey Chair, a solo exhibition running in the community room at Highwood Square at 943 Dixwell Ave. through Dec. 9. A graduate of the Baghdad Academy of Fine Arts, he uses his work to tell a story of where he has been, and where he is going. He credits the sculptor Robert Taplin, a mentor and friend who has opened his West Haven studio to Ali for years, for helping him get there.
The exhibition is open to the public by appointment only. Call 203.606.3264 or email artman959@yahoo.com to schedule a viewing.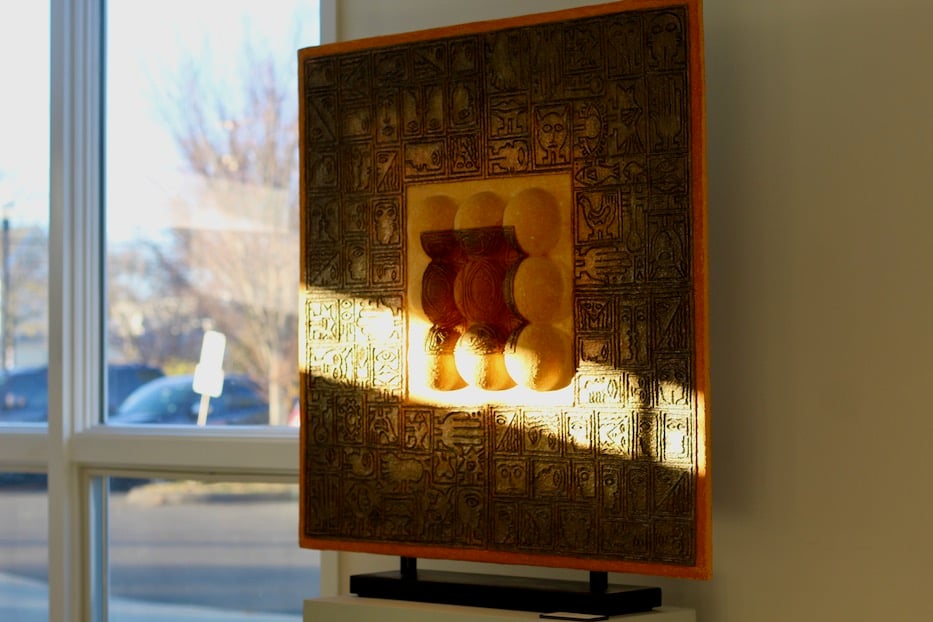 "I love art because it gives me passion," Ali said during a walkthrough of the show last Thursday, as late afternoon sunlight streamed through the room's high windows and scattered on the floor. "It's something to make me happy."
Ali's journey to art—and to Connecticut—begins during his childhood in Salahuddin, a city in North-Central Iraq where he was born in the early 1970s. When Ali was just two, his father died, and his older brother took over affairs for the family. For seven years, Ali attended school, doted on his younger brothers and sisters, and watched as his brother stepped into his dad's shoes.
Then the Iran–Iraq War, which lasted from 1980 to 1988, came to town. "I grew up in smog. Blood. People died," Ali said. "We fight eight years. I don't know why."
When Ali was nine years old, his older brother went missing in the war, leaving him at home with his mother and young siblings. While attending classes, Ali began working odd jobs, trying to bring in money to support his family. Art, which he had dabbled in in school, became an escape.
"Art was my parent," the thing that could comfort him as the world turned on its head, he said. "It was giving me something" when he had very little.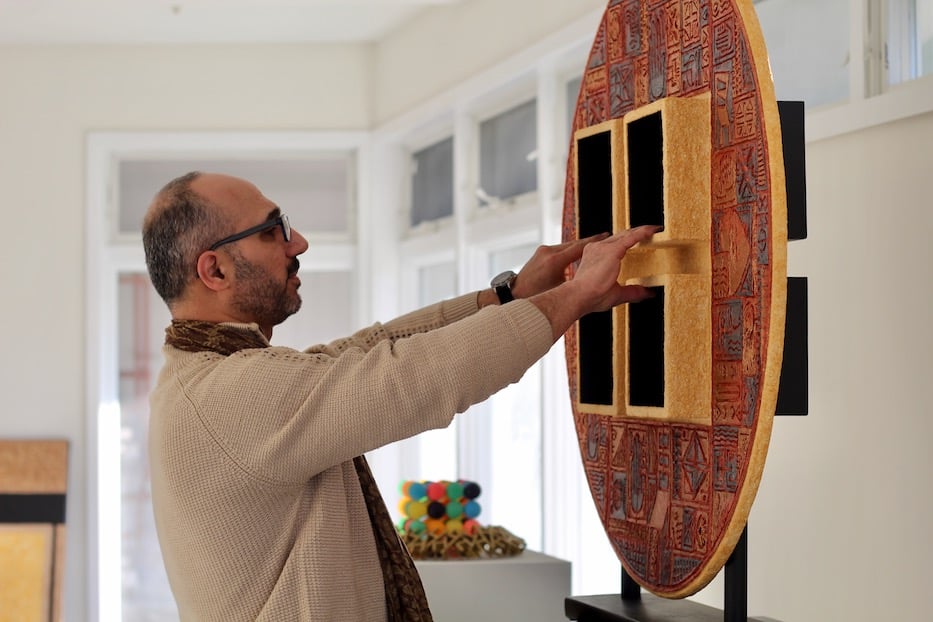 Art, and particularly work inspired by his own life, became Ali's window to the world around him. After years in Salahuddin, his pursuit of his craft led him to Baghdad, where he enrolled in the College of Fine Arts (now the Institute of Fine Arts) when he was 16. It was 1990, on the lip of the Gulf War, and Ali saw a path forward as an artist. He didn't want to fight, he said: he wanted to create.
He ultimately stayed at the school for six years, finding professional work after graduating. Then a few months into his employment (he asked that the location and job be withheld), his supervisor told him there was a new law on the books: that ethnic minorities could no longer work, Ali recalled. Ali, whose family is part of Iraq's minority Turkmen population, was suddenly unemployed. Everywhere he looked, he saw a country in turmoil.
By the mid 1990s, the Iraqi Kurdish Civil War had gone on for two years, without an end in sight. The world watched as then-President Saddam Hussein continued his oppression, persecution, and mass murder of ethnic minorities across the country. In 2000, fearing his own safety and desperate for work, Ali fled to Jordan.
"I decided I don't want to stay in this country because [it] got messed up," he said. "You don't know what's going on."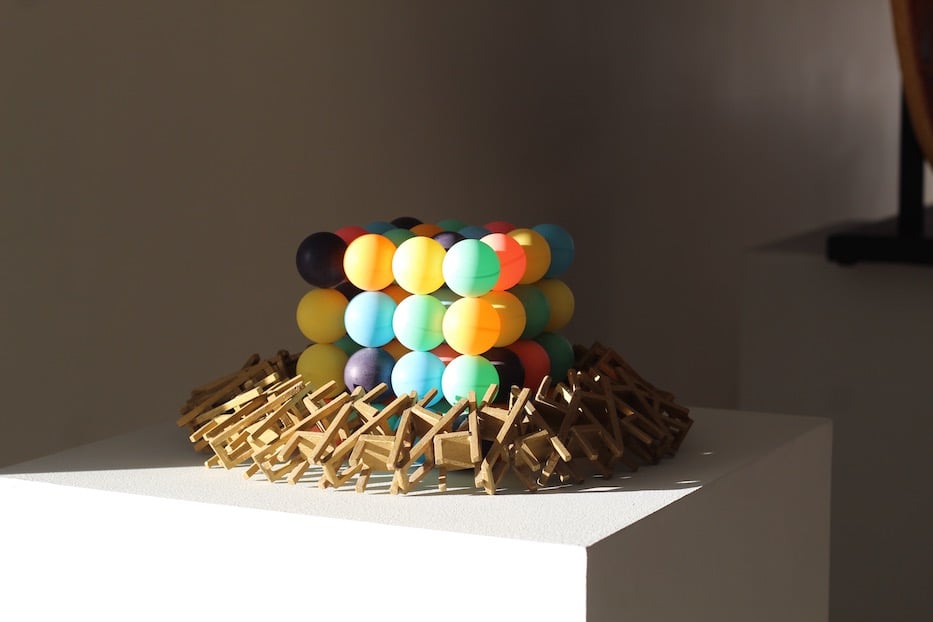 A wreath of chairs surrounds a cube of geometric balls.
But life in Jordan was difficult, Ali said. When he arrived, Ali received a permit that would allow him to stay in the country for six months, but then he had to pay a foreign residency tax that seemed high, he said. Five years into his time in the country, the tax went up again. He found himself traveling between Jordan and neighboring Syria to keep his residency.
It was exhausting, he said as Taplin listened, interjecting with a question every so often. In August 2007, Ali applied for refugee status. He received it two years later, in 2009. After hours traveling to the U.S. in international airports, he arrived in New Haven to a group from Integrated Refugee and Immigrant Services (IRIS) that was waiting for him. They helped him move into his newest home, an apartment in New Haven's East Rock neighborhood.
A week later, he was in Taplin's West Haven studio, asking for a job. Taplin didn't have money for an assistant, he said—but he was impressed by Ali, who spoke to him through an Arabic translator. After running into Ali a second time, he offered him an apprenticeship.
"So Ridha came over and I put him to work finishing sculpture," Taplin said. "I had plaster and resin and, you know, everything. And so Ridha went to work and of course, he was excellent immediately. He did it much better than anyone I could have found in New Haven. And so we became friends."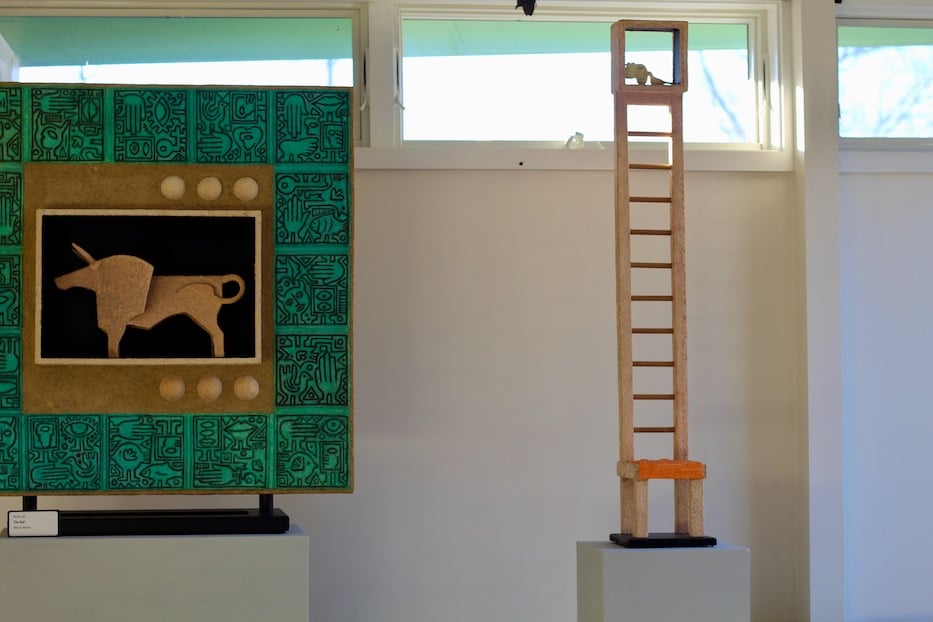 Ali began to work in Taplin's studio, using whatever leftover or extra materials—foam, papier-mâché, resin, paint, and later recycled medical masks—he could find. As an artist, he continued to grow his footprint, appearing in a group show of refugee artists' work at the New Haven Museum in 2016. Outside of the studio, he worked multiple jobs to make ends meet, from valet parking and Uber to store security.
My Journey Chair tells that story—which is still very much unfolding—in abstracted and even hieroglyph-like form, showcasing both Ali's mastery of craft and his ability to weave material and color into narrative. From afar, almost all of the works appear as large squares, rectangles and round medallions, with recessed and raised centers that play with positive and negative space. In each of them, Ali's love for clean, geometric shape and space is clear—but there's also a great lyricism to his style, which comes across in color and freehanded forms.
Together and apart, the pieces take a viewer through a very personal history of Iraq in the 1980s and 1990s, and a longing for a home that is not the same place Ali left some two decades ago.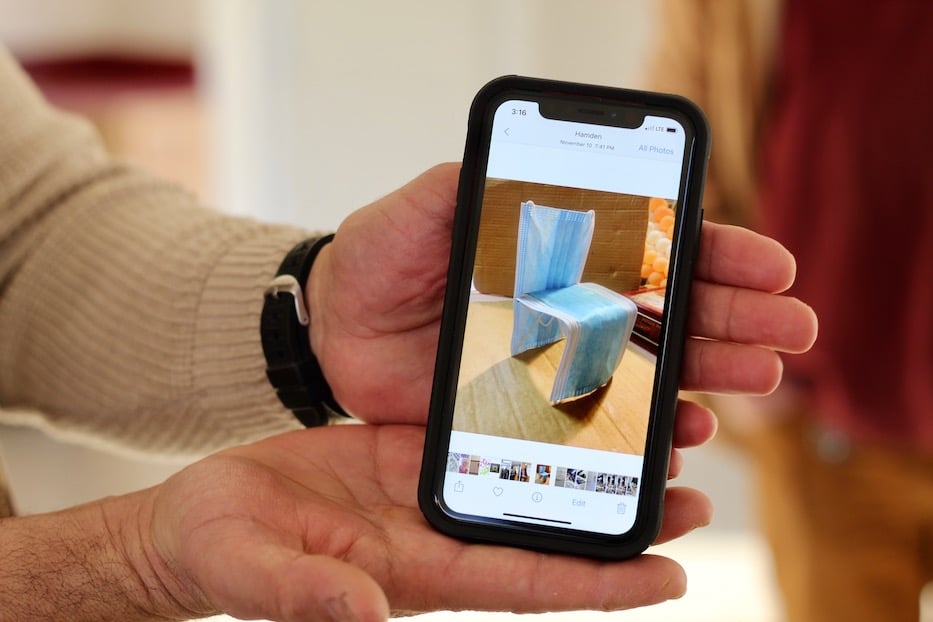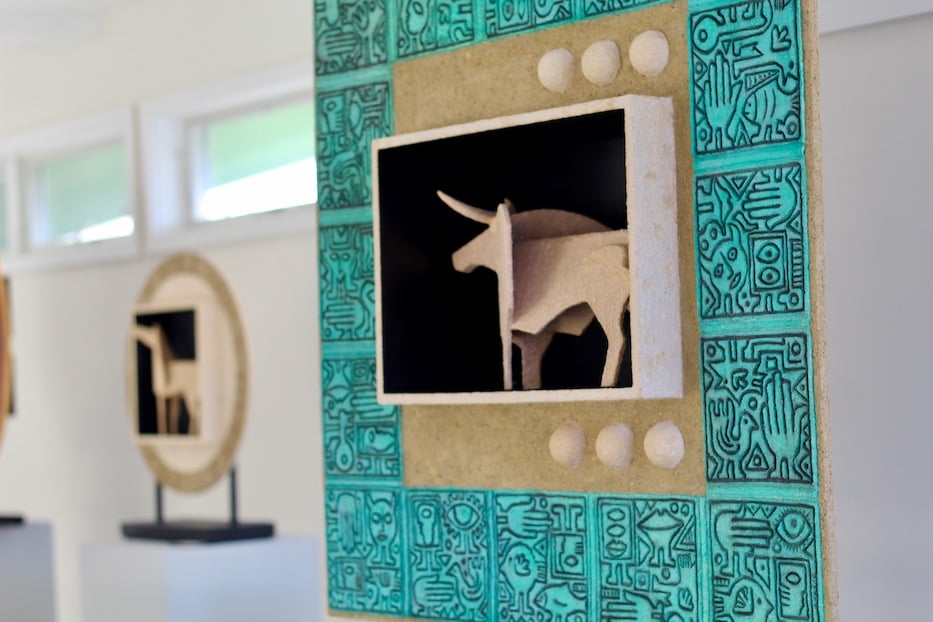 In a piece beside the community room's door, a large, three-dimensional papier-mâché circle catches a viewer's attention, covered with a tidy grid of squares. Each contains a different shape, from twin profiles and Keith Haring-like faces to chickens, cats, and hands and feet that have legs, like they might get up and walk away. There's a childlike innocence about these forms, as though they could crop up in someone's primary school drawing.
And yet, there is profound depth there too. Ali said the piece is inspired by a moment early in his childhood, when the violence of the Iraq-Iran war arrived in his hometown. When bombing began, his family knew that they would have to go on foot to a shelter, because their home did not have a basement. As they ran, a bomb exploded in the nearby river. Ali remembered looking down, and seeing body parts on the ground.
He kept running, aware even as a child that it was a matter of survival. That moment is still etched in his mind, he said. He can't unsee it.
The contrast is staggering: Ali has rendered in painstaking, detailed and delicate form a deep trauma that remains with him decades later. There's a child-like touch to the figures, whose faces, angular cheeks, and limbs are carved into the surface and then painted in shades of gold, yellow, and tan. When the sunlight falls across it, as it did in bright shafts last week, parts of it light up as if they are ablaze.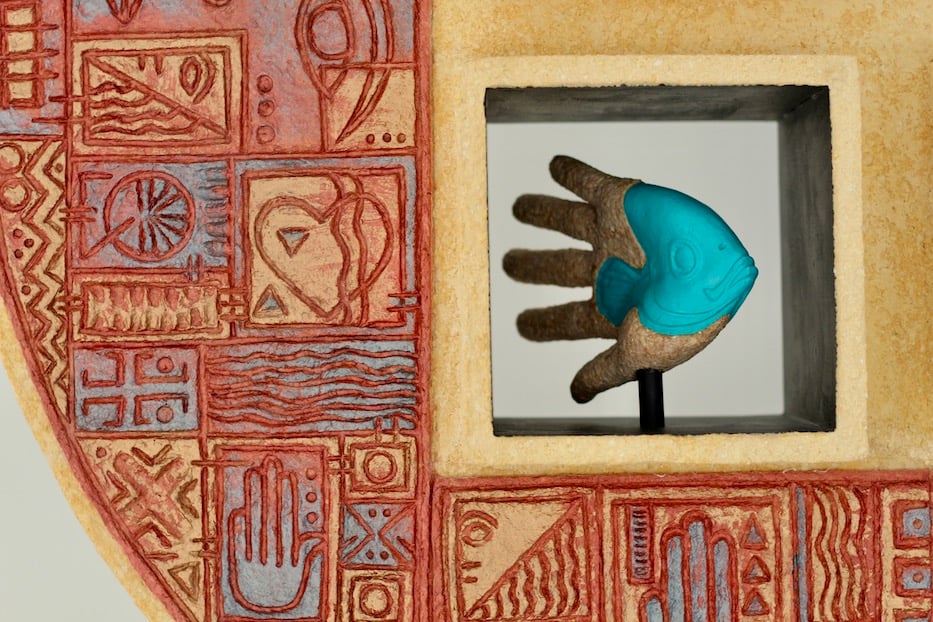 Detail, "Hands and Fish."
Ali repeats the motif in several of his other works, the shapes running along the sides and sloping rims of objects, or placed in a neatly carved grid across a surface. In his piece "Fall of Baghdad," inspired by watching the city fall to U.S. forces from afar in 2003, they cover nearly every inch of the work, rendered in three colors. In a diamond close to the base, four turquoise domes look out at the viewer, each a perfect, raised circle.
While the theme of Ali's childhood is everywhere—and how could it not be?—his works also tell a story of resilience, with occasionally wry humor and whimsy. In the center of one large square, painted just a shade greener than the Al-Shaheed Monument, a sculpted bull stands in profile. Around it, Ali has fashioned a three-sided black box open at the front, such that the bull doesn't throw a shadow.
The layers of black, he said, represent years of deep depression, in which the future seemed very dark. As it steps into the light, the animal becomes a self-portrait. He said that he was partly inspired by matador fights, the grace, strength and boldness of which fascinate him.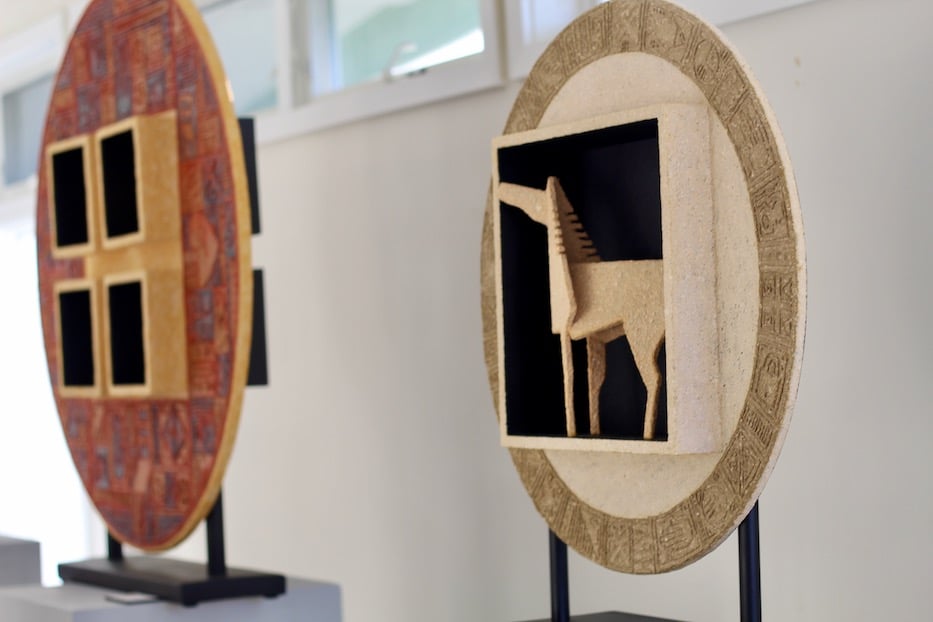 So too in his portrait of a horse, which is not just a horse at all. In the center of a tan- and gold medallion, a regal-looking steed points his head toward the ceiling, as if he can see right through it to the Connecticut sky above. Around him, the medallion is a creamy off-white, almost tan, with a brass-colored finish that encircles the rim.
If a viewer gets close, they can see shapes etched carefully onto the outside: off-kilter stars, criss-crossing lines, half triangles that slice through time and space. In the middle of it all, the horse stands proud. Ali said that it is both another self-portrait and a nod to the Middle East, widely recognized as the cradle of civilization.
His chairs, for which he may be most immediately known, also dot the room—including 375 tiny blue ones fashioned out of wire and medical masks. Like the animals, he said he sees them as a form of self-portraiture, with little reminders of his love for scrap and thrift woven in everywhere a viewer looks.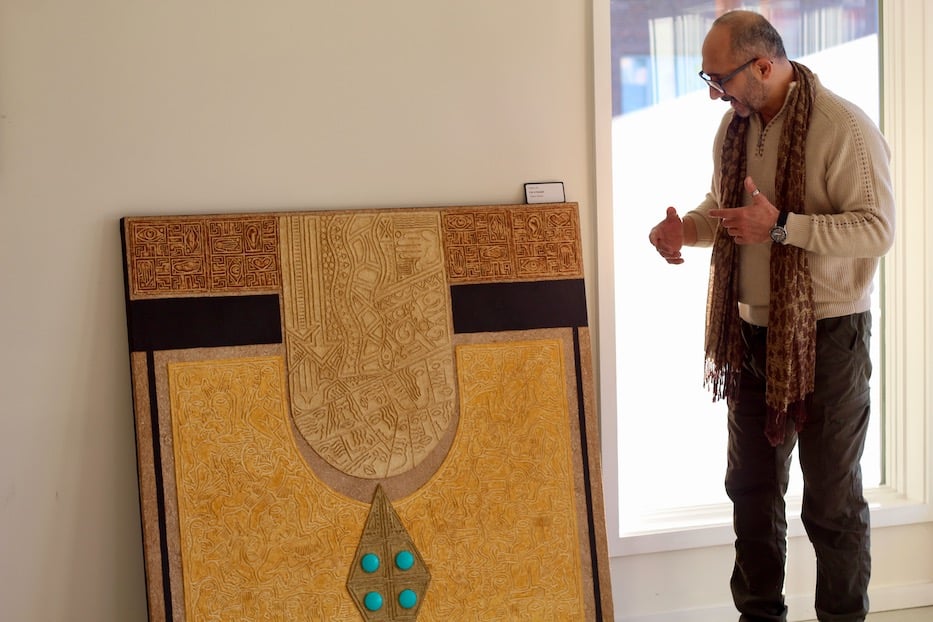 Ali with "The Fall of Baghdad."
In one that reaches a window, two small pieces of resin look out from the top, as if they are keeping watch. In part, it's an homage to Taplin, whose studio has become a second home.
After the show ends this week, Ali said he plans to continue creating—he still sees art as a life-giving and protective force. It is also the device through which he relates to those around him.
He is also grateful to be growing his artistic footprint. When he arrived in Connecticut 13 years ago, Ali spoke no English and knew no one. He relied on volunteers from IRIS to drive him around, a kindness he now returns as often as he can, now that he owns his own car. He feels lucky to have found Taplin, who he now considers both a colleague and friend.
Last year, he went back to Iraq to see his mother for the first time in two decades, a journey that only felt safe after he had secured U.S. citizenship. It was strange to be back, he said. Even as he spent time catching up with his family, he couldn't shake a sense that he was no longer Iraqi, that he was now a man who lived between worlds. When his plane touched down in New York City after weeks away, "everything changed," he said.
"I arrived home," he said. "I felt like I was home."
The exhibition is open to the public by appointment only. To learn more about Ali's art or to schedule a viewing, call 203.606.3264 or email artman959@yahoo.com.