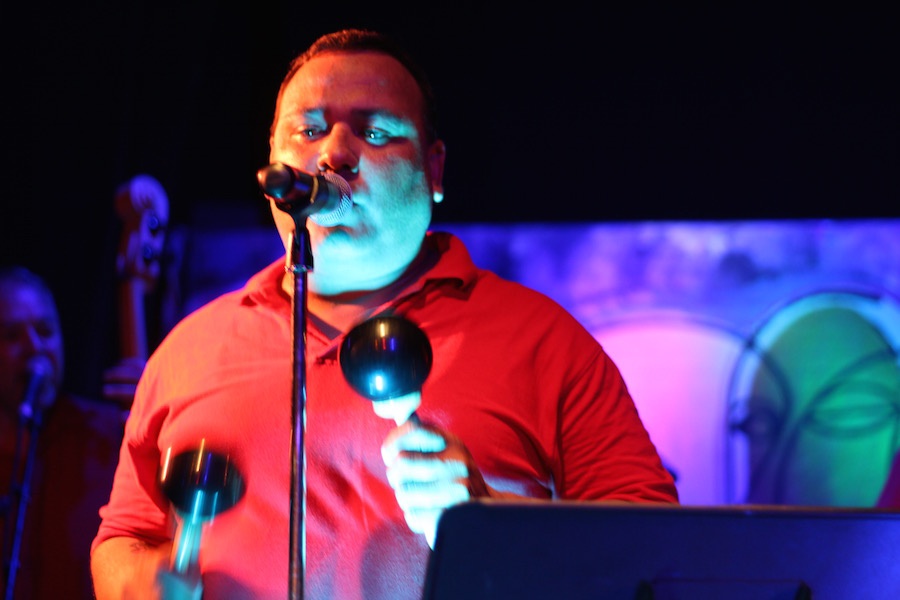 Culture & Community | Arts & Culture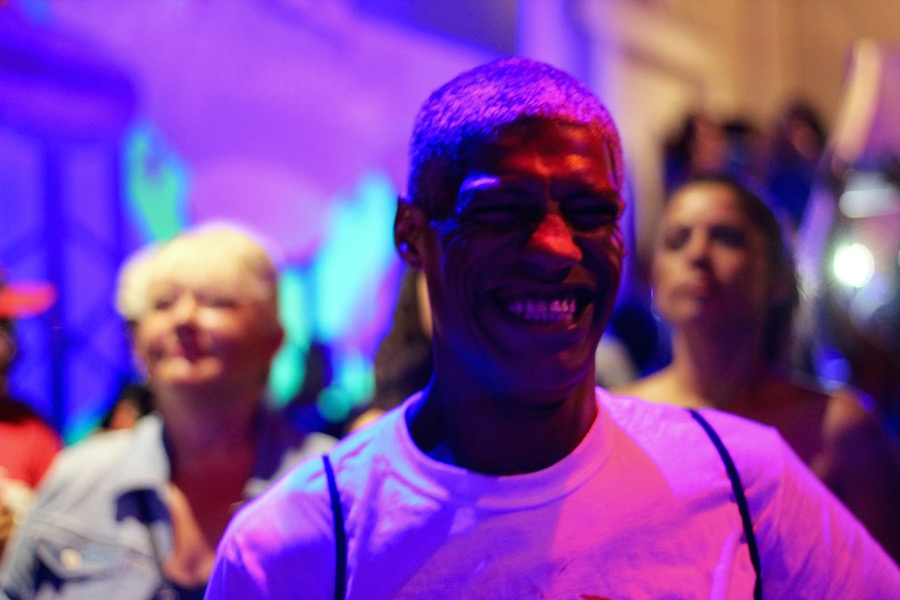 William de Jesús had made it to the front of Bregamos Community Theater well before Orquesta Afinke took the stage. Now as the first strains of "Micaela" drifted over a packed house, he began to move at the hips, swinging into motion with the words Ay, ay, ay, micaela se boto. He extended a hand to his nearest new friend, and pulled her in close with a spin.
De Jesús was one of a few hundred attendees at the third annual Festival Puertorriqueño de New Haven, held Saturday evening at Bregamos Community Theater in Fair Haven. Hosted by Puerto Ricans United, Inc. (PRU), the festival had originally been planned for the New Haven Green, but was moved inside due to severe weather predictions. Between 150 and 300 attended the event, which extended to a handful of food trucks and paraphernalia tents in the parking lot.
Organizers from PRU said that the last-minute decision, which forced them to cap capacity at around 150 attendees at any given time, came as a a disappointment. Close to 12,000 attended last year, for festivities that started in the early afternoon and went well past sundown. This year, they had hoped to attract even more people under the theme "Unidos En Una Sola Voz" (United In One Voice), drawing attention to both the vitality of Connecticut's Puerto Rican community and need to support it as the island struggles to recover from Hurricane Maria.
"It's a little bit overwhelming," said PRU co-founder Jonathan Rivera at the event. "We wanted everyone to enjoy it, but unfortunately we can't fight with mother nature. That's why we had to make the decision."
He said that the decision came from not just other members of PRU, but also the City of New Haven, which has been a partner for all three years of the event. In the intervening hours, they worked to migrate all of the festival's art over to Bregamos, including a banner that artists David Sepulveda and Amie Ziner have been working on for weeks.
"It's still fun," he added. "It's still a cultural event … we wanted to show our solidarity with our brothers and sisters on the island. We want to be able to give those people who have moved from the island to Connecticut in the past several months a chance to enjoy some of the culture that they left on the island."
As he spoke, a drizzle continued to fall outside, big puddles forming across the parking lot. Inside Bregamos, the party raged on, a three-group lineup with salsa, bomba and merengue from Oscar Serrano going late into the night. Pressed shoulder to shoulder and up close to the stage, a thicket of warm bodies rocked at the hips and shoulders to Orquesta Afinke, a salsa group from Bridgeport.
As vocalists Ramon Flores and Guillermo Rivera leaned into their microphones, de Jesús swung from partner to partner, grinning in the theater's arc of purple light. Around him, others clapped to the beat, raising their voices to the band's suggestion of Hoooh/aaah/hoooh/aah.
Bailando mi bugalu micaela se paso
Ay, ay, ay, micaela se boto
Que se boto se boto micaela se paso
Ay, ay, ay, micaela se boto
A little further back from the stage, Lillian Fontán and Gaby Negron swayed to the beat, nodding their heads as they mouthed the song's call-and-response (El bugalu arrebata/Como no/Toda la gente la llama/Si señor).
"We're here to support the Puerto Rican community in our city, as well as our country and the island," said Fontán, shouting as the band exploded into trombone, timbale and keyboard. "We got to make sure our people are getting the opportunities that they need."
Fontán wasn't the only one to say so. Speaking to the crowd after festivities began at 6 p.m., U.S. Sen. Richard Blumenthal vowed "Justicia para Puerto Rico!," telling the crowd that he would fight for a Marshall-Plan-esque recovery program for the island and evacuees. Waving a fist in the air while he gripped his microphone with the other hand, he mourned the 1,400-and-counting lost to the hurricane, asking for a moment of silence before looked out into the crowd.
"We need to continue this fight because Puerto Rico is being treated like it's not part of America," he said to murmurs of "yes yes" and mmmmms of assent from the crowd. "And we have failed Puerto Ricans."
Just days out from the Aug. 14 statewide primary, several politicians running for statewide office also showed up at the event to pledge their support for Puerto Rico—and make a last-ditch appeal for votes. Among appearances from gubernatorial hopefuls Ned Lamont and Joe Ganim, attorney general candidate Chris Mattei and lieutenant governor candidate Eva Bermudez Zimmerman, only Zimmerman addressed the crowd in Spanish.
"When we're talking about the cost of living and housing, the cost of gas, the cost of milk, too many people start complaining," she said in translation after getting cheers from the crowd. "Complaining—we get it, I'm with you. The struggle is real. But complaining doesn't give you chance. Voting gives you change." (Watch the full remarks, covered by the New Haven Independent, here).
As candidates chatted with members of the crowd, attendees mixed and mingled and grooved, a few grabbing empanadas, rice and beans, piping hot tostones and sweet, icy drinks from the food trucks outside. Near the back of the theater, attendees danced with each other, straining to hear their own conversations over music that drenched the room.
Near a table of small, handmade figures by a Hurricane Maria evacuee, bomba dancers Cristina Lugo and her 7-year-old daughter Cybele waited to go on stage, expanding their bright skirts for anyone who wanted a photo. Behind them, miniature dolls covered a table with different designs, some playing instruments while others carried baskets or read the newspaper.
Just feet away, Ricardo Zeas took Yahaira Ménez by the hand and began to salsa. Zeas, who is Venezuelan, said that he'd come out because "you gotta celebrate the culture and just enjoy."
There with her mom and a group of friends, spoken word artist and Gateway Community College student Yaryanne Mercado-Rodriguez said the event made her feel at home—and proud to be Puerto Rican. As she spoke, Mercado-Rodriguez tightened a Puerto Rican flag around her shoulders, turned from poet into a version of Edgardo Miranda-Rodriguez' La Borinqueña.
"I've been seven years away from the island," she said. "I miss it every day."
She held out her left forearm, tattoed with a neat black outline of Puerto Rico and the words "Preciosa te llevo dentro" in cursive script.
"Every little food, every song I hear, it brings you back," she said of the festival. "It's like—you will always carry that part of home with you."