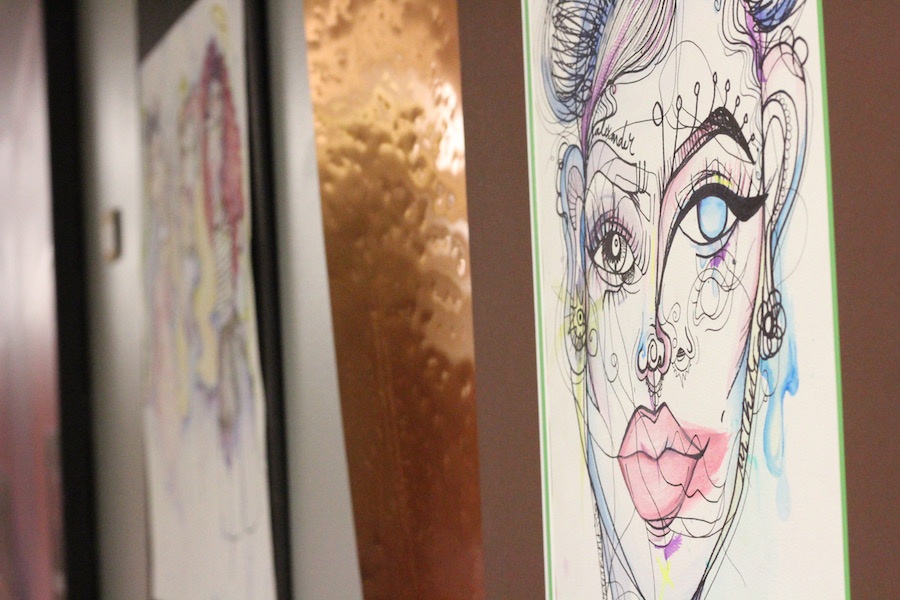 LGBTQ | Arts & Culture | New Haven | Visual Arts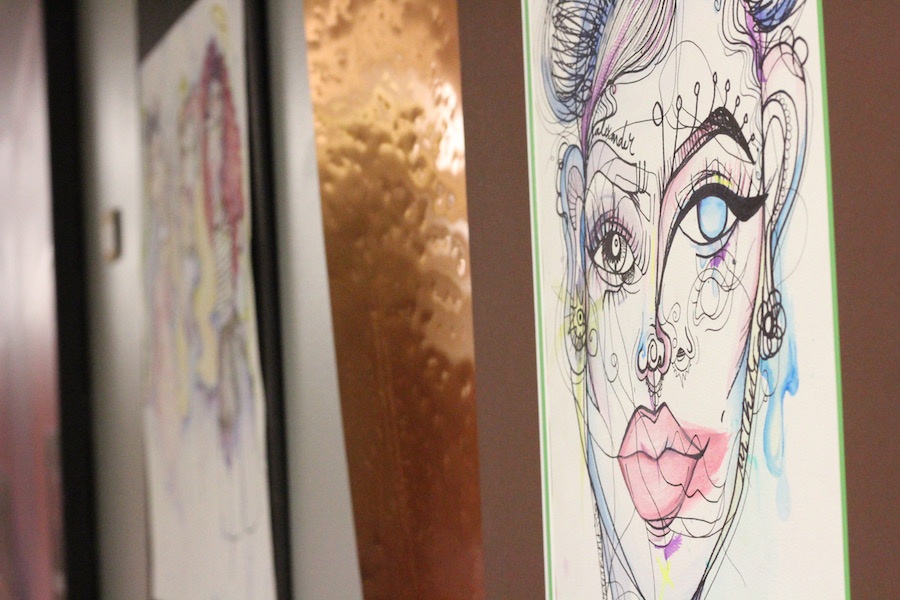 The self-portrait that started it all, titled What? Lucy Gellman Photo.
It's clear that this other-worldly creature isn't going to meet your eyes on the first try. Her pupils don't match, one a glowing blue marble while the other looks out, ornate at the edges. Her full, red lips are pursed but kind; her nose spins out in three directions. Over a cocked right eyebrow, a sort of scrolling tattoo reveals the name "Alexander."
So is she a she after all? Does it matter?
The image opens Rupture, a gender-fluid odyssey and extraordinary debut from artist Alex Mickens at the New Haven Pride Center through Oct. 31. Installed just in time for the city's PRIDE month celebrations this week, it asks viewers to imagine a world without gender—and then takes them there. It marks the first solo show for Mickens, a freshman at Southern Connecticut State University (SCSU) who just turned 19.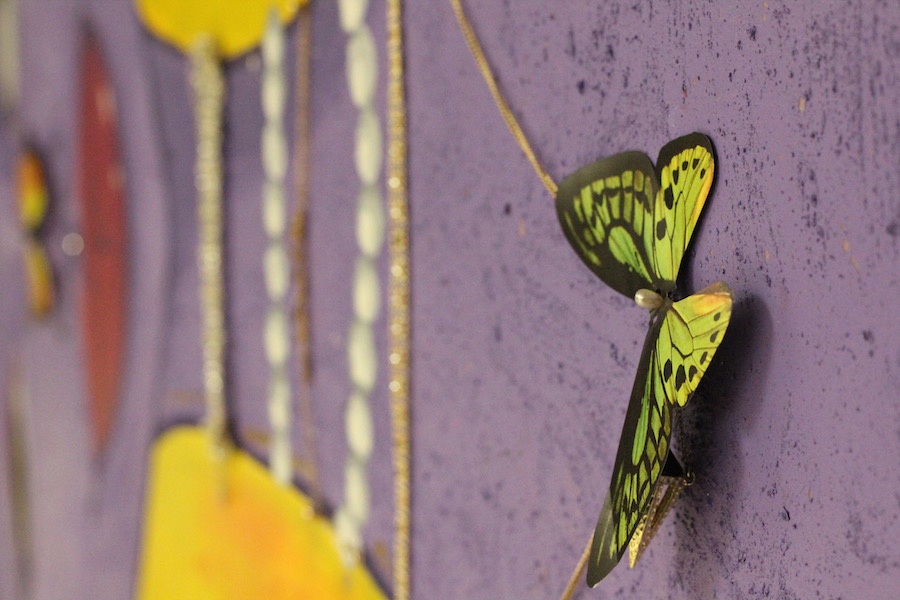 The idea for Rupture hit Mickens last year, as they were working through their senior year of high school and applying to college. As they launched into a self-portrait—one that now anchors the show—they began to imagine a whole group of extraterrestrial "purple beings," for whom gender did not exist and androgyny was the norm. Around the same time, the Pride Center had issued a call for queer artists to exhibit in its new gallery. Mickens jumped at the opportunity.
The beings, strange and wondrous, began to take shape in Mickens' mind. They had angular faces with big red or purple lips, long, narrow necks, pearlescent eyes, and a "playful look to them." Sometimes they had long hair with wavy, crimped edges; sometimes they wore it up in pigtails; sometimes they didn't have hair at all. For Mickens, who started using the pronouns "they/them/theirs" and "she/her/hers" in high school, they were proof that there was a better way to handle gender. Somewhere, at least.
"They're non-binary beings," they said at the show's opening Monday night. "I realized I could tell a story and bring someone else into the picture to change something."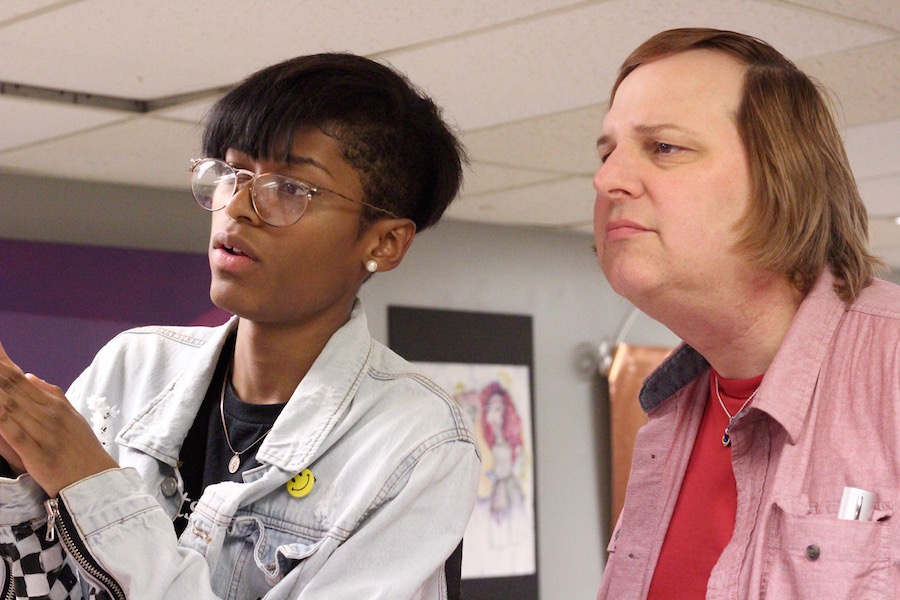 The artist (left) with New Haven Pride Center board member Lindsey Pembrooke.
Once Mickens birthed the purple beings—canvases sometimes took as little as two days to finish—they took on a life entirely of their own. They have a narrative that unfolds around the gallery: they've traveled to earth in peace, but are greeted with bias and mistrust when they arrive. Humans, locked in their binary worlds, don't know what to make of them. And a sort of violence ensues, brought on by fear of what's different.
"But the humans didn't need to disturb them!" Mickens said. "They [the beings] didn't know that looking different can cause so much trouble for them."
In this tale, there are whispers of Octavia Butler and Ursula Le Guin, Lady Gaga and Donna Haraway, Dr. Who and Guardians of the Galaxy. But more powerfully there's a narrative of Mickens' own creation, in which they are both artist and emotive griot. At the opening, they said they have been particularly influenced by their grandmother, Hamden sculptor Linda Mickens, and several supportive family members who occasionally double as collaborators.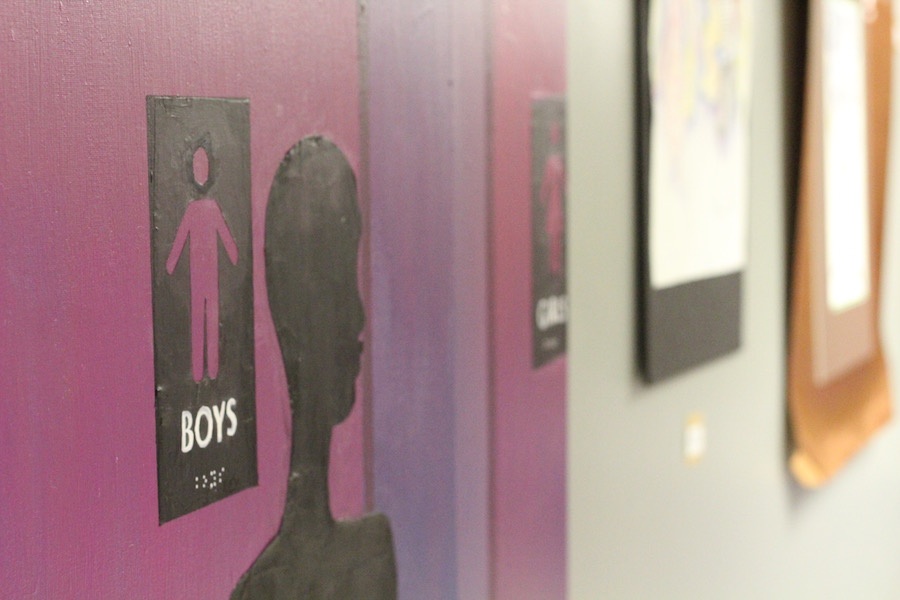 In one canvas, butterflies wink out from a purple being's nose and neck as a sort of metaphor for coming out. On another, soaked in shades of purple and pink, a being stands outside the boys' and girls' bathrooms, not sure which to use. Another, titled Arrival, shows that they really do come in peace: two beings have landed in a grassy field, the night sky stretched around them. One lounges on the grass in spiky, heeled white moon boots and a clingy space suit. The other checks out their surroundings. A path in the grass suggests they can go either way when they're ready to head elsewhere.
What throws this world off-kilter, Mickens said, is a fear-based othering that ultimately takes place. In Do Not Disturb (2017), a large purple being sits upright with their legs spread open, bent and pulled in at the knees. They are dressed in human clothes: ripped blue jeans, pink leg warmers, a creamy crop top and thick yellow headband. Their eyes are soft and round, fixed forward on the viewer. From their perch—the edge of the globe itself, against a green horizon—they watch humans run around in the foreground. They are pint sized and panicked. A purple hand dangles one in the air, one finger on each side of their head.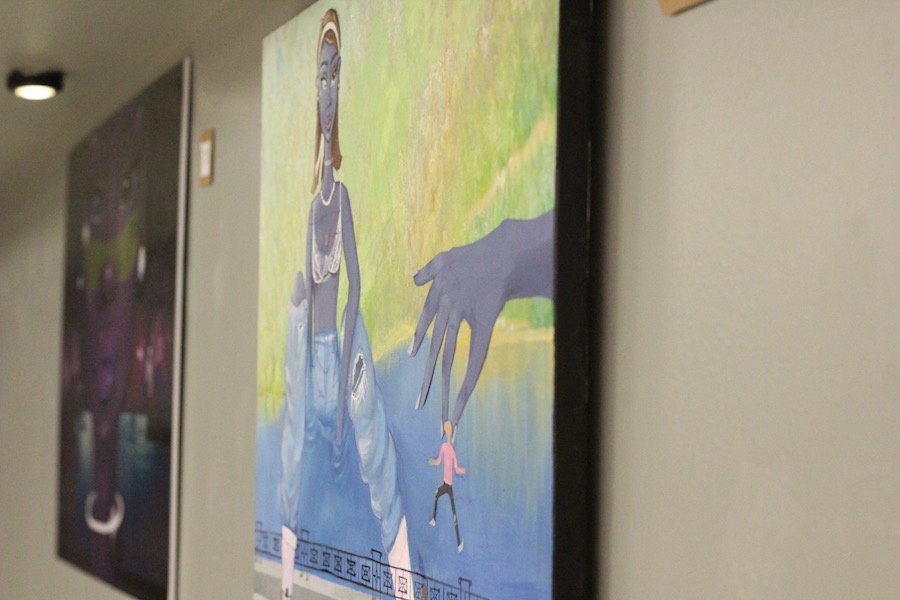 It's the split between what is—these fearful, closed-off humans—and what could be. What if gender weren't, in fact, an issue in society? What if we are kinder to each other? What if we just came as we were?
Two papier-mâché sculptures, installed in the back and center of the gallery, drive those questions home. In the first, titled He/She Ballet Dancer, a dancer looks forward, mouth open in wonder, green scepter in his outstretched right arm. He wears a pink tutu, one leg back while the other balances on the floor. Beneath his "skin," layers of paper painted in oranges, siennas, yellow and greens, webs of words read "I AM GAY/I AM STRAIGHT/I AM/I AM HUMAN."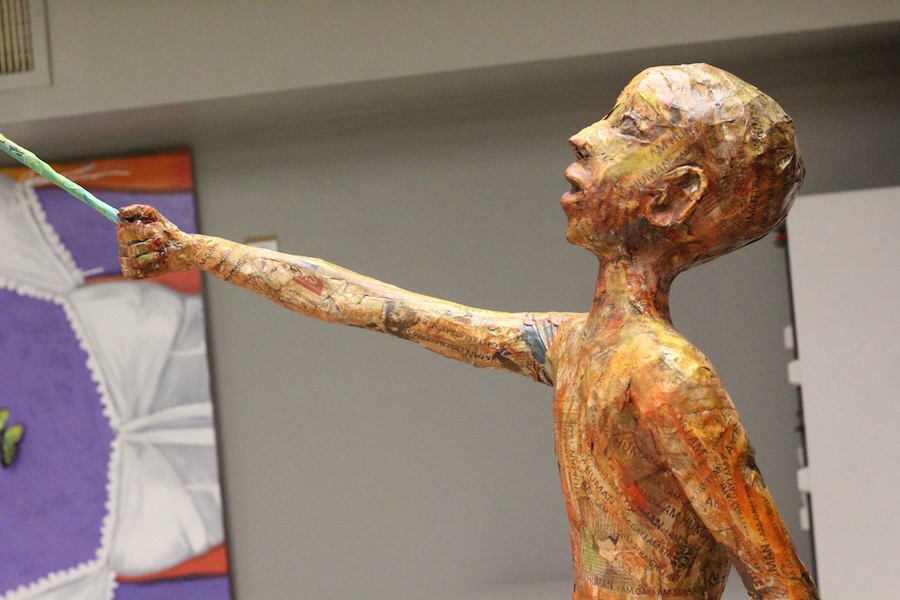 From afar, he's reminiscent of another dancer from long ago: Edgar Degas' bronze Little Dancer of 14 Years, who was first displayed with pastels of criminal physiognomies in the late 19th century. But Mickens said the reference isn't one they used for the piece, the first in their oeuvre. Like the purple beings, the dancer was inspired by interactions they'd had with peers and members of the community who didn't think young boys should be dancing.
"He's just a 6-year-old having his dream," Mickens said, adding that they used their young cousin as a scale model. "The world is really tearing him down, and he's just in his moment."
"I kind of see myself in that," they later added, after a site-specific dance from New Haven artist Johnny Johnson (watch that here).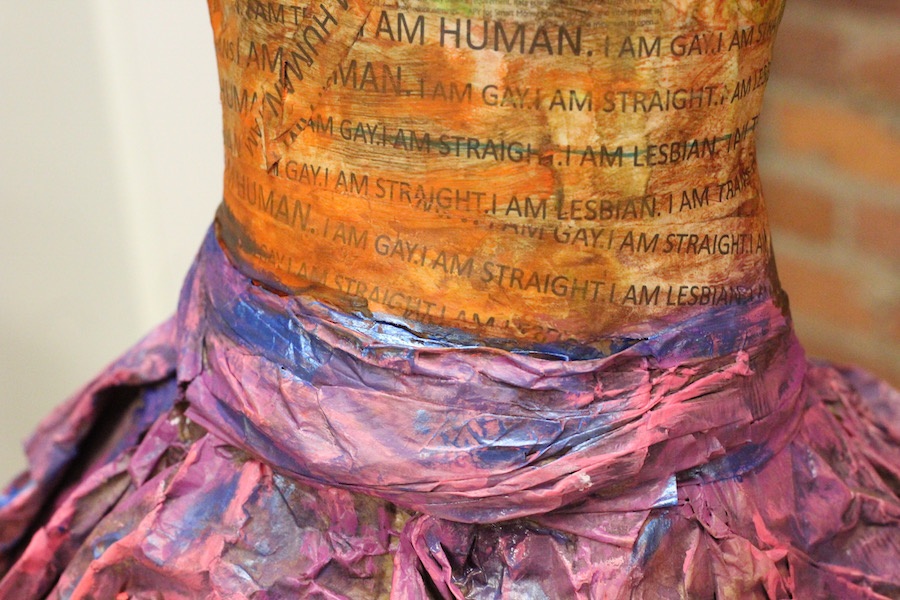 In the second, Mickens has constructed a mixed-media memorial to trans women, papier-mâché faces, arms and hands piled at the base. Around them, the purple beings live their lives on foam and canvas: they head into the world, they discover its inadequacies, they look on with kindness and suggest that there's a better way.
But the women, their bodies posed like relics at this mourning site, have been stopped from living out these fluid possibilities. They are gone from this world much too soon. They draw the viewer in for a closer look, demand to be seen, ask for their names and words not to be forgotten.
Behind them, Mickens has printed and installed hundreds of articles on trans women murdered across the globe, messages scrolled on them in marker.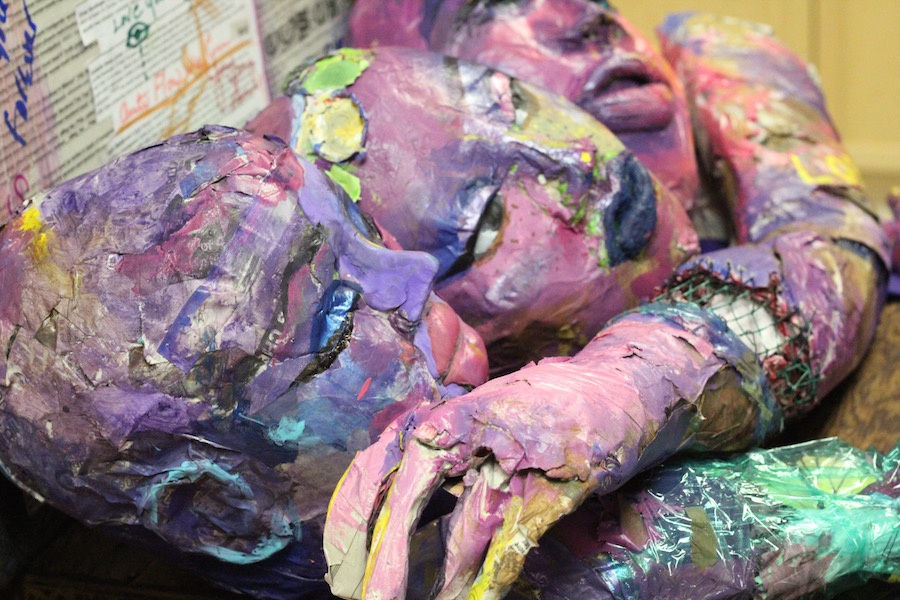 "Too pure for this world. Love you, mom." "Always in my heart, love Anna."
"SAVE," the piece reads desperately in the corner. A pin fixed below it glints in red and white.
"Stop Killing Us," it reads.
The New Haven Pride Center is open Tuesday through Thursday from 3-6 p.m. In addition to its gallery, the center offers several activities and weekly support and affinity groups. To find out more or see a schedule of events, visit the organization's website or 84 Orange St. location.