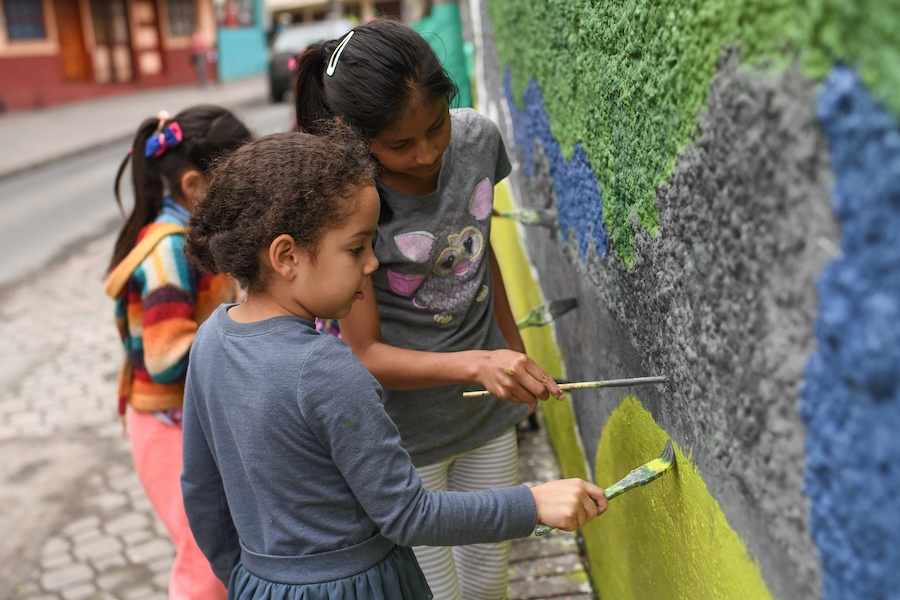 The following citizen contribution was submitted by videographer Travis Carbonella and Kwadwo Adae, an artist, muralist and educator who runs Adae Fine Art Academy on Chapel Street.
The Volcán Tungurahua Mural Project occurred this past August at Fundación Arte Del Mundo in Baños De Agua Santa, Ecuador. This was the third 14-day international collaborative public art expedition that I have orchestrated. The first was the Himalaya Mural Project at the Ashram Paryavaran Vidyalaya or APV School in Northern India back in 2015, and the second was the Lake Atitlán Mural Project at Escuela Chu'ul in Santiago Atitlán Guatemala in 2016. The premise behind these expeditions is simple: To put paintbrushes and colors in the hands of children around the world.
Orchestrating a collaborative mural project was only one part of this multi-faceted expedition. In order to amplify the impact of our time in Ecuador we offered yoga, music, dance, and Reiki to the children of Fundación Arte Del Mundo. New Haven has such a treasure trove of highly skilled, talented, and compassionate people that I did not have to look far to assemble our team of artists and healers:
Khushi Malhotra of Breathing Room Yoga Center has been the yoga instructor for all three international mural projects. Katie Jones of Neighborhood Housing Services is an adept poet, songwriter, and social justice advocate; she has provided her expertise in Guatemala and Ecuador. Caprice Taylor Mendez, strategic program manager at the Community Foundation of Greater New Haven and host of Podemos Juntos on La Voz Hispana radio, led the children in movement and dance.
Thema Graves is a Reiki Master and healing practitioner and provided Reiki for the children. It is imperative that we have documentation of these incredible experiences so I enlisted the skilled services of photographer Anthony DeCarlo and the engaging videography of filmmaker Travis Carbonella who shot a documentary of the experience. Our crew was astonishingly cohesive, we all got along really well together. I think the fact that most of us were either proficient or fluent in Spanish made things really easy there. Caprice Taylor Mendez is a native Spanish speaker originally from Guatemala and her expertise was extremely helpful during our time in Ecuador.
Fundación Arte Del Mundo is a children's literacy center with an interactive library and black box theater that services approximately 30 children in Baños De Agua Santa. They have living accommodations for volunteers and in the past 10 years they have housed over 500 volunteers from all over the world. We nourished ourselves at the local Mercado for breakfast with eggs, beets, salad, and llapingachos, ate Venezuelan style arepas at Alto Caribe, enjoyed sweet and savory crepes at Arte Cafe y Té.
The Volcán Tungurahua Mural Project has affected me in profound ways. Ecuador is such a beautiful place. Orchestrating these collaborative mural projects directly addresses this universal desire for connection, and the process of creating art with people is a magnificently beautiful experience to share. No matter what country we travel to, I am deeply passionate about immersing myself as fully as possible in the communities where we are fortunate enough to have these projects take place.
Otherwise, I would be unable to authentically reflect the culture through visual language. This cannot be done without completely embracing where you are and allowing the land and the people of these communities to completely embrace you. I am severely grateful for the opportunity to lead these international art expeditions made possible through the generosity, compassion, kindness, and love emanating from the people in the City of New Haven and beyond.