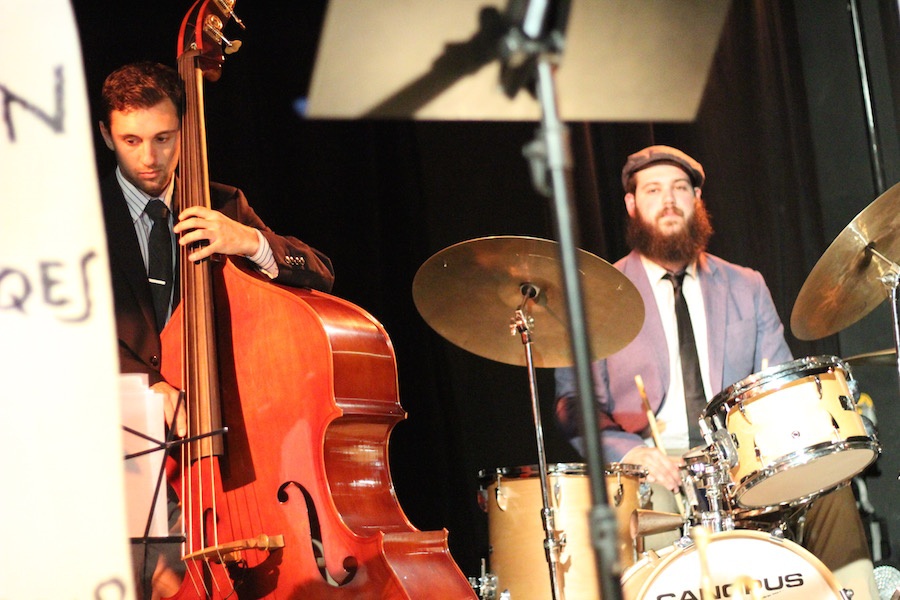 Arts & Culture | Music | Jazz Week | Westville
Dr. Eddie Henderson was flying through "Surrey With The Fringe On Top." No sooner had Andrew Kosiba laid the foundation than he was answering with the short, ringing staccato of his trumpet, then longer, full-lunged notes that coasted over the audience. An upright bass, half cloaked in shadow, hummed to life. The most polite of percussion rose to meet it. Somewhere, Miles Davis and Rogers and Hammerstein were clinking cocktail glasses and tapping their toes.
Friday, Henderson kicked off the city's revived jazz week at
Lyric Hall Antiques
in Westville, as
Phil E. Brown and the Top Notch Ensemble
brought the rhythm downtown at
Amoy's Cajun & Creole
on Orange Street. Accompanied by Andrew Kosiba on piano, Leonardo Catricala on bass, and Eric Hallenbeck on drums, Henderson cycled though works by Miles Davis, Herbie Hancock, Thelonious Monk, Duke Pearson and others, mesmerizing a packed house for over two hours.
A full schedule of events for the week, which is organized by Jazz Haven and continues through Aug. 25, is available here.
"He is the most important person in my life, after my family," said organizer Nick Di Maria, a musician who trained under Henderson and has since gone on to teach at New Haven's Truman School and sit on the board of Jazz Haven. "I'm so proud that he's here in New Haven."
As he took the stage, Henderson wove a story for the audience that began not in Connecticut but decades ago in San Francisco, where he grew up in the 1950s. The son of a musician father and mother who was an original Cotton Club dancer—she later remarried a doctor in San Francisco who treated "very famous jazz people"—Henderson met jazz musicians through his parents, aware that there was something singular about his childhood experience. As a kid, he got an informal jazz lesson from Louis Armstrong before his tenth birthday. A few years later during Henderson's time at the San Francisco Conservatory of Music, Miles Davis visited his parents—and took Henderson out to a show.
Davis was still playing with his formative quintet, including members John Coltrane and Julian "Cannonball" Adderly on sax. Henderson was spellbound as he listened to their musical sort of conversation unfold. At the time, he said, his sense of music had been shaped by the classical cannon that teachers trotted out at the conservatory. This was something totally different.
"I didn't know you could do that with a horn," he recalled.
Those experiences have stayed with him, he said Friday. As he swung from "Surrey With A Fringe On Top" to Herbie Hancock's "Toys," he delighted the audience, reliving his years with Hancock's Mwandishi Sextet, and a later career that married music, psychiatric practice, and jazz pedagogy. Even as he ducked behind the curtain to empty spit-filled valves, the theater transformed, everything suddenly a little softer in his presence. When he stepped back onto it, even the lights winked in and out as newly modern and cool.
So too with numbers like "Toys," on which he's put his own spin after years of hearing, playing, and thinking about the piece. As Hancock's easygoing ghost tiptoed onto the stage, Catricala set up a sort of stepped entryway, pulling his bass into his chest and shoulder.
He closed his eyes, face dipping in and out of shadow. From his right, a sort of chatter flew from the piano, his bass sending banter back its way. Henderson came in right on time, smoother and more subdued than he'd been just minutes before. To his left, Hallenbeck looked like he was having the most fun of the four, a mischievous grin spreading across his face as he reached from drum to cymbal with a quiet clash.
That propulsion—smooth and surprising at the same time, like a long sip from a sidecar—continued through Thelonius Monk's "Well, You Needn't," which the group sought to make their own as the piece filled the stage, and extended out into the audience. Just a minute in, and Kosiba was jamming, Catricala nudging him along with a measured, methodical march of notes. Henderson hopped in, arcing his back in a backwards C as he tilted his trumpet to the sky. Bah ba ha duh daa it sang.
The ensemble was just getting started. As Henderson stepped away, Catricala emerged as a life force, nimble as his instrument came back to life. A sweaty, grinning Hallenbeck swung into a jubilant solo, eyes bouncing from the drums to Henderson and back to the drums.
Nearing the end of his first act (he played two, with a 20-minute intermission in between), Henderson ushered in Kenny Barron's more contemporary "Phantoms," a sort of whispery piece where the trumpet becomes so quiet its brass origins seems unfathomable. Holding the glinting instrument, Henderson took a moment to reintroduce the band before he spun Barron onto the stage.
"We've never played together before tonight, but it feels like we could have been playing together for our whole lives," he said.
In the wings, he had already conjured something spectral and sacred. Tremulous notes on trumpet and bass drifted toward each other, on a willing and fast collision course. Piano slithered in. Hallenbeck tried muting and unmuting the percussion with his hands. As the last, whispery threads of trumpet rang out, the lights flickered, then faded to black. By the time they came back up, the room was getting to its feet, no ghosts in sight, filling the place with applause.