Culture & Community | Connecticut
"Mubarak was a human being. He was a son. He was a brother. And above all, he didn't deserve to die in the manner in which he did." Lucy Gellman Photos.
Mubarak Soulemane had a smile that could brighten the darkest of rooms. He was a gentle student who excelled, the athlete who brought that light onto the field but also to his teammates. He had his struggles with mental health, but he was also a budding entrepreneur, just starting to think about starting his own business. If he had a dollar on him, he would give half of it away just to help someone out.
And then he was gone, much too soon.
That was the portrait of Soulemane, a 19-year-old Fair Havener who was shot and killed last week by state police, that family, friends, classmates and clergy shared at a rally and march for the teen held Tuesday afternoon. Carrying handmade signs and wearing t-shirts that proclaimed "Justice For Mubarak," hundreds gathered at City Hall and marched through the bitter cold to New Haven Police Headquarters on 1 Union Ave.
The march united activists against police brutality, local government officials, students, faith leaders, and members of the Ghanaian-American community in New Haven and New York, of which Soulemane was a part.
"Our goal here today is to shed light on the fact that our family member needs justice," said Soulemane's cousin Ayesha Adams. "Mubarak was a human being. He was a son. He was a brother. And above all, he didn't deserve to die in the manner in which he did."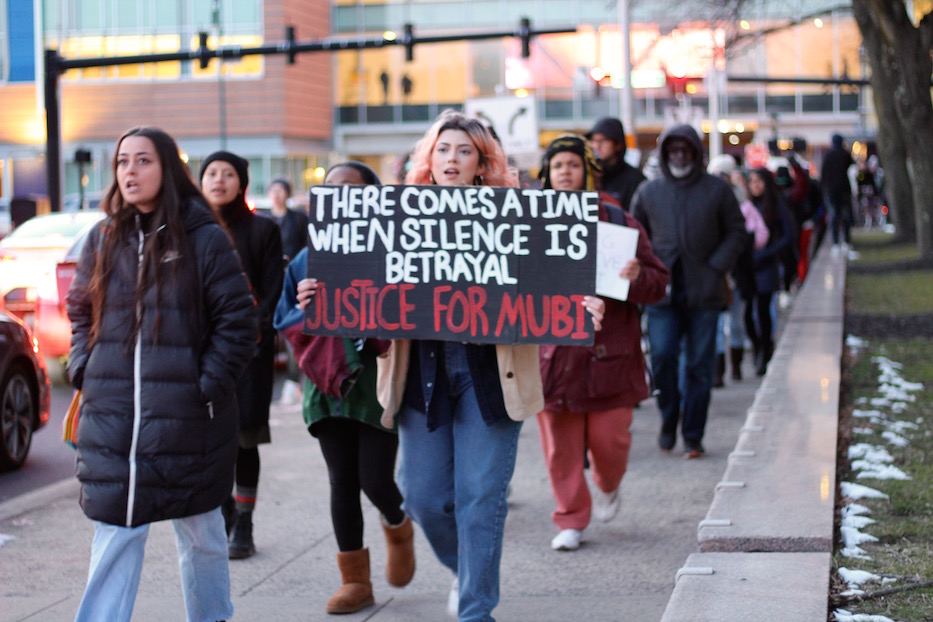 Soulemane was shot and killed by a state trooper last Wednesday, following a high-speed police chase from Norwalk to West Haven. The state trooper fired seven shots through a closed car window at Soulemane. State police allege that he was involved in a carjacking and had a knife, which several attendees noted does not justify the use of lethal force.
As of Tuesday, the shooting was under investigation by the Connecticut Division of Criminal Justice. Tuesday night it was announced that Middlesex State's Attorney Michael A. Gailor will be leading the investigation. A memorial service is planned for Saturday morning at First Calvary Baptist Church on Dixwell Avenue.
"I'm hurting," said Tahir Mohammad, who is Soulemane's uncle. "I lost my nephew in a way that was devastating. We are all trying to get through this."
Mohammad recalled Soulemane as always ready to help, including with his younger cousins. While he knew his nephew struggled with his mental health, he stressed the senselessness of the teen's death, from which the family is reeling.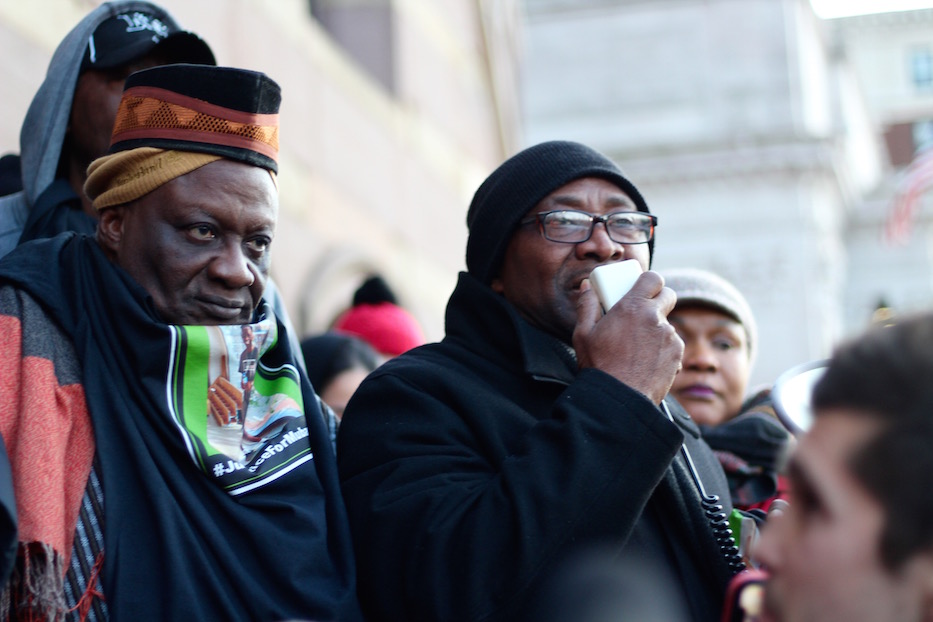 As he waited for the rally to begin, he was joined by members of the Yankasa Association of America, some of whom referred to themselves as Soulemane's great uncles.
"We are here to support the family," said Dr. Abdul Rahman Musah, an elder of the Association. "He is one of our own. We believe that the action exercised by the police officers was extremely reckless, and we want justice. What they did to our brother, we felt it."
"We believe the police exercised extreme force instead of extreme caution," added Alhaji Murtala Mohammad.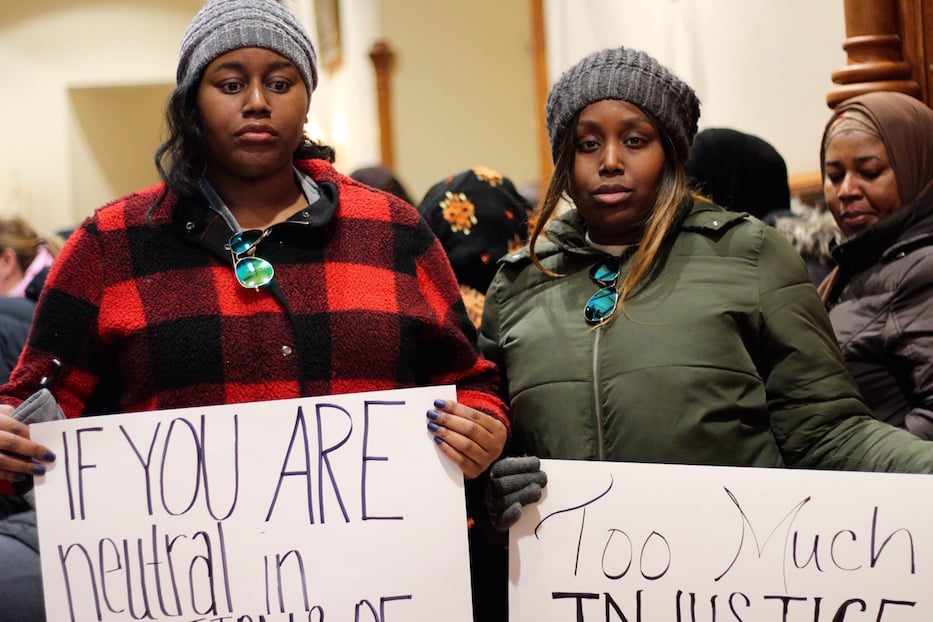 Inside City Hall before the protest, sisters Amirah and Laura Kuta remembered their cousin as a "goofy" teen, always ready to make a family member laugh with a huge, bright smile that was instantly contagious. When he walked into a room, Amirah recalled, it was impossible not to feel happy.
"As a family, we're just devastated," she said. "We wouldn't wish this on anyone else. We're just trying to support Mubarak's family as best we can. He was so kind. He was goofy, and funny even. He was always making people smile. He was an incredible athlete and student—you can see that there are a lot of people that care about him. That's the Mubarak that we know and that's the Mubarak that we love."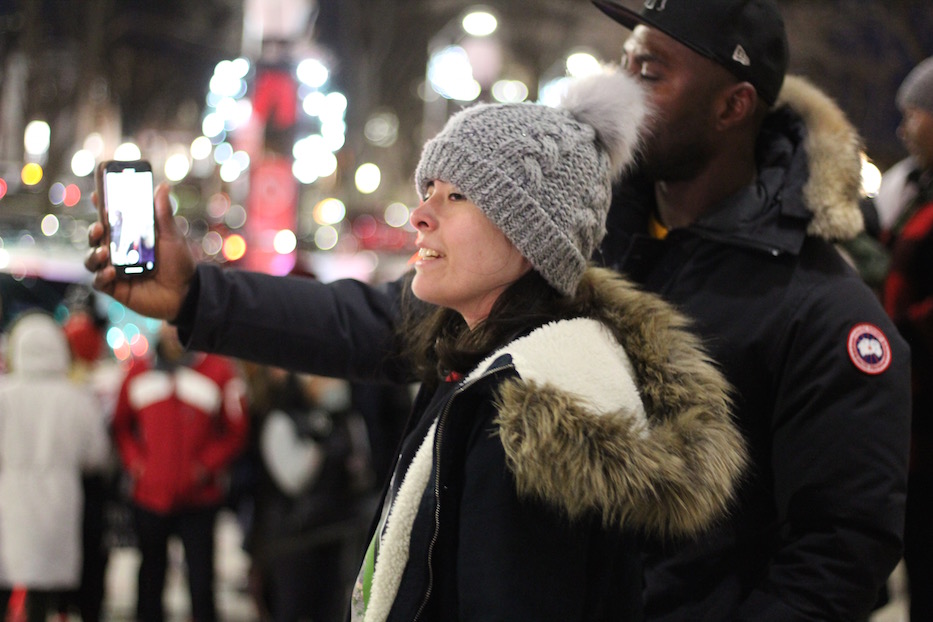 As demonstrators gathered on the steps of City Hall, that grief moved through the crowd, some attendees crying openly as others hoisted handmade placards above their heads. Four rows deep, a hand-drawn portrait of Soulemane rose as speakers called for justice.
Kira Ortoleva, who attended Gateway Community College with Soulemane, remembered him as a friend who always had an extra reserve of kindness. Surrounded by members of Soulemane's family, she recalled being taken in by Soulemane—or "Mubi," as so many friends and loved ones called him—when she was kicked out of the house by her parents.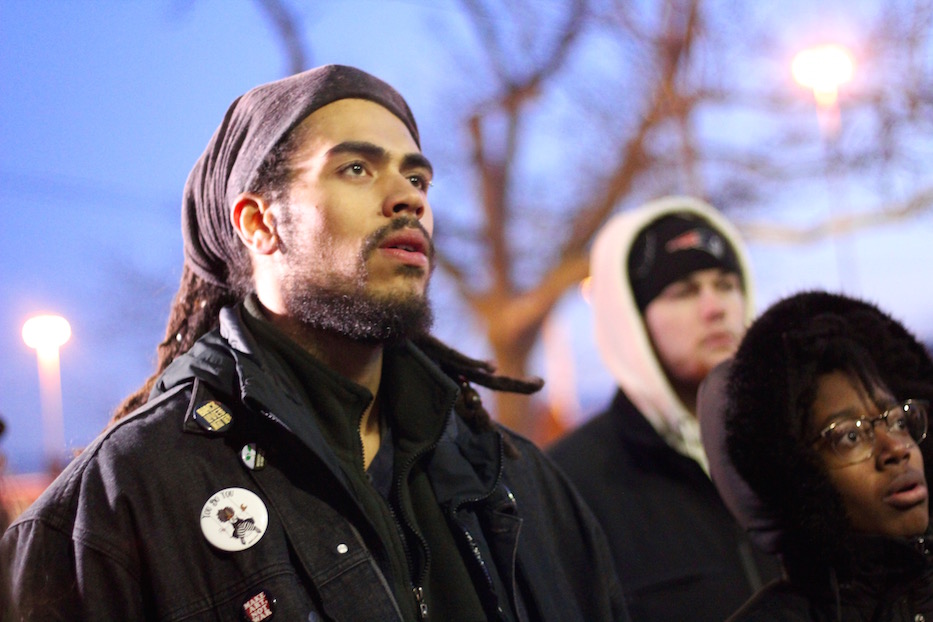 "He was the only person there for me that night when I had nowhere else to go," she said. "He was not the boy that they are painting in the media. He was more than that. He was a son. He was a brother. And he was an amazing person. He deserves more than what the state police have given him, and so did Jayson Negron and other young Black boys in Connecticut."
"I think the most important thing to know is that he practiced random acts of kindness," she later added. "He would just do it without them asking him. He was just that kind of person."
From City Hall, protesters marched down Church Street, bodies filling the sidewalks as they yelled "Justice/For Mubi!" and later "No justice/No peace!/No racist/Police!," "Hands up/Don't shoot," and "Black lives matter." Several lifted signs as they moved in lockstep; a few cried, holding each other as they walked.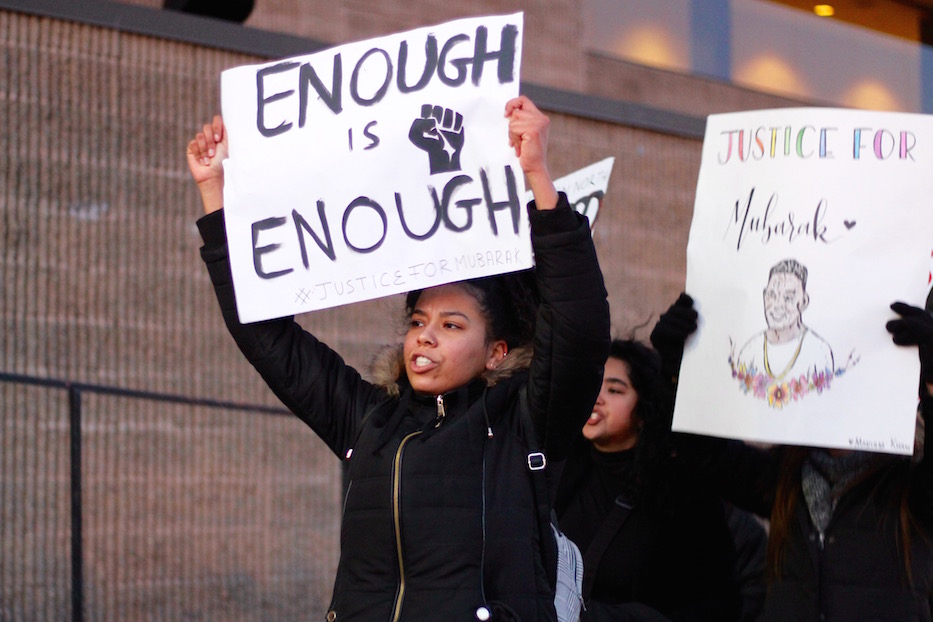 From Church Street they turned onto George Street, and then onto State Street. At the front of the line, attendees held up a banner that now bears Soulemane's name, on a map of those brutalized and killed by the police across the state.
Carrying a sign that read "Officer Brian North/There's blood on your hands," West Havener Farah Hajjar said she is trying to cope with the loss of her friend less than five years after also losing her cousin, Jayson Negron, to deadly police violence in Bridgeport.
"I had to wake up to that video footage," she said. "This hits insanely close to home. It's everything that I fear in my life. I don't feel safe anywhere anymore as a person of color. When teens are being killed by police, who do you call?"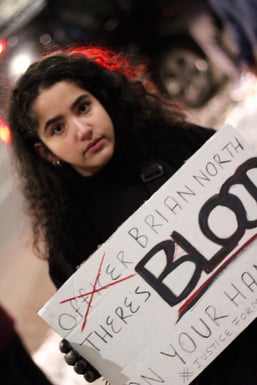 On the steps of the police headquarters, attendees turned not to anger but to poetry, prayer and resolve. Rev. Boise Kimber, who has been standing with the family, gave an impromptu sort of sermon against police brutality.
Mayor Justin Elicker spoke of watching the video released by police and feeling outrage.
Using call and response, Ortoleva led hundreds in a promise to honor and remember Soulemane as they continue to fight alongside his family for justice.
"Mubi we love you," she began
"Mubi, we love you!" the crowd cried back.
Mubi we see you./Mubi, we see you.
Mubi we will bring you justice./Mubi, we will bring you justice!
You are our family./You are our family!
And we will not stop./And we will not stop!Until justice is served./Until justice is served.

We are all Mubi's family standing here today./We are all Mubi's family standing here today. It is our job to serve justice to those who do not have a voice./It is our job to serve justice to those who do not have a voice.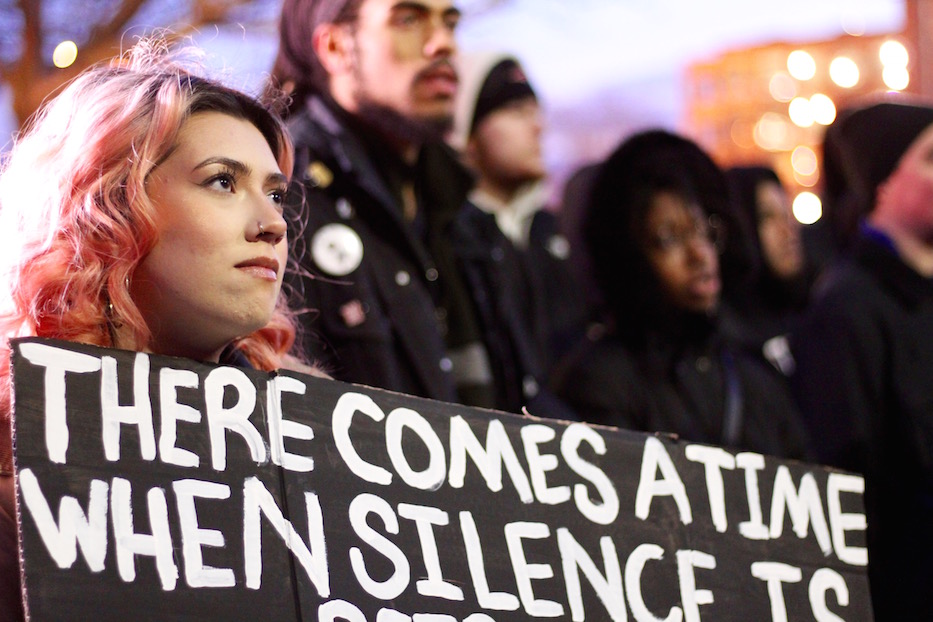 Before attendees marched back towards downtown, a member of the Yankasa Association closed the rally by reciting the Surah Al-Fatihah, praising a creator and asking that they lead them onward.
Back downtown, Soulemane's brother Saeed spoke quietly with friends and family before heading home. When asked, he recalled the kindness with which Mubarak lived his life. In the past year, he had watched as his brother honed his interest in entrepreneurship and small business, then would drop everything to help a fellow New Havener out.
As the family mourns him, he said that he hopes New Haveners will keep his brother's memory alive. That they will hold tight to the Mubi that he does, whose smile could light up a whole room like a spark.
"Mubarak was very kind," he said. "Very outgoing, very loving, and very generous. If Mubarak had a dollar, he would probably give 50 cents to you. That's the kind of person he was."
To read more coverage, click here and here. To donate to a fund for Soulemane's family, click here.