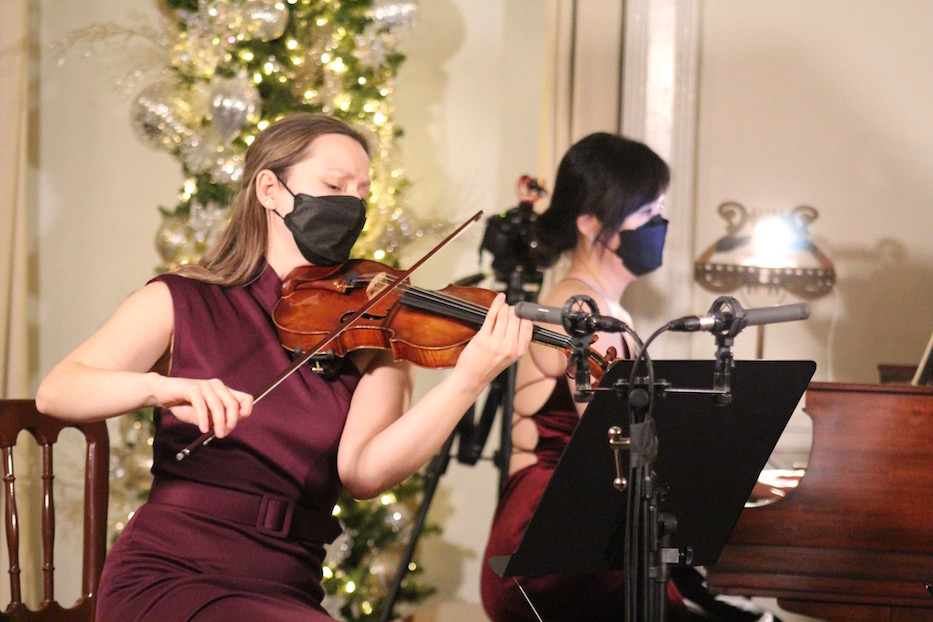 East Rock | Music | Arts & Culture | COVID-19 | Kallos Chamber Music Series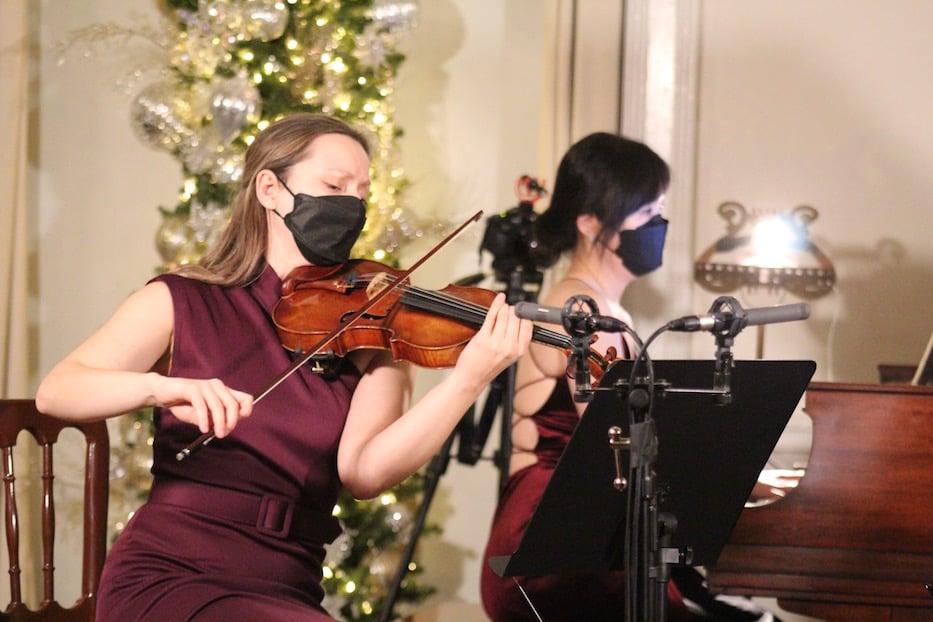 Violinist Maria Ioudenitch and pianist Min Young Kang. Lucy Gellman Photos.
The piano pierced the air, crisp and clear, and composer Jennifer Higdon was suddenly present. If listeners closed their eyes, they could see a lone rowboat, making its way across a glass film of water. Cello cut through, slicing its surface. Violin dipped in and soared, a seabird overhead. Back in the room, three musicians eyed each other for a split second, and found the space where their breath met the music.
Musicians Min Young Kang, Joshua Halpern and Maria Ioudenitch delivered a moving, at turns contemplative and emotional program Wednesday night, as the Kallos Chamber Music Series returned to the New Haven Lawn Club for its third concert of the 2021-22 season. Titled Cracks In The Glass Ceiling, the program featured music from composers Clara Schumann, Rebecca Clarke, Augusta Read Thomas and Jennifer Higdon, the last two of whom are still living.
It is the second of three concerts that Kallos will present during a residency at the Lawn Club, in an effort from the New Haven Lawn Club Preservation Trust to activate the space. Viewers who were unable to attend in person can catch a livestream of the performance later this month.
"Tonight's program is very special, composed exclusively by women," Kang said at the top of the program. "The balance has been slowly shifting and this is our small effort … this might be your rare opportunity to hear this music in one place. "
It was a tension, rather than a shifting balance, that defined the evening. In the Lawn Club's grand ballroom—still some synthetic version of Christmas 2021, as if the frosted trees, white lights and yards of tinsel hadn't gotten the note about 2022–reminders of the pandemic were everywhere. Cloth and fabric masks had been replaced by duck-billed respirators and crisp white, teal and black N95s. Attendees whipped out their vaccination cards when they reached for their tickets. Musicians, who just finished a five-day quarantine together in Kang's home, added testing to their rehearsal schedule. They played masked, in what has now largely become convention.
The pieces, written across oceans and centuries, began to talk and tug at each other's edges almost immediately. In Schumann's "Three Romances for Violin and Piano," Kang and Ioudenitch swept onto the floor, tuning for just a moment before they locked eyes and began to play. To a rush of piano, violin responded, its voice full of sorrow. The two moved in step with each other, sound building as keys spilled over and violin called back, picking up the thread. They carried an unspoken weight that did not pull the piece down, but lurked heavy at its edges.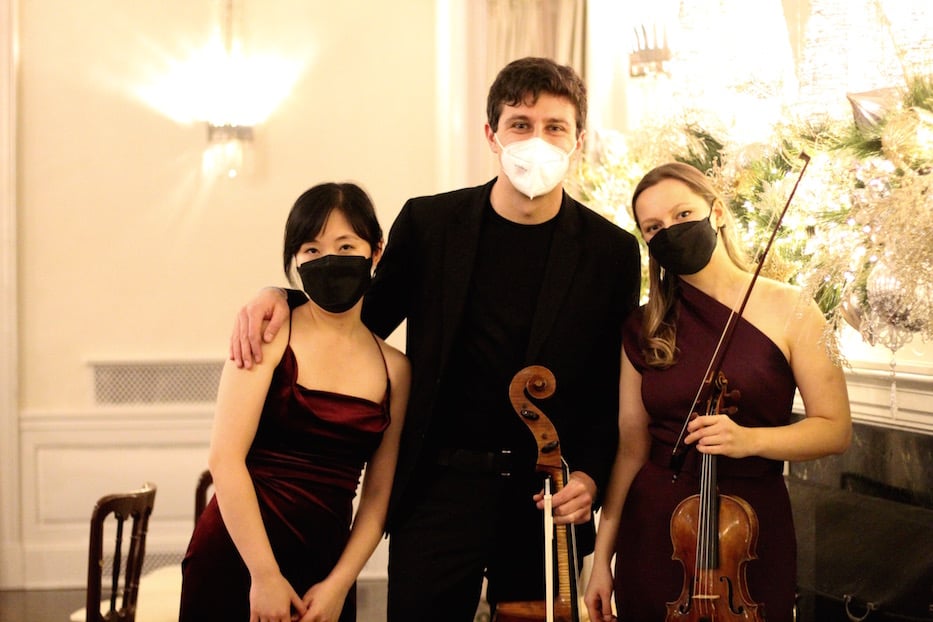 Min Young Kang, Joshua Halpern and Maria Ioudenitch. Lucy Gellman Photo.
It became ​easy to get a snapshot of the woman who stopped composing at 36 years old, who birthed eight children and raised seven, who once wrote in her diary that "I once believed that I possessed creative talents, but I have given up this idea—a woman must not desire to compose." Ioudenitch's whole carriage lurched forward and then bent back with the violin, as if she could see Schumann right there in the room and was playing directly to her. When the violin trilled and looped over a carpet of piano, it felt like an invitation to come in and stay for a while.
Musicians jumped forward in time and tone to Higdon's 2003 "Piano Trio," an impressionistic, two-movement work that seeks to convey color as piano, cello and violin blend into each other just as paint might on a canvas. In the composer's first movement, titled "Pale Yellow," Kang approached the keys with a new sort of delicacy, as if they might break if she pressed down too hard. The violin sang out over the other two, a momentary burst of light. For the first time in the evening, the audience listened as Halpern's cello glided right into the piece with the ease of breathing itself. At one point during the piece it seemed as if the whole room might crumble around them and musicians would go on playing until the very end.
The three paused, eyes wide as they looked at each other, and that calm was gone almost as quickly. Higdon's second movement "Fiery Red" is frenzied and dizzying in its precision, as if something grisly is about to happen, and musicians need to be there to document it. As they played, the three spoke in that wordless language of razor-sharp glances, pounded keys, sharp head nods, and strings plucked so hard it seemed they might fly from their instruments. After the show, one audience member mentioned Alfred Hitchcock. The name that seemed more fitting was Lee Krasner, the late and often dwarfed wife of the painter Jackson Pollock.
In both musicianship and occasional bursts of speech—Kallos doesn't skimp on introductions, and Wednesday's audiences was lucky for it—none of the musicians turned away from the tension blooming around them. When the show put Thomas' "Silent Moon for violin and cello" in conversation with Clarke's "Piano Trio," Halpern was the first to point to Thomas' particular, not-necessarily-intuitive style of composition, which defies any sort of rising action and climax. In the piece, strings are much more interested in a suspenseful, diffused sort of sound that makes listeners wait.
Before dipping into Clarke's work, he returned to the mic once more, filling the audience in on a life that dealt the late composer blow after blow after blow. From an abusive father at home to a string of competitions where she outshone and then lost to her male peers, Clarke "could not catch a break as a composer," he said. Moments later, the three swooped into her work, with a kind of sweeping, bright drama that rebuffed the whole musical house Thomas had just built.
It's a push and pull that also seeps into the series' work and evolution. Is the impulse to feature four women empowering, or does it tokenize? Can it stir the audience to action—against the violence and discrimination that Clarke faced, the isolation and judgement that drove Schumann out of composition in her 30s—or is it a gentle escape from a world turned on its head? Does it educate, or risk painting too rosy a picture at a time when women's rights are gut-churningly retrograde and getting worse? Is featuring white women composers, some of whom have side-stepped the diversity question entirely, giving both musicians and audiences an easy out?
And what does it mean for musicians to play as the world burns around them? Can it be all of the above?
"I hope that we could make our voice as an organization that highlights and celebrates the woman as a whole, and their own voices as a composer," Kang said in a conversation before the concert. "We have to acknowledge and we have to keep lifting up … we have to shine the light on their underperformed works."
Learn more about the Kallos Chamber Music Series at their website. Wednesday's performance will be live streamed on Jan. 31; tickets and more information are available here.