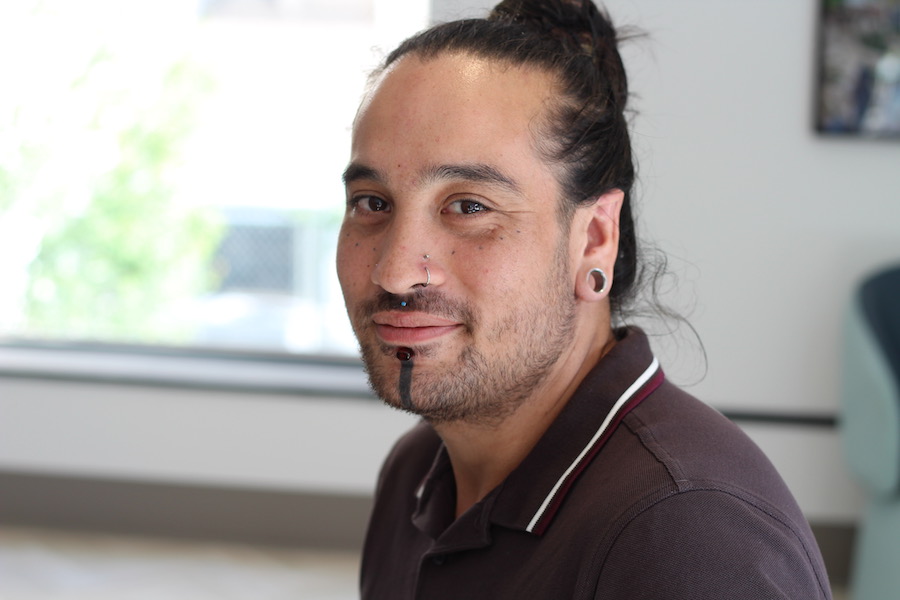 Food & Drink | Radio & Audio | WNHH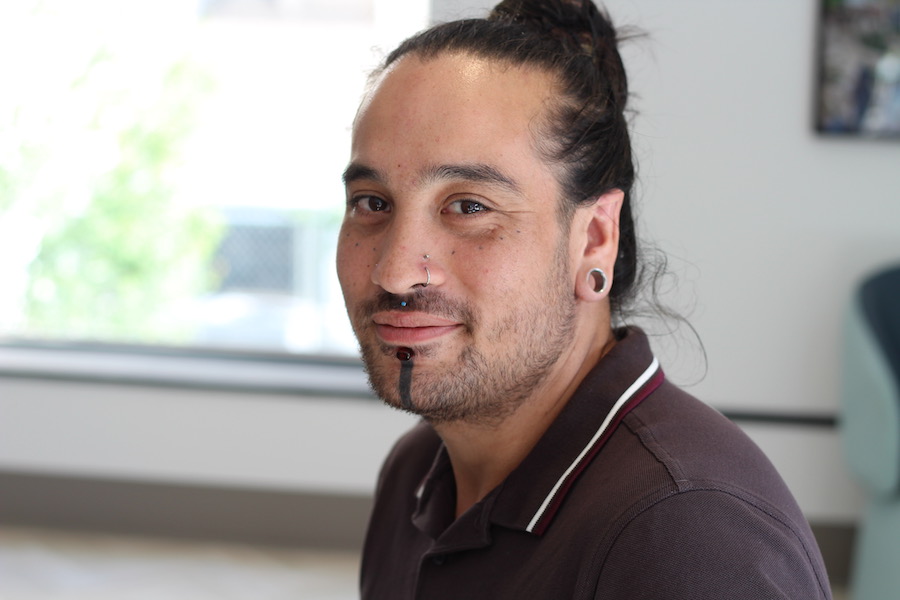 Chef Kevin Mcguire: Food as familial reconnection. Lucy Gellman Photo.
Sweet, spicy sausage flecked with black pepper. Tamales with chicken, hard-boiled eggs, and spicy, salty Chinese XO sauce. Vinegar-drenched pork, served up in crisp tortillas. Sweet, sticky rice cakes called suman, boiled in banana leaves and drizzled with coconut caramel sauce.
Those are just some of the tastes that are coming to Ordinary this Sunday, as chef Kevin Mcguire takes over the kitchen for the first iteration of Kawit!, a six-hour Filipino food pop-up and crossover with the bar. The lunch counter manager at Caseus' much-anticipated (and not yet open) successor Olmo, McGuire sees it as another step towards opening his own restaurant—after he's learned all he can from New Haveners in the business.
Mcguire grew up in the Bay Area, the child of a Filipino mom and Irish-Polish dad. While the area struck him as a culinary melting pot—by the 1980s, San Francisco had every kind of food one could imagine—the family rarely ate out because his parents were big home cooks. On holidays, his aunts and uncles would come bearing big bowls of Filipino pancit and lumpia—savory noodles and spring rolls—to pair with prime rib that his dad cooked.
But he didn't learn to cook from them. Instead of studying their movements in the kitchen, he drifted away from his parents and younger brother, becoming the "kind of more rebellious kid." He spent a lot of time out of the house, picking up a job in a pizza shop when he was 16 to make money and trying to figure out what he wanted to do with his life. At the end of high school, he enlisted in the U.S. Navy. He listed three choices of where he'd like to be stationed: Guam, San Diego, and Connecticut. He landed in Groton.
Because he'd worked as a pizza chef in California, the navy hired him to cook on a submarine. It stuck: Mcguire found that he was enchanted with the submarine's dry storage spaces, located between the outer and inner hull of the boat. He stopped feeling the rocking of the ocean, remembering that he was "in a box" only as naval drills, long stretches in small spaces, and swim breaks unfolded around him. Instead of clamoring to get back on land, he fell in love with the work he was doing.
"It really helped me understand that cooking was something I wanted to do," he said in a recent interview. "Although the food wasn't gourmet, artistic, complicated in any sort of way, I was doing it 12 hours a day, seven days a week, three months at a time, still enjoying my job."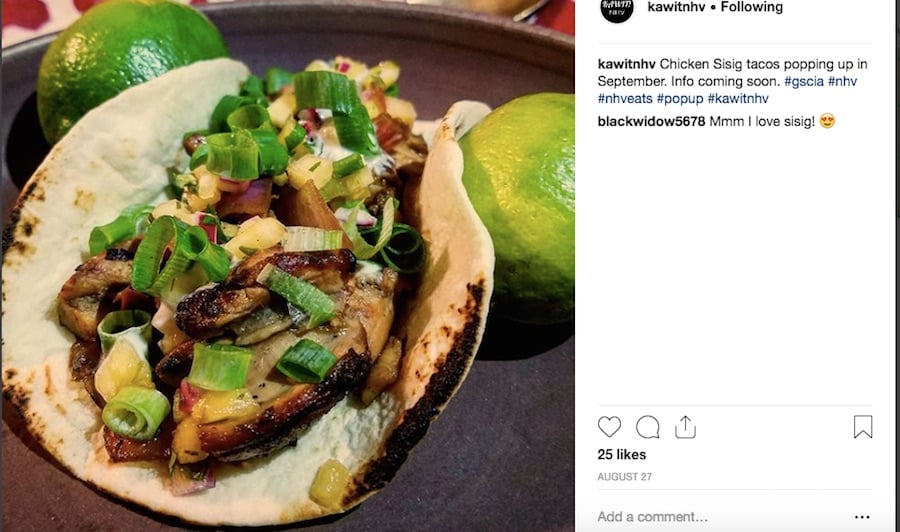 He left the navy three years into his enlistment, snagging a job at the Hard Rock Cafe at Foxwoods Casino & Resort. It was simple fare: hamburgers, french fries, salmon fillets, but it gave Mcguire a sort of endurance training, and crash course in "how much stress can you handle." When his then-fiancé (now his husband) found a job in a psych lab in New Haven, it seemed like a good time to move on, and see what else the culinary world had to offer.
"It was a chance to get into the smaller, more creative restaurants where creativity was embraced, rather than just follow the rules and the structure and no one gets in trouble," he said.
Mcguire got a job at Caseus in 2012, after applying three times and working smaller stints in area restaurants. It was unlike anywhere he had ever worked before, he recalled—family-oriented, with tight-knit staff members who looked out for each other. Early in his tenure,Mcguire recalled, his bike was stolen. Colleagues checked in to make sure he was okay. Owner Jason Sobocinski bought him a new one.
"It was nice being treated like a human by these people," he said. "They've allowed me to grow at my own pace in the ways that I wanted to grow. And, in some ways, the way that I needed to grow."
There, he said he found his calling. When Mcguire arrived at the restaurant in 2012, a fellow employee taught him to make sausage. He had a knack for it, ultimately taking over sausage operations for the restaurant and turning them into an in-house affair. Some days, that entailed deboning a pig and scooping out its belly and shoulder to dice, cure, and grind it into food. Others, Mcguire didn't know what he was getting, and would make "a sausage surprise."
The sausages became wildly popular, Mcguire perfecting his recipe and racing to keep up as they flew off the menu, and he tended to cooking that needed to be done employees that needed to be supervised. And he began to think about what it might look like to own his own restaurant one day.
"I just started carrying myself with a sense of responsibility, a sense of ownership of the spaces I was working in," he said. "I definitely learned to manage people, and manage my own projects, and how to ask for help. The biggest thing to learn was how to ask for help from everyone around me, from the chef to the newest employee."
Mcguire stayed at Caseus until its closure earlier this year, committing to stay on as shop and lunch counter manager as it morphed into Olmo. He said that since the restaurant has closed, he's been floored by an outpouring of support from fellow chefs and restaurant owners, who know that staff members are out of work until Olmo opens. In addition to Ordinary and the Caseus Cheese Truck—both in the Caseus family—he praised Roìa and Middletown-based Osa. In the non-work time that still exists, he's been planning Kawit!
"I had this idea that kind of grew really rapidly in my head, thinking about how I could eventually work for myself and be my own boss, and do something that makes me really happy," he said. "Instead of wanting to do like a deli butcher shop or a candy company or a spice company, I found myself able to come up with more and more ideas of exploring Filipino culture."
It has begun to mark a sort of culinary homecoming for Mcguire. The 30-year-old chef has been to the Philippines a few times with his family, but grew up speaking English at home, and had been limited in his Filipino repertoire. It gave him a chance to explore the Spanish, Portuguese, and Chinese influences in the food.
As he prepared the menu, he dipped back into his history: peppery Longanisa sausage, eggplant and green bean vegetable tamales made with a rice flour base, sweet sticky rice flecked with sweet coconut, that melted in one's mouth. In preparation for the pop-up at Ordinary, he veganized several of the dishes (he noted that they can also be made gluten free the day of), naming the enterprise Kawit after a province in the Philippines.
"It's been really nice to connect with these recipes that my family has been making my whole life, and also learn about some ones that they've never heard about either," he said. "And just explore the background of it … it's just one of the biggest hodge-podges of food culture I've ever seen, and it's just really fun."
To listen to Chef Kevin Mcguire on WNHH Community Radio's "Kitchen Sync," click on or download the audio above. Kawit! Filipino pop-up! takes place Sunday Oct. 14 from 3-9 p.m. at Ordinary New Haven, 990 Chapel St,. For more on Kevin McGuire, follow him at @kawitnhv on Instagram.