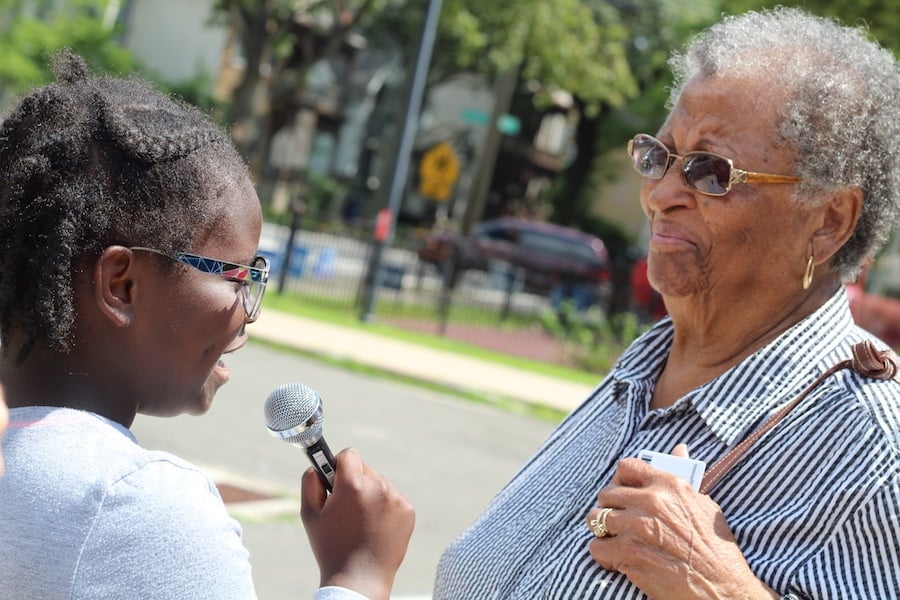 Newhallville | Arts, Culture & Community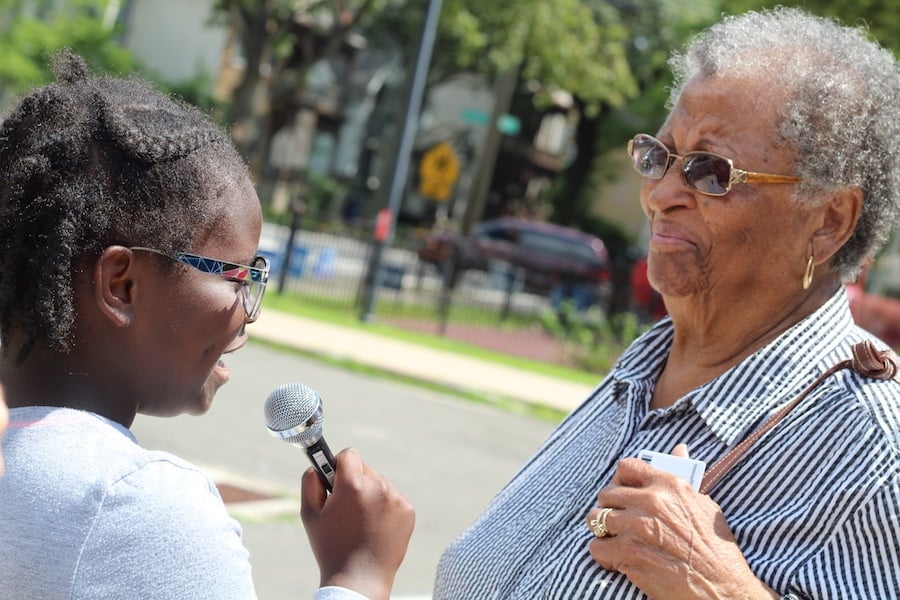 Aneissa Beam gripped the microphone tightly in one hand and eyed Melinda Douglass' "I Voted" sticker. She straightened her spine and took a deep breath. The camera started rolling.
"I'm going to ask you what better things we can have in Newhallville," she said to Douglass. "And who you voted for today."
But Aneissa isn't a seasoned political reporter. Not yet, at least. A student at Laurel Oaks Seventh Day Adventist School (LOAS) and lifelong resident of the city's Newhallville neighborhood, the 11-year-old is a member of Kids TV, a hands-on video training program that's part of New Haven's One City Initiative this summer. Tuesday, she and three other kids made their way to Lincoln Bassett Community School to talk to voters as they turned out for the statewide primary.
Kids TV is supervised by Kim Harris, director of Harris & Tucker School, co-chair of Newhallville's Community Management Team and founder of the initiative, which kicked off officially in late June and ends Aug. 26 with a celebration on the New Haven Green. In addition to interviews, the group is managing a sort of community survey, done in black marker and pen on a large white piece of cardboard.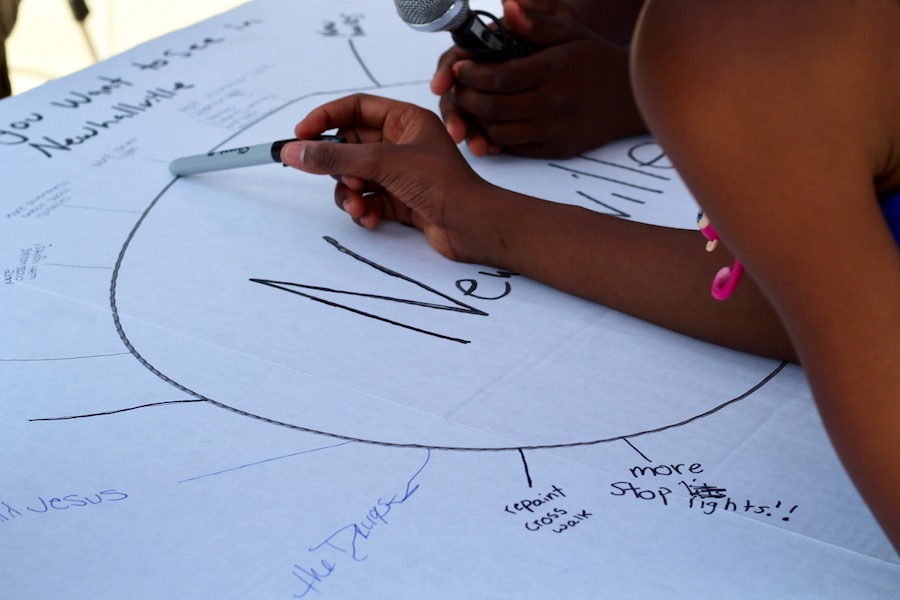 Around the word "Newhallville," enclosed in an oval, they've asked community members to write down and vote on what they'd like to see in the neighborhood. Safe streets, churches, more black-owned businesses and after-school programs are among just a few of the responses.
Beneath the shade of a small tent, the Kids TV crew got to work. As 8-year-old Sprite Watson grabbed a gear bag in the parking lot, 8-year-old Jahsai Johnson helped Harris assemble a tripod and flip on a small, handheld video camera. Harris held onto her phone as a backup. Their first potential subject made a beeline to his car with two grandkids in tow. Jahsai shrugged. Better luck time.
Douglass headed out of the school next, dressed in blue and white that glowed in the midday sun. Harris explained what the group was doing. Aneissa (pictured below) prepared under the tent, squinting for a moment in the bright afternoon.
"What would you like to see in Newhallville?" she asked, not quite making eye contact.
"I want the neighborhood to be more safe," Douglass said. She pinpointed a lack of extracurricular programs for youth, which, which leaves elementary, middle and high school kids without structured activities after 2:30 p.m. each day. She said she knows that those kids either hang out, or go back to empty homes where they're by themselves. It's not her vision of a thriving neighborhood.
Aneissa gave an almost imperceptible nod. "Who did you vote for?"
"A Democrat," Douglass answered. Her face, soft but stern, revealed nothing more.
The young reporters had snagged their first interview. Emboldened, Aneissa turned the mic over to 10-year-old Kerrena Service, and then Spirite and Jahsai. They found that voters all agreed on what they'd like to see in the neighborhood: safer streets, and more free activities for students after school and on the weekends. In her interview with Jahsai, Estina Huckabee added a wish for fewer potholes on Newhall Street. There with her mother Florence "Flo" Caldwell, Erica Caldwell said she'd like more police presence in the neighborhood as well.
But voters didn't see completely eye-to-eye on the question. While most answered simply "Democrat' when asked who they'd voted for, both Caldwells said they'd picked party-endorsed Ned Lamont for his record, and their belief that he could turn the economy around. Talking to Kerrena, Jean Crockett said she'd ultimately gone for Democratic hopeful, Joe Ganim, because she believes that he deserves "a second chance" and "forgiveness."
"I like his ideas," she said.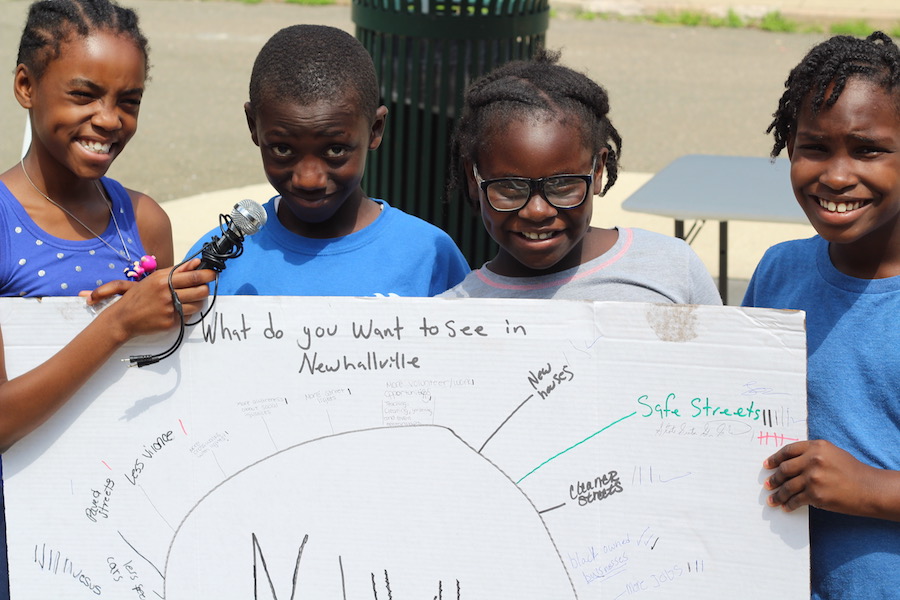 Amongst themselves, the four journalists debated the merits of lowering the voting age to eight or ten years old.
"I really wanna vote, but I can't," said Aneissa, who added that she'll make every election she can when she hits 18 in seven years. "Kids don't get to do everything that adults do."
"I have thoughts about voting," added Kerrena, who said she thought the voting age should start at eight years old. "Kids need to have a voice. Just like Blacks didn't have a voice, and couldn't vote."
None of them said they knew the candidates—because they wouldn't have been able to cast ballots for them anyway. But if they were eligible, Spirite said she's "just watch the news and see who's running" before making it to election day.
Harris said she sees the program and other One City activities as a sort of summer camp meets job training. In addition to interviews, students learn what's it's like to be recording behind the camera, a skill they can spin into part time work and tech skills. She pinpointed Lincoln-Bassett as the heart of the neighborhood, a ground zero for them to learn "how to live a little better in Newhallville."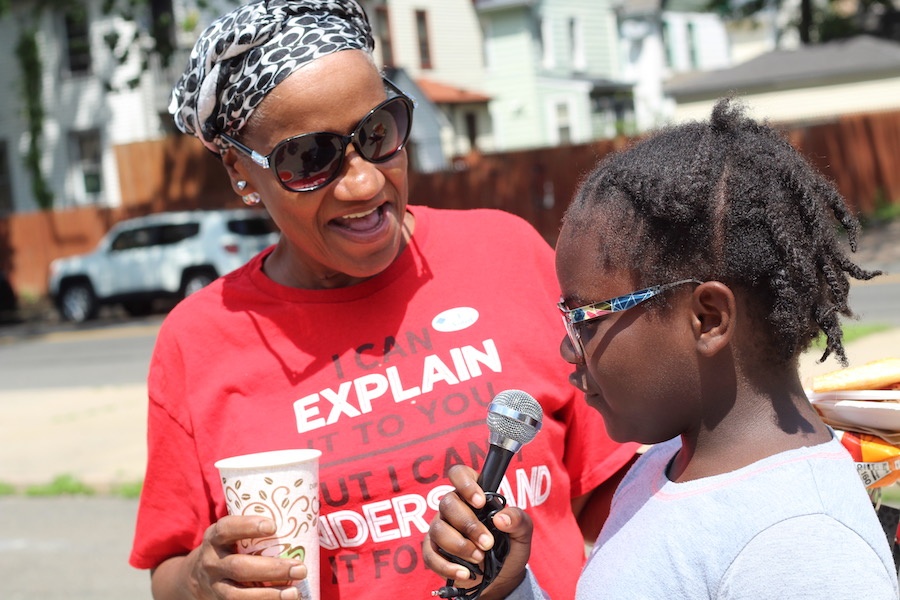 "The kids are forced to do both sides of this," she added of interviewing and behind-the-scenes work. "Check this out! After this, they have marketing skills. They can go to a gradation and turn out $50."
And it doesn't end with the 26th, she said. Next month, Harris said the kids will be presenting their findings at the Newhallville Community Management Team, held on the fourth Tuesday of each month at the Winchester Avenue police substation.
"This is part of a bigger plan," she said. "Let's see what the people want, and let's make it happen."
Polls are open from 6 a.m.-8 p.m.; only registered Democrats and Republicans are able to vote (unaffiliated voters must wait until the general election on Nov. 6). For a list of who is running for what offices, click here.