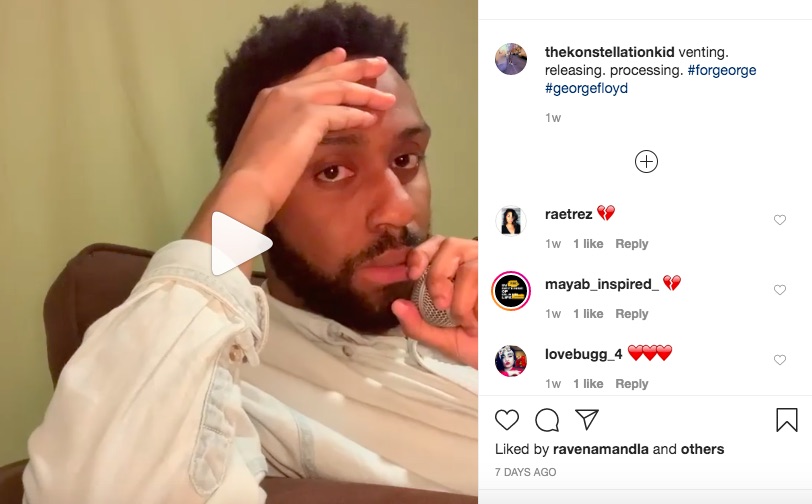 Music | Arts & Culture | Black Lives Matter | COVID-19
The song is a prayer before listeners even know it's a prayer. Synth seeps out in long, billowing breaths, like an organ stuffed with techno and bolts of silk. A beat drops; it sounds like a heart monitor inside a drum. More synth comes in, undulating. Kolton Harris' voice coasts over the lyrics, calm but mournful.
Another one dead/Another one dead
And I can't seem to let this thing go/Can't breathe like those people
Another one dead/another one dead
And I can't seem to let this thing go/Lord please save my people
So begins Harris' "Another One Dead," a collaboration with musicians Jaden Williams and Ryan Parker and Zachary Koval of Lunara Studio. The song, which is part prayer, part elegy, and part call to arms, was released on Friday in response to the murder of George Floyd by Minneapolis Police Officer Derek Chauvin.
"Created out of the cries of the people, searching for answers and justice," he wrote on social media Friday evening. "More than anything we need a Love greater than we can fathom. Let's hold each other close, sing this anthem and pray for peace!"
Harris is a musician, speaker, and executive director of The Writer's Block, InK in New London. On Wednesday, he started working on the lyrics in a basement jam session with Williams, who he lives with in Groton. Their home has become their creative space; in March, they invested in equipment that would allow them to produce music during the COVID-19 pandemic, as recording studios closed their doors.
"It was really an organic, natural process," he said. "The words came easy and we were just, us flowing. We were just vibing and playing. It was really improvisational."
At some point, he put snippets of the set on Instagram. In one video, his face fills the frame, one hand to his forehead as he sways methodically. A soft, well-loved denim shirt folds around him. His eyes are wet and he looks exhausted. Friends and colleagues flooded his feed, praising the material. As he jammed, Harris said the music became a sort of spiritual balm.
On social media, he discovered that he wasn't alone. Commenters on the video wrote in asking for more and sharing their own grief. Parker, who is a music educator based in Manchester, sent him a message that he'd like to collaborate. Koval, with whom Harris has worked for past projects, said he'd be happy to jump in and help master the track. It kicked off 48 hours of recording, sending, and re-sending tracks before Friday night.
"As a musician and as an artist, I see myself as a servant to the culture," Harris said. "A servant to the masses. I know that I've been gifted with particular abilities by God to share it. The cries and melodic content—it's not deeply introspective so much as me channeling the voice of many. I channel what people are feeling so that when they listen to it, it's like it's coming from their souls."
"The intended audience is everyone," he added. "At the end of the day, I believe music is such a vehicle, and it's way more educational than some people like to think. I think that structural inequalities could be broken down if we have more of these conversations. People who are driven by racism, the prejudice and poison that is evil, they need saving as well."
In the piece, he and Parker weave police brutality, late-stage capitalism, and 400 years of white supremacy with a sensibility that always returns to prayer. In one moment, they compare the divergent histories of Colin Kaepernick and Chauvin, one of whom knelt to honor, stand for, and save Black lives and the other of whom knelt to end one.
In another, they make an argument for police divestment, jumping from the enduring trauma of slavery to the state-sanctioned murder of Black women in their own homes. The song ends in call to action, with overlapping cries of "help me breathe/I can't breathe."
As a devout Christian, Harris said that he found himself turning to the Book of Lamentations and the Book of Psalms as he wrote. When he wasn't thinking about the gospel of Jesus Christ, he had other prophets on his mind: Marvin Gaye, Kendrick Lamar, J. Cole, Janelle Monáe, and Prince.
"I'm doing well, and I think I'm well in my soul," he said. "Seeing everything, it's hurtful. It's saddening. With that [the song], I'm able to reconcile the hurt and the healing and the pain. I feel grateful to be able to offer healing. I feel heavy in a lot of ways. A lot of my burden has been lifted in my soul. I've been set on a mission to bring hope and restoration."
Now that the song is out in the world, he added that he hopes listeners use its message for both healing and discussions around structural change. He suggested that the lyrics aren't meant as just a tight history lesson: they double as an acknowledgement to listeners that they are not alone, and an appeal to shift a country built on white supremacy and the brutality that springs directly from maintaining it.
"A lot of the systems are doing exactly what they were supposed to do," he said. "There's this saying: You don't take a fish out of water and tell it to be free on land. Instead of being reformed or re-structured, these systems really need to be obliterated."
He added that he plans to continue those discussions as the leader of PULSE, a new online series on creativity, mentorship and community building that begins June 4.
To find out more about PULSE, click here. Follow Harris at @thekonstellationkid on Instagram.