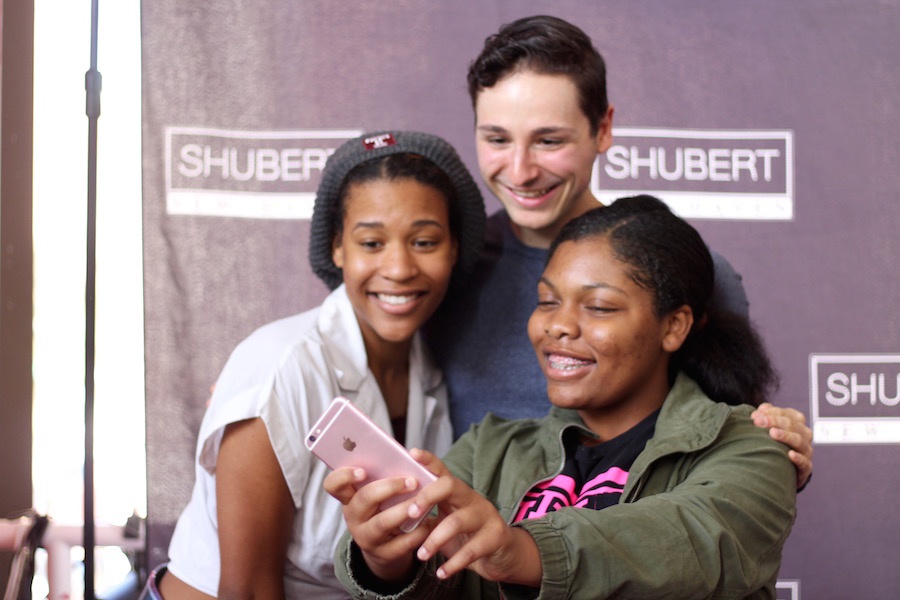 Arts & Culture | Musical Theater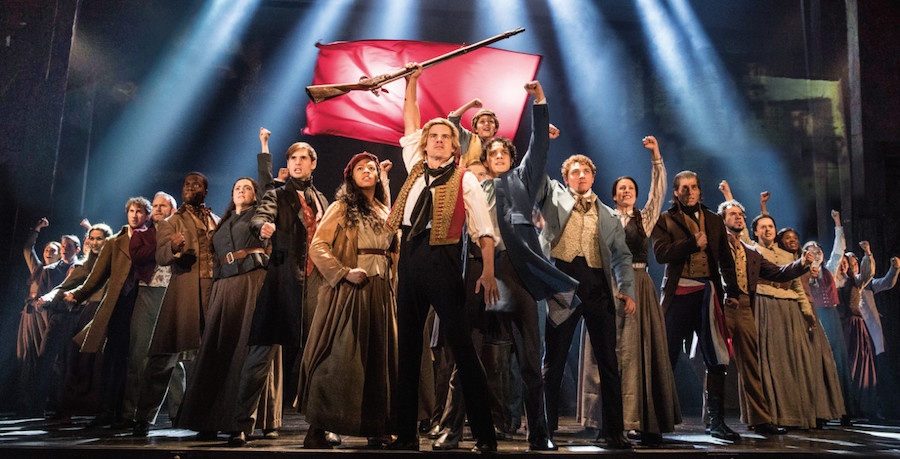 The cast, fixing to storm the barricades. Matthew Murphy Photo.
When Rayona Higgins found her seat in the balcony of the Shubert Theatre, she wasn't expecting a three-hour playbook in revolution. By the time she left, she had drawn a line straight from the nineteenth century to New Haven of the present, bridging two continents and 203 years of history.
Friday afternoon, Higgins was one of 21 students from Cooperative Arts & Humanities High School (Co-Op) to head to the Shubert for a pre-show talk and matinee performance of Les Misérables, the epic musical that culminates in France's 1832 June Rebellion and its aftermath. The field trip was organized by Co-Op French teacher Luke Banack, in partnership with Kelly Wuzzardo, director of education and outreach at the Shubert. Thirty-one students from Westbrook High School also attended.
"Since we're an arts high school, bringing them here is really the perfect opportunity," Banack said after the pre-show talk, a question-and-answer session with actors Paige Smallwood (Éponine) and Stavros Koumbaros (Joly and understudy for Éponine's love interest, Marius). "Having this is a dream come true."
Banack said that he's looking forward to discussing the musical with his classes in French this week. But for many of his students, that history lesson began Friday afternoon, as a fog machine and propulsive pit orchestra ushered in the prologue ("Look Down"), curtains opening on a chain gang.
Based on Victor Hugo's nineteenth-century novel of the same name, Les Misérables follows Jean Valjean (a virtuosic Nick Cartell), a convict whose 19-year sentence for stealing a loaf of bread ("My sister's child was close to death/We were starving") has come to an end in the year 1815. The timing should cue a little "oh la la!" in your head: 19 years means Valjean stole during the tumultuous French Revolution, three years after revolutionaries had dethroned and killed Louis XVI in Paris and declared Liberté, égalité, fraternité—and starvation and national debt that had also existed under the monarchy.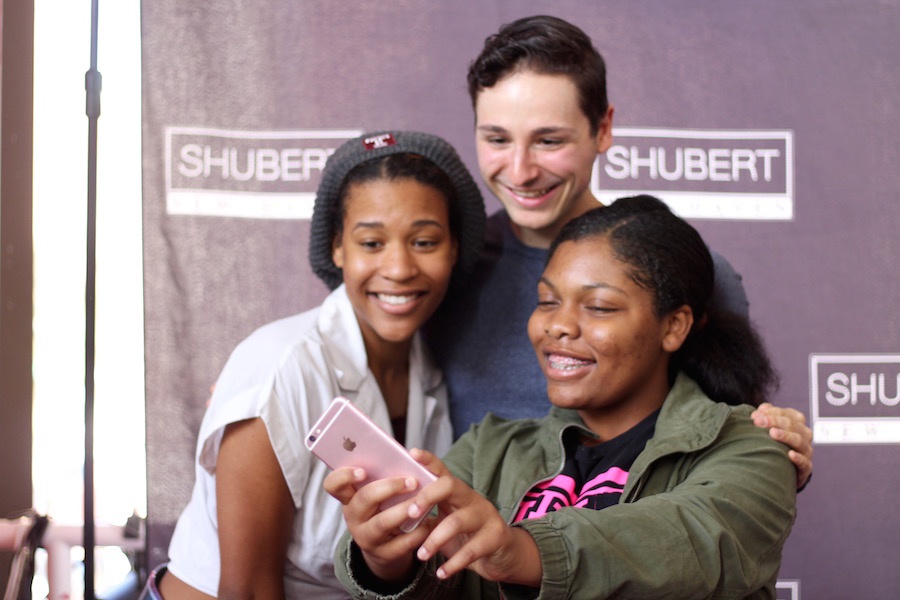 Higgins before the show with actors Paige Smallwood and Stavros Koumbaros. Lucy Gellman Photo.
As Valjean leaves prison, a supervisor named Javert (a deliciously maniacal Josh Davis) tells him that he does not believe a criminal can change, slapping him with a document that declares him a felon ("This badge of shame you'll show until you die/It warns you're a dangerous man").
And so unfolds a storyline that will haunt the both of them for the next 17 years: Valjean's evolution from a petty thief into a self-made man and benevolent employer, his accidental role in a woman's death and the very intentional adoption of her child Cosette (Jillian Butler), and years of flight from Javert. Everything ends—sort of—at the barricade in 1832, after General Jean Maximilien Lamarque has died and rioting fills the streets.
There's a lot of messy political history in between—no one thinks to mention, for instance, that Lamarque was a Napoleonic war hero, or that he died of cholera and not of street violence—but the musical soars over it.
Instead it's a "no justice, no peace" kind of story, made palatable for season ticket holders by swelling chords, full lung capacity, France's hot-and-cold relationship with Catholicism, and revolutionary amounts of puppy love amidst social change. At the center of it is not just Valjean but the epic flames of Éponine, Marius, and Cosette, who all remain hot for each other even in the middle of the barricade and despite huge social, economic and physical barriers (of course they do, it's Broadway).
Standing in the balcony at intermission, it was that young love that Higgins and a gaggle of friends first honed in on, rooting for Éponine before her death in the second act.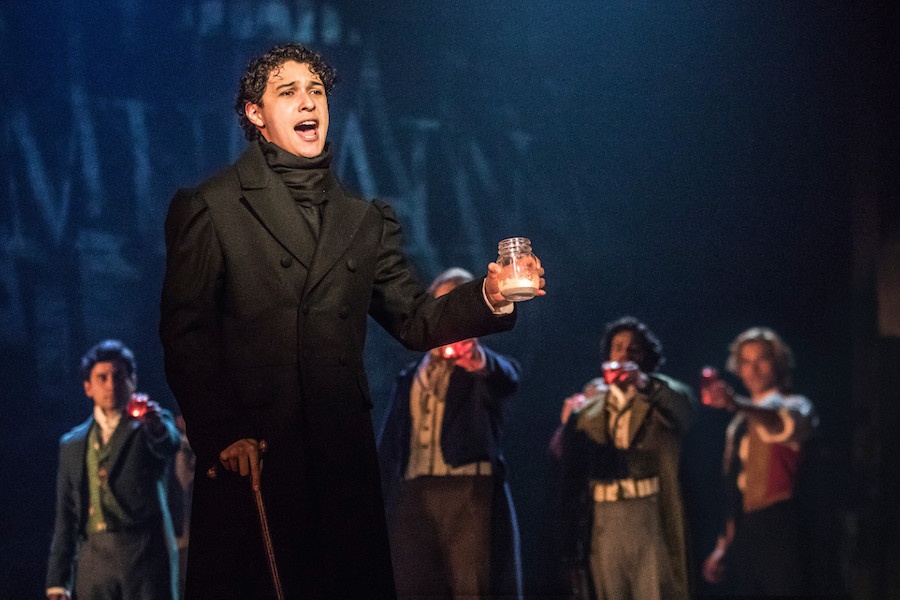 "Oh my friends, my friends!" Joshua Grasso sings "Empty Chairs and Empty Tables" as Marius. Matthew Murphy Photo.
"I just love everything about it," exclaimed Co-Op junior Gabrielle Doctor, counting the minutes left before the curtain opened on France once again. "The way Éponine portrays her emotion, and the other guy, he's like, 'I want Cosette!' And Éponine's like 'I'm right here! I love you! I know you better than her!'"
"And how they were revolting against their government pertains to protesters protesting," she added. "Police brutality, injustices for women and people of color "
And indeed, the play is incredibly timely. There are parallels to reentry and recidivism: Valjean is released from prison with nothing, compelled to steal again after he cannot get work and is cast out from society. The sentence he has served is wildly disproportionate to his crime. But that's just the beginning. In 1832, people filled the streets after Lamarque's death because one of their own—a champion of the poor and downtrodden and of the proletariat—was dead and they were scared and wanted change. Does that sound familiar at all?
Les Misérables, fully a product of its time and its country of origin, also has plenty of #MeToo (or maybe more accurately #Balancetonporc) written into it. Women in the show are regularly sexually harassed and assaulted, the perpetrators rarely punished. Friday afternoon, Fantine (Mary Kate Moore) bit and thrashed her way out of an attempted rape just an hour before Susan Collins announced that she would be voting "yes" on the confirmation of Judge Brett Kavanaugh to the Supreme Court of the United States.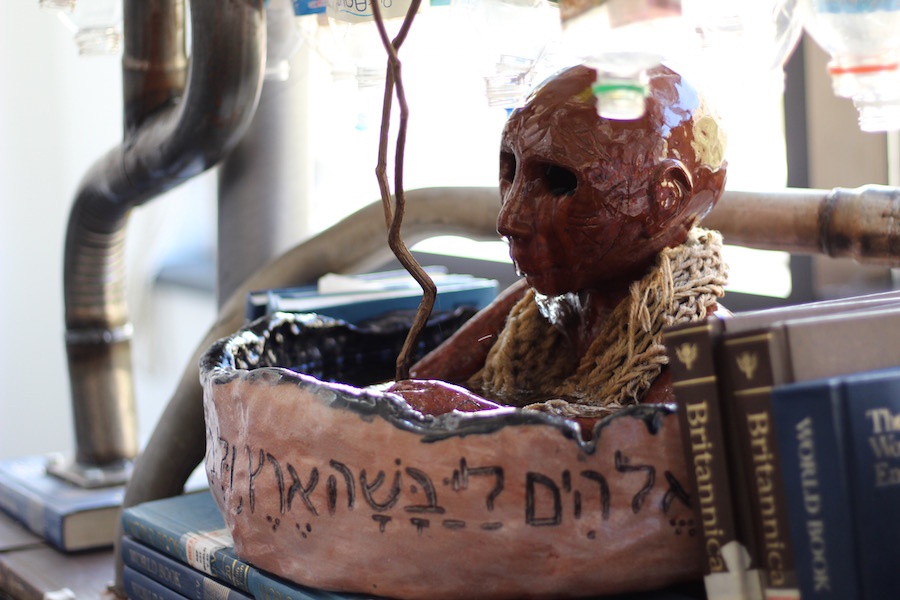 A section of a "barricade" that Co-Op students constructed when Les Mis was last touring in 2014. Lucy Gellman Photo.
"It definitely links to it, in a way," added Doctor's friend Emma De Santi. "This is more dramatic because it's all in one, and it's also telling a story. You have to be able to relate to it."
That's something Higgins also focused on as she watched the play sprint towards its inevitable end, a deathbed confession that love conquers all. Because Valjean's capacity for forgiveness knows no bounds, it fails to mention the ruinous aftermath of law enforcement.
Considering it for a second time—she first saw the play in New York City—Higgins said that she tries to view theater as a way to handle current events, engage in discussion with people who might have different opinions, and expand her cultural understanding of the world.
"This is another presentation of what we could be doing now," she said. "But we shouldn't revolutionize. We should start having more communication from our government to our citizens, especially with our president now. We need more communication."
"I think using real life problems and turning them into art is really important," she added. "I think that if we start putting our voices out there, and our opinions, I'm pretty sure if enough people do it, one day it will be heard."