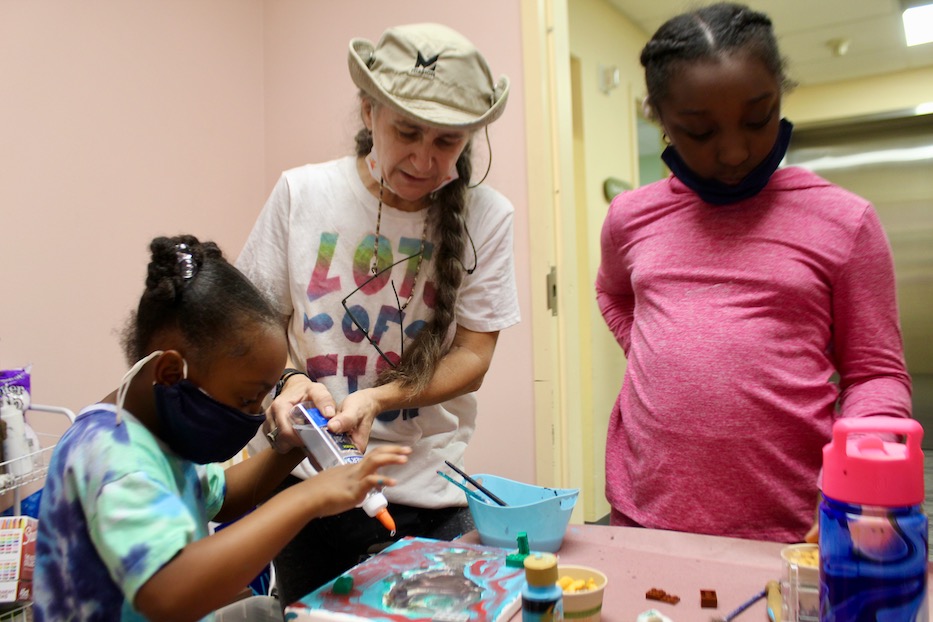 Education & Youth | Environment | Fair Haven | Painting | Arts & Culture | New Haven Free Public Library | Visual Arts | Lots Of Fish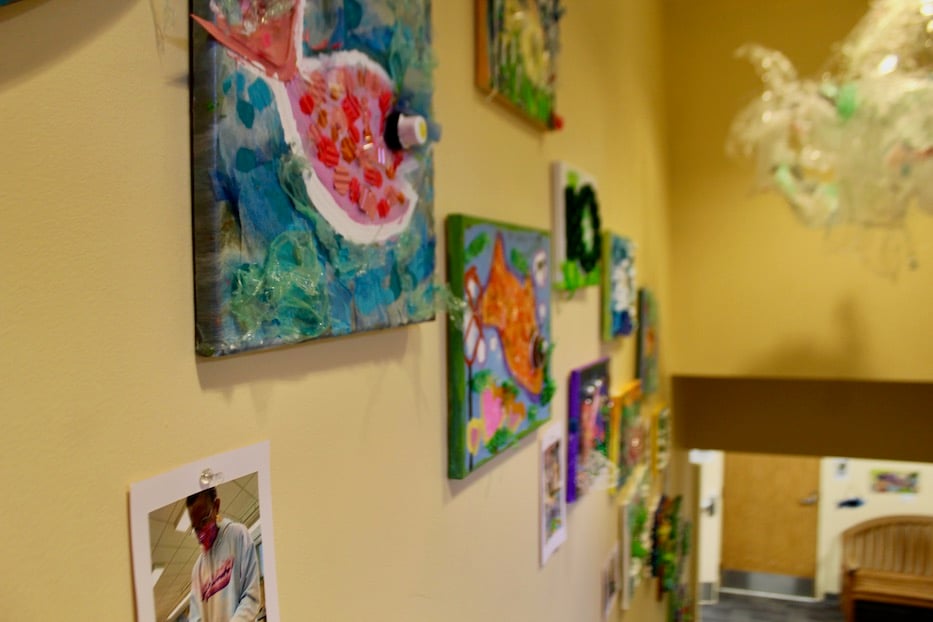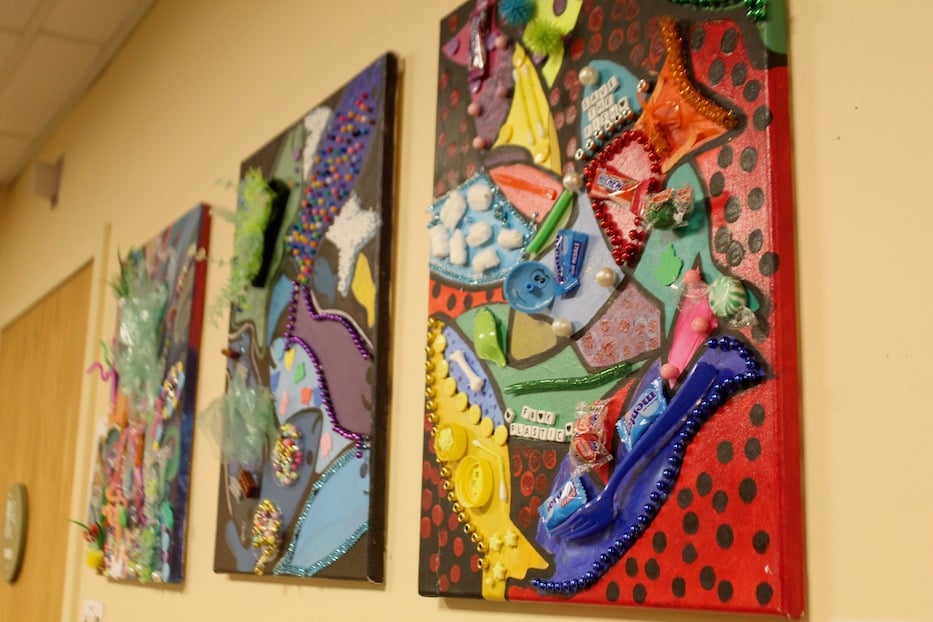 All artwork by students; Lucy Gellman Photos.
Schools of painted fish swam through the Fair Haven Branch Library, surfacing above the front doors and dipping beneath the exit sign before they could get caught. They swam by the checkout desk and behind a display of children's books. Across the walls, they seemed to multiply, spilling down a staircase in shades of purple, blue and white.
Only when a viewer got closer did they notice the bits of plastic everywhere: in single-use plastic bags that looked like jellyfish, in school lunch containers, in discarded lego bits and nip bottles that had transformed into eyeballs and fins. It was suddenly inescapable—which was the point.
The multimedia works are part of Less Plastic, More Fish, an exhibition running at the Fair Haven Branch Library through mid October. Organized by Lots of Fish Director JoAnn Moran, the show folds found plastic waste into student painting and sculpture, using artwork to amplify how plastic is precipitously changing the environment. Afterward, it will go on to Shake Shack, and then to Clinton Avenue and Wilbur Cross High Schools.
It includes student work from Wilbur Cross High School, John S. Martinez Magnet School, and Clinton Avenue School, as well as students who enrolled in the Youth @ Work program with Friends of East Rock Park (FERP) last summer. For weeks, those students spent time picking up trash in East Rock Park, filling buckets with straws, flossers, nip bottles, and discarded plastic bags.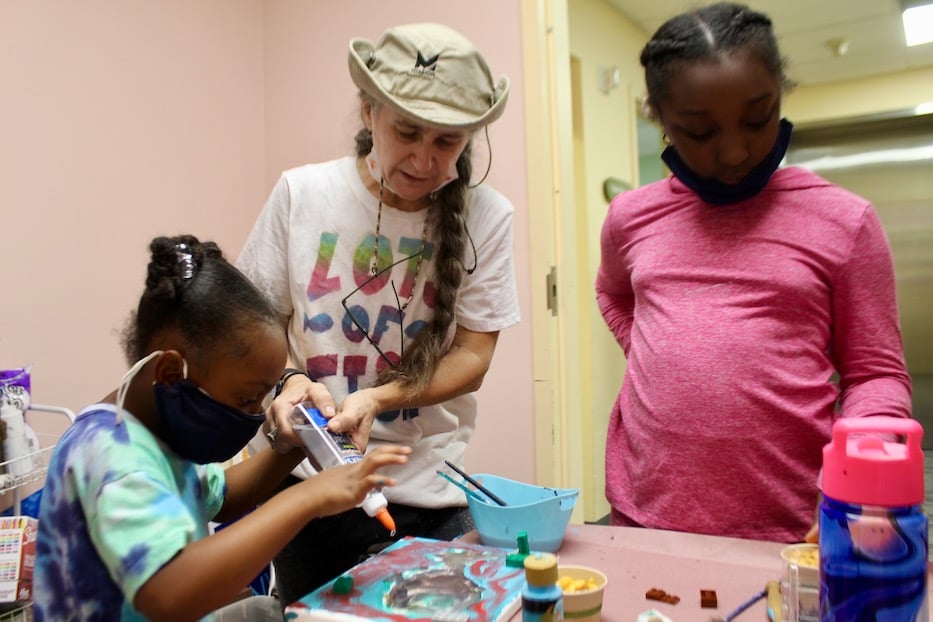 Mariah Jackson, JoAnn Moran, and Lilah Jackson.
It is supported by the Connecticut Department of Energy and Environmental Protection (CT DEEP), Southwest Conservation District, and Urban Resources Initiative. Students also drew inspiration from the eco-focused artist Sarah Schneidermann, who spoke with some of them virtually as they were working on the pieces for the show.
"I didn't know how much trash there was until now," said Adner Rodriguez, a senior at Wilbur Cross High School who worked with FERP over the summer. "Now if I see my friend throw trash on the floor, or on the ground, I make them pick it up."
Artworks, of which there are over five dozen, depict the delicate underwater ecosystem that plastic waste has begun to destroy. Each year, well over 13 million tons of plastic end up in the world's oceans, putting both marine life and the health of the planet directly in harm's way. In past years, examples haven't just included beached whales, turtles and seals with bellies full of plastic; plastic also contributes to ocean warming, as it releases the chemical compounds methane and ethylene into the oceans.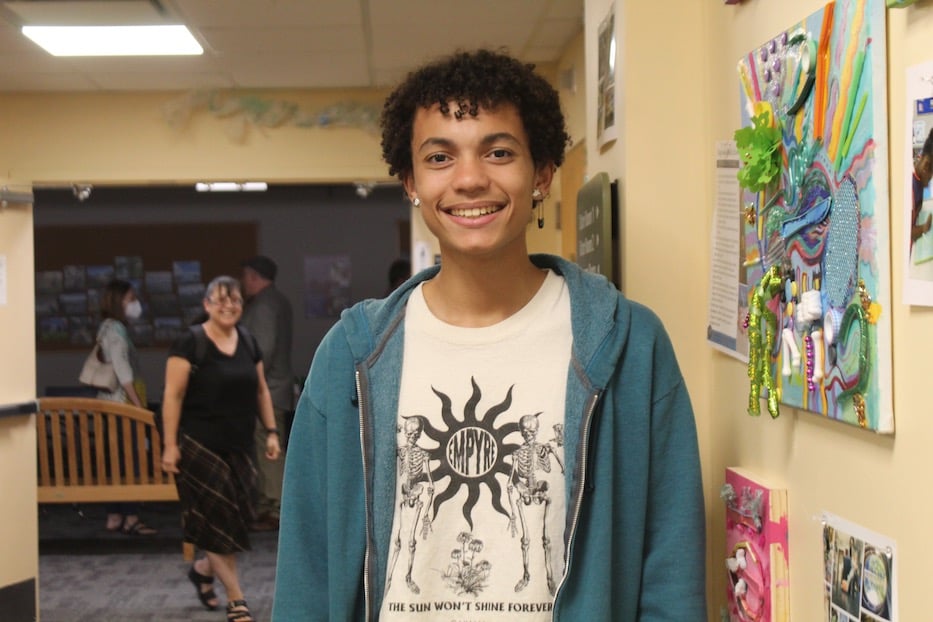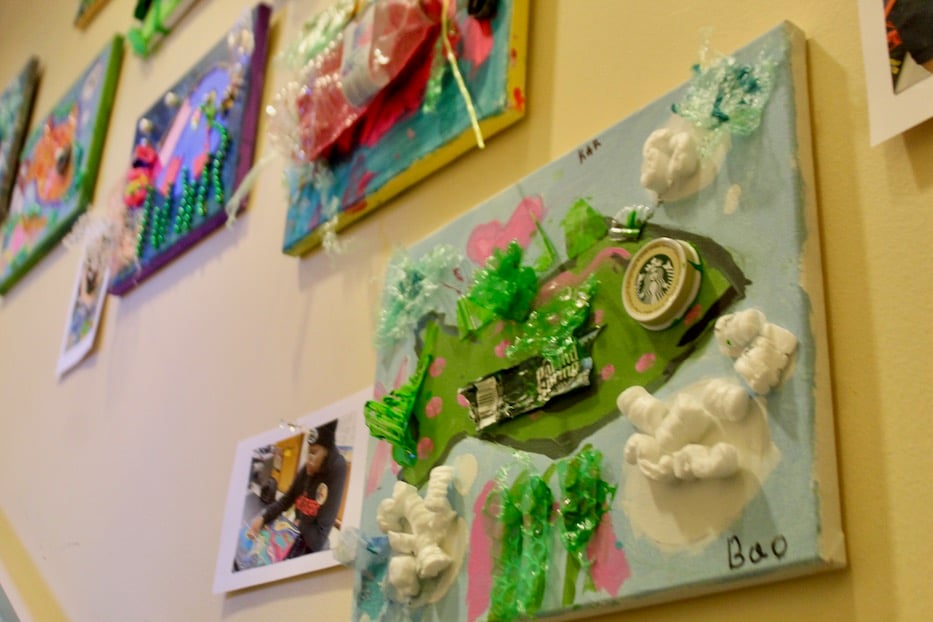 Top: Adner Rodriguez. Bottom: All artwork by students; Lucy Gellman Photos.
As students were working, Moran said, they were also learning about how to be better stewards of the environment, including their city and its waterways. Kattie Konno-Leonffu, a science teacher at Clinton Avenue School, taught both students and Moran that New Haven school lunches come with rippled plastic lids meant for one-time usage—meaning that they go right from school lunches into a landfill. In addition, she said, the school district does not recycle.
The program pushes students to ask what they could be doing differently to reduce plastic waste in their own lives, Moran said. Just as in years past, she talks to them about making better individual decisions for the environment and holding corporations responsible. On the show's opening night, for instance, she pointed to Frito-Lay, which in 2009 debuted a compostable bag for Sun Chips, but discontinued it when customers complained that it was too noisy.
"There are so many companies that profit on all the products that are covering the earth," she said of plastic as she gestured to the artwork around her. "It's a huge problem."
Moran isn't doctrinaire; she acknowledged that plastic is now omnipresent, and equally difficult to escape. Because of that reality, she encourages students and viewers alike to take simple steps, from using biodegradable containers and paper or fabric bags and pushing for recycling programs to replacing their single-use plastic products with durable materials (a metal water bottle, for instance).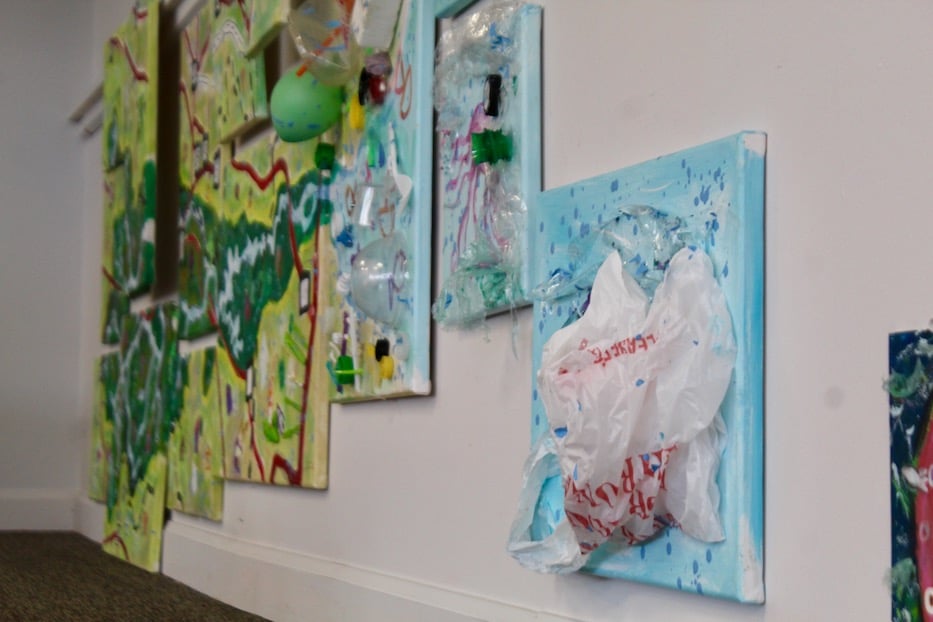 On a recent Tuesday, young artists and adult viewers alike filled the library's two floors, studying the pieces that filled the space. Upstairs, a small goldfish made its way through undulating blue and green strands of algae, its eye made from the discarded lid of a paint bottle. Close by, large fish-like shapes swam by, with plastic innards exposed through a mesh exterior. Eleven separate canvases, lined up to create an image, formed a map of the Mill River Watershed.
Downstairs, students nibbled on goldfish, worked on pieces of plastic-and-paint art, and fielded questions as visitors came through. Around them, pucker-lipped fish emerged from collages of plastic straws, beads, still-curled metallic ribbon, deflated balloons and glitter.
Studying the canvas that she contributed to—a repurposed work from artist Jules Larson, who is Moran's daughter—Wilbur Cross senior Jackie Rodriguez said she was glad to have participated in the show. At Cross, she got involved through her art classes. It was the perfect assignment: she both wants to be a sculptor, and constantly thinks about the sheer amount of trash in her neighborhood.
Multiple times a year, her family and friends do a trash pickup and recycling run in the area around Ferry Street. Joining the exhibition has inspired her "to use less plastic and recycle more," she said.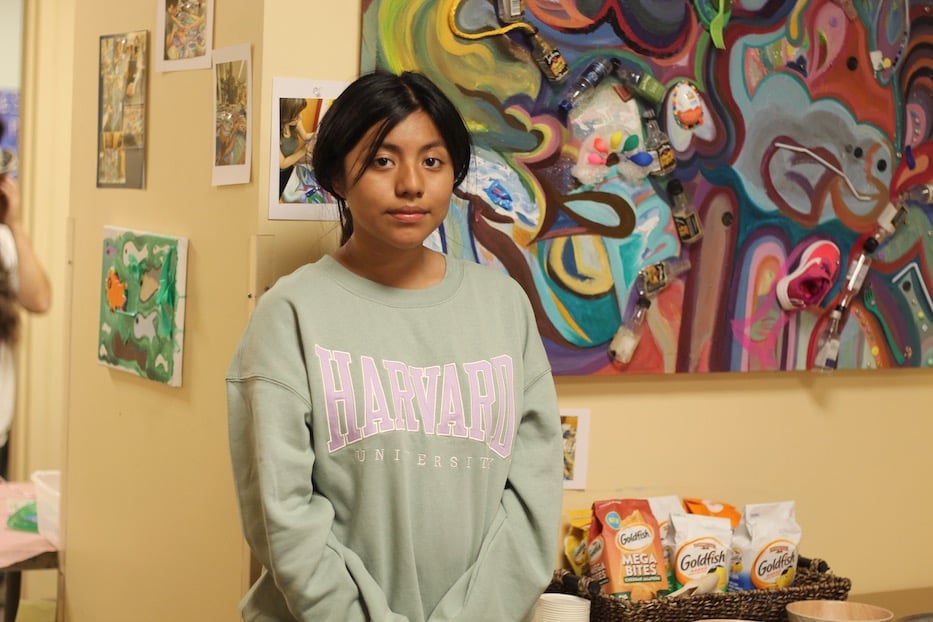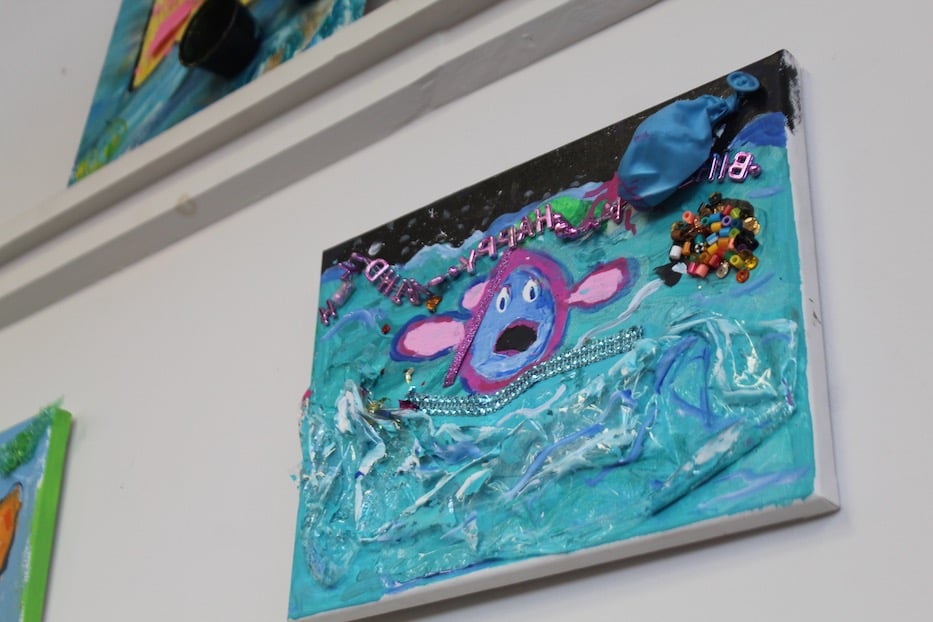 Top: Wilbur Cross senior Jackie Rodriguez. Bottom: More student artwork. Lucy Gellman Photos.
That's true for Rodriguez, too. Living in New Haven's Cedar Hill neighborhood, he walks to school through East Rock Park, cutting across Rice Field as the early morning light breaks over New Haven. Along the way, he often notices garbage lining the road, entangled in the grass, and on the park's trails. He has spotted piles of detritus, including a plastic Christmas tree that seems indestructible.
"Some objects have been there forever," he said. He added that he plans to do a better job of taking care of the world around him. At the exhibition, he started by cleaning up as part of his community service hours.
Beside him, fellow senior Crystal Pesantez said that she was grateful to have learned from the program. When she first came to the assignment in her art class, "I felt overwhelmed," she remembered. There were so many directions in which she could take the assignment, she said. She ultimately used a cluster of nip bottles, and added them to the image of a turtle with sunglasses.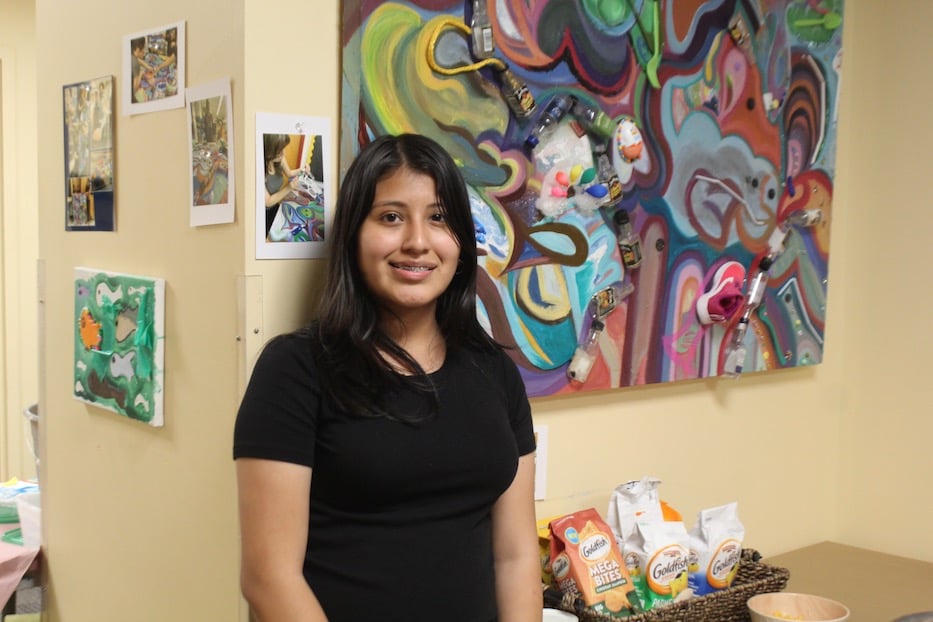 "When I do art, I feel like it's a little bit more of how I show myself." Lucy Gellman Photos.
"When I do art, I feel like it's a little bit more of how I show myself," she said, adding that she's now more sharply attuned to the sheer amount of plastic that she sees, whether in her neighborhood, at school, or at the beach with her family. "This makes me think about what I'm gonna do with the material. Like, should I really get an iced coffee? We should clean our environment."
By the end of its first night on display, over two dozen people had attended the show, some drawn in simply because it was in the library. In a basement-level community room, laughter bubbled up between sisters Mariah and Lilah Jackson as they added lego pieces to the paintings.
As they painted, their grandmother Elizabeth Lyde took in the art, counting the bits of plastic populating the library. A resident of Fair Haven, Lyde said she became interested in reducing plastic waste months ago, when her weekly walks for wellness brought her out to New Haven's Long Wharf. As she walked along the shore, she was shaken by the number of plastic water and soda bottles, small nip bottles, and bits and pieces of waste that she saw. Some of that plastic flows into the Long Island Sound; some chokes birds who mistake it for food, or try to use it in their nests.
"I was like, this is the world we're leaving for our children?" she recalled. "This is our future?"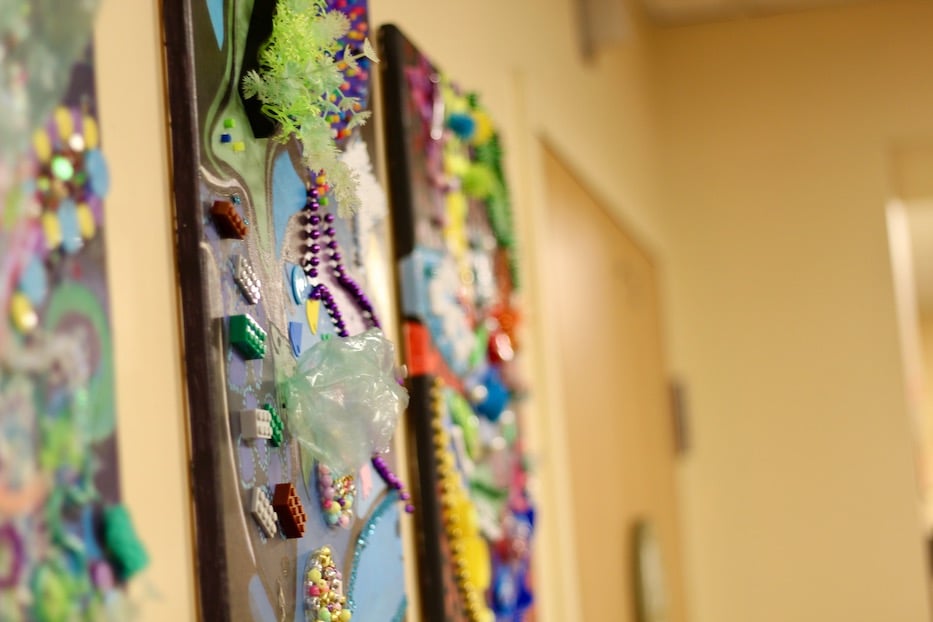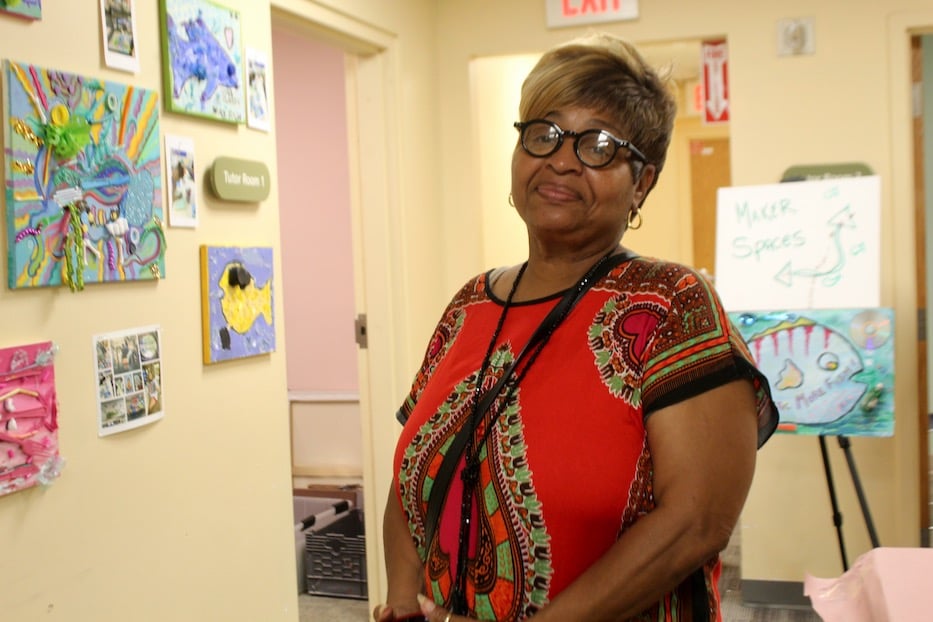 Elizabeth Lyde: "This is our future?" Lucy Gellman Photos.
Juanita Drummer, who works during the day as a crossing guard at Fair Haven School next door, said the exhibition caught her eye just before it went up, when Moran was installing in early September. As a resident of Fair Haven, she's already in the library every day; she referred to the staffers at the reference desk as "extended family." So when she heard about the exhibition, she came.
"I never thought you could do this with garbage," she said. "The colors actually pop, and the children that are doing this—they're seeing the impact plastic has. I keep looking at the fish. It just surprised me that we could do this with garbage."
Before the night was over, Konno-Leonffu stopped by to take in the show, which includes work from her fourth through sixth grade science students at Clinton Avenue School. With her students, she saved and cut up some of the plastic lids that come with school lunches, spoke about the harm plastic was doing on the environment, and integrated the plastic into paintings.
To keep the lids out of the landfill, she has also melted some of the pieces down and suspended them from the school's ceiling, so that they appear like jellyfish.
"It was great," she said. Sttudents loved the hands-on nature of the project, and she loved that she got to flex her art muscles, which for years she used as an art teacher. She added that she likes to think of the projects with Lots of Fish—which include storm drain art, painted rain barrels, and murals inside schools—as cumulative.
"They just build on each other," she said.
For more from the opening, including a musical interlude from artist-activist Frank Panzarella, click on the video above.