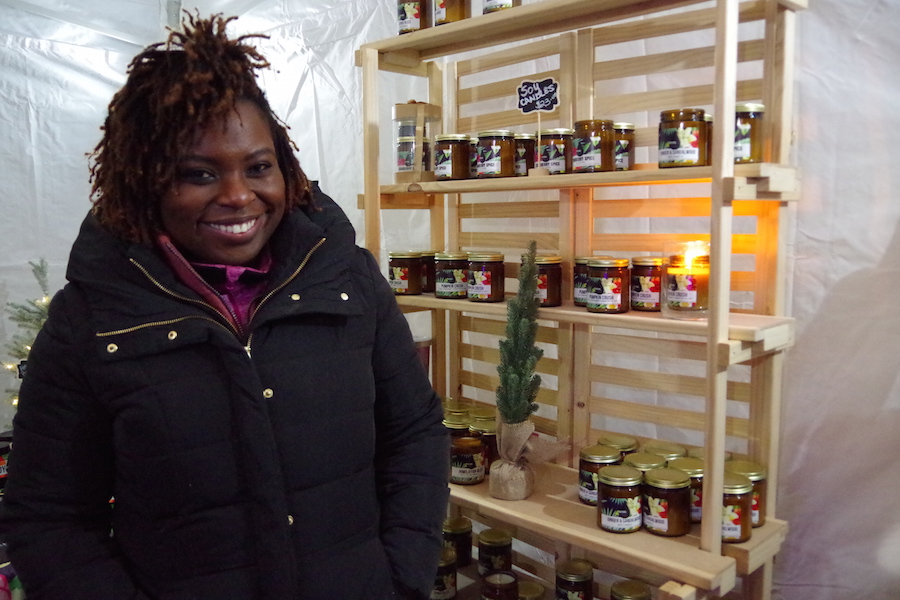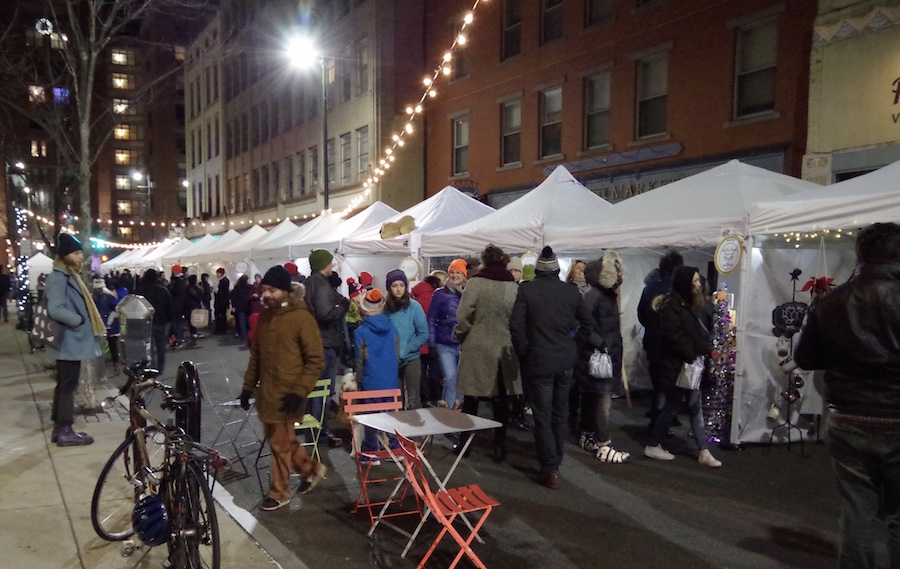 Friday night, New Haven's first Night Market brought out a few hundred people to shop, eat, and gather in Ninth Square. Despite below-freezing temperatures, attendees visited over 20 different merchants along Orange Street; got snacks from the Caseus and Four Flours food trucks and libations from Barcade and 116 Crown; and admired art in downtown galleries.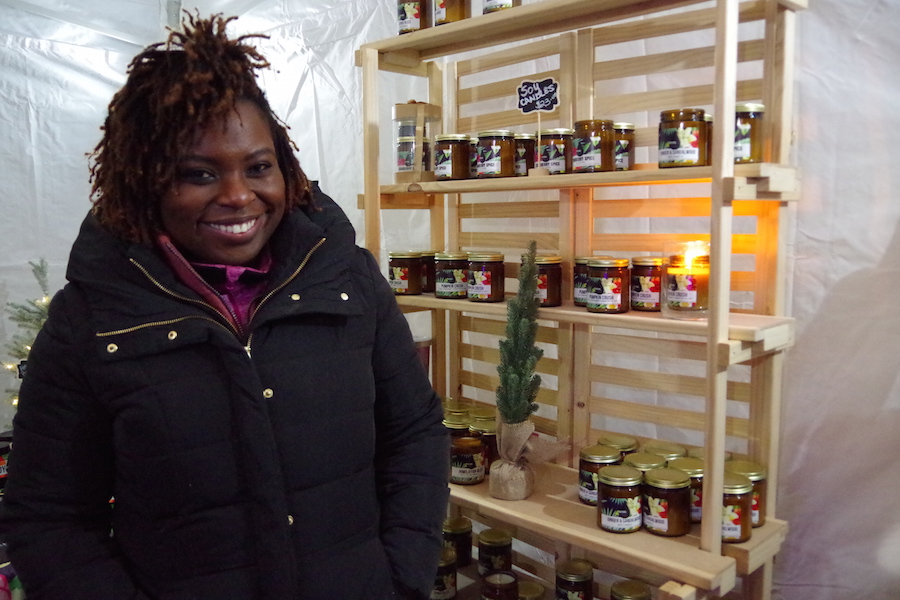 Annie Brown. Leah Andelsmith Photo.
The delightful scent of vanilla and spice wafted around Annie Brown's tent, drawing customers in to sample some Natural Annie's Essentials hand butter and maybe pick up a lip balm.
Warming her fingers over one of her Pumpkin Crush scented candles, Brown explained that she got her start making products for her daughter. When her daughter was born with Spina Bifida and Hydrocephalus, Brown tried using prescribe medications to alleviate her daughter's skin issues, to no avail.
"I grew up in Jamaica, raised by my grandparents, so I'm used to using herbal remedies," said Brown. So she mixed her own products using shea butter, coconut oil and essential oils, and it cleared up the problem.
"Then I got pumped and started making everything around the house," she added.
Based in Bridgeport, Brown said she was excited to sell Natural Annie's Essentials in another local market.
"I've never done a night market before and I thought it would be fun," said Brown, who drew a brisk business Friday night.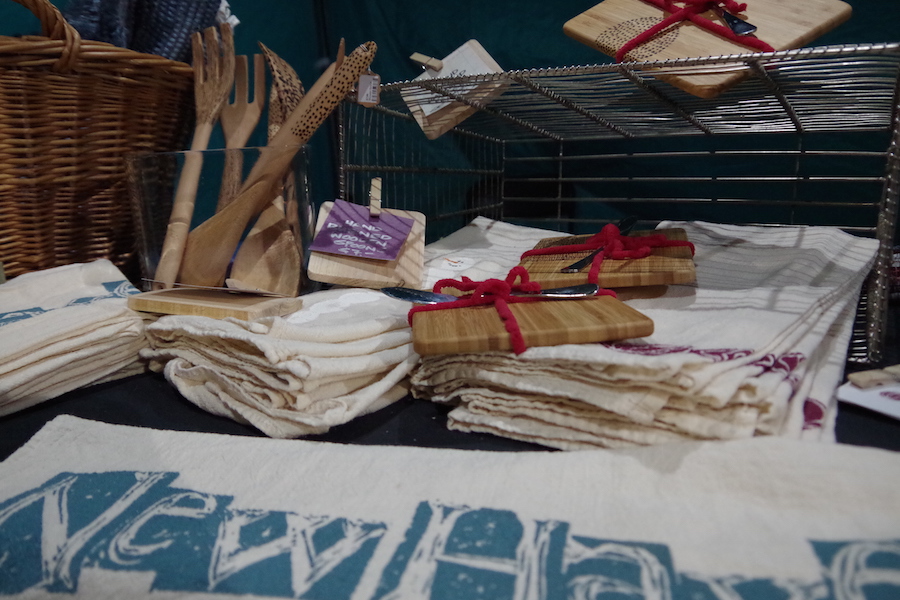 Goods from East Street Arts. Leah Andelsmith Photo.
Entrepreneurs and friends Alex Hood of Hazel Street Press and Alyssa Breeden of Home Sewn Home Goods shared a tent, filling it with holiday cards, ornaments, and cheekily crude linens.
Clutching a warming packet in her pocket, Hood explained that both are brand-new New Haveners who connected over their love of crafts. The pair decked out their tent with candles, wintery decorations, and even hung a few stockings, which attracted a steady stream of customers all night. Nearby, offerings from East Street Arts beckoned.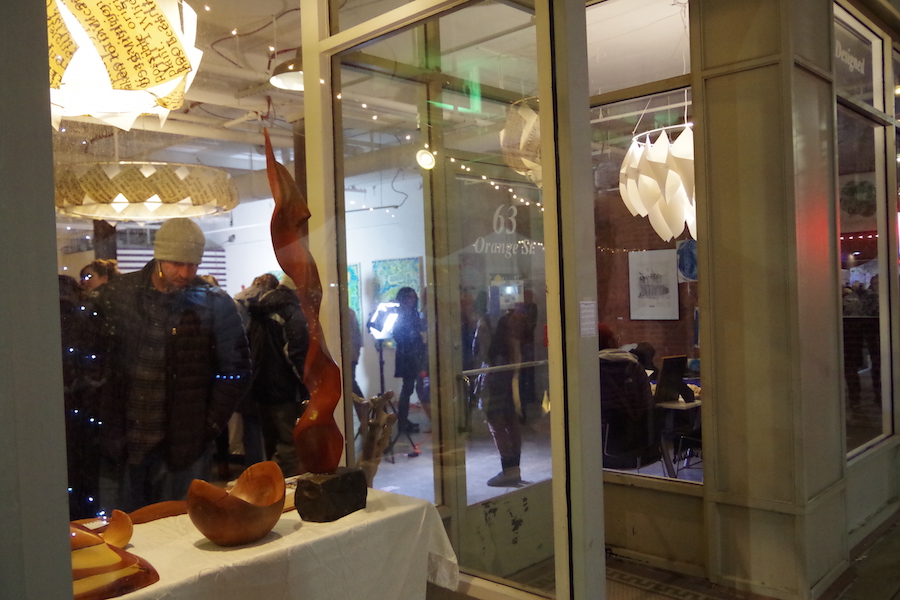 The Mushroom Art Collective comes alive. Sophie Briand Photo.
It was elbow to elbow inside the Mushroom Art Collective's temporary digs at 63 Orange St., in Neville Wisdom's old shop. Artist Ioana Barac was enjoying the cozy atmosphere with her creative partner Marissa Mead and best friend Ileana Dumitriu. Barac and Mead, of Atelier Cue, created the chandeliers that glowed throughout the pop up gallery.
But Barac also appreciated the lights strung between the tents outside. "It looks subdued and festive at the same time," she said.
"It makes me remember going to really lovely holiday markets in Europe. It was cold, but people enjoyed it," said Mead. "We should do it more often."
"This whole thing is so nice," added Dumitriu.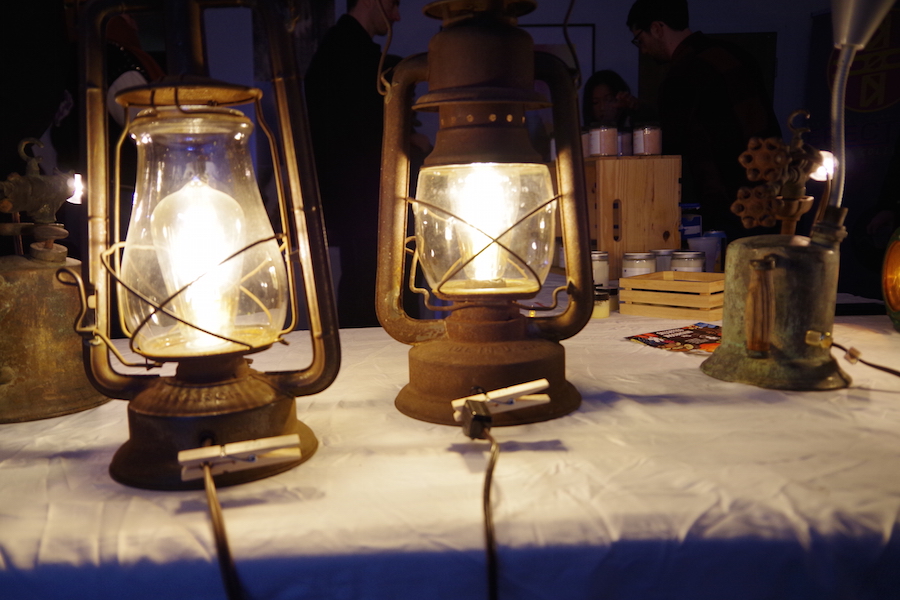 Attendees were drawn to the soft light of a table covered with antique lamps fitted with modern bulbs, each with its own patina. The lamps were made by Tony Mango, who, according to Katz, manages to make his rehabbed lamps "feel warm, but also somehow modern."
At a nearby table, Amira Brown was selling "Revolving" a zine featuring her artwork—portraits and everyday moments that she invites the viewer to interpret for themselves.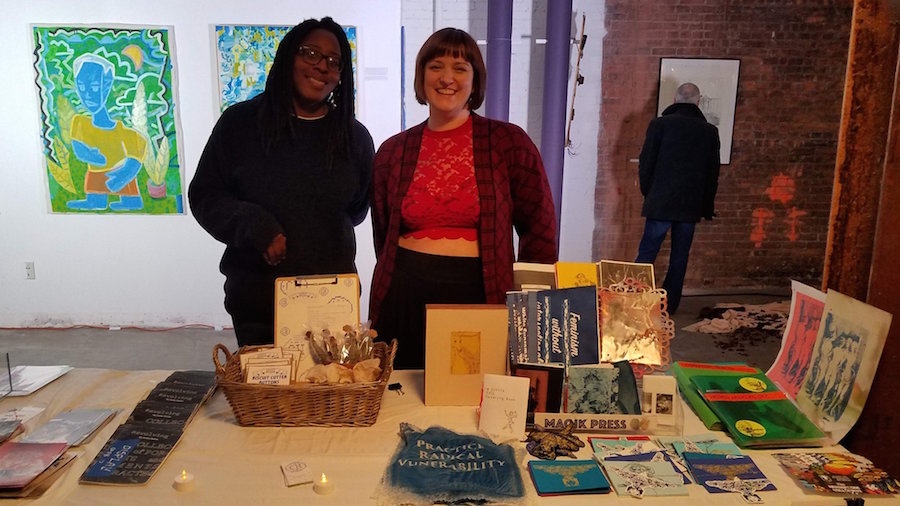 Amira Brown with Magik Press' Aly Maderson Quinlog.
Mushroom Art Collective co-founders Sophie Briand and Nikki Katz (third co-founder Bu Lei Tu was not part of the interview) said they were pleased with the Night Market, which was their very first gallery opening.
"People are curious and very supportive," said Briand, who added that she hopes folks will come back on Dec. 14 for the official opening.
Katz said that the collective—like a mushroom—has been doing much of its work underground. Now that it's out in the open, their pop up is flowering.
"Artists are happy and people are connecting. It's a great atmosphere," she said. "People are communicating and there are a lot of great conversations happening."
Attendees Morgan Hunte and Kiah Strickland agreed.
"I like small scale stuff like this," said Hunte.
"Nothing but good vibes here," Strickland added.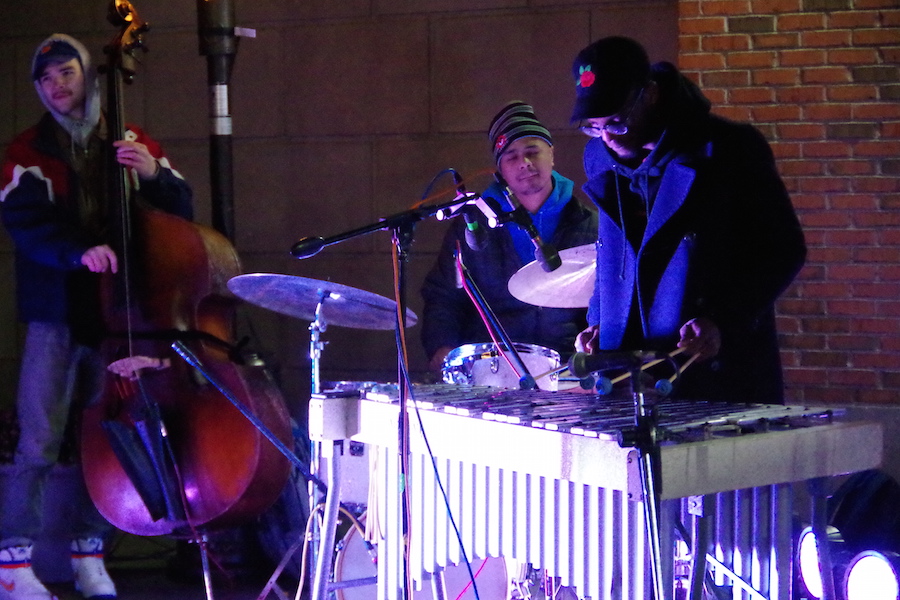 Members of the Alec Rice Quintet were stationed in the small courtyard at the corner of Crown and Orange Streets (What's On Tap a cappella also brought music to the chilly festivities). Pete Blake settled his bass under the heater while he stood alongside, trying to keep his fingers warm on the strings.
Drummer Avery Collins was lost in the rhythm of the song, playing with his eyes closed. Freezing fingers didn't stop Alec Rice from keeping hold of the mallets and playing his vibraphone as the trio launched into "Monk's Dream."
Played on the vibraphone, the catchy riff in the Thelonius Monk tune took on a bounciness that almost made it sound like a holiday song. Afterwards, Rice laughed about the fact that he forgot his gloves.
"The music kind of serves for warmth," he said. "We're playing music and that's all you can really ask for."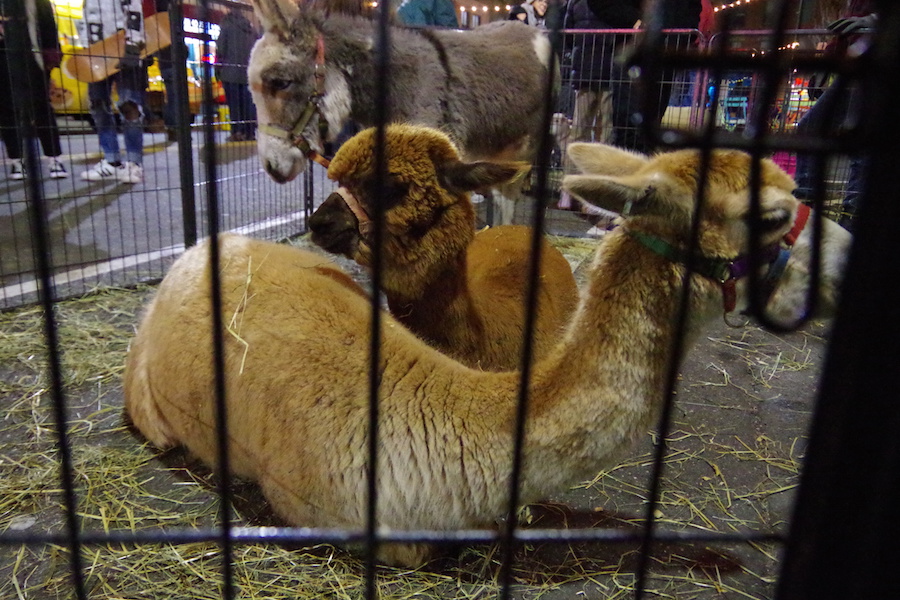 Circle K farms from East Hampton, Conn. brought a trailer-full of barnyard friends to the market, and attendees came by all night to pet them and offer handfuls of hay. And the animals didn't mind the low temperatures.
"The sheep's winter wool coats are two inches thick," said Circle K employee Amber Johnson. "They're not chilly at all."