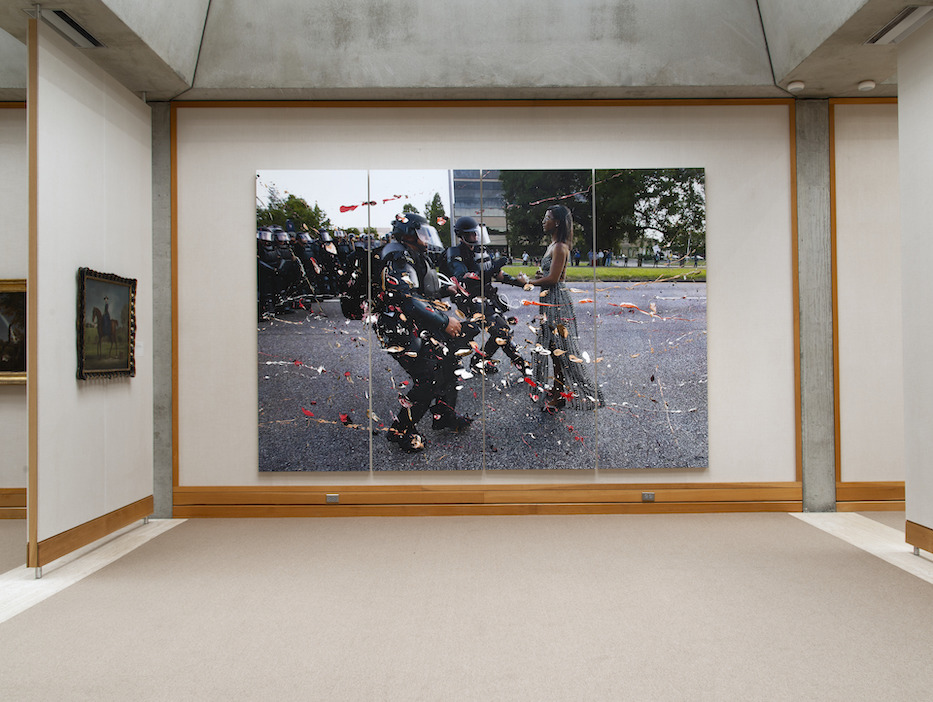 Downtown | Painting | Photography | Arts & Culture | Visual Arts | Yale Center For British Art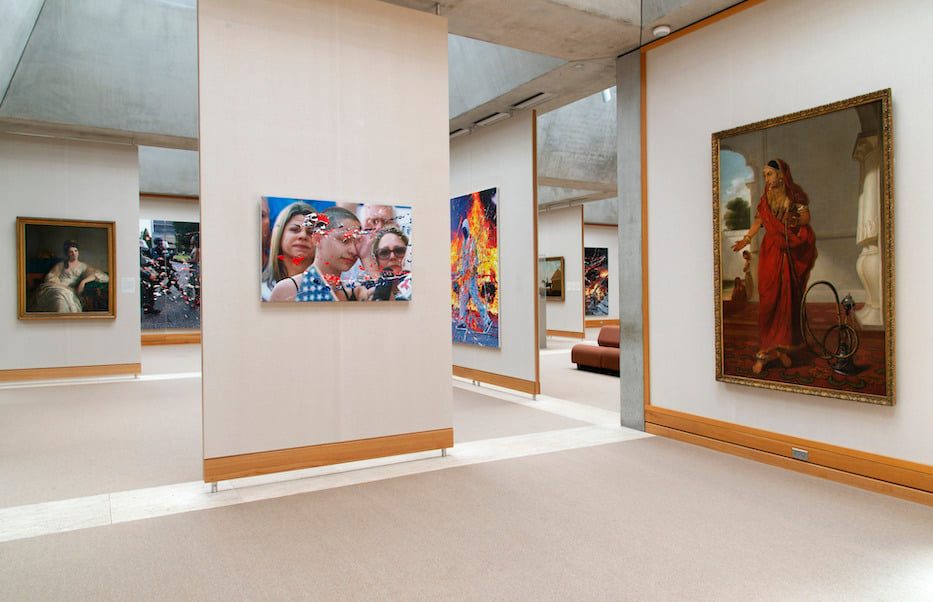 Marc Quinn: History Painting +, fourth-floor gallery installation, courtesy of the artist and Yale Center for British Art. Richard Caspole Photo.
Entering the Yale Center for British Art (YCBA) can be a precarious decision. From the street, its interior courtyard looks empty through heavy glass and steel doors. Greeting you across a travertine-floored expanse is John Cheere's lead facsimile of Giambologna's Samson Slaying a Philistine.
Samson's silvery hand squeezes an ass's jaw set to strike a nameless man's skull—a bludgeoning in process. Its present-day complement can, for a time, be found a few steps away in a stainless refrigerator. It contains a portrait whose thaw would splatter its clinical surroundings red—ten pints of blood form a head suspended in a plastic case at minus eighteen degrees celsius.
Hello, Marc Quinn. His solo exhibition, Marc Quinn: History Painting +, runs at the museum through October 16 of this year.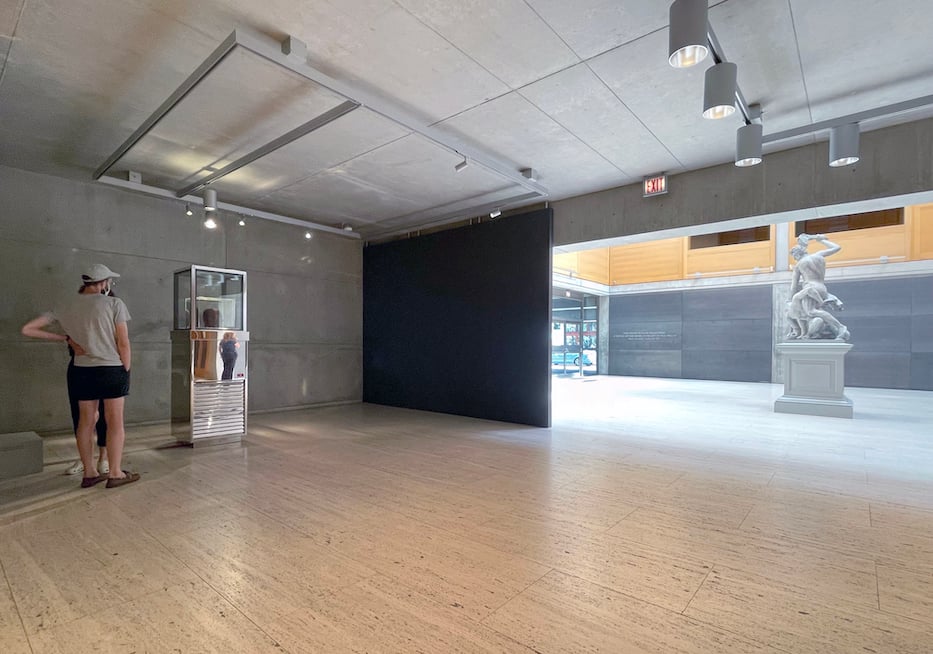 Marc Quinn History Painting +, entrance court installation, Yale Center for British Art. Ronnie Rysz Photo.
The artist's own record is inseparable from this introductory work, Self 1991, whose likeness and physiology has been extracted, recast, and machine cooled since 1991. Other North American stops have included the Sensation exhibition at the Brooklyn Museum in 1999, where former New York City Mayor Rudy Guiliani threatened censorship, and an appearance at the short-lived Met Breuer (before it became Frick Madison) in Life Like: Sculpture, Color, and the Body in 2018.
Shock at the piece does not seem to diminish over time, nor does the artist's interest in himself. At the YCBA, visitor responses range from awe to disgust upon discovering the work's composition. Quinn equates his commitment to a personal bloodletting regiment every five years to Rembrandt's lifelong self-exploration through portraiture.
"It's a work that's part of my history and part of what I do," said Quinn in an episode of Bloomberg's Brilliant Ideas (the artist did not reply to a request for comment for this story). "It's a biological biography, isn't it? Scientists can probably look at the blood and chart everything about me … you can probably find out what I am eating, am I healthy, unhealthy … It's like a whole library."
Marc Quinn: History Painting + moves quickly from autobiography to other histories the exhibition claims to consider. An undulating groundswell of crimped canvas leads visitors to a fissure in the museum's collection. Intensely colorful oils attempt to "foil" their centuries-old neighbors on display in the fourth-floor galleries, according to a curatorial statement by YCBA Deputy Director and Chief Curator Martina Droth.
Many of Quinn's paintings are not unlike the older works surrounding them—they too were conceived through an interpretative process beholden to a creator's discretion. With protagonists reversed, the overwhelming voice here is still that of Quinn.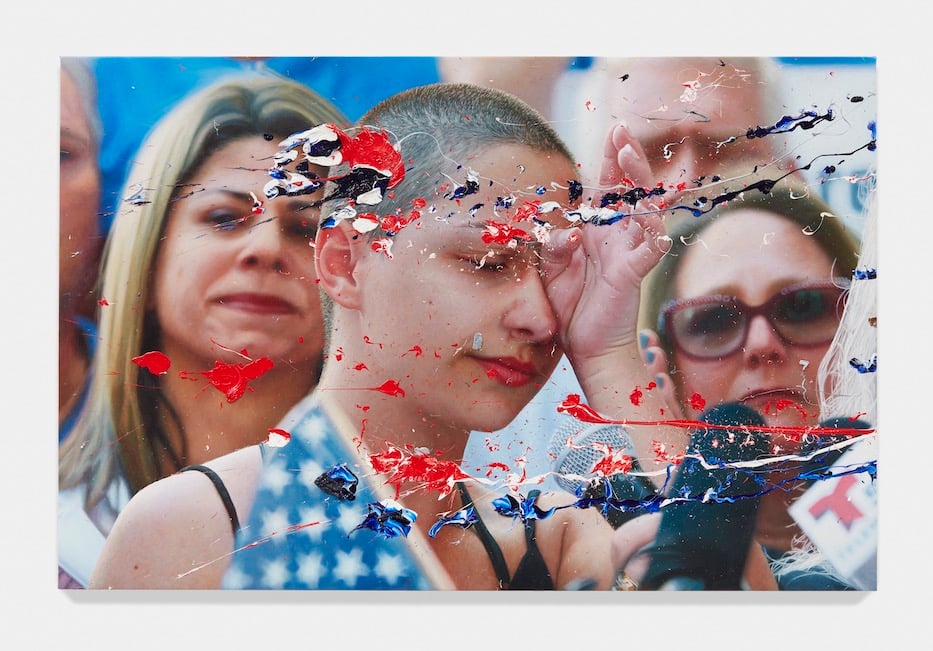 History Painting Emma [X] González Speaks at a Rally for Gun Control (Fort Lauderdale, 17 February 2018) RWB, courtesy of the artist and Yale Center for British Art, © Marc Quinn studio.
History Painting Emma [X] González Speaks at a Rally for Gun Control (Fort Lauderdale, 17 February 2018) RWB depicts a contradiction. González, a survivor of the Marjory Stoneman Douglas High School shooting and founder of March for Our Lives, is not vocal in the image that Quinn has selected to suspend in paint. She is crying between words during an anti-gun rally three days after enduring incredible violence.
Quinn's self-described "absurdly laborious" photorealist treatment leaves no air for González's own voice, and the charged drips on this canvas surface further abstract the event.
"It's time for victims to be the change that we need to see," declared González on that day in Florida.
Quinn has chosen this image among a feed synthesized across internet search engines, social media algorithms, and what he calls the database in his head seemingly without consultation from González. Instead, he focuses on the instant photographer Rhona Wise had already set into the public consciousness, and in turn, makes it his own by proxy.
Around the same time Quinn had begun his ongoing History Painting series, he spoke to the Evening Standard Magazine about his relationship with material culture. "I always loved going to The British Museum, and then I reali[z]ed you could actually buy the kind of pieces it exhibits and have them around instead of having to go there. Everything I buy I end up being influenced by in some way."
By professing moments historic, Quinn subverts the agency of everyone he aims to champion. He coopts their energy and aligns himself with a similar legacy cemented in Paul Mellon's collection at the YCBA. William and Thomas Daniell, Tilly Kettle, Thomas Hickey, William Hodges, Edward Lear, John Frederick Lewis—also translated others' lives through their own language to various degrees and as a result of extraction.
"Too often, I wonder if artists responding to Black Lives Matter are doing so because they truly are concerned about Black lives, or if they simply recognize the financial and critical benefits that go along with creating work around these subjects," said Taylor Renee Aldridge in ARTnews, identifying a growing artworld trend a year before Quinn completed his painting of Ieshia Evans protesting the death of Alton Sterling.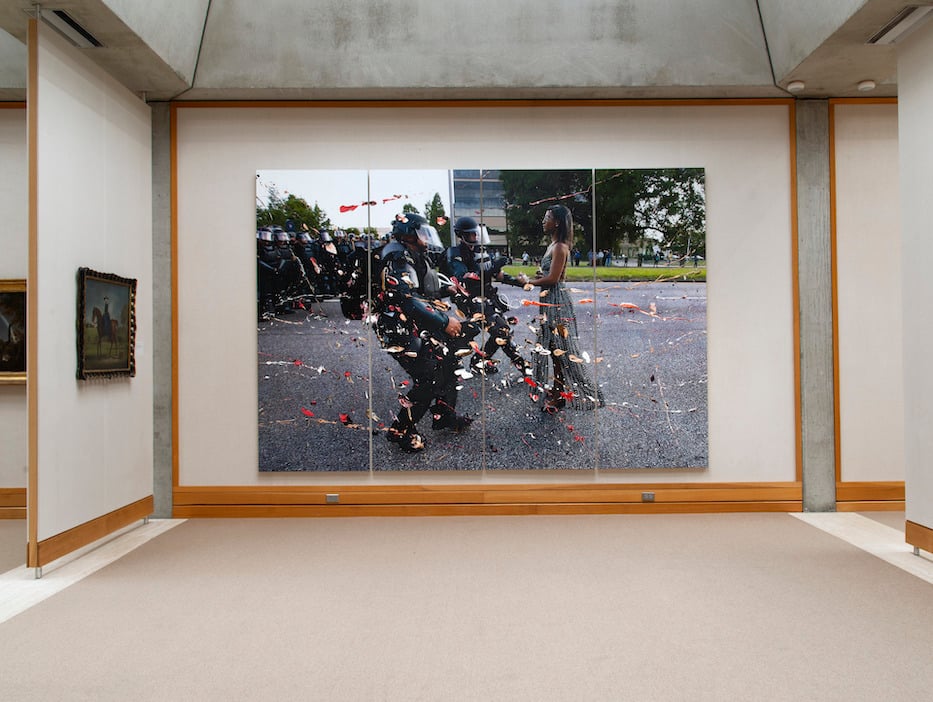 Marc Quinn: History Painting +, fourth-floor gallery installation, courtesy of the artist and Yale Center for British Art. Richard Caspole Photo.
Quinn has had an uneven record as a "chronicler" through his artmaking, having engaged sitters like Peter Hull (1999) and fellow artist Alison Lapper (2000) for his Complete Marble series. The latter collaboration expanded in scope, growing from life-size sculpture designed for the gallery to a larger marble work to crown the inaugural Fourth Plinth at Trafalgar Square in 2005, to an even larger inflatable version that was part of the opening ceremonies for the London Paralympic Games in 2012.
"I'm very comfortable with my own body, although I never imagined it would feature in Trafalgar Square," Lapper told Megan Lane of the BBC News in 2004. "I think it's great that such a powerful image of femininity will be in a place so associated with war and heritage."
Push forward to the protests in Bristol, England in June 2020, prompted in large part by George Floyd's murder days earlier and centuries of compounded anger. A bronze sculpture of slave trader Edward Colston was pulled from the location it anchored since 1895 and ended up floating the city's harbor, during which time protestor Jen Reid raised her fist atop the emptied plinth.
Within weeks, and without consultation from the Bristol community, Quinn's team stealthily installed a sculpture of Reid where the statue of Colston once stood.
"The public realm feels so vital at the moment, as a space to activate ideas and create change. It feels essential in particular for public art to play its part," Quinn said about the urge to participate. He and Reid had been working on the project privately and opted to bypass more communal processes about what was next.
"Yet, this moment of joy and catharsis was taken away with the reali[z]ation that it was yet another example of white privilege in action," said artist Thomas J. Price in The Art Newspaper a day after the sculpture of Reid was installed. "While many non-Black people took a moment to consider how to de-cent[er] themselves in discussions about race, Marc Quinn, an established white male artist saw an image."
The YCBA has, in recent years, expanded its conception of British culture to include an intersection of voices in control of their own narrative, which is why Quinn's exhibition and related programming bewilders. Through a fine veneer, History Painting + signals to progressive concerns, but Quinn's echoed headlines are far from being on the ground for all but his own story.
Marc Quinn and Martina Droth have not responded to requests for comment. A partial transcript of a conversation between Droth and Quinn has been made available online.
Ronnie Rysz is an artist, designer, writer, and aspiring chef and cyclist.