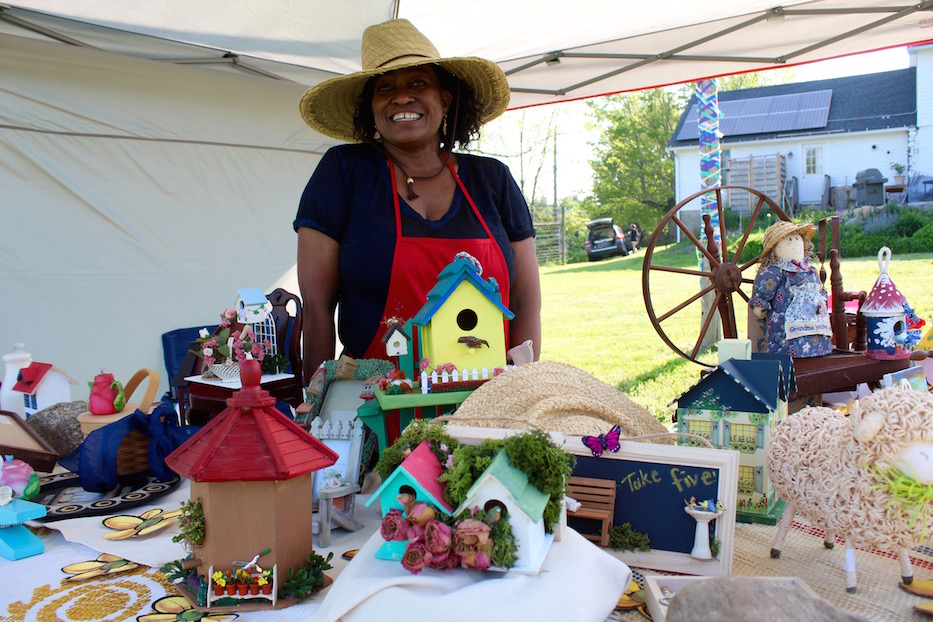 Agriculture | Arts & Culture | Woodbridge | Food & Farming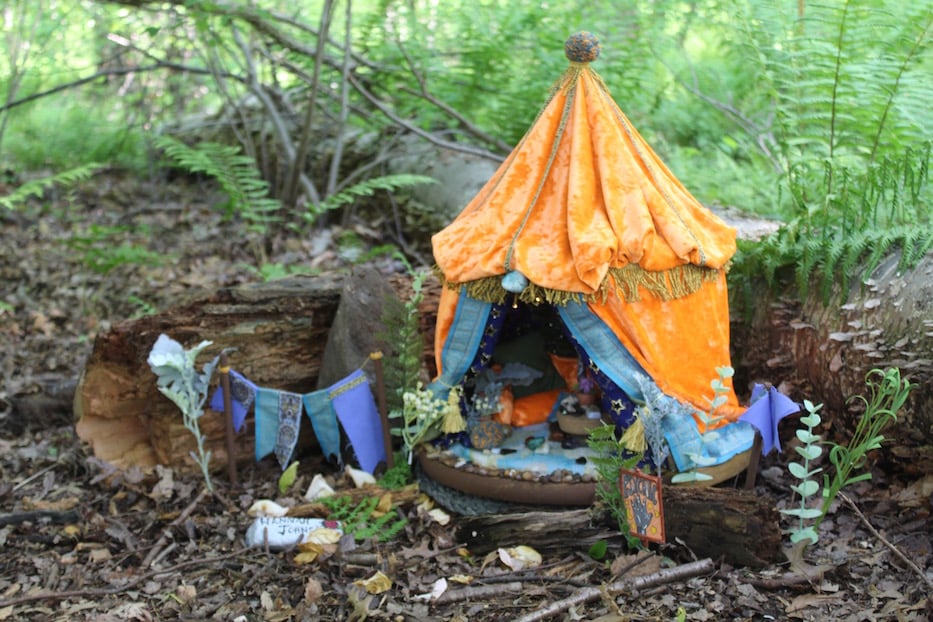 Hannah Johnson's fairy house at Massaro Community Farm. Lucy Gellman Photos.
The tent rose deep in the woods, a spectacle in fabric and fringe between two mossy logs. On its floor, gem-colored pebbles sprawled across a rug and glowed beneath a doll-sized divination table. Tiny pennants hung outside, fluttering in blue, purple, teal and gold. A brook babbled quietly nearby. In all of the 10 inches that the tent occupied, anything seemed possible.
That magic came to Massaro Community Farm Saturday, during an annual "Celebrate Spring" seedling sale and fairy house trail on the 57-acre Woodbridge property. Organized by board member and artist Dylan Vitale and Massaro staff, the event brought out 400 people to the farm, many of them leaving with armfuls of seedlings. For the first time this year, Vitale folded in a four-hour vendor fair with artists from across the region.
For Vitale, it's a way to blend magic-making and support for regenerative agriculture, particularly as a global food crisis and boom in monoculture farming loom large on the horizon. Each year, new families come to the farm to buy their seedlings, and then return to tour the property, sign up for Massaro's community supported agriculture (CSA) program, and buy locally grown produce. Four years ago, he started the fairy house trail as a way to engage and delight visitors of all ages. After an unexpected pandemic hiatus in 2020, it returned in 2021 and has continued to grow.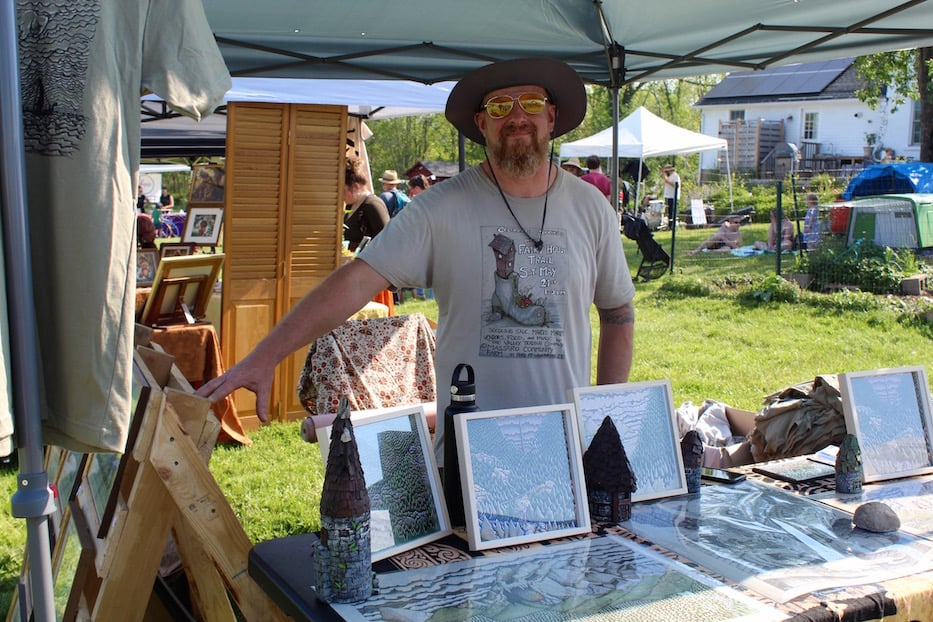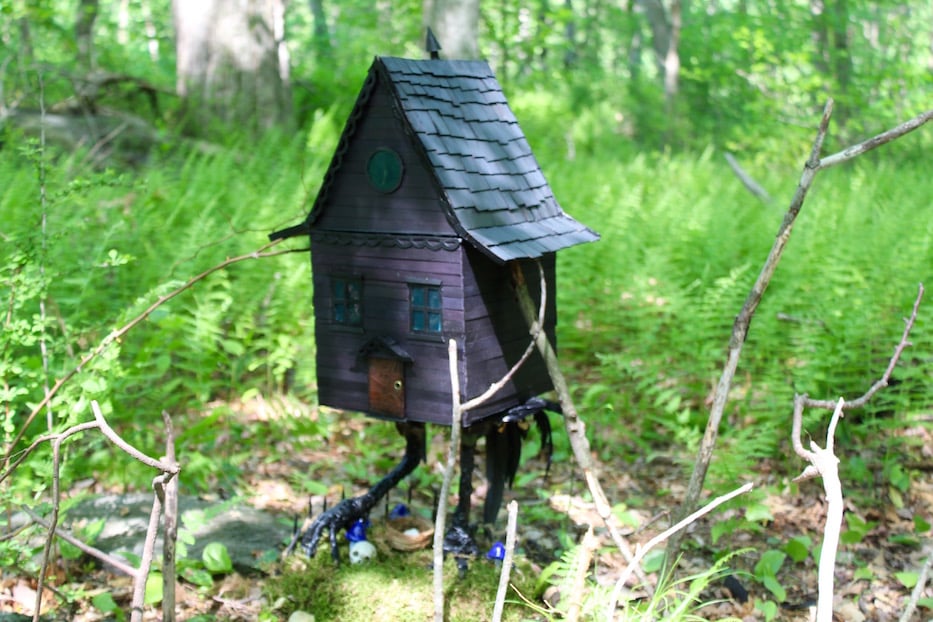 Top: Dylan Vitale, who began the fairy house trail in 2019. Bottom: Mya Freeman's design along the fairy house trail.
"It makes the world bearable," he said of the fairy houses. "It's just a lot of fun to engage in your inner kid."
Beneath his own tent, Vitale chatted with visitors, surrounded by fantastical, large pen-and-ink designs fit for a fairy kingdom. In one, trees stretched out in every direction, lining the hills in an undulating wave of deep green. In another, a mountain seemed to sprout right from the earth, rising against a low-hanging, scalloped gray sky. Across the table, tiny elven houses carved from wood doubled as weights, to keep the pieces from blowing away.
A museum technician at the Yale Center for British Art by day, Vitale makes the drawings at night, while listening to podcasts. He said the process helps keep him sane as the world turns on its head—just like his time at the farm.
"Regenerative agriculture is likely the only future we have to feed ourselves," he said.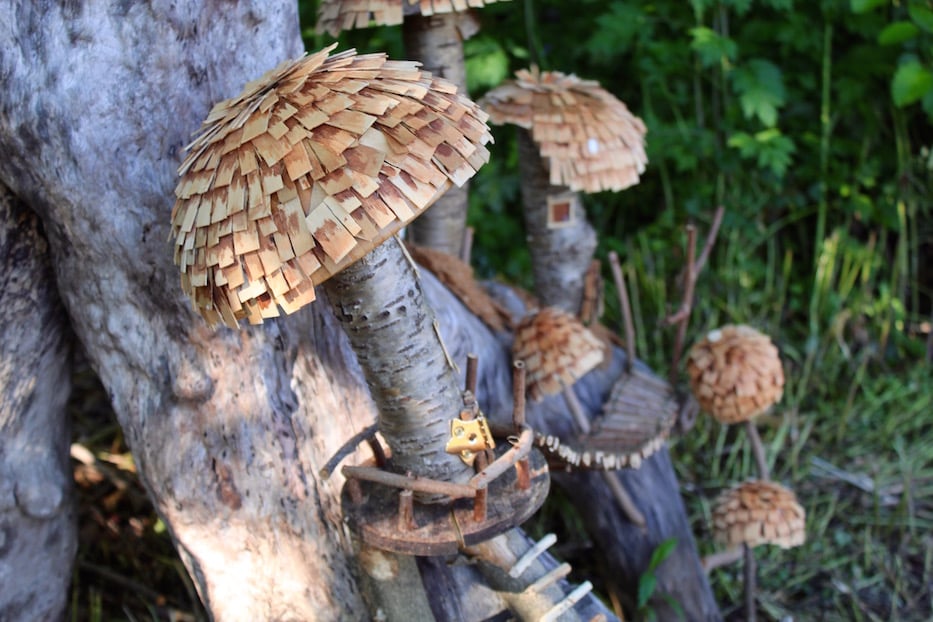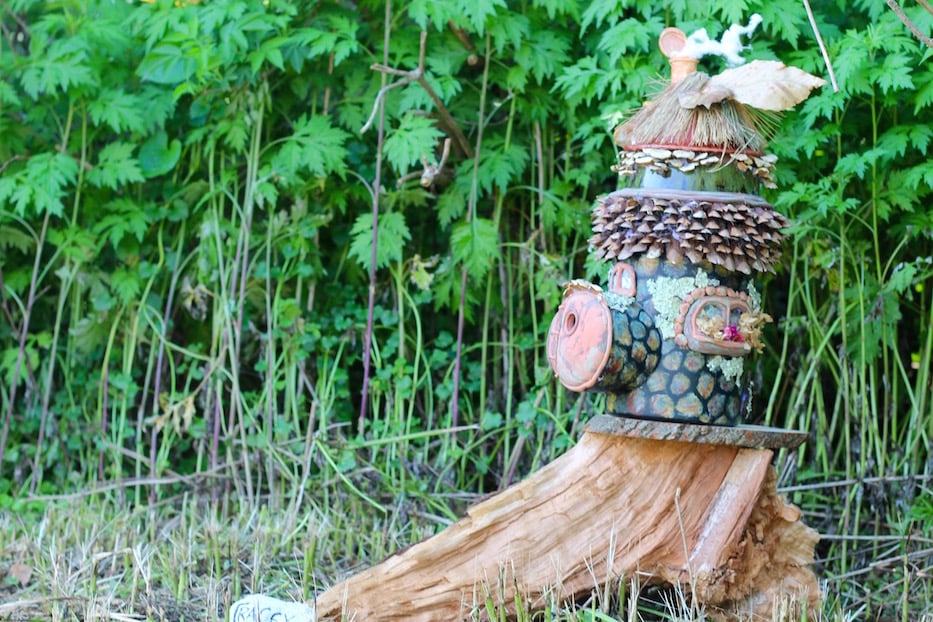 Top: A detail of Vitale's fairy house. Bottom: Along the trail.
Just a few yards away, Vitale's own fairy house beckoned, creating a fairy trail that started as dirt, became gravel, and then transformed into grass, leaves, mud, moss, and water-slicked rocks. In his design, wooden mushrooms sprouted from an old tree trunk, their caps arranged in layers of neat wood shingles. A bridge ran between two mushrooms, as if it was waiting for wee fairy feet. Behind it, a teapot transformed into a wood-shingled house with a miniature door. A sprinkler system sent a spray of water into the road, creating a rainbow of light.
As they ambled around the property, attendees beat the heat with iced drinks from Café Rebelde and water refill stations that had sprung up around the farm. Down the path and into the woods, each house took on its own personality. One featured a cotton fluff of chimney smoke atop a tiny thatch roof. Another, from Global Local Gourmet Founder Nadine Nelson, featured a box hidden away beneath a wooden duck, studded with bright stones. A third swung open to reveal a seated garden gnome, as if he had been waiting.
It seemed that the further into the woods a person ventured, the more elaborate the houses became. A psychics' tent no larger than a birthday cake waited in a small, mossy alcove, drawing squeals of delight from pint-sized passers-by. A low birdhouse house perched on two spindly legs, designed to look like a crow's weathered black claws. A cluster of enchanted fruit wrapped around a large, damp tree trunk, each piece sprouting leaves. Tiny, silver-toned air bubbles peeked out from their surfaces.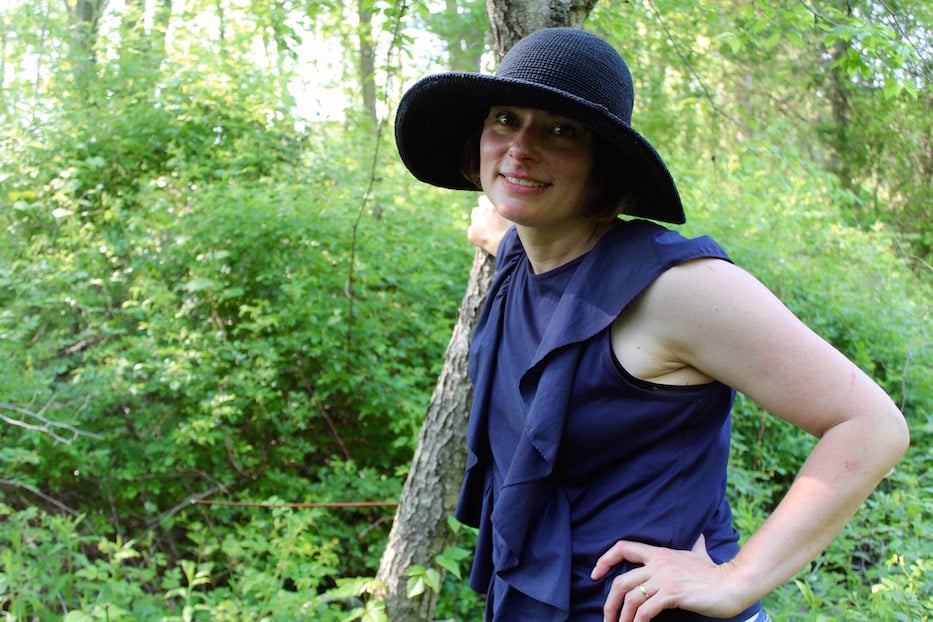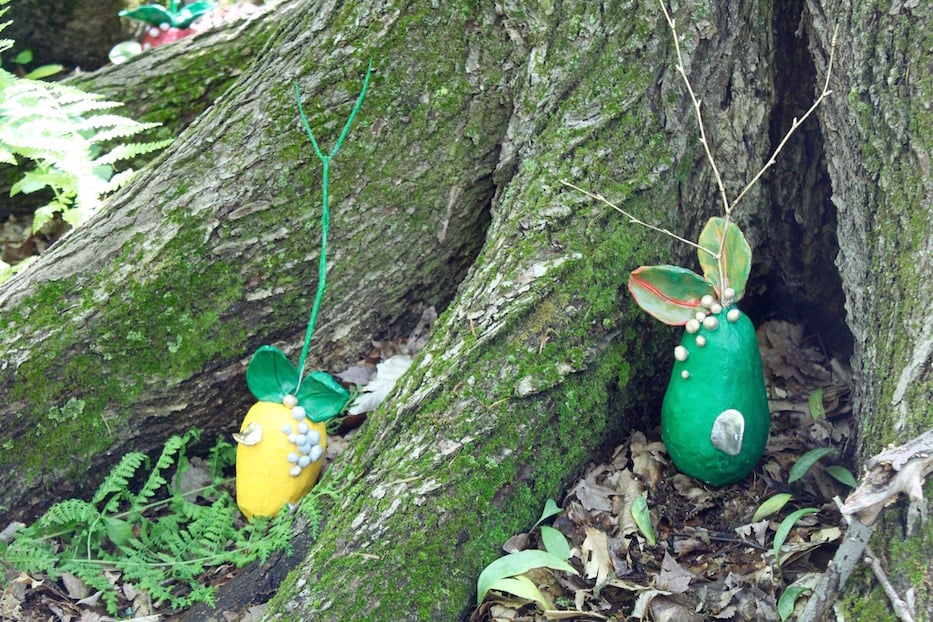 Artist Gabriella Svenningsen, who brought enchanted fruit to life.
"Of course I believe in magic!," said artist and illustrator Gabriella Svenningsen, who came up with the idea for fruit earlier this year, as she walked through the woods toward her design. "Because we live in a really hard time. I really think that an event like this that brings people together is important."
Back at the vendor fair, attendees walked from tent to tent, chatting with book nerds, wood carvers, herbalists, quilters, and all manner of artists who had chosen to believe in magic. Strains of music from the Valley Trading Company floated into the still, hot air. Every so often, Vitale made the rounds, checking in on artists as they fanned away the afternoon heat.
Surrounded by whimsical, fairytale drawings, illustrator Sara Zunda appeared in her element, framed by two delicate green seedlings as she spoke. This year, she is starting a garden at her home in Meriden, in hopes of growing her own food going forward. Bouncing between prints, she called local agriculture "horrendously important," noting how much produce is thrown away and destroyed each year.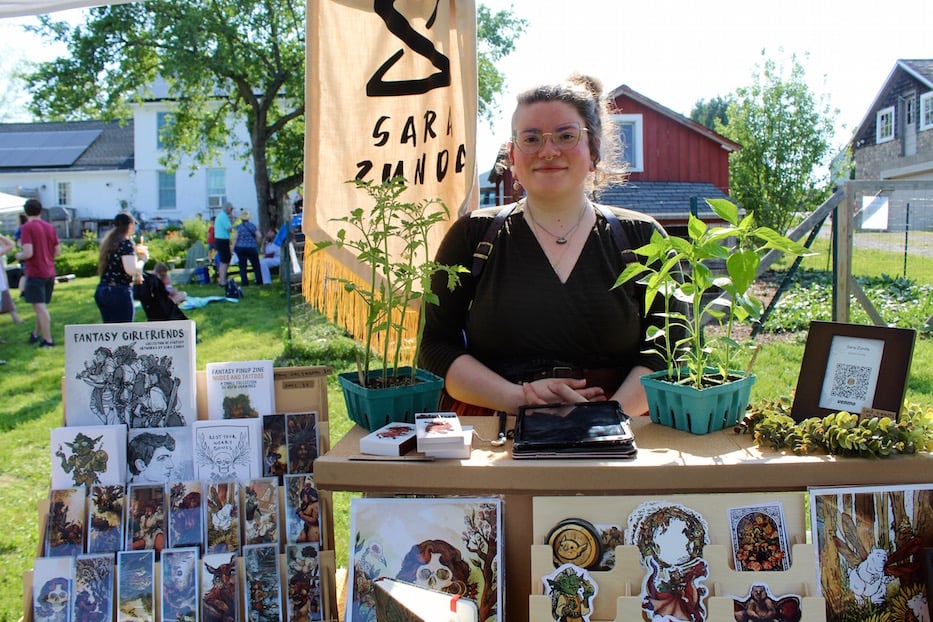 Top: Illustrator Sara Zunda, who also had a fairy house on the trail. Bottom: Dannelle (Nellie) Dixon.
For her, growing a small garden is a small, individual answer to that problem. After keeping her house plants alive for an entire year, "I know I can do it," she said. She's starting small, with one cherry tomato plant and one bell pepper seedling.
Beside her, Dannelle (Nellie) Dixon introduced Ari's Elixir, a line of all-natural soaps, salves, whipped butters and creams named after her daughter, Aria. Based in Mohegan Lake, New York, Dixon started Ari's Elixir in 2020 as a way to help her daughter deal with increasingly difficult skin ailments. Initially, she said, she didn't intend to grow it into a business. Then she saw that there was a need. Two years later, her clients include chemo and radiation patients, acne-saddled teenagers, and eczema sufferers among others. A new line of CBD-infused products are designed for people dealing with pain, from carpal tunnel to arthritis.
When a friend who lives a few doors down from the farm told her about "Celebrate Spring," Dixon was excited to get involved, she said. Ari's Elixir sources herbs sourced from local farms, which has given Dixon an appreciation for the role that local agriculture plays in her everyday life. In addition to her work as a business owner, she tries to work in her local community garden.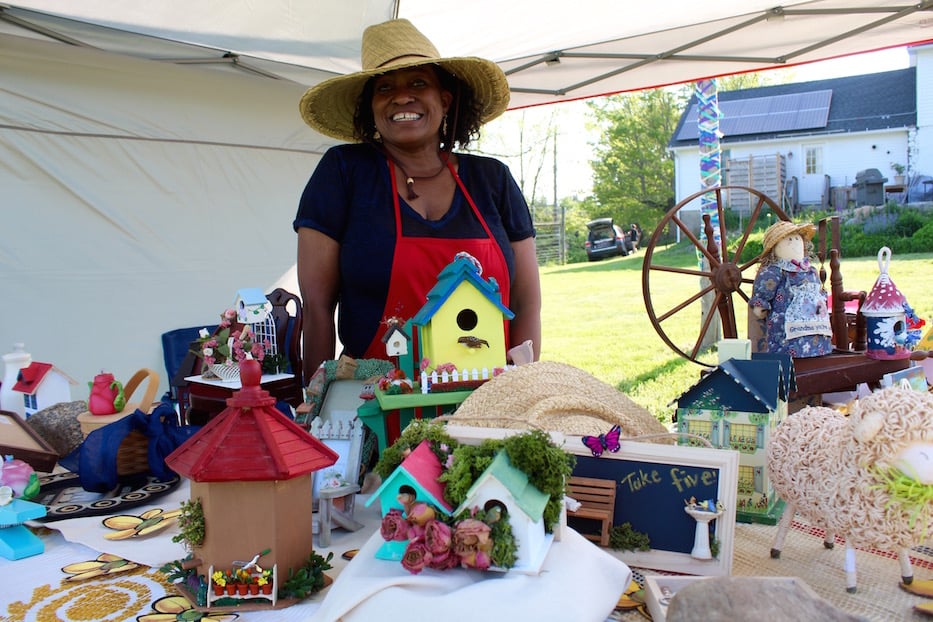 Top: Theresa Thomason. Bottom: A fairy house from artist Sara Zunda.
As the late afternoon drew near, Massaro board member Theresa Thomason began to pack up her tent, an array of small hand-painted birdhouses, picture frames, sewing boxes and small wooden containers. An oversized wooden clothespin peeked out from one end of her table. Nearby, two fairy-sized eggs sat on a tiny griddle, golden yolks facing the sky. As she went from object to object, the words Daughters and Dad popped in white thread from her red apron.
The story of the business is also the story of her family. Thomason's dad grew up in Gastonia, North Carolina. As a young man, he was a sharecropper who later migrated North, instilling the value of healthy eating in his family. As he got older, he became both a painter and a pastor. He raised a family. Then he received a dementia diagnosis that turned his world upside down.
Over a year ago, Thomason moved her dad into her home as he began to struggle with the disease. Sitting at her kitchen table, she and her sister started to paint with him. After realizing how much they loved it—and how much peace it gave him—they founded Daughters and Dad in his honor. She said Saturday's event resonated with her for its focus on sustainable food systems. Once she started eating local produce, she said, she never went back.
"It's taking care of people," she said.