Audubon Arts | Creative Arts Workshop | Arts & Culture
Detail of Olivia Bonilla's Rugrat cupcake tower. Photos by Lucy Gellman.
The cupcakes are falling over each other. There are six towers, all of them an ooey gooey mess. A cherry glints out from one, and a velvety knot of red from another. Globs of buttercream run down the sides. It's a sugar emergency.
But there's something off too: these unwieldy confections suggest movement in every way, except they don't move. They're too glossy to be appetizing. They're cupcakes that aren't cupcakes at all.
Olivia Bonilla's six cupcake towers set a haptic tone for "Matter," the latest exhibition at Creative Arts Workshop on Audubon Street. Curated by Westville artist Steven DiGiovanni, who is also the head of the school's drawing and painting department, the show runs through Sept. 25.
It features multimedia artists Alan Neider, Joseph Fucigna, Olivia Bonilla, Howard El-Yasin, and Thomas Stavovy. A reception is scheduled for Sept. 13 from 6 to 8 p.m.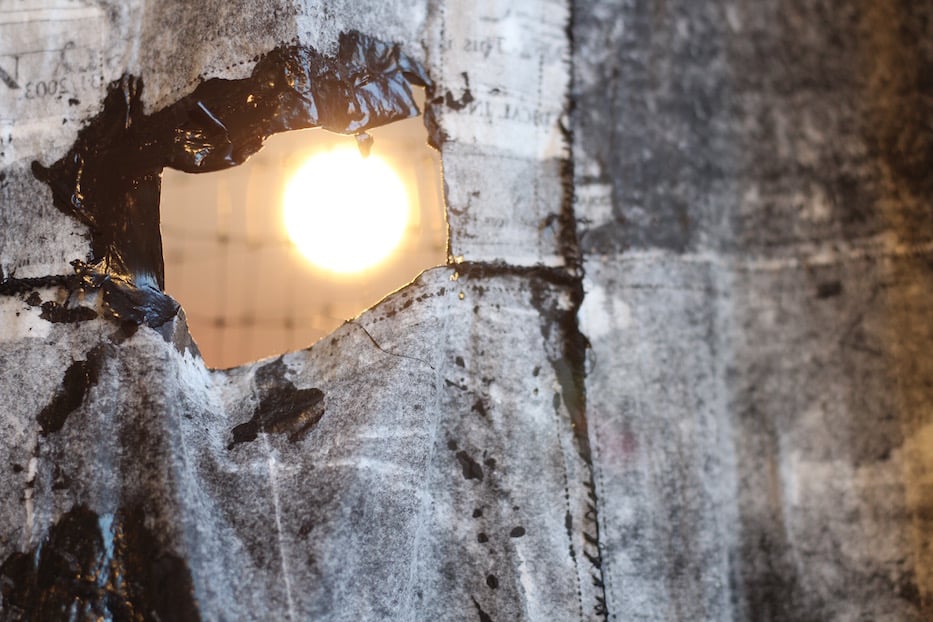 A detail of the front of Howard El-Yasin's Untitled black.
From first glance, the viewer starts to catch on to what this thing is all about. Matter hangs from the high ceilings; it spreads out across the back and side walls; it gets hit by the sun and becomes radiant. DiGiovanni has provided an introductory text on theme and process, the only words in the show otherwise crowded with material that speaks for itself (there is a handy exhibition checklist for viewers who want to know what they're looking at).
"Matter is the body, the 'thing in itself,' the primordial soup," he writes. "Matter is both universal and incidental. It is still, it is in motion and its resonances produce reflections. The five featured artists seek to ground their aesthetic inquiries in the various properties and poetic potentials of matter. Their work is tactile, often rich in narrative, and emblematic of a desire to recover a sense of physical connectivity in a digitally virtual world."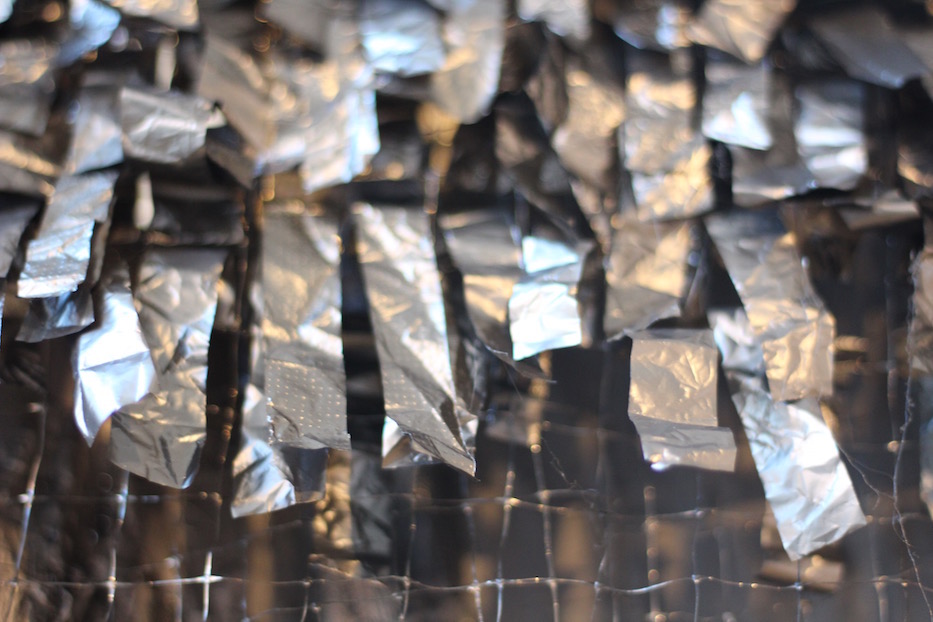 A detail of the back of Howard El-Yasin's Untitled black.
It feels like a tall order, which at least one artist sets even higher by comparing his work to Robert Rauschenberg and Julian Schnabel. But a tour around the gallery reveals work that largely lives up to it, while challenging viewers to think critically about the matter around them, the matter that they leave behind, and the matter that they themselves comprise.
There's Neider's Paint and Tar 3, a colorful assemblage of paint, tar, repurposed old clothing, ripped burlap and reused moving blankets. The longer one looks, the denser the layers become, with new details that reveal themselves every few moments. One glance and it's a new streak of purple pain; another and viewers catch a new tear in the fabric they didn't see before. The weight and size of the piece—the messy matter of it—keeps them looking, with no neat center to fall back on.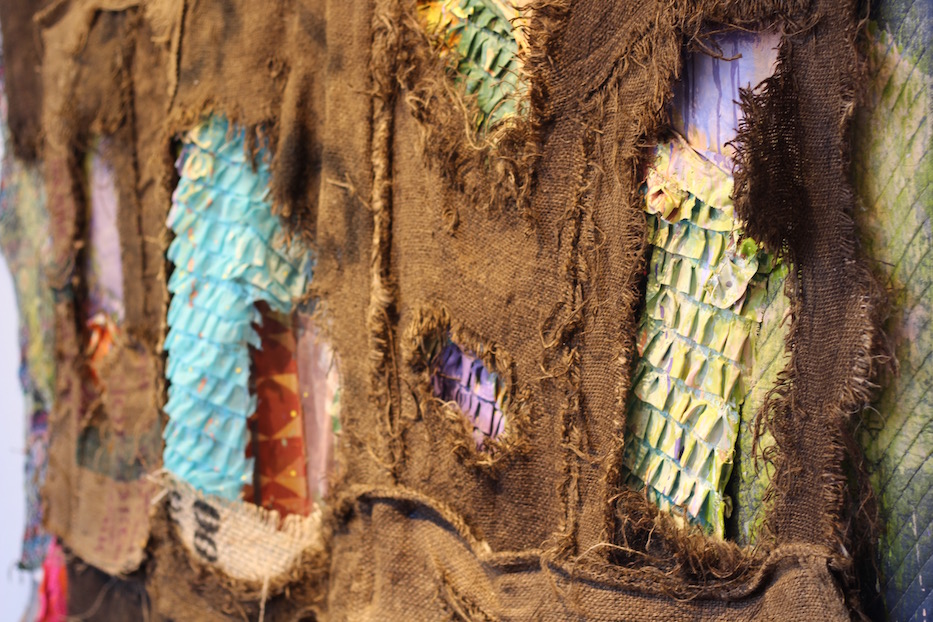 Detail, Alan Neider's Paint and Tar 3.
Like Bonilla's towering cupcakes, Paint and Tar 3 is inherently kinetic. Even its substrate suggests transition: moving blankets are the things which allow one to go from point A to point B. But without provocation, it isn't going to move by itself. Maybe that's part of the point.
Nearby, Howard El-Yasin's Untitled black hangs by the building's wide front windows, as if the piece is looking out on Audubon Street as the street looks back in. Unlike Neider's Paint and Tar pieces, of which there are two in the show, Untitled black invites the viewer to get intimate from both sides, a maze of mixed media that opens to the space around it, then closes right back up to become self-contained all over again.
References bridge fine art and everyday, utilitarian objects—Hunter Reynolds' knitted sheets of newsprint and fishing nets, delicate quilts and cheap linens, burlap sacks and painted fabric as an art object itself.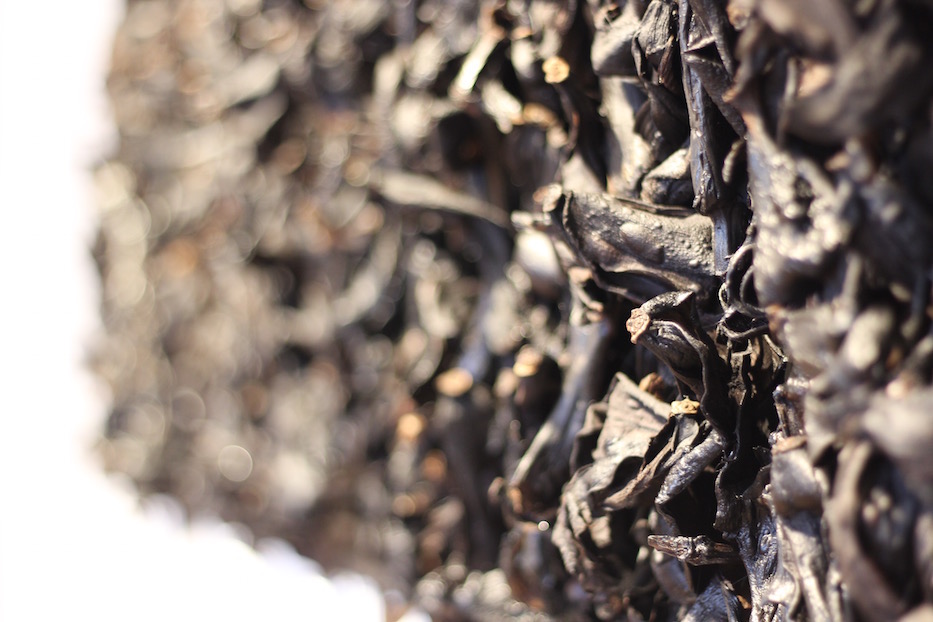 Detail, Howard El-Yasin's Bananas, Bananas, Bananas.
It's a meeting of organic and not that explodes in his Bananas, Bananas, Bananas, a project he has been working on out of his studio at West River Arts for at least a year. As the viewer approaches the piece from afar, the material isn't immediately evident even if the title suggests that it should be. A closer look, and it appears: decomposing matter, stopped from rotting mid-process with high heat, glistening black paint and glue.
Like Untitled black, it's hard to see where one bit of matter ends and another starts: threads of glue hang between banana husks, sinuous and sticky enough to be the fibers of the fruit. As the viewer looks on, the faint smell of rot and paint may overwhelm them: sickly-sweet and chemical, turning the tables on a product that is usually packaged for their convenience and consumption.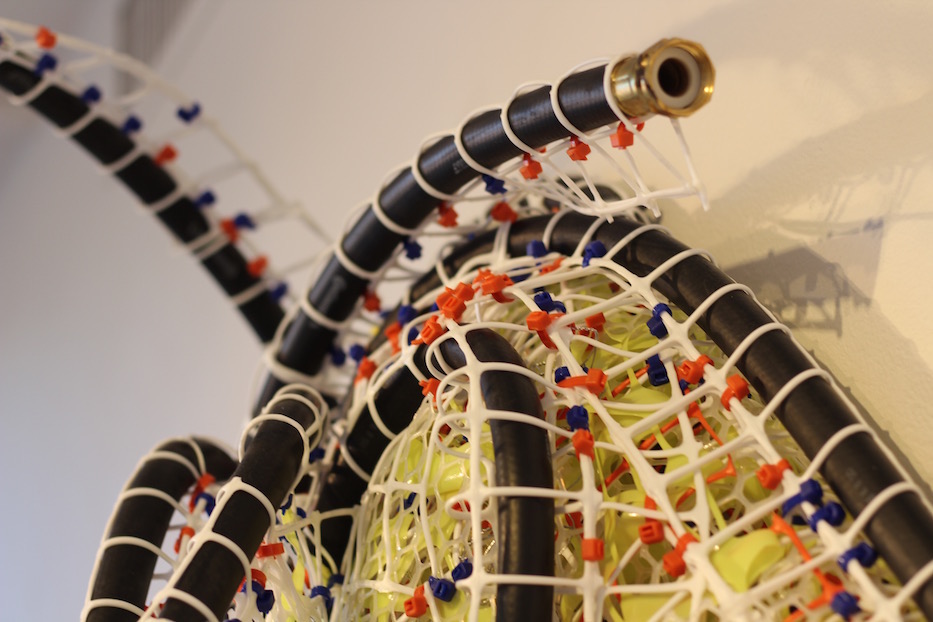 Detail, Joseph Fucigna's Kryptonite_White Hose #1.
Fucigna takes a different tack. In Kryptonite_White Hose #1, the viewer is yanked in by the ostensible unwieldiness of the work: a rubber hose runs through plastic and metal fencing and a series of white cable ties, as if it is a snake that has gotten horribly lost and will soon be knotted in on itself. Sections of hose fan out, threatening to break free of the piece at any given moment.
It's reminiscent of garden work and industrial labor, rubber Koosh balls and build-it-yourself pieces of furniture gone horribly wrong. And yet, this mess is extremely methodical, each section carefully planned out. It might seem like everything is out of place—this is also the case with his Orange Hose #2, on display in the upstairs gallery—but it works because nothing is.
It's an approach that Stavovy turns on its head in his sculptures, both of which are untitled. Instead of catching the viewer off guard with a juxtaposition, he asks them to accept the mess and unfinish of his work, drawing them closer with rough edges, tears and bends in the cardboard, plaster that feels like it never got the proper sanding.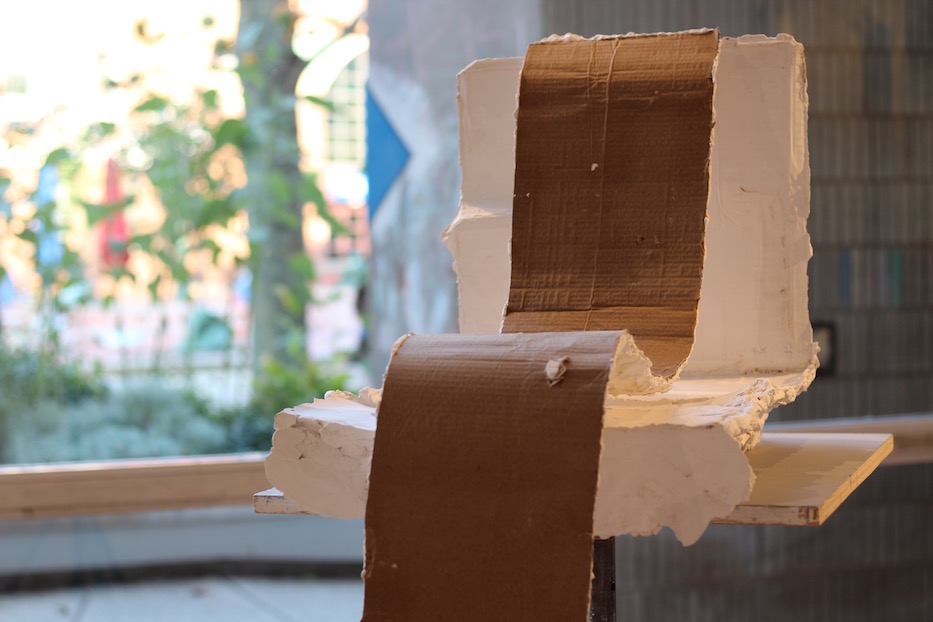 Thomas Stavovy, Untitled.
Indeed they're thoughtful, stark counters to Bonilla's cupcakes, where one must square an obsessive, polished and literally hard finish—her materials are gypsum cement on glass or marble—with the uninviting and whimsical mess that the sweet treats have become. While Rauschenberg and Schnabel feel like too far a reach for this show, these channel the glossy, consumer-obsessed pop art of the 1960s and 1970s, finding particular resonance with artist Wayne Thiebaud.
And in this sense, "Matter" cuts to the heart of the matter that it seeks to: it urges the viewer to explore and question the world around them, and the physical objects that make it tick. After all, what's left when they are gone?
"Matter" runs at Creative Arts Workshop from Aug. 30 to Sept. 25. An opening reception with the artists and curator Steven DiGiovanni is scheduled for Sept. 13 from 6 to 8 p.m.