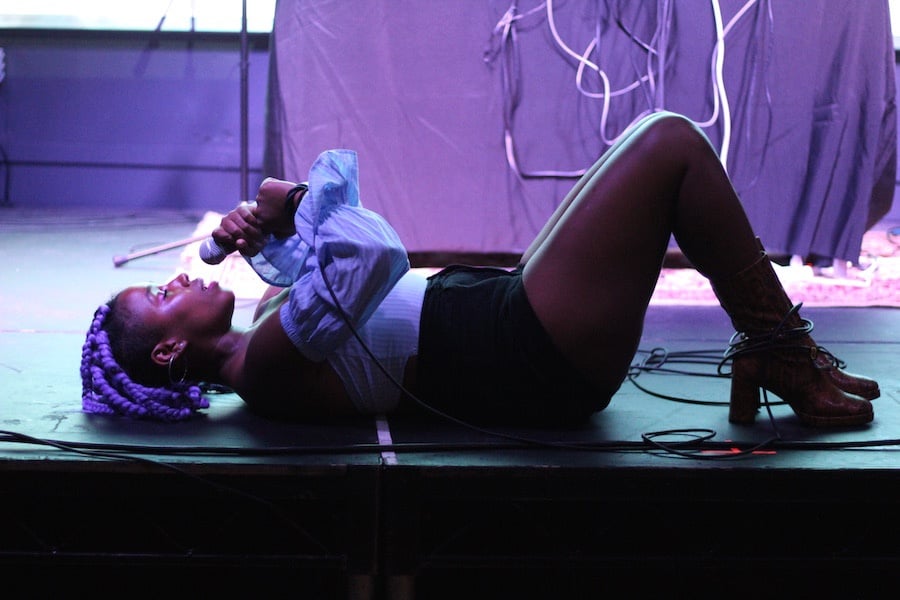 Music | Arts & Culture | New Haven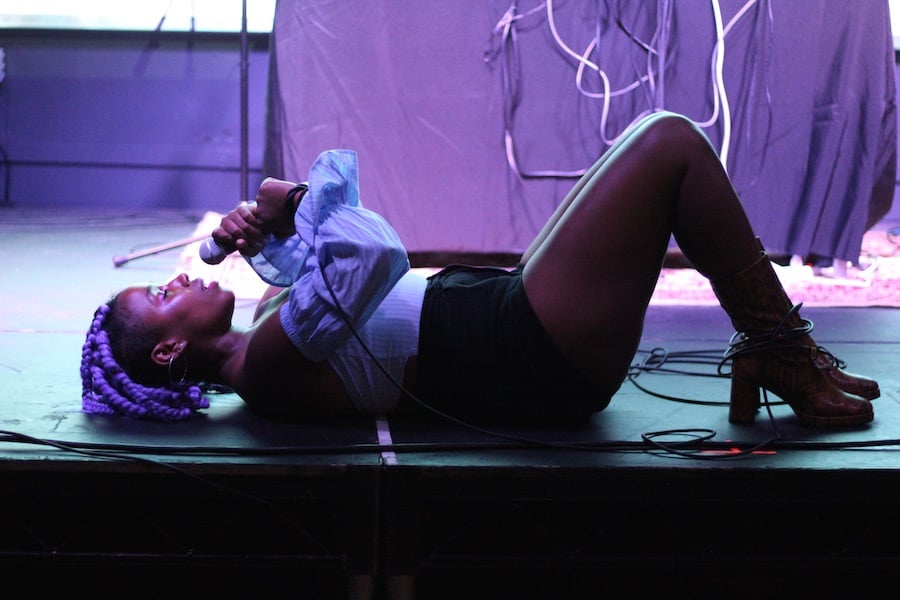 The artist MHYSA, a self-described "Queer Black Diva and underground popstar for the cyber resistance." Lucy Gellman Photos.
White girls wouldn't leave Mooncha alone. She jumped from the stage to the floor, microphone cord trailing her as lyrics flew from her mouth to the crowd, crowd back to the stage. Her white sneakers glowed under the low light.
White GRLS never leave me alone/They always party party party all up in my dorm.
Dunkin cappuccino and a shot of patron/They be like "Turn down for what!?"
I be like "Student loans."
Friday night, New Haven artists Mooncha and Salwa set the stage for MHYSA at The State House, in a triple bill that featured spoken word, hip-hop, electronic music, and trance-like states of turning up. Close to 35 attended the show, the first with the venue's new liquor license.
What brought them out, largely, were two local artists who have developed a following in the region's musical, activist, political and spoken word communities. Hopping on stage just minutes before 9 p.m., Mooncha paired whip-smart lyrics with a kind of funny, tongue-in-cheek style, moving from the stage to the audience and back to the stage in a set that wasn't nearly long enough. She built off the audience, trading the mic with concert-goers on the chorus of "White GRLS" then taking it back for the next verses.
Black girls never leave me alone./They be like "Why you talkin white"
I be like "bitch, cause I'm grown"/and I talk the way I want because I pay for my phone.
Around Mooncha, the room jolted to life. Brave attendees inched toward the front, joining a kind of dance party as Mooncha offered them the mic. Others hung back, rocking their hips and shoulders as their feet stayed firmly rooted on the ground. A smattering near the bar did some aggressive head bobbing. Mooncha's voice filled the space.
It also primed the room for Salwa, an artist raised on New Haven's spoken word communities and now a facilitator in them. Friday, they came with both workshopped and new material, commanding the room as they stepped on the stage in wide-legged pants, a wide rhinestone-studded belt and bright, pattered blouse. In a set that flowed between spoken word, songwriting and musical covers, they kept the room on its toes, audience members wide-eyed and mesmerized.
In one particularly moving piece, they set a scene some New Haveners know too well: a white teacher bouncing at the center of a classroom "like the nucleus of a questionable cell," giving a revisionist history of slavery in America (listen to the whole piece in the video below).
This conversation familiar, yet the same story
Black people were slaves, and then they tasted glory
No longer enslaved but y'all dumb
Now you choose to kill each other with guns

Slavery is over, so y'all should just be grateful
Y'all were freed and now you feed off the lands we gave to you
But they were just getting started. As they worked through new versions of older poems and mixed media work, Salwa covered YEBBA's "My Mind,"their power-packed, full-lunged vocals leaving audience members stunned into silence, then cheering as loudly as they could. At the front of the stage, Mooncha saluted Salwa, then bent at the waist, extending her arms in a gesture of reverence, that gratitude that travels from one artist to another.
Between acts, concert-goers scoped out the space, still new and cavernous from where it beckons off of State Street. A DJ slipped onto the stage, fiddling with equipment for a moment. A dormant projection screen behind him sprang to life, glowing white with tall, light purple letters. "BLACK WOMEN AND FEMMES TO THE FRONT" it commanded.
The audience followed, members tentatively creeping to the front of the room. As MHYSA took the stage to a background of falling diamonds and rose petals and flashing, strobe-like messages ("ARE YOU TIRED OF BEING TIRED?"), the concert entered its final phase of the night.
Raised in Maryland and based in Philadelphia, MHYSA (the multimedia and electronic artist E. Jane, and half of the duo SCRAAATCH) came with works off of their 2017 album, fantasii. A self-described "Queer Black Diva and underground popstar for the cyber resistance," they present work as conceptually interesting as it is trance-like, using looping audio, ethereal vocals, screeching soundscapes, and musical sampling across numbers.
As MHYSA launched into a cover of Beyoncé's "Naughty Girl," attendees were still figuring out how they wanted to move. Arms went back up over heads. Hips gyrated and met other hips. Some faces just turned toward the stage, flickering in the white light. Back on stage, MHYSA eased into "Glory be Black (Portrait of a Woman Who Has Fallen from Grace and into the Hands of Evil)," the word "glory" echoing and building around the room until its meaning was a mantra.
They bounced, wound around equipment, performed lying down and tied up in the microphone's cord. Channeling SCRAAATCH's deep and varied soundscapes, they took moments to adjust equipment, unexpected bursts of rubber on road filling the room. They looked out into the crowd, and revved up attendees.
"You know that thing, when you go into the club and start shaking your ass, and people start taking pics? Or maybe that's just me," they said, laying the intro to "Srobe." A beat dropped and MHYSA began to bounce on the stage.
So many pics
It's like I got my own strobe light
That flash from the back
got my ass lookin so right
So many pics
it's like I got my own strobe light
Click click click click click
Click click click click click

The beat came up through chests and hands, and kept the room dancing.
To learn more about MHYSA's work, check them out on Bandcamp.