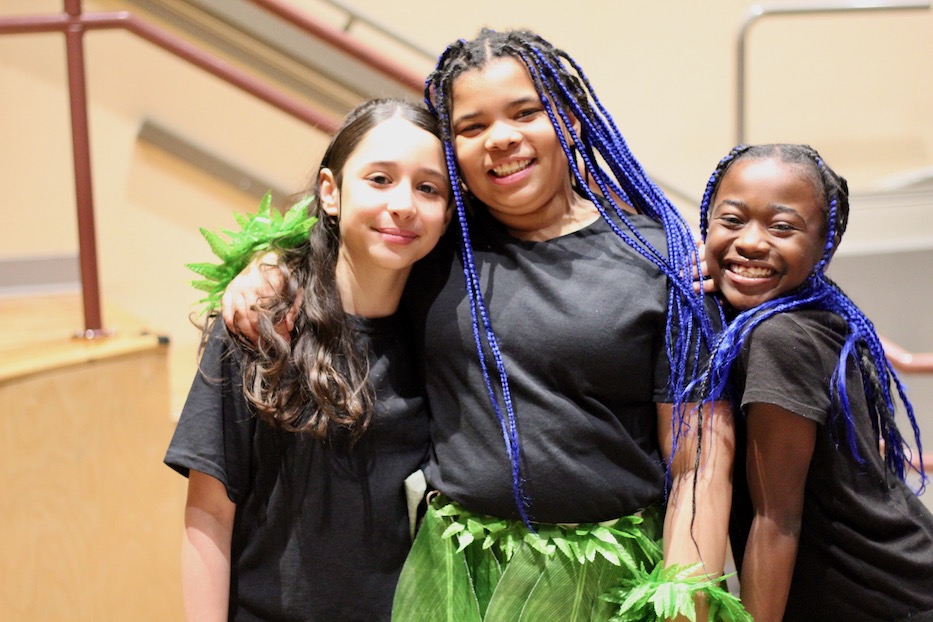 Culture & Community | Education & Youth | Arts & Culture | Musical Theater | New Haven Public Schools | Wexler-Grant Community School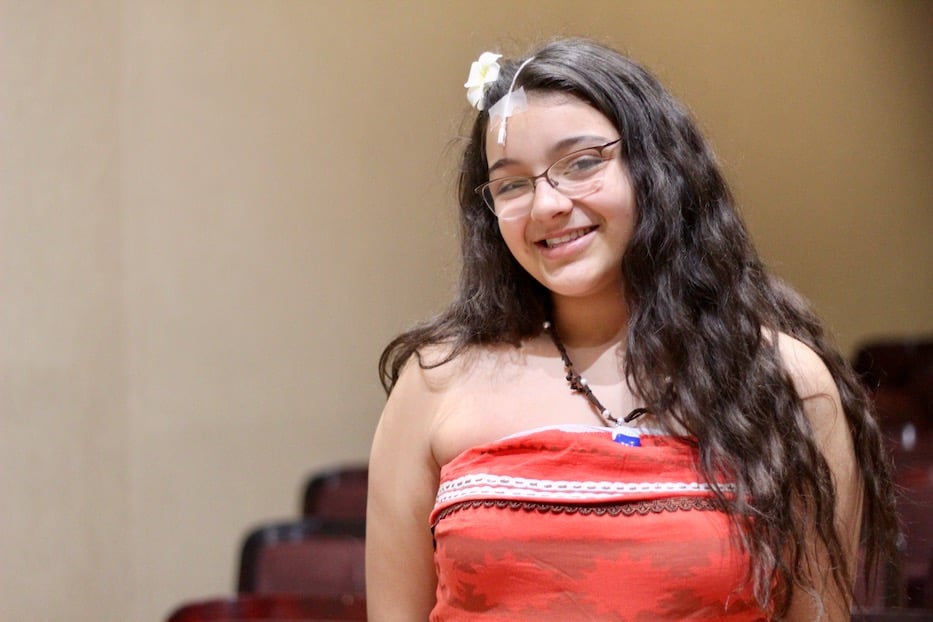 Rosandra Furatado: It gives you a chance to be in someone else's shoes. Lucy Gellman Photos.
Seventh grader Rosandra Furatado looked out over the roiling ocean, steading herself on the bow of a cardboard wa'a kaulua. Beside her, ​​Kennedy Cordoba held out her arms and became Hei Hei, as yellow as the sun in her soft, plush rooster costume. In the corner of the boat, a blue-green spiral beckoned, urging Furatado forward with no words at all.
She steadied herself, studying the movement of the water as it swirled around her. A song rose from her chest, and floated out across the waves. Then she was off.
That kind of rugged persistence paid off in last week's performance of Moana, Jr., the spring musical at Wexler-Grant Community School at 55 Foote St. Directed by music teacher Jaminda Blackmon with teachers on art design and tech crew, the performance doubled as a show in layered, multi-part storytelling, as students brought pre-Colonial Polynesia to the Dixwell neighborhood.
A total of 27 students between kindergarten and eighth grade participated in the show. Blackmon, who has run the after-school theater program since she arrived at Wexler-Grant in 2018, said that she can't imagine it any other way.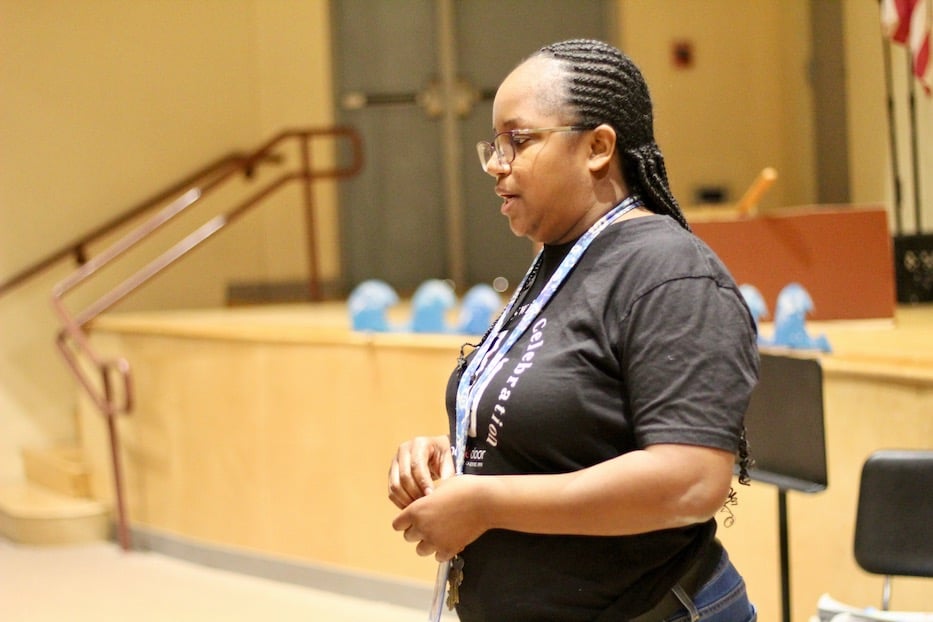 Jaminda Blackmon.
"I do it for a lot of reasons," she said in a phone call Friday afternoon, hours before a second performance. "I believe in the arts entirely when it comes to children learning and doing well in school. I feel like some people leave the arts out of the whole child. When we start the arts young, it can direct them [students] to paths that are helpful to them."
The path to Moana has been its own journey. Five years ago, Blackmon started the school's drama program because she saw a need among students, and has continued to expand it ever since. Since that first year, it has grown into a spring musical and winter play that she writes herself. While Covid-19 placed it on temporary hiatus through 2022, students returned last spring with Matilda, and then last winter with WGTV's Christmas Special.
For Blackmon, herself an artist whose energy reserves seem infinite, each musical brings its own set of challenges, from a resource-strapped district to students who are still relearning how to share space and after two years of remote learning. Before Thursday's opening night performance, she buzzed around the auditorium, answering last minute questions with math teacher turned assistant director Giuseppina Miller.
On stage, a set from art teacher Cathy Teulings waited to transport audiences halfway across the globe. In the back of the auditorium, teachers Shaun Berner and Brittany Figaro fiddled with the sound board until at last the mics crackled to life. An hour later, as showtime approached, Miller ran concessions and ticket sales outside as teacher Tanasia Edwards stepped backstage to wrangle young actors.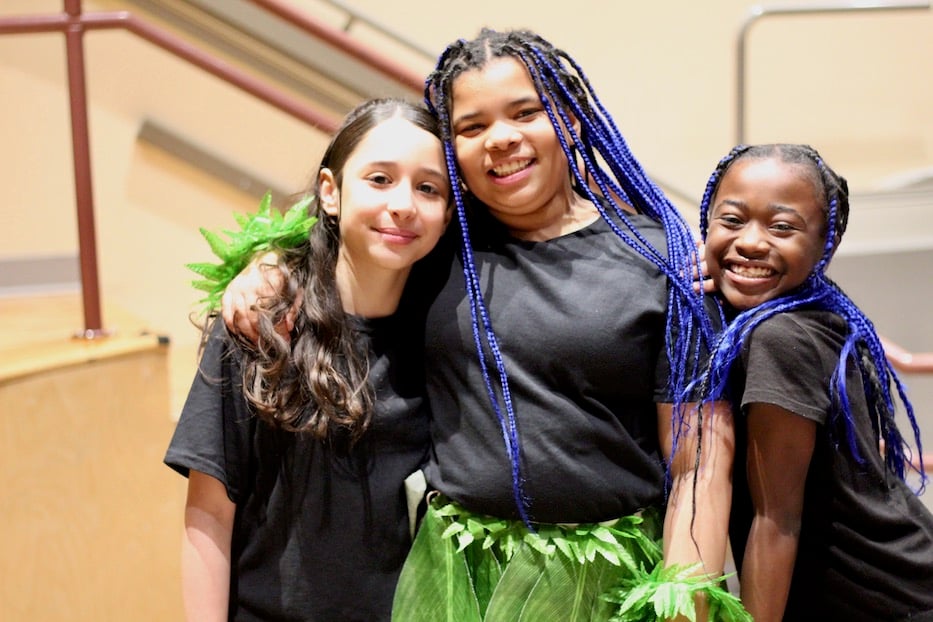 Aaliyah Toro, Jai'myz Demps and Jordyn Bookert.
It's a kind of educational village, Blackmon said: fellow teachers pitch in their time and talent for free because they believe in the work as much as she does. Currently, the drama program is funded entirely by out-of-pocket contributions and popcorn sales, for which Blackmon runs a fundraiser a few weeks before the musical's premiere. Last December, students raised an additional $1,000 for Columbus House while putting on a play that centered homelessness in New Haven.
"One of the things I like about Moana is that there's the persistence to not give up … that never giving up quality," she said. For Blackmon, that persistence has become a whole educational approach. "I want them to live that in their own lives."
Even before the curtain opened Thursday, they did. As students ran through final bows half a dozen times, seventh and eighth graders gently coached their younger castmates, making sure they scurried out to the music right on cue. When a few actors mentioned their pre-show nerves, their friends were ready with tight hugs, shoulder squeezes and big smiles.
As showtime grew closer, parents and siblings queuing outside the auditorium, a group of students-turned-ancestors gathered to pump each other up, preparing to become spirits for the next couple hours. For a moment, they fell to a hush, and past and present collided in the auditorium. Then the spell was broken, and students burst back into conversation.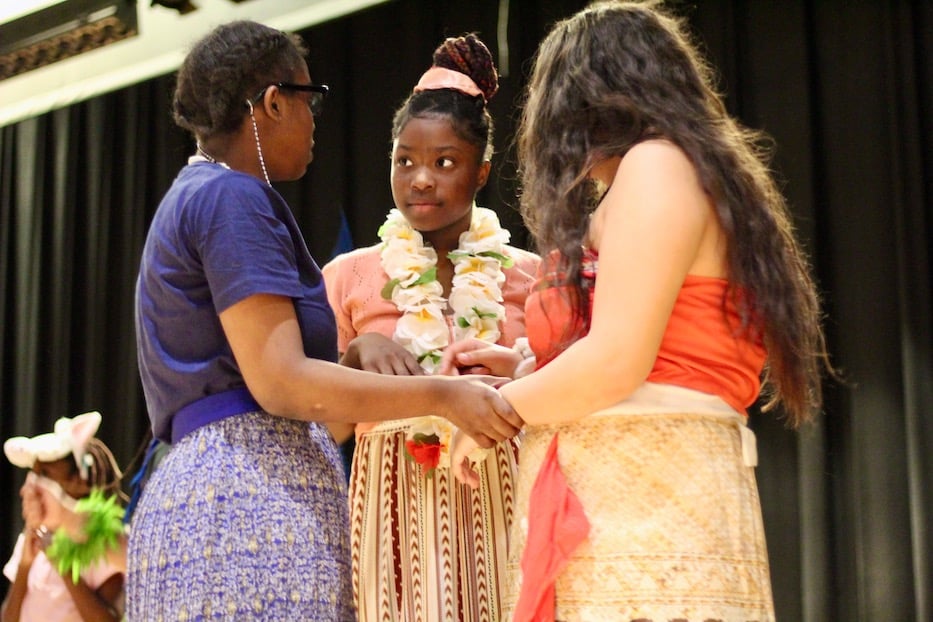 In a series of interviews with the Arts Paper before the performance, young actors expressed their excitement for the show, which has become a wild, cacophonous and often very sweet family. Kennedy Cordoba, who played Hei Hei, called the group a kind of second home that she's excited to come back to.
"It's like my family," she said. "I really get into my character. Sometimes, it makes me really emotional. It has taught me that we can be confident, that we can try to be more confident."
"She's really the best chicken in the world," added fourth grader Naomi Johnson as she prepared for the role of Tomatoa.
Rosandra, who played Moana, said the show has helped her adjust to life in New Haven. Last year, she moved with her family to New Haven from Reading, Mass. Being in the school's plays has doubled as a way for her to meet other students. Often, she said, she's more shy and less daring than Moana. The play has taught her to try getting out of her shell.
"It's like stepping into someone else's shoes," she said as her mic came suddenly to life, and her words boomed over the auditorium. "I feel like it can teach you other people's perspectives on things."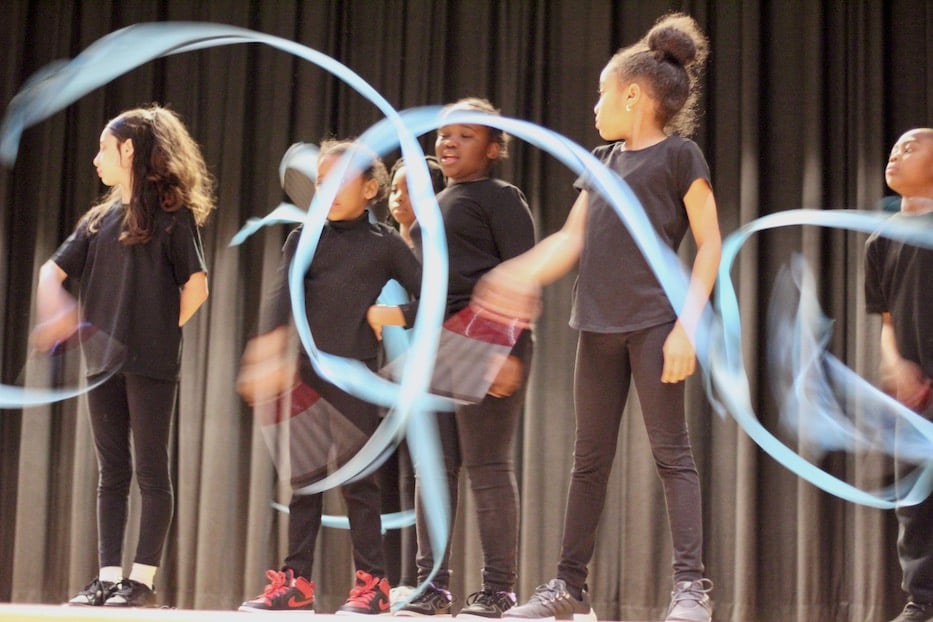 The ocean comes alive.
For fifth grader Leonni Gary, the show was a chance to both learn how to be part of a story, and a reminder that even the darkest and most frightening of moments often give way to light. As she stepped into the role of Te Kā and Te Fiti—the fiery island that becomes a living, lush green paradise as Moana restores its heart—she thought of how her own moods can transform.
"It's like going from being mad to being happy," she said. "Even though when I'm mad, I keep my mad to myself. I don't want to tell people my true colors."
When it was showtime, they held onto that grit. The music began, and the ocean began to move and hum all at once, thanks to a pint-sized ensemble with aqua-tinted ribbon wands. Sound rose over the stage, carrying out slowly into the audiences as young voices collided with each other. The ancestors came on, flower crowns glowing white, and sang the show right into being.
As the story unfolded, students worked to support each other in real time. Amari bubbled with unsolicited, grandma-level advice for Rosandra (Moana), and the warmth between the two of them spilled past the lip of the stage. Hei Hei flapped their rooster wings fitfully, and Moana and resisted falling into a fit of giggles.
The ancestors swooped in to carry Tala beyond the veil, and it was hard not to feel a lump form in one's throat. Maui (Jai'myz Demps) got the audience clapping along to "You're Welcome," as she showed how complicated a mischievous shape-shifting demigod can actually be.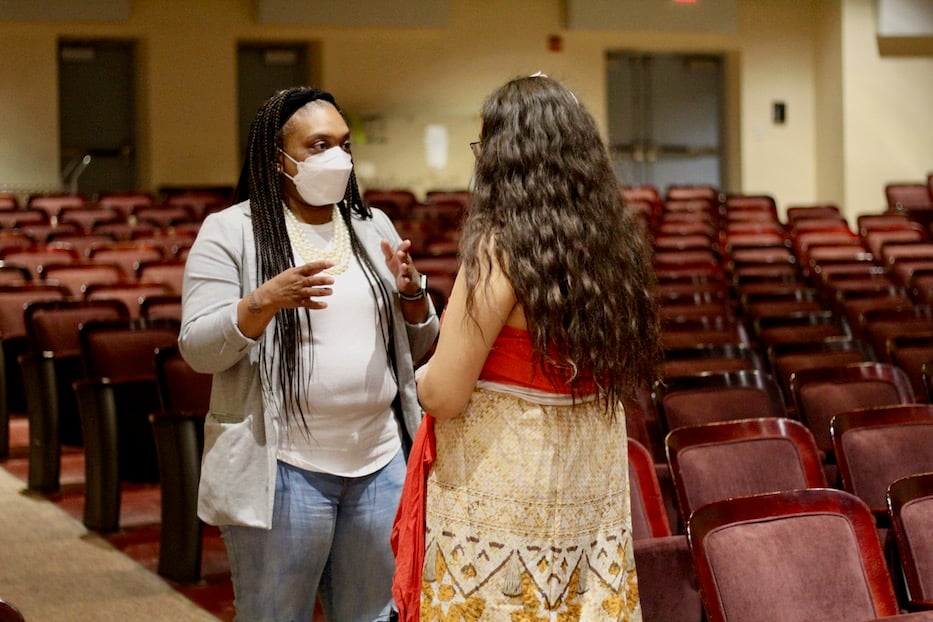 Assistant Principal Karen Lorde and Rosandra Furtado.
For Blackmon, who bustled backstage checking in on students, that feeling is what it's all about. When technical difficulties pushed the opening night performance back a few minutes, she watched as students rolled with it. When one actor forgot their lines, they improvised, and she felt a wave of relief. As Moana gathered her strength—and found a steady, certain voice—Blackmon trusted her to carry the show.
She said she is especially proud of eighth graders Dalontrez Galberth (Chief Tui) and Amari Hardy (Gramma Tala), who have stepped into mentorship roles and are both headed to Cooperative Arts & Humanities High School next year.
Assistant Principal Karen Lorde, who attended opening night, praised the work that the drama program has done while running on a shoestring budget. She pointed to teachers scattered about the auditorium, all of whom had worked a full day before coming to rehearsal. As a school administrator—Lorde started at Wexler-Grant last year—she said she's excited to see that level of support.
"She [Blackmon] has a big group of supporters," she said—and there's a good reason for it. "We all believe in our kids."