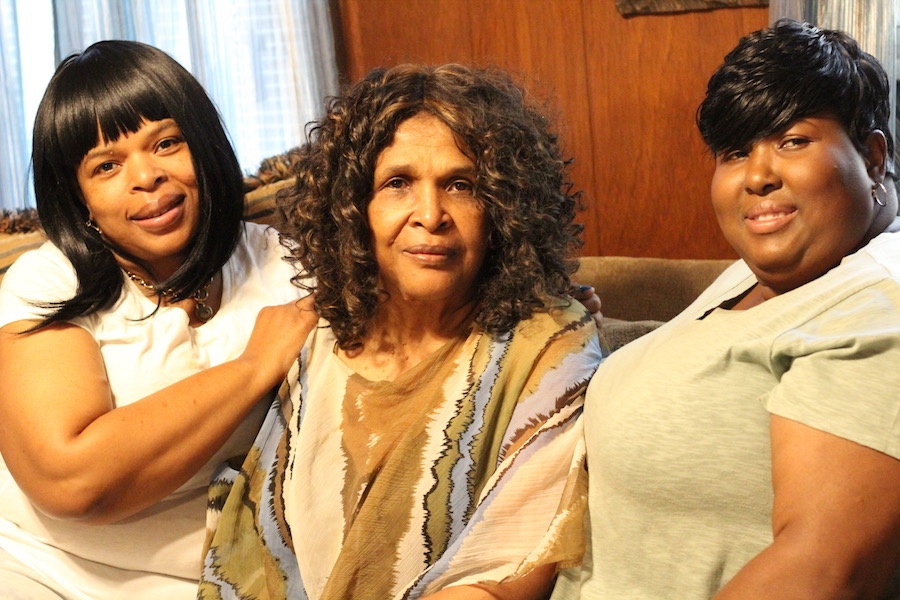 Public art | Arts & Culture | Community Heroes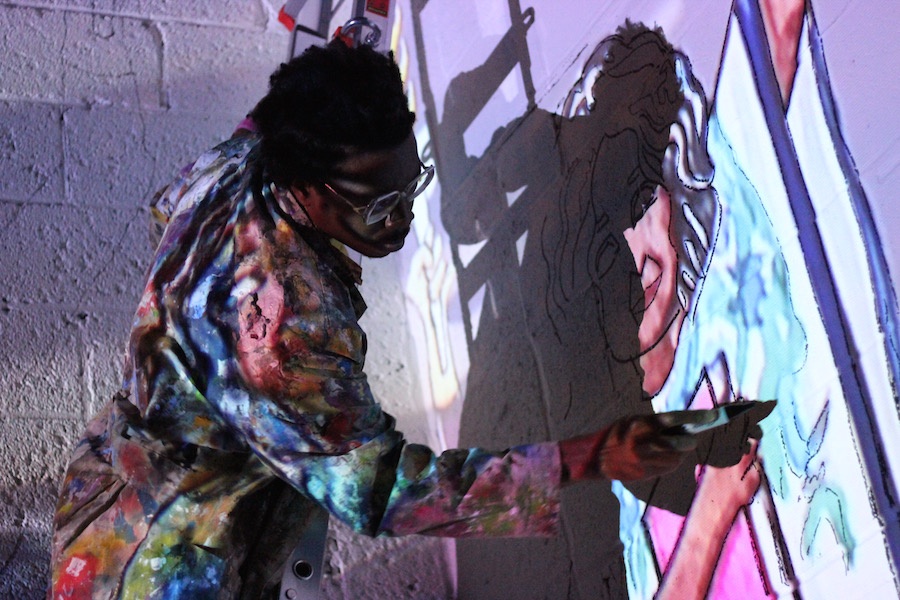 Kwadwo Adae works on Caldwell's image earlier this year. "Florence Caldwell has beautiful hands," he said as he touched up her knuckles. Lucy Gellman Photos.
What catches you are the kind, wide eyes. They're soft but firm, a tiny bit wet, keeping watch over the Farmington Canal. Around them, her whole body blooms into being: weathered hands, legs planted firmly in ground, soft black curls falling to her shoulders. A torch roars above her head. Her blue and white tunic flaps in the breeze. It's a familiar face if you ever did see one.
That woman is Florence Caldwell, a Newhallville matriarch, neighborhood "mom," voting rights advocate and champion of city kids who has been attending New Haven Board of Education meetings for the past 42 years. Earlier this year, artist Kwadwo Adae chose to include her in his Women's Empowerment Mural, a new 18 x 108 foot piece on the Farmington Canal Heritage Trail. Wednesday morning, she was honored at a formal ceremony for the work.
Adae said he chose to include Caldwell after her name kept cropping up in his research. As he put feelers out into the community, Community Placemaking and Engagement Network (CPEN) Founder Doreen Abubakar put Caldwell's name forward. So did Arthur Edwards, head of the Newhallville Safe Neighborhood Initiative. And Stephanie Skiba, director of operations at Lincoln-Bassett School. And members of the neighborhood's Community Management Team.
They described her as a women who wore many hats: member of the ward's Democratic committee, first-ever chair of the Newhallville Substation Management Team, Girl Scout den mom, co-chair of the the local chapter of the NAACP, longtime anchor on the citywide parent-teacher organization (PTO).
And each time, Adae had a feeling that this Florence "Flo" Caldwell was someone he needed to meet. Months into the project, he gave her a call and asked her to model at his studio. Several photographs, a watercolor rendering, and projection later, she looks out benevolently onto the canal.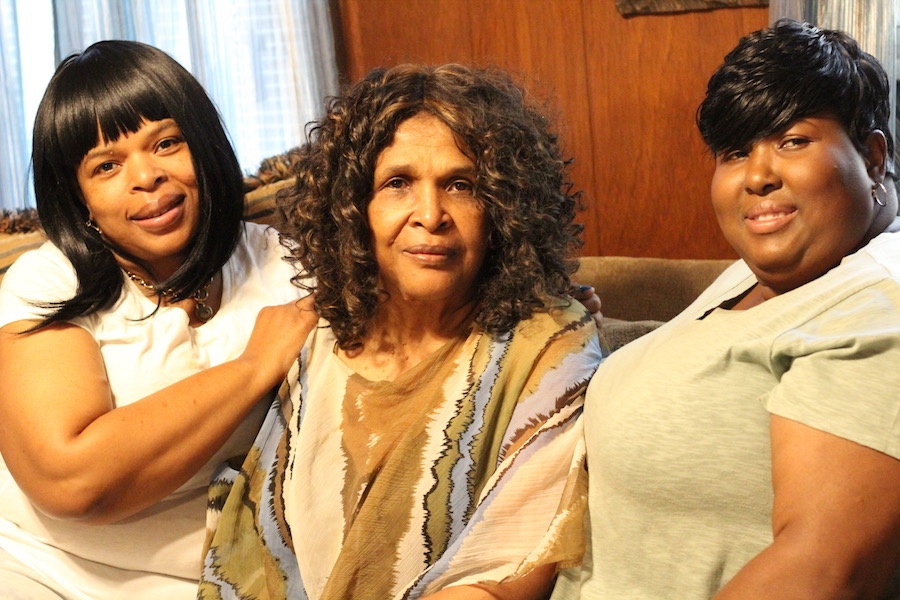 Caldwell with her daughters Tiffany Nelson and Erica Gaither-Caldwell in her home in Newhallville. Lucy Gellman Photo.
"The Women's Empowerment Mural Project depicts women from all around the world, but I wanted to make sure I had represented some people from the neighborhood," he said in a recent interview. "I am overjoyed to have her as one of the 17 women depicted on the wall."
She has earned that place, shoulders set squarely against a backdrop of deep purple sky and pink clouds that look like spun sugar. But her roots, now planted firmly in the neighborhood, go back almost seven decades to the Deep South.
Caldwell was born in Columbia, South Carolina in 1949, the youngest of six children. Her mother died when she was just two years old, and then her father four years later. After promising her mother that they would make "sure we was on the right path in life," her grandparents took them in. While they had no formal education—her grandmother had stopped at fourth grade, and her grandfather at second—they stressed the importance of school, making sure each child finished the 12th grade.
They fell into a routine: school during the week, Sunday-morning church breakfast that smelled of molasses, sharp curfews at night. Caldwell's grandfather was self-employed as a contractor, laying cement and doing roof repairs all over the city. Her grandmother stayed at home with the kids, teaching all six to cook, clean, wash laundry, grocery shop, and sew ("she could take a chicken and take a potato and make a meal that would feed everyone," Caldwell laughed).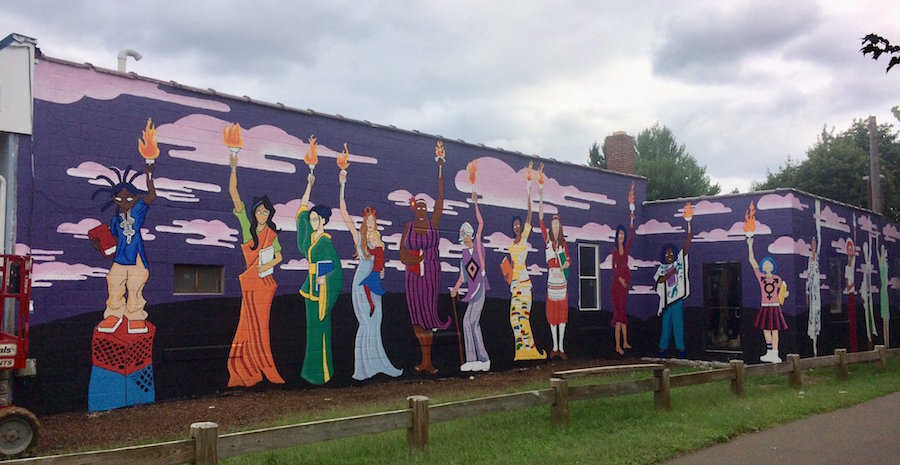 But after graduating from high school, Caldwell knew that "my life was going in a direction that I knew I needed to make a better way." She had given birth to three girls, Andrea, Erica, and Tiffany, and wanted a better life for them. In 1974, she boarded a bus to Connecticut, felt the vehicle rumble beneath her, and didn't look back.
Caldwell landed in Newhallville, moving in with her sister Marie and her two sons in a home on Division Street. No sooner had her oldest, Andrea, started school at Ivy Street Elementary—Lincoln Bassett was a middle school back then—than Caldwell began attending meetings with the city's Board of Education, bringing the girls along with her.
It was the mid-1970s, and New Haven was in a budget crisis. The board had proposed closing Ivy Street School, and merging with Lincoln Bassett. No one was happy about the decision, Caldwell recalled. But for her, it felt like a decisive moment: she could choose to get involved and educate herself on the decision, or she could stay angry about it. She chose to get involved.
Caldwell got a job as a district employee, making nearly every Board of Education meeting on the books for four decades. At the urging of fellow Newhallville activist Annie Huckabee, she joined the citywide Parent-Teacher Organization (PTO) and Parent-Teacher Association (PTA), ultimately serving as chair. She and Huckabee organized fish-fries, sock puppet making parties, and long discussions with fellow parents, trying to figure out what was best for their kids in a school system that always seemed strapped for resources."She became a support system not only for the teachers, but for parents, and schoolchildren, and the principals," said her daughter Erica Gaither-Caldwell, who accompanied her to most meetings as a kid. "Making sure that change was easy. She wanted to serve in any way that she could."
But Caldwell saw so much more work that needed to be done around the community. In the late 1970s she instituted Saturday neighborhood cleanups, raking sections of Division Street and Winchester Avenue. She began to register voters, bringing her daughters on door knocking trips, then canvases and voter registration drives in other states. In the mid-1980s she headed to North Carolina, for a massive push to get people to the polls.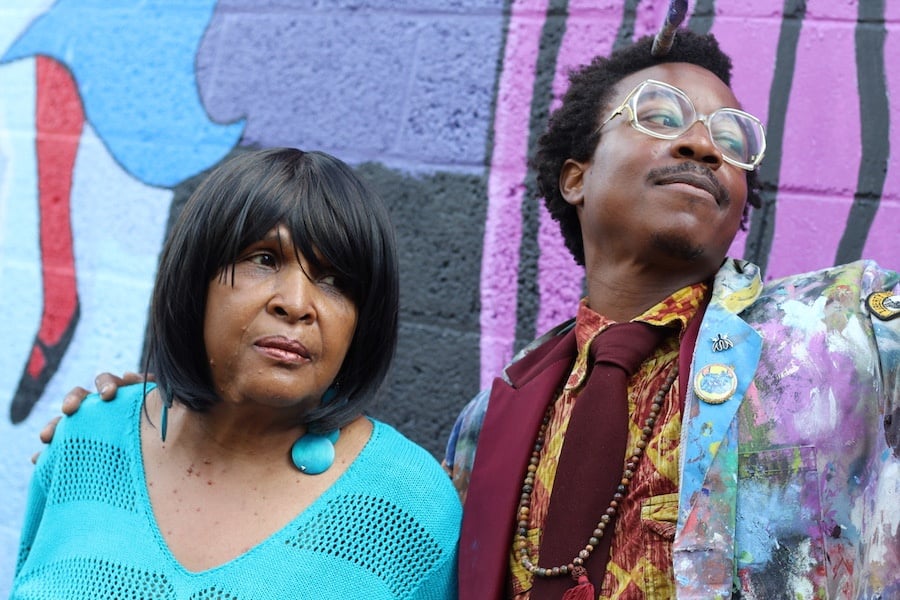 On the flight there, she recalled, New Havener William Kilpatrick warned her to brace for the worst. She was a Black woman. He was a Jewish man. And they were headed deep into Jessie Helms territory, where the senator's conservative views—"racist to and from," Caldwell recalled—still held sway over the region.
"He was right," she said. "The looks that we got when we got off that airplane … it was like, if looks could chop you up, and then grind you up, Bill and I was done. We was chopped up, ground up, put back together. But we didn't let it stop us."
She hadn't let anything stop her since. In the late 1970s, she joined a citywide parental advisory committee to see how the city was implementing Title I, a federal program intended to help kids in lower-income communities catch up academically. She traveled across the country, observing how different states ran their Title I programs. She noticed that in New Haven, schools had award ceremonies for students who were earning the best grades, but nothing for students who were "struggling, but doing the very best they can."
She called an executive board meeting of the Title I committee and asked if they could pull something together. She enlisted a friend, Hazel Pappas, for her famous yeast rolls and cole slaw. She prepared to make pounds of fried chicken and sheets of her pineapple upside down cake. The Florence Caldwell Title I Annual Achievement Ceremony was born in May 1979, honoring 25 students at Helene Grant School. Next May, it will turn 40 in several schools across the district.
"It's not the building that educates our children. It's the people inside, and everybody has a stake in educating that child," she said.
Caldwell retired from the district in 2012, but has remained a steadfast advocate of education in the city. After losing her daughter Andrea to cancer ten years ago—preceded by her granddaughter at just 12 years old, also from cancer—she is doing for Andrea's family what her grandmother did for her, raising her children in a cozy home off Shelton Avenue. Gaither-Caldwell recalled that even then, Caldwell made sure other friends and family members were financially stable before she bought the house.
Now, she also looks benevolently out on the canal, dressed in flowing robes and standing arched and stately, like the Statue of Liberty. At the corners of her mouth, a gentle smile creeps in for all who pass.
"To me, it's the most amazing honor to be recognized for doing something that you're so passionate about and that you love doing," she said. "I don't even know how to describe the feeling that I feel when I'm doing something that I think is going to help benefit people. Some people think that it takes a room full of people to make a difference, but it doesn't."
"Through it all, I never felt frightened or scared, because my grandparents said what you believe in," she added. "And that has been the struggle of the United States from way back since the beginning. You have to stand up for what you believe in. If you have something, and you believe it's gonna be for the good, if you hold it in, you do a disservice to yourself, to your community, and to the people you say you care about."