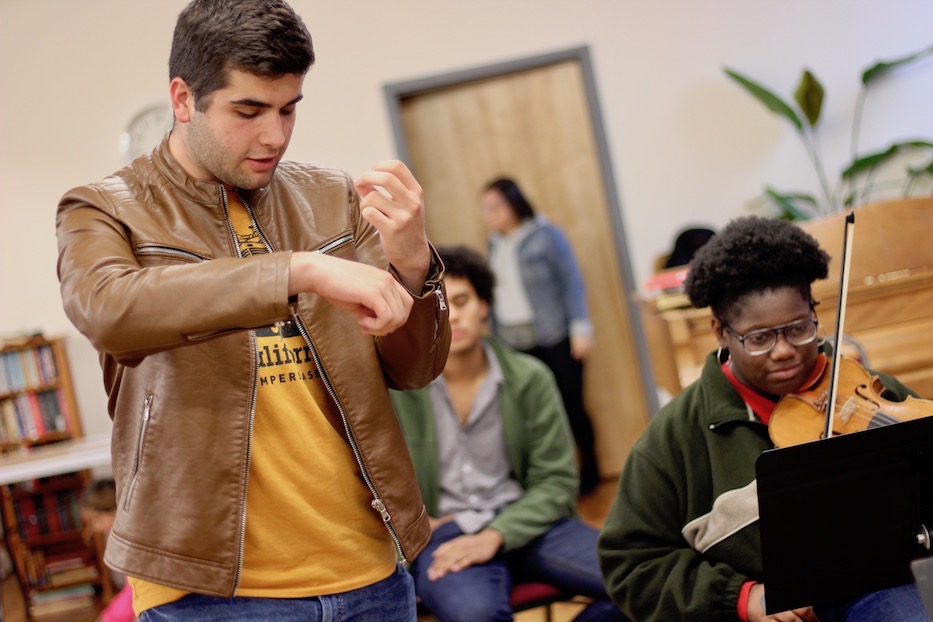 Education & Youth | Educational Center for the Arts | Erector Square | Music | Arts & Culture | Music Haven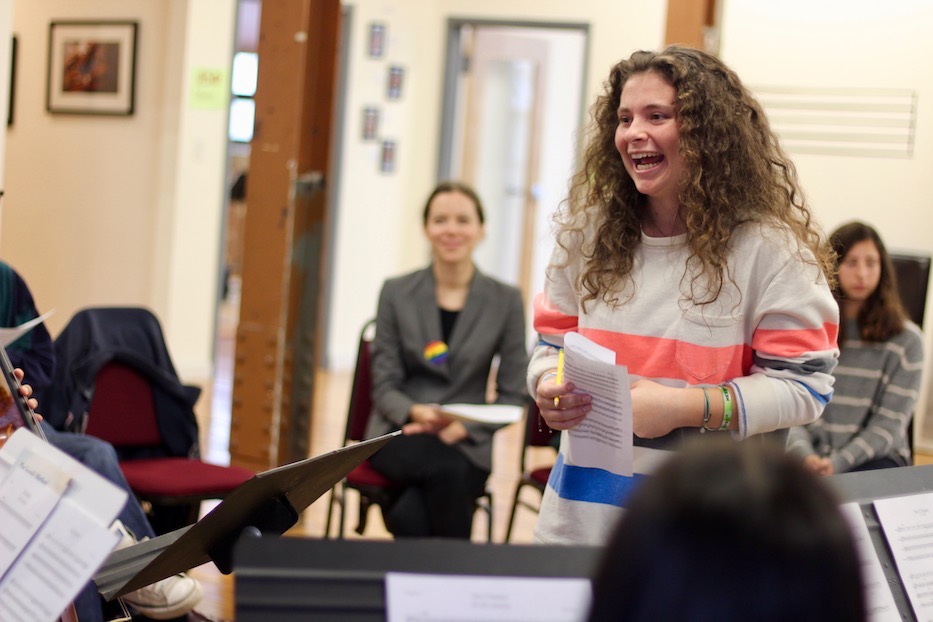 ECA student Julie Hess with Music Haven students Aleanis Letriz, Camila Letriz, David Rivetta and Mathais Nuñez. Lucy Gellman Photos.
Mathais Nuñez started in on a sea shanty for what felt like the tenth time. A low, clipped but steady hum rose from his cello, strings answering back in response. On the other side of the circle, Yaira Matyakubova stopped the group, looking over the notes one more time. She glanced to the musicians, and then to a bright circle of audience members around them.
"It says 'string quartet,'" she said. "So do you want to ask the composer?"
Mathais nodded tentatively; his eyes grew wider. As if on cue, 17-year-old Julie Hess jumped up on the left side of the room, her huge smile haloed in honey-colored curls. She gave a little wave of encouragement and then stepped closer to look over her handiwork.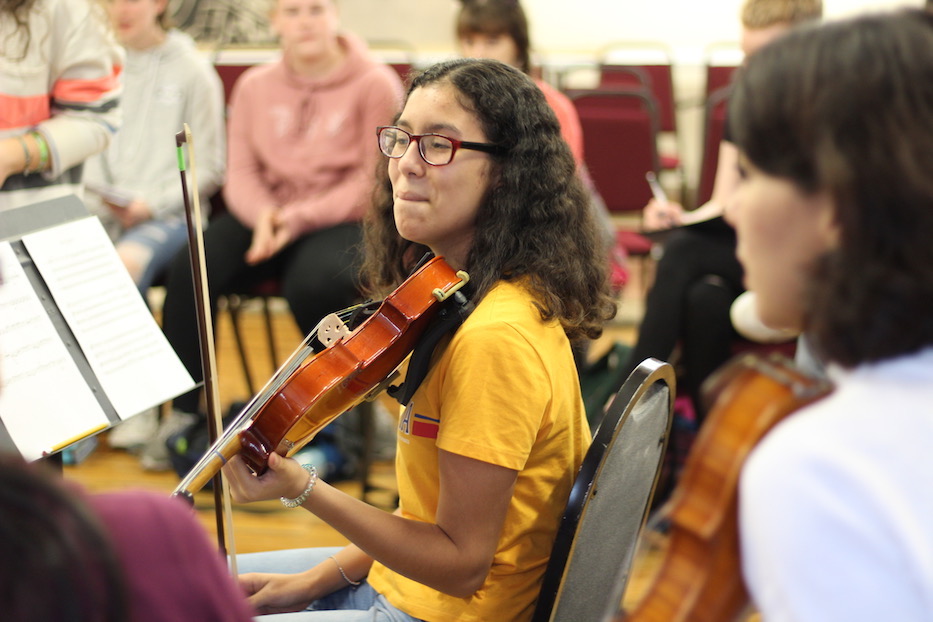 Aleanis Letriz. Lucy Gellman Photo.
Those interactions are part of a new collaboration between Music Haven and the Educational Center for the Arts (ECA), in which students at ECA devise, write, and edit short compositions specifically made for Music Haven's student string quartets. The program was born earlier this year, after the two organizations realized they had an opportunity for their students to exchange skill sets.
"Often, our composition students write what they hear," said Amy Christman, chair of the music department at ECA. "So having to write for younger students is a learning experience. We wanted them to work with middle school students, because they have to write for their skill level."
"Just to see this place is so exciting to them," she added. "They get a sense of what organizations they could be working with."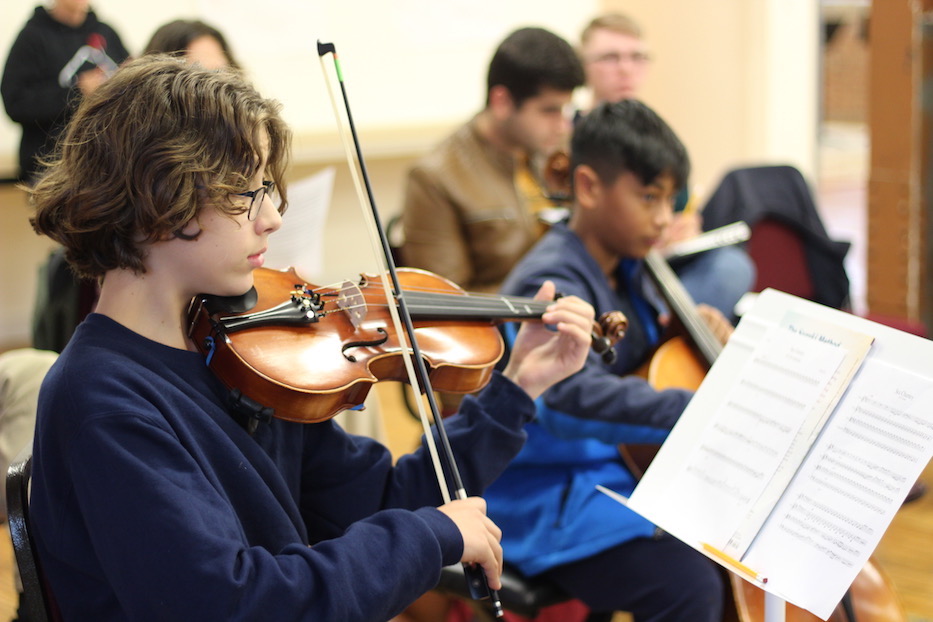 Now, the program is officially in its beta phase. Over the next several months, ECA students will be workshopping the compositions not only in their classrooms, but also at Music Haven's Fair Haven digs, where they can work directly with the musicians who are bringing them to life. In addition to Christman and Matyakubova, collaborators include ECA instructor Polina Nazaykinskaya, Music Haven Director Mandi Jackson and members of the Haven String Quartet (HSQ).
Tuesday afternoon, the collaboration came to life as ECA students poured in to Music Haven's Erector Square home, surveying the high ceilings, quiet practice rooms, homework area and conference table tucked in the back of the space. A few chatted excitedly amongst themselves as Matyakubova led them on a tour. Others hung on to her every word, letting an occasional "oooooh" or "wow" slip from their half-open mouths.
They returned to the main room and arranged their chairs in a circle. In a rush, sheet music came out of backpacks. Composition notebooks opened to pages already decorated with neat notes, carefully rendered in pencil. Matyakubova, a musician-in-residence and HSQ member who is helping with the collaboration, introduced the Music Haven students. Then she turned her attention to the new members of the room.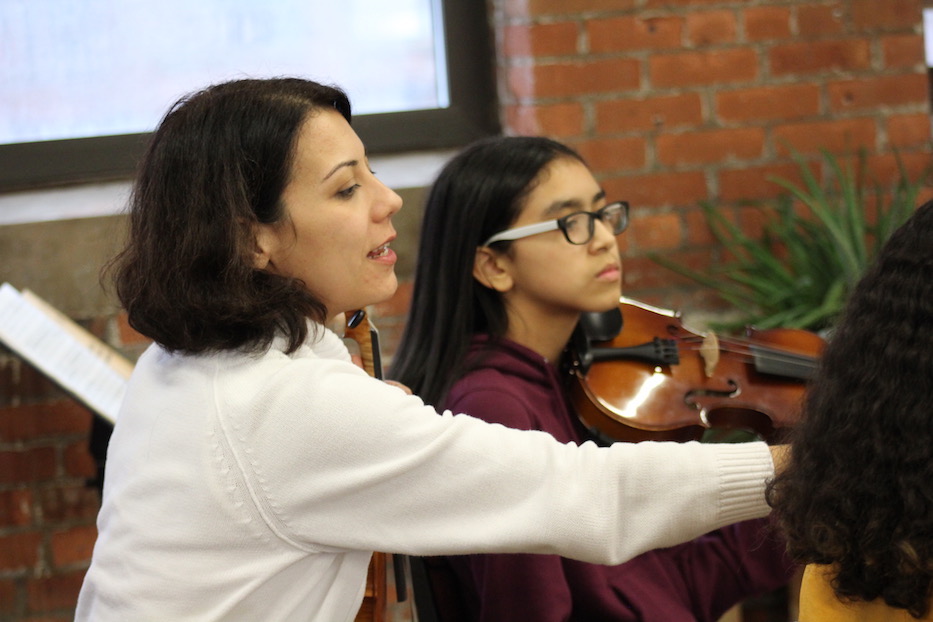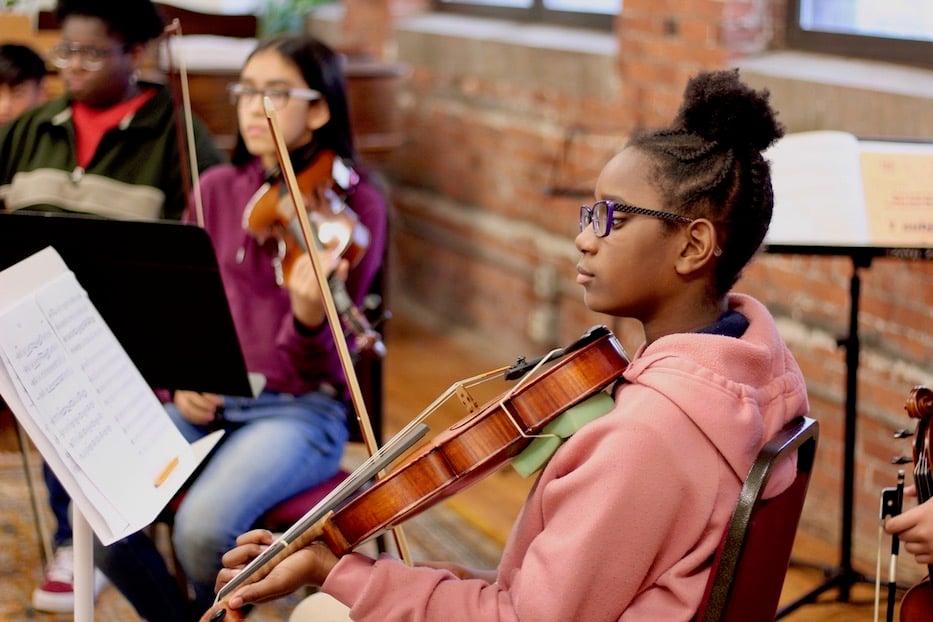 Top: musician-in-residence and HSQ member Yaira Matyakubova. Bottom: Music Haven student Jasmine King. Lucy Gellman Photo.
"This is super unusual," she said to the ECA students, as several glanced nervously over the compositions they'd prepared. "Usually, we play music by composers who have been dead for hundreds of years. So to have you [the composers] here, in the room, this is a very special relationship."
Around her, students dove right in. As Hess handed out copies of her composition "Sea Chantey", a young quartet formed at the front of the room. Members pored over the music, which included a spoken "ahoy!" with lifted bows for added authenticity. Hess stood nervously, introducing herself before turning it over to musicians who had never seen the work before. A sheet of music sat crisp and ready in her hand, ready for her to follow along.
Slowly, Mathais Nuñez took the lead, working out a low, rhythmic foundation for the other strings to follow. Hess bobbed her head just so, grinned a little. One by one, students joined in. Beside Mathais, David Rivetta's strings chatted happily, answering a low, steady note with a lighter one that swung through right on time. Aleanis and Camila Letriz jumped in.
Not even a minute later, they had all uttered their first jubilant "ahoy!" of the day. Hess burst into applause.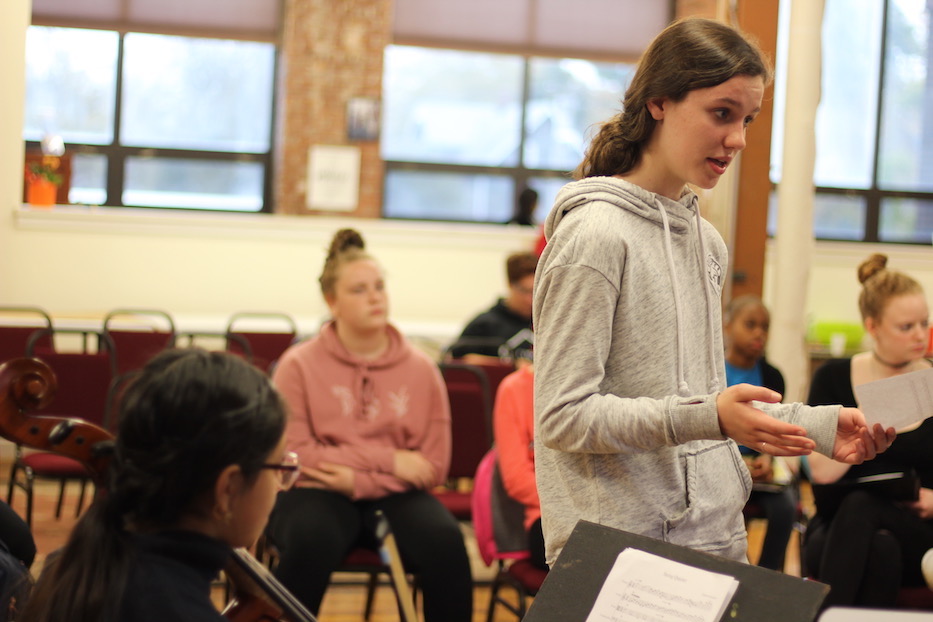 Other students conjured a kind of magic with their pieces. With a not-yet-titled composition, Angela Kapikan introduced a piece that began with a warbly tremolo, where the strings shake and stutter because they're supposed to. Drawing on the letters of her name for inspiration, Hannah Alexander gave students a melody that coasted and swooped, a little louder each time students ran through it. At one point, Alexander suggested they were on the right track, but still hesitant in their execution.
"I think it sounded really good," she said, stepping toward the musicians to join them. "We just all need to have confidence and play together."
As he handed out copies of his composition "Spooky Strings," David Caldarella had something else in mind entirely. From the page, a few neat directions in pencil peeked out, including one to stop in the middle of playing—for a popcorn break.
"So the whole idea is that the viola and the cello are out on a date night at the movies," he said. A few students giggled on all sides of the circle. "And it's really scary."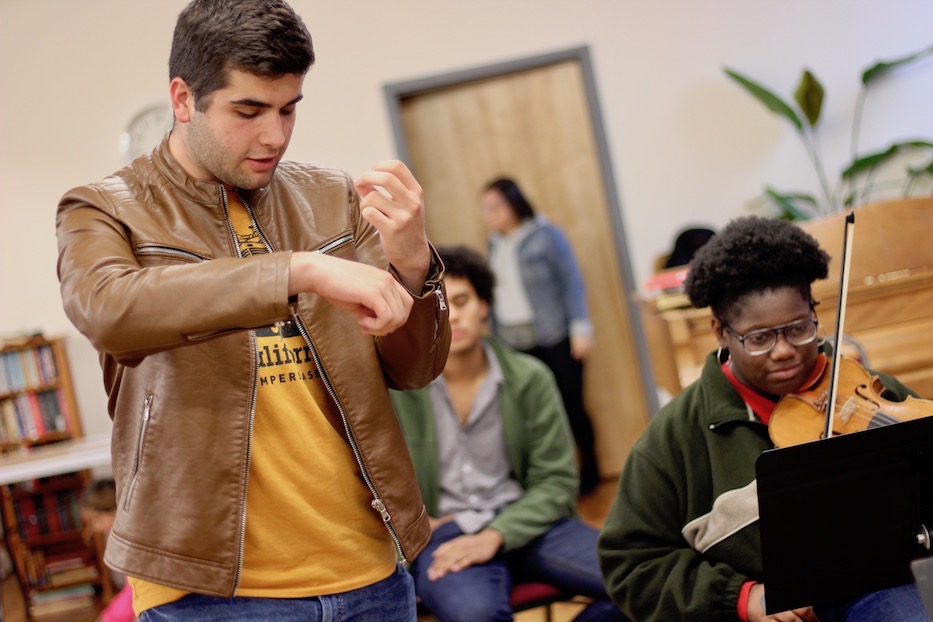 ECA student David Caldarella walks Music Haven students through "Spooky Strings." Lucy Gellman Photo.
With their chairs pressed together, quartet members hesitated with a cue for screeching cacophony of sound. Musician-in-residence Philip Boulanger pressed students to think of particularly "spooky, maybe ugly sounds" that they could think of. Then David Rivetta spoke up, holding his violin to his chest.
"I wasn't supposed to do this, but when I was younger I put the bow behind the bridge," he said. The musicians tried it. A sound that was ghoulish and shrill filled the room. Caldarella gave a little, delighted clap. It was exactly what he had in mind.
"This is really cool," said Reign Bowman, a sophomore at New Haven Academy and aspiring professional violinist. "Normally, we play music from like, a long, long time ago. It's nice to see young people doing this, and to have something more modern."
While the exercise initially made her nervous—none of the Music Haven students had seen the compositions before they were put in front of them—she said she's now excited to continue learning from the ECA students, and vice versa.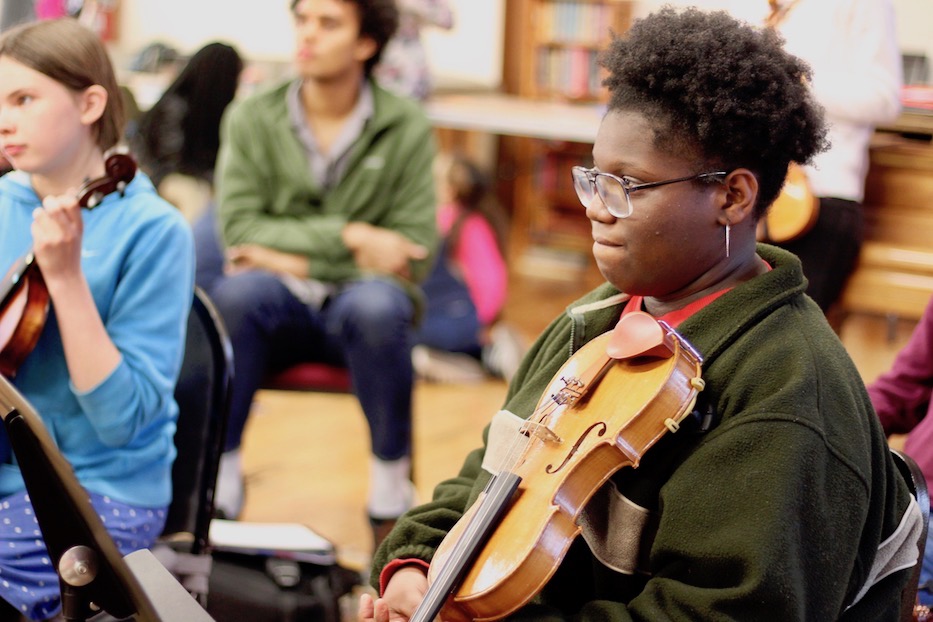 Reign Bowman: No dead composers? No problem. Lucy Gellman Photo.
That's also true for Hess, who is a senior at ECA. In her four years at the school, she's only ever seen fellow ECA students play the work that she and her classmates agonize over. Now, she has a chance to see it out in the world, where young musicians may be coming up against a limited repertoire or still-expanding knowledge of their instrument.
"It's crazy to have this opportunity," she said. "We've brought them [the compositions] to life before, but never like this. When I heard them play, I was just so surprised that they were so young and could play so well."
"I feel like as a senior, this is going to be a great way to end the year," she added. "It's a chance to kind of pass it on."
The collaboration is part of a larger framework that includes HSQ On Audubon, a series of Friday night concerts from the Haven String Quartet on ECA's Audubon Street campus. After beginning earlier this month, the concerts continue with a "Sonata Mashup" in December. Tickets are free for ECA students.