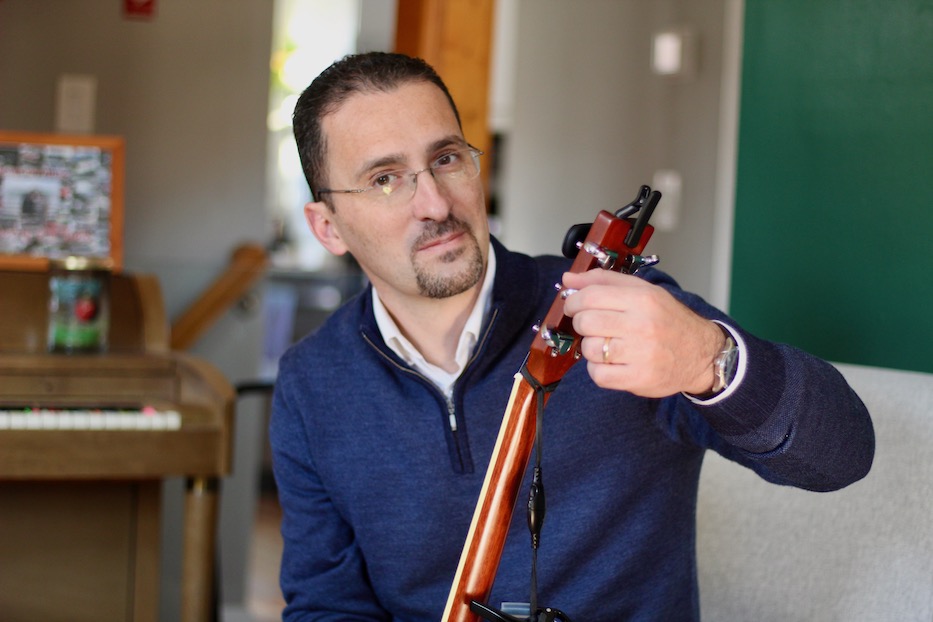 East Rock | Educational Center for the Arts | Music | Politics | Arts & Culture | West Haven | Mayoral Campaign 2023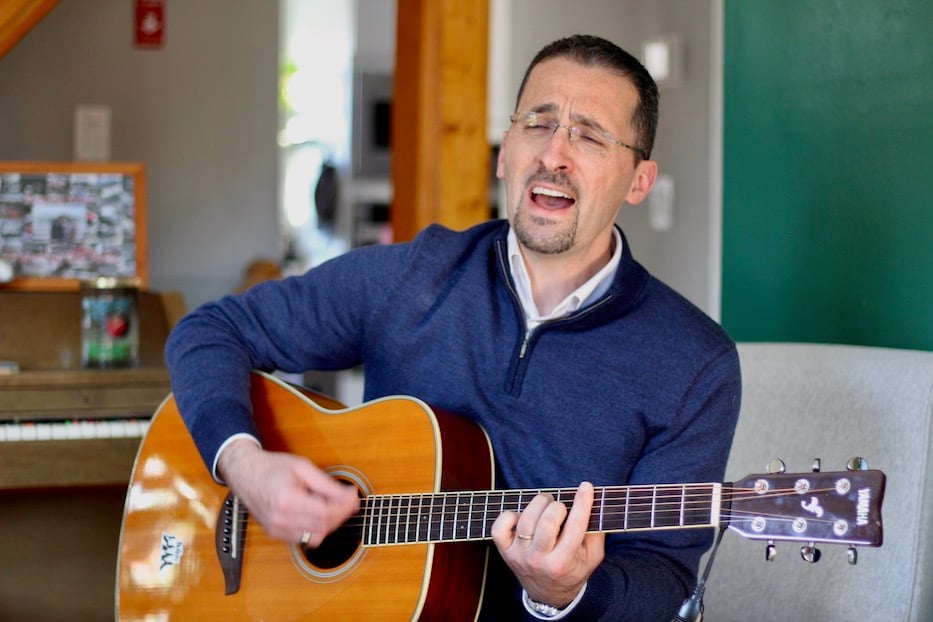 Tom Goldenberg at his home in New Haven's East Rock neighborhood. Lucy Gellman Photos.
Tom Goldenberg picked up his guitar from a well-loved corner of the living room, and began to strum the first notes of "It's Only Love" from memory. I get high when I see you go by, my, oh my. His eyes closed for a moment, and then fluttered back open. When you sigh, my, my inside just flies, butterflies. He tipped his head gently to one side. His dog Ella padded toward the sound, and relaxed in a pool of light at his feet.
It's one of the ways that Goldenberg, 41, is hoping to connect with constituents as he runs for mayor of New Haven this year. He is vying for the Democratic nomination for mayor against two-term incumbent Mayor Justin Elicker and fellow challenger and retired former police sergeant Shafiq Abdussabur. Westvillian Liam Brennan, who currently works as inspector general for the City of Hartford, is currently "exploring" a Democratic run for mayor. And Wendy Hamilton has filed to run for mayor as an independent.
A former music student, bartender, ashram-living-soul-searcher and consultant at McKinsey & Company who grew up in West Haven, Goldenberg has made music a part of his campaign, playing at senior centers, open mic nights, and campaign stops. His go-to tool: an acoustic guitar and an arsenal of Beatles songs.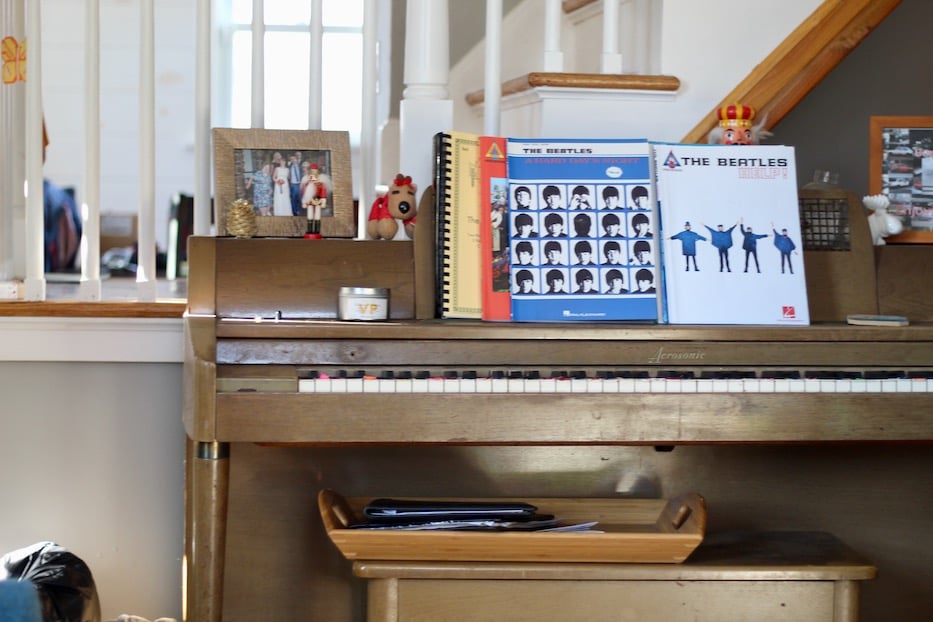 "The music is part of my life, even though I'm on the campaign trail," Goldenberg said in a recent interview at his childhood home in West Haven, where he first caught the musical bug from his dad.
In the last few months, he has played at the East Shore Senior Center and Tower One/Tower East assisted living facility, as well as open mic nights at Gather East on State Street. His go-to repertoire is the Beatles because he sees them as a point of instant connection.
"It's like a great, fun thing that brings people together," he said. "I hope we have more chances to do that."
"I think the Beatles are very interesting—I just think there's something very universal about them," he added.
"I am running a campaign on real issues," he added. So far, those issues have included increased support for small business owners of color, a call for the city's Board of Education to return to in-person meetings and undergo a review of their internal processes. When pressed on funding for the arts specifically, he said that he will have more to say after the city's budget is released on March 1.
From West Haven To New Haven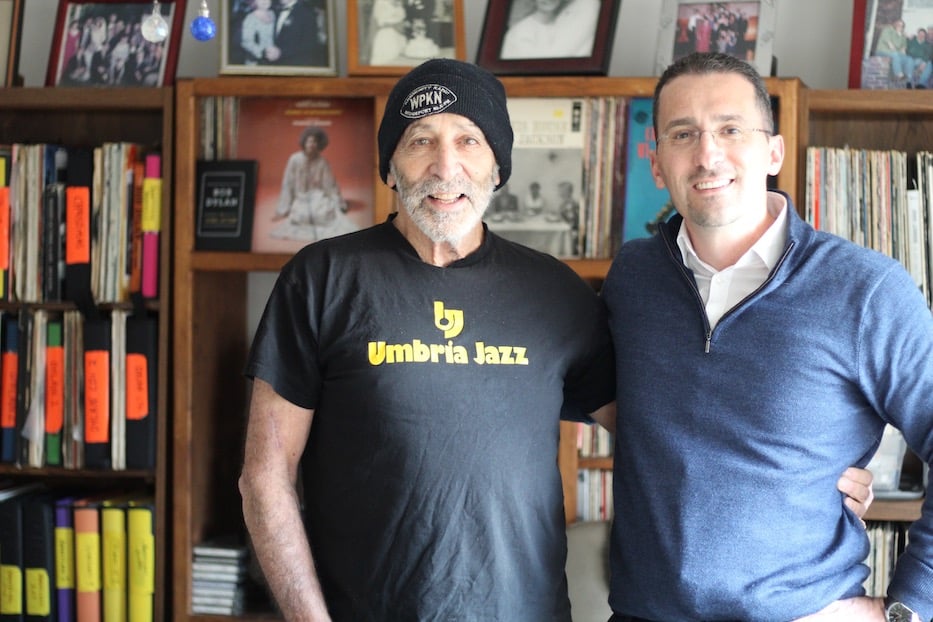 Sam Goldenberg and Tom Goldenberg at the Goldenberg's West Haven home.
On a recent drive to his childhood home in West Haven, Goldenberg traced his path from a young music student to mayoral hopeful. A large part of that has been the influence of his dad, Sam, a special education teacher and jazz lover who long organized New Haven's Creative Concert series.
The child of two educators, Goldenberg started his life in West Haven's Knox Street neighborhood, a majority Black and Latino area just blocks from where his parents now live. When he was young, the couple received an interest-free loan that allowed them to buy the house nearby, on a quiet side street where the 261 bus rumbles past three times an hour. He grew up there with an older sister, Carey, and a younger brother, Ryan.
Growing up where he did has made him more aware of how wealth disparity—and economic opportunity—can change someone's life. As he drove toward his parents gnome-studded front lawn on a recent Tuesday, he pointed out a cleft in the road that splits the neighborhood in two. On one side of the street is the City of West Haven. On the other is the whiter, more affluent Town of Orange.
He still wonders what it would have looked like "if I had grown up on the other side of the street," he said.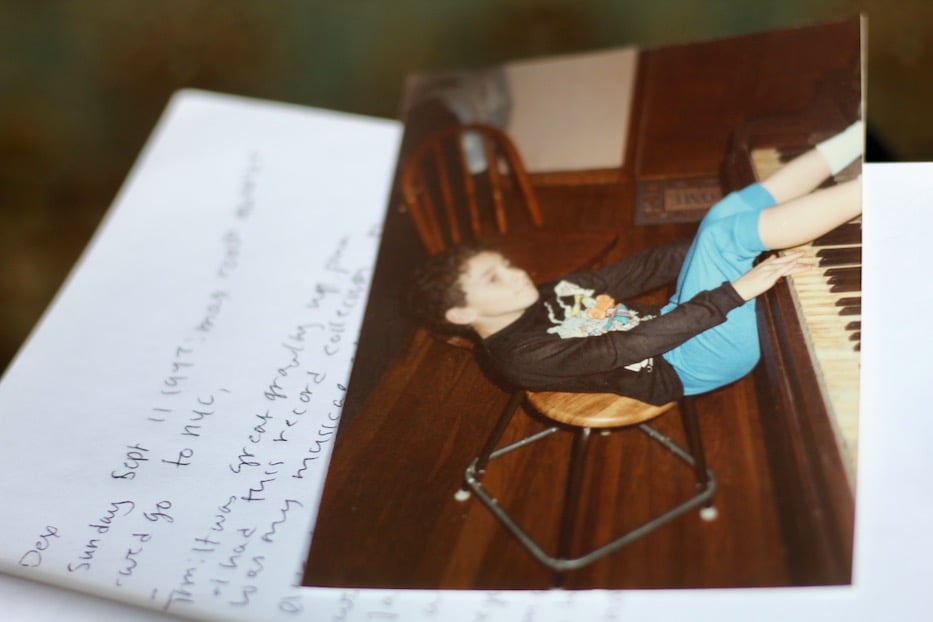 Goldenberg as a kid.
In West Haven and neighboring New Haven, his dad helped open the gateway to music that he still very much finds himself moving through. Raised in West Hartford, Sam Goldenberg became interested in education in the 1960s, when doing his undergraduate work at the University of Connecticut. He fell in love with New Haven shortly thereafter, during his graduate work in special education at Southern Connecticut State University.
He had always loved music, and wove it into the work he was doing as an early-career educator. Well before Tom was a kid in the 1980s, Sam was the founder of Creative Concerts, Inc., an annual series that brought jazz musicians into New Haven to raise funds for the now-shuttered Mansfield Training School.
Visiting musicians, who in the first two years alone included Keith Jarrett, Gary Burton, Ralph Towner, and Sonny Rollins, played for free. Artist Bruce Gillespie, an illustrator with Down Syndrome whom Goldenberg met while student teaching in Danbury, designed the posters and programs.
It was a completely do-it-yourself, grassroots initiative that took off, Sam said from his living room, surrounded by a collection of vinyl that ran thousands of records deep. To recruit musicians, he and a friend would usually hop a train into New York, attend a musician's sound check and concert, and then make their way backstage. When they explained the series' mission—that all ticket sales went to the Mansfield Training School—musicians often signed on pro-bono.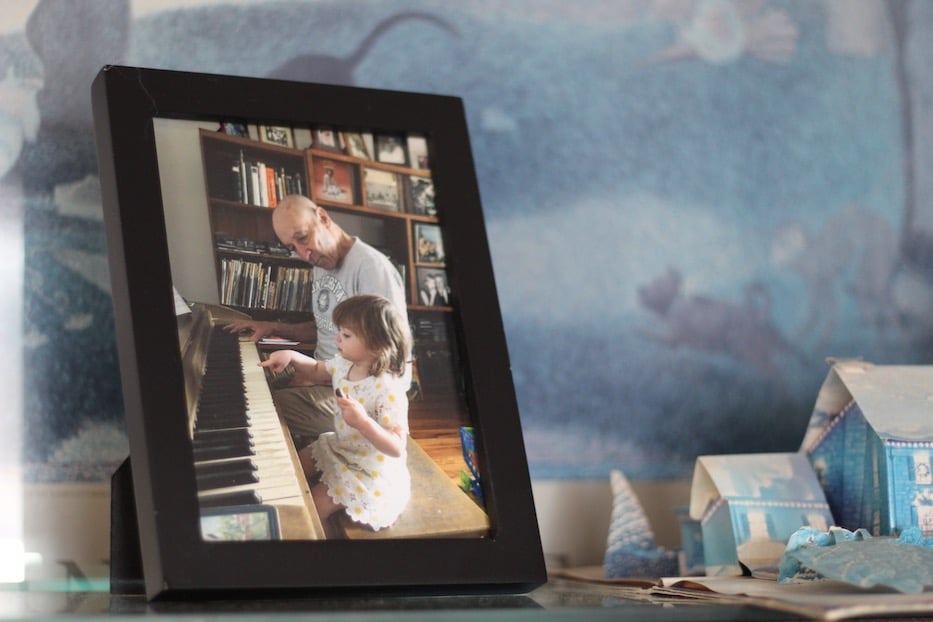 Sam Goldenberg with his granddaughter, Tom Goldenberg's daughter.
The West Haven house, where a blue, white and yellow campaign sign already rests snugly in the window, is a testament to that love of music. In a living room lined with records, Gillespie's framed artwork peeks out from the walls, a reminder of the music that for so many years filled Sam Goldenberg's life. Beneath family photos, a piano sports color-coded tape on its keys and a key to "Twinkle Twinkle Little Star," a teaching tool for his five-year-old granddaughter.
"I'd play the music for Bruce, and then just let it go," the elder Goldenberg said, remembering how the two collaborated on album and poster artwork for the series. After snagging a grant from the National Endowment for the Arts, he was able to keep it going through the late 1970s, with names that included Gary Burton, Teddy Wilson, the Phil Woods Quartet, and the Max Roach Quartet. It became part of New Haven's jazz history, which is still evolving.
He ended the series temporarily in 1979, when Carey was an infant. When Tom was born three years later, he could still feel the pull of music all around him. It turns out, over three decades later, that it never left him.
"It was great growing up, because we had this record collection," Tom Goldenberg said, motioning to the tightly packed bookshelves. On one, covers with John Coltrane and Mahalia Jackson looked back expectantly. "That was my musical education. We'd listen to everything."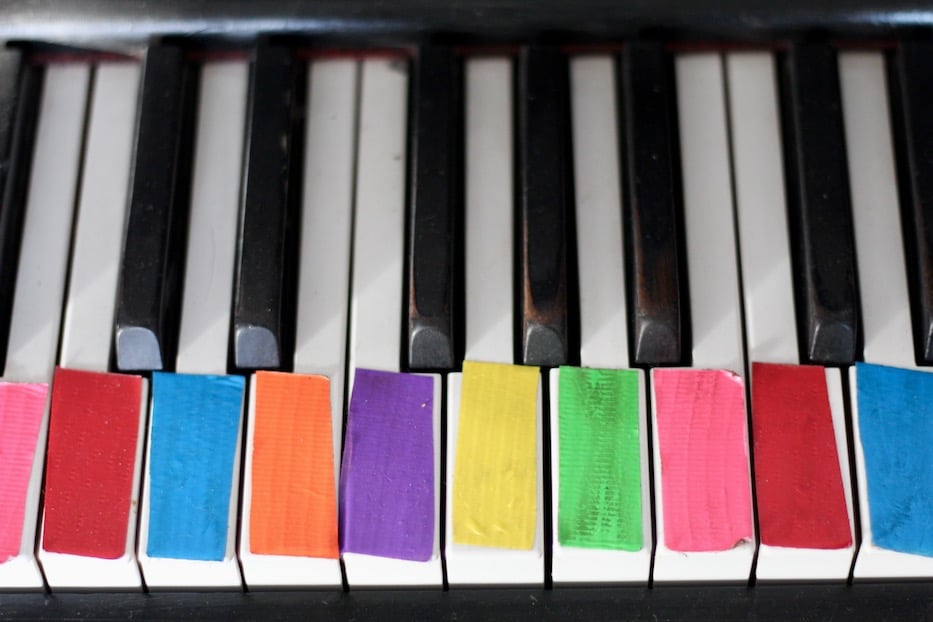 He also picked up his dad's interest in the piano, listening to him play Gershwin and Debussy most evenings after work. As he spoke, Sam pulled an old photo of Tom as a kid, playing the keys while hanging upside down on a stool. In the image, he bites his lower lip with a look of intense concentration. His hair, a mop of floppy brown bangs, makes it goofy and sweet anyway.
By high school, "he would play all the time," Sam recalled—so much so that his parents sometimes couldn't get to sleep. His junior year, Tom Goldenberg enrolled at the Educational Center for the Arts (ECA) on Audubon Street in New Haven, where he studied with the jazz musician Warren Byrd. Through Byrd, he also met musicians David Chevan, Jeff Gitelman, and drummer Mike Paolucci.
Jazz was a constant, steady soundtrack to his high school years. Outside of school, he played in a band called the Electric Monks with Southern Connecticut State University (SCSU) students. On birthdays, the family would make the pilgrimage to the Village Vanguard, a jazz club in New York City (they continued to for years, Goldenberg said). By the time he graduated in the late 1990s, he had decided to study jazz piano professionally.
As an undergraduate at SUNY New Paltz, he studied piano and tabla, picking up bits of Sanskrit and Malayalam along the way. He stayed close to his New Haven music roots, from jazz jams to late nights at Cafe Nine. When he stepped away from music professionally years later, first for a programming bootcamp and then jobs in tech and consulting, he never left it behind.
"I don't play music for a living now, but it had a positive effect on my life and taught me a lot of skills," he said, adding that he would sometimes practice for eight hours a day. "It taught me discipline. It taught me the ability to think on my feet, to react in real time."
Finding The Right Pitch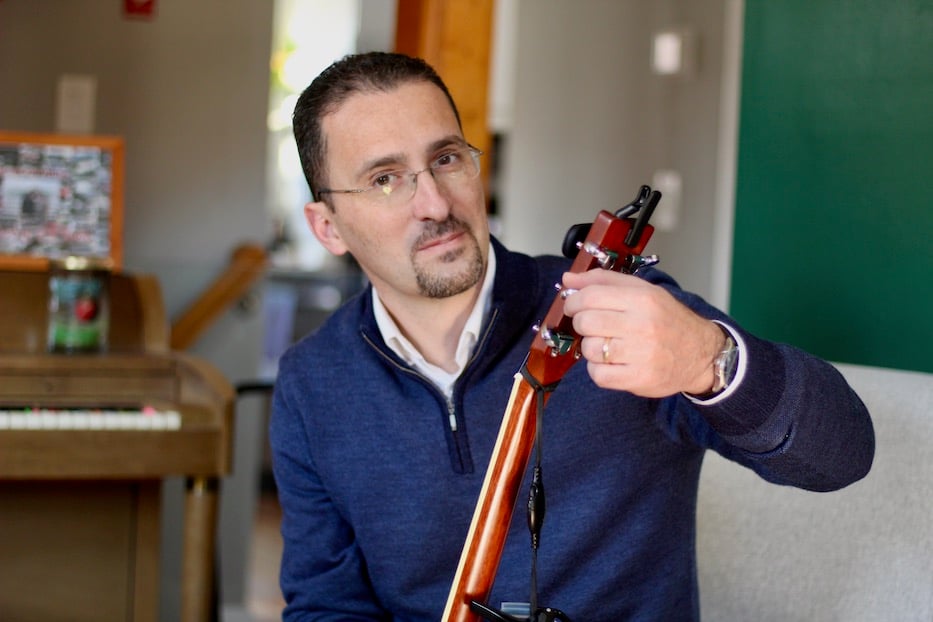 Beyond his own interest in music and arts learning, "I'm a supporter of the arts in education," Goldenberg said. He's seen firsthand the way music can teach a student when to step in and when to step back, how to pace themselves, adapt to a situation and listen closely to those sharing a given space. He supports bringing more arts into the schools, giving students the same kind of opportunities that he had as a kid.
His interest in education has already become part of the campaign trail, a steady hum beneath his platform much like the songs he's been known to pull out at campaign events. Last month, Goldenberg urged the city's Board of Alders not to re-approve Matt Wilcox to the New Haven Board of Education, concerned by data that show chronic absenteeism and math and reading levels that the board has called "crisis."
He recalled learning a blues scale from musician and educator Rex Cadwallader in high school, and having a realization about jazz music and improv for the first time. "Jazz is so wonderful because you never play the same song twice," he said. Those kinds of lessons—what some educators might refer to as STEAM learning—can stay with a student for their entire life.
Asked about funding for the Department of Arts, Culture, & Tourism and the New Haven Free Public Library—which has become a de-facto community center—he said he would have more information after the city's budget was released on March 1 of this year. Budget hearings begin March 16.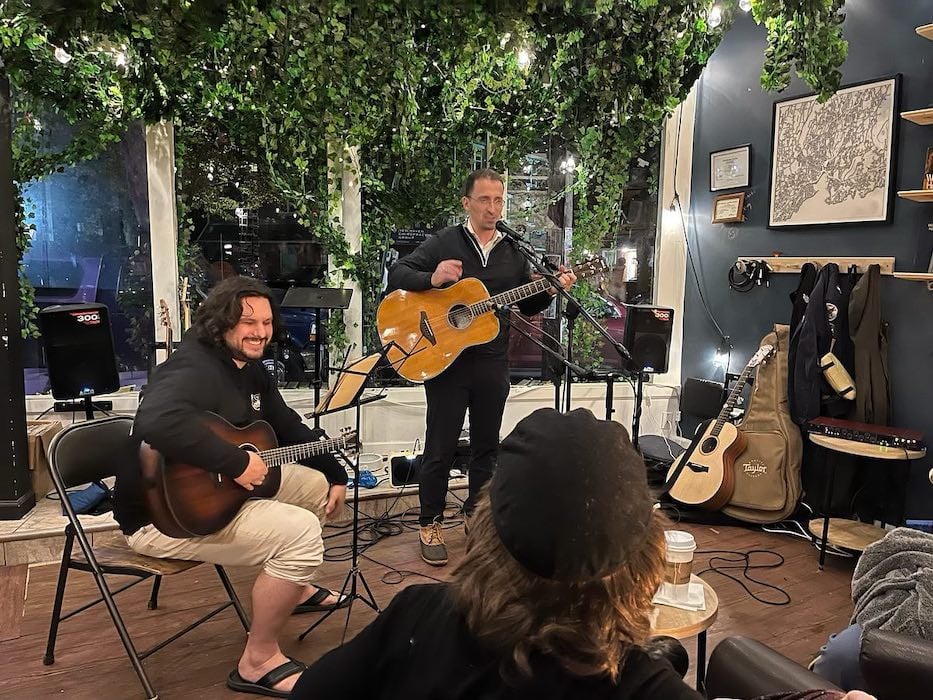 Tom Goldenberg Photo.
Although he has never held public office in New Haven, Goldenberg said he was drawn to run because the city is his home. He lives in a cozy house on Nicoll Street, with "Goldenberg for Mayor" signs already dotting the property. New Haven is where he met his wife, University of New Haven Professor Jess Holzer. It's where they're raising their young daughter, who already shares a love for piano and for Beatles music.
His dad, who is still interested in bringing Creative Concerts back, is cheering him on. After Sam relaunched the series in 2006, musicians have included Eric Alexander, Steve Turre, Dave Holland, and Edmar Castaneda. In 2018, he brought the Israeli clarinetist Anat Cohen to the John Lyman Center for the Performing Arts at SCSU. On a recent Tuesday, he said that he doesn't know when the series will be back, but that he'd like to revive it.
Tom, who had been listening closely, smiled. "Maybe for the inaugural ball," he said.