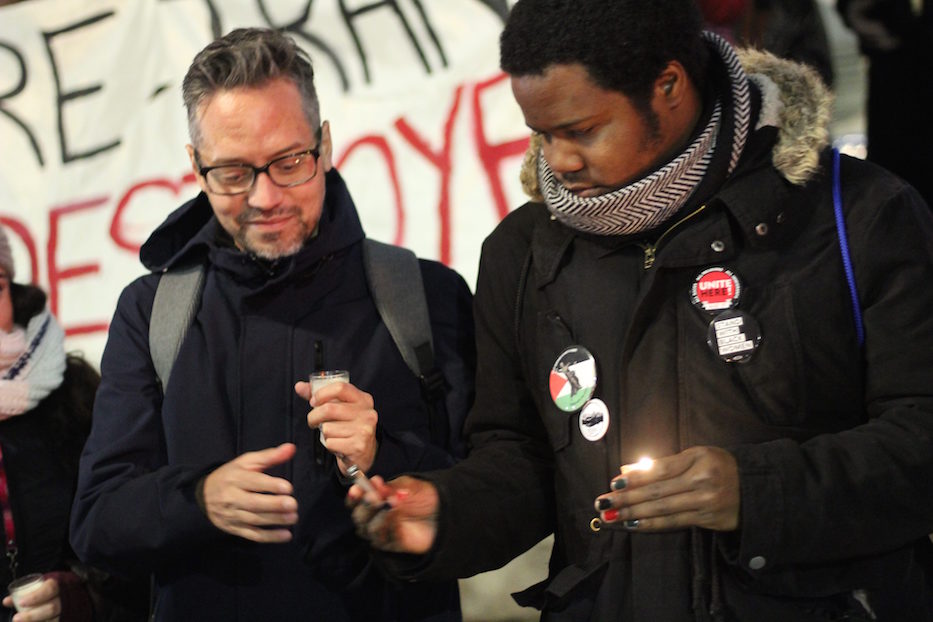 Culture & Community | LGBTQ | Arts & Culture | New Haven Pride Center | Ninth Square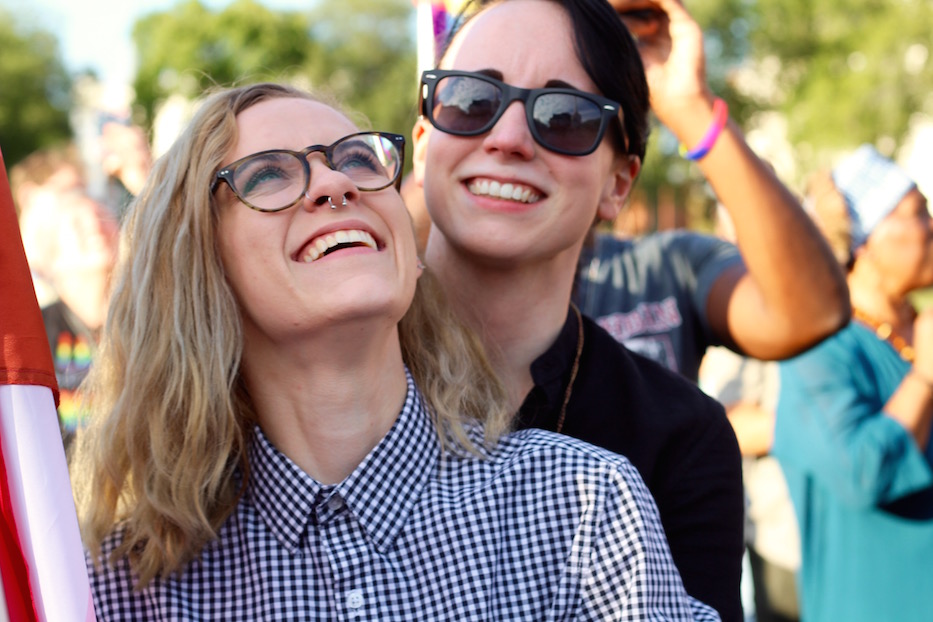 Laura Boccadoro. Lucy Gellman Photo. All Photos not by Lucy Gellman are courtesy of the New Haven Pride Center.
This article is part of an ongoing collaboration between the Arts Paper and Centerline, the monthly print publication of the New Haven Pride Center. To find out more about Centerline, check out the New Haven Pride Center's website.
In August of 2017, the New Haven Pride Center hired Executive Director Patrick J. Dunn as its first-ever paid staff member. Now, there are now eight paid roles, with a ninth soon to come. Here are profiles of the new team.
Administrative Coordinator: Laura Boccadoro (she/her/hers or they/them/theirs)
Laura Boccadoro started her college career certain she was going to become a doctor. She's ending it as an outspoken advocate and behind-the-scenes magic-maker for LGBTQ+ rights.
Born and raised in Darien, Laura joined the Center last year as its first ever administrative coordinator. A queer superhero by day, she first came to the Center last summer through the Arts Workforce Initiative (AWI), a program for Connecticut college and university students through the state's Office of the Arts.
During her AWI internship, Laura helped plan PRIDE New Haven, a celebration of the city's LGBTQ+ community that included a flag raising and march, PRIDE parade, rooftop party, and week of performances, lectures, and an outdoor block party. To this day, she calls it "the coolest thing I've ever worked on."
In her new role, Laura has found that no one day looks the same. In a week, she fields queries for the center, offers help to support and affinity groups, plans and coordinates events, folds, organizes, and expands the Center's clothing closet, and connects program officers to each other and to members of the community. In a recent interview, she joked that she even enjoys taking out the garbage.
"Honestly, the collaboration is my favorite part," she said. "I have literally a hand in everything that goes on for the Center."
When she isn't working at the Center, Laura is also a part-time student at Quinnipiac University studying political science with a minor in philosophy.
Contact Laura at info@newhavenpridecenter.org
Marketing and Development Coordinator: Maia Leonardo (she/her/hers)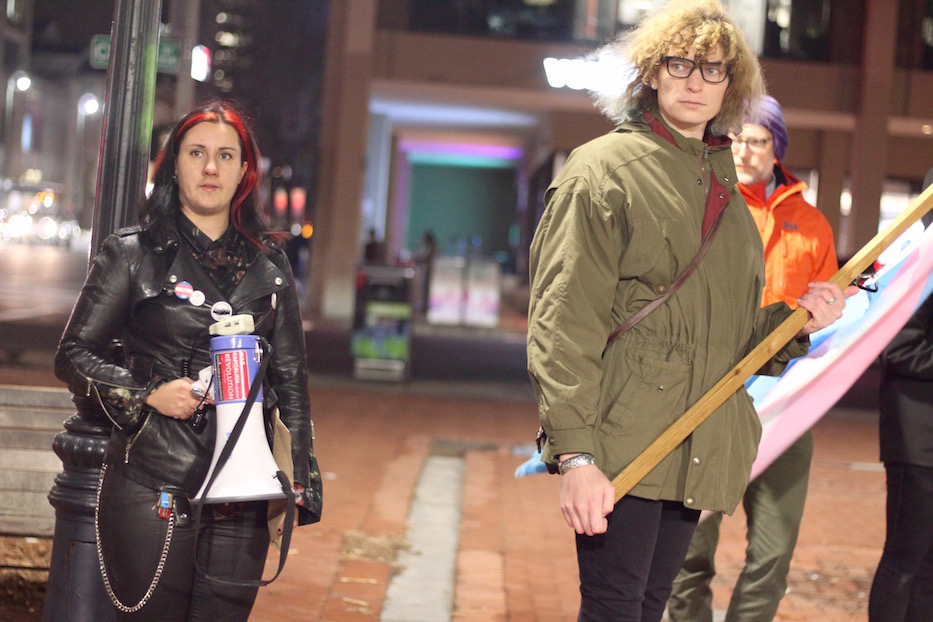 Maia Leonardo (at right) with Trans Lifeline Coordinator and PSL Member IV Staklo.
As the new Marketing and Development Coordinator, Maia Leonardo comes to the Center as an artist, activist, tech whiz, non-binary and trans woman, and fierce political advocate. In 2014, soon after moving to New Haven, Maia became involved in #Justice4Jane, a movement to free a 16-year-old transgender teen referred to as "Jane Doe" from an adult York Correctional Facility.
At the time, the movement became her gateway into organizing with the Party for Socialism and Liberation, with which she is still active. She has also organized and spoken for the nonprofit Trans Lifeline, and has served on its board of directors for almost two years.
In her professional life, Maia has held positions in development and customer service at the Neighborhood Music School, Central Connecticut State University, and several restaurants and bars in Cooperstown, New York. When she is not at a desk, she can often be found marching through the streets of New Haven and speaking at events like the city's now-annual Transgender Day of Remembrance rally and vigil.
As she grows marketing and development at the Center, Maia has been flexing her graphic design skills on postcards and images for the Center's website. She has also been working on organizing the Center's salesforce database, managing social media, and cultivating funders. In her personal life, Maia is also a musician.
Contact Maia at mleonardo@newhavenpridecenter.org
Director of Case Management and Support Services: Juancarlos Soto (he/him/his or el)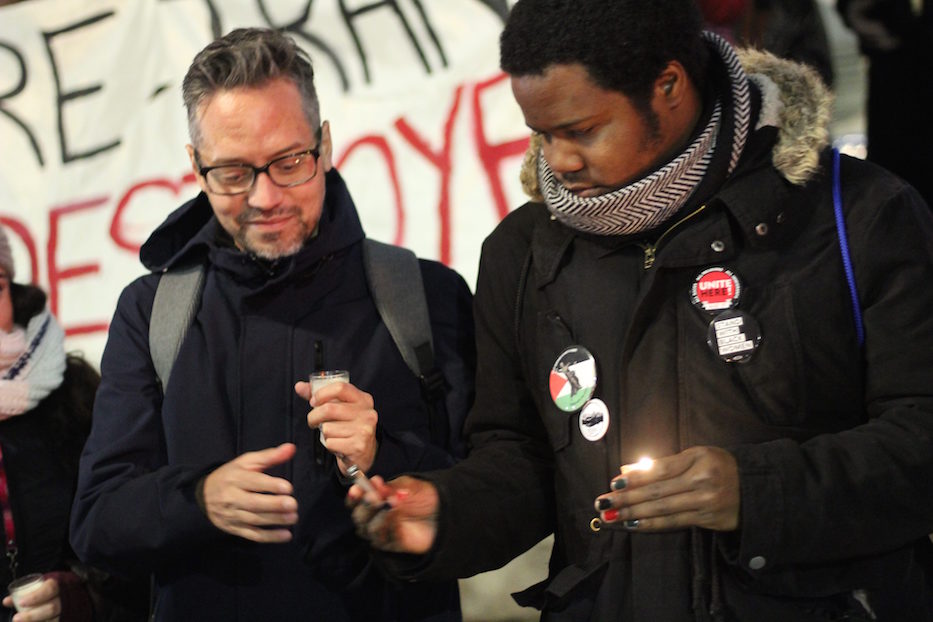 Juancarlos Soto with Jamarr Jabari, a PSL member who is also part of the group Voices of Change.
Long known as New Haven's "artivist," Juancarlos Soto joins the Center this February as its first Director of Case Management and Support Services. A proud Boricua, Juancarlos moved to New Haven from Puerto Rico when he was 15 years old, turning to his artwork as a vehicle for release, exploration, and communication.
In the years since, the Paier College of Art grad has become known for his banners, graphic designs, photographs and illustrations defending immigrant rights, survivors of sexual assault, reproductive freedom and more.
In addition to advocacy work at Junta for Progressive Action and Planned Parenthood of Southern New England, Juancarlos has served on the leadership team of Puerto Ricans United, planning the annual Festival Puertorriqueño on the New Haven Green.
For the past two years, he has facilitated Black and Brown Queer Camp, a collaboration with Citywide Youth Coalition and the New Haven Pride Center. In 2019, he won a prestigious Dorothy Award for his advocacy across communities.
As he starts work at the Center, Juancarlos plans to blend support services and advocacy, with an eye toward making sure clients are "not just surviving, but thriving." He will be working across social services and organizations to connect clients with affordable housing, job opportunities, resources around reentry, and proper legal counsel. In a recent interview, he said he feels blessed for the opportunity.
"When it comes to the LGBTQ community, there are so many identities that intersect," he said. "My approach is to make sure that we are providing the services that people need, but that we are also not just putting a band aid on issues. We know that way too often, systems don't work for LGBTQ folks. And especially, systems don't work for LGBTQ folks of color. For too long, we've survived. We've struggled with reaching survival. It's our time to thrive."
Email Juancarlos at jcsoto@newhavenpridecenter.org.
LGBTQ+ Women's Officer: Miranda Rector (they/them/theirs)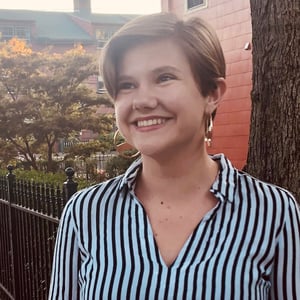 Born in that "wonderful, wild place" that is Los Angeles, Miranda Rector was raised on political activism. Their new position as LGBTQ+ Women's Officer marks the next step in that work.
A proud product of L.A. public schools, Miranda first came to New Haven in 2016, as a freshman at Yale University.
Prior to their time in the city, they were involved in political and social movements in California, first with their mom (they once attended an environmental protest dressed as the sun), and then in middle and high school.
As a student at Venice High School, Miranda launched a chapter of Junior State of America (JSA), frequently out-debating other schools at debate competitions. They became, quite unexpectedly and in their own words, "the mom to all the gays in the school," a constant support to LGBTQ+ students who were navigating what it meant to be queer in a million different ways.
While Miranda expected to be premed, they pivoted to community activism after the election of Donald Trump in 2016. With other students, they became an active member of RALY (Reproductive Justice Action League at Yale), rallying for reproductive justice, immigrant rights, and sanctuary city status.
They first connected with the Pride Center through their work with the Office of LGBTQ+ Services at Yale. Currently, they are in a dual-degree program, with undergraduate work in anthropology and graduate work on public health with an interest in policy.
In their new role at the center, Miranda is working on building out events like a recent LGBTQ+ Women's Social, held at Three Sheets New Haven last year. In addition to collective action, they are focused on the need to create collective, communal joy as a foundation for long-term, sustainable relationships. With social programming, they also plan to establish events around policy and advocacy,
"I think that's how you build resistance," they said in a recent interview. "The revolution relies on care."
Contact Miranda at women@newhavenpridecenter.org
LGBTQ+ Latinx Officer: Max Cisneros (he/him/his or they/them/theirs)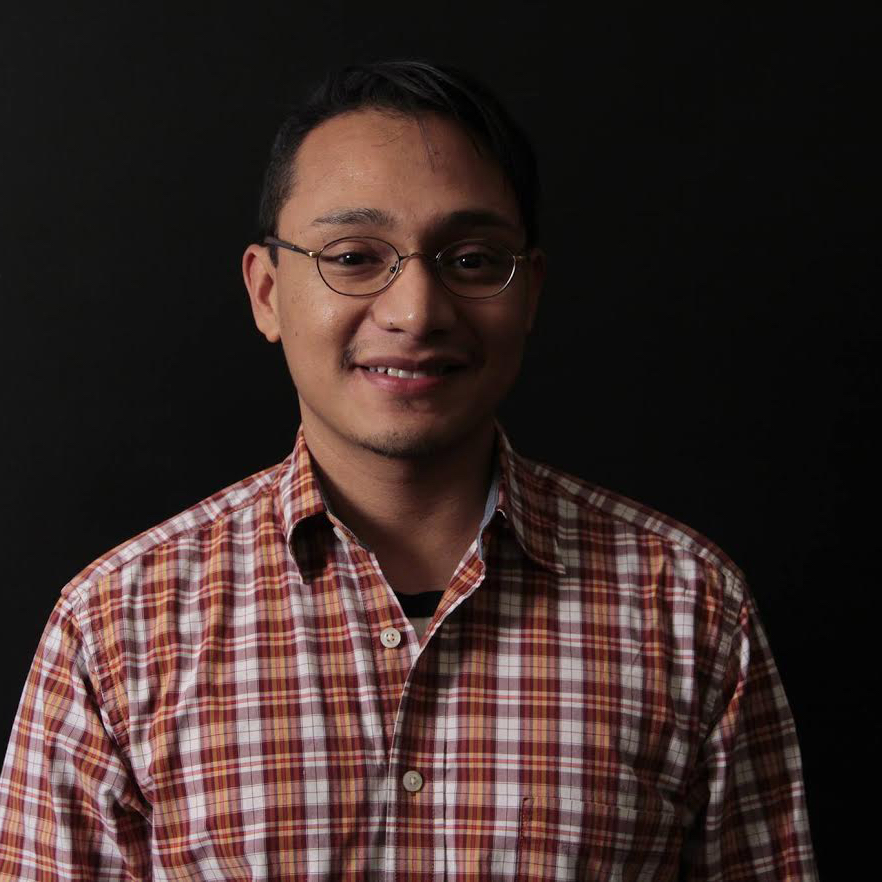 Photo Courtesy of the New Haven Pride Center.
As the Center's first LGBTQ+ Latinx Program Officer, Max Cisneros is working to open up a world of new, wide-reaching, intersectional and inclusive programming in New Haven's Latinx community. Born in Mexico and raised in Stamford, Cisneros grew up wanting to "validate my story and validate my background" in a world that rarely made space for him.
As a high school student, Max launched H.U.G.S. (Helping Unite Gays and Straights), a student group at Stamford High School. As he navigated his own coming out process, Max also started "empowering the different parts of me," exploring the queer, Latinx, and immigrant intersections at which he stood. He has since chosen to dedicate his life to that work.
In 2015, Max joined the Mid Fairfield AIDS Project in Norwalk, where he has worked in social media management and sent out a newsletter in both English and Spanish. He has been an outspoken advocate for those living with HIV and AIDS, with work that includes personal testimony on the 30th annual World AIDS Day in 2018. In addition to his work at the Pride Center, Max currently also works at Norwalk's Open Doors Shelter.
As he joins the Center this year, Max will be working to get to know New Haven's Latinx community—not just those who identify as LGBTQ+—and create specific, sensitive and intersectional programming. In part, he said he's excited to interrogate the terminology itself, including conceptions that Latinx is an exclusively LGBTQ+ term, coined and used by white people.
"I think that's a narrative that I'm going to have to address, being able to define what Latinx is and being able to broaden it," he said. "I think that's key. Being able to kind of define it and listen to people."
LGBTQ+ Youth Officer: Ala Ochumare (she/her/hers)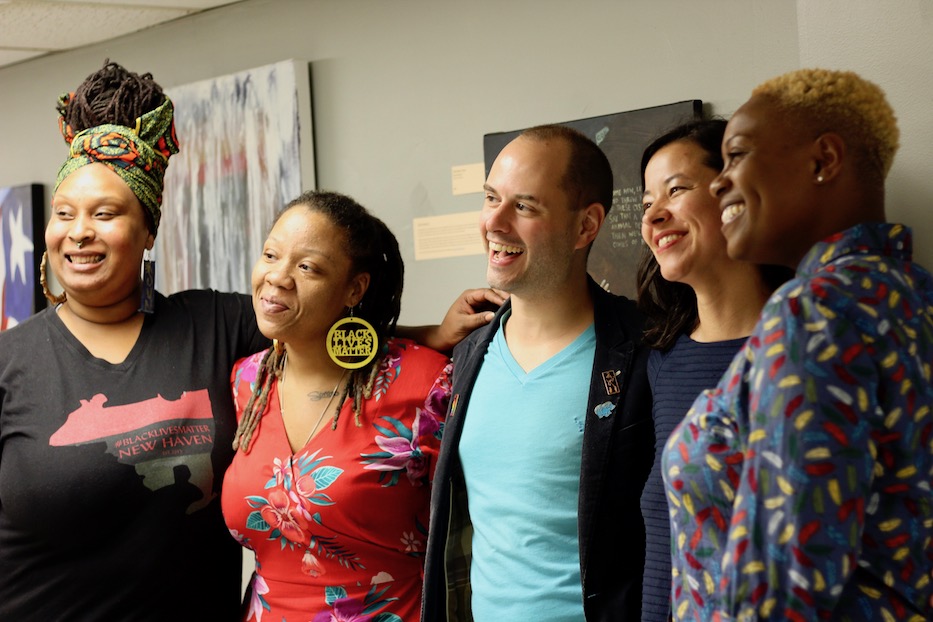 From left to right: Sun Queen, Ala Ochumare, Patrick Dunn, Luciana "Lucy" McClure and Ashleigh Huckabey at the New Haven Pride Center last year. Lucy Gellman Photo.
Born and raised in New Haven, Ala Ochumare has lived "in my intersections"—Black, woman, queer, and now a mother—for her entire life. But it was a transformative trip to South Africa in high school that moved her to become a community organizer.
For over a decade, Ala has worked across those intersections to make the city a more fair, equitable, and anti-racist place to live and work. In 2014, she started Black Lives Matter New Haven with organizers Lauren Pittman (the poet Sun Queen), Dawnise Boulware, and Sy Fraiser. She has led protests around the police murders of unarmed Black men, advocated for safer community policing practices in the city, and spearheaded clean water campaigns and clothing and backpack drives.
In addition, she has served as a facilitator for Black and Brown Queer Camp two years in a row, helping build the program with City Wide Youth Coalition and the New Haven Pride Center.
As the Center's LGBTQ+ Youth Officer, Ala plans to work both "for youth and with youth, centered around emotional wellness." Specifically, she is focusing on programming that explores and celebrates the vibrancy of the city's young LGBTQ+ community, and lifts up queer voices that have too often been silenced. In addition to drawing on her own lived experience in New Haven, Ala brings years of travel and cultural exploration, from South Africa to Atlanta.
When she is not doing youth programming or organizing, Ala serves as a crisis recovery assistant for Continuum of Care. She is a proud resident of the city's Newhallville neighborhood, which she has called home for over three decades.
"I feel like the ancestors aligned things for this to happen," she said. "I need to do this work, and it's not laborious, it's very organic. It doesn't feel like it's work for me."
Contact Ala at youth@newhavenpridecenter.org.
Accountant: Vu Tran (he/him/his)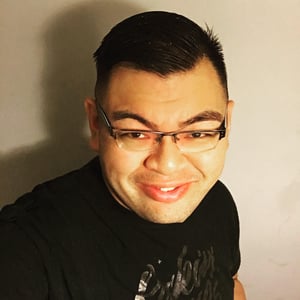 Originally from New Orleans, Vu Tran has a history of advocacy and service in the LGBTQ+ community. As a student at the University of Connecticut, he joined the student group Queers United Against Discrimination (QUAD), using it as a springboard for work in the school's Rainbow Center.
For three years, he coordinated the Rainbow Center's speaker series, talking to both students and professionals in the LGBTQ+ community as he learned the ropes. He was still a student when True Colors moved its annual conference to UConn, opening his eyes to another chapter of youth involvement and advocacy.
"I think that's sometimes an overlooked form of activism," he said in a recent interview. "Just telling your story and making folks aware."
Since graduating, Vu has remained extremely active in Connecticut's LGBTQ+ community. An auditor by day, he is a rockstar LGBTQ+ accountant, advocate, and member of royalty by night. For years he has been a member of the Imperial Sovereign Court of All Connecticut, for which he is also Imperial Crown Prince and treasurer.
After learning about the Pride Center at its annual Dorothy Awards four years ago, he has assisted with PRIDE New Haven, the annual Halloqueen fundraiser, Dragapalooza, and the center's new entry into Quickbooks for accounting.
"It's a place that I would have loved to have when I was growing up and discovering my identity," he said of the Center. "Anytime we can get more spaces for queer folks to feel supported in, the better we are."