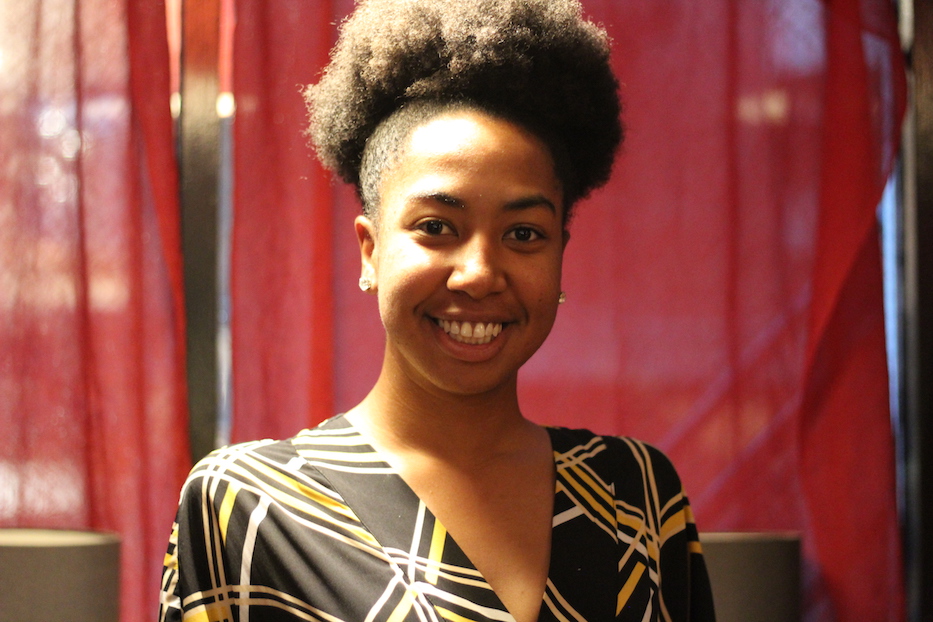 East Rock | Film | Arts & Culture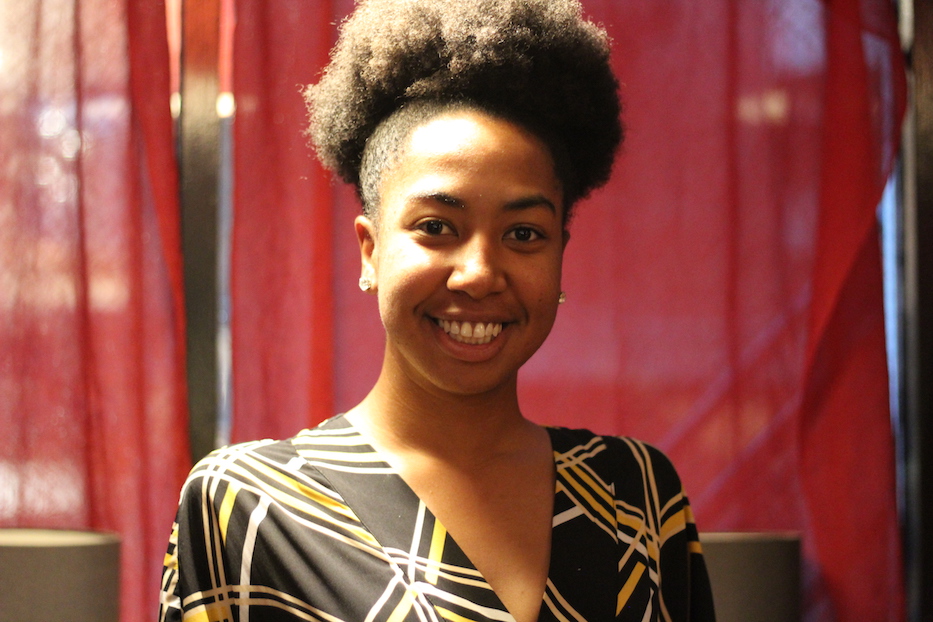 Shamain McAllister: "You can draw so much emotion from a film. Like, you're watching and I can see your feelings on your face." Lucy Gellman Photo.
First Shamain McAllister kicked off social justice initiatives in her New Jersey hometown. Then she brought them to her campus in Connecticut. Now she's trying to start that discussion among New Haveners—by getting them to come to the movies.
McAllister, who goes by Sha, is the creator of Ignite The Light, a new four-part film series intended to spark discussion and dialogue around different, kaleidoscopic aspects of the Black experience in America. The series, which is based out of the Urban Collective, begins this Saturday afternoon with a screening of Set It Off. It continues each Saturday through mid-August.
Films include Set It Off this Saturday, Moonlight on Aug. 3, Prison Song on Aug. 10, and Soul Food on Aug. 17. All screenings run from noon to 3 p.m.
"I chose each film because I wanted different aspects of the Black experience," she said in an interview Monday night at Koffee? on Audubon Street, as rain pelted the roof. "The hope is that people will come out to discuss this."
For McAllister, that interest goes back to a childhood in Newark, New Jersey, where her grandmother was the head of the household and didn't let anyone forget it. At home, she ran a tight but gentle ship, instilling a strong sense of right and wrong in the young McAllister. As a kid, she learned to speak up for herself, encouraged not to fold under pressure. Remember to be kind always, her grandmother instructed her.
"She said, if you sow good, your soul will harvest for you," she recalled, adding that the woman still has her steel spine at 83. "She is literally my heart."
McAllister flew through her classes, finding refuge at a magnet middle school, and then an all-girls Catholic high school. In one class, sculpted around protest, she learned about Frantz Fanon, Marcus Garvey, Fred Hampton, Assata Shakur, James Baldwin ("he's my favorite!") and others, building a foundation in social justice and community building. In another, she dove into film and cinema with classmates.
She jumped into student government, where she served as class president her junior year, and then student body president the following. Her senior year, she was accepted into the Sadie Nash Leadership Project, using the training to jumpstart an after-school program for women of color called "For The Sake Of Sisterhood." Over eight weeks, she recalled, "we talked about everything," from structural racism to menstruation.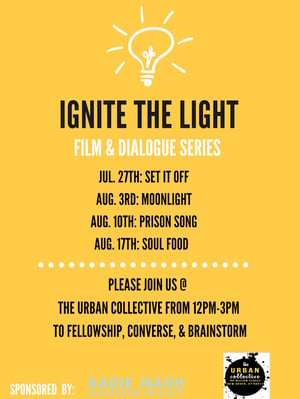 In 2014, McAllister began school at Albertus Magnus College, and was immediately unsure that she was in the right place. She applied to other programs and thought about transferring. When a jury delivered the non-indictment of Officer Darren Wilson, who shot and killed unarmed Black teen Michael Brown, November of her freshman year, she closed herself in a bathroom stall and broke down. It was a year that had also seen the officer-involved shootings of Alton Sterling and Philando Castile, for which officers were later also acquitted.
Then, she recalled, she took a deep breath and looked herself square in the face.
"What are you running from that you can't create here?" she asked herself.
She began laying the groundwork for what became, in 2016, the college's first Student Justice League. In the year and a half before the club was formally recognized, McAllister helped organize a series of panels on human trafficking, police brutality, and electoral politics. She gained faculty and student support, racing toward recognition.
When she wasn't working on the league, she was holding down jobs as an RA, Uber Eats driver, and cashier at Walgreens as she worked toward a major in healthcare management. She recalled feeling inspired after a stint with Sadie Nash Leadership Camp, during participants got to have dinner with Gloria Steinem in her New York City apartment, just off the campus of Hunter College. Somewhere in that week, she'd also realized that she was the only Black woman in the program.
"Yeah, that happens a lot," she said.
At school, her own organizing star was rising. After landing a seat as student concerns director her sophomore year, she used the platform to advocate for free laundry, better WiFi, and long-overdue improvements to student housing. She began interning for State Sen. Gary Winfield, carefully making a note each time he asked what a piece of legislation would do for his constituents, and for people who looked like him. Her junior year, she pushed for better inclusion of the New Haven community at Albertus' homecoming festivities, and then dropped out of student government when the campus wouldn't allow it.
"Connecticut gave me the chance to figure out who I was," she said. She recalled realizing that New Haveners—and Connecticut residents more broadly—operated in "two different worlds" that her campus seemed to personify. There was the route up Prospect Hill, which led to Yale Shuttle lines, and the route down the hill, which led to the reliably late 234 Winchester Avenue bus.
And yet, it was a community that she fell in love with. When she graduated, she stayed in New Haven instead of heading back to New Jersey. She moved into an apartment on Newhall Street, not far from where she had spent the past four years as a student. She loved the neighborhood, she said—she had learned bit by but about Newhallville's rich history, and wanted to be part of it.
She also grew her connections with Nasty Women Connecticut Co-Founder Lucy McClure, who she'd met when #MeToo founder Tarana Burke came to New Haven last summer (she credits photographer Judy Rosenthal for putting the two in contact initially). In March, she served as a panelist on the group's dialogue "Erasure Of The Black Body," using the panel as a launchpad for civic engagement.
In part, she said, that was a catalyst for Ignite The Light, a name she settled on after "Revolutionary Film Series" seemed too polemical. Earlier this year, she scored a $500 grant from the Sadie Nash Leadership Program for a film series, working with Urban Collective Co-Founder Randi McCray to secure the space. She praised McCray for her generosity, noting that "$500 is not a lot," and the series is at the Urban Collective in part due to mission alignment.
While music may be her first love—she classifies herself as a self-taught hip-hop scholar, and has a skyward-reaching record collection to prove it—she saw film as an easy entryway into deep, sometimes difficult discussion.
"You can draw so much emotion from a film," she said. "Like, you're watching it and I can see your feelings on your face."
Each film represents a different aspect of the Black experience, she said. In Moonlight, she found a stunning depiction of what it means to be Black and queer. In Prison Song, she sees an opportunity to discuss three-strikes legislation that devastated Black and Brown families in the last century, as well as the creation of the prison industrial complex. And in Soul Food, she said she saw a role that she recognized instantly—the grandmother who takes care of the whole family, without ever putting herself first.
The series comes as she makes her own leap from banking to the nonprofit world, where she is now working in development for the New Haven Symphony Orchestra. In advance of Saturday's first discussion, she said that she hopes to see a large audience come out ready to talk—from several different neighborhoods and backgrounds of New Haven. She said she plans to follow up with an Ignite The Light book club in the fall.
"I hope a ton of people feel compelled to show up and find that they share something," she said. "Like, your grandma may not be Black, but your grandma may run the house the same."
"This is about igniting that thought, igniting that consciousness," she added.
Ignite The Light begins with Set It Off this Saturday. It continues with Moonlight on August 3, Prison Song on August 10, and Soul Food on August 17th. All screenings run from noon to 3 p.m. at The Urban Collective, 85 Willow St., New Haven.