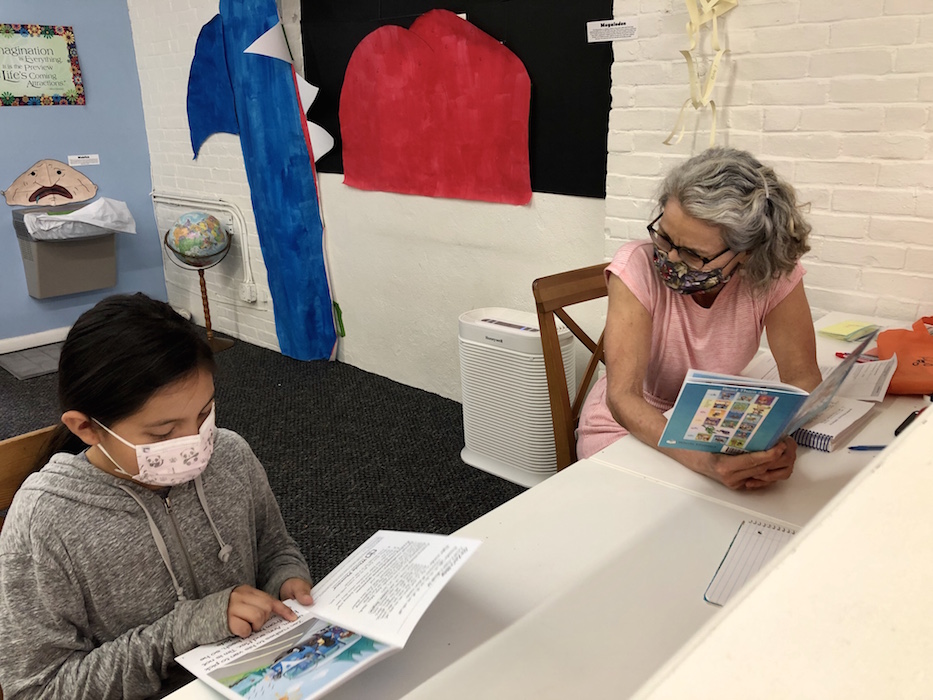 Books | Education & Youth | Arts & Culture | New Haven Reads | Youth Arts Journalism Initiative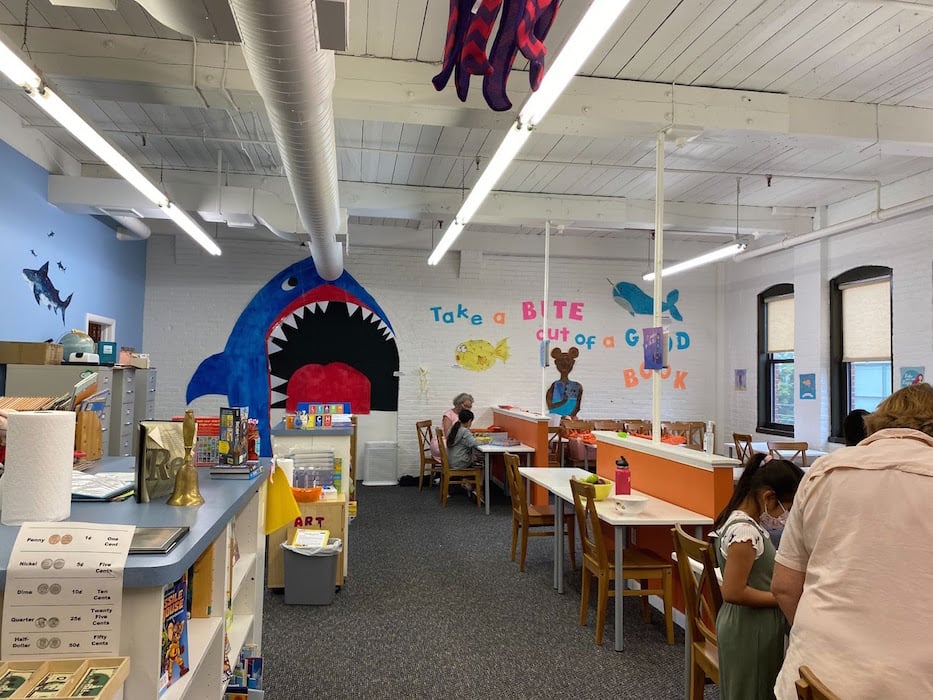 Julia Rosado Photo.
Under the watchful eye of a great white shark, masked pairs of tutors and young readers studied side-by-side at New Haven Reads' Willow Street location. Some cracked open books; others puzzled over pages together for the first time in months. Among them, nine-year-old Guadalupe read along with Kirsten Levinsohn before beginning a game of Guess Who? as their tutoring hour came to a close.
This is a familiar scene at New Haven Reads as the organization returns to limited in-person tutoring this summer, with its eyes fixed on the fall. For the first time since the beginning of the pandemic, the literacy-fueled nonprofit has offered both in-person and online sessions at each of its four sites. There are currently a total of 161 students enrolled in the program, with an additional 211 on the waitlist.
"To be back tutoring in person is, in a word, fabulous!'" Levinsohn, who is New Haven Reads' executive director, wrote in an email. " While we still need to stay masked and socially distant, it is so much more impactful for her [Guadalupe] to be tutored in person and more rewarding and fun for us both. There are so many more activities that we can do in person versus online, and we get much more done in any given session.
"I am better able to interact with her, see her smiling face and hear her laugh. And, of course, there are no internet connectivity issues!"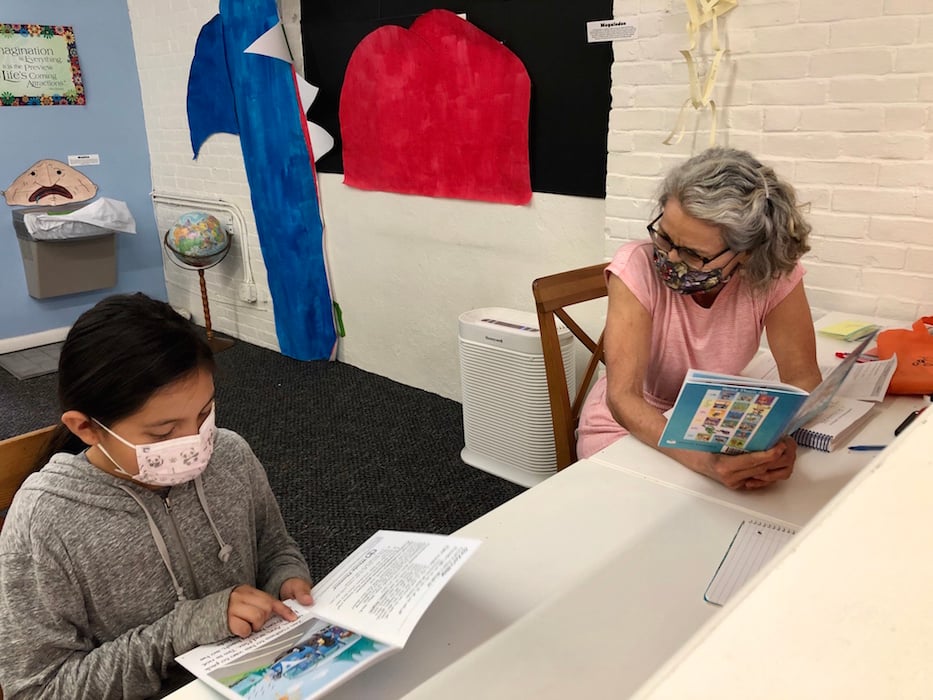 Guadalupe (New Haven Reads uses first names only) and Kirsten Levinsohn. New Haven Reads Photo.
The organization has been pivoting for the past 16 months. New Haven Reads shut its sites down when New Haven Public Schools closed in March 2020. When it was clear they would not be returning for some time, staff began to start working on transferring the program to an online format. It was back reading with students virtually by April 2020.
"We were completely in person beforehand—we never would have dreamt of going online or thinking that our program would work online, because it's all about that one on one connection where you're sitting across the table from each other, reading together and working together," said Development and Communications Director Fiona Bradford.
And then suddenly it was necessary, because students would not have been supported otherwise.
The organization worked to retrain its hundreds of volunteer tutors. It familiarized them with resources like Zoom and Epic, an online reading platform that works with a student-led screenshare. Volunteers and students also kept using Lexia, an online phonics and literacy program in which students do everything from spelling to timed reading comprehension. It translated to Zoom surprisingly well, Bradford said.
Volunteers weren't the only ones who needed help adapting to the online format. Many families did not have access to the technology required for Zoom tutoring. While some schools distributed Chromebooks, Bradford said there may have been multiple children in a household who needed to use them, and struggled with unstable internet connections. Through connections with community and corporate partners, New Haven Reads was able to distribute over 100 gently used laptops to families.
The organization also put together resource packets that families could pick up from New Haven Reads locations in order to better facilitate tutoring at home. The packets provided all the tools a student might need to be successful in a session, including pencils, papers, workbooks and books— "loads of books," Bradford said. The goal was to make everything as simple and straightforward for families so kids would get the most out of the tutoring hours.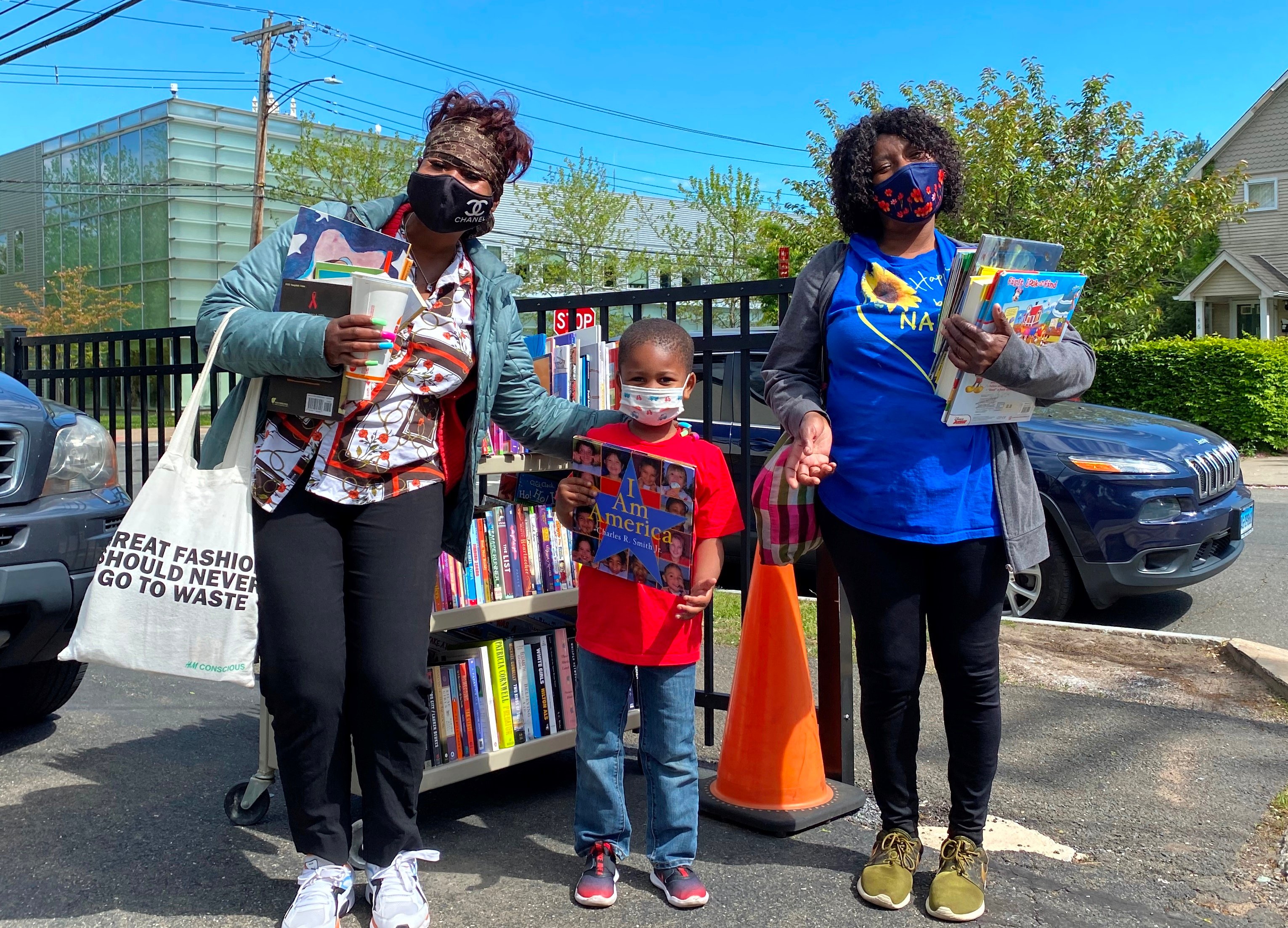 New Haven Reads Photo.
"Online tutoring has been an adventure, but it's been really successful so we're really pleased," she said. Connecting tutors and students was especially important during the school year in order to counteract some of the negative impacts of remote learning. New Haven Reads also handed out free books at New Haven Public Schools' food distribution sites while classes were remote.
It meant that there was consistency for students like Guadalupe, who has been coming to New Haven Reads for three years. It's fun, she said, and her favorite part is getting to read.
The structure of each tutoring hour is based in science, said Bradford, and is individualized for each child. It's simple, yet structured and designed in a way that "with very minimal training, someone can come in and help a child do what they need to do to be able to read."
Tutoring sessions last one hour, and are composed of four elements. Students practice using Lexia before switching to working in their own leveled workbook. The schedule makes time for the tutor and child to read together, before moving onto "choice time" for the last five to 10 minutes where kids can choose from a library of board games and puzzles to play with their tutor.
The same tutor and student usually work together, sometimes for years. During this time, they are able to develop a bond that may transcend reading, said Bradford.
Even in the pandemic, New Haven Reads saw a 94 percent increase in students' literacy scores, with 58 percent of kids improving their reading skills by a grade level or more.
"We're really proud of our results, and we're really proud of the students and how they've worked so hard and our amazing tutors who facilitated all of that," Bradford said.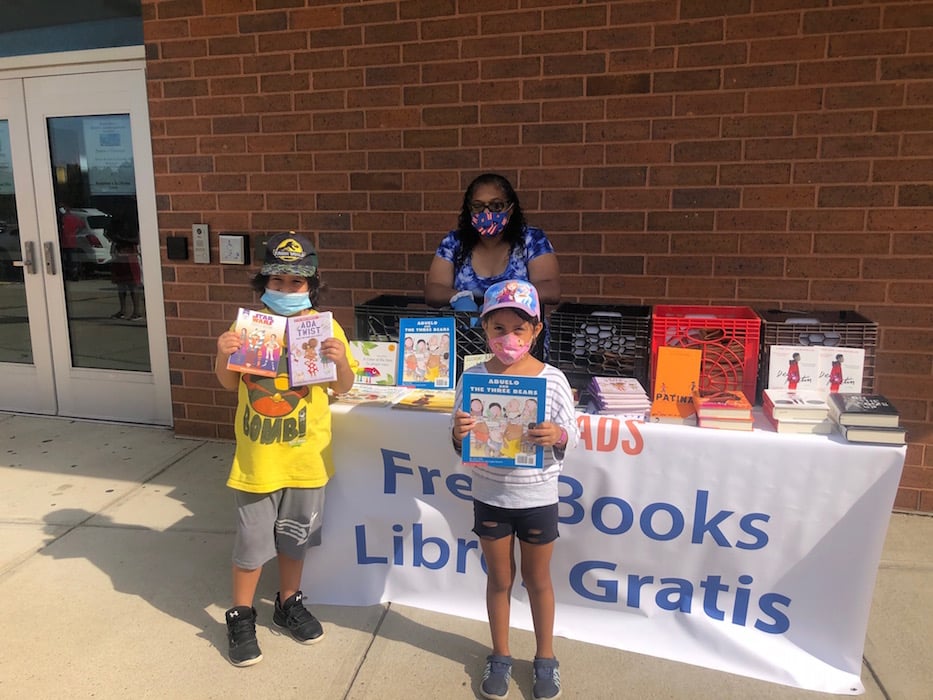 New Haven Reads Photo.
The work has to continue, she added: two-thirds of students in New Haven are reading below grade level. Many find the program by word of mouth through family members and neighbors. Participants also come through recommendations from pediatricians, schools, and social workers.
In addition to tutoring, New Haven Reads has continued to help students build their "home libraries." Participants receive new books at the end of every semester, and the book bank remains open throughout the year. While school was in session, the organization hosted reverse field trips to replace school trips to the book bank that happened before Covid-19.
Rather than bus children to the site on Bristol Street and read stories to them in person, New Haven Reads staff dropped books off at schools for students to take home. Book bank director Victoria Smith would read stories over Zoom. It worked well, said Bradford.
"We're excited about that because it still meant that kids were building home libraries," she said.
The organization is still pivoting, she said. Before the pandemic, New Haven Reads saw 530 students at least once a week during the school year. During the most recent academic year, New Haven Reads served 285 students, but the waitlist was and remains lengthy.
"What we want to do is we want to build our numbers back up to where they were before the pandemic, so that's the big focus for this year," said Bradford. "There's a lot of need and we have lots of kids on our waiting list, so we want to make sure that we serve as many kids as we can."
Matching children to tutors isn't possible without the help of volunteers, she added. Last year, 248 people, from high school and college students to retirees, worked to tutor students in the program.
"That's a phenomenal number of people who are giving up their time to work with a child. It's an amazing group and we're really lucky," she said.
The mission of New Haven Reads is to share the joy and power of reading—if you can't read, lots of doors are closed to you, said Bradford. However, literacy doesn't just give students and their tutors the power to do anything they want— it also allows them to open a book and be able to go anywhere, she said.
"There are lots of ways that New Haven Reads can be supportive of the community and the community supports New Haven Reads," she said. "We're excited for the future."
Julia Rosado is an alum of the Arts Council's Youth Arts Journalism Program working as an intern with the Arts Paper. She is a rising junior at James Hillhouse High School.