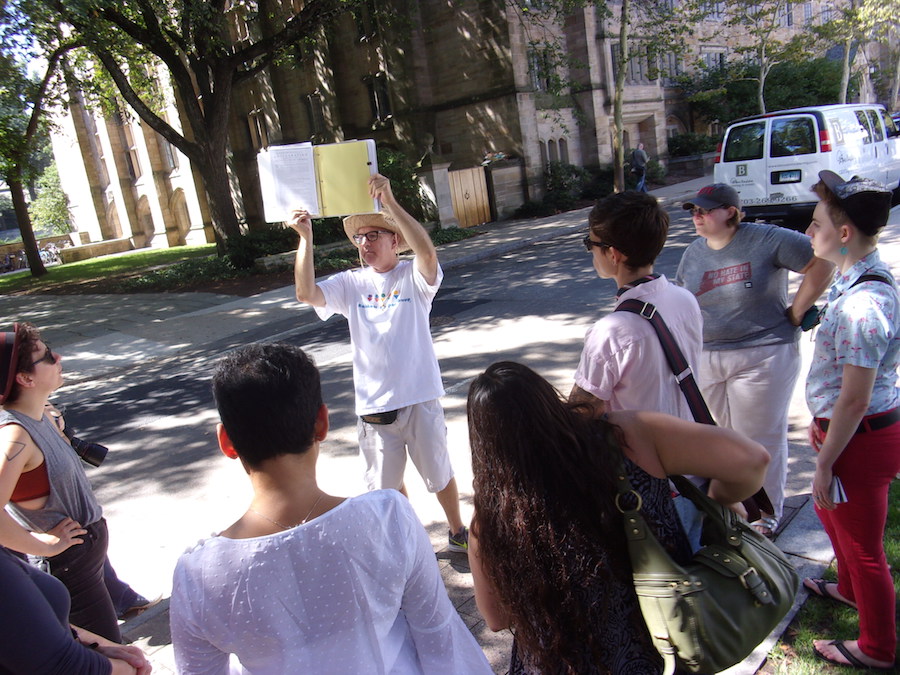 Culture & Community | LGBTQ | New Haven | New Haven Pride Center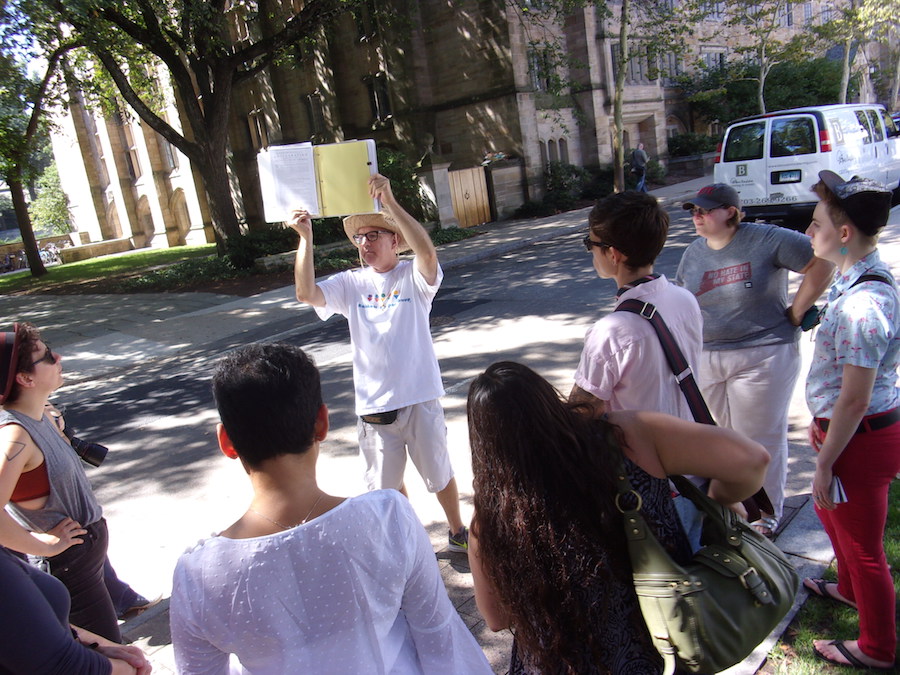 John D. Allen tells history like it's a part of him. No facts memorized—he's much more interested in experiences lived. History, in effect, that's hiding in plain view on New Haven's downtown streets, in the courtyards between buildings and the volumes on library shelves.
That prowess as a historian was on full display Sunday afternoon, as he led a walking tour of New Haven's LGBTQ+ history attended by around 16 people.
The walking tour is a perennial event that got started in the late nineties when Allen, board co-president and founding director of the New Haven Pride Center, called the director of the International Festival of Arts and Ideas with a bone to pick.
"Why aren't there queer events at Arts and Ideas?" he recalled asking.
Not long after, the center was given a small budget to put together four events, one of which was a walking tour of New Haven's LGBTQ+ history. Since then, Allen said he has been pleased with the festival's inclusivity, and the walking tour has become a tradition of its own. It was sponsored by NHPC as part of this month's Pride festivities.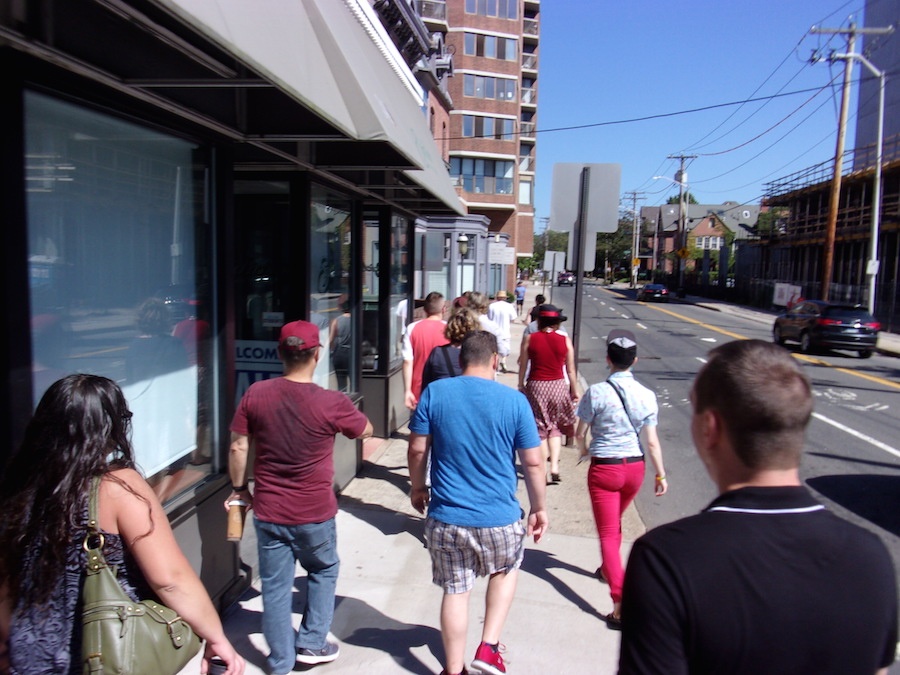 As attendees greeted friends and strangers with warm smiles at the Pride Center's Orange Street digs, Allen set the stage for the walk. He told the story of the Stonewall riots on June 28, 1969 in New York, the anniversary of which has been remembered and celebrated as Gay Pride ever since.
New Haven holds its Pride events in September so as not to compete with New York and Boston in drawing performers and artists to the celebration. It's also a livelier time on the Yale campus, Allen said.
But he suggested that the small state has long been a powerhouse for gay rights on its own as well. "We're going to cover 400 years of LGBTQ+ history, in all nine squares," he said.
The group started out heading north on Orange street, stopping in front of the Hall of Records building to gather around Allen as he described a day he has never forgotten. On December 20, 1993, in this building, New Haven's Board of Alders (then the Board of Aldermen) voted to decide whether or not the city would establish a domestic partnership registry.
Allen is an animated speaker, and his voice soars when he brings up topics close to his heart. That day, he was there with his spouse, Keith Hyatte.
"It was very contentious and a little frightening actually," he said, recalling that supporters of the partnerships were outnumbered by Christian groups protesting the measure. "People were accosted, chased, verbally assaulted, and physically assaulted as they left the building."
"That was our Stonewall," he added. "That was when we knew we needed our own space." The events of that day turned the creation of the New Haven Pride Center into an urgent mission for the couple.
The measure failed by just one vote, which meant that New Haven would have no symbolic registry.
Pointing to Congresswoman Rosa DeLauro's offices just across Elm Street, Allen recalled another story. In 1996, the Defense of Marriage Act (DoMA) was proposed in Congress. The act defined marriage as only between one man and one woman at the federal level and stipulated that states did not have to recognize same-sex marriages from other states.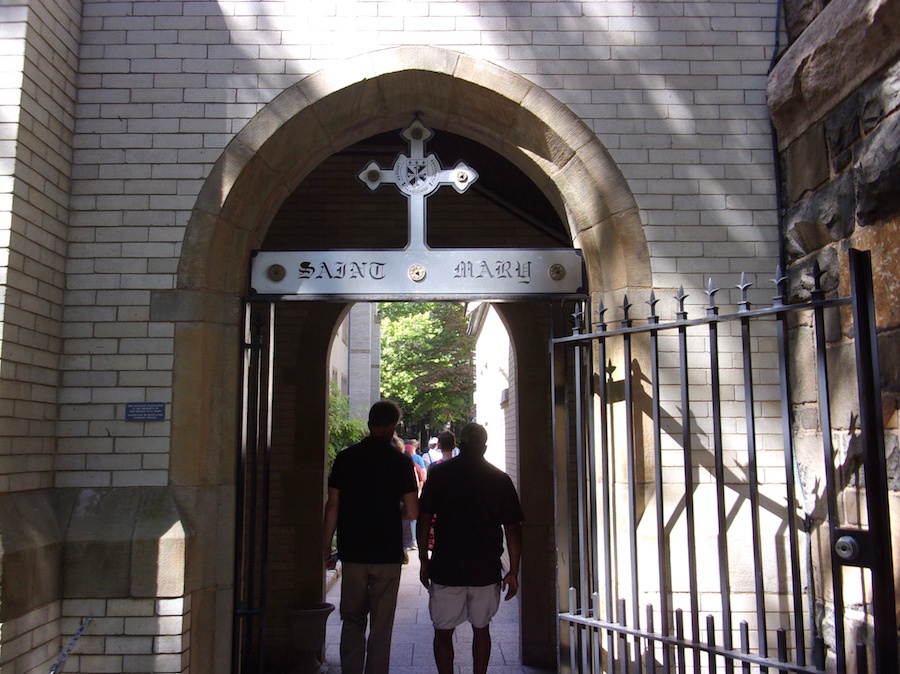 DeLauro invited Allen and Jane Griffith, then his co-president at the Pride Center, to her offices specifically to tell them that she was voting for DoMA because of her "traditional" views on marriage, said Allen.
"She has come around since then on issues that are really important to us," Allen said about DeLauro, pointing out how she participated in the Pride march the day before the tour. But as a historian, Allen shoulders the responsibility of remembering the past even as we live in a brighter present. "We can forgive, but we never forget," he said. "We have to know about our history so we can chart our future."
The next stop on the tour: a pleasantly shaded corner across from the FBI offices on Grove and Orange. Allen told the group that Richard Hack, J. Edgar Hoover's biographer, did not believe Hoover was gay.
But "We claim J. Edgar Hoover!" Allen said jubilantly. "He had a very colorful history." Allen described Hoover's history of cross-dressing and his long-term companion, Clyde Tolson, who is buried next to Hoover in Arlington National History. Queer history is often obscured and edited from mainstream sources, he said, but those who know how to read between the lines can find it.
Allen pointed across Grove to the former home of the New Haven Register. Holding up a picture, he told the group about Rev. James Burns, former pastor of the Metropolitan Community Church in New Haven, a openly gay man who had a monthly column in the Register in the 1980s.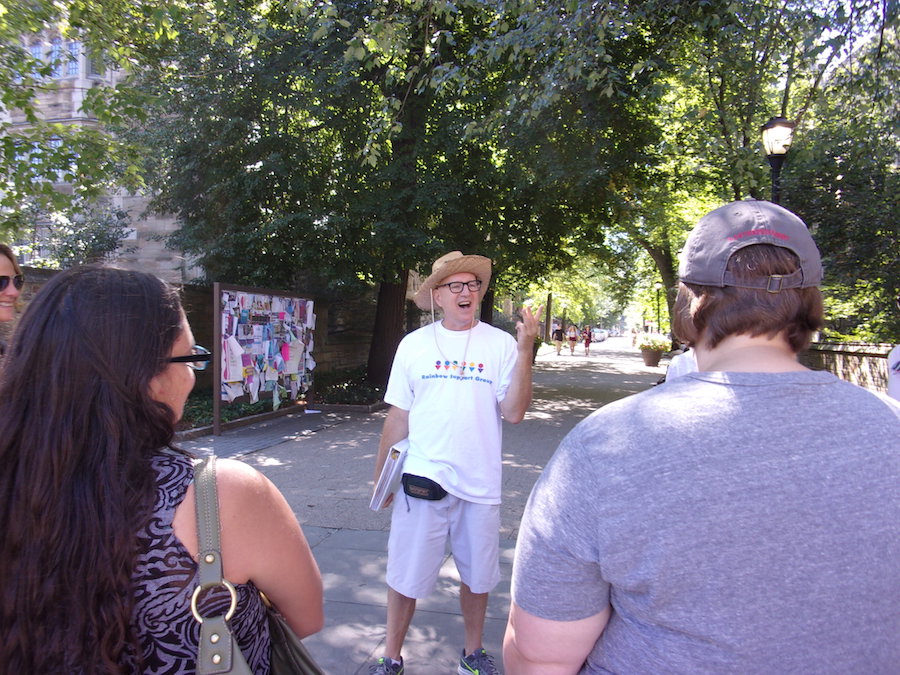 This was a time when most of the country's newspaper owners were homophobic even though most editorial staff were liberal, Allen said. He emphasized how important the column was for gay visibility and acceptance. "Remember, this was pre-Ellen," he said, calling Degeneres' coming out on the cover of TIME "a second Stonewall" because of the way it changed LGBTQ+ representation in the media.
Winding down Audubon Street past the former home of Connecticut Public Radio, Allen pointed out how Faith Middleton, host of The Food Schmooze, and her wife Fern were the first lesbian couple featured on the New York Times' Weddings and Celebrations page.
The Sunday stroll down sun-dappled streets had folks in high spirits, but people kept sight of the real purpose of the tour.
"I thought it would be like a school field trip, but it's not," one person commented.
"These are the things you appreciate when you're older," another responded.
In the stone courtyard of St. Mary's Church, Allen mentioned the Knights of Columbus, which was founded there in 1882. Allen called the organization "rabidly homophobic," noting its extensive support of Prop 8 in California. He quickly added, "Ironically, we know that there are queer folks in the Catholic Church."
To illustrate his point, he told the story of Yale historian and professor John Boswell, who "upended medieval history when he found out that homosexual relationships were tolerated and liturgically celebrated."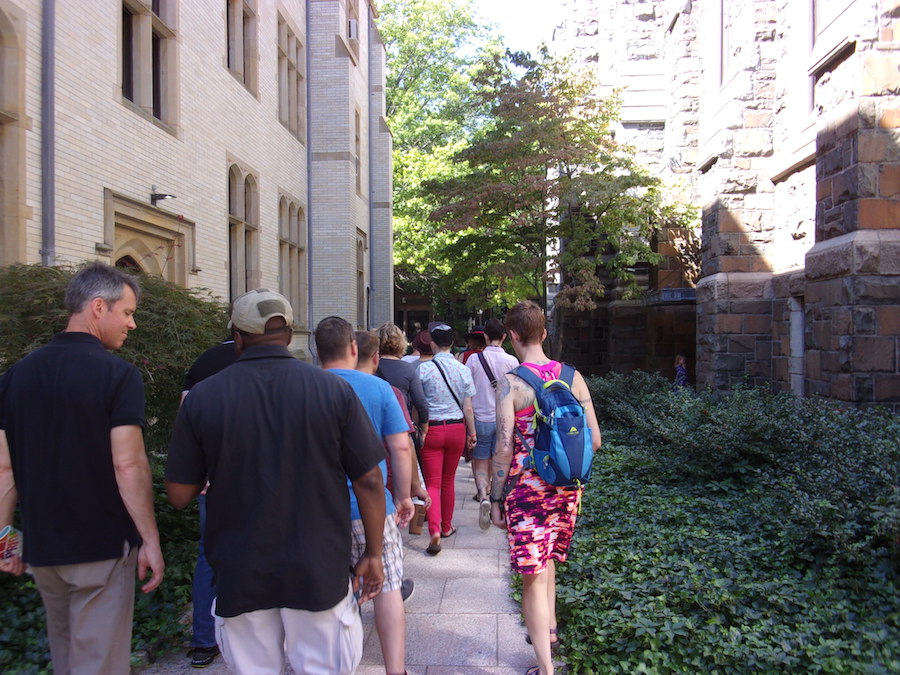 "He was a giant," Allen said of Boswell, who was a world traveler fluent in archaic languages as well as a cornerstone of New Haven's gay history. Boswell is buried next to his partner in the Grove St. Cemetery and his papers are catalogued in the Beinecke Library.
Standing in front of that library just a few minutes later, Allen listed many of the other LGBTQ+ artifacts archived there. Chief among the treasures are the Gertrude Stein and Alice B. Toklas papers, a rich collection of artifacts from the couple's life and work that includes a set of Louis XV chairs designed by Picasso and embroidered by Toklas.
With each footstep, the tour rewrote New Haven's history, or, rather, enriched the record by uncovering truths long hidden. Much of the history Allen related was passed down to him. "One thing leads to another and you talk to people," Allen said, describing the way he quilted together a patchwork of oral history to create the tour. As he wrapped up the tour, Allen endeavored to keep adding squares to his pet project: "If you have any other queer gems, let me know," he said.
The impetus for Allen's work as a historian for the LGBTQ+ community is deeply personal and curating queer history is a very important part of his life. "I'm incensed that who I am and the community I identify with has been hidden from me—I can feel the anger welling up in me as I say that—that so much of my early life was squandered trying to figure out what was going on inside of me," Allen said in a quiet moment after the tour.
Queer history in New Haven is like a thread winding through the tapestry, sometimes at the forefront, sometimes hidden, at times vibrant, at others, dark. Allen said he loves sharing what he knows and changing perceptions about Connecticut.
"People tend to think that we're the blue-blood, Puritanical, provincial state, but we're so progressive in recognizing human rights," he said. "I'm so proud of our tiny little state. I'm convinced that the things we do here influence LGBT rights across the country."