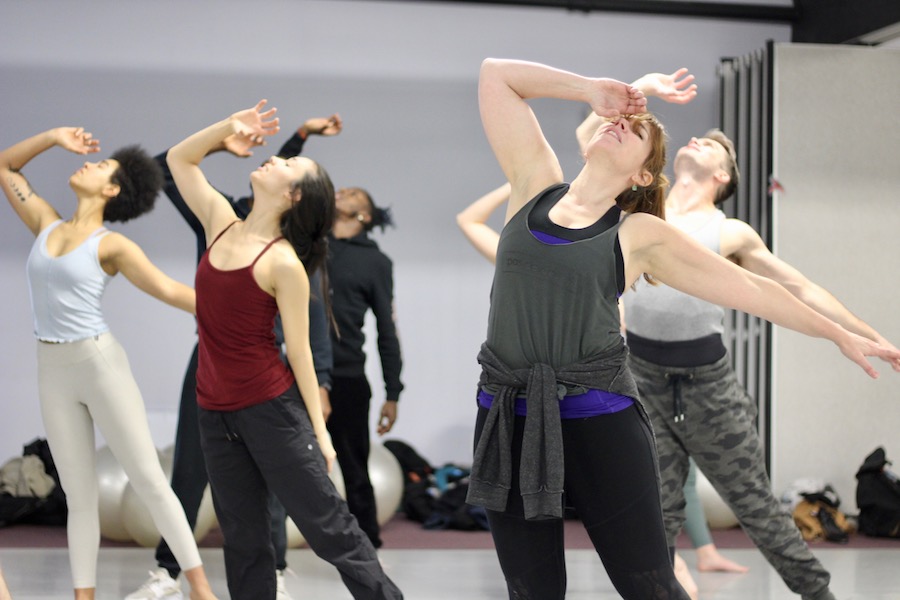 Dance | Hartford | Arts & Culture | Hartford Arts Paper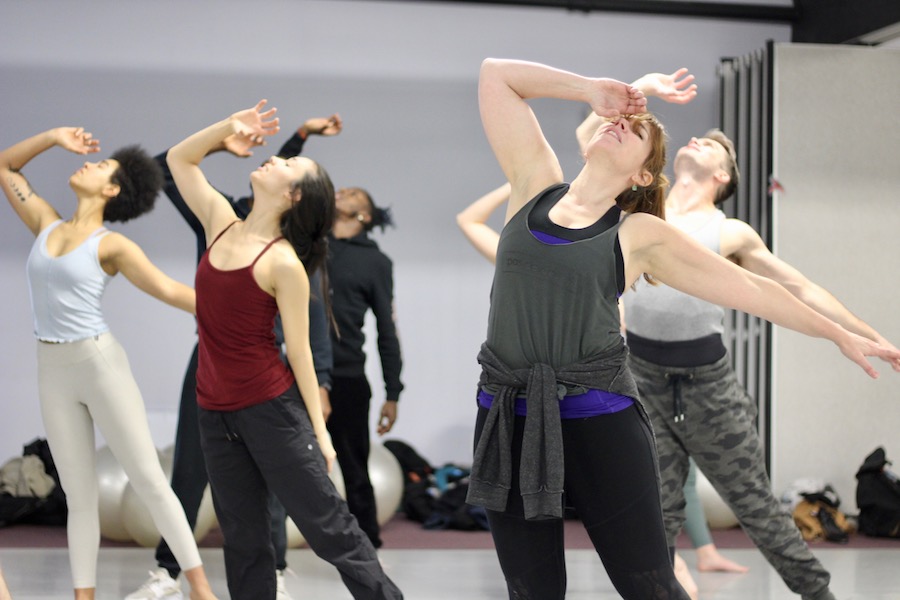 The company rehearses the ugly sweater party a week before the show. Lucy Gellman Photos.
Christmas Eve, sometime, somewhere. The Hit Crew's "Nutcracker Overture" flows through the room, a gentle upright bass cuing in the horns. Party guests mingle, shoulder to shoulder as the sound builds. A world away, someone's fitted a plunger mute to their trumpet. Back on stage, ensemble member Will Jackson enters with tap shoes and flying hands, and Tchaikovsky turns over in his grave and starts beatboxing.
So unfolds CONNetic Dance's ninth annual "Nutcracker Suite & Spicy," a new-old take on the Nutcracker Suite that wakes the ballet up from its long and quiet slumber, shakes it firmly by the shoulders, and hands it a pair of immaculate, red-and-white kicks to try on. The show runs Dec. 21 through 23 at the Wadsworth Atheneum of Art; tickets and more information are available here.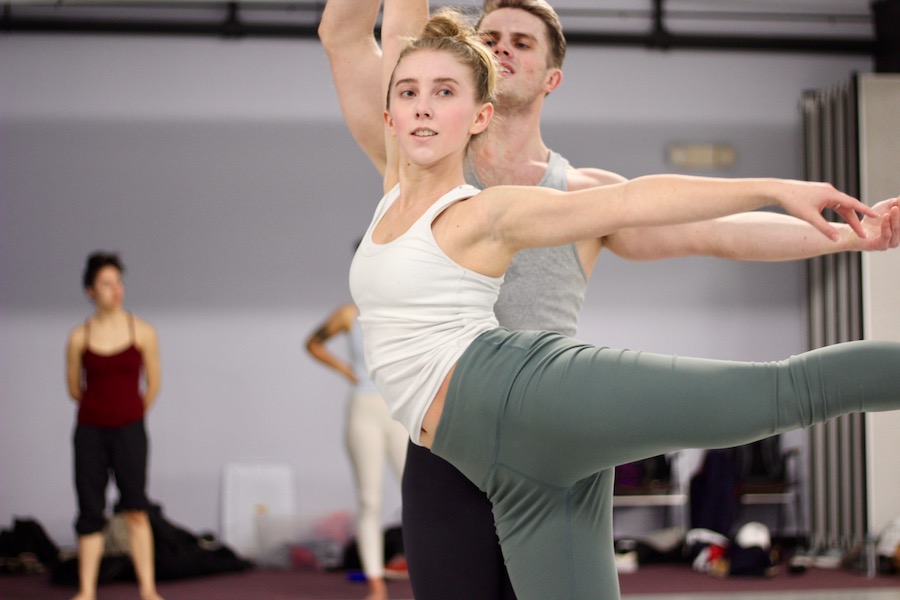 Alex Zarlengo and Kayleigh Crocetto.
The work, which celebrates a decade of growth next winter, is the brainchild of CONNetic Dance founder, director, and choreographer Carolyn Paine. Now 35, Paine grew up in Boston dancing the traditional Nutcracker Suite from the time she was six, playing multiple roles by the time she had cycled out of that production. But a few years back, she was in another Boston production called The Urban Nutcracker that totally reimagined the classic. She left performances feeling inspired.
"After a time, there's only so many Victorian parties and mice battle scenes you can do," she joked in a phone interview last week. "Especially after doing the Nutcracker so many times."
At CONNetic Dance, she has put her own spin on it, bending the rules of genre and form until she has a fairly new work that's still dripping nostalgia. The nineteenth century, tinsel-wrapped bones of the storyline are the same: it's Christmas Eve somewhere between 1892 and 2018, and a big, generous family has some partying to do with their kids, including their daughter Clara.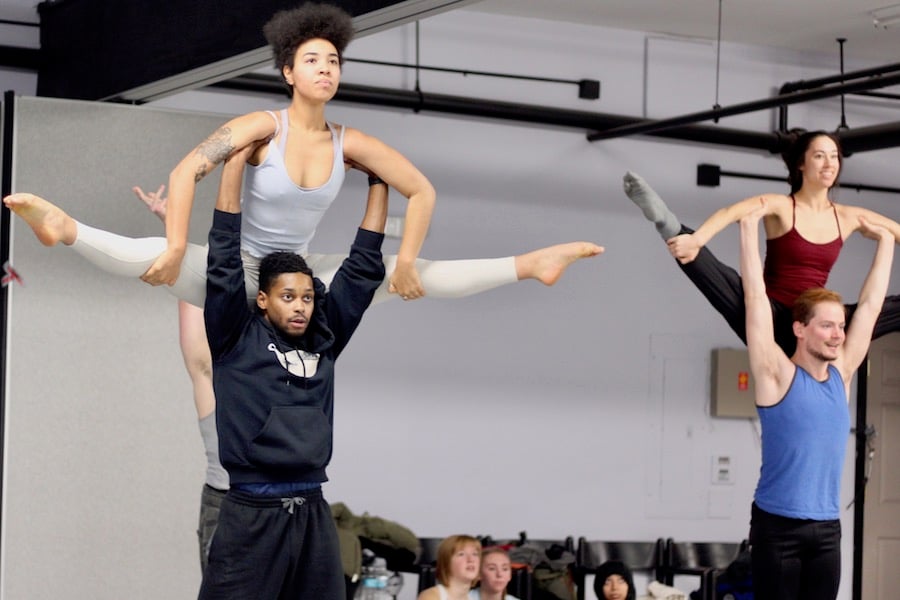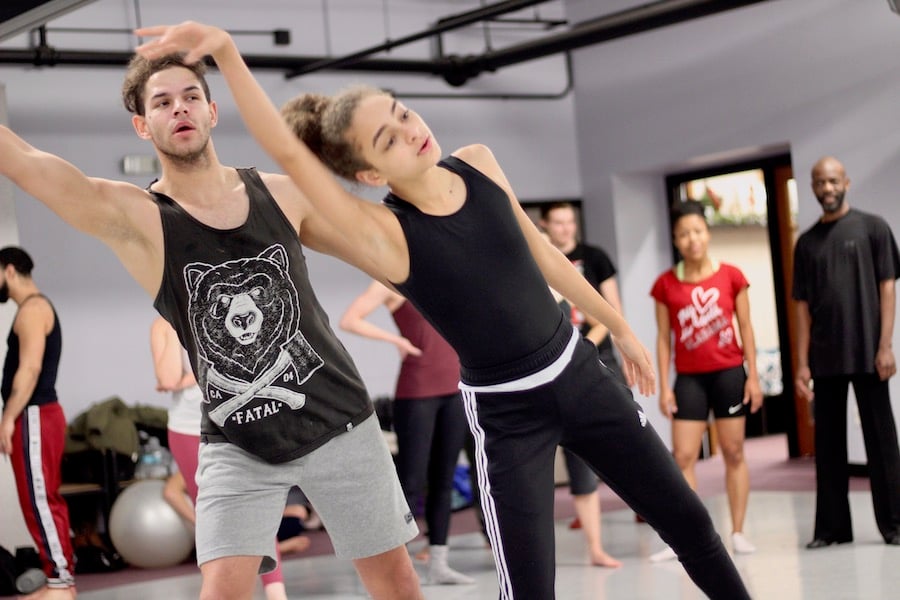 Isaac Wilson as Drosselmeyer and Skylin Casper as an enchanted doll.
Things get weird when Clara's godfather shows up in a cape (but seriously, would you trust someone named Herr Drosselmeyer?), his Nutcracker comes to life as a prince, and the Nutcracker Prince and Clara travel through a fantastical series of dreamscapes, including fresh white snow, sugar plum fairies, and questionably "Arabian" dancers who come bearing coffee and chocolate, and a carriage with reindeer.
And battling vermin. Because of course there are battling vermin.
In this contemporary interpretation, Paine has opened up the performance and injected it with jazz, tap, hip-hop, contemporary and lyrical dance, ballroom, Spanish, and breakdancing, including by Hartford hometown hero Tang Sauce. Instead of a Christmas party where guest arrive in their finery and furs, Paine has decked her crew out in the ugliest of ugly sweaters, their extended friendsgiving vibe underscored by jazz, blues, and some immensely danceable guitar.
Clara isn't Clara but Clarice (Kayleigh Crocetto), a character that seems to know her way around informed consent, probably recognizes the acronym "AF," and doesn't really need a Nutcracker prince in the first place but rolls with it. Crocetto is nimble but fierce, staking her territory when she gets her changes on the stage.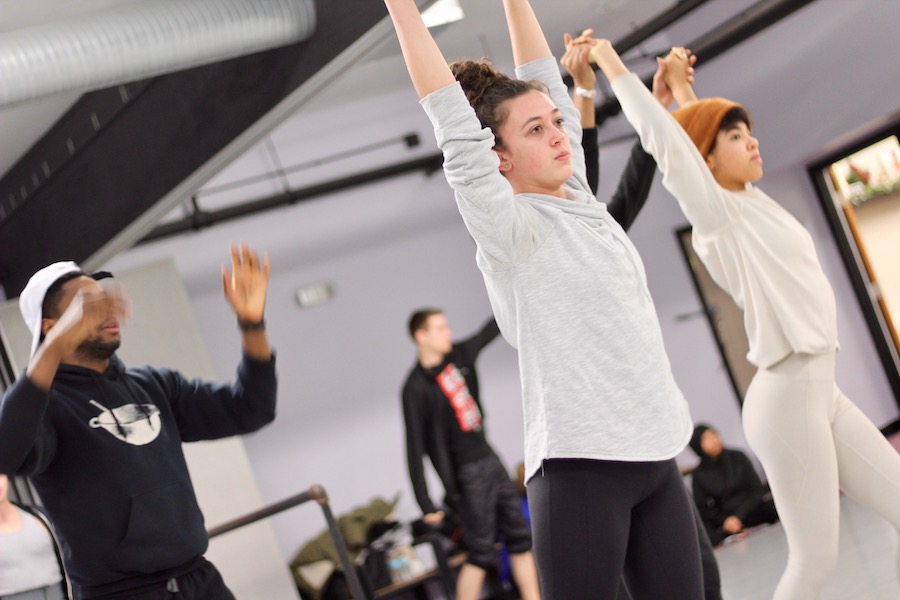 The momentum of "Suite and Salty," so often infused with a sense of jingling laughter, only builds from there. Purists won't find any waltzing snowflakes, but there's a slowed-down "Snow Ball," made at once riotous and arresting by a mix of long, lyrical movement—performed on shimmering silver yoga balls. Or a jazzy, sequined take on the waltz of the flowers, re-dubbed the "Florettes" (yes, there is a kick line and yes, it is amazing) in homage to Duke Ellington and Billy Strayhorn.
It's also fun. Like really fun—when the fourth wall falls and you're right there with the dancers, and even when it's up again and everything onstage really is magic. The ballet's sugary kingdom has been totally dismantled, made into a danceable den of unbridled hedonism and boozy stupor. In one scene, classical, Latin and ballroom meet as Anton Cort and Lindsay Tayilor set the stage on fire with each step, slicing through a number by the Invincible Czars as if it is butter.
In another number scored by DJ Herax's "Russian Flowers Dance"—a holiday earworm if there ever was one—the ballet's much-maligned Rat King becomes a breakdancing, pugnacious club rat (an immensely talented Freddy Rosado), more like Usnavi's club nemesis in In The Heights than anything that Balanchine ever wrote home about.
In this mashup, it remains both deeply balletic and fresh, fusing styles that may rarely be seen together. There are still sections that are classical to their core, particularly as Alex Zarlengo returns to the title role after an injury last year, often half-flying through the air as he whirls us into his fantastical world. At a rehearsal last weekend, Paine said she sees it as a chance for the dancers—some of whom are classically trained and others of whom are not—to learn from each other, building a new vocabulary together.
"It's exciting to watch and exciting to do," she said. "In this show, the dancers are very diverse, and they challenge one another to rise up, to try tap, ballet, hip hop ... as a choreographer and a dancer, that's exciting. You get to kind of see these other styles of dancing beside each other."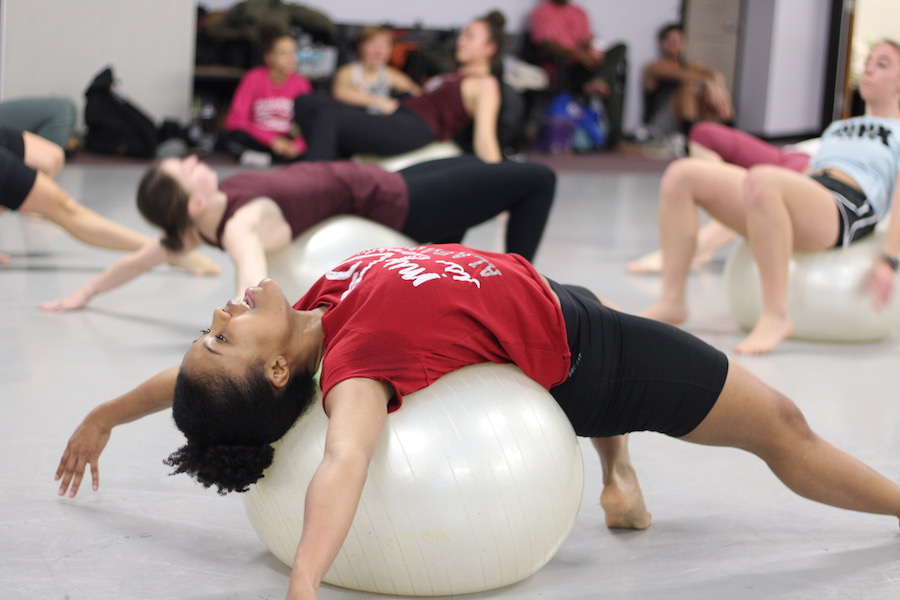 She added that the work keeps evolving from year to year, as new dancers join and old ones, some of whom originated their roles, return for another season. This year, she said scenes with the club rat "where the women are like 'nope, nope'" felt particularly relevant, in a climate "where everything is so sensitive," and female dancers get to have their moment fighting sexual harassment onstage. And she hasn't done it alone—this year, she had choreography help from dancers Will Jackson, Jolet Creary, and Jamie-Lynn Fontaine.
"It's a blast—we're just one big zany family," said Jackson, a professional tap dancer who has been with the work since 2012, and took a break only to tour with Riverdance in China last year. "I personally love that you can look around and see people from so many different genres and walks of life, and we're all just coming together."
"This is the Narnia … or land of epically misfit toys," he added. "Because we all just come together and make something amazing."