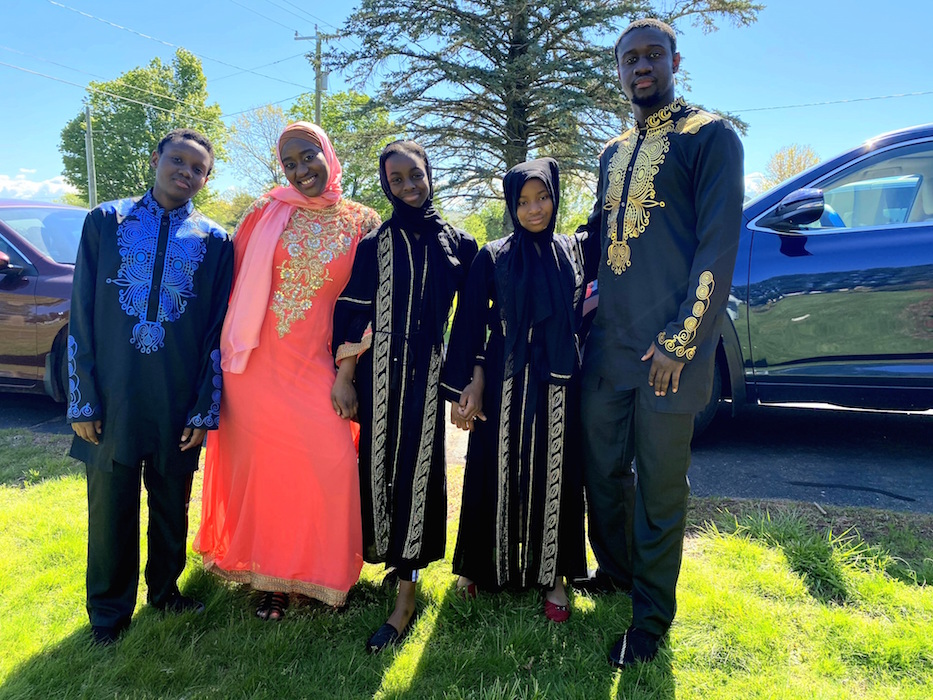 Faith & Spirituality | Southern Connecticut State University | Arts & Culture | Education | Ramadan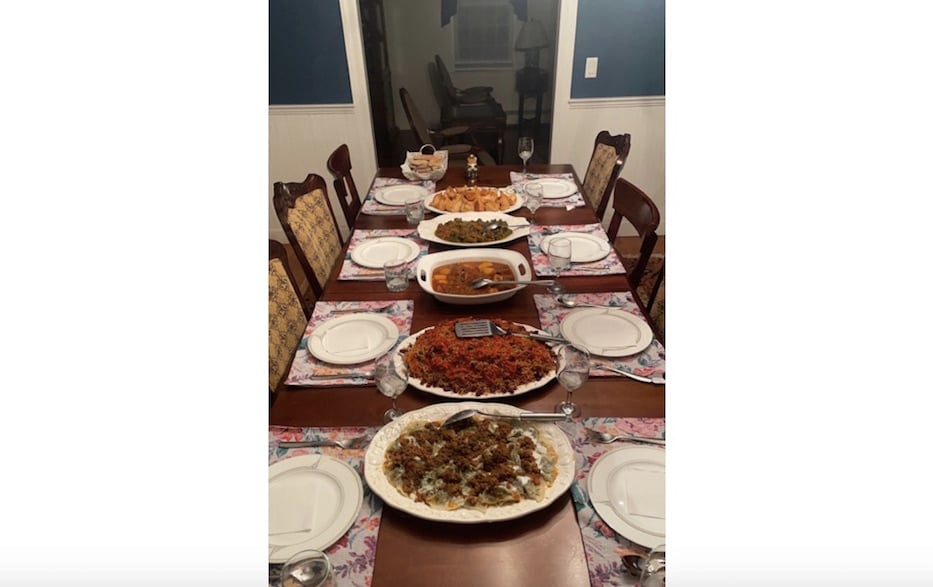 Imaan Jabarkhail, who did not want to be photographed in this article, described her family's Iftar. Pictured above are just typical afghan foods such as ashak (beef dumplings), kabli paloa (rice with carrots and raisins), beef, okra, and sambosas. "Typically people eat lighter than this cause they get full quickly, but maybe once in a while towards the beginning of the month you might get a feast like this," she said. Contributed Photo.
For college sophomore Imaan Jabarkhail, pandemic-era Ramadan came as a season of mixed blessings. For over a year, her family could not go to their masjid and see everyone they wanted to. A deep, global pain dominated a season of deep contemplation. And yet, she was able to spend more time with her family in Madison and strengthen her relationship with God.
Now back in person as a nursing major at Southern Connecticut State University (SCSU), she is integrating her observance of Ramadan into campus life.
Jabarkhail is the president of the Muslim Students Association at SCSU, a group of about 15 people who both commute to and live on campus at the school. As Ramadan passes its midpoint this week, she and several other students on campus spoke to the Arts paper about how they are welcoming in and observing the holy month while also going to classes and running a student organization.
A Harder Fast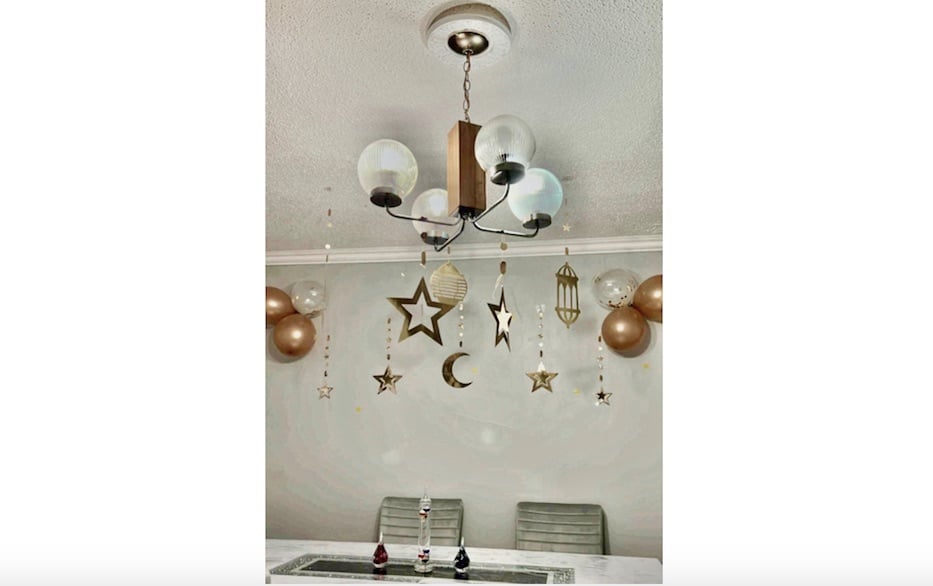 "This is how I decorated my house this year for Ramadan, to bring comfort and motivation," said freshman Sema Yildiz. Sema Yildiz Photo.
This year, Ramadan runs from April 1 to May 1. In Islam, it honors the moment that God revealed the holy book, or Qurʾān, to the prophet Muhammad. Because the calendar Muslims use, called the Hijrī calendar, is shorter than the 12-month Gregorian calendar, Ramadan shifts dates each year. It is marked by a month of daily fasting and prayer, with nightly Iftar meals that break the fast.
While Jabarkhail has always been a commuting student, she spends much of her time in classes and student meetings on campus. When SCSU went fully remote in 2020, she was still in high school, and able to take classes from her home in Madison. That made Ramadan, which began in late April and ended in late May of that year, much easier to observe.
With classes back in person this year, the fast hits harder because of the fatigue that comes with it. She zones out in class. Beneath a mask, her mouth—already dry from not eating and drinking—is extra dry. Although SCSU lifted its mask mandate, she still chooses to wear one, and said she struggles with the sensation. It was easier to manage from the comfort of her home during the pandemic.
"Now [that] you're going in person, I've definitely noticed [that] sometimes I'm like, 'Huh…I'm like, I need energy and I'm like kind of zoning out,'" she said.
Because of the pandemic's pivot to remote learning in 2020 and 2021, this is the first time Jabarkhail has sat in a classroom since high school. She said she wishes that Muslim students could ask professors "What can you do for me?" during the month of Ramadan. Instead, students often have to ask for extensions and press through exhaustion and low energy. She wants professors to understand their observance and try to lighten their load during this time.
Observing Ramadan on-campus has its challenges too, she added. She and fellow Muslim students often scramble to find a way to fit prayer in between classes, or find that using a prayer room at the Adanti Student Center would take too much time. Often, they have to fit prayer in before or after classes for convenience. Jabarkhail considers herself lucky in this regard: she has a professor that allows her to go into the next room and pray at the appropriate time. She said it was only possible because she was comfortable with her professor and felt she could ask.
"I know a lot of students like they'll just do it anywhere," she said. "They'll be, like, in the library and they're like, 'I'm not going to the student center I'll just do it here.'"
She also worked with the food service on campus for Muslim students to have access to Kosher meals for the month of Ramadan. They did not have Halal plans available, but the Kosher meals were a good start at catering to the students' specific needs, she said. Muslims can eat Halal meat or Kosher meat, which meant that it worked for her and her peers. For students on campus, there are meal plans at Connecticut Hall and breakfast packages that the students can eat in the confines of their dorm.
"I was like, 'Okay, [we'll] take kosher. We'll take anything we can,'" she said. "So those students who are on campus, whether they're living there or just having a night class are able to eat there."
As for Jabarkhail, she is breaking her fast at home and enjoying the time with her family, despite the need to commute during the day. She said that being in student leadership can still bring its challenges, even when she is home.
"What do you need me at night for?" she giggled, discussing how some nights are packed with student meetings. She is still appreciative for how much Southern is trying, she said.
"I think Southern is such a welcoming community that they've really been so good with me and a bunch of my friends."
The View From Campus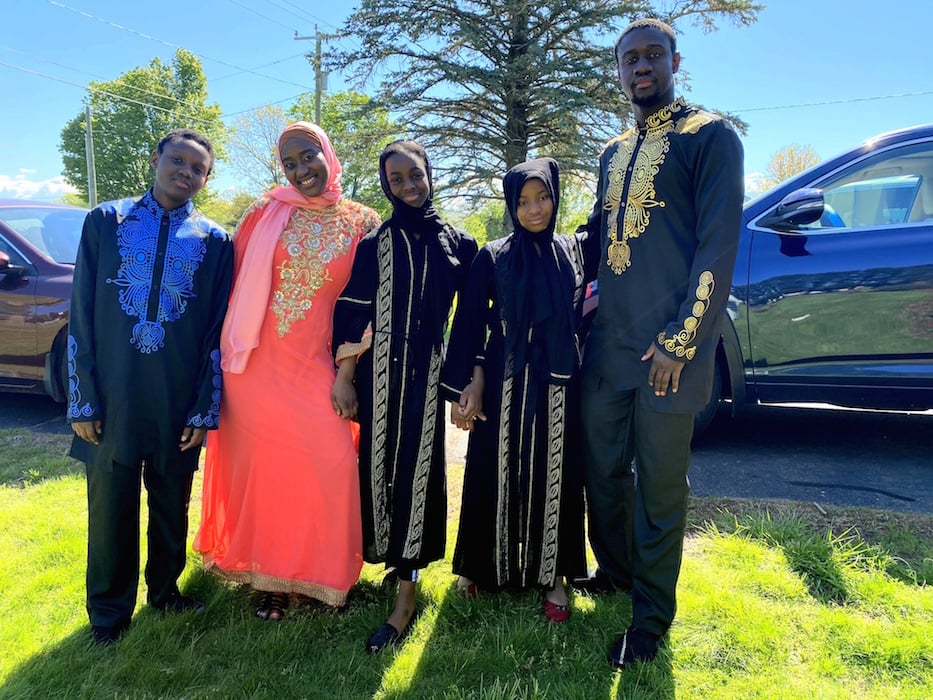 Wula Cham with her family. Contributed Photo.
Sophomore Wula Cham, a nursing major, lives in Brownell Hall and observes Ramadan in between classes. She breaks her fast at night at Connecticut Hall, where she takes advantage of the Kosher addition for observing Muslim students. Sometimes she also heads to Ali Baba's Kitchen, a family-owned restaurant in nearby Hamden that serves Halal food.
Cham grew up in Gambia in a big compound with all of her family. Her family arrived in the U.S. in 2017, when she was 15. That year, they fled the country as President Yahya Jammeh's dictatorial rule made everyday life too dangerous, she said. After Cham and other children were told to stop going to school, her parents brought her to the U.S.
Coming to America was a culture shock for her, she said. At home in Gambia, everyone was Muslim. There was no temptation to eat or get distracted during Ramadan, because everyone around her was fasting. Breaking the fast was easier with traditional foods. Praying was simple.
At Southern, Cham schedules her prayer around her classes. She often uses the prayer room in the Student Center, but will sometimes pray before leaving for class or after going back to her dorm after class. There are not a lot of Muslim students on campus, she said, so they do not get accommodations to pray during classes.
"[We are] forced to either delay our prayer or pray previously to class," she said.
Some students delay prayer for the whole day and have to pray the five prayers when they get home or back to the dorms, she said.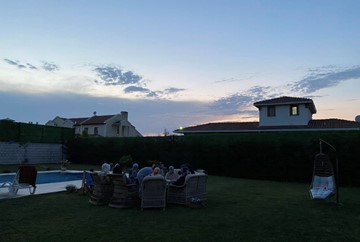 Gozde Yildiz, a commuting freshman health science major, is happy to have the ability to celebrate Ramadan with loved ones again. The pandemic caused her family to have to isolate from other members and do Ramadan and Iftars at home.
Now, Yildiz said they are "observing Ramadan with our loved ones, have a big Iftar table [that] brings joy, practice religion at mosques, and so much more of what Ramadan has to offer."
Although she celebrates from home because she is a commuter (she did not want to be photographed, but submitted the above photo for this story), she heard about the food options for students on campus and is grateful to SCSU and to the Muslim Students Association for making it a possibility.
As wonderful as that is, she said, she still thinks about students celebrating alone on campus.
"Maybe there could have been option to have an open Iftar as a Muslim community at Southern," she said. "But due to Covid it's not being held."
Gozde's twin, Sema Yildiz, is also a commuting freshman health science major. While the pandemic is ongoing, she said, she feels like things are back to normal. The family is back to celebrating together, and they are attending Diyanet Mosque of New Haven after a fire and then Covid closed the building to worshippers for multiple years. The mosque is still not offering Iftar because of Covid, she said.
This is Sema's first year at Southern, and she is impressed by the effort being put in for Muslim students on campus.
Her professors are understanding of late classes and assignments. The dining hall provides Iftar food and Sahor packages to students on campus. She called it a welcoming place for Muslim students.
Off campus, she added, she hopes her family stays healthy and safe now that the city's mask mandate has been lifted.
"I hope that I can, 'till the end of Ramadan, go to the mosque to pray and celebrate with friends and family," she said.