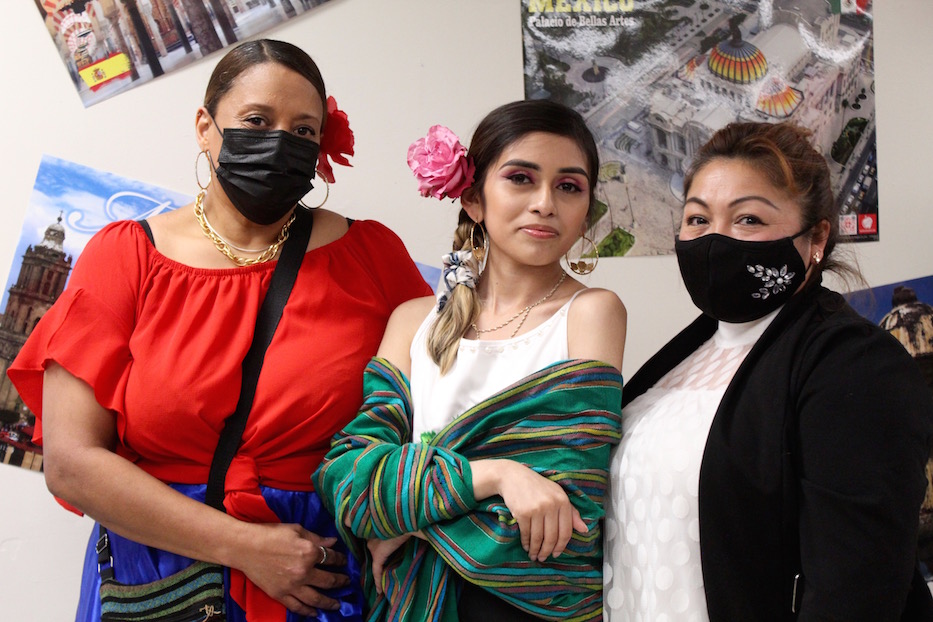 Culture & Community | Education & Youth | High School in the Community | Immigration | Arts & Culture | Arts & Anti-racism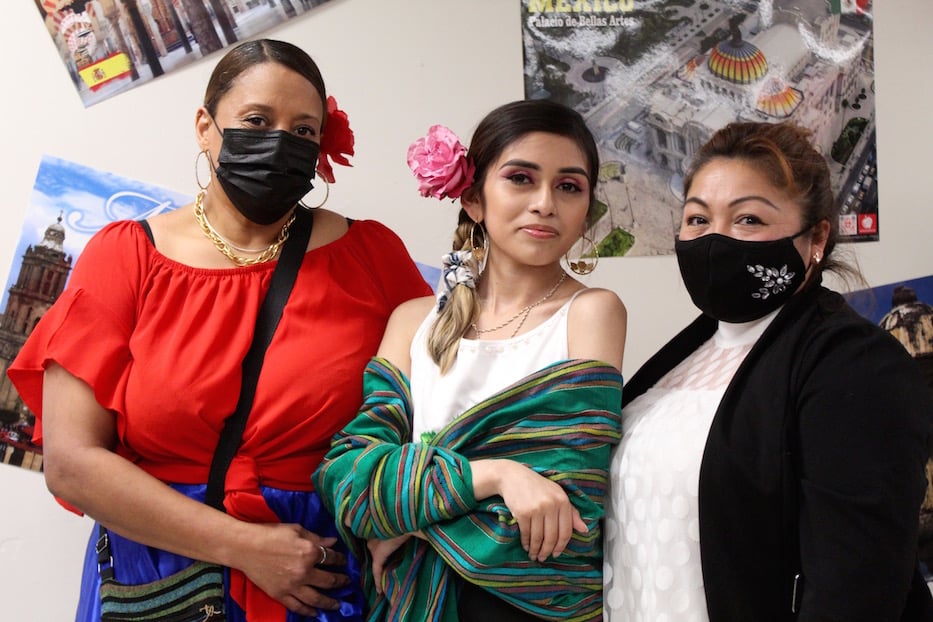 Multicultural ProCo Advisor Marlin Rivera, senior Sherlyn Morales, and her mom. Lucy Gellman Photos.
Sherlyn Morales took a deep, trembling breath, one hand balanced gently on the mic. She straightened her back with the first strains of music, tightening the shawl across her shoulders. Por la lejana montaña/Va cabalgando un jinete, she sang. ​​Vaga solito en el mundo/Y va deseando la muerte. As her voice rose, her grandfather's spirit stirred through the room.
Morales' performance took place last Thursday during "Multicultural Night" at High School in the Community (HSC), a years-in-the-making celebration from the school's Multicultural ProCo (a "Production Company," or club) and advisor Marlin Rivera. As families filled the cafeteria, students performed dance, music, poetry and theater from Ecuador, Guatemala, Mexico, South Korea, Puerto Rico, and India. Over 100 people attended.
"I like to represent cultures, to show the diversity in our school," said junior Alison Escobar, who leads the ProCo with senior Shiv Patel and junior Liz Ojeda. "I usually don't speak out, and this was huge for me. There are many people who don't have a voice in this school, and this gives them a voice."
For her, the Multicultural ProCo is personal: she came to New Haven from Guatemala four years ago, and education was one of the first hurdles she had to jump through. At HSC, which she called "very welcoming," she said that she's able to show up as her full self. She wants other students to feel the same. Thursday, she slipped comfortably between Spanish and English, Ojeda translating when she needed it.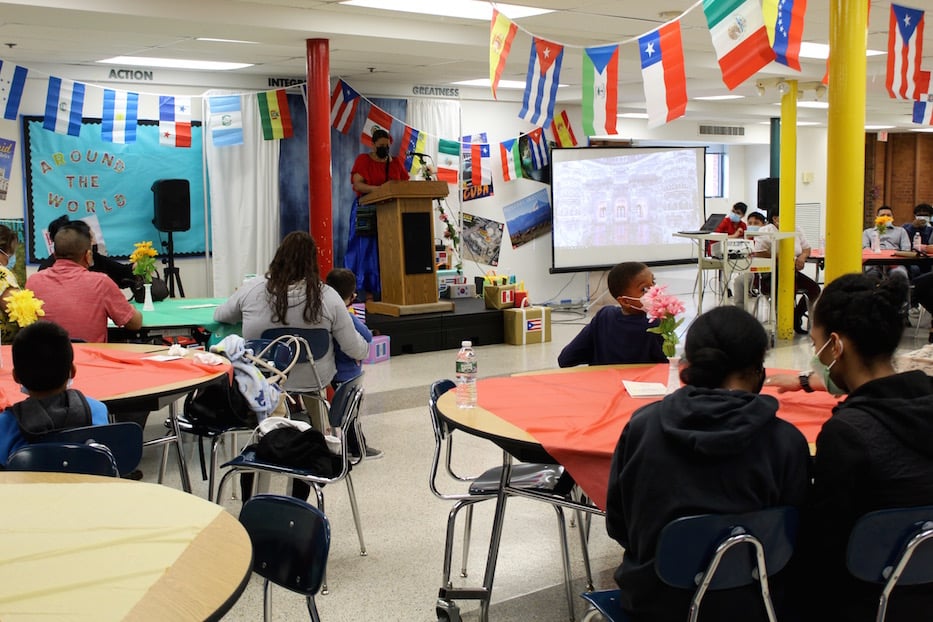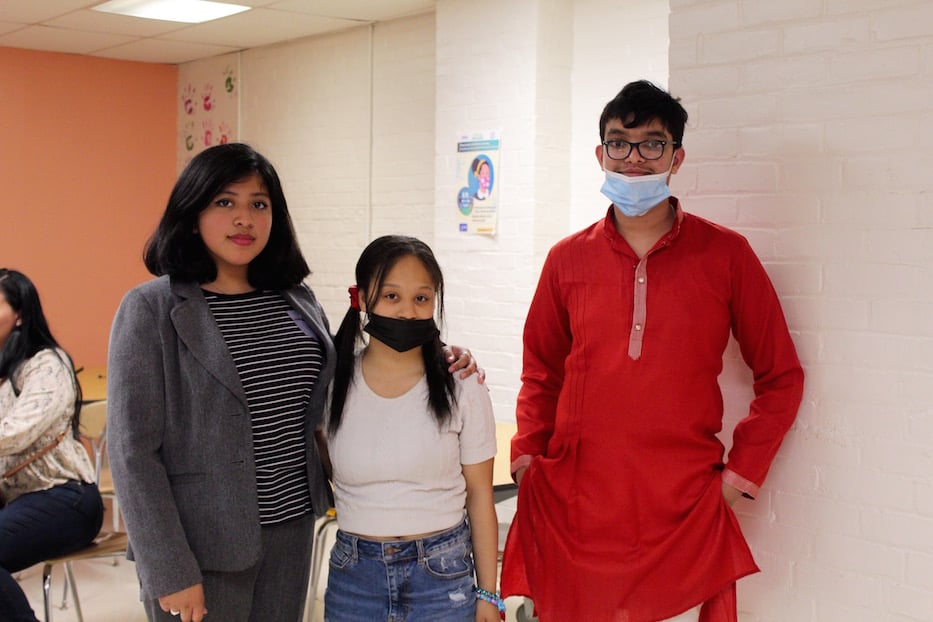 Alison Escobar, Liz Ojeda, and Shiv Patel.
Last year, Escobar tried to pull a ProCo performance together, but found that the Covid-19 pandemic and a year of hybrid classes had other plans. This year, as HSC resumed in person, she set a goal of a live event before classes ended in June. She praised Rivera, who helped students rehearse some numbers for up to a year. For many of the club's members, it is the first time any of them have performed together before a live audience.
Thursday, that vision came vibrantly to life. Bright international flags hung over the cafeteria, fluttering overhead as attendees took their seats. At the back of the room, a table waited with fragrant trays of chicken, salad, crackers and dips, hot samosas, and golden flan in thick caramel sauce. By 6 p.m. over 100 people filled the room, from babies still in their carriers to HSC alumni and parents and grandparents who had taken off work. Strains of Spanish and English mingled in the air, soft as they floated over the fitted plastic tablecloths, floral centerpieces and extra chairs.
Taking the podium, Patel began not with his own words, but those of Mahatma Gandhi. "In a gentle way, you can shake the world," he said, kicking off the night to applause. In the words, he later said, he sees a parallel with the school's commitment to diversity, social justice, and mutual respect. When he graduates next month, he'll take those lessons with him out into the world.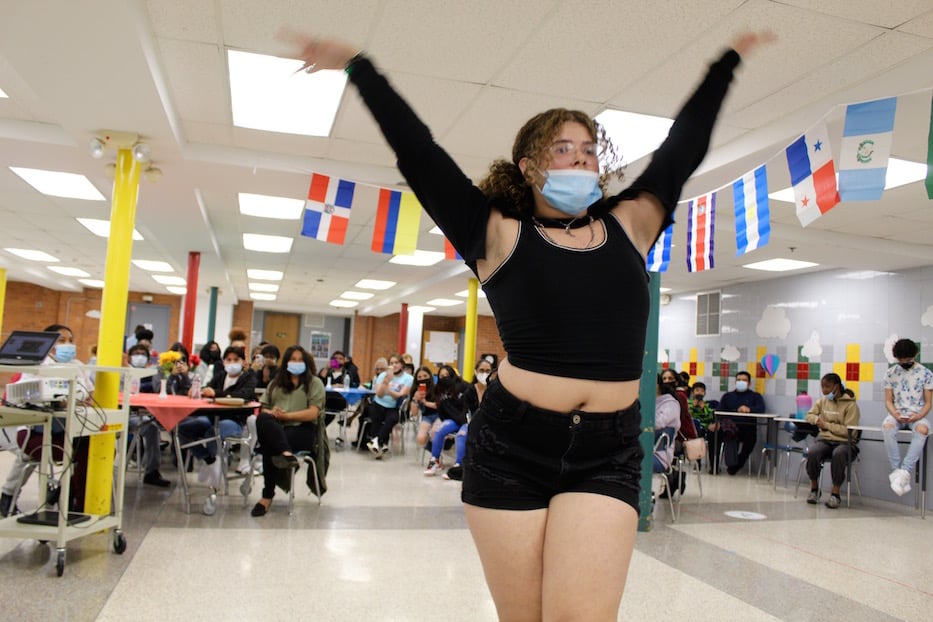 Daniomar Gonzalez.
It was as if he had opened a portal, through which students could travel freely to and from other countries. Stepping onto the floor-turned-stage to Nmixx's "O.O.," Daniomar Gonzalez took the audience to South Korea, striking something between 1980s ballroom, Park Ji Yoon's "Sung In Shik," and contemporary K-Pop dance. No sooner had the music started than audience members cheered and pumped their arms in support. From South Korea, attendees traveled 8,000 miles to Guatemala, watching as Escobar, Glenma Perez and Nely Gonzales swept into the center of the room in richly embroidered huipils and vibrant, embroidered cotton skirts.
The singsong tremble of marimba filled the room, as if Fidel Funes y Su Marimba Orquesta were not so far away at all. To "Lain Nebaj," the three began to sway, stepping nimbly from one foot to the other as they sank into a traditional Guatemalan folk dance. As they moved, feet pointed to the floor, they carried centuries of Indigenous and folk history to New Haven. So too did Adriana Carreno and Lady Cabrera, who later brought a dance from Ecuador to the stage.
Other students turned to music and poetry, pulling the audience in stanza by stanza. With his original poem "Las increíbles cosas que se encuentran en el País," Amilcar Garcia painted an image of his native Guatemala that reached beyond stereotype and affliction, celebrating instead the country's vast and natural beauty.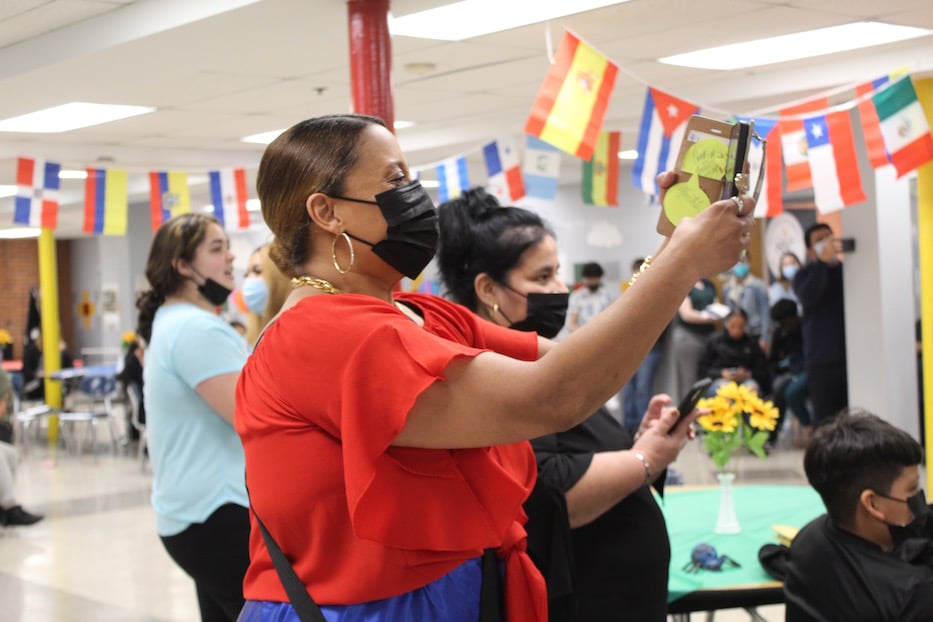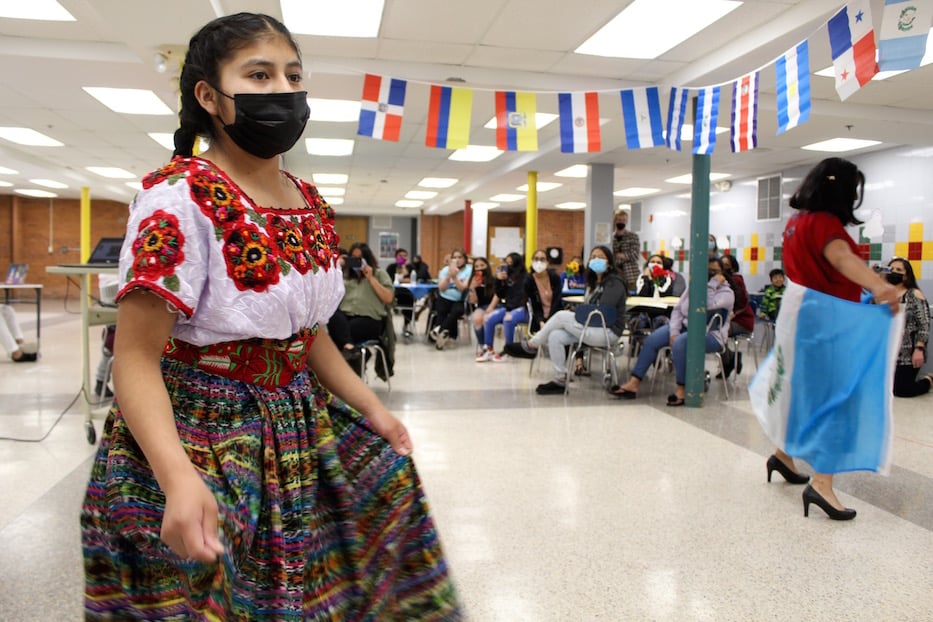 Alison Escobar, Glenma Perez and Nely Gonzales performed to "Lain Nebaj."
In his words (a video of the poem is at the bottom on this piece), the country's lush landscape came to life, as if it was cradling the audience just for a moment in its palm. Birdsong filled the mountains. The vibrant Quetzal spread its green and red plumage in the Guatemalan highlands. The White Nun Orchid spread its petals toward the sun. This was home.
Guatemala país de la eterna
primavera, patría donde en
silencio se escucha el cantar de
las aves y el ruido de sus hermosas
montañas, lagos y ríos, he read.
Guatemala country of eternal
spring, motherland where in
silence you hear the singing of
the birds and the noise of their beautiful
mountains, lakes and rivers.
With Nilsa Jannette's "La Bandera Puertorriqueña," Ojeda conjured everything she loves about the island, from which her family hails. In the audience, phones came out, documenting the night for doting grandparents and family members in other states and countries. Dozens of fingers hovered over record buttons as parents squeezed in to watch each number. Cheers went up after each performance. Excitement buzzed and crackled through the air, palpable in every snap, giggle, and pensive mmm.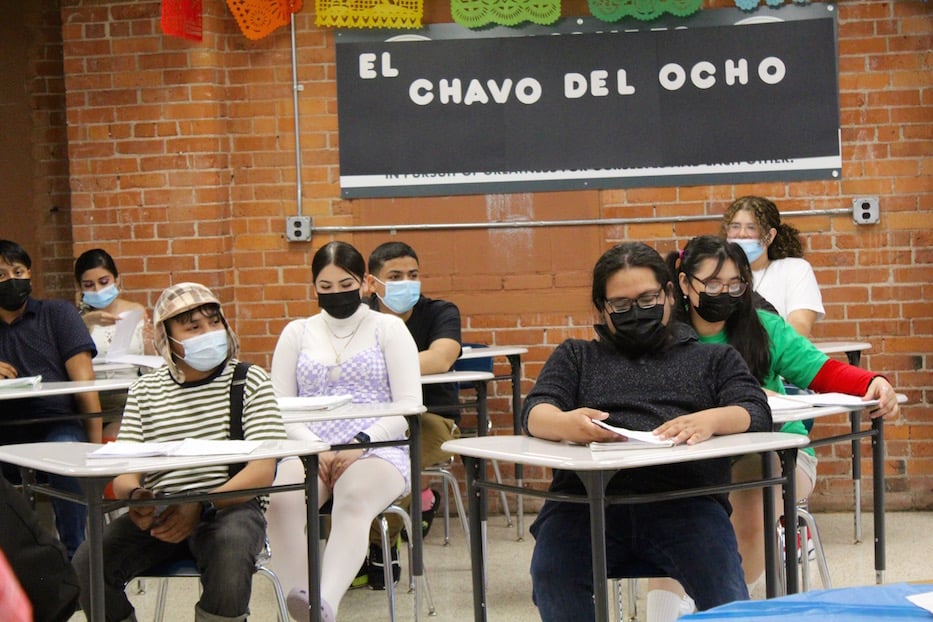 Nowhere, perhaps, was it clearer than in a performance of "El Chavo del Ocho en HSC," based on the slapsticky 70s-era Mexican television show of the same name. In a floppy hat, striped shirt and suspenders, El Chavo (Amilcar Garcia) jumped into the scene, making loud, goofy jokes about the seasons, planets, and the class itself. At the front of the stage, Escobar tried her best to impersonate the severe Professor Jirafales, stone faced as she slowly lost control of her class. Parents flocked to one side of the cafeteria, which had transformed into a stage with desks and a podium.
Building Leader Cari Strand later noted the sheer power of comedy: Garcia arrived at the school from Guatemala in late March, and is still learning English. For the first time Thursday night, teachers watched him express himself twice without hesitation, weaving lines of poetry into silk, then hamming it up with his classmates. That's part of the power of the club, Strand said. Students are allowed—and encouraged—to bring their whole selves into Rivera's classroom.
"This is what school is supposed to feel like," she said. "Joyful. Celebratory. Fun. Like it's for the students."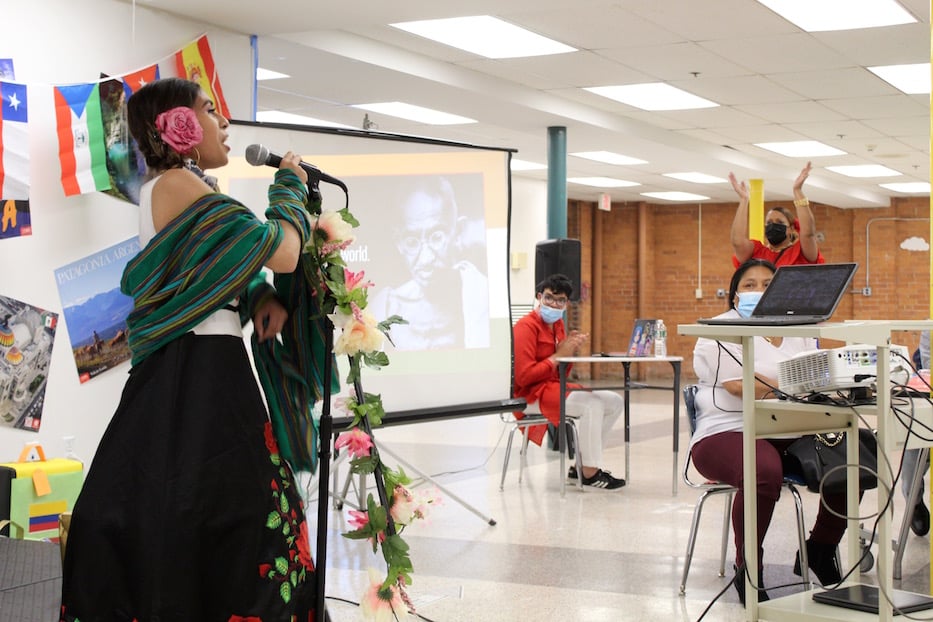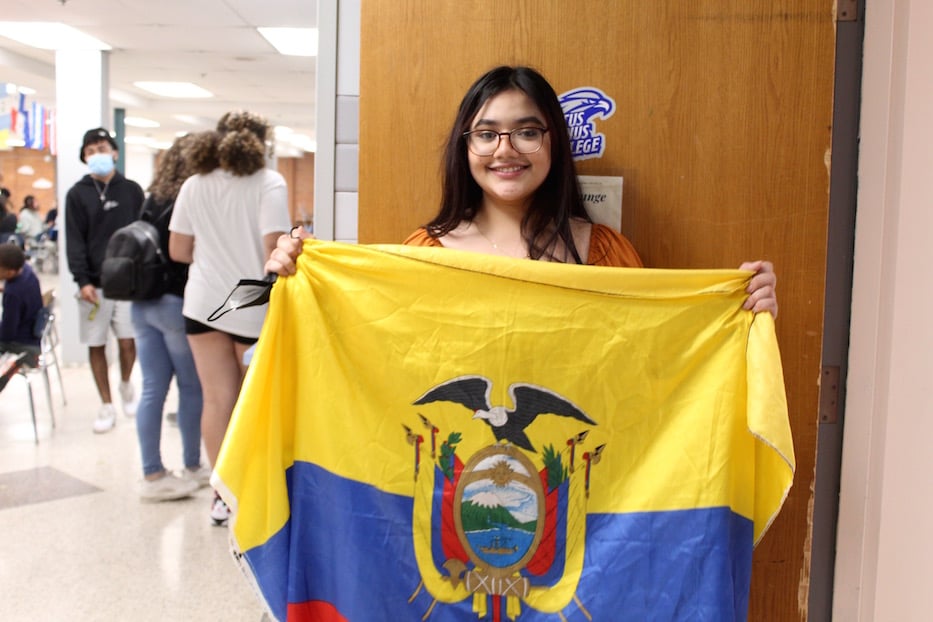 Top: Sherlyn Morales. Bottom: Adriana Carreno.
Wide-eyed and smiling after performing, students echoed that feeling before filling their plates with food and then heading out into the warm May evening. Morales, who will graduate next month, said the evening gave her a chance to honor her Mexican roots in front of not just her family, but other students who may feel shy about sharing their identity. Thursday, she glowed with excitement, pausing every few minutes to pose with classmates, Rivera, and her mom.
Growing up in New Haven, Mexico was always "a big part of my heart," Morales said. When she was 12 years old, she began singing as a way to express herself, gravitating toward works by Jenni Rivera, Ángela Aguilar, and her maternal grandfather. For years, she practiced her skills as a singer at home, with the dream of performing in public. Thursday, she took the leap as a way to show students just a slice of the culture she is so proud of. As she performed, a flower pinned in her hair, she said she thought of her grandfather.
"If he was here right now, he'd be proud of me," she said. "Being here [HSC], I was very shy, but I gained a lot of confidence. Having the Mexican culture in my blood, that's something that I'm immensely proud of. I am who I am."
For senior Adriana Carreno, that was true in an Ecuadorian dance, from the moment she took the stage to the moment she and Lady Cabrera unfurled the country's flag, a whirr of blue and yellow fabric in their hands. When Carreno was 12, she and her family immigrated from Ecuador to New Haven in search of stronger educational options for her and her siblings. Every time she's assigned a new project, she tries to make it about Ecuador.
"I want to leave a legacy," she said. "I want people to know about my country. I came here to be prepared for the future. I came here to study and to go to college."
Even as 8 p.m. drew near, the party showed no sign of stopping. Merengue and salsa switched into a track from Kal Ho Naa Ho, with a synth-soaked Bollywood bounce that was older than most of HSC's upperclassmen. Seniors and alumni caught up with each other, volleying anecdotes back and forth (Thomas Sabin, who sang an Italian aria during his time in the ProCo, returned after a year at Albertus Magnus).
Rivera, who has taught at HSC for 14 years, beamed at the end of the night, guiding students through multiple rounds of bows before she headed off to congratulate each one individually. As a teacher at HSC, Rivera brings her Puerto Rican heritage into the classroom with her each day, she said. She's proud to talk about the traditions, centuries-old dances, and food that build the story of who she is. Years ago, she started the club with students to give them a platform to share in the same way.
"Oh my God, I'm so proud of them," she said. "This is what they should be doing—showing who they are. Not hiding."